GenieChat is Here: Get Ready To Meet Your New Ai Virtual Assistant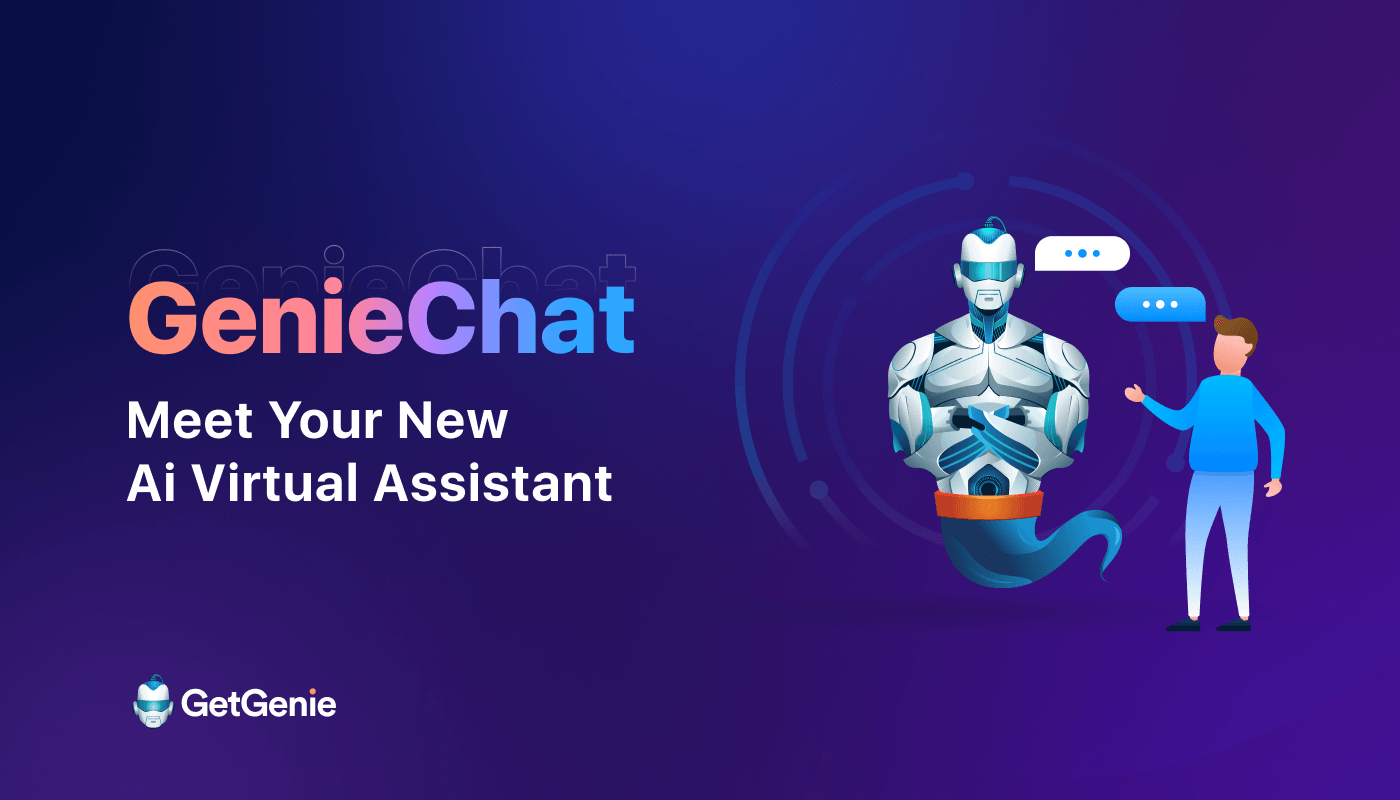 In this era of Artificial intelligence, innovation is continuously pushing its boundaries to open the doors for new possibilities.
And today, we're thrilled to introduce you to GenieChat (A brand new feature of GetGenie Ai) – the latest addition to the ever-growing family of Ai automation-based chatbots.
However, GenieChat is not an average chatbot or virtual assistant — it's smarter, faster, and more intuitive than any other tools you've encountered before.
With advanced machine learning capabilities, GenieChat comes with 22+ chat personalities who understand individual user requests and generate fast-speed answers with unparalleled accuracy.
Hold your breath, many more to reveal yet!
Introducing GenieChat: A Quick Overview
GenieChat is designed and developed to ensure a seamless user experience so that the question-answer sessions with the bot feel like conversations with a human!
It's done by integrating the API of ChatGPT models. Then, what makes GenieChat stand out from the crowd?
Well, its customization options, speed, and efficiency keep GenieChat one step further from the competitors.
Besides, our advanced GenieChat is equipped with lasted natural language processing (NLP) technology to understand various tones and create relevant and helpful responses according to the request.
And, we are happy to announce that, you will get options for 22+ different chat personalities. Whether you need a product manager, career counselor, travel guide, or a fun time with a standup comedian, GenieChat is always ready to assist you.
Noteworthy Features of GenieChat
Ask any queries and get relevant response
Stores the history for further use
Show or hide the prompts
Select the size e.g. small, medium & large
Personalize the conversation tone based on your needs
👉👉The personalities available for chatting: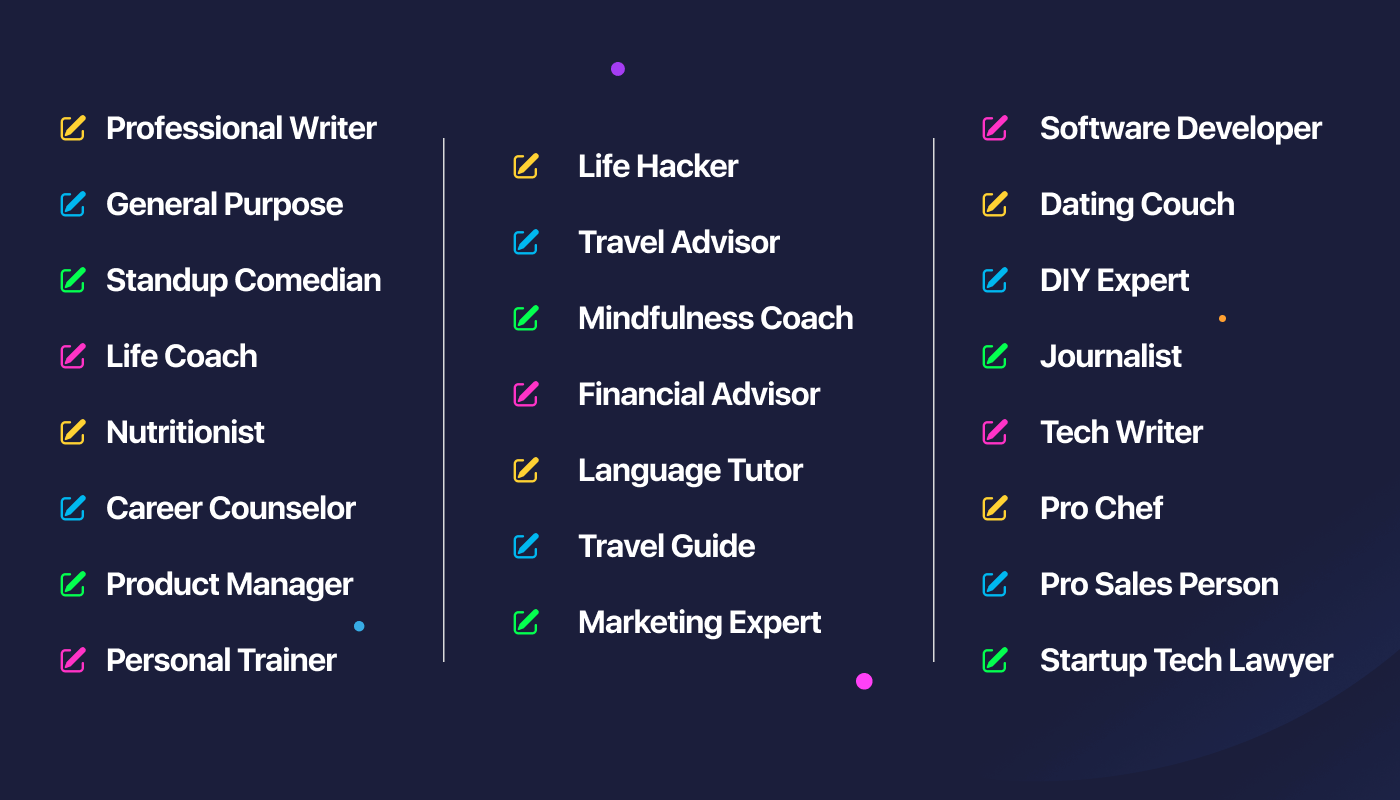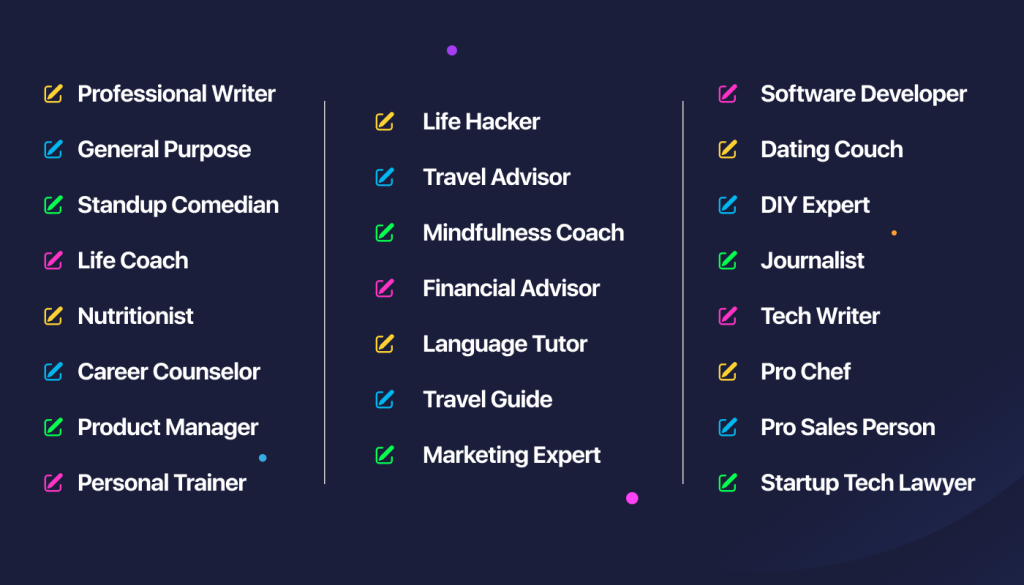 How to Use GenieChat
GenieChat is designed to navigate easily as well as produce the best answers for your queries. You can use GenieChat on WordPress or the SaaS platform(playground) of GetGenie Ai.
How to Use GenieChat on WordPress
To use GenieChat on WordPress, first, you have to install the GetGenie plugin and activate the license.
Here are the simple steps to follow:
Navigate your WordPress dashboard
You will see the "GenieChat" option at the top menu bar 
Click on "GenieChat" and a sidebar will pop up
Select the chat personality
Set the answer size
Ask your queries in the prompt field
The conversion will start immediately
You can also create new chat or explore the history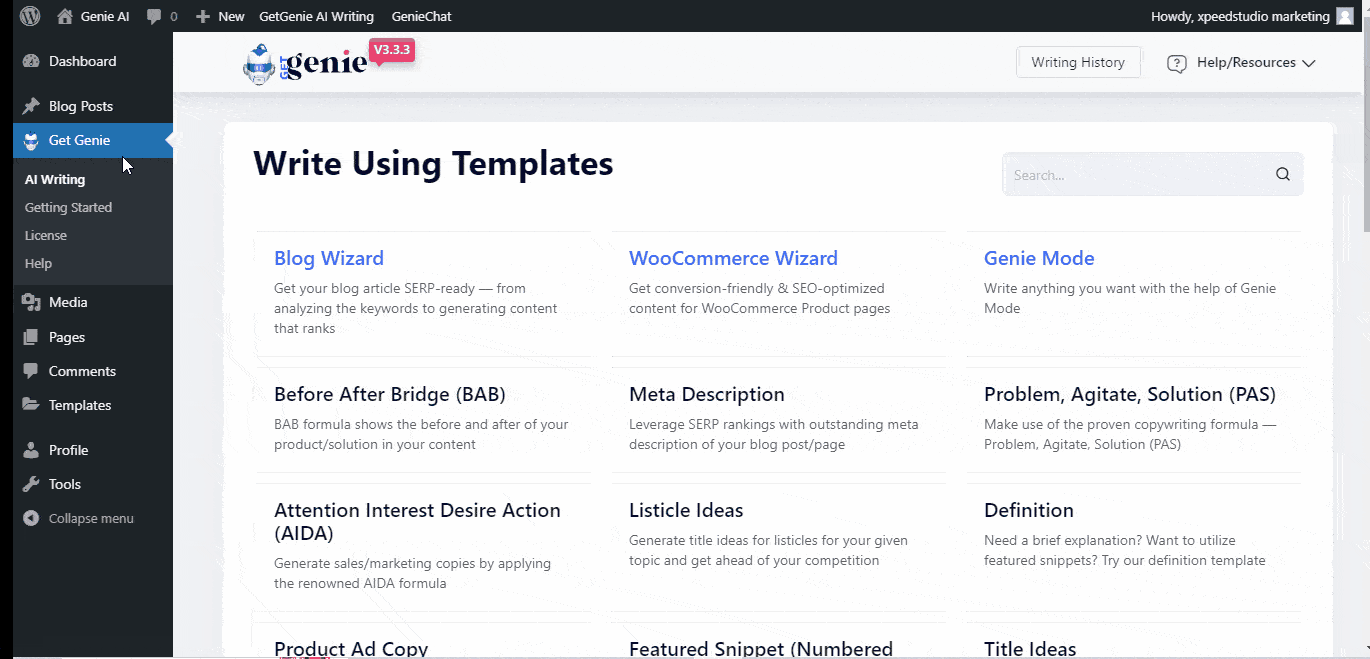 How to Use GenieChat on Playground
For non-WordPress users, GetGenie Ai has launched its web view playground including all templates and features. You can utilize GenieChat also from here.
Click on Playground
Create a new file
Click on "Chat"
Write a prompt to start a conversation with GenieChat
Use other features and functionalities like WordPress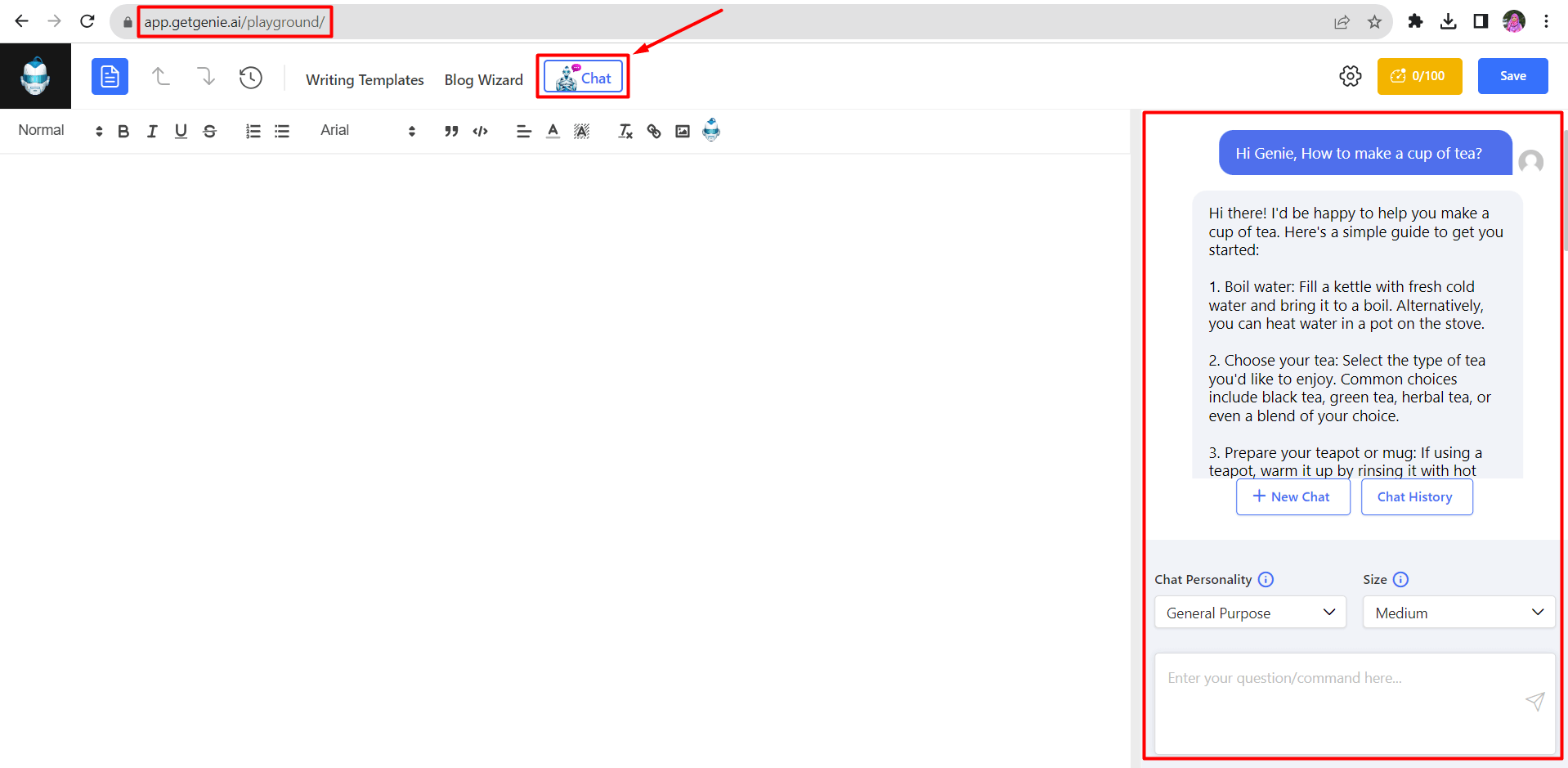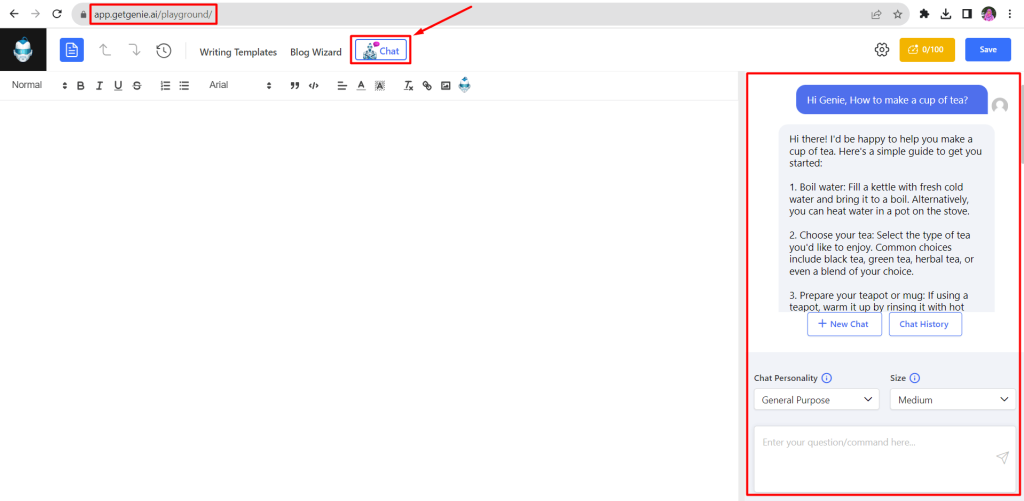 Bottom Line
Our goal is to increase client happiness and loyalty by producing quick and accurate answers. Also, we offer the most flexible pricing plans that suit all users.
We believe GenieChat can set a new benchmark in the field of Ai chatbot or virtual assistant technology.
So, why don't you give GenieChat a try today and experience the ultimate future of Ai chatbots for yourself?