How To Write LinkedIn Posts with AI in a Flash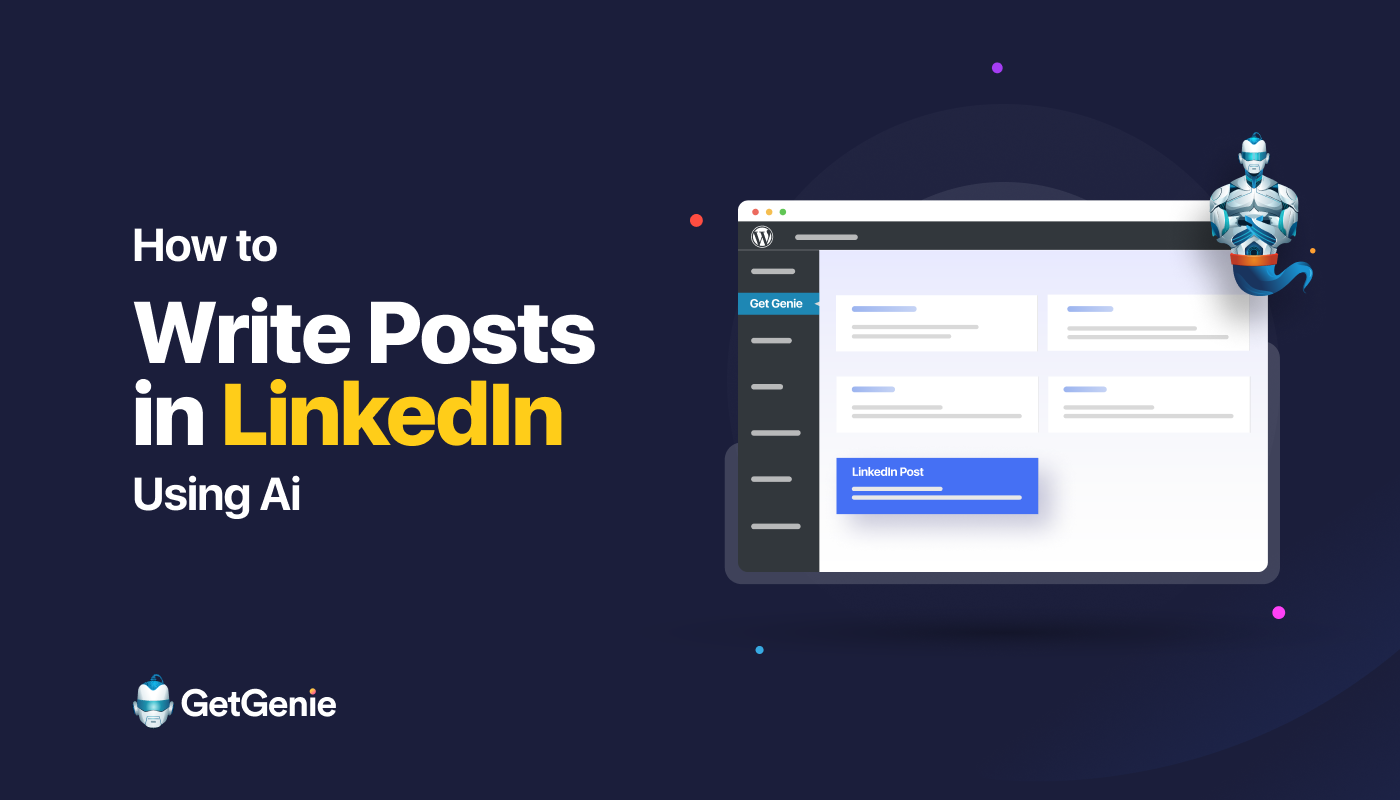 An Effective LinkedIn post can create a massive impact in today's professional world. Also, a well-crafted LinkedIn post can create a positive impression about you and maximize your reach. So, it's important that you need to understand how to write LinkedIn posts with AI effectively.
Luckily, without any hassle of writing or selecting the right hashtags, you can write LinkedIn posts with AI. For those wanting to get started, I have provided step-by-step advice on how to write LinkedIn posts with AI. Before that, let's know in brief why writing a LinkedIn post is important for you.
Why Writing LinkedIn Posts is Important as a Professional?
As a professional, you can showcase your skills and mindset through different means. Likewise, LinkedIn is an effective way to portray your image in today's business world. You can create a professional profile here and showcase your accomplishments, industry knowledge, and expertise.
Through one LinkedIn post, you can reach thousands of networks and new leads for your business. You can also learn about experts in different fields. Also, getting connected to people for hiring or creating a vast network.
Introducing GetGenie's Linkedin Post Template
Getgenie is a WordPress AI writer that boasts a LinkedIn post template. It generates perfect posts for your target audience. Its interface is user-friendly, you can easily customize the template according to your needs. 
The template gives you a platform to create your unique post with the right amount of content. It also helps you to optimize your post for maximum reach and engagement. You can also track the performance of your post and make necessary adjustments. Thus, GetGenie's post template helps to write an impactful and engaging post on LinkedIn.
A Step-By-Step Guide To Creating A Linkedin Post With Getgenie's Template
You can use GetGenie straight from your WordPress dashboard. It is not necessary to have any other editor or plugin to use this template to write LinkedIn posts with AI. Although, you can still use the template from the Gutenberg editor if you want. The steps are the same. 
Step 1
First, go to your WordPress Dashboard > Select GetGenie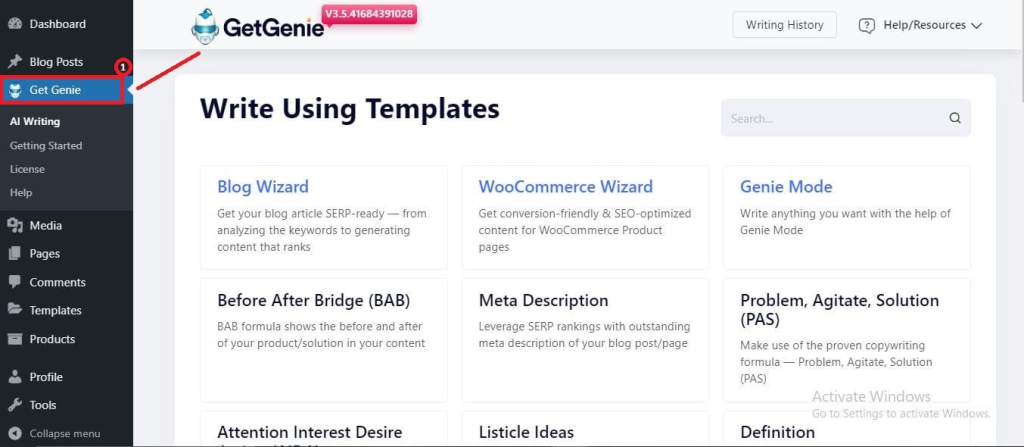 You could also use GetGenie from Gutenberg simply by clicking on "Write For Me" and following the rest of the steps.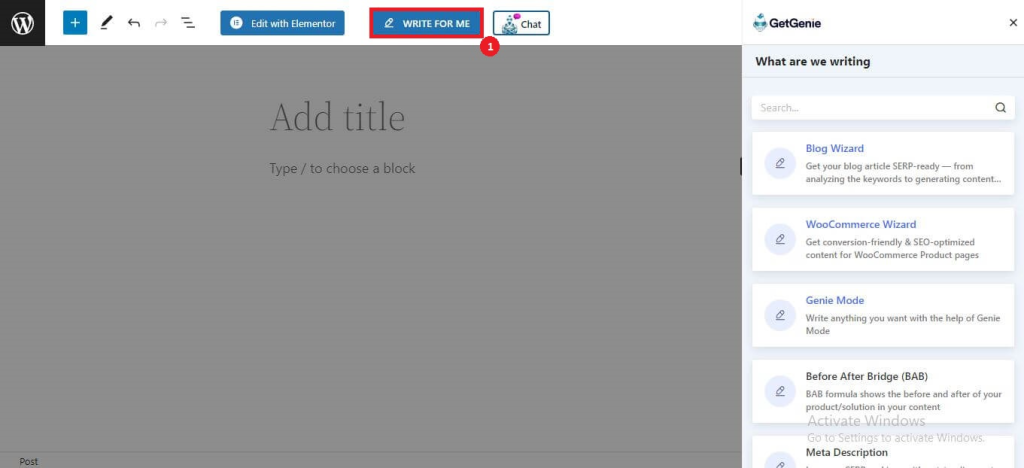 Step 2
Now, look for the "LinkedIn Post" option on the category list or find a search box in the upper right of the page. Write "LinkedIn Post" there and search. You will see the available templates in your search.

Step 3
Now, you'll find a list of items with fields that you need to fill up to get your desired post. Here you need to write the "Topic". It is mainly the subject matter in which your LinkedIn post is going to be.
Then fill up the "Context" part. Here you need to write relevant info related to the topic of your post.
Last but not least, you will see an option named "Brand Name". This is optional, you can put your brand name or company name under this section.

Step 4
Now by step 3, you are almost done with the post. At the end of the page, when you scroll down, you'll see there are 4 different categories where you can choose to customize your post.
You can choose the post's language from the 33 language options. Also, you can customize the creativity of your post by dragging the level of the "Creativity" option. And last but not least, you can give command of multiple results by clicking on the "Results" option. It will give you the chance to choose from different modes of writing.

Step 5
You are all set to get the most effective LinkedIn post. Now click on the "Write" option and let GetGenie do the rest. After that, you will get the results as per your command. You can get up to 6 results at a time! Even ChatGPT can't provide more than one result at a time.

Step 6
Now, copy the text you like and paste it into your LinkedIn profile. Select "Start a post" and paste the text there. You can add necessary images, videos, or any other document. You don't even need to add any hashtags. GetGenie offers appropriate hashtags for your LinkedIn post to increase the reach of your post. Now click on "Publish" and here you go- your perfectly written LinkedIn Post!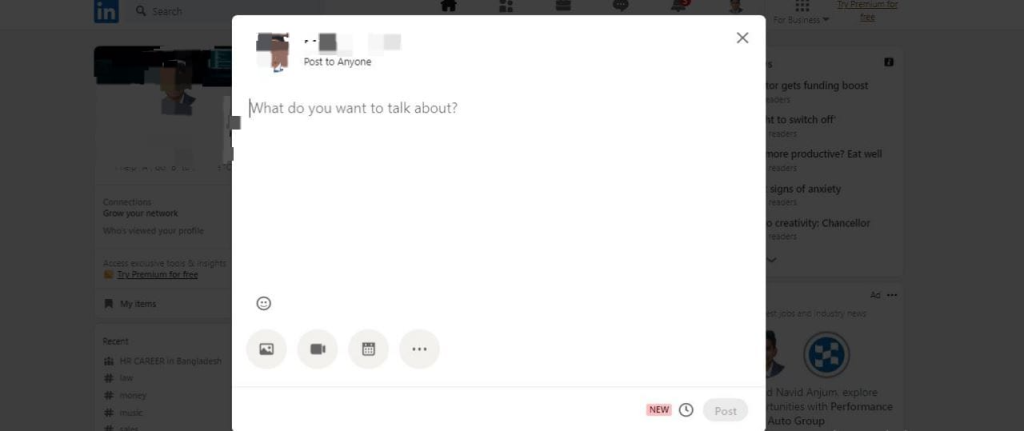 Overview Of GetGenie
GetGenie is a smart tool that helps your WordPress website get more visitors. It does this by doing a bunch of cool things! GetGenie helps you research and optimize your site for SEO, which means you'll show up higher in search results. It also analyzes your competitors to see what they're doing right, so you can do it better than them.
Key Features of GetGenie
One-click Full Blog Generation
Flexible WooCommerce Wizard
Hassle-free Keyword Research
Head-to-Head Analysis
SERP Visualizer
NLP Keyword Suggestions
Precise Content Score
Instant chatting (Genie Chat)
Convenient Webview especially for non-WordPress users
WooCommerce & Copyscape Plagiarism Checker Integration
Elementor, Bricks, and Oxygen Builder Compatibility
Multilingual Support in more than 33 languages
You can use GetGenie without WordPress as well! With GetGenie, you'll start ranking higher, which means more traffic and more earning.
So, if you want more people to visit your website, or want to feature your company or any content on social media, GetGenie can be your constant companion. It's like having a super smart helper for your business.
Takeaways
I hope now you can create LinkedIn posts with GetGenie effortlessly. I have leveraged GetGenie's template here as it enables both ease and quality to create LinkedIn posts. If you have a task of creating a bulk of LinkedIn posts, just avail GetGenie to generate them with minimal effort and time.
So, are you ready to write LinkedIn posts with GetGenie and save your precious time for more productive tasks? Try GetGenie now!