How to Generate Instagram Bio Using Ai (3 Easy Steps to Follow)
Your Instagram bio is the gateway to your profile, offering a glimpse into your personality, interest, and brand. It's a short yet powerful space where you can make a lasting impression on your audience and entice them to explore your content further. However, coming up with a unique Instagram bio can be a challenging task.
In this blog post, we will explore the art of generating an Instagram bio using Ai that captures attention, reflects your identity, and sparks curiosity among your followers. Regardless of your profession, this guide will equip you with the tools and knowledge of how to generate Instagram bio effectively and efficiently.
What is an Instagram bio generator?
An Instagram bio generator refers to an Ai tool that creates engaging and interactive bios for your Instagram profile. Its main purpose is to reduce your time and craft excellent bios to make your profile more attractive.
Why use an Instagram bio generator?
An attractive Instagram bio plays a significant role to boost your profile engagement. Besides, it leaves a long impact on your audience and convinces them to visit your profile over and over again. That's why you should make the best use of this bio field of your Instagram profile.
Here utilizing an Instagram bio generator is the best choice for creating interactive bios for your profile. Because these Ai content generators are efficient to generate engaging Instagram profile bios.
Moreover, these can save you time and effort from writing an Instagram bio manually. Furthermore, the generated bios can be regenerated as many times as you want using these Ai bio generators.
Therefore, utilizing an aesthetic bio generator is the most effective way for creating alluring Instagram bios for your profile.
How to generate Instagram bios using Ai
Manually writing a killer Instagram bio takes a lot of effort and time whereas using an Ai can minimize it to a great extent. Although most people don't bother to generate profile bios using Ai as they have no idea about the effectiveness of these Ai bio generators.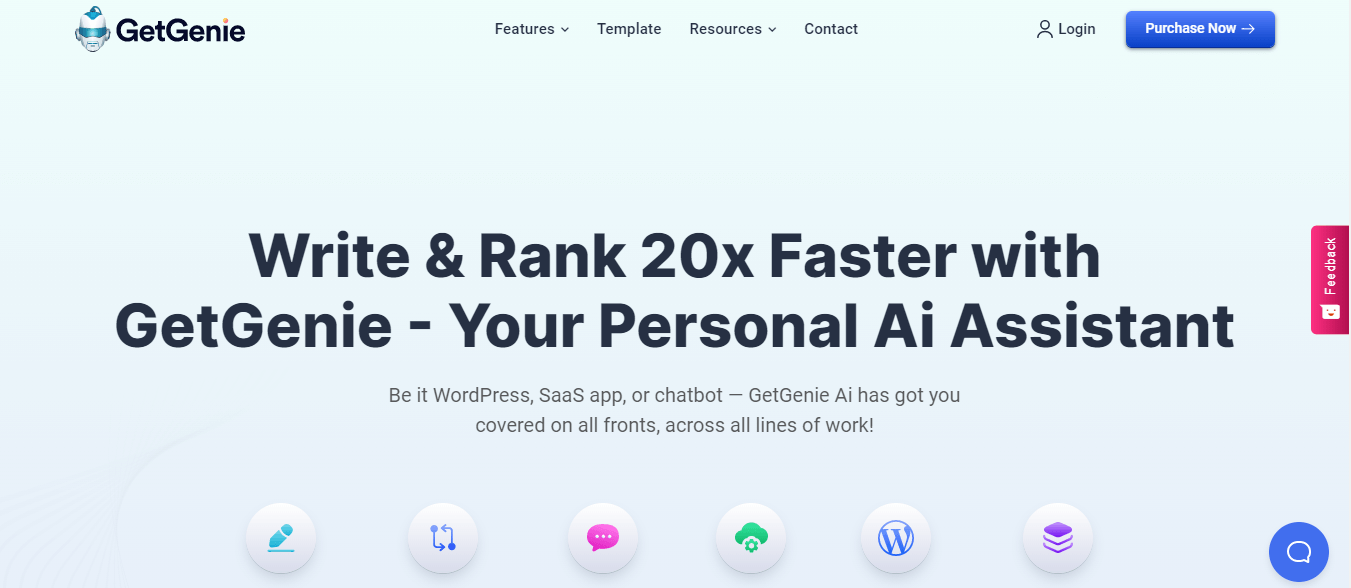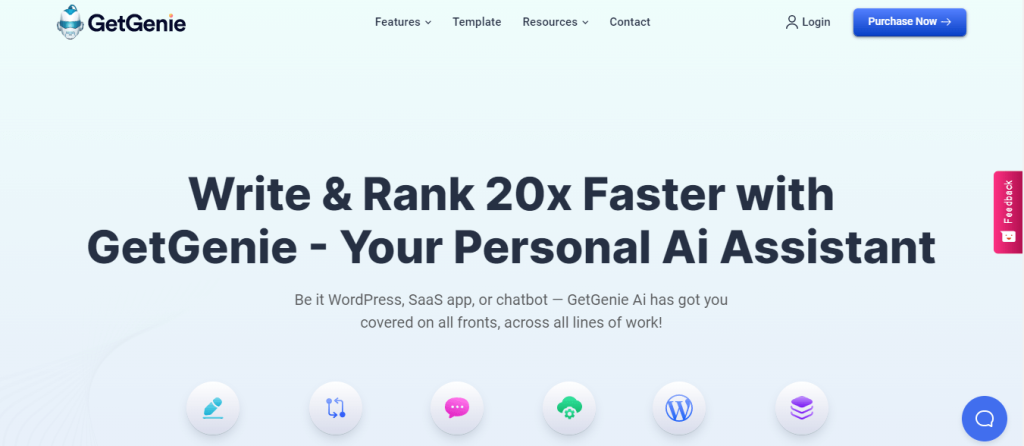 On this note, we will talk about how to make an Instagram bio using Ai. Here, GetGenie seems to fit all the criteria of the best Instagram bio generator since you will find the best output using its template. Besides, this Ai writing assistant has the option to regenerate and customize the generated bio. Furthermore, you can also enjoy this tool in a SAAS interface.
That's why here we will use GetGenie and show how to generate Instagram bios in both WordPress dashboard and SAAS interface using this Ai bio generator:
Method 1: Generate Instagram bio in WordPress
Step 1: Install an Instagram bio generator.
The first step of generating an Instagram bio involves installing and activating an Instagram bio generator. Here we are installing GetGenie since it has a dedicated "Instagram bio" template to create fantastic and professional bios for your Instagram profile.
Now, go to your admin panel to install an Instagram bio generator. Then click on the "Add New" tab under Plugins. After that, search for GetGenie and click the "Install Now" button. After installing, click the button again to activate the Instagram bio generator.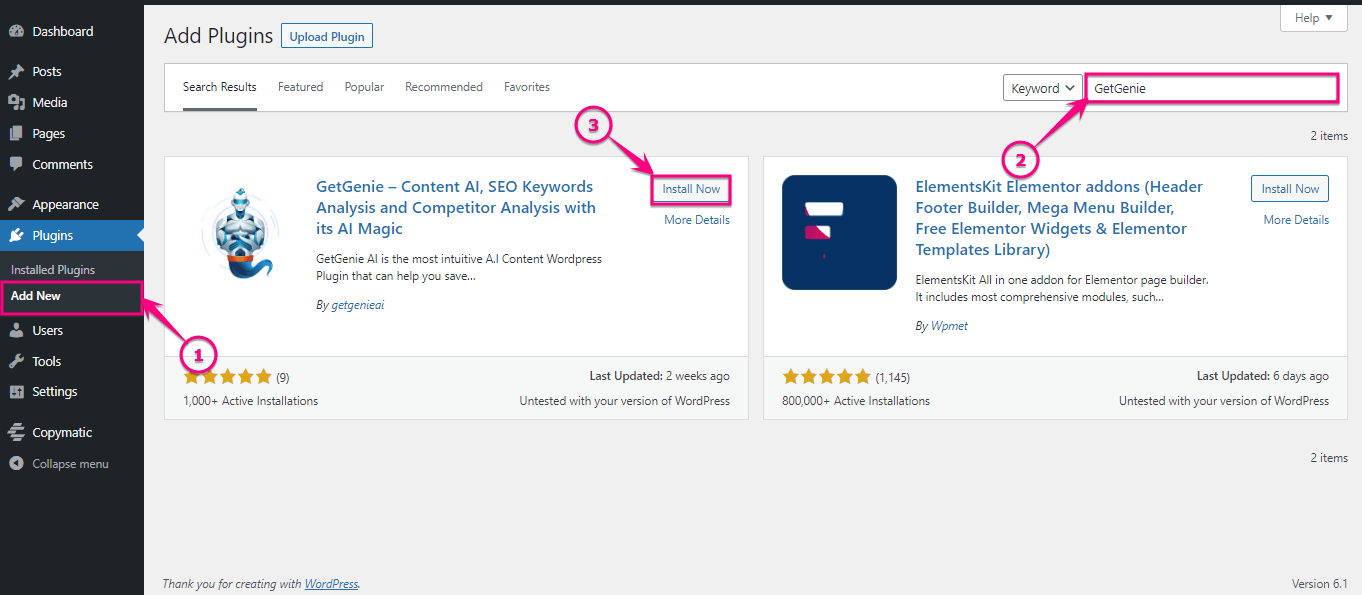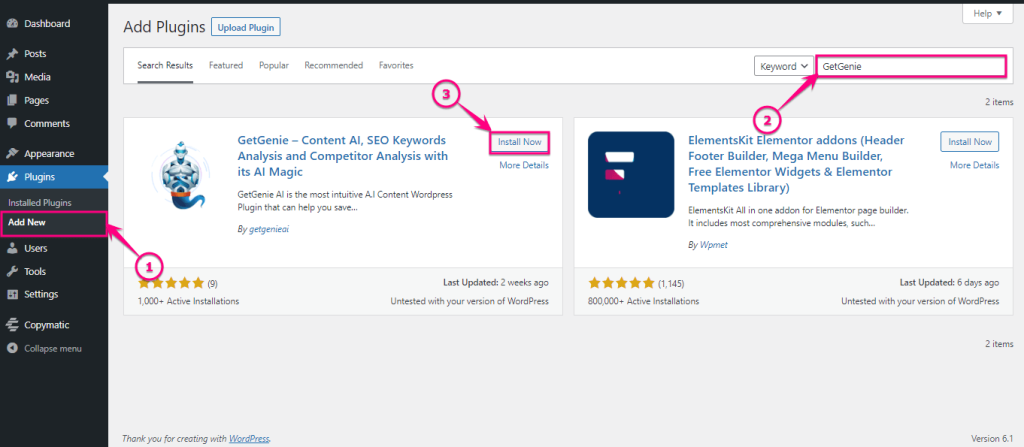 Step 2: Generate Instagram bios.
In the second step, you have to generate Instagram bios using the dedicated bio generator template of GetGenie. To enjoy the blessing of GetGenie's aesthetic bio generator feature, visit "AI Writing" under GetGenie and hit the Instagram Bio template.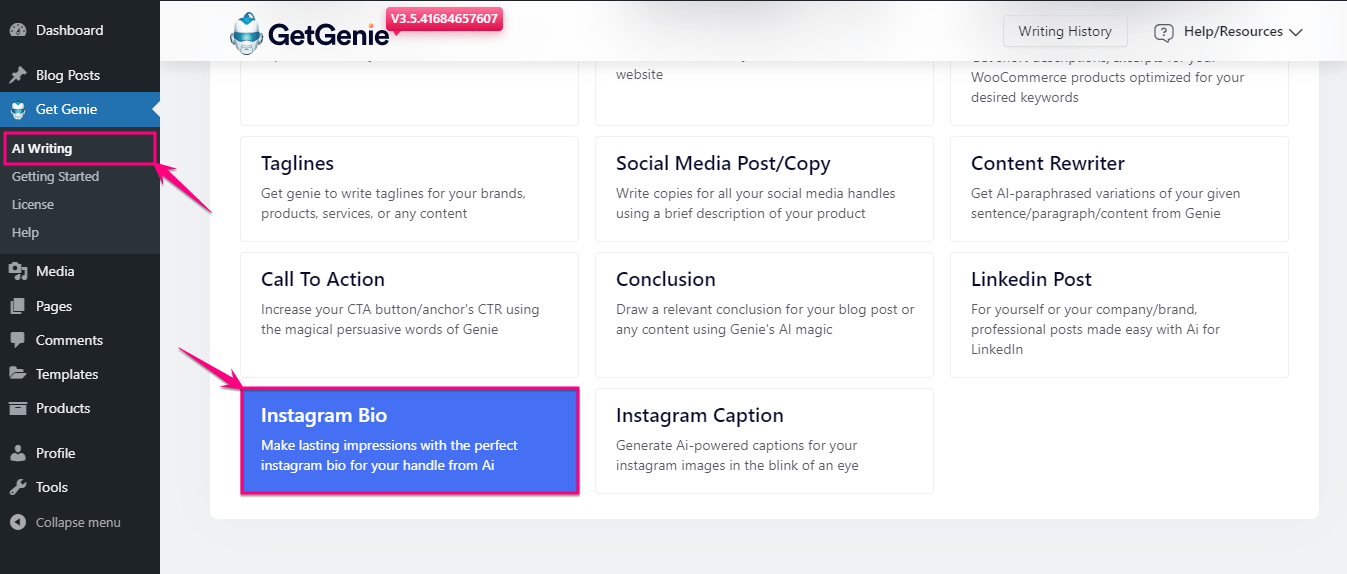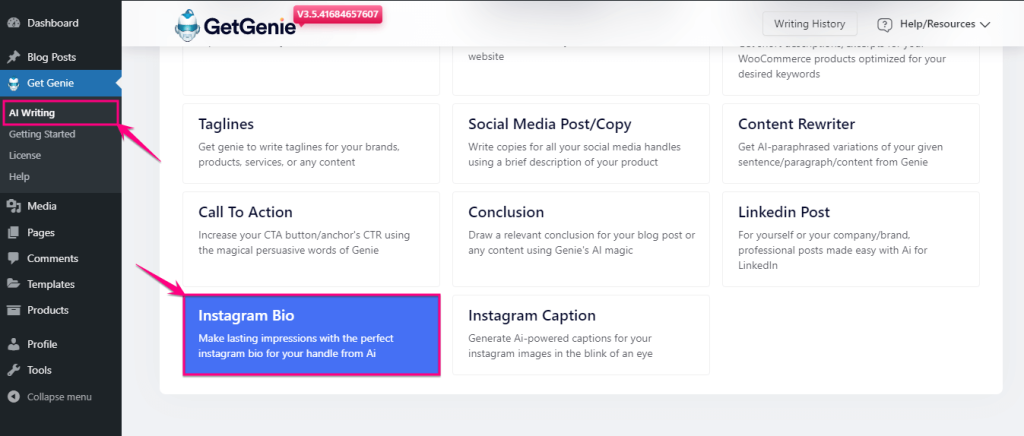 After clicking the "Instagram Bio" template, a tab will open up from the right side. Here you will find multiple blank fields with helping text. You have to fill up these fields to generate engaging Instagram bios. Here are the fields for creating Instagram bios using GetGenie:
Brand Name: Enter the brand name for which you want to create Instagram bios.
Keywords: Insert keywords that represent your brand.
Language: Select the language of your generated Instagram bios.
Tone: Choose the tone for your Instagram bio.
Creativity: Adjust the level of creativeness to generate perfect Instagram bios.
Results: Enter the number of results you want from this template.
After adjusting these fields, click the "Write" button to get your Instagram bios. You will get to see multiple Instagram bio examples after clicking the write button.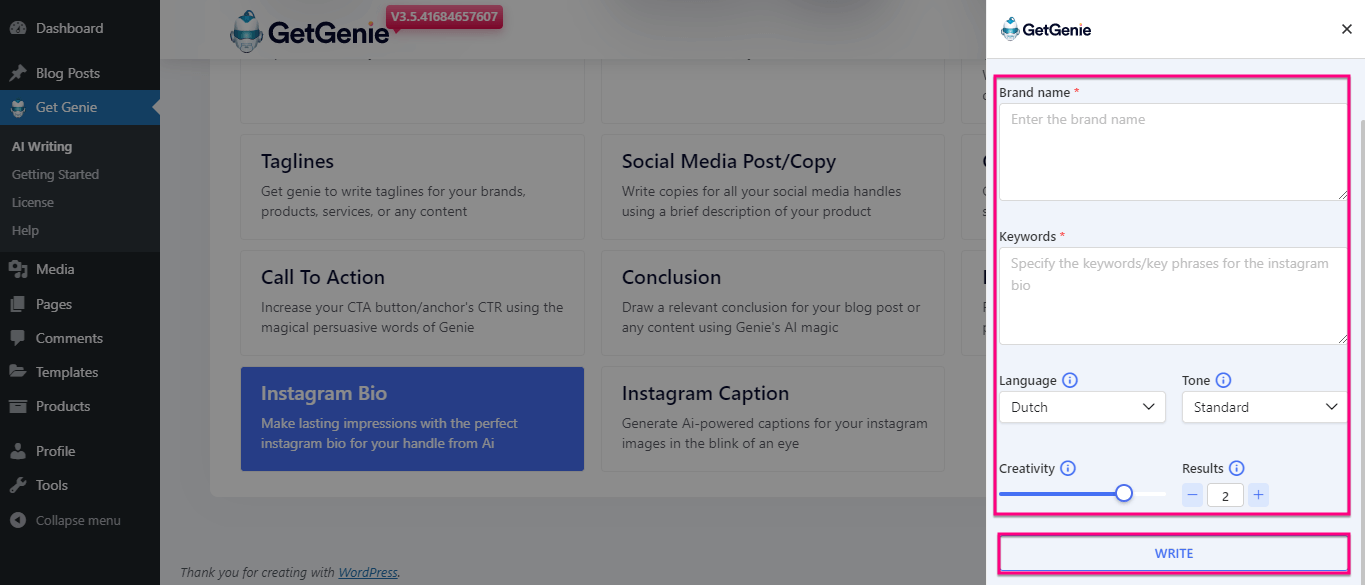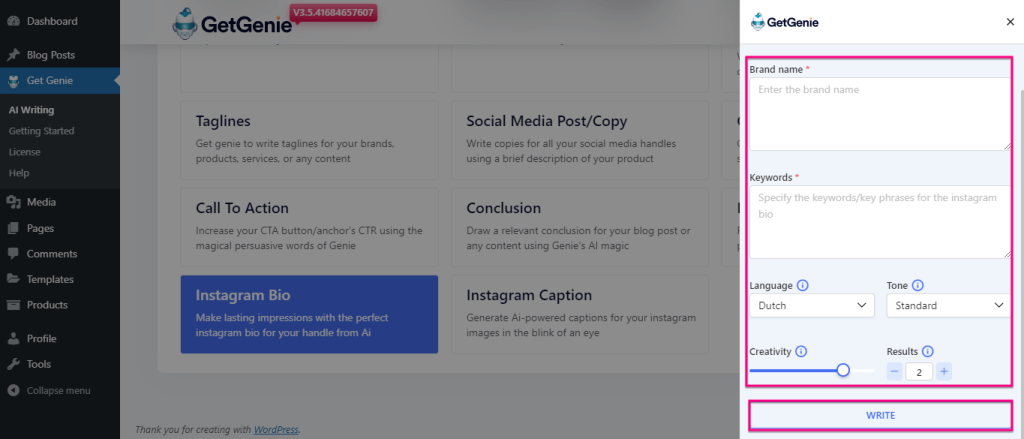 Step 3: Copy and paste your Instagram bio.
In the final step, you have to select the bio from generated Instagram profile bio examples. Here you can easily copy your preferred bio by clicking on it. After that, add the bio to your Instagram profile by pasting it on the bio field. Thus, you are all set.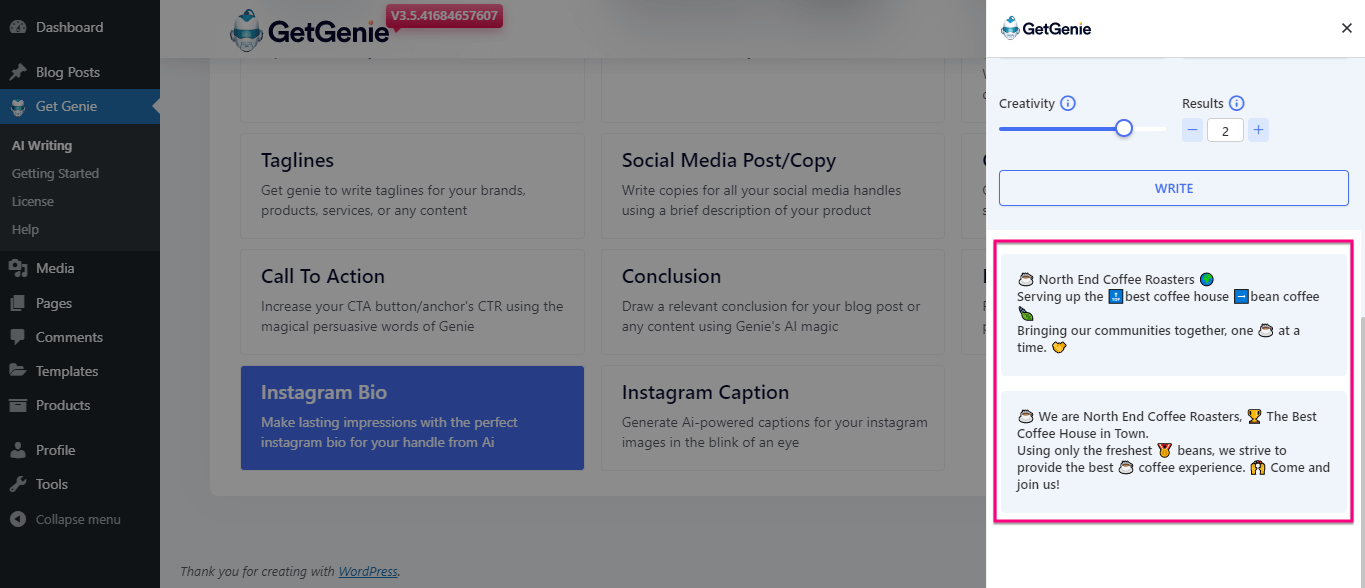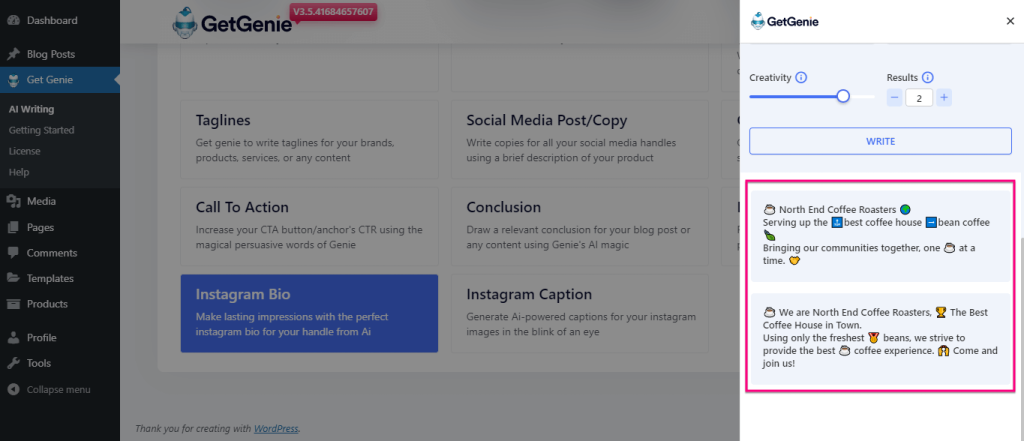 Method 2: How to Generate an Instagram bio on the SAAS interface.
To enjoy the SAAS interface of GetGenie, log in using your username and password. This will redirect you to the playground of GetGenie. Here you will find all the templates along with "Instagram Bio". From here, you have to Search for the "Instagram Bio" template and follow the same process as before.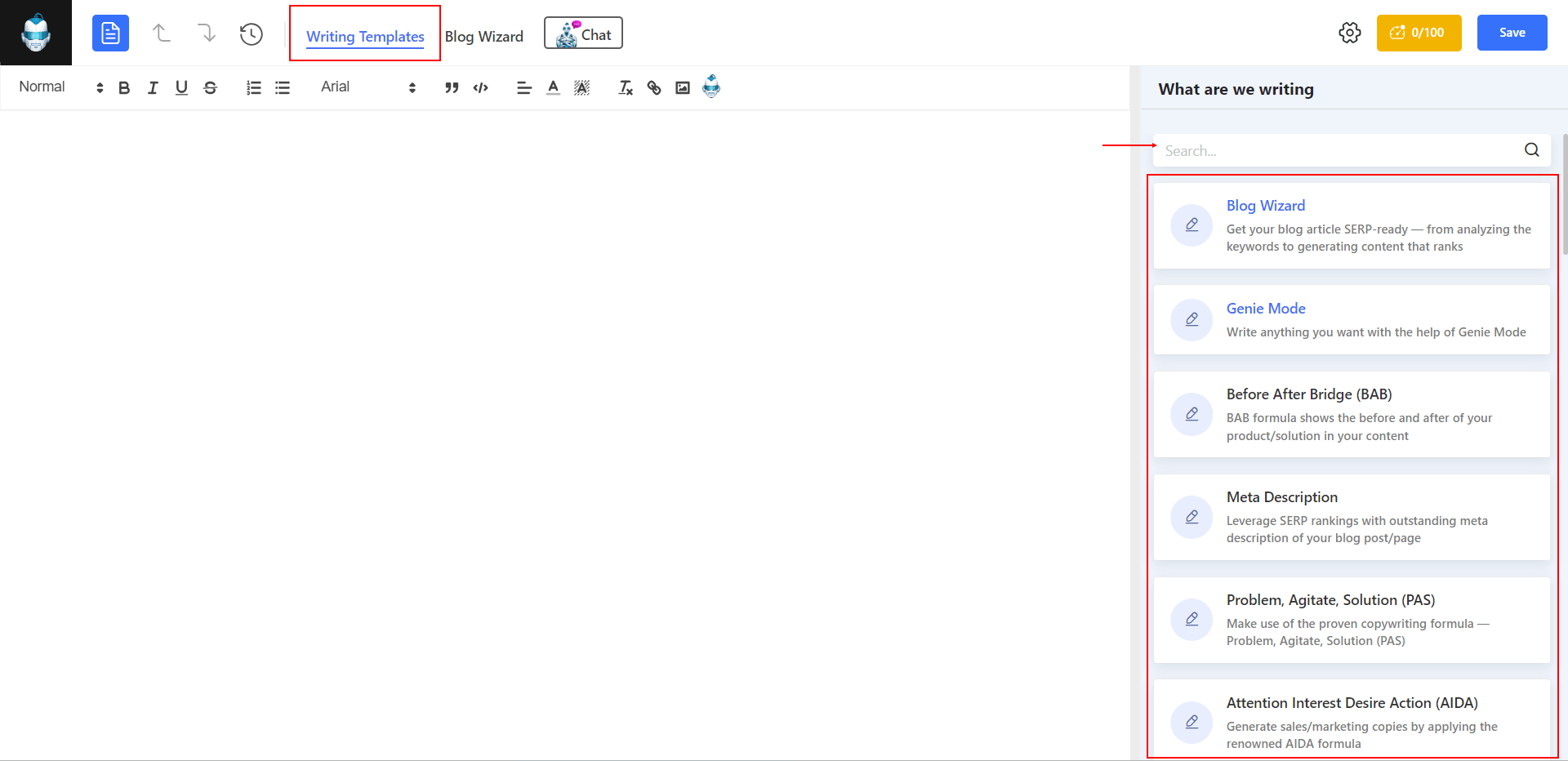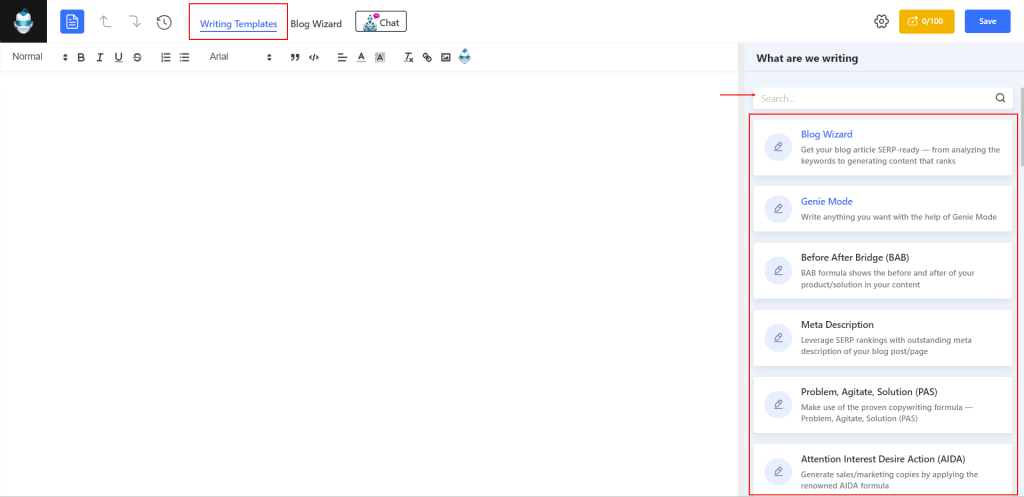 What makes Instagram bios attractive?
Instagram bio plays a great role in drawing customers' interest. Hence it should be created following some tips and tricks. Here are the tips and tricks that you need to follow to make attractive Instagram bios:
Try to use clear and concise language that completely reflects your business and brand.
Emojis can add emotions to your bio and make them more interactive. So, add emojis that go with your brand and personality.
Use your brand's voice and disclose the actual interest to your audience.
Highlight your brand's USP or expertise so that your audience easily knows what your skill sets are.
Must include relevant hashtags and keywords in your bio. As a result, your visitors can easily find you from the Search results.
Don't forget to include content info if you're open to collaboration, partnerships, and inquiries.
Promote other social channels on your bio which allows visitors to interact more with you.
Showcase top achievements on your Instagram bio to boost credibility and earn the trust of your audience.
Remember, the sole purpose of utilizing the Instagram bio is to present the actual identity to your audience. Not, beating around the bush. So, choose your words carefully and craft an engaging bio for your Instagram profile.
Create attractive Instagram bios
Crafting a compelling Instagram bio is crucial for creating a strong online presence and attracting the right audience to your profile. Remember, a successful bio is all about who you are, what you do, and what value you will bring to your audience.
By following the steps outlined in this blog, you can effectively present your unique identity, showcase your personality, and convey your messages using Ai. These Ai content generators can write Instagram captions, LinkedIn posts, website copies, and whatnot. So, try to create a bio that reflects your identity by experimenting with different ideas.