Personalization in Content Creation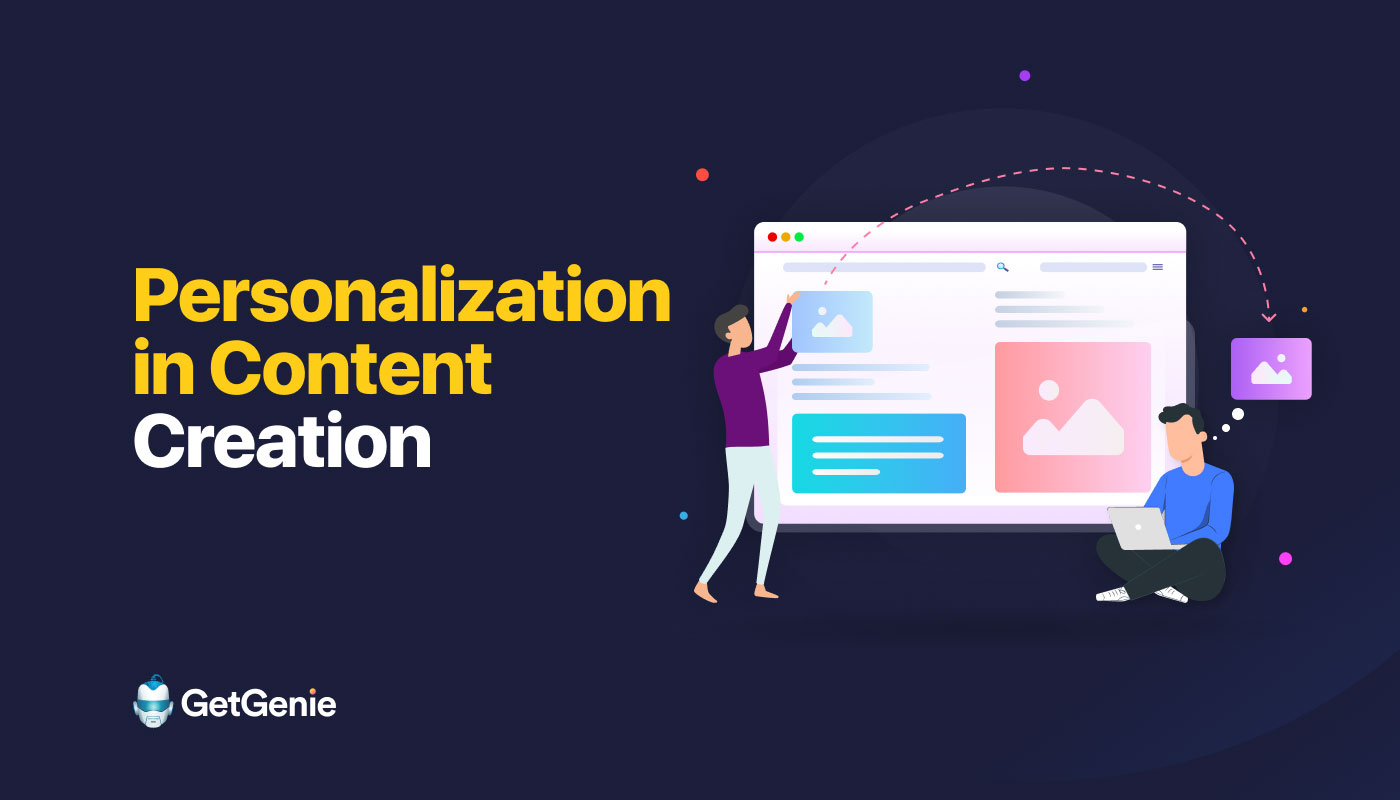 Content is still as important as ever. Therefore the volume of content continues to grow exponentially and the battle for attention intensifies. Making it crucial for creators to stand out from the crowd.
So, the best way to grab attention is to develop content that directly connects with the audience. This is where personalized content becomes crucial. Personalization in content creation is an innovative approach to creating content that resonates with your readers in a meaningful way. At its core, there is tailored content that addresses specific interests, problems, and solutions for a targeted audience.
In this blog, we will discuss the importance of personalization in content creation and its best practices. We will also discuss how you can use AI-powered personalization to improve your results and deliver highly relevant and compelling experiences to your audiences.
What is content personalization?
Content Personalization is like talking to the audience directly…
Content personalization is basically the process of customizing content for individual groups of people or target audiences to meet their specific preferences. It involves delivering relevant and targeted content to users based on their demographics, browsing behavior, purchase history, location, or any other available data.
This can be done by using data about the user's interests and online behavior to deliver content that is more relevant to them.
Personalization in content creation can increase engagement, improve conversion rates, and build loyalty. This way, businesses can deliver personalized experiences can create more meaningful connections with their audience.
However, content personalization can be a powerful tool for marketers, so it is important to use it responsibly. We must respect the user's privacy and do personalized content marketing in ways that benefit the user.
How to conduct personalization in content creation
The process of content personalization typically involves the following steps:
Data Collection: Gathering relevant data about users, such as their demographics, behavior patterns, interests, and preferences. This data can be collected through various sources, including user registrations, cookies, browsing history, and interactions with the content.

User Profiling: Analyzing the collected data to create individual user profiles or segments. These profiles are based on factors like age, gender, location, past purchases, content engagement, and any other relevant attributes.

Content Recommendation: Using user profiles to deliver personalized content recommendations to individuals. This can involve suggesting relevant products, articles, videos, or other types of content that are likely to resonate with the user's interests and preferences.

Dynamic Content Delivery: Present personalized content in real-time based on user interactions or context. This can involve dynamically changing website layouts, featured products, or email content to cater to the specific needs and interests of each user.

Testing and Optimization: Continuously monitoring and analyzing the performance of personalized content to improve its effectiveness. A/B testing and data analysis help identify successful personalization strategies and refine the approach over time.
Best practices for content personalization
Effective content personalization requires a delicate balance between providing relevant content and respecting user privacy. When done right, personalized content can lead to higher user engagement, increased conversions, and stronger brand loyalty.
To ensure effective content personalization, consider the following best practices:
Understand your audience for content personalization
Personalization in content creation requires understanding your audience. This means knowing who they are, what they are interested in, and what their needs are. You can gather this information by conducting surveys and analyzing website traffic, and social media data. Once you understand your audience, you can tailor your content to their interests and needs. This will make your content more relevant and engaging, which will lead to higher click-through rates and conversions.
Here are some tips for understanding your audience:
Conduct surveys and interviews to learn about their interests, needs, and demographics.
Analyze website traffic and social media data to see what content they are engaging with.
Create buyer personas to represent different types of customers.
Use A/B testing to test different versions of your content to see what resonates with your audience.
By understanding your audience, you can create content that is more likely to convert them into customers.
Segment your audience and be more specific
Segmenting your audience allows you to divide your target audience into distinct groups based on shared characteristics and interests. By doing so, you can tailor your content to meet the specific needs and preferences of each segment. Here are some common ways to segment your audience for content personalization:
Demographic segmentation: Categorize your audience based on demographic factors such as age, gender, location, education level, and occupation.
Behavioral segmentation: Analyze user behavior to identify patterns and preferences. Segment based on actions such as past purchases, website interactions, content consumption habits, and engagement levels.
Customer journey stage: Segment your audience according to where they are in the customer journey. For example, differentiate between new visitors, returning customers, and loyal advocates.
Device or platform segmentation: Consider how your audience accesses your content. Segment based on device type (desktop, mobile, tablet) or platform preference (iOS, Android, Windows).
Geographic segmentation: Divide your audience based on geographic locations, considering factors like country, city, language, and cultural nuances.
Industry or niche segmentation: If your content caters to specific industries or niches, segment your audience accordingly. For instance, you may have different content for technology professionals versus healthcare workers.
Interest-based segmentation: Analyze the topics and categories your audience shows interest in. Segment based on shared interests or content preferences.
Engagement level: Categorize your audience based on their level of engagement with your brand or content. This could include casual readers, regular visitors, or active participants in discussions.
Customer persona segmentation: Create distinct customer personas that represent various customer archetypes within your target audience. This allows for more personalized content creation.
Tailor content based on user segmentation
Tailoring content based on user segments involves creating content that specifically addresses the unique needs, preferences, and interests of different groups within your audience. Here are some strategies to effectively tailor content for each segment:
Customize Content Topics: Identify the key interests of each segment and create content that directly speaks to those topics. For example, if one segment is interested in "beginner's guides," provide content that covers fundamental concepts and basic explanations.
Use relevant examples: When explaining concepts or providing solutions, use examples and scenarios that resonate with each segment's specific context and experiences.
Language and tone: Adjust the language and tone of your content to match the communication style of each segment. A formal tone may work well for one group, while a more casual and conversational tone may be appropriate for another.
Content format: Offer content in various formats to cater to different preferences. Some segments might prefer video content, while others may prefer written articles or infographics.
Optimize for devices: Ensure that your content is optimized for the devices most commonly used by each segment, whether it's desktop, mobile, or tablet.
Personalized recommendations: Implement recommendation systems that suggest content based on each user's past interactions, browsing history, or preferences. This can enhance user experience and encourage more engagement.
Address pain points: Understand the specific pain points and challenges faced by each segment. Create content that addresses these issues and offers actionable solutions.
Localized content: If your audience spans different regions or countries, consider localizing your content to address specific cultural, language, or regional preferences.
Segment-specific campaigns: Create targeted marketing campaigns for each segment. Tailor your messaging and content promotion to align with the unique characteristics of each group.
Feedback and surveys: Continuously collect feedback and conduct surveys to better understand the needs and preferences of each segment. Use this information to refine your content strategy.
Stay flexible: Keep your content strategy flexible and adaptable. As audience preferences and behavior evolve, be ready to adjust your content approach accordingly.
Regularly update and optimize
Regularly updating and optimizing your content is crucial for staying relevant to your audience and search engines. It ensures accuracy, improves SEO, and enhances user engagement. By monitoring performance, incorporating visuals, fixing broken links, and repurposing content, you can maintain a competitive edge, provide valuable information, and achieve better results in the ever-changing digital landscape.
Here are some additional tips for personalizing content:
Use the reader's name. This is a simple way to make the content feel more personal.
Use the reader's interests. You can do this by using data from their past interactions with your website or social media pages.
Use the reader's location. This can be helpful if you are targeting a specific geographic area.
Use images and videos. These can help to break up text and make content more visually appealing.
Ask questions. This is a great way to get the reader involved and engaged with the content.
Use social media. This is a great way to share personalized content with your followers.
By following these tips, you can create personalized content that is more likely to engage and convert your readers.
Why personalization is important in content creation
Personalization in content creation helps to create a more engaging and relevant experience for the reader. When content is personalized, it feels more like it is speaking directly to the reader. Which can lead to increased interest and engagement. Additionally, personalized content marketing can help to improve the effectiveness of marketing campaigns by ensuring that the content is relevant to the target audience.
Here are some of the key reasons why personalization in content creation is important:
Relevance: Personalized content ensures that the information provided is relevant to the individual receiving it. By tailoring content to a specific audience's interests, preferences, and needs, you increase the chances of engaging them and capturing their attention. Because this is quite evident that people always read and engage with content that is relevant to them.
Improved Engagement: Personalized content is more likely to capture and hold the reader's attention. This is because people are more likely to engage with a piece of content that speaks directly to them. Moreover, personalized content marketing creates a sense of connection and understanding. People are more inspired to interact with such content in the form of likes, comments, shares, and click-throughs.
Higher Conversion Rates: Personalization in content creation can significantly impact conversion rates. When you tailor content to specific individuals or audience segments, you enhance their overall experience By making them more likely to engage with your brand and you can inspire them to take desired actions.
For example, if you are selling shoes, you could personalize your content for different age classes so that they can feel more connected to it.
Reduced Bounce Rates: When visitors find content relevant and engaging, they are more likely to stay on your website or platform for a longer duration. This reduces bounce rates and improves overall user retention.
Enhanced User Experience: Personalized content contributes to a positive user experience. Users appreciate content that addresses their unique concerns and offers valuable solutions. This positive experience can lead to increased brand loyalty and advocacy.
Increased brand loyalty: Personalized content can help to build brand loyalty, as it shows that the brand cares about the individual reader. This can be done by using the reader's name, interests, or location in the content.
It fosters a sense of trust and understanding between the brand and the audience. By consistently delivering content that resonates with users, you can nurture long-term relationships, turning one-time customers into loyal advocates.
Cross-Selling and Upselling opportunities: When you understand a user's interests and past behavior, you can recommend additional products or services that they might find valuable. This creates cross-selling and upselling opportunities, increasing the average customer's lifetime value.
Competitive Advantage: In today's digital landscape, personalization is becoming an expectation rather than a novelty. Brands that excel at personalizing content can gain a competitive edge by standing out from the crowd and building stronger connections with their audience.
How Ai can help in personalization in content creation
In this era of artificial intelligence, almost every kind of task is made easy with AI-powered tools. The same goes for content marketing.
AI can significantly enhance personalization in content creation by analyzing vast amounts of data and generating tailored content that suits the preferences, needs, and interests of individual users. Here are several ways AI can assist in this process:
User data analysis
AI algorithms can process and analyze user data, such as browsing history, purchase behavior, social media activity, and content consumption patterns. This data can provide insights into individual preferences and interests, enabling content creators to deliver personalized content.
Recommendations for personalized content
AI-powered recommendation engines can suggest personalized content to users based on their past interactions. These recommendations may include articles, videos, products, or other relevant content, increasing user engagement and satisfaction.
Dynamic content generation
AI can create dynamic content in real-time, adapting to users' actions and preferences. For example, AI can customize website layouts, email newsletters, or social media posts based on user behavior.
Natural Language Generation (NLG)
NLG algorithms allow AI to generate content that sounds like human write-ups. Content can be personalized based on user data, ensuring that it aligns with individual preferences and interests.
AI Chatbots and virtual assistants
AI-powered chatbots and virtual assistants can engage users in personalized conversations, answering queries, recommending products, and offering content based on individual needs.
For example, Advanced AI Chatbots like GenieChat come with 22+ personalities that can provide content in different tones. This can help to generate versatile content for personalization.

To conclude
In conclusion, Personalization in content creation offers a range of benefits, including increased user engagement, higher conversion rates, improved customer loyalty, and enhanced brand perception. It empowers brands, businesses, and individuals to build deeper connections with their audiences. It's a powerful tool that can transform the digital world for the better.
Leveraging data-driven insights and advanced technology, content creators can deliver relevant and timely content across various platforms and channels, leaving a lasting impact on their audience.