How to Rewrite a Paragraph Without Plagiarism Using Ai for Free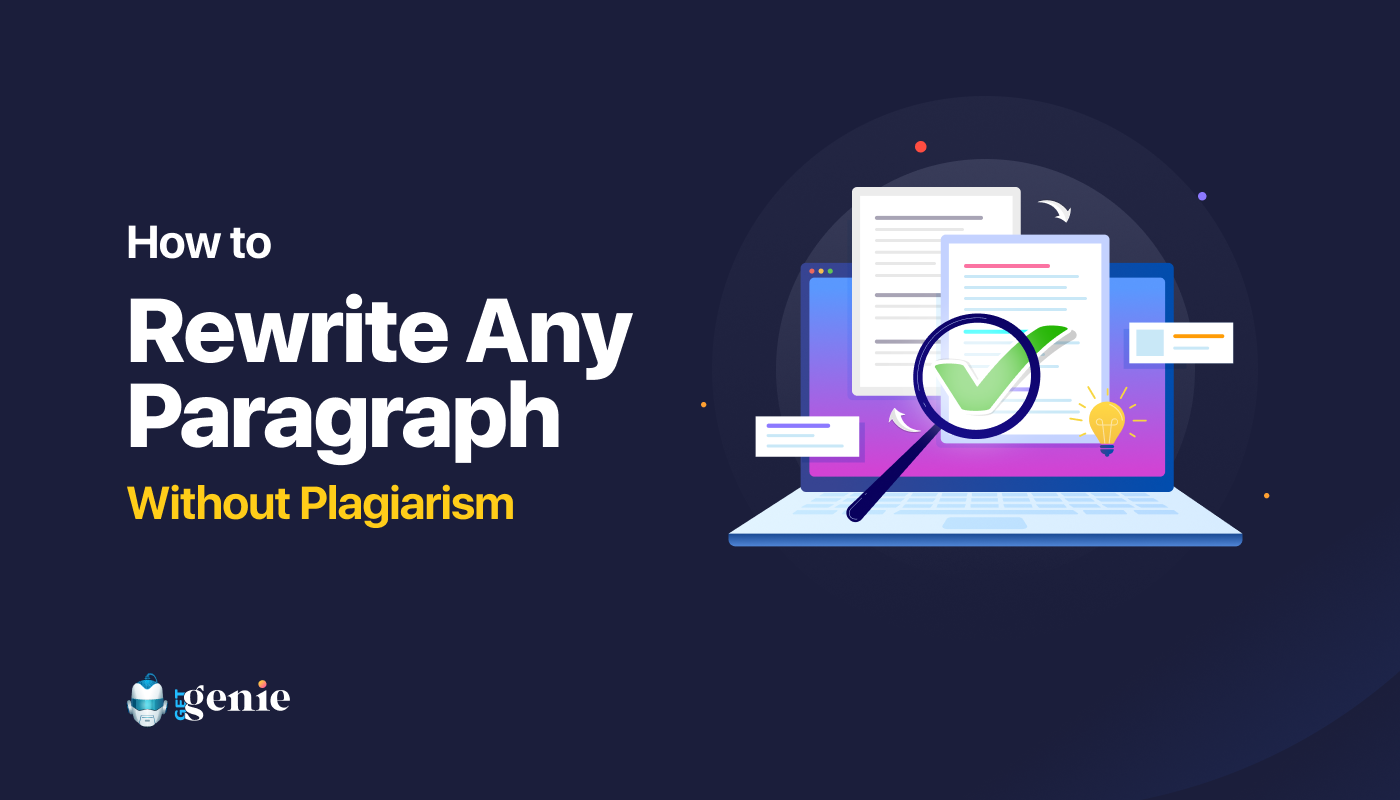 Have you ever found yourself in a situation where you needed to rewrite a paragraph without resorting to plagiarism, but struggled to maintain the originality of your content?
Fortunately, there's an innovative solution at your fingertips. You can utilize the power of Ai, then it can be an extremely easy task.
In this blog, you will get to know the process of how to rewrite a paragraph without plagiarism using Ai. Besides, you will also learn useful tips that you can to make sure the rewritten paragraph is of high quality.
What is a Paragraph Rewriter?
A paragraph rewriter is an Ai-based software or tool that reads a paragraph and then transforms it into a new version after thorough analysis. 
It uses natural language processing techniques to replace words, change sentence structures, and reorganize content to create a new version of the paragraph.
Paragraph rewriters are also used to avoid plagiarism, generate fresh content, or improve the readability and style of existing text.
They can be beneficial when you need to produce multiple versions of the same content while preserving the core message.
Why Use AI Tools for Paragraph Rewriting
AI tools for paragraph rewriting streamline the content creation process, maintain consistency, and provide writers with creative alternatives, ultimately improving the quality and efficiency of content production.
Here are the 5 benefits of using AI tools for paragraph rewriting:
1. Efficiency and Speed
AI-powered paragraph rewriting tools can quickly generate rewritten paragraphs, saving writers significant time.
As a result, you can handle large volumes of text in a fraction of the time.
2. Variety and Diversity
AI can provide diverse rephrases of a paragraph, ensuring the content remains engaging and avoids repetition.
You can effectively maintain reader interest by offering different ways to present the same information.
3. Consistency and Accuracy
4. Enhanced Creativity and Inspiration
Ai paragraph rewriters can assist you in thinking creatively and finding fresh ways to convey information.
AI-generated suggestions can spark new ideas and inspire writers to approach their content from different angles.
5. Multilingual Support
AI paragraph rewriting tools can easily translate content into different languages, expanding the reach of the original text.
This feature is particularly valuable for global audiences and international content distribution.
How to rewrite a paragraph without plagiarism using Ai for Free in 3 Steps
Follow the steps below to rewrite a paragraph without plagiarism in simple steps with ease.
Step 1: Install the Paragraph Rewriting Tool – GetGenie Ai
The first step is to install GetGenie. This standalone WordPress plugin offers a free version as well which offers free 2500 word generation per month. The pricing of this Ai tool is also very reasonable.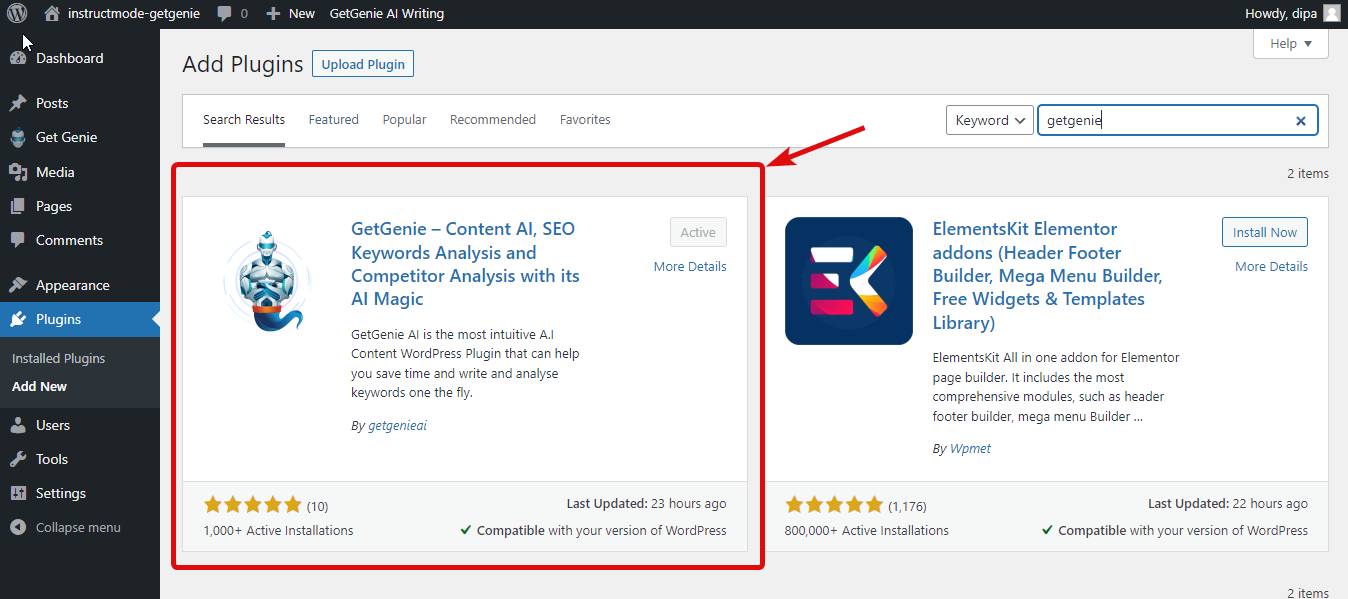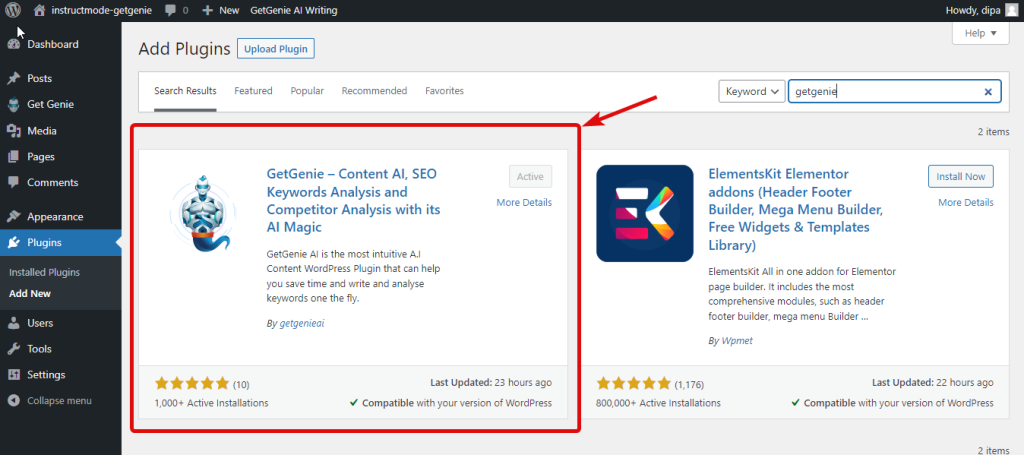 🔔🔔Once you install the plugin, you need to
activate and buy Word credit
before you can use any of the features.
You can use 2500 words free too. Check our documentation to learn the whole process of
how to claim free credits from GetGenie.
Step 2: Select the Paragraph Rewriter Template
Now navigate to GetGenie ⇒ AI writing.
Select the paragraph rewrite template that is"Content Rewriter".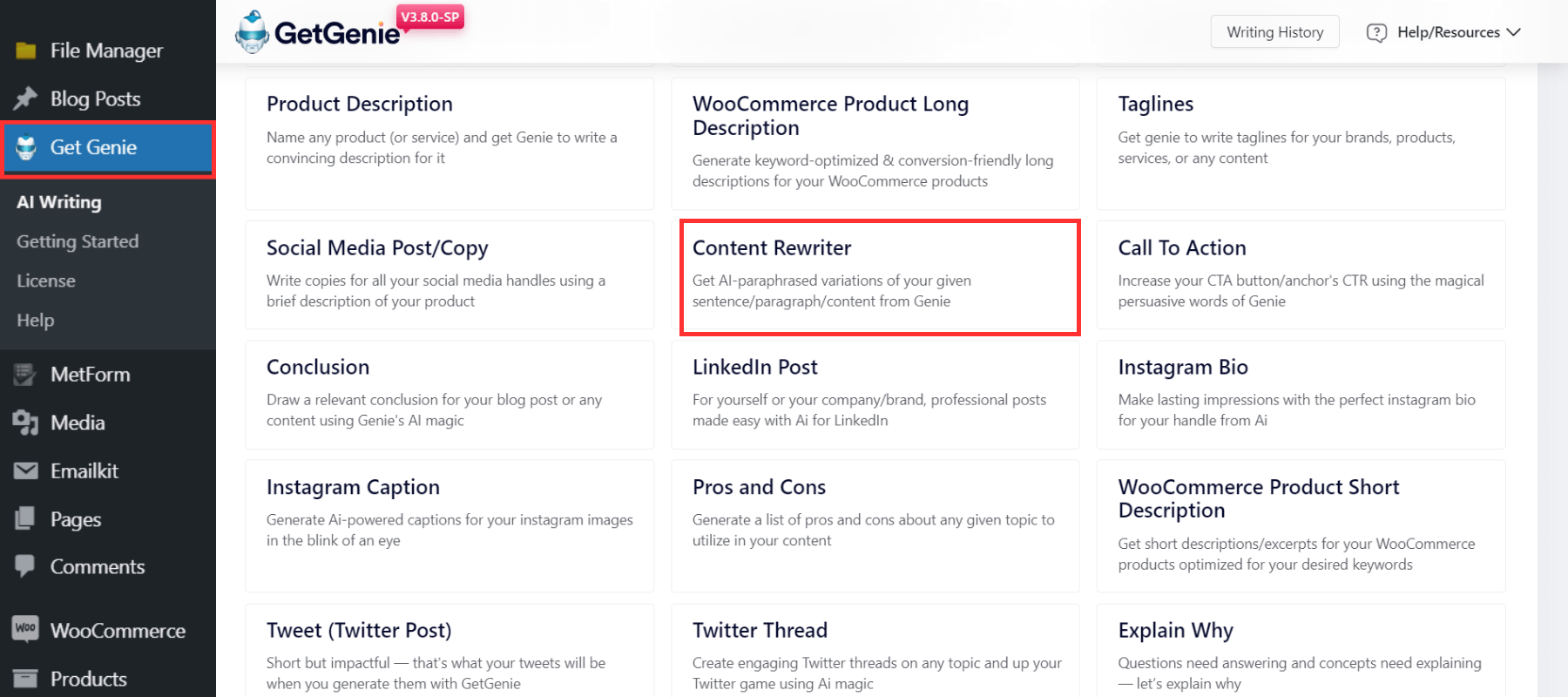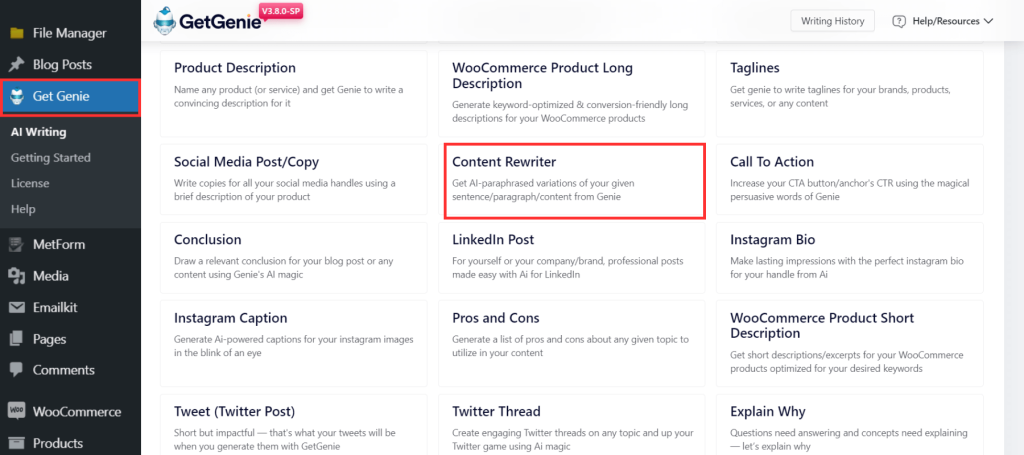 Step 3: Provide the Required Inputs to Rewrite the Paragraph
Now enter the existing paragraph, then select the language, tone, creativity, and results.
Creativity will decide how creative your results will be and using the result option you can choose the number of results you want.
After providing the inputs, click on "Write" to get the results.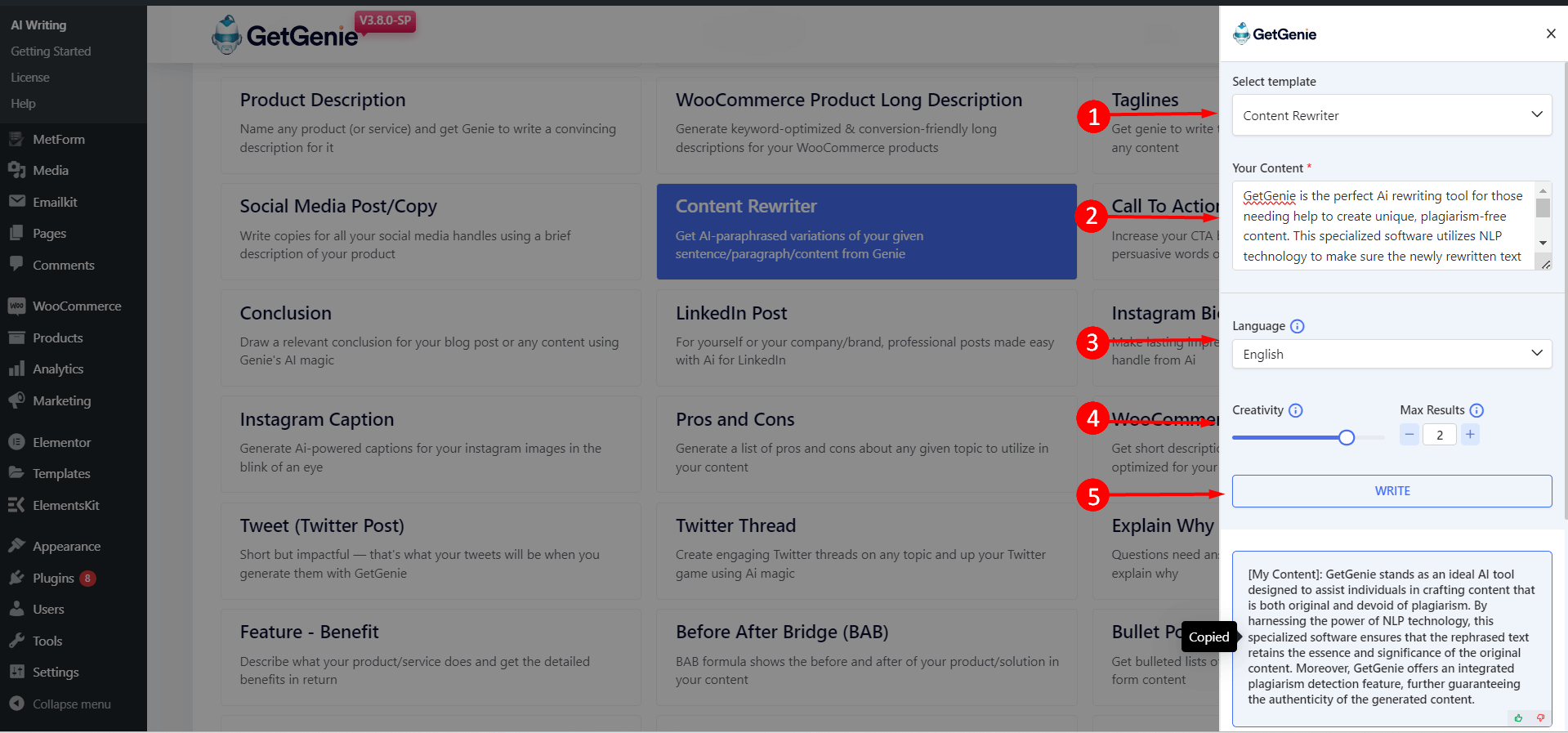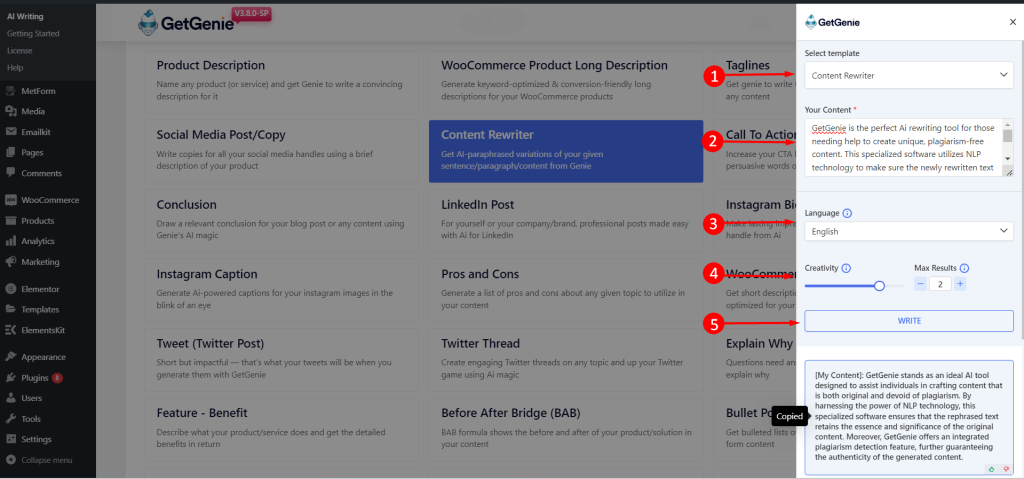 Once the results are generated click on any of them to copy. After you copy the new paragraph you can use it for any purpose.
🔔🔔
Now, GetGenie Ai has integrated with a
Plagiarism checker
, so you can check your content plagiarism in just one click.
👉👉 To learn more, check this documentation –
Plagiarism Checker – GetGenie
Alternative Method: Rewrite Paragraphs on Web Editor
What if you are not a WordPress user? 🤔
Don't worry! Introducing a game-changing approach to paragraph rewriting: GetGenie's Web Editor!
It offers an innovative and user-friendly solution to transform your content effortlessly. Let's see how to utilize GetGenie's playground to rewrite the paragraph: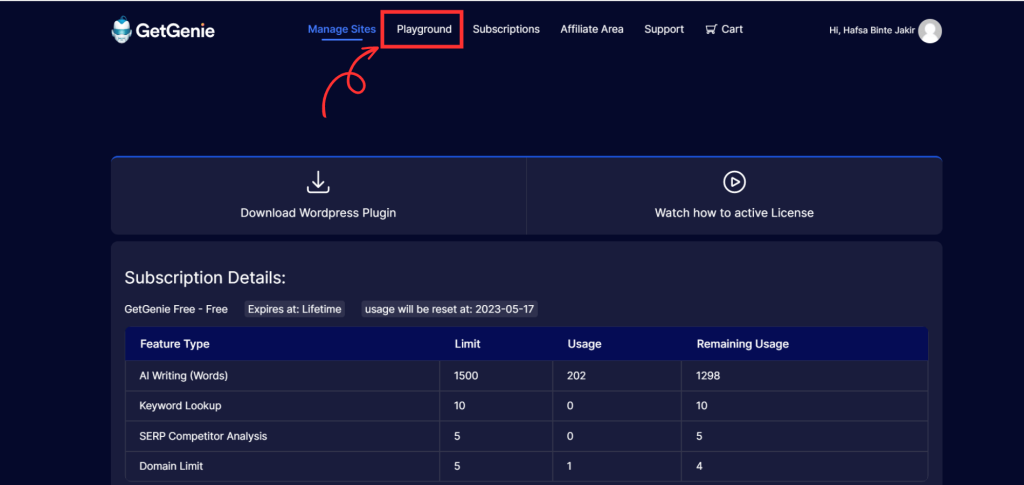 Now, create a new file
Click on "New Document"
Write the document name
Click on "OK"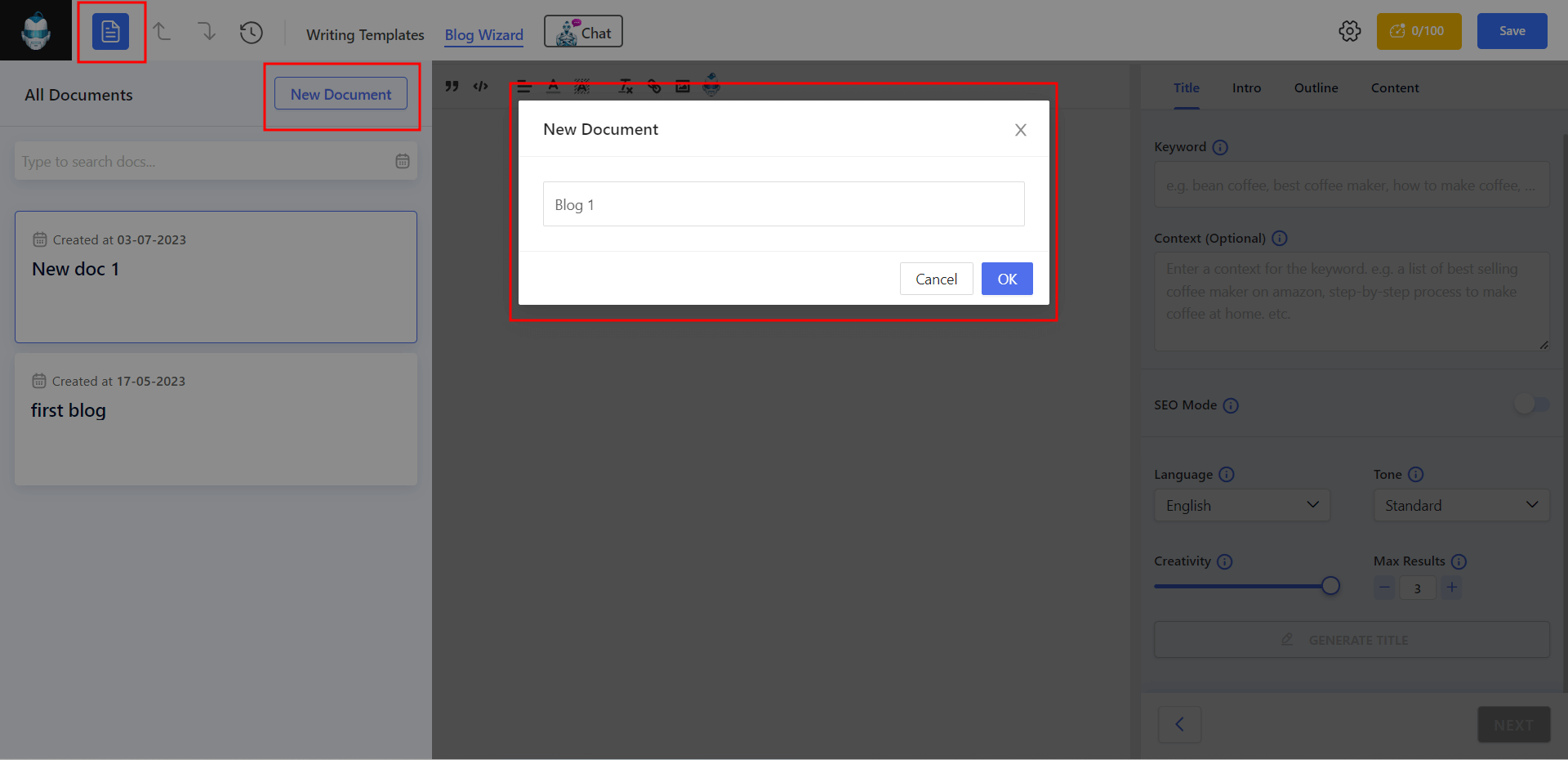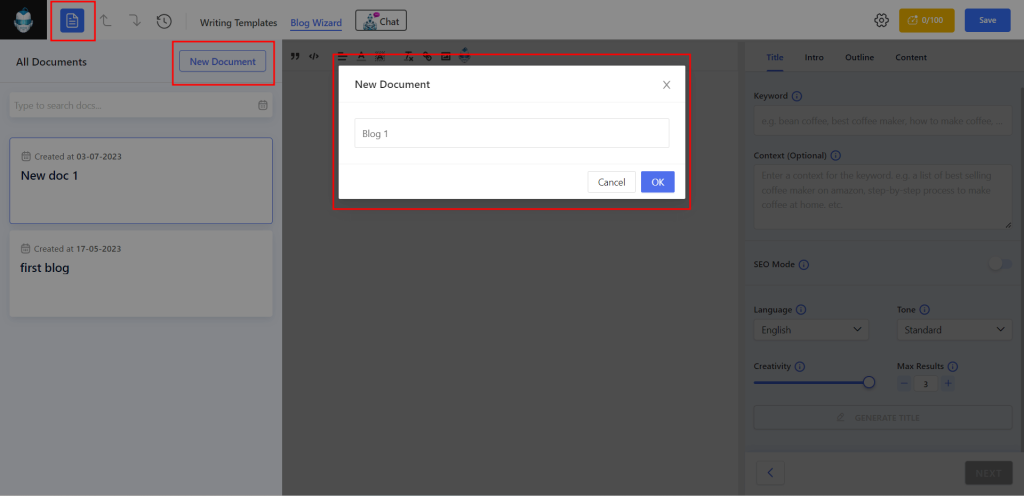 Click on the "Writing Templates"
You can see 37+ templates on the right sidebar
Search for the "Content Rewriter" template or scroll down
Select "Content Rewriter" template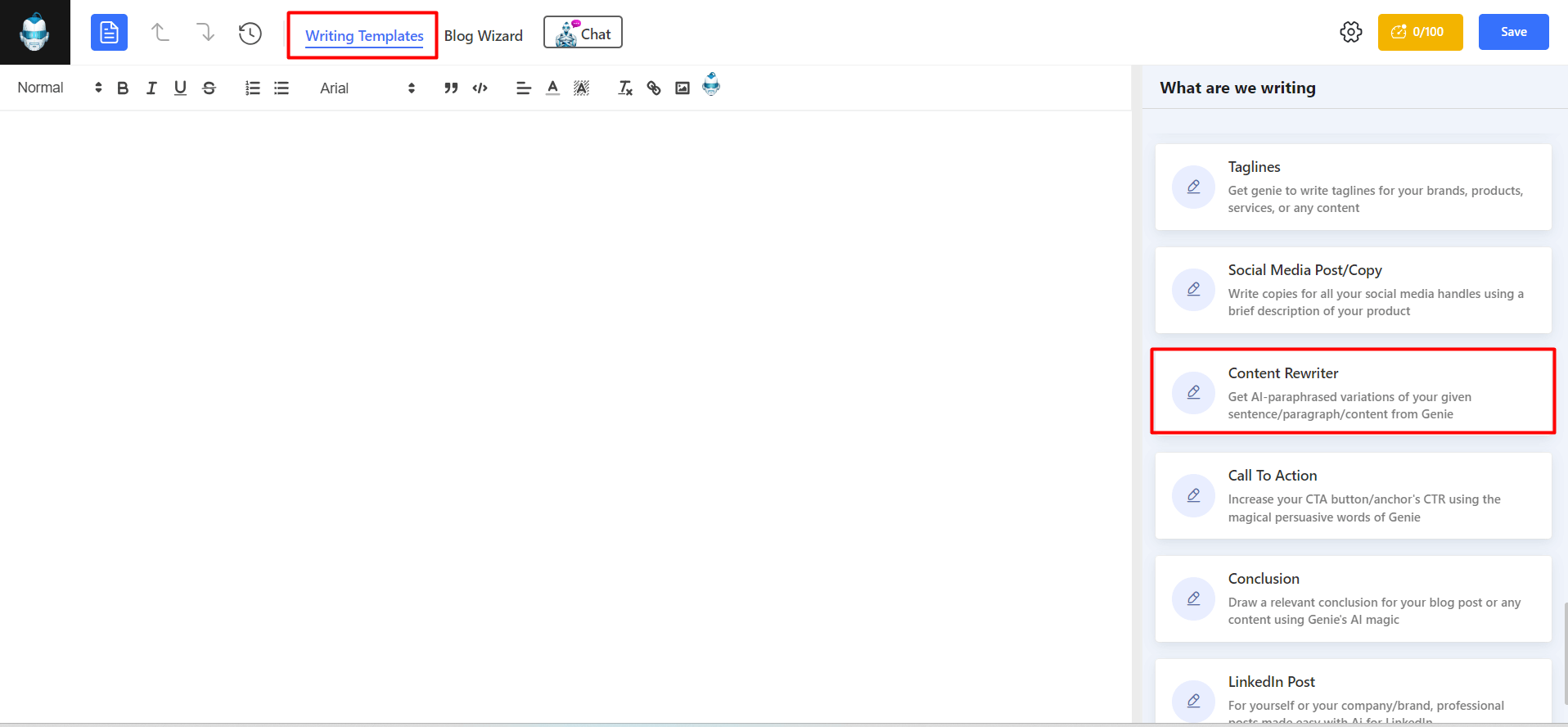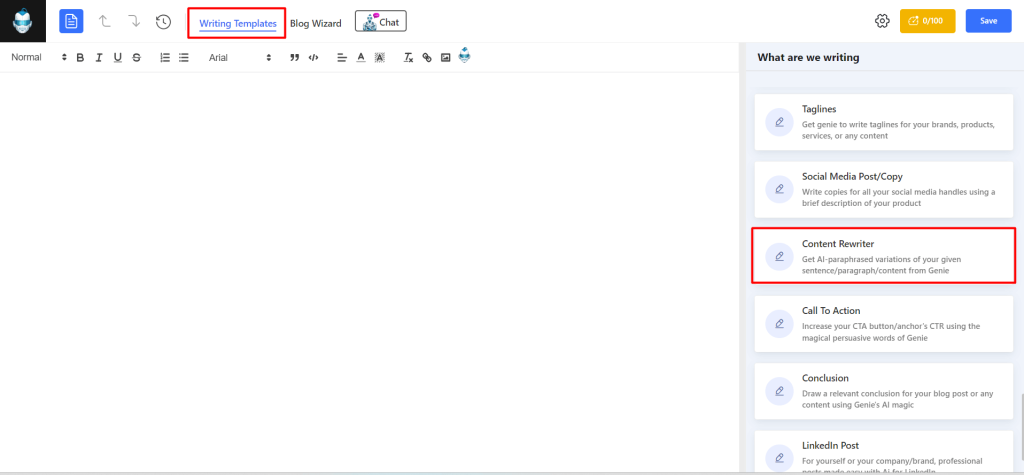 Write/paste a paragraph
Select a language among 33+ options
Set values form creativity and results
Click on "Write"
Click on the plus (+) icon to insert the paraphrased text into the web editor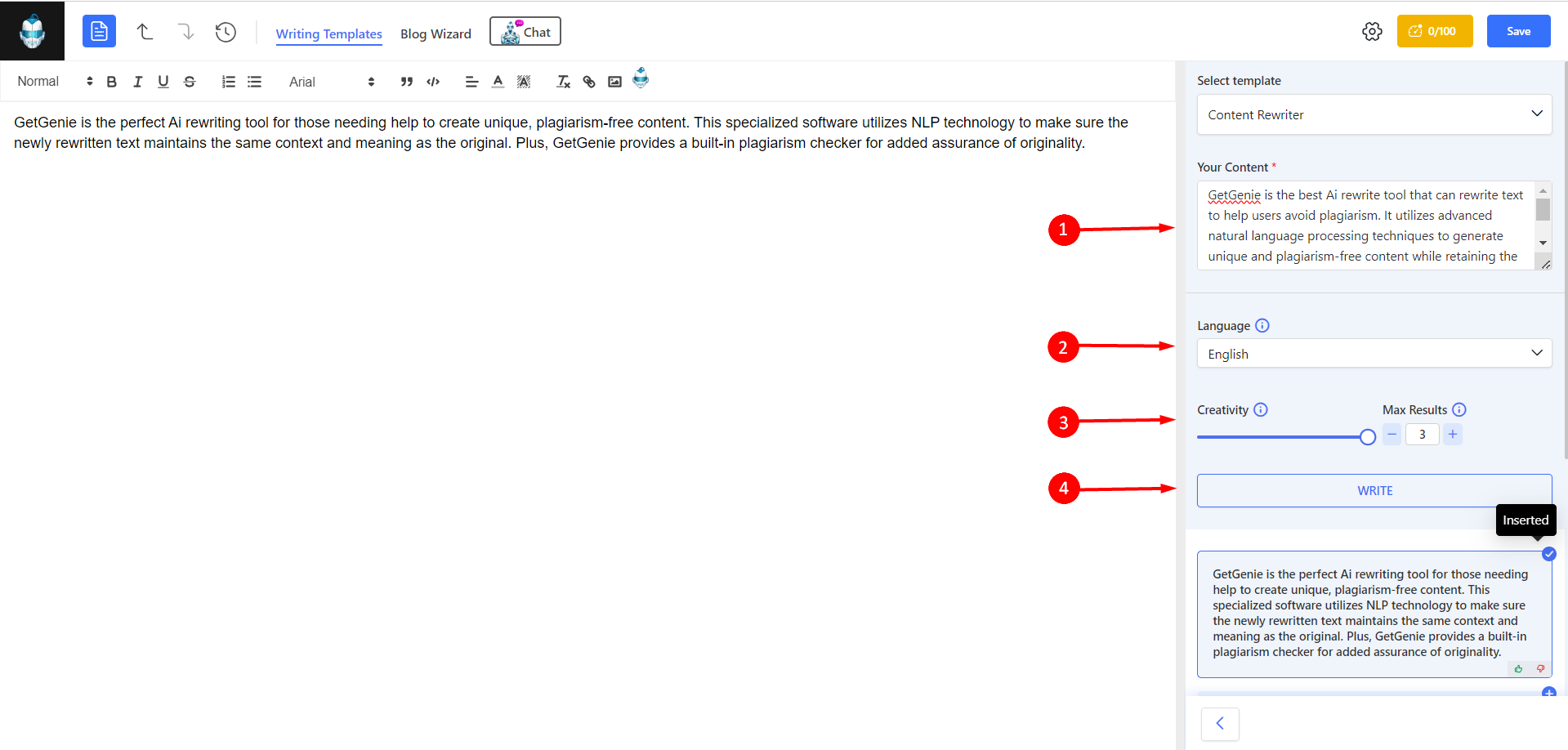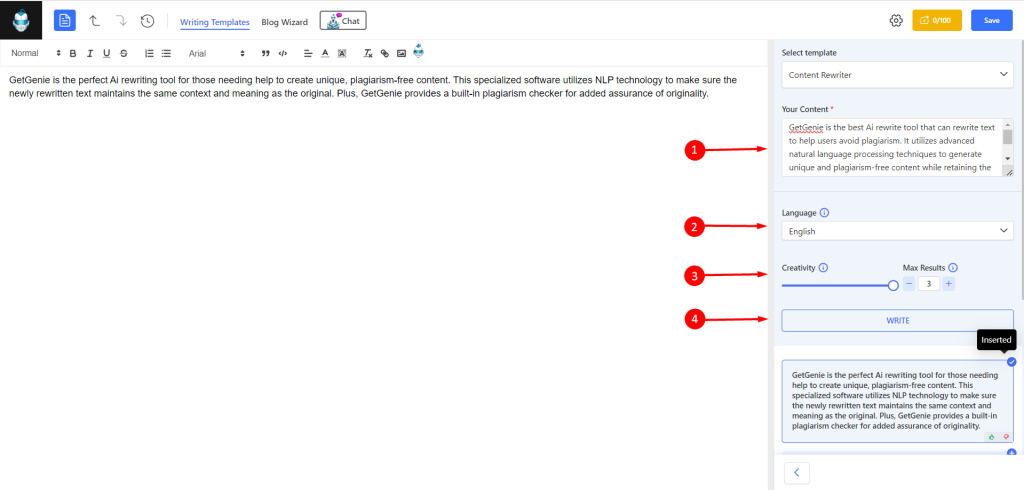 Why should you choose GetGenie Ai as your Ai writing assistant?
Not just for the purpose of rewriting paragraphs, you can use GetGenie as your Ai writing assistant for writing all sorts of copies and contents. This is the only tool you will need because the WordPress Ai content writing plugin actually does the work of 10+ Ai tools – Writesonic, WriterZen, Frase, Rytr.me, Copy Ai, etc. by itself!
Whether you are a marketer or writer, this Ai tool can be your best friend in executing all writing tasks with minimal effort. Especially, if you are looking for an assistant to write a blog then you must start using this tool.
In addition, GetGenie Ai offers both WordPress plugins as well as a SaaS platform. Besides, it comes with a range of writing styles and tones to choose from.
Overall, GetGenie Ai is undoubtedly the best Ai blog writer available in the market because it offers all the options you need to come up with an engaging, informative, and SEO-friendly blog.
On top of being fantastic and the best Ai content writer, this amazing tool provides 37+ writing templates that you can use to generate any sort of marketing content you possibly need to grow your content marketing strategy.
Here are some templates that GetGenie Ai offers includes:
Best Practices to Rewrite Paragraphs Without Plagiarism Using Ai
Ai tools can be helpful, responsible, and work as ethical rewriters to maintain the integrity of your work and avoid plagiarism.
Here are 7 best practices for rewriting a paragraph without plagiarism using free Ai tools:
✔️ Understand the Source Material
Carefully read and comprehend the original paragraph before attempting to rewrite it.
Ensure you grasp the main ideas and the author's intended message.
✔️ Select a Reliable Ai Tool
Research and choose a reputable and free Ai paraphrasing tool e.g. GetGenie Ai.
Consider user reviews and the tool's track record for producing accurate and non-plagiarized content.
✔️ Review and Edit Thoroughly
Better to not rely solely on Ai-generated rewrites; carefully review and edit the output.
Ensure that the rewritten paragraph maintains clarity, coherence, and originality.
Use synonyms of different words in a sentence. However, don't use a synonym for each word of a sentence.
Try to divide long sentences into short ones. Using short sentences also increases readability.
✔️ Cite the Original Source
Always provide proper attribution to the source of the original content.
Include citations in the appropriate format to acknowledge the author's work.
✔️ Verify for Plagiarism
Utilize plagiarism checkers to verify that your rewritten paragraph is plagiarism-free.
Make any necessary revisions to ensure the content is entirely original.
✔️ Practice Ethical Paraphrasing
Understand that paraphrasing doesn't mean changing a few words; it involves expressing ideas in your own words while retaining the original meaning.
Avoid reproducing the same sentence structure or organization as the source material.
Stay updated on Ai advancements and ethical writing guidelines to enhance your rewriting abilities.
FAQs
What are the Qualities of a Good Paragraph?
The good quality paragraph includes:
Clear and coherent presentation of ideas.
Logical organization and smooth transitions between sentences.
Adequate supporting details and evidence to strengthen the main idea.
A unified focus on a single topic or theme.
Proper grammar, punctuation, and sentence structure.
Appropriate length, typically 3-5 sentences, but can vary based on context.
Engagement of the reader's interest and understanding.
Can Ai rewrite my paragraph?
Yes, Ai can rewrite your paragraph using advanced natural language processing algorithms. However, it's crucial to review and refine the output to ensure it meets your specific needs and maintains the desired quality and originality.
How to use Ai without plagiarizing?
To use Ai without plagiarizing, follow these steps:
1. Understand the source material.
2. Select a reliable Ai tool i.e. GetGenie Ai
3. Review and edit the Ai-generated content
4. Properly cite the original source
5. Avoid over-reliance on Ai
6. Verify for plagiarism using online tools
Which Ai rewrites text to avoid plagiarism?
GetGenie is the best Ai rewrite tool that can rewrite text to help users avoid plagiarism. It utilizes advanced natural language processing techniques to generate unique and plagiarism-free content while retaining the original meaning of the text. Besides, an integrated plagiarism checker helps you to check to ensure originality.
Is there a free paraphrasing tool without plagiarizing?
Yes, GetGenie Ai is a free paraphrasing tool that helps you rewrite paragraphs without plagiarizing. GetGenie Ai offers a free plan that allows users to paraphrase up to 2,500 words without incurring any charges.
Final Words
Time to wrap up.
Thanks to the invention of Ai paragraph rewriters now rewriting a paragraph is not that daunting either. We hope once you read the blog, you will agree with me on that statement and get a complete overview of "how to rewrite a paragraph to avoid plagiarism".
In case, you want to rewrite a paragraph by yourself, make sure to follow the tips provided to avoid plagiarism. However, we will recommend using GetGenie Ai paragraph rewriter especially when you get to use the tool for absolutely free.