How to Rewrite a Paragraph Without Plagiarism Using Ai for Free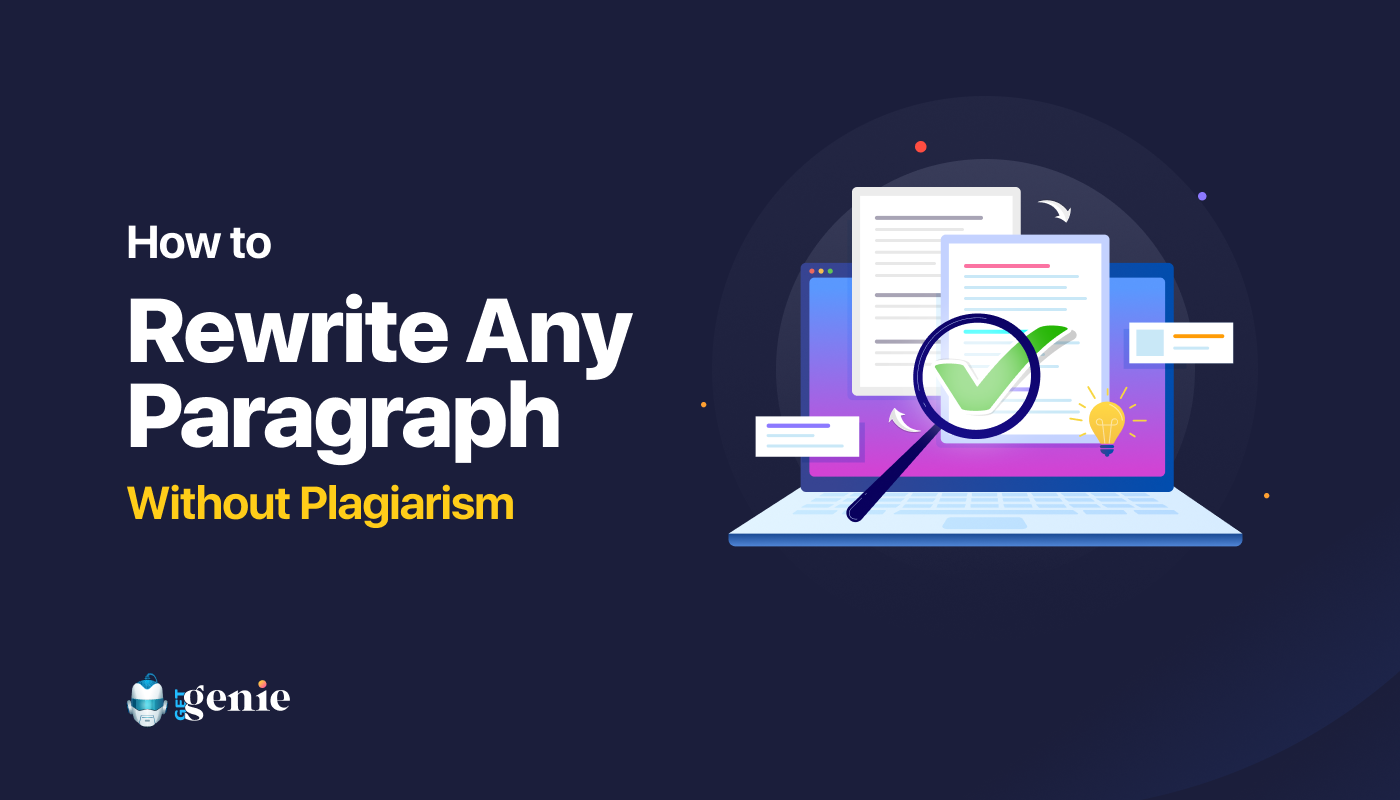 Wondering how to rewrite a paragraph without plagiarism?
Just like writing a paragraph, rewriting a paragraph requires skills too. Because if you can't rewrite properly then it may fall under plagiarism. Moreover, the quality of the paragraph may also dwindle.
Ensuring you rewrite a paragraph that is of better quality than the earlier version with no plagiarism can be a tough task, especially when done manually. However, if you utilize the power of Ai, then it can be an extremely easy task.
In this blog, you will get to know the process of how to rewrite a paragraph without plagiarism. Besides, you will also learn some useful tips that you can to make sure the rewritten paragraph is of high quality.
What is a Paragraph Rewriter?
A paragraph rewriter is an Ai-based software or tool that reads a paragraph and then transforms it into a new version after thorough analysis.
Sometimes the tool can alter the sequence of words, sometimes it uses new words to come up with a new and better version of the paragraph. While the Ai paragraph rewriting tool does change the structure of a given paragraph, it retains the relevant information and details intact.
Qualities of a Good Paragraph
Putting together a few lines can make a paragraph but it doesn't necessarily make it a good one. A good paragraph should have the following qualities:
A paragraph must be constructed around a central idea and the reader should easily understand the main idea.
The opening line or topic sentence should state the main idea of the paragraph.
Like the opening line, a paragraph should also have a proper ending.
A strong sense of coherence is another quality that a paragraph must have. All the sentences should be arranged in a logical manner.
Usage of transitional words to connect two consecutive sentences.
Tips on how to rewrite a paragraph without plagiarism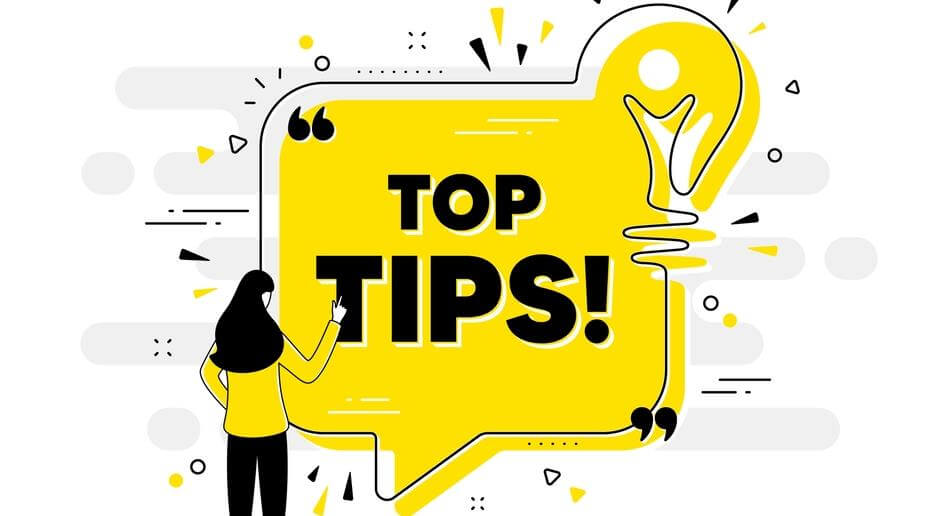 Alter the topic sentence while of the paragraph keeping the main information the same
Change the structure of sentences. Try using different grammatical structures.
Try to divide long sentences into short ones. Using short sentences also increases readability.
Use synonyms of different words in a sentence. However, don't use a synonym for each word of a sentence.
Why use a Paragraph Rewriting tool like GetGenie?
Now that you know how to rewrite a paragraph without altering its meaning, you may be wondering why you should even bother rewriting paragraphs in your content. Here are some reasons:
If you want to create an original version of an existing paragraph but don't have enough time to do it manually, then you should go for an Ai paragraph rewriter like GetGenie.
GetGenie can help you to change the tone of voice of the paragraph into different tones such as professional, standard, informative, casual, excited, funny, etc.
You can rewrite a paragraph without plagiarism using an Ai paragraph rewriter.
You can rewrite in multiple paragraphs and get multiple new versions of each paragraph using an Ai-based paragraph rewriter.
How to rewrite a paragraph without plagiarism using Ai for Free in 3 Steps
Follow the steps below to rewrite a paragraph without plagiarism in simple steps with ease.
Step 1: Install the paragraph rewriting tool GetGenie
The first step is to install GetGenie. This standalone WordPress plugin offers a free version as well which offers free 1500 word generation per month. The pricing of this Ai tool is also very reasonable.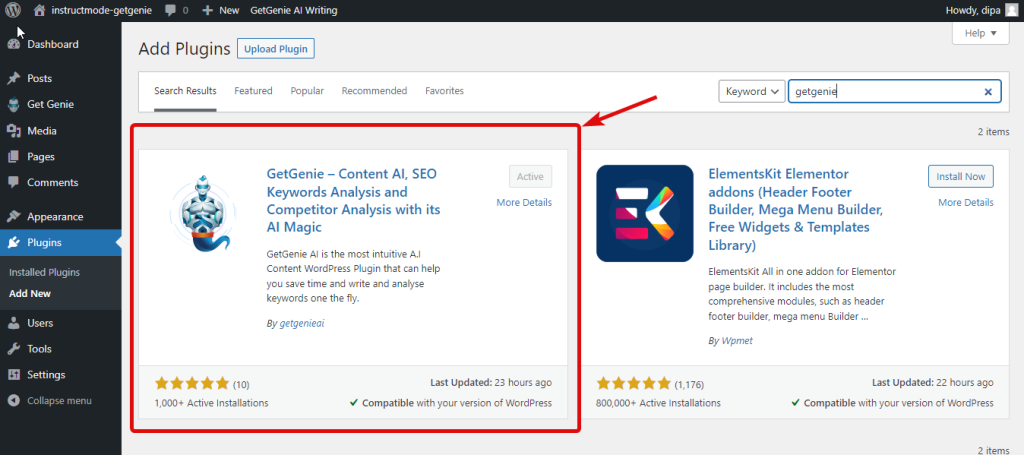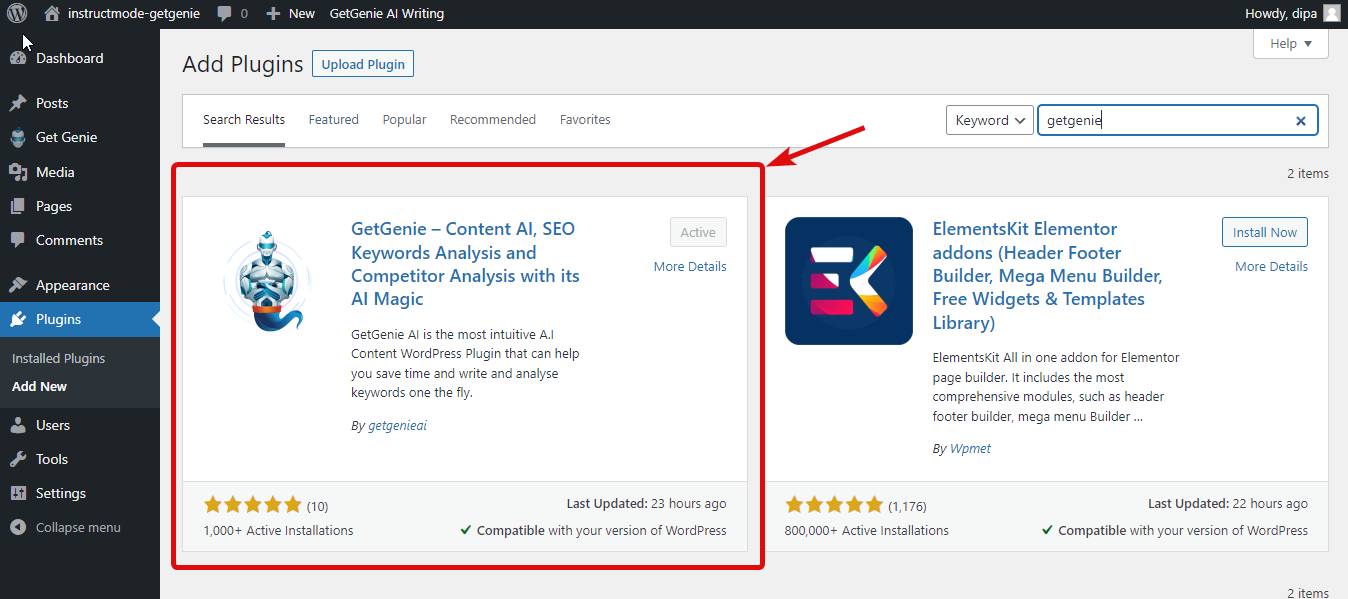 🔔🔔
Once you install the plugin, you need to
activate and buy Word credit
before you can use any of the features. You can check our documentation to learn the whole process of
how to claim free credits from GetGenie.
Step 2: Select the paragraph rewriter tool
Now navigate to GetGenie ⇒ AI writing and select the paragraph rewriter template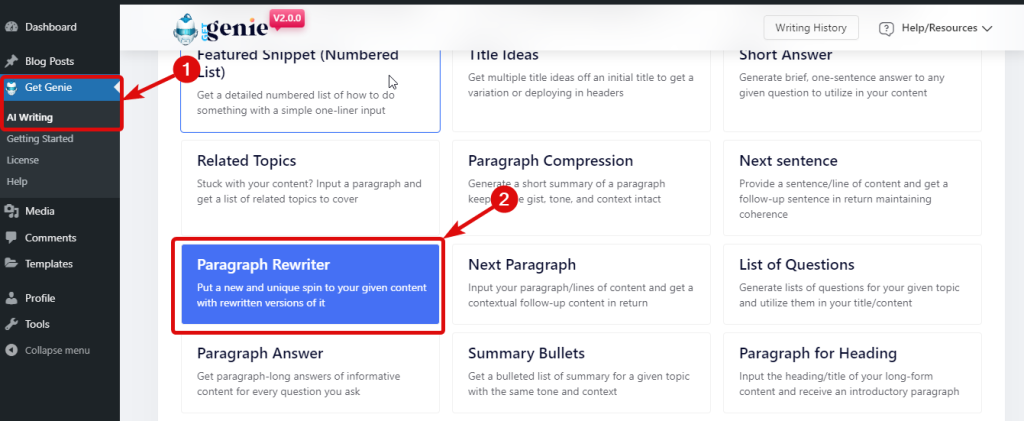 Step 3: Provide the required inputs to rewrite the paragraph
Now enter the existing paragraph, then select the language, tone, creativity, and results. Creativity will decide how creative your results will be and using the result option you can choose the number of results you want. After providing the inputs, click on Write to get the results.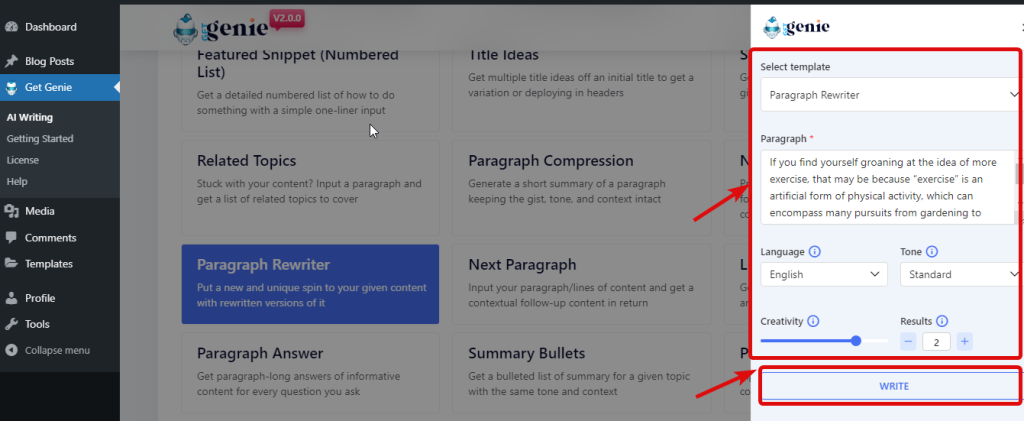 Once the results are generated click on any of them to copy. After you copy the new paragraph you can use it for any purpose.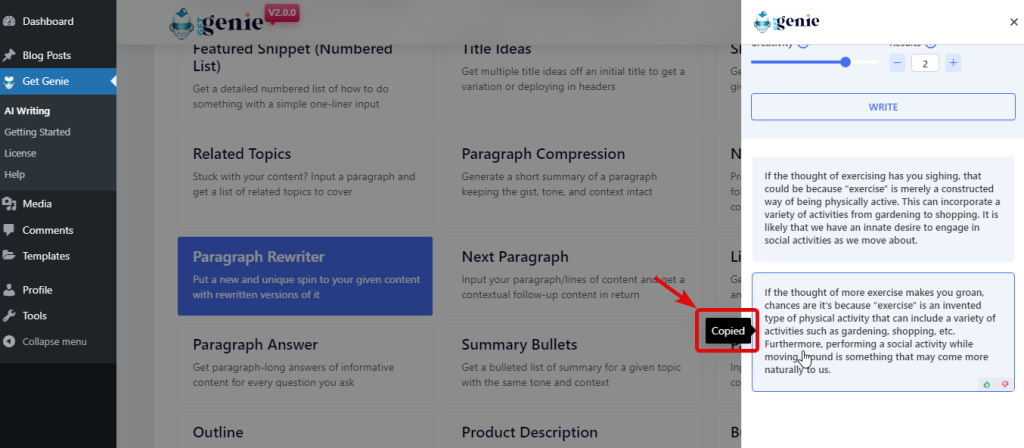 🔔🔔
Now, GetGenie Ai has integrated with a
Plagiarism checker
, so you can check your content plagiarism in just one click.
👉👉 To learn more, check this documentation –
Plagiarism Checker – GetGenie
Why should you choose GetGenie Ai as your Ai writing assistant?
Not just for the purpose of rewriting paragraphs, you can use GetGenie as your Ai writing assistant for writing all sorts of copies and contents. This is the only tool you will need because the WordPress Ai content writing plugin actually does the work of 10+ Ai tools – Writesonic, WriterZen, Frase, Rytr.me, Copy Ai, etc. by itself!
Whether you are a marketer or writer, this Ai tool can be your best friend in executing all writing tasks with minimal effort. Especially, if you are looking for an assistant to write a blog then you must start using this tool. Because GetGenie Ai is undoubtedly the best Ai blog writer available in the market because it offers all the options you need to come up with an engaging, informative, and SEO-friendly blog.
On top of being fantastic and the best Ai content writer, this amazing tool provides 30+ other writing templates that you can use to generate any sorts of marketing content you possibly need to grow your content marketing strategy.
Some of the templates that GetGenie Ai offer includes:
Final Words
Rewriting is common practice as every paragraph can not say something absolutely new. Having said that it's also important you don't copy-paste someone else's work because plagiarism detection is no difficult task nowadays.
Thanks to the invention of Ai paragraph rewriters now rewriting a paragraph is not that daunting either. I hope once you read the blog, you will agree with me on that statement.
In case, you want to rewrite paragraph by yourself, make sure to follow the tips provided to avoid plagiarism. However, I will recommend using an Ai paragraph rewriter especially when you get to use the tool for absolutely free.