Mastering Predictive SEO and Analytics With Ai: The Secret of Boosting Online Visibility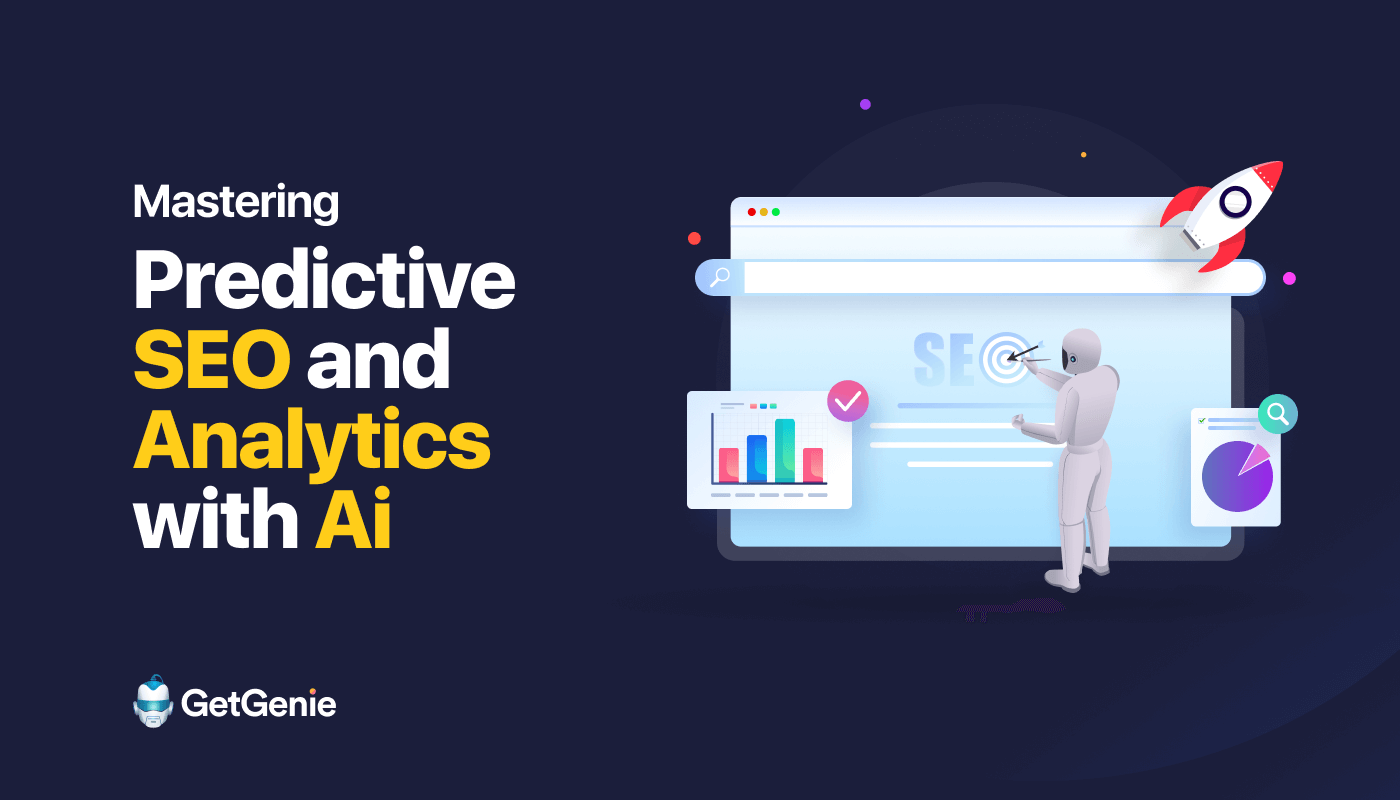 Effective prediction is the gate to unlock various business opportunities. And for search engines, the efficacy of SEO-based anticipation can't even be stated. Why?
Because it will boost online visibility by shedding light on the keywords that will be trending in the future which is called predictive SEO and analytics in marketing. However, regardless of its effectiveness, businesses focus less on this predictive SEO.
The reasons behind this are less awareness and expertise in prediction-based search results. Luckily, now you can utilize this technique effectively using Ai. But how?
Here we'll disclose the entire process of doing predictive SEO for search engines in the right way. So, without any further delay, let's explore the ultimate strategy of boosting online visibility.
What is predictive SEO?
Predictive SEO means analyzing and offering the information customers might look for in the future based on past analytics and knowledge. Most writers cover SEO-trending topics for their targeted audience. But predictive SEO is a prolific strategy fully based on prediction to fulfill user intent in advance.
Importance of predictive SEO and analytics in search results
Predictive SEO is crucial for search engine optimization and winning top rank in search results by offering content first. Besides, this SEO strategy opens the door to many marketing opportunities which is quite unimaginable without implementing it.
Here are the reasons why you should utilize predictive SEO in business:
Competitive advantage: Predictive search results allow you to stay ahead of your competitors by identifying gaps in their strategy and offering them first to Google.
Avoid sudden rank drop crisis: This will predict future market trends and let you create content accordingly. Thus, it will eliminate the risk of sudden drops in keyword ranking.
Higher ROI: By optimizing SEO based on predictive search results, you can overcome the future revenue fall which results in higher ROI (Return on investment).
Better user experience: Predictive SEO and analytics help you to create and provide content to your audience in advance by understanding user behavior. Due to this, users will get everything ready on the plate whenever they need it.
Efficiency: It can automate routine tasks from keyword research to performance tracking so that you can put your time into other strategic activities.
Effective optimization: It will allow you to prioritize keywords that might get focused in the coming days. Covering these keywords beforehand will let you stay ahead in the SEO game.
How to utilize predictive SEO and analytics in content using Ai
Utilizing predictive SEO and analytics in content means leveraging Google's predictive search for optimizing writeups better to unlock higher ranking and user engagement. And, the most prolific way to do it is using Ai. Since it will hand over various opportunities for keyword research, content creation, optimization, user behavior analysis, and more. But, how?
Here are some keynotes about how Ai can assist you in predictive search engine optimization:
Keyword research and competitor analysis:
Ai can do predictive keyword research and competitor analysis in a way that you can never imagine. It will significantly strategize digital marketing through its predicted data-driven insights. Moreover, Ai can help you discover long-tail keywords that have lower competition but higher conversion potential. It also lets you analyze user intent behind keywords.
Additionally, Ai actively monitors competitors' activities and generates fruitful insights based on those. This not only improves current content performance but also predicts what type of write-ups will be most likely to rank in the future. For example, you can get detailed analytics for any keyword with GetGenie in less than a moment.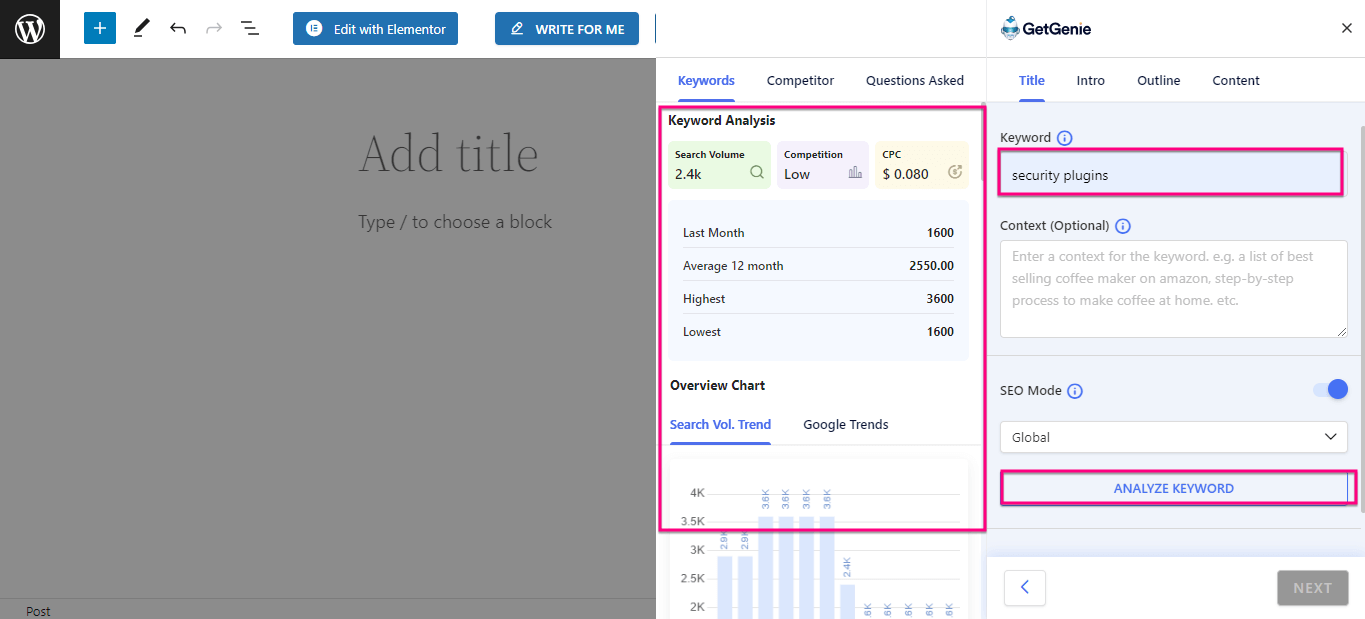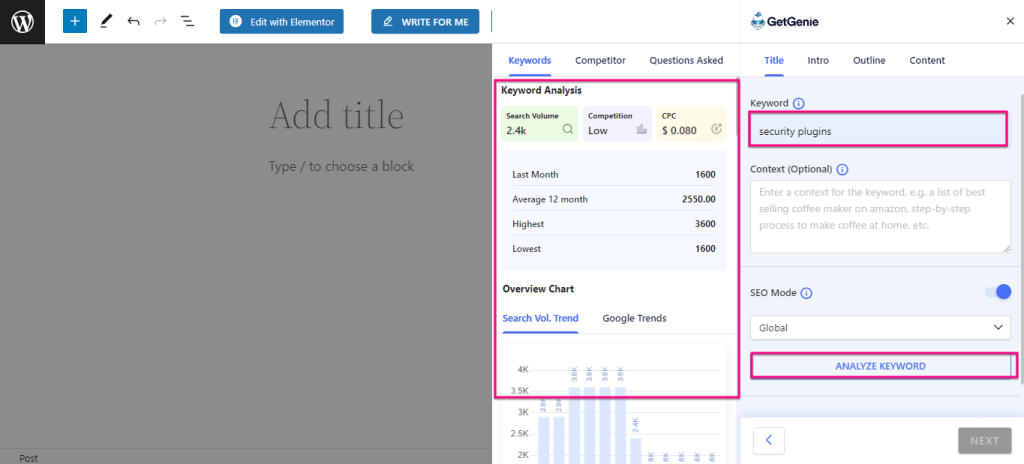 Besides, it will list all the predictive and related keywords for your input. Also, with each keyword, you will get to know CPC and Search volume.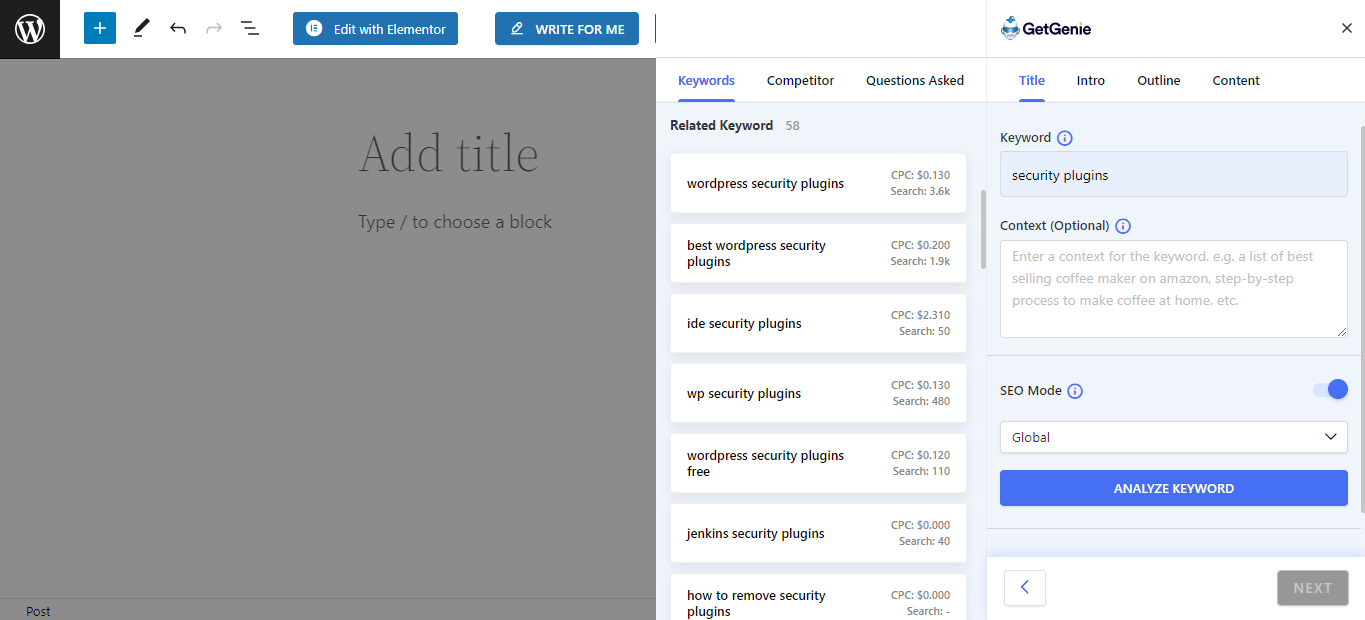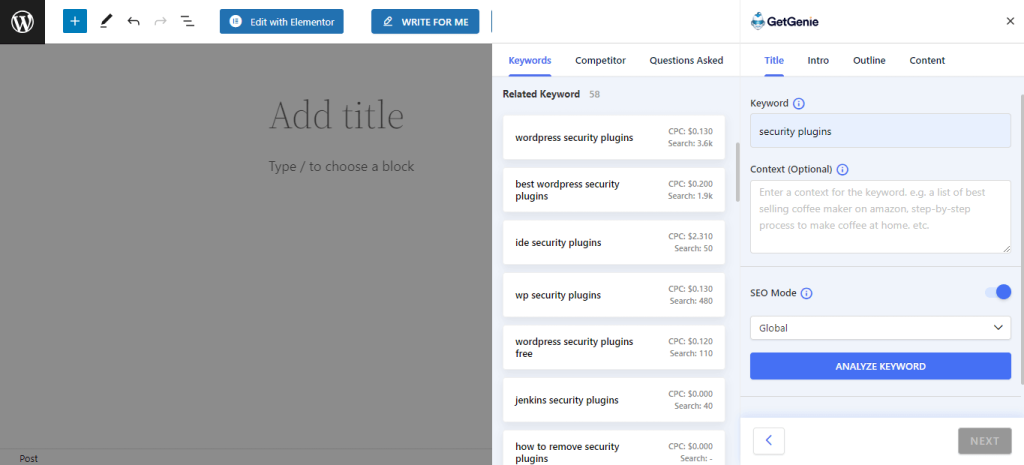 Also, GetGenie crawls all the ranked blogs and shows them under the Competitor tab which is helpful for preparing a strategic and predictive plan for SEO.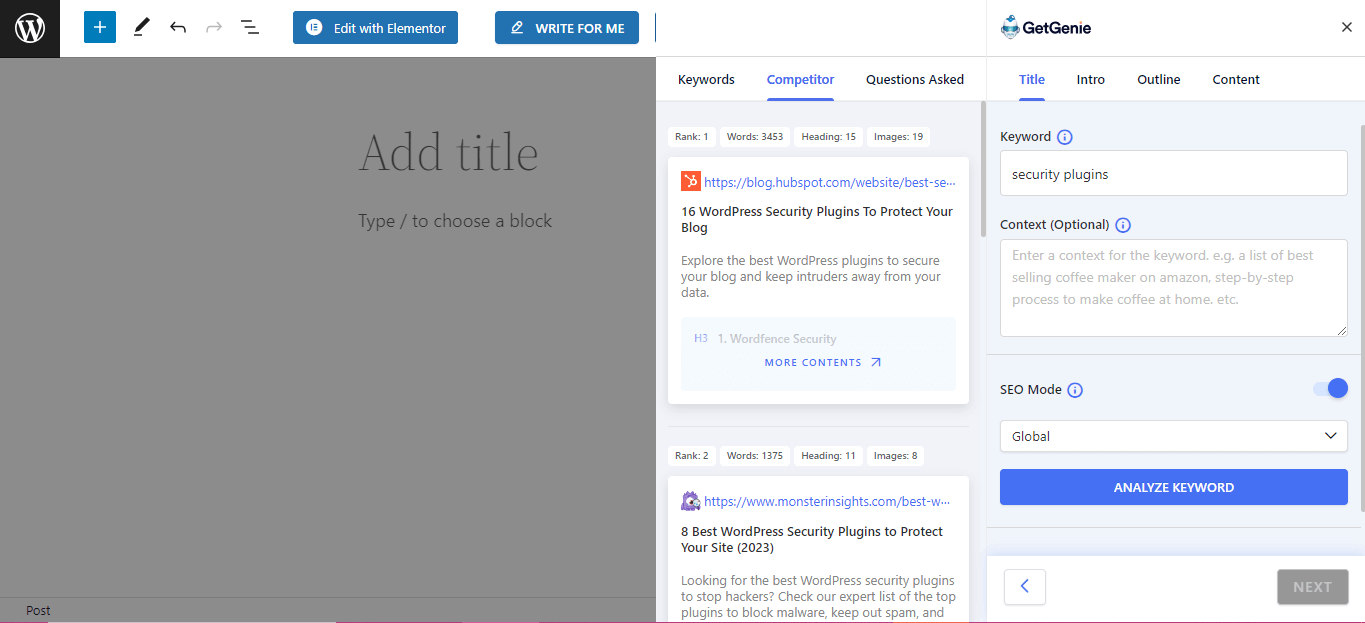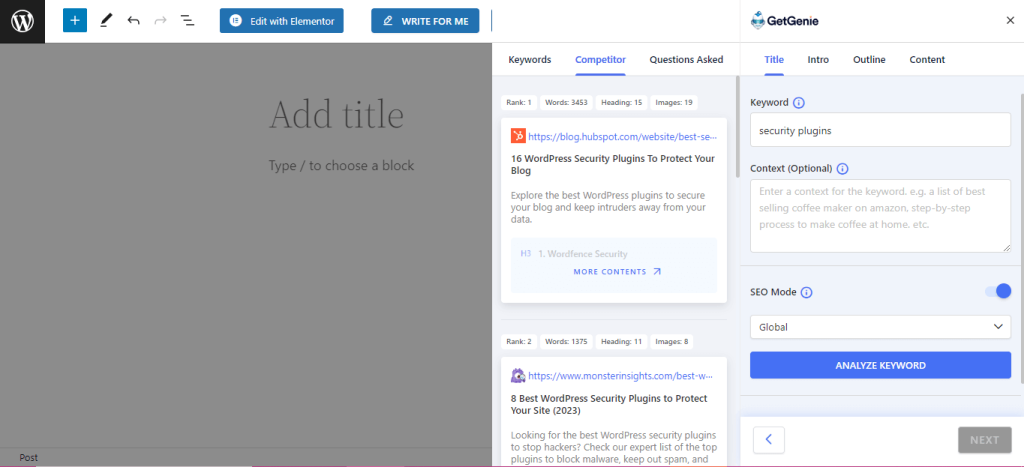 Search engine data and Google trends:
Search engine data and Google trends are invaluable in predictive SEO because you can easily analyze what keywords and phrases people are searching for. Google Trends is all about showing keyword popularity over time. This helps SEO professionals anticipate which keywords will be popular in the future. Besides, by analyzing keyword data and Google trends, you can efficiently identify emerging topics in your niche.
Luckily, GetGenie provides an in-depth search volume and Google Trends insights for any topic. These data are highly beneficial to finding predictive keywords or topics that have greater chances of getting focused in the future.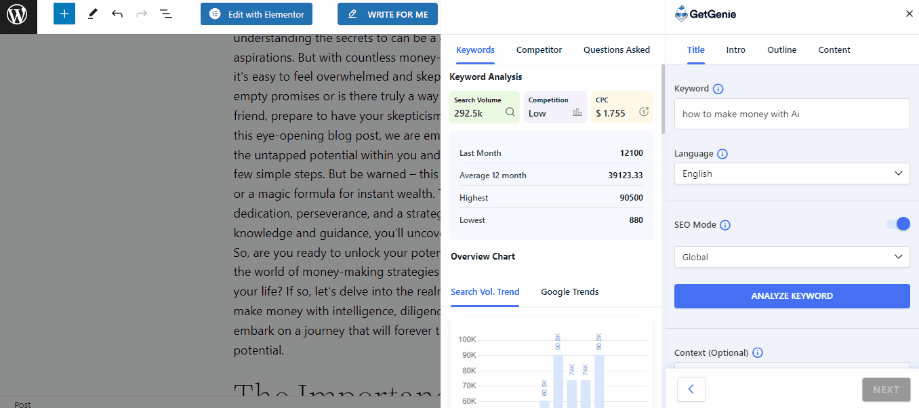 Optimization with content score:
Content optimization is essential for unlocking higher ranking in SEO and Google predictive search results. By anticipating future keyword trends and optimizing content accordingly, you can be ahead of your competitors in terms of ranking possibilities. Additionally, predictive SEO guides content refreshes and updates, resulting in higher ranking and maintaining content relevancy. These create evergreen content for your business or website.
For example, GetGenie's content score feature shows scores for your written content along with suggestions for better optimization. Besides, it also lists down all the possible predictive keywords that are necessary for ranking higher in SERP. This guides you toward predictive content optimization.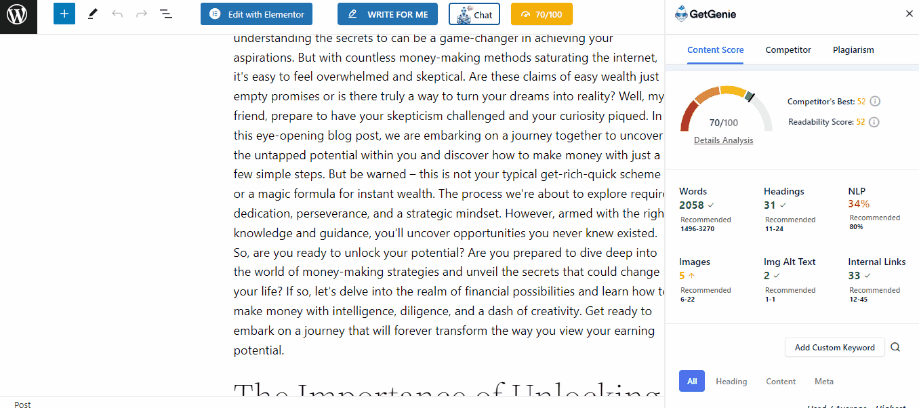 Head-to-head comparison and SERP visualizer:
Head-to-head comparison means face-to-face differentiation of top-ranking content with ranking keywords and their positions. On the other hand, the SERP visualizer indicates how competitors' content ranked in the search results. Utilizing these two functionalities, you can analyze predictive SEO trending topics which helps you to generate perennial content for your business.
GetGenie has a separate section for H2H comparison and SERP visualizer. By enabling H2H comparison, it will open up a tab where all the ranked blogs will be displayed in a graphical interface along with their keywords.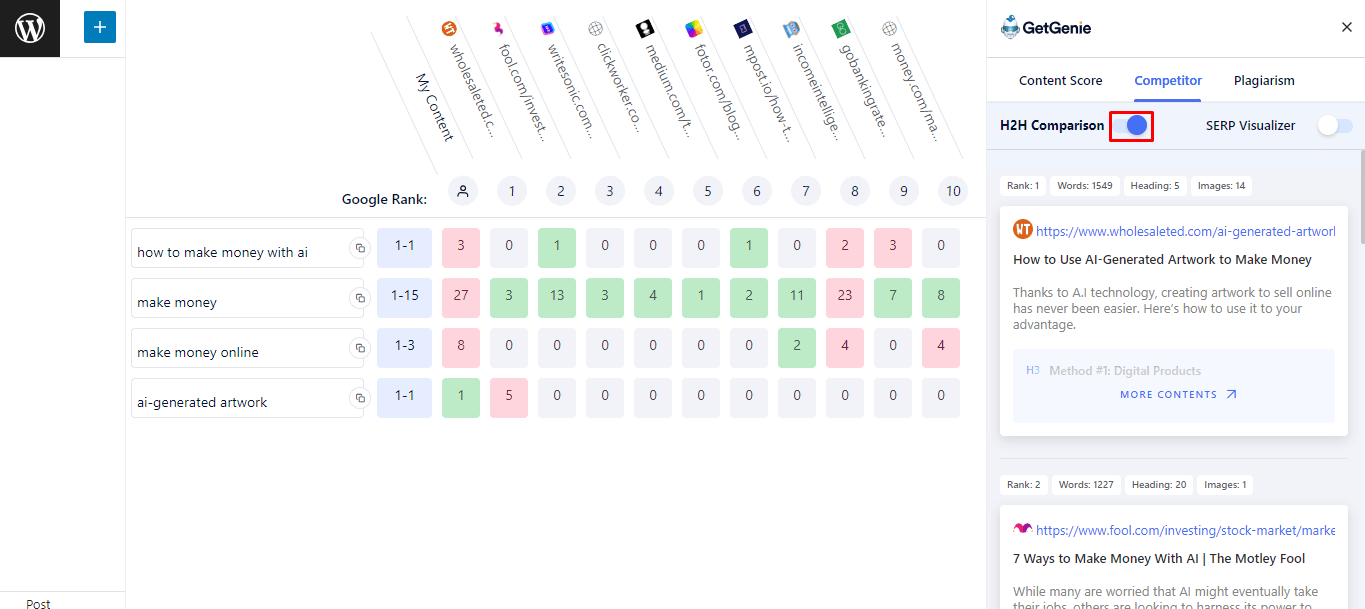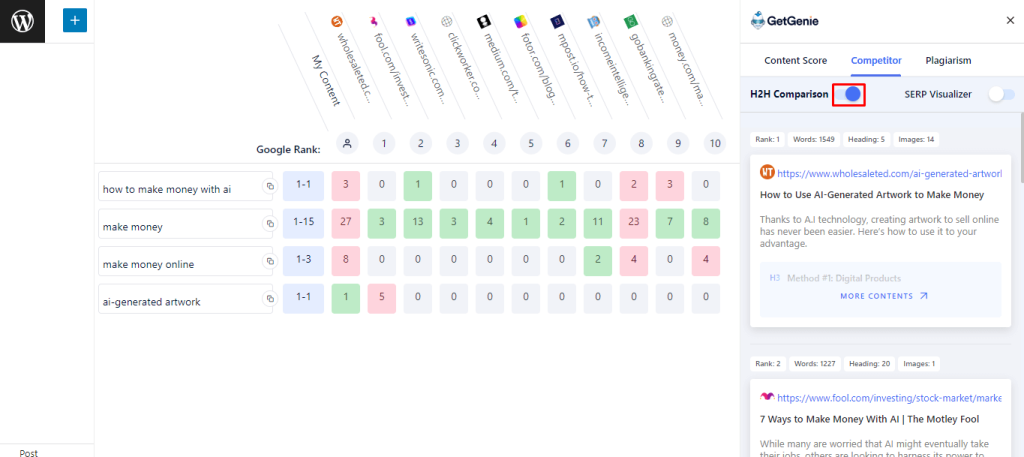 After that, if you enable the SERP visualizer, you will get a quick overview of the essential metrics of all ranked blogs such as the number of words, headings, images, etc.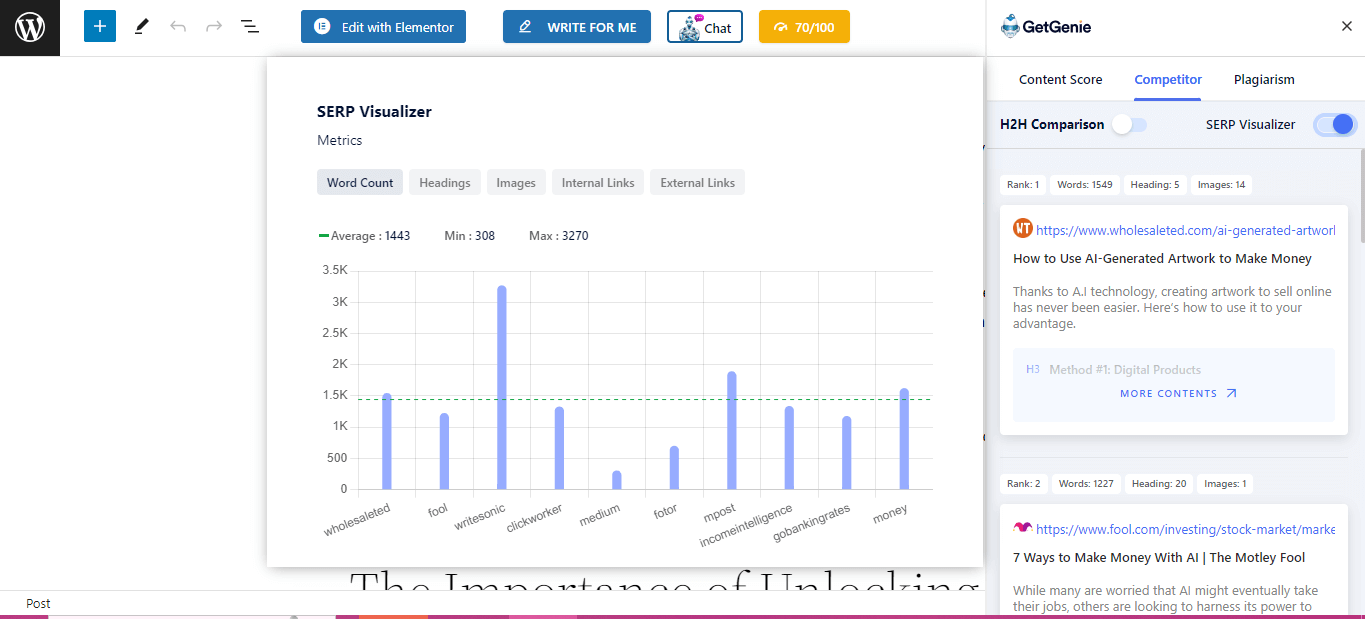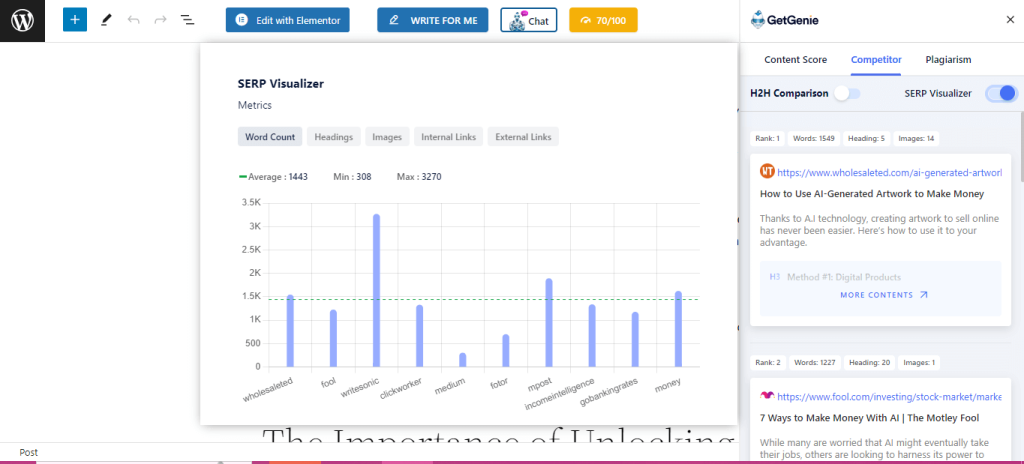 Best tool for Predictive SEO
Regardless of plenty of available Ai tools, it's quite rare to find all functionalities for identifying predictive SEO and analytics in a single tool. Fortunately, there is one tool that can provide helpful insights for highlighting future SEO trending topics.
And that tool is GetGenie.Ai. It is capable of pointing out trending keywords, competitor strategies, Google trends, NLP keywords, and score-based suggestions for effective optimization. Moreover, you can perform in-depth comparisons with your competitors through H2H and SERP visualizer.
Here, the most out-of-the-box feature is you enjoy these functionalities both on the WordPress and SaaS interface. For example, if you're not a WordPress user then, you can log in to GetGenie to get access to the SaaS interface.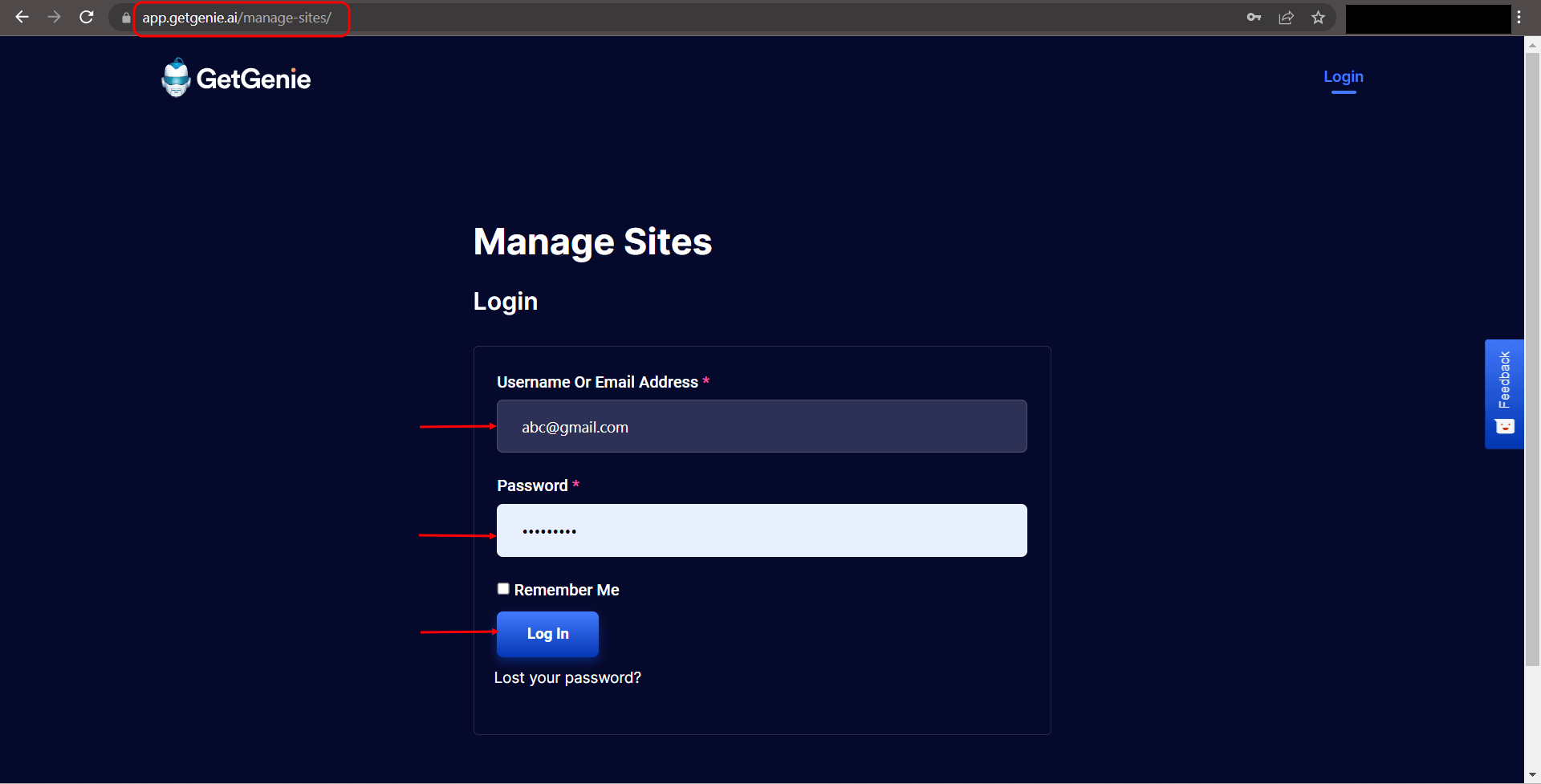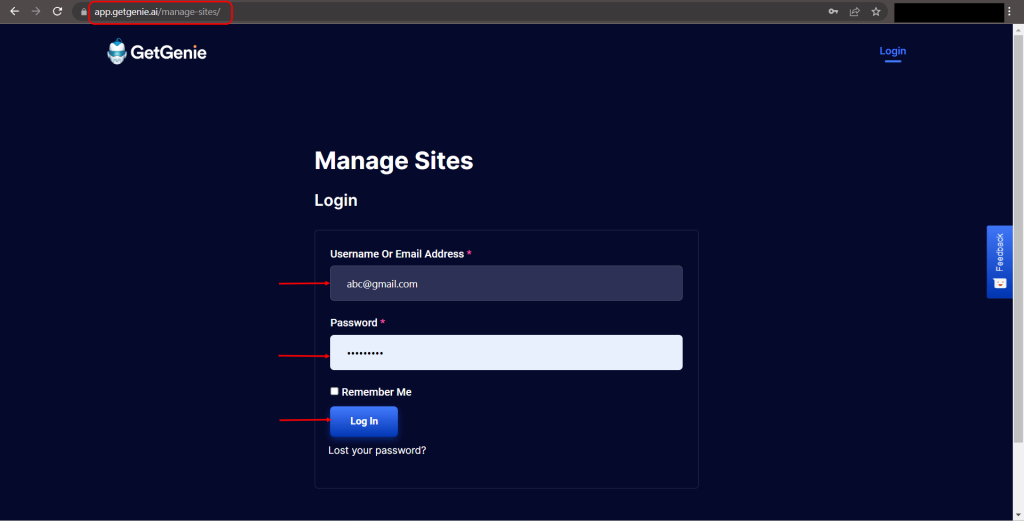 After logging in, hit the "Playground" tab.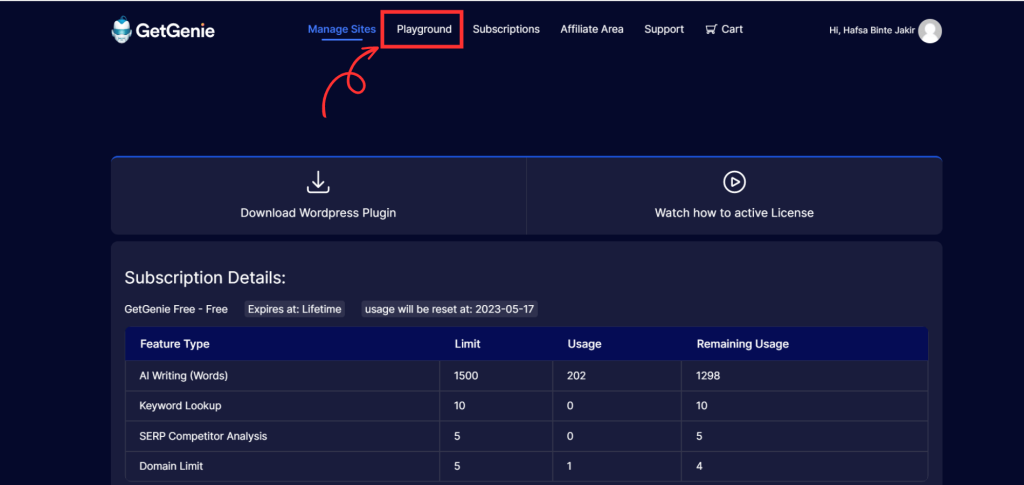 Then create a new document and add a name to that document. After that, press the "OK" button.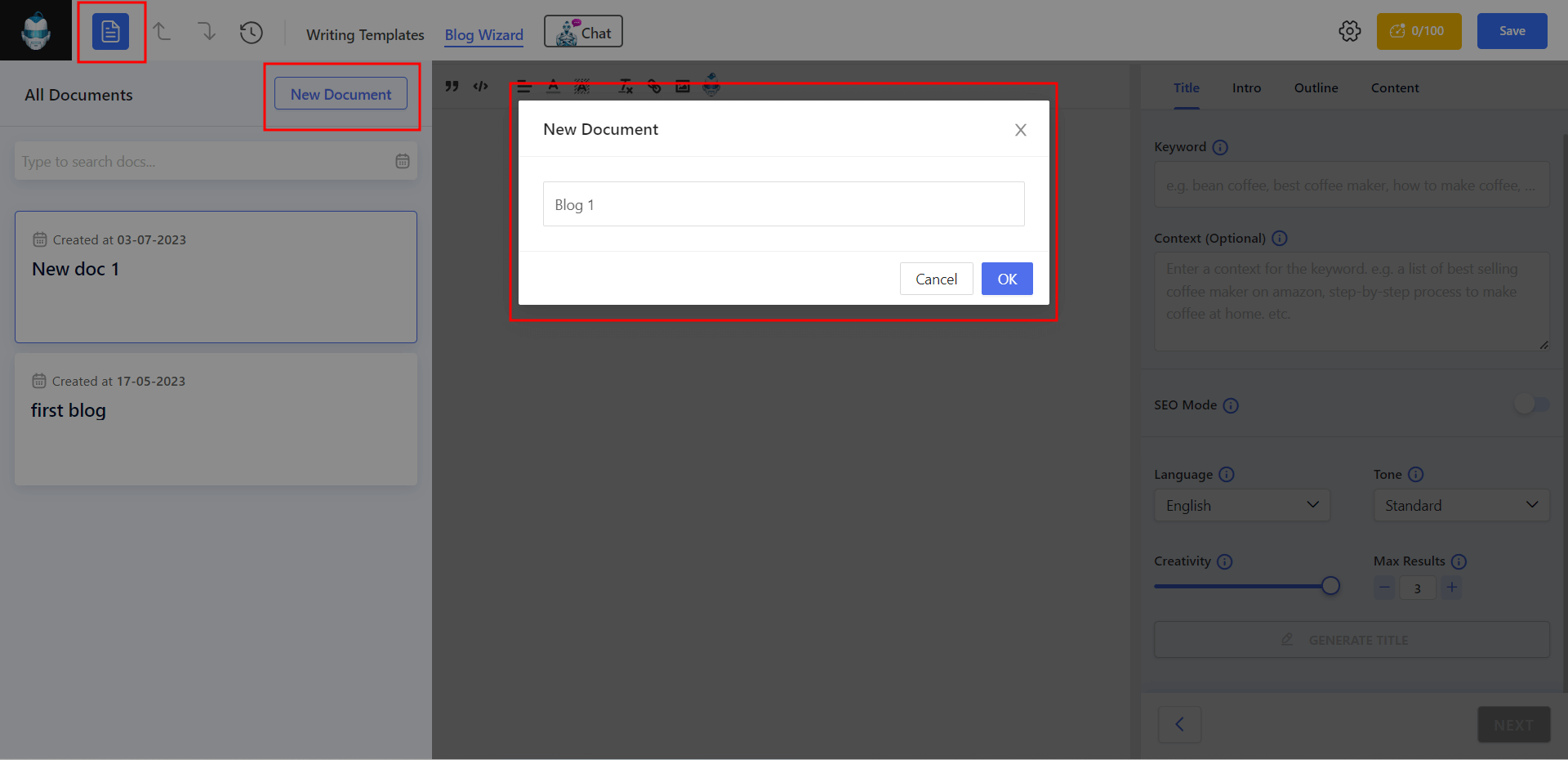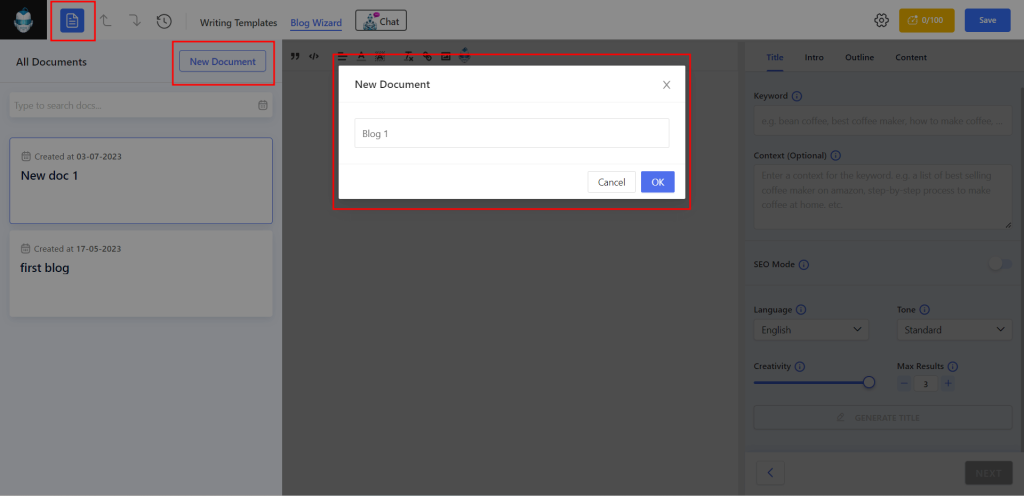 Here, you can access and find all predictive SEO functionalities in the SaaS interface. Therefore, whether you're comfortable with WordPress or SaaS, you will get the opportunity to access it anywhere.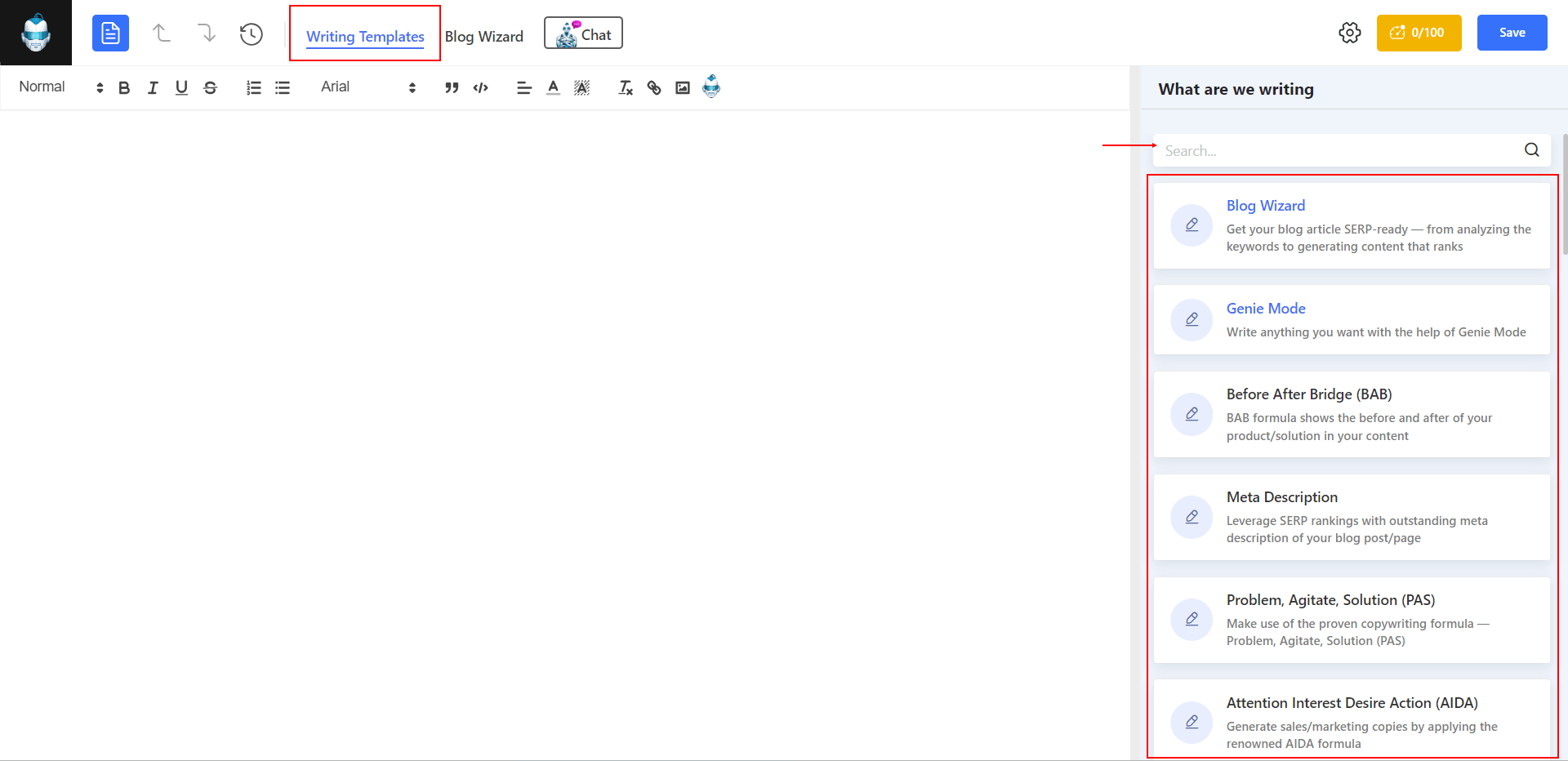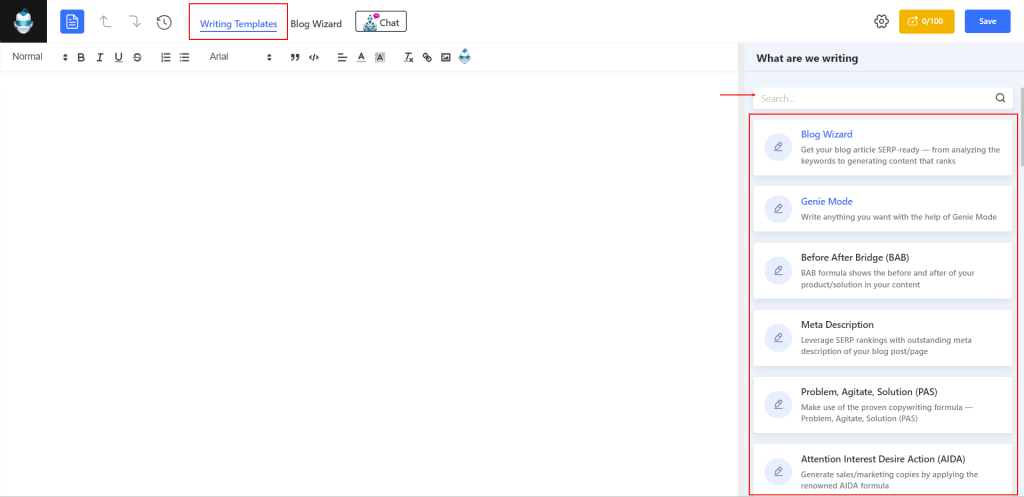 Final thoughts
Predictive SEO is quite a new technique that brings high possibilities ranking on SERP. Besides, it's also less popular and adopted SEO techniques. This means there are high possibilities of beating your competitors by properly utilizing it. We've already discussed how.
Using Ai like GetGenie, you can streamline the complete predictive search engine optimization for your brand by putting in minimal effort and time. So, make the best use of this new technique and bring higher brand visibility and success using GetGenie.Ai.