13 Best AI Blog Content Generator Tools (Tried & Tested)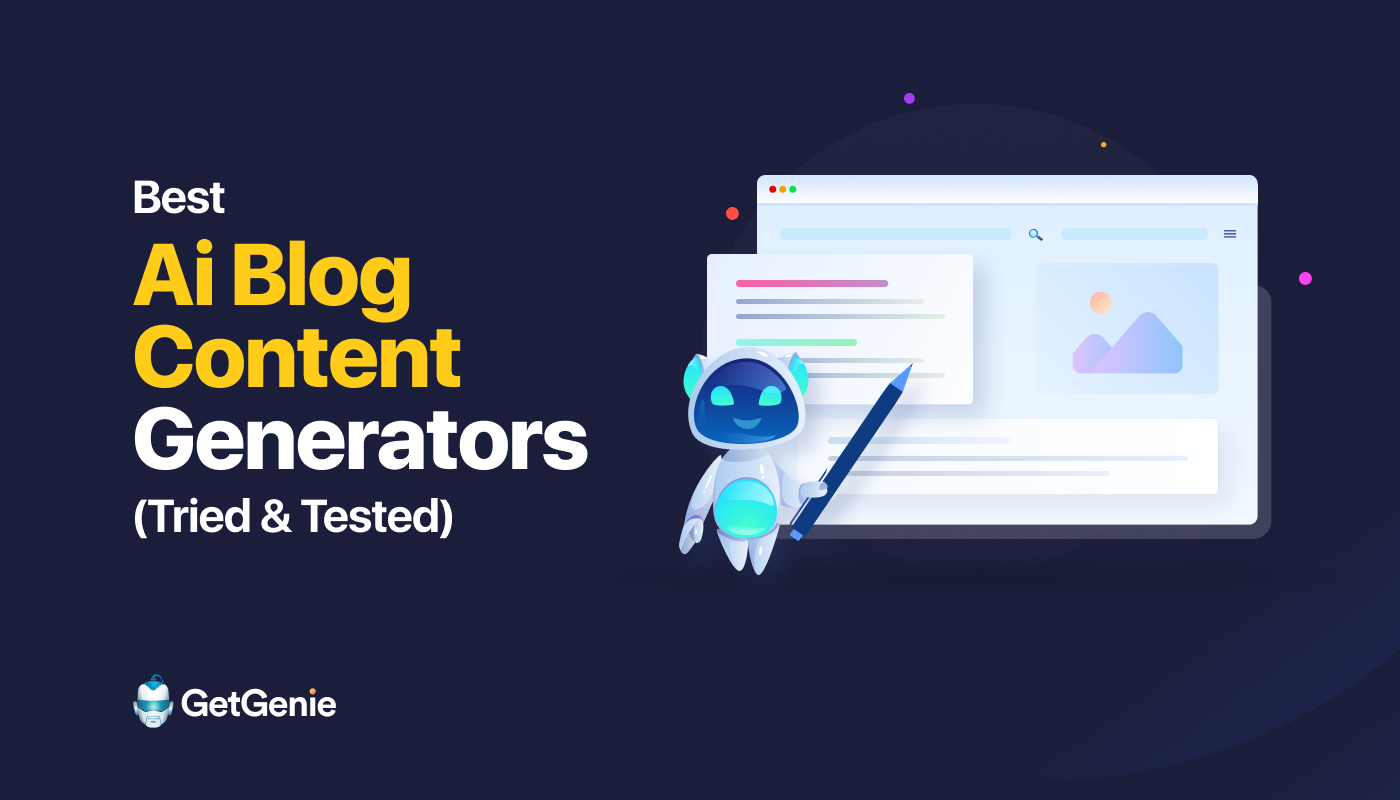 Artificial Intelligence (AI) solutions are popping up everywhere, as evidenced by the recent hype surrounding ChatGpt and Midjourney. By the force of this circumstance, bloggers are also looking for ways to leverage AI blog generator tools to reduce their workload.
As a blog writer, you are responsible for conducting research, composing, and editing content on a daily basis. These repetitive tasks can be daunting for anyone, particularly for those working on long-form content. Plus, it requires a good amount of time to wrap up your work.
But now you're in luck because there are AI software tools that generate human-like blog content and eliminate the tremendous pressure that writers need in their blog articles.
In this article, we've featured a selection of the 13 best AI blog content generator tools that can revolutionize the way you approach blog content creation.
First, we will start with the basics. Let's learn what defines an AI blog content generator tool.
What is an AI Blog Content Generator Tool?
An AI blog content generator tool is more ambitious than a conventional AI writing tool. It generates an entire blog post article with the title, headings, introduction, body paragraph, and conclusion with just few clicks.
And, this magic happens within a few seconds only. Some tools even facilitate features that allow you to create specific types of blog articles such as lists, product reviews, and how-to tutorials.
In addition, depending on your AI blog generator tool, you will get other assistance like providing essential SEO metrics & NLP keywords to optimize articles for topping in the SERP and managing your content plan to accelerate your blog content production workflow.
13 Best Blog Content Generator Tools
Let's reveal the best 13 blog content generator tools. We are going to share our hands-on experience with all these tools. We have tried to figure out features dedicated to blog writing. Hence, you'll exactly find what you are searching for.


GetGenie AI handles your blog writing journey differently than others. It offers an exceptional "One-Click Blog" feature that can revolutionize your blog content-creating experience with AI writing tools.
You just need to go through a few simple steps in the "Blog Wizard" feature and hit the "One-Click Blog" option. In seconds, you will have the entire blog post ready.
And this is something we confidently want you to focus on. Unlike other AI writing tools, you don't need to generate content for each heading individually.
Blog Wizard features more! I mean if you want more! Actually, it lets you generate multiple titles, outlines, intros, etc.
In addition to automating and accelerating content creation, GetGenie AI supports you in writing SEO-optimized content. When you start writing it helps you with keyword analysis, competitor insights, and FAQ suggestions.
Don't end here! GetGenie AI has more that is hard to imagine. For example, a keyword SEO ranking can be analyzed by region.
There are also several features to help you complete SEO-optimized content before publishing your blog. It shows the content score, title, NLP, word count, internal links, and plagiarism issues. And, you don't need to use other tools to see SERP visuals and head-to-head competitor analysis. This will save you time and money.

GetGenie AI's real value lies in its 37+ powerful templates. You get maximum productivity as a writer by using versatile AI-powered templates that generate social media posts, product descriptions, landing pages, ad copies, questions, and many more.
Key Features:
Generate a complete blog with the touch of a One-click button.
Features Blog Wizard, an all-in-all blog writing solution.
37+ AI-powered advanced templates to generate versatile types of content.
Has support for 33+ languages.
SEO mode: Keyword Analysis, Competitor Analysis, Content Score, NLP-based suggestion.
Provide necessary suggestions to optimize blog articles.
Has integrations with WordPress, WooCommerce, Elementor, Bricks Builder, and Oxygen Builder.
Has Ai chatbot "GenieChat" with 22+ customizable personalities.
Offers a free plan with 2500 words per month.
Pricing Plans:
Starter: Free version.
Writer: $19 per month.
Pro: $49 per month.
Agency Unlimited: $99 per month.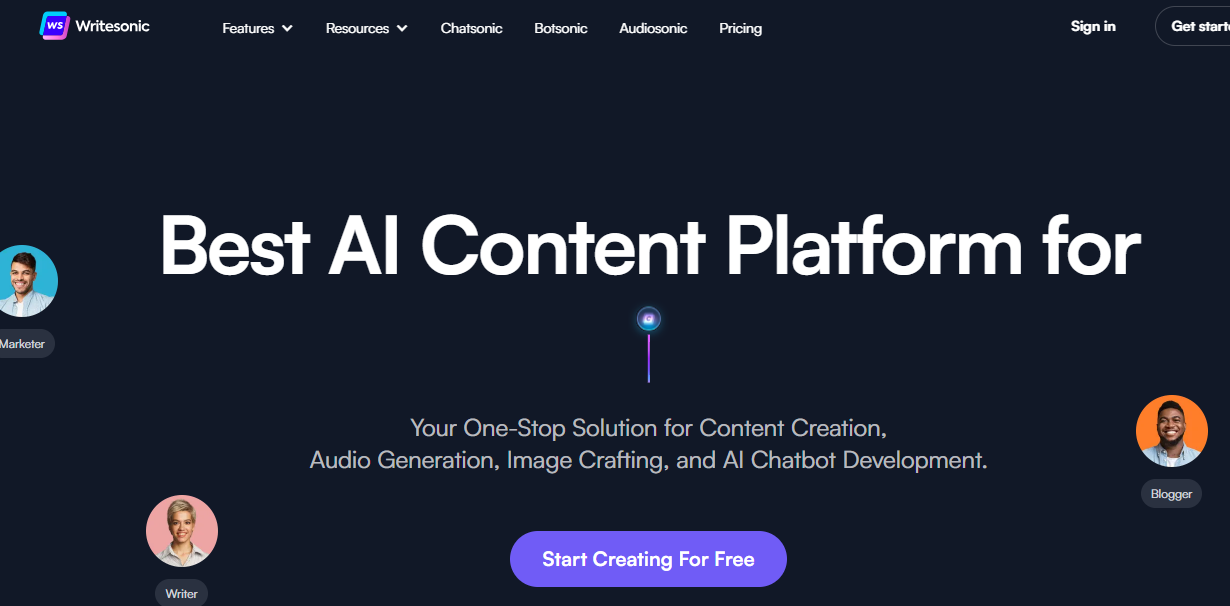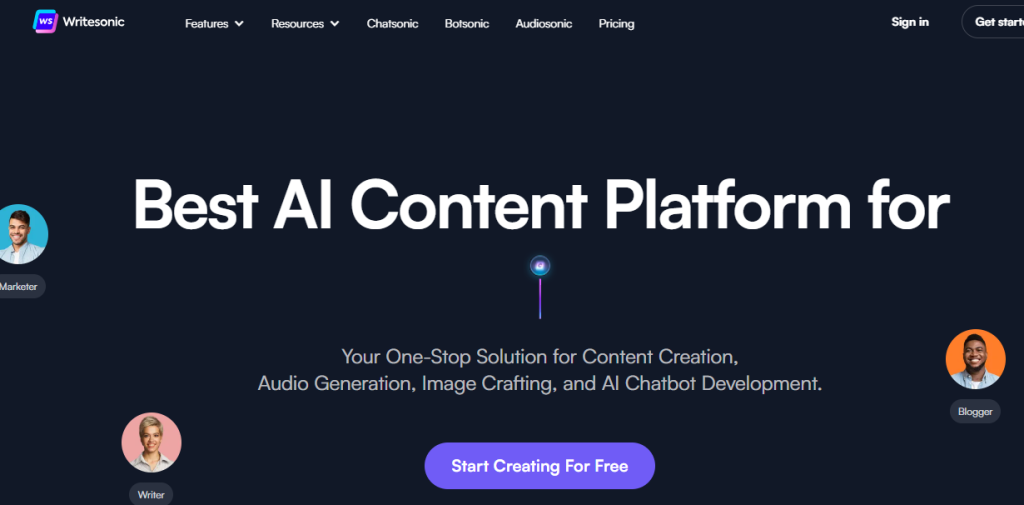 Writersonic is one of the few AI blog writing tools that meets versatile content needs. As we can see, AI content writing tools are getting better and better in many ways these days, whereas Writesonic takes care of all the critical challenges that blog writers have to face.
To help them craft high-quality articles, Writesonic has launched AI Article Writer 5.0 with core attention to improving brand voice, accuracy, and SEO optimization. It is super cool if you see its capability of adapting to your brand voice.
Here's how this magic happens!
From the Writesonic dashboard, upload your previous blog posts or articles in any format (Word, PDF, or URLs). It will automatically detect the tone and style of that blog and create subsequent blog content keeping this voice intact. So, you will end up with your own personalized blog content.
And, the article it produces will be factually accurate and highly readable. It functions based on a topic-specific knowledge graph that conducts idea sourcing from the top-ranking articles of the Google SERP. And if you want to stay ahead of the game with innovative SEO techniques, Writesonic may be your best option.
Key Features:
Generate versatile content with 80+ templates.
Multiple templates dedicated to blog writing.
Available with 25+ language support.
Features a landing page generator.
User-friendly and intuitive editor screen.
Has an integration with Semrush.
Pricing Plans:
Free Trial: Free version.
Business: 19 per month.
Unlimited: 20 per month.
Enterprise: Order a custom package.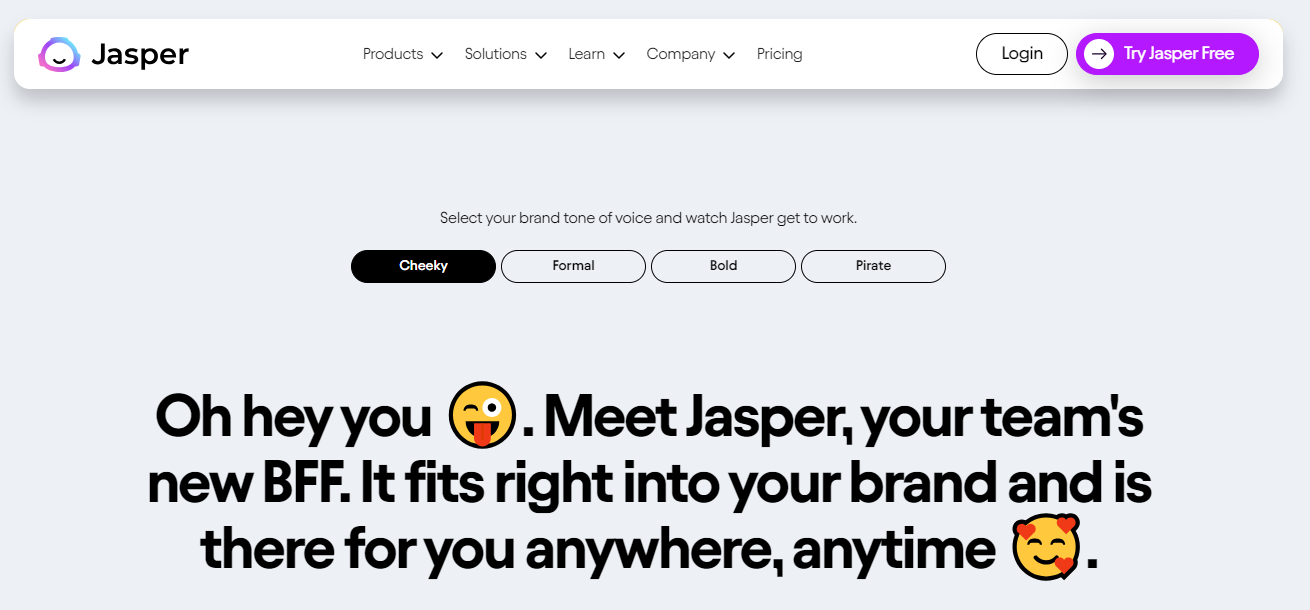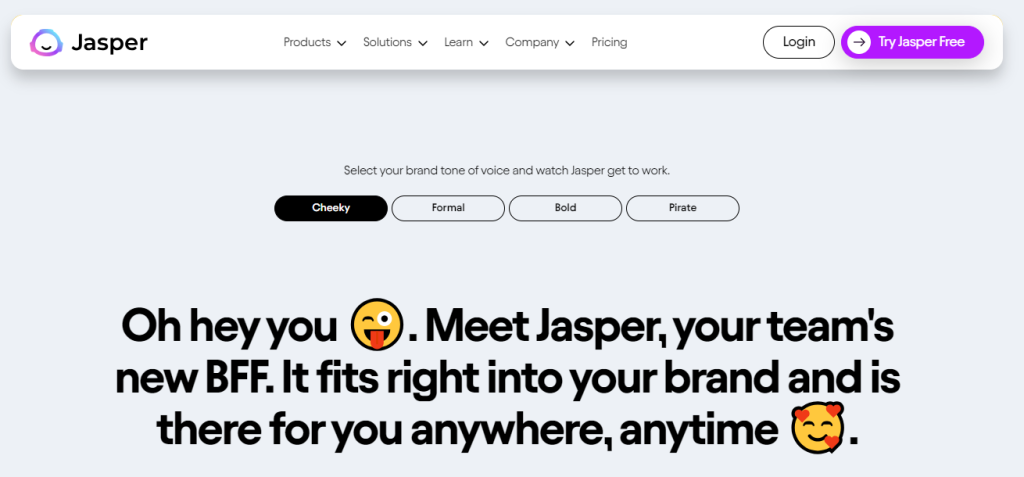 Jasper Ai is a leading content creation tool that offers a "One Shot Blog Post" template to generate your blog article 5x faster than human labor. You will have the entire blog post with absolute precision. However, we would say GetGenie Ai does it smart way, as its Blog Wizard feature integrates with the 1-click blog generator feature. It means everything one place.
This blog generator tool ensures content creation while keeping the brand voice perfect for your audience. All you have to do is fill out a few boxes like the Blog Topic, Tone of Voice, and Intended Audience.
Its 50+ templates library includes Blog Post Outline, Blog Post Intro, and Blog Post Conclusion to advance the blog writing process.
Whether you're running out of ideas or struggling to write long-form content and going through writer's block, Jasper AI Chat will be a human-like friend to help you out.
Key Features:
50+ Ai templates for any kind of writing solutions.
Available with 30+ language support.
Surfer SEO integration ensures optimized content for ranking in SERPs.
Plagiarism checker powered by Copyscape.
Offers a Chrome extension to get AI assistance everywhere.
Pricing Plans:
Creator: $49 per month.
Teams: $125 per month.
Business: Get a personalized package.

Frase IO's primary benefit to SEO experts and marketers is optimizing content to rank in SERP. They rely on it for all types of content. It generates content that is beyond ordinary words.
For example, the main challenge in taking help from a blog content generator tool is creating a blog post that is ready to rank in the SERPs. But there is no such struggle with Frase IO.
Users will go through a detailed content brief before generating the full draft. You can see the competitor's covering in a summerized way. This AI tool can build outlines using data from "People also ask" suggestions. Thus, your generated blog content will have some unique information to stand out in the SERP.
The most valuable feature of this tool for users is its optimization capabilities. In addition to displaying the number of times a keyword is used, you can also observe how your competitors are utilizing that keyword.
Key Features:
Dedicated templates for blog writing like Best Post, Listicle, How to, Beginner Guides, etc.
Analyze the top 20 SERP competitors.
Suggest headings, external links, FAQs, NEWS sources, Wikipedia, etc.
Show metrics powered by Google Search Console.
Control your blog writing from one platform.
Pricing Plans:
Solo: 14.99 per month.
Basic: 44:99 per month.
Team: 114:99 month.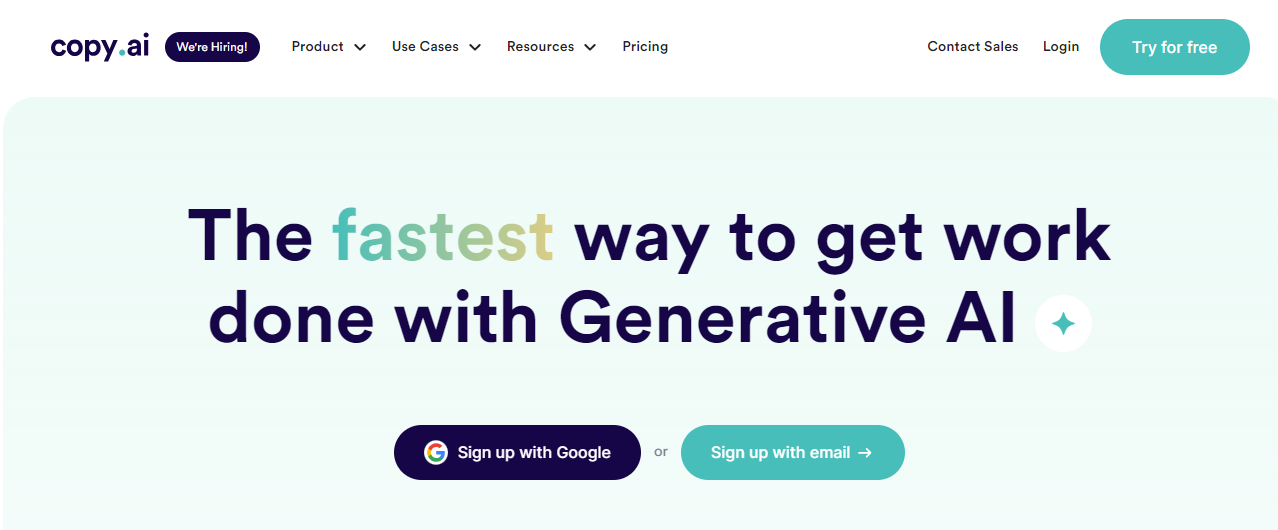 Copy.ai is another great tool that aims to speed up your blog writing workflow. Key features like Blog Post Wizard, Blog Outline, Blog Intro, and Blog Section Templates have caught the eye of many blog writers.
In my experience, I find the Blog Post Wizard quite helpful. Particularly, the Generate Talking Points feature. Before automatically generating blog posts, it shows specific talking points for H2 headings. You can simply eliminate any talking points that don't fit your blog section. And, you can add your one as well. That way, you'll have less fact-checking to do after generating the blog.

Further, it is a complete writing solution with 90+ copywriting tools and 94+ language supports. Chat by Copy AI also works beneficially. You can browse Copy.ai prompts and define brand voice right from the chat screen.
Key Features:
Dedicated templates for blog writing.
90+ copywriting tools.
Create custom templates.
Available with browser extension.
Share docs with team members.
Pricing Plans:
Free: Free version.
Pro: $49 per month.
Enterprise: Get a customized package.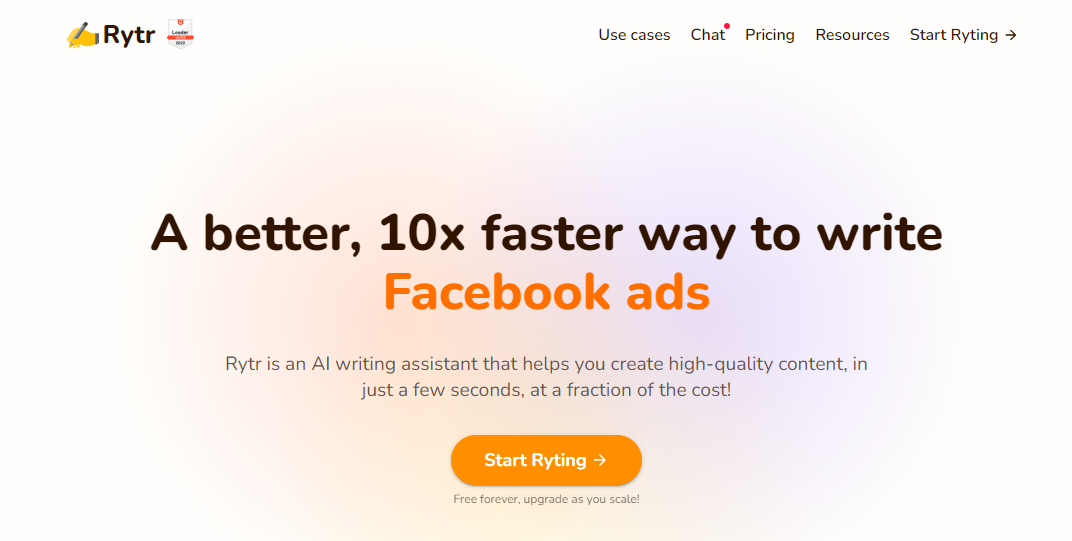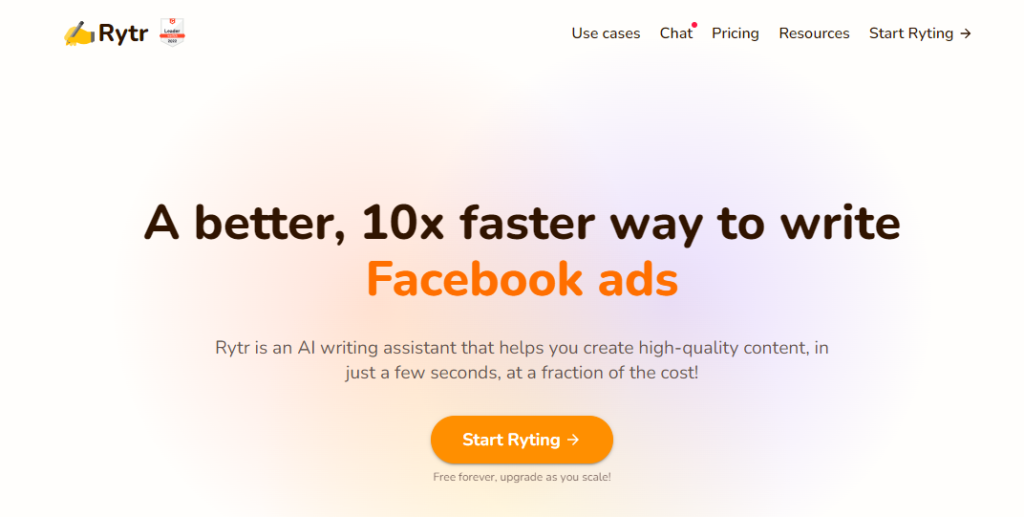 Rytr has a simple interface to start generating better content quickly. Nothing more is required than simply logging in to access the free version. Then, follow some more steps like selecting language & tone, and choosing a use case. And, hit "Ryte for me".
Within seconds, you will see unique content as this tool has a built-in plagiarism checker. You can use this tool to get help with a wide range of short and longer-form content. To fulfill your needs, it provides 40+ use cases or templates.
However, the bad side is that its output is very basic and needs more editing to rank on the SERP.
Key Features:
Generate content with 40+ use cases or templates.
30+ language supports.
Built-in plagiarism checker.
Available with a document management system.
Comes with an AI image generator tool.
Pricing Plans:
Free Plan: Free version.
Saver Plan: $9 per month.
Unlimited Plan: $29 per month.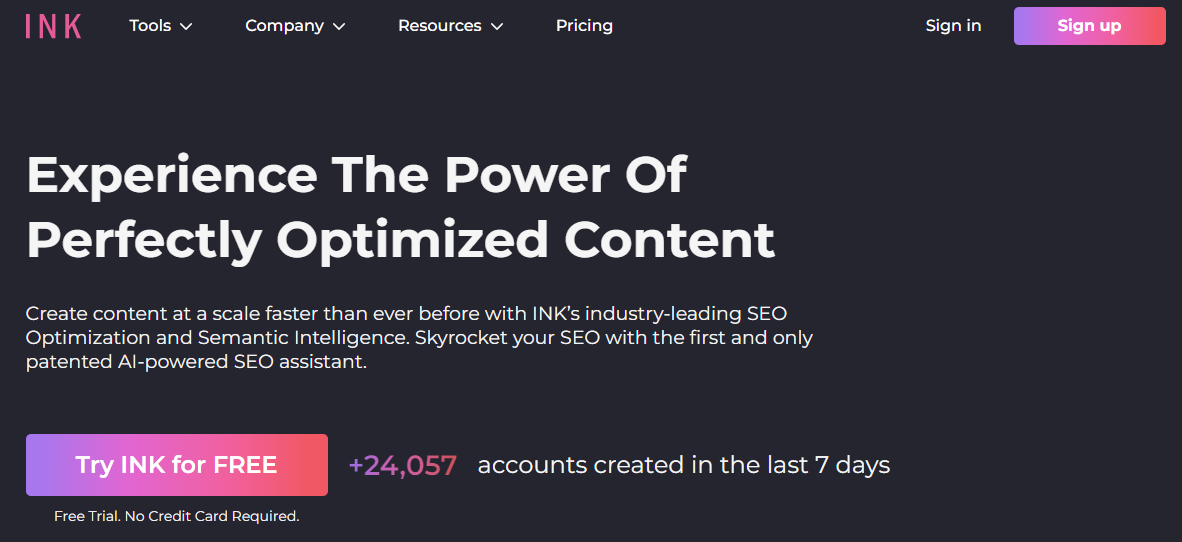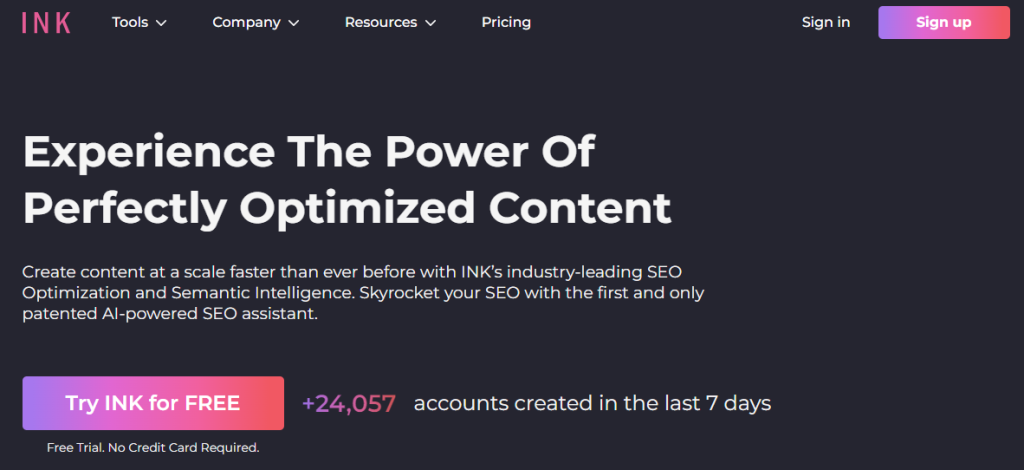 INK works based on Natural Language Optimization (NLO) technology. As you put the main keyword for your blog content it follows different methods like Crawling Web, Scraping Content, Semantic Modeling, Natural Language Processing, and many more to learn the high-performing content in the SERP.

Thus, it can ensure that the content you generate is SEO-optimized and reader-friendly. I like the cool SEO scoring feature. Because, content optimization is divided into multiple steps like Headline Task, Document Task, Word Task, and Relevant Topics. Thus it is really easy to optimize the content SEO friendly.
Key Features:
130+ writing templates to generate all types of content.
20+ languages support.
Available with AI image generation tool.
Accurate SEO scoring.
Has Content Planner feature to maintain Keyword-driven content strategy.
Integrated with WordPress to publish blog content directly.
Pricing Plans:
Professional: $49 per month.
Enterprise: $119 per month.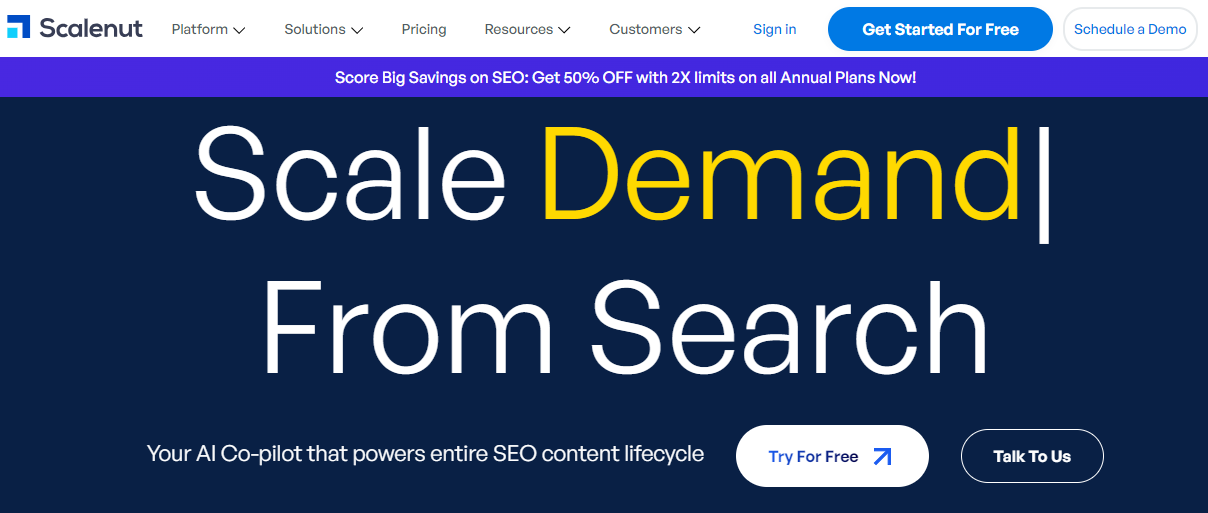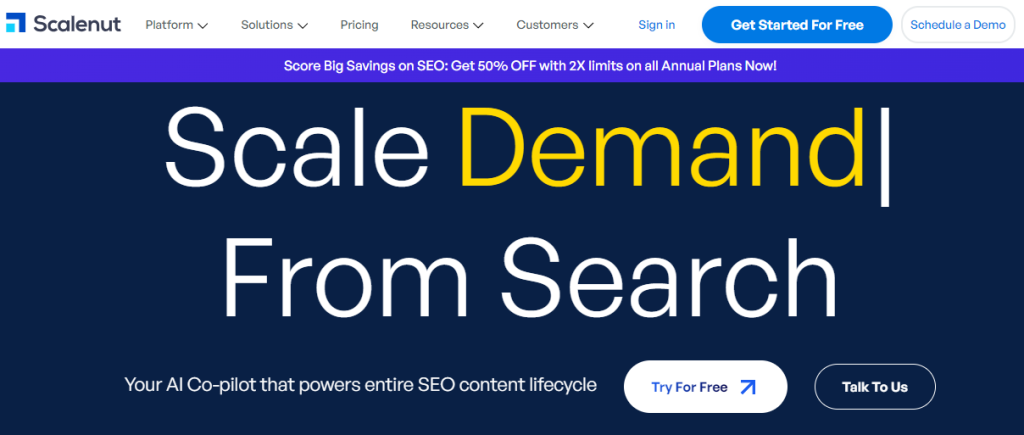 Scalenut secures SEO-optimized long-form content by using its Cruise Mode feature. You can determine the number of top pages in the SERP to consider as your content criteria. You can also set a specific location.
Just like Copy AI has a Talking Point feature, Scalenut also supports a Writing Point feature. So, you can review the key points that will make up the entire blog post. It has a unique "SERP Statistic" feature. This means your blog content will be more informative and helpful to readers.
Like other tools, it also shows the SEO Score of the blog content. But what Scalenut does well is give a breakdown of all the aspects that can be improved for SEO optimization.
Key Features:
40+ AI-powered templates.
Blog writing-centric features like Cruise Mode.
Get semantically related keywords to optimize blog content.
Assist blog content planning with the Topic Cluster feature.
Find content ideas and insights for your targeted keywords.
Suggest improvements to increase SEO score.
Integrates with WordPress, Semrush, and Copyscape.
Scalenut can be used between team members.
Pricing Plans:
Essential: $39 per month.
Growth: $79 per month.
Pro: $149 per month.
Enterprise: Order a customized package.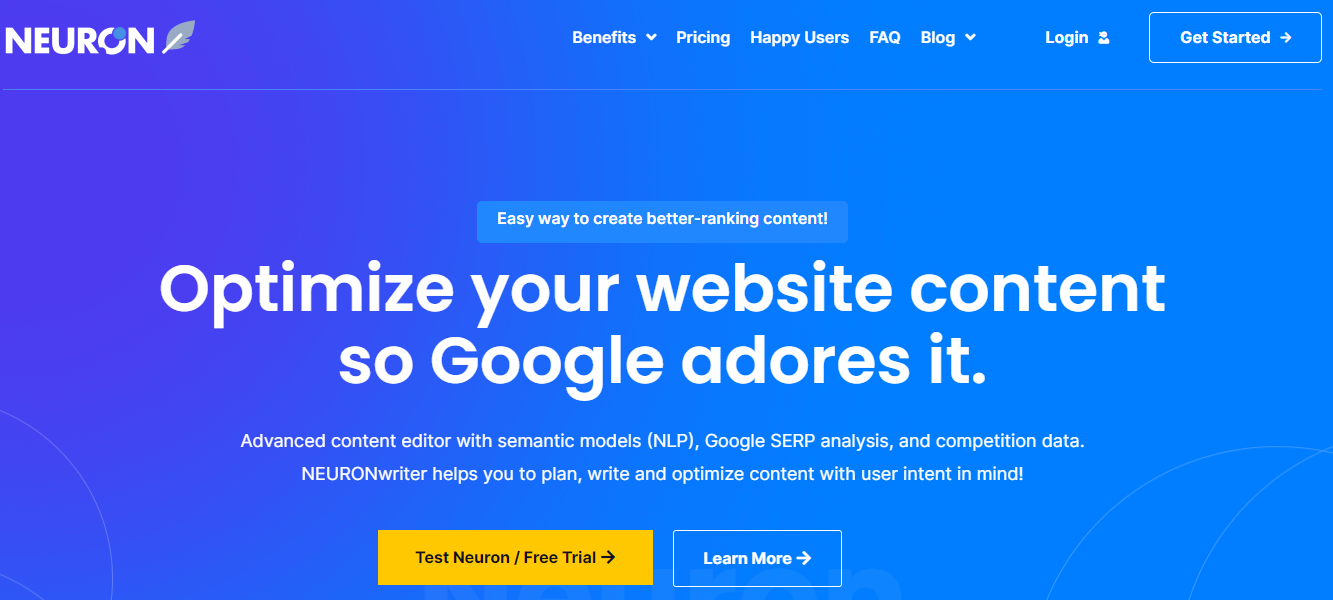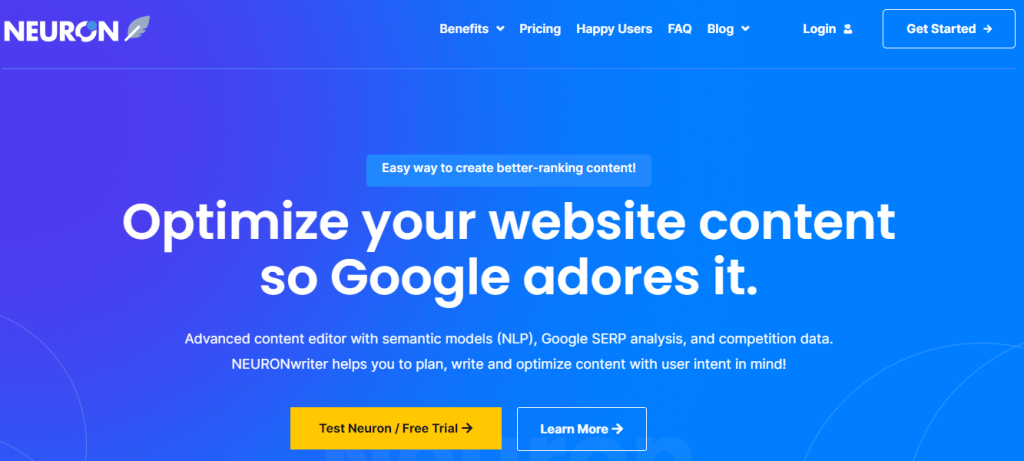 Neuron Writer automates your blog post writing using ChatGpt. You can jump between different ChatGpt models through "Generation Settings". However, I personally think, this tool is better for optimizing and managing your content rather than generating your blog post.
Therefore, once you generate the blog post you should look to improve the SEO scores through the suggested keywords. And, there's more! This tool observes the top-ranking pages of your given keyword and gathers suggestions for content, headings, and FAQs.
Here is one good thing about this tool. You can remove any URL or page you don't consider adding to the competitor list. This way, you can target your real competitors.
Moreover, this tool is ideal for a content writing team workflow. Along with planning your content, you can maintain all the necessary tasks like assigning a blog to someone and setting deadlines.
Key Features:
Can eliminate any URLs from competitors.
Built-in plagiarism checker.
Provide content scores of top competitors.
Show suggestions from YouTube.
Integrates with WordPress and GSC.
Support over 170+ languages.
Available with docs sharing option.
Pricing Plans:
Bronze Plan: $23 per month
Silver Plan: $45 per month
Gold Plan: $69 per month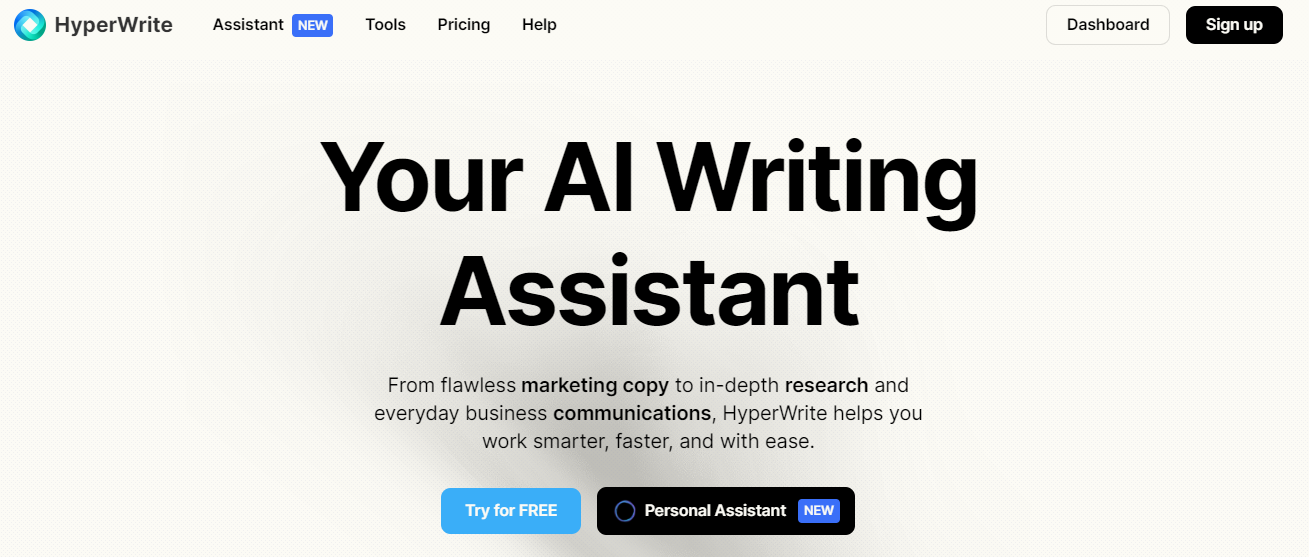 Hyperwrite is one of the best free AI content generator tools. It comes with features like the Blog Post Title and Blog Post Intro generator. But, it doesn't have a complete blog post generator tool by default.
For this assistance, you need to use the SEO Friendly Blog Post Writer template developed by the community. And, when you will check out the community section you will see versatile templates for blog post writing.
One of the attractive tools of HyperWrite is its "Magic Editor". This is really helpful for already drafted content to improve its clarity, tone, and style. In addition, this AI tool is popular for other writing solutions. For instance, Summarizer, TypeAhead, and Autowrite.
Key Features:
50+ default templates to meet your writing needs.
Facilitates "Magic Editor" for blog content editing.
Comes with an in-built grammatical checker.
Keep the brand voice always the same with Personal Database feature.
Facilitates Chrome extension to assist anywhere.
A significant amount of contribution from the user community.
Pricing Plans:
Starter: Free version
Premium: $19.99 per month
Ultra: $44.99 per month


Simplified AI is an all-in-one marketing solution for content, graphics, video, and social media. It can be a good deal for blog content writers. It lets you generate long-form blog content within a single click through the AI Article Writer template.
Plus, the 50+ templates collection also facilitates templates for blog writing like Idea & Title ideas, Outline, Introduction, Section Completer, and Conclusion. So, you will be able to easily expand your blog writing workflow.
You can use it to fulfill all your marketing needs with templates for ads, e-commerce, videos, and emails.
Key Features:
50+ AI templates for content writing.
Publish blog directly to Shopify and WordPress.
Share Documents as public pages with team members.
Supports 30+ languages and 10+ tones.
Built-in Grammarly supports.
Also support with plagiarism checked.
Pricing Plans
AI Writer Free: Free version.
AI Writer Pro: $18 per month.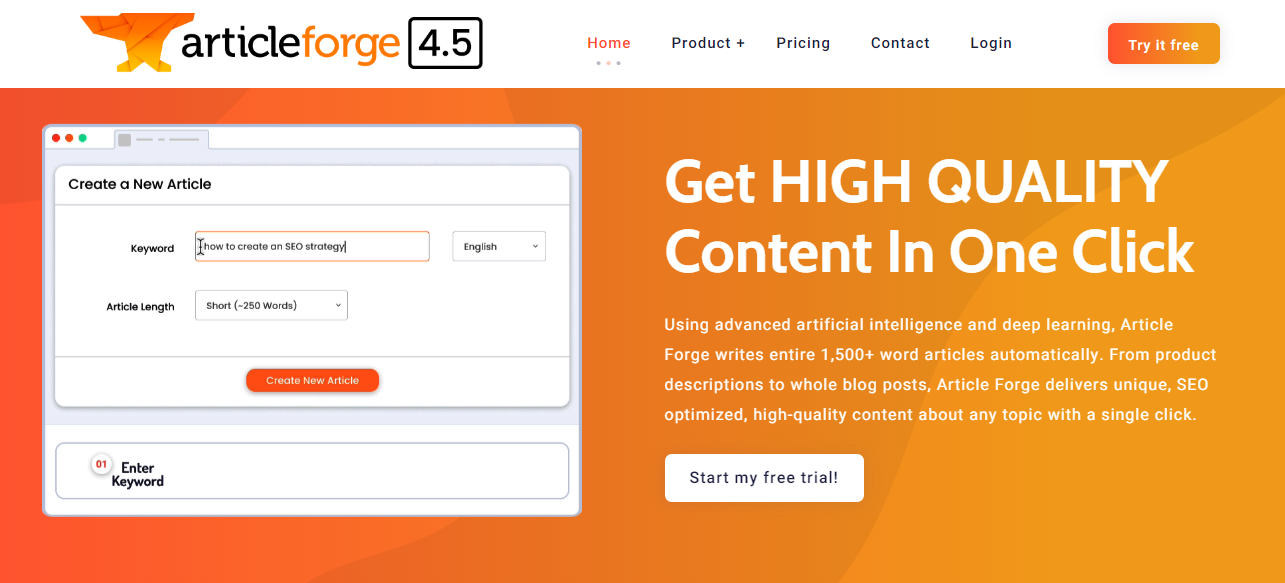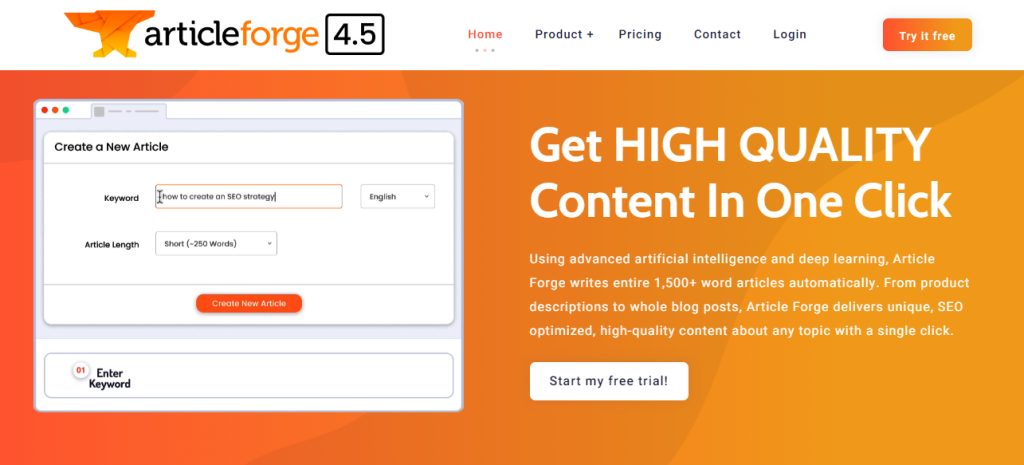 Article Forge is designed to simplify blog content creation with an intuitive and user-friendly editor screen. Users can quickly adapt to this tool without a steep learning curve. One particular thing I want to mention about his tool is that you can exclude any content that you don't want to be generated by Article Forge.
Further, you can add your own list of secondary keywords for optimizing the blog article. Another key point is that you can automatically add visualizations like images and videos to your blog content directly from this tool.
So, all that will be required is the publication of blog articles on the website. This is not necessary if you are using a WordPress Content Management System (CMS) for your website, as Article Forge is integrated with WordPress.
Key Features:
Generates hundreds of articles in one click using Article Forge's bulk generator.
Use the same deep learning models as Google to generate content.
Add your own list of secondary keywords.
Can define the length of the blog content.
Titles, videos, images, and links are automatically added to articles.
Can publish content directly to your WordPress website.
Pricing Plans:
A conventional pack of $57 per month
Business Plan: Get a custom pack.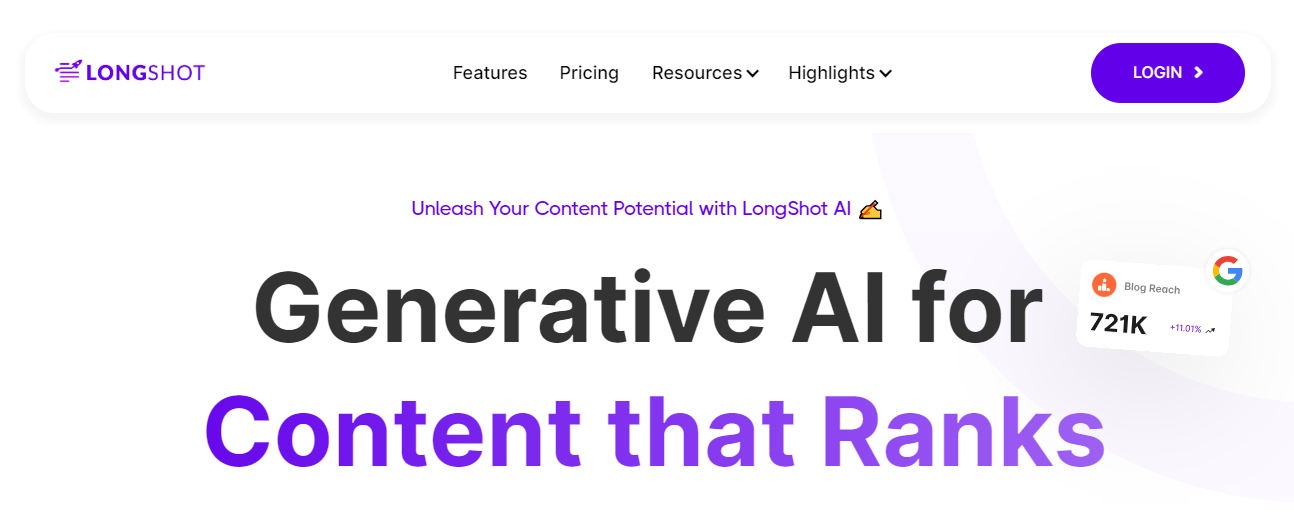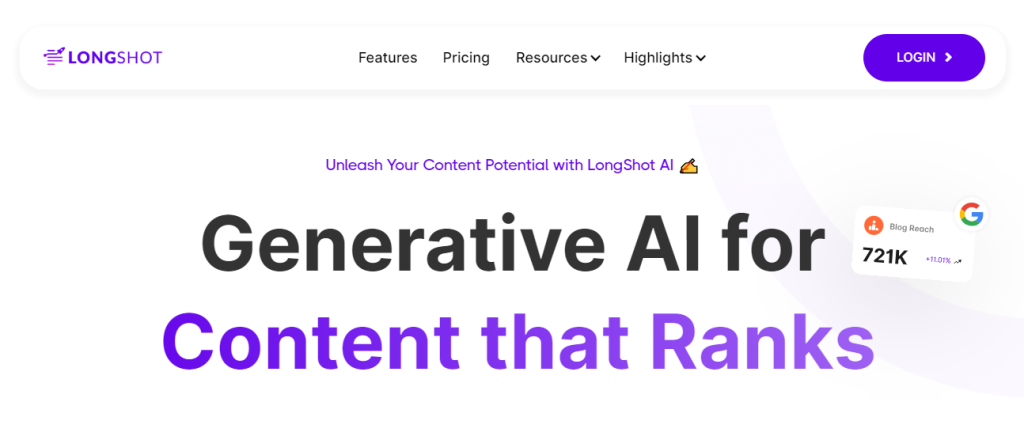 LongShot AI writing tool produces contextually accurate that closely mimics human writing with its features like FactGPT and Fact Check. Once you have generated your blog content you have the Semantic SEO feature to help you rank in the SERPs.
This is one of the reasons I want to recommend LongShot AI. It gives you grading assessments for each heading separately. Thus, you can cover a particular query with utmost relevancy for the readers and search engines.
Further, LongShot utilizes the "People Asked Questions" to create your blog content. The AutoBlog Workflows feature is awesome for automating your specific types of blog articles such as how-to guides, listicles, case studies, ebooks, pillar content, and many more.
Key Features:
AutoBlog Workflows to create any type of blog.
50+ templates for generating different content types.
Can create custom AI templates.
Use People Asked Questions for generating content.
Provide SEO scores for each heading individually.
Integrates with Semrush, Hubspot, Ghost, and Medium.
Also has a Chrome Extension and a WordPress plugin.
Offers a free trial.
Pricing Plans:
Pro- $29 per month
Team- $59 per month
Custom- Have a chat about setting your custom plan.
Should You Consider a Content Blog Generator Tool in Your Content Marketing Plan?
Over time, we are forced to believe AI writing tools will replace human writers as they have the power to write short or long-form content at blazingly fast speeds. And, a piece of software is more likely to produce SEO-focused content with no grammatical errors.
But, we want to mention an important note that you can't take it as an alternative to human efforts. You still need to put humans in the driving seats to bring out the actual magic of an AI writing tool.
So what about the ongoing hype around it? If you have to pay for both authors and AI tools, your content production will cost more. So, what's the point? To get this answer, read the following benefits of using AI writing tools.
Generate large volumes of text in a short span of time.
Maintain original brand voice by keeping the tone, style, and quality consistent.
Can perform repetitive tasks without getting bored like humans.
Get a variety of content and multilingual support within one platform.
Automate entire content production from brainstorming to publishing.
Provides suggestions, statistics, FAQs, titles, and headings for blog content.
Evaluate content and give on-page SEO & readability scores
Suggests improvement to optimize content for topping in the SERP.
Easily scale your content production without increasing the cost.
Do note that one needs to insert input like keywords or topics to enjoy all the benefits of a writing tool. Most importantly, you must choose an idle tool to get all the features.
What to Look For in Blog Content Generator Tools?
Every AI writing tool works to enhance your writing in several ways. Right now, there are many options available in the market. But, you need to be smart here. Some tools are ideal for short-form work, such as ad copy or social media content, while others are best suited for long-form work.
So, you have to spot the features which will meet your needs. To help you with this we'll point out what to look for in a blog content generator tool.
It should generate quality output while maintaining factual accuracy.
Offer you a free trial to test the output before breaking the bank.
Has an intuitive and easy editor interface.
Should have a one-click blog generation feature for long-form content.
Provide versatile AI templates for content generation.
Let you create custom templates to personalize the tool.
Enough number of credited words per month.
Features built-in plagiarism and grammar checker.
Possible to integrate with your website to publish directly.
Share content docs like web pages with team members.
Should have your required language support.
It varies from user to user to consider a must-buy option. But remember that you shouldn't pick one with overlapping features. For example, your AI writing tool doesn't need to have features like video and graphics solutions. But, you should look for additional features like browser extensions. Overall, following the above tips, you will end up with an optimum AI writing tool that has everything for writing solutions.
How to Write Blog Content Using AI Blog Content Generator Tools that Google Likes?
After buying the best AI blog generator content tool, you need to focus on how to write Google-friendly content with it. Because knowing how safe your content is in Google's eyes is really important.
Especially after ChatGpt started to rock, Google had shown some serious concern about this. AI writing tools may create content that's factually incorrect and contains plagiarism. That's why your blog posts may be flagged by Google. Google uses the Natural Language Processing (NLP) algorithm to identify content created by AI tools.
So how to avoid it?
The answer is plain and simple, Google accepts human-like content. And, this is their stance on AI writing tools. Your content should give value to the readers.
In recent times, Google has brought its Helpful Content Update. Also, keep in mind Google EEAT guidelines. Follow them when you are planning the content writing and editing guidelines. Actually, the main highlight of these guidelines is that "your content approach needs to be human first and then optimized for search engines".
So, whenever your AI writing tool generates the content draft, you at least need to do some fact-checking and editing before publishing. Nevertheless, if you use an advanced AI blog generator tool like GetGenie AI there will be an option for setting the creativity level. Therefore, its output will be more reader-friendly.
You also shouldn't over-optimize the content with all the suggested NLP keywords of the AI writing tools. This way your content will appear as spammy to Google. Hence, try to keep your content natural.
What you need to remember is that the best support an AI writing tool provides is to save you time and increase efficiency.
Conclusion
So, these were 13 of the best AI blog content generator tools. By using one of them, you will take your blog article writing to a whole new level. We suggest you get a full-featured tool that begins with generating ideas and finishes with ranking your blog article in search engine results pages.
For example, our pick is GetGenie Ai. It helps to generate blog article content in record time, gives important SEO insights, and visually shows analysis of competitors. Therefore, all of our writing solutions are available on one platform.