How to Optimize Landing Page with Ai Assistance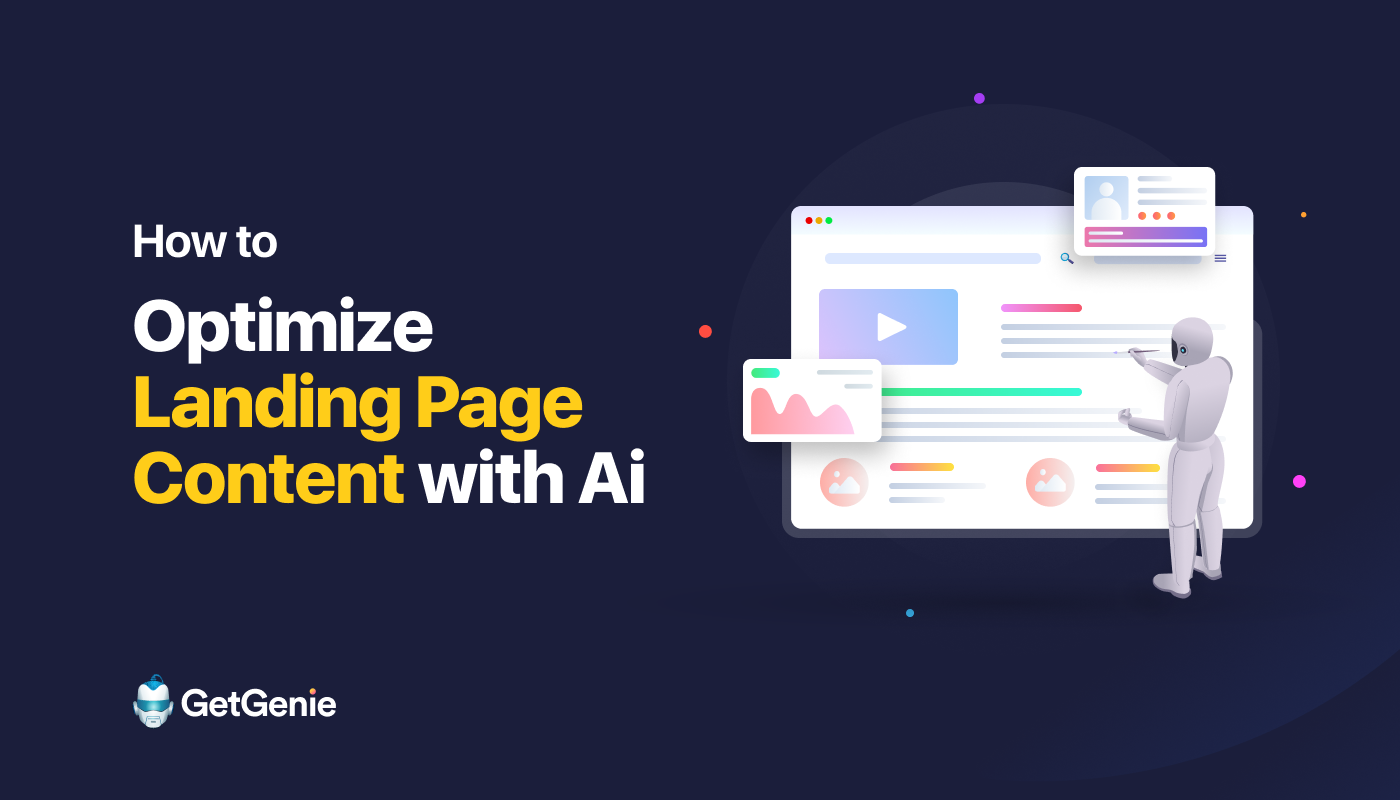 The success of your online business greatly depends on the landing page. A user-friendly landing page that ranks well for targeted keywords can lead to increased sales.
So, how to optimize landing pages? And what about taking Ai assistance to speed up the process?
This blog post is going to explain everything you need to know about landing page optimization with Ai.
What is landing page content?
The things that a visitor sees after landing on a webpage are the content. It could be written content, visual elements, multimedia, and more. But the thing that mostly helps to get organic visitors is written content.
Written content explains a product, lets readers know what they can do with it, and how the product is going to be beneficial for them.
If you have written great content targeting the right keywords and rank for it, you will get more conversions.
Why do you need to optimize landing page copy?
Technically, anyone can try to write copies for a landing page. It can be especially overwhelming for a business owner to write the copies himself. But that won't be helpful in terms of business — unless the owner is a great copywriter.
If you want to boost the conversion rate of a landing page, it is essential to have optimized copies, which is possible when a professional copywriter is hired to write them.
Optimizing the copies can significantly improve the conversion rate, as well as engage people better with the page.
You might be wondering if hiring a high-end copywriter is expensive. Well, in the next step, I have explained how you can optimize previously written copies with Ai.
How to optimize landing page content with Ai
Here are the techniques you can apply to optimize your landing page.
AI-Powered Copywriting
Use AI-powered copywriting tools to generate compelling headlines, subheadings, and persuasive content for your landing page. These tools analyze your target audience and help tailor the language and tone to resonate with them better.
GetGenie is the best Ai tool that you can use for writing killer copies. With just a few lines of instruction, you can generate great copies on any topic. Not only that, for users' convenience, GetGenie offers three different copywriting framework templates — AIDA, BAB, and PAS.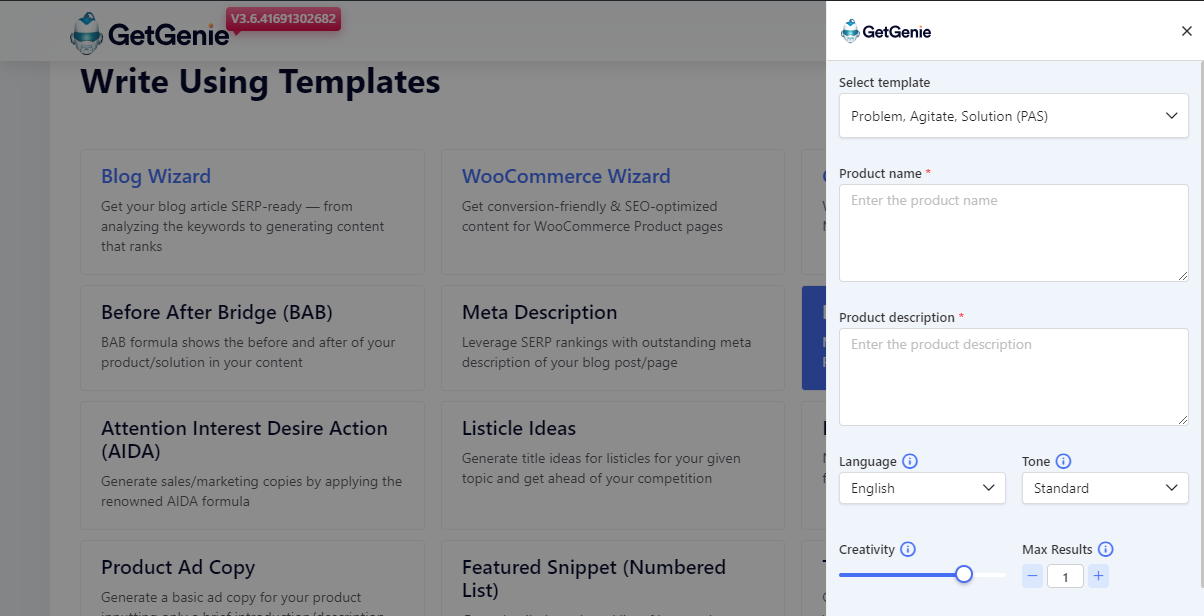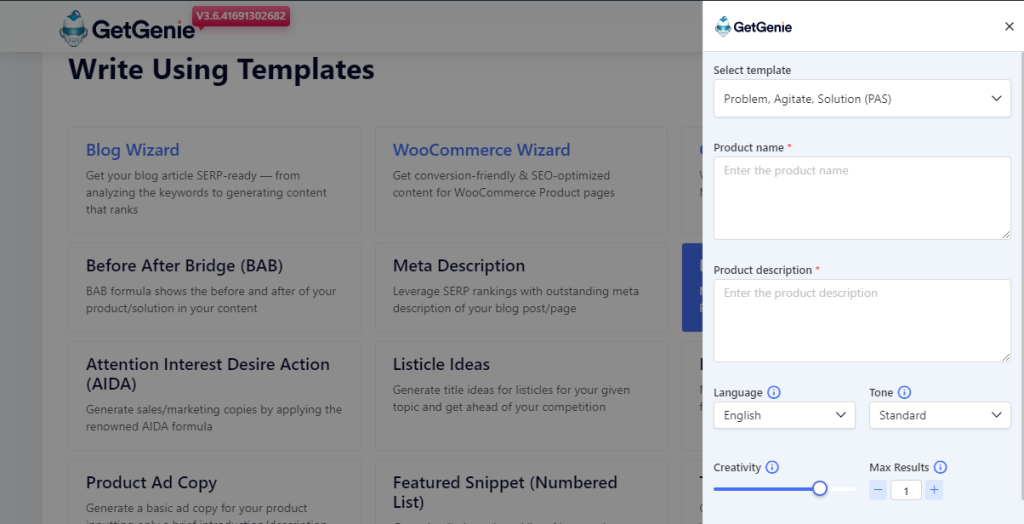 The best part is that with a single click, you can generate multiple versions of the copies.
A/B Testing with AI
No matter whatever step you take to boost the conversion rate, you should always do A/B testing. It means, you should try different methods and find out which one is best working.
The same goes for copywriting. If you are using the same style of copies all the time, you won't know the potential of another style.
AI algorithms can help you perform A/B testing on your landing page variants efficiently. With Ai, you can come up with tons of copy ideas just with a few clicks. For instance, if you are using the GetGenie Ai, you can generate multiple versions of a copy with a single click.
Also, try different copywriting frameworks while generating the copies to find out which one is performing better.
Chatbots and Virtual Assistants
When a visitor lands on a web page, he wants to have the best experience. Giving the best experience will help you to convince a reader to buy from you.
Implement AI-driven chatbots or virtual assistants on your landing page to interact with visitors in real-time. They can answer questions, provide assistance, and guide users towards conversion.
Currently, there are different chatbots available in the market. Choose the one that best matches your business.
Visual Optimization
AI can analyze heatmaps and user eye-tracking data to determine which parts of your landing page are getting the most attention. You can then optimize the layout and design based on these insights.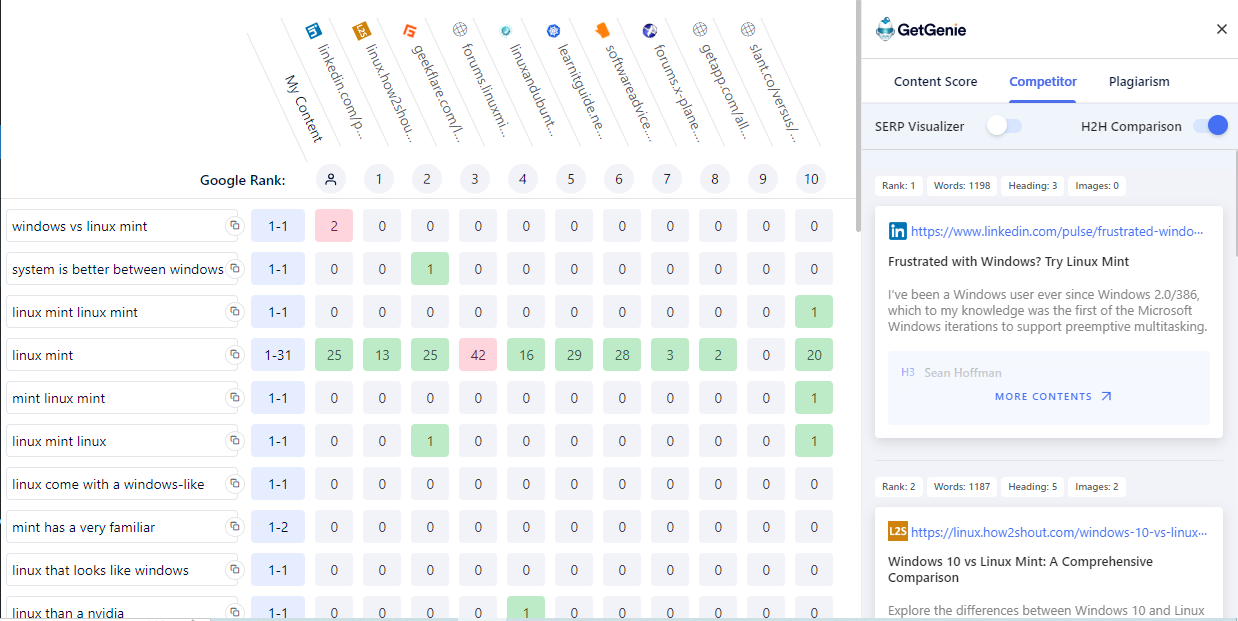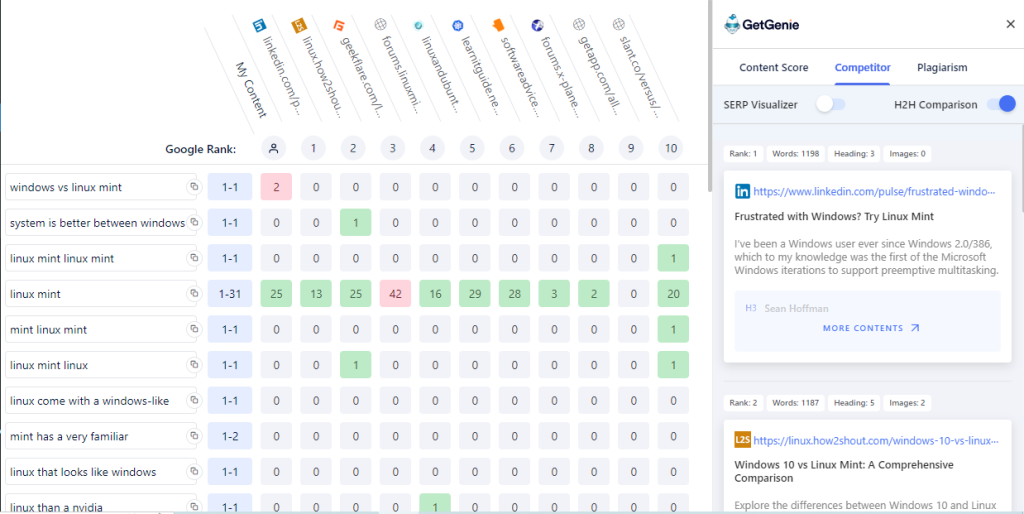 Some popular heatmap tools are hotjar, glassbox, mouseflow, and microsoft clarity.
Natural Language Processing (NLP)
Implement NLP algorithms to understand customer queries and intents better. This can help you create landing page content that directly addresses the pain points and questions of your potential customers.
The best way to perform this technique is implementing keywords based on the natural language process.
For instance, GetGenie blog wizard offers the NLP keywords to optimize the blog content.
Some additional tips to get better results
Always write in benefit focused language to give a good vibe to the visitor
Try to include testimonials and social proof to boost the conversion rate
Always perform A/B testing; no matter how good the copies are
Optimize the copies based on analytics of the landing page
Focus on trending keywords so that you don't miss the new opportunities
Make sure the landing page is optimize for mobile device
Frequently asked questions regarding landing page content optimization
Do you have more questions regarding landing page content optimization? Then go through the following questions and answers.
How can I improve my landing page content?
Write keyword-focused and user-friendly copies for your landing page. The message should be clear for the visitors so that they can easily understand how your product is better than others.
How many keywords should a landing page have?
There is no universal rule for the number of keywords in the copies. You should try to include the focused keywords in the copies and do A/B testing to find out which one is performing better.
Does landing page impact the conversion rate?
An optimized landing page is essential for conversions. Without it, you'll hardly get any. A well-optimized and benefit-focused landing page can significantly boost your conversion rate.
What is the minimum content for landing page SEO?
While there is no one-size-fits-all approach, it's important to include all the relevant information about your product on the landing page. Ensure that the content covers all the benefits of the product to maximize its impact.
Final words
Now that you know how to optimize landing pages with AI assistance for more conversions, apply these techniques to all your pages and monitor their impact. Gradually implement successful strategies on other pages too. Achieve better results across the board.