Is Ai Copywriting Worth It? Let's Discover the Truth!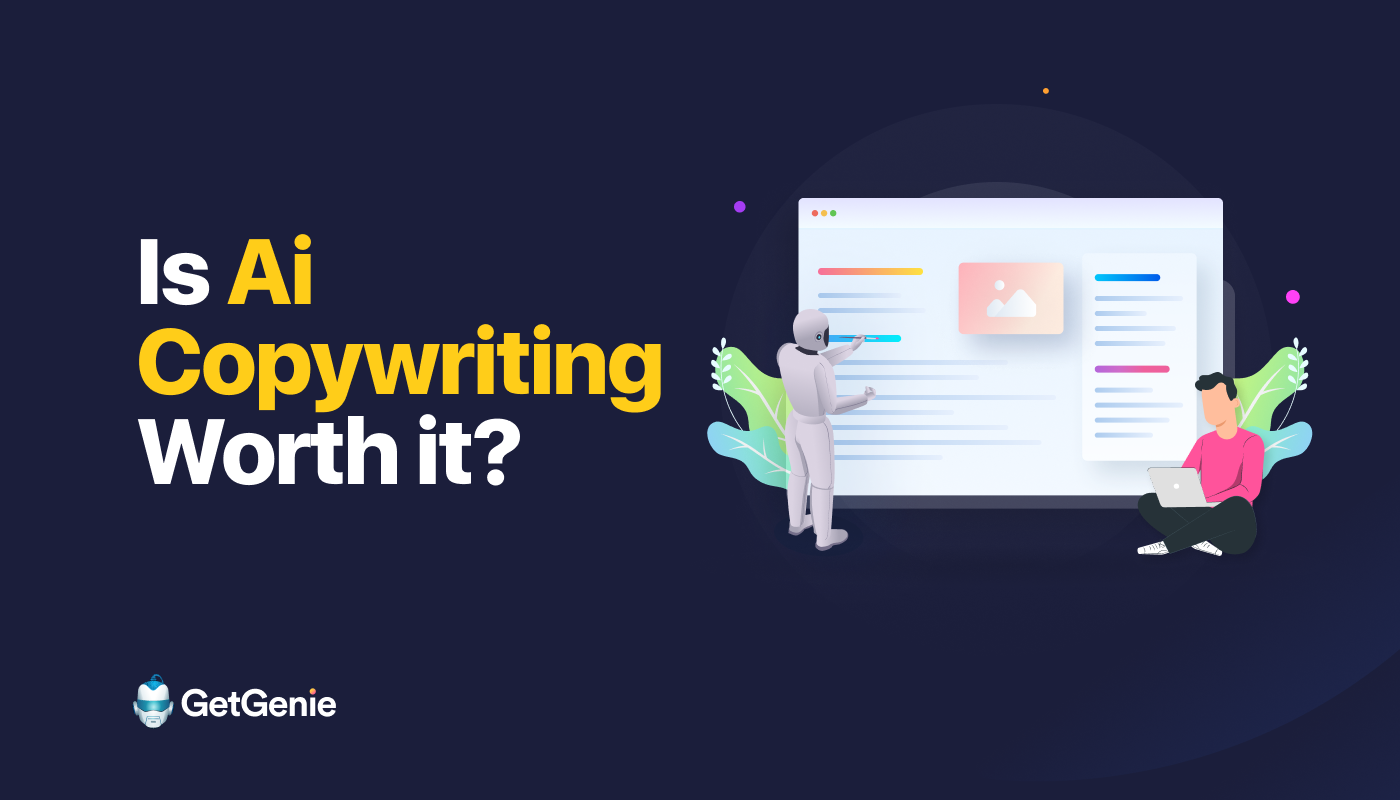 Businesses need promotion and writing attention-grabbing copies is a great way to promote a brand efficiently. Today, like any other field, Ai has spread its wings in the field of content writing.
To grab traffic fast, the Ai-powered writing tools are popular now. Whether it is long-form content or a piece of ad copy, these tools produce quick solutions.
But, is Ai copywriting worth it? 🤔
This is a common question for many writers and marketers now. Let's dive deeper and see what's the truth.
What is Ai Copywriting?
Ai copywriting defines writing copies using artificial intelligence technology. The copies can include various content such as advertisements, product descriptions, blog posts, social media posts, and more.
An Ai copywriting tool analyzes patterns of your copywriting instructions. Afterward, it utilizes the patterns to produce new, coherent, and contextually relevant outputs.
How Does Ai Copywriting Tools Work?
An Ai copywriting tool works by using advanced language models and algorithms. A modern tool generally uses GPT-3/3.5, a language processing model, to generate human-like text.
The tool learns from large datasets of text. Thus, it develops expertise to identify different questions, writing styles, and tones. Moreover, when you give a prompt or topic, an Ai tool provides content you can personalize if needed.
Practical Examples of Successful Ai-Generated Copies
Is Ai copywriting worth it? To understand this point, we are discussing how to write copies using Ai here.
You can pick any good Ai tool. We are showing GetGenie Ai which offers some excellent copywriting templates.
GetGenie Ai is available in the form of a WordPress plugin, & SaaS model, and also offers a chatbot named GenieChat.
Here, we have used the BAB template of the GetGenie Ai WordPress plugin.
BAB stands for Before, After, Bridge. For example, it crafts a problem's current situation (Before) to the desired situation (After) by using a Bridge. The bridge highlights the benefits of your product or service.
With the BAB template of GetGenie Ai you can quickly get the marketing copy you need in this formula. There are options to set language, tone, creativity, number of results, etc.
This is how easy it is –
Similarly, there are other copywriting templates like AIDA, PAS, Product Ad copy, etc. which are helpful.
Advantages and Disadvantages of Using Ai Copywriting Tools
Is AI copywriting worth it? Some advantages and disadvantages of using AI copywriting tools will clear the answer.
Let's see the advantages –
✔️ Ai copywriting tools can generate copies quickly, compared to manual writing. So, you can use your time efficiently.
✔️ You will get a consistent writing style and tone with an Ai tool.
✔️ These tools can handle large volumes of writing tasks. Also, you can generate as many copies as you want on a single topic.
✔️ Ai tools facilitate you with multiple language support. It helps to expand your reach.
✔️ Overall, a good Ai copywriting tool reduces writer's block. You can get creative copies and suggestions with it.
Disadvantages of using Ai copywriting tools:
❌ Sometimes, you have to invest much time to personalize the Ai-generated copies to give them a human touch.
❌ The tools might produce generic marketing copies. You have to regenerate the copies often to get the creativity.
❌ Another problem is, Ai may struggle to understand complex hints, cultural references, and related things.
❌ Additionally, you cannot just pick a tool and start using it, some are hard to operate.
So, Is Ai Copywriting Worth It?
Ai copywriting is indeed worth it.
Yes, sometimes you have to make amendments within the copies, but it still saves lots of human effort. If you can pick the best tool, it can seamlessly combine efficiency and creativity for your business. With correct inputs, a standard Ai copywriting tool knows how to add deep insights to enhance your messaging. So, using Ai for copywriting empowers your businesses by providing engaging copies.
However, a few months ago, people used to share different opinions. Even, Google didn't fully accept Ai content. Now the scenario has changed and Ai tools are still being developed. Researchers have proved how to advance output quality. No doubt, you can put your trust in an Ai copywriting tool.
Do you know?

It takes 30% less time to write a blog post for bloggers who use Ai tools. 😎

Source: DDIY
Some Latest Ai Copywriting Tools
This writing assistant is all you need to cover all lines of writing tasks. Whether you want to generate insightful blogs, different marketing copies, or do SEO tasks, GetGenie is your expert. The tool is easy to operate, even if you're not a technical writer.
Moreover, it is one of the classy free copywriting Ai tools. 💥
Let's know some perks of GetGenie Ai –
✨Available as a WordPress plugin, SaaS model, and a ChatBot named GenieChat (ChatGPT alternative)
✨ Offers 37+ writing templates
✨ Generate blogs in 60 seconds
✨ Helps you to rank on SERP 20x faster
✨ Gives you captivating copies in 33+ languages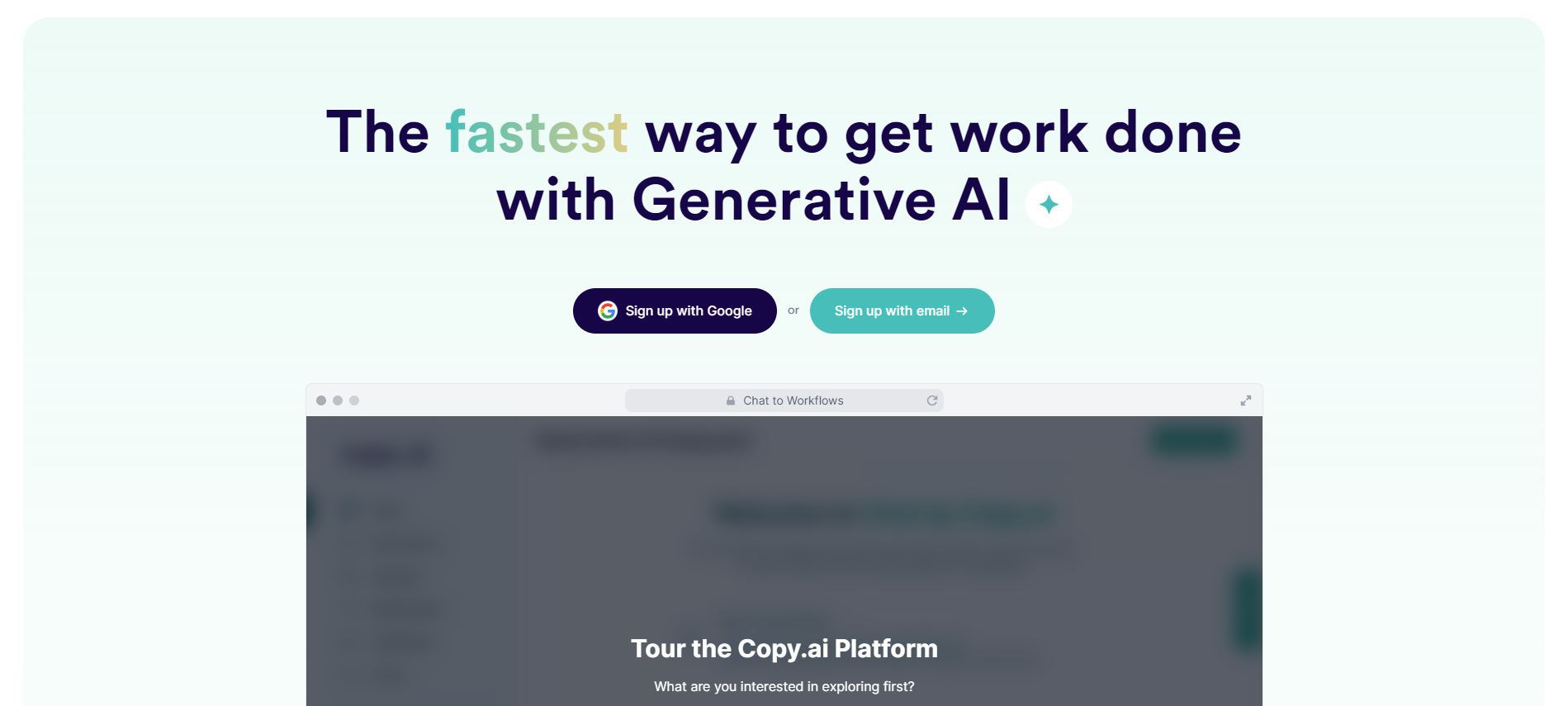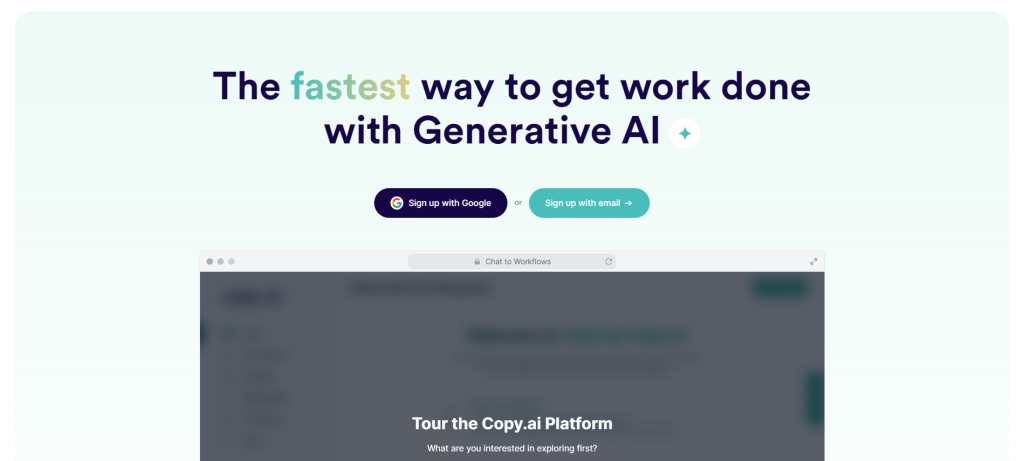 This is another good writing tool powered by Ai. You can save time and effort by providing creative content. It has a wide range of features to increase business productivity. It is also a user-friendly tool that gives good pieces of content quickly.
Some features of Copy.ai are –
✨ Writes higher-converting emails
✨ It has a translation solution feature
✨ The tool offers a SaaS app, a chatbot called Chat by Copy.ai, and a browser extension
✨ You can use it to make long-form content also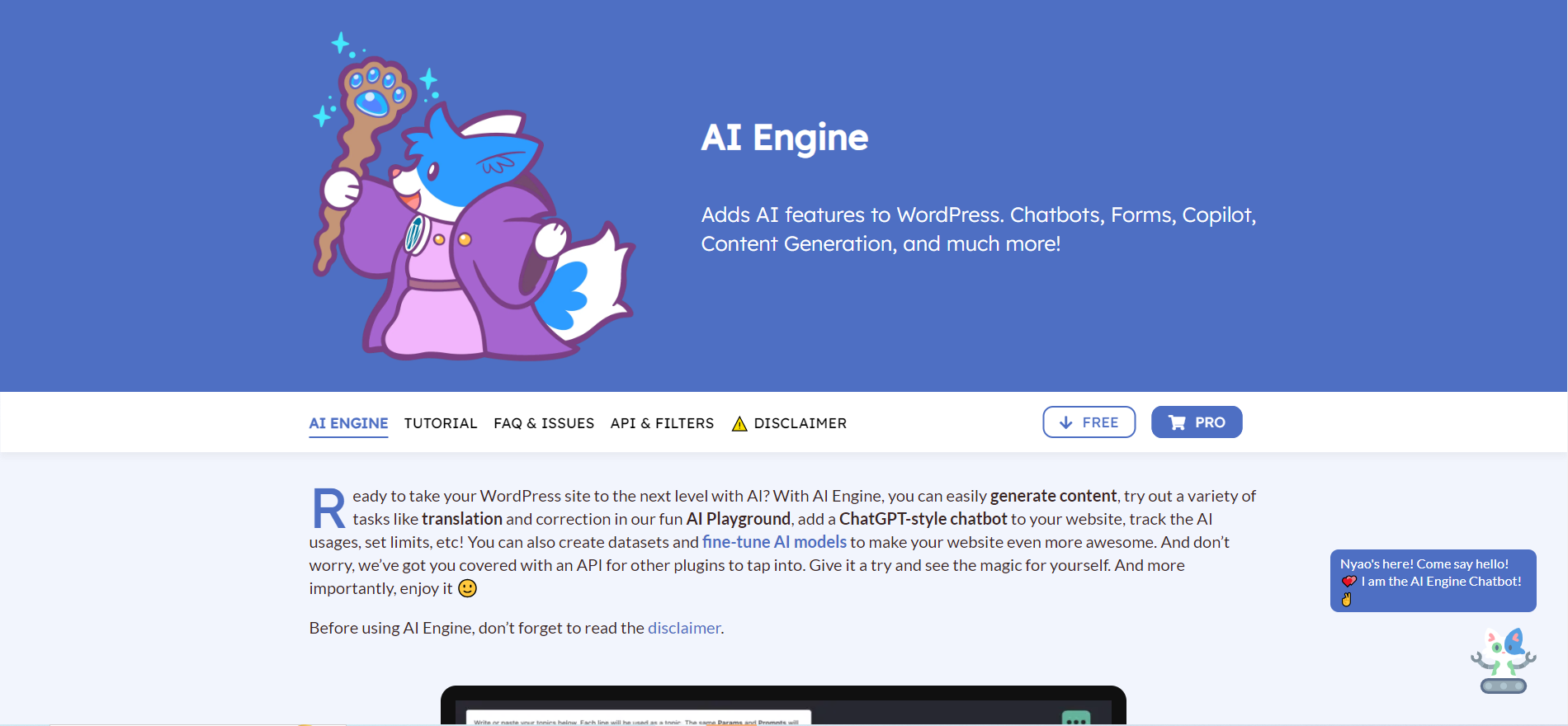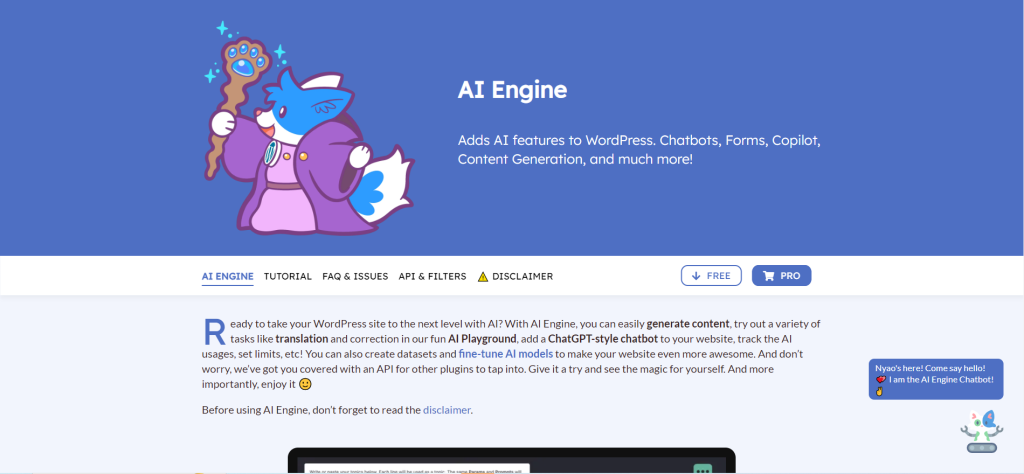 We have added AI Engine to this list which is powered by Meow apps WordPress plugin. You can produce fresh and fine-tuned content and images with the tool. So, to improve your WordPress site, you can enjoy many facilities of this advanced tool.
Some features of AI Engine are –
✨ You can generate images besides error-free content
✨ It allows you to create templates based on your preferences to generate content.
✨ The tool has a feature called AI forms to help you get answers
✨ AI Engine also offers a chatbot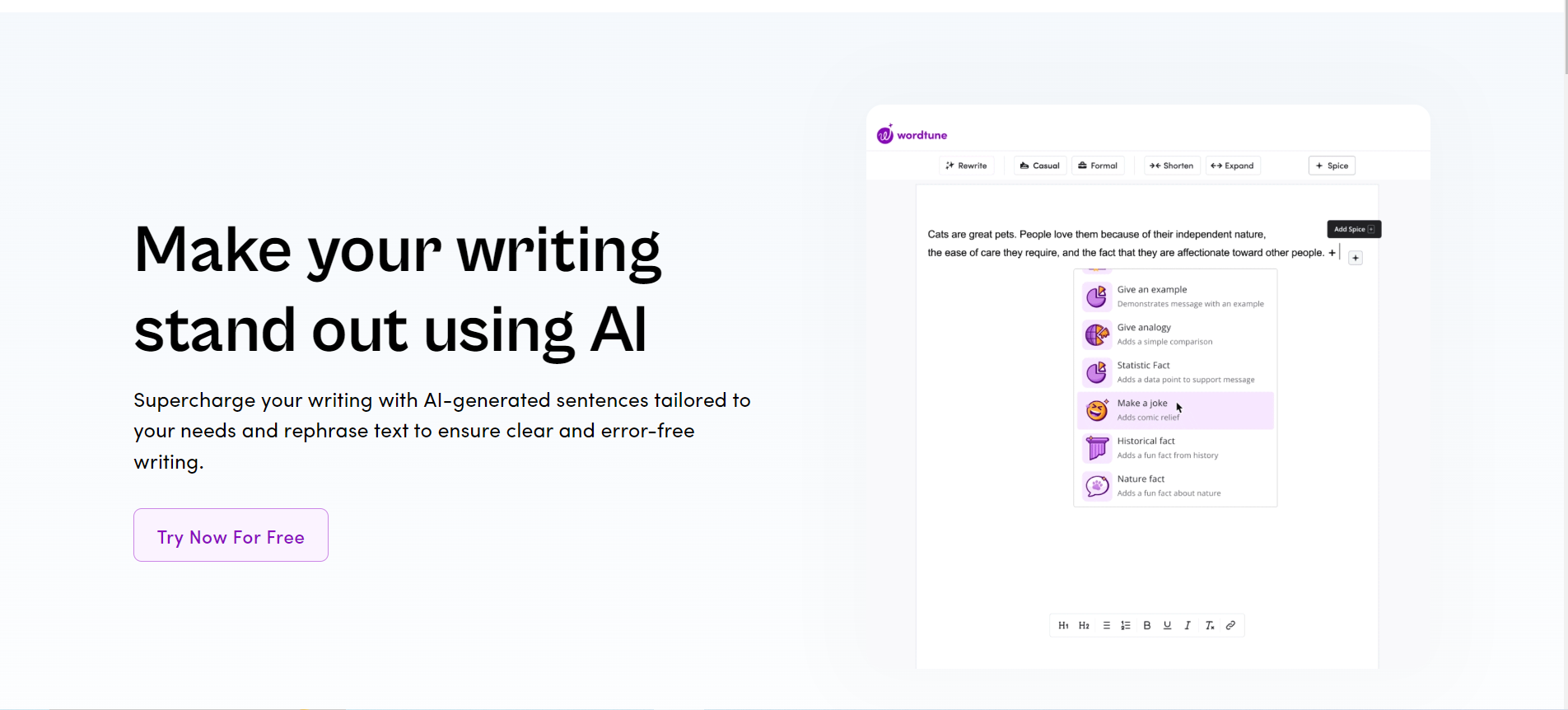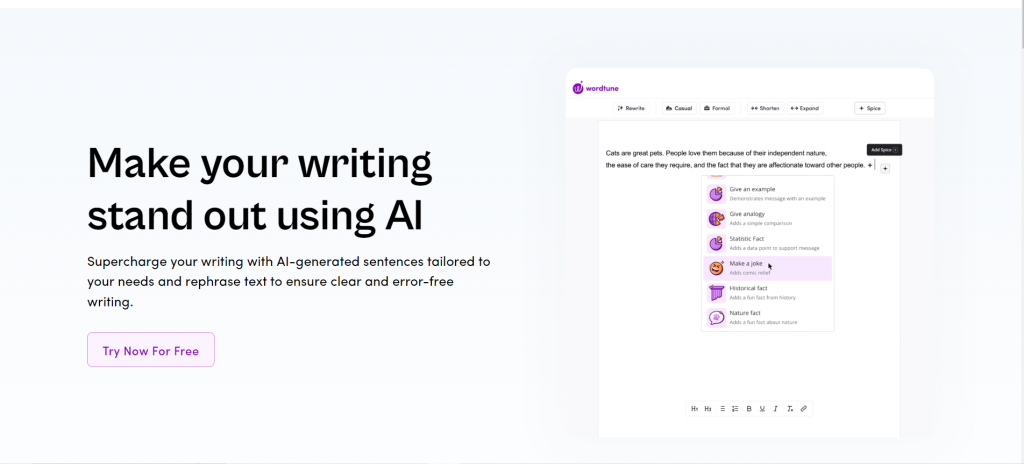 Here is the last one on our list, Wordtune is another choice you can rely on. It generates professional and original content. You can get blogs, rephrase texts, make copies, and other content to boost your efficiency.
To unleash your potential, let's see what Wordtune offers –
✨ The tool works on several websites including social media
✨ It gives text recommendations to improve content clarity
✨ You can make content summaries, even for videos
✨ Wordtune also offers an AI content detector
FAQs
Our Verdict
So, why think much? If a tool provides you with eye-catching lines and quick ideas, pick it and save your valuable hours! You can create impactful and insightful communication with an Ai tool, the efficiency is proven now.
However, you may also think, will Ai take over traditional human copywriting jobs? Well, artificial intelligence still cannot replace humans and their essence in writing. But, if you pick a standard tool carefully, it can be definitely useful for your business growth.