Introducing Genie Mode: Generate Faster Content with Smarter Command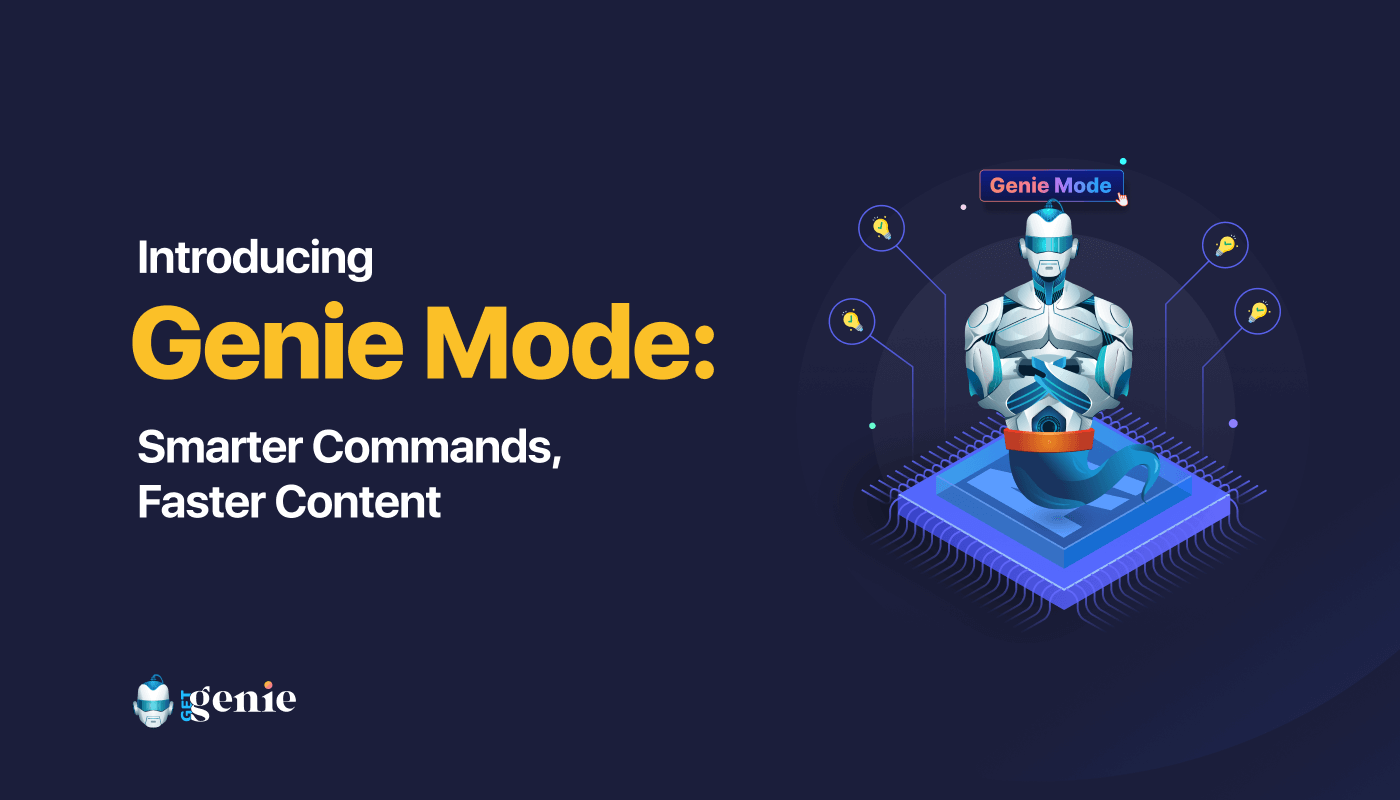 Announcement time! 📢📢
GetGenie has just launched a new feature named Genie Mode 🧞.
GetGenie's templates work more than fine generating content as per the user's instruction and thousands of users are quite happy with the results. However, our team is always working hard and focused to give our users a better experience and Genie Mode is yet another example of that.  
This new magical feature gives you the power to produce more content faster. However, you will not be required to put in lengthy and tedious inputs. Now you can converse with GetGenie to get your desired output!
Curious to know more?
Keep reading to learn more in detail…
Introducing Genie Mode 🧞
Genie Mode is a smart feature of GetGenie that allows users to give instructions in a prompt and get a more detailed response in return. For this amazing feature to come to life, GetGenie uses the latest text-davinci-003 language model made by OpenAI. This language model is trained to interact conversationally, like the ChatGPT tool. Moreover, it is capable of learning from its mistakes.
Thanks to Genie Mode, now you can write reviews, email copy, sales copy, applications, social media posts, and many more using one single template. Don't worry! you won't have to compromise with the quality of results. Because Genie Mode has been trained and tested to provide high-quality plagiarism-free content.
All you will be required to do is provide an AI command and get your results. Moreover, with this template like the previous templates, you can choose the creativity level and generate multiple results in one go.
Now writing all kinds of creative and useful content from emails to reviews to the application is just one command away and you can ask Genie to produce it as you would do to any human writer, in fact, you may just have to use fewer words because AI commands are super smart and Genie Mode responds within seconds!
Sounds amazing, right?
Move to the next section to learn how you can use this magical template.
How to use Genie Mode to generate faster content with AI Command
You can use Genie Mode from the template page (from GetGenie's template list) as well as from the blog post page.
To use the template directly, navigate to the WordPress dashboard ⇒ GetGenie ⇒ AI Writing and click on Genie Mode.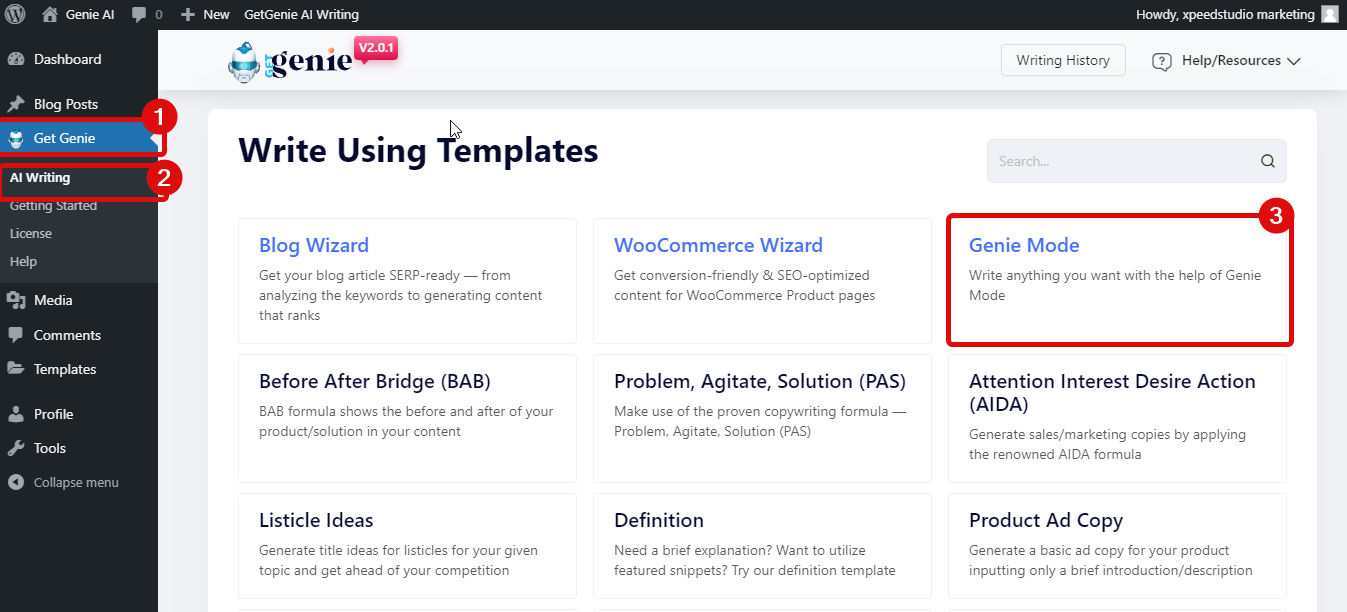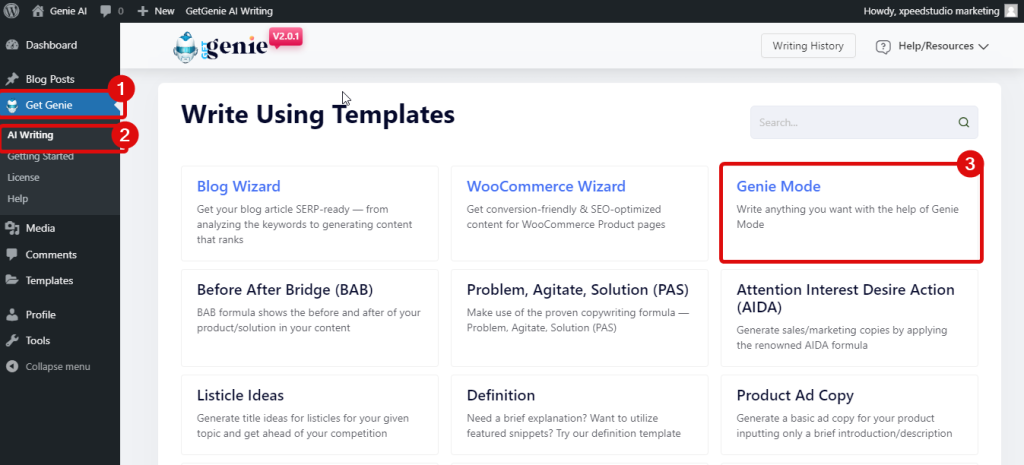 Now provide the AI command on the Content field, then choose Creativity level (how creative you want the results to be) and Results (number of results you want). Finally, click on Write to get the results.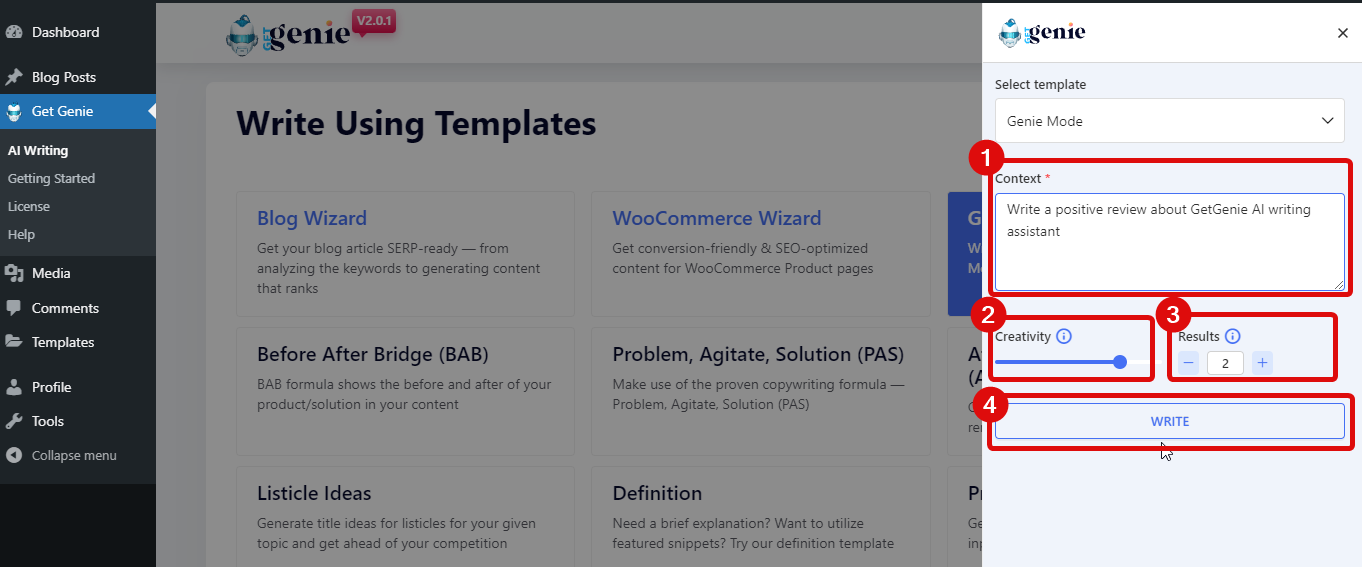 Once the results are generated, click on the result you like to copy. After you copy it, you can paste it to use on any platform. This way you are not just limited to using GetGenie on WordPress sites.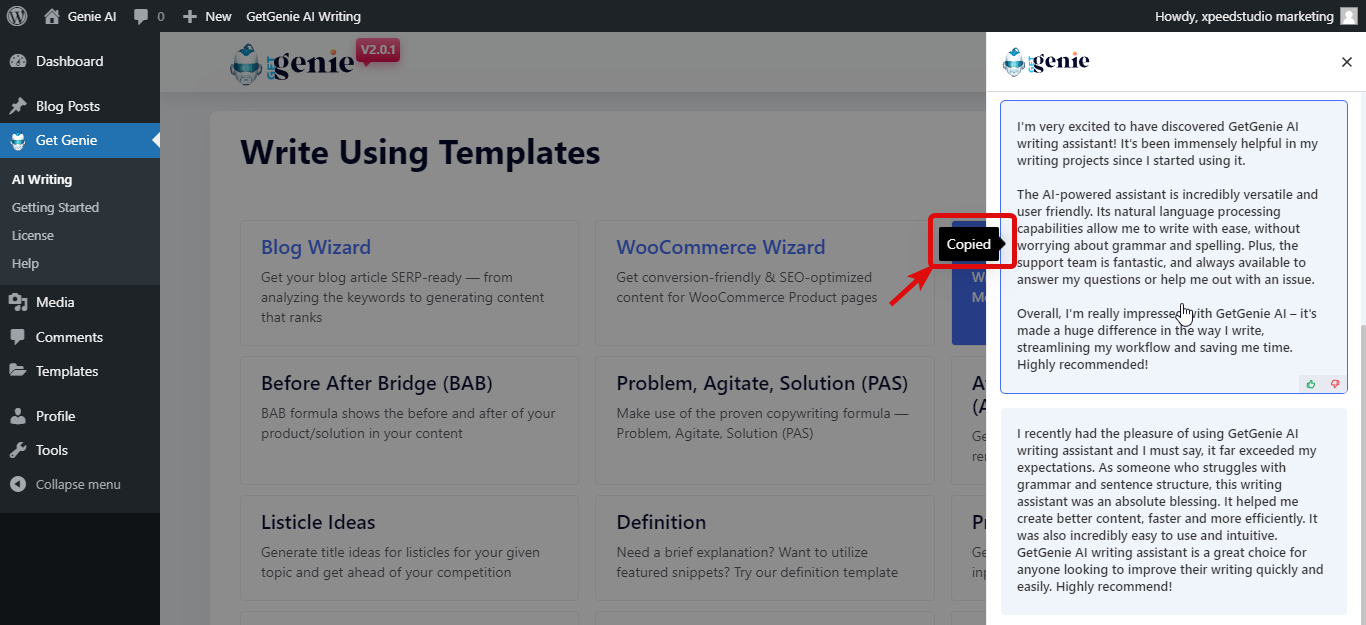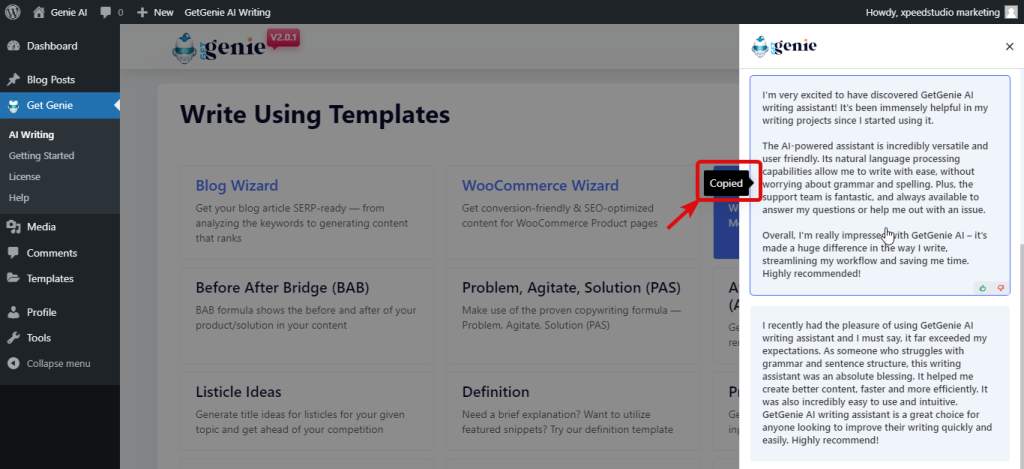 Now, let's check how you can use this amazing template directly from the blog post. For this go to any blog post or Add a new post.


Now write your AI command, select the command, click on the Genie Icon, and select Genie Mode.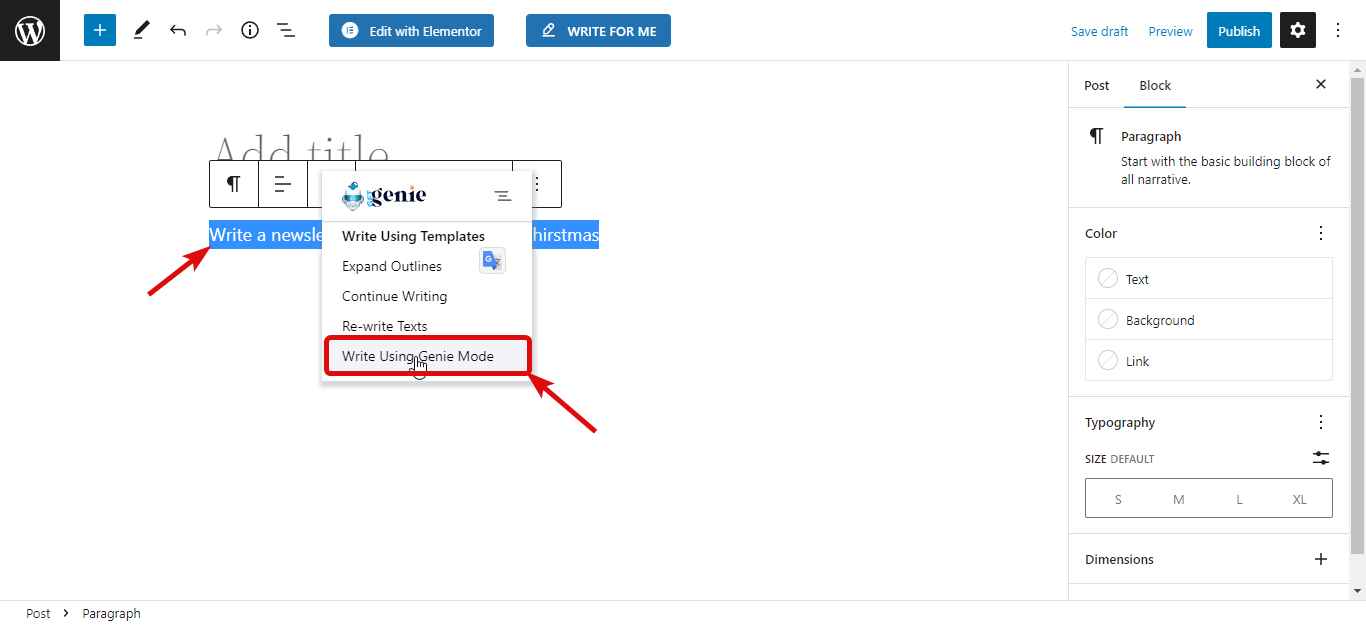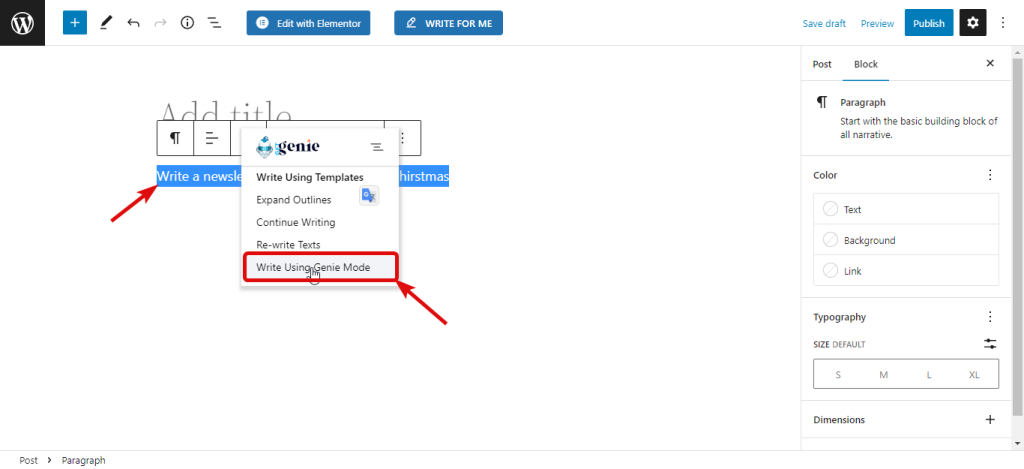 On the right side like before, choose Creativity and results and then click on write to get the results.


Once the results are there you can either choose to copy any of the results by clicking on it like before or you can click on the + icon to insert it into your blog post.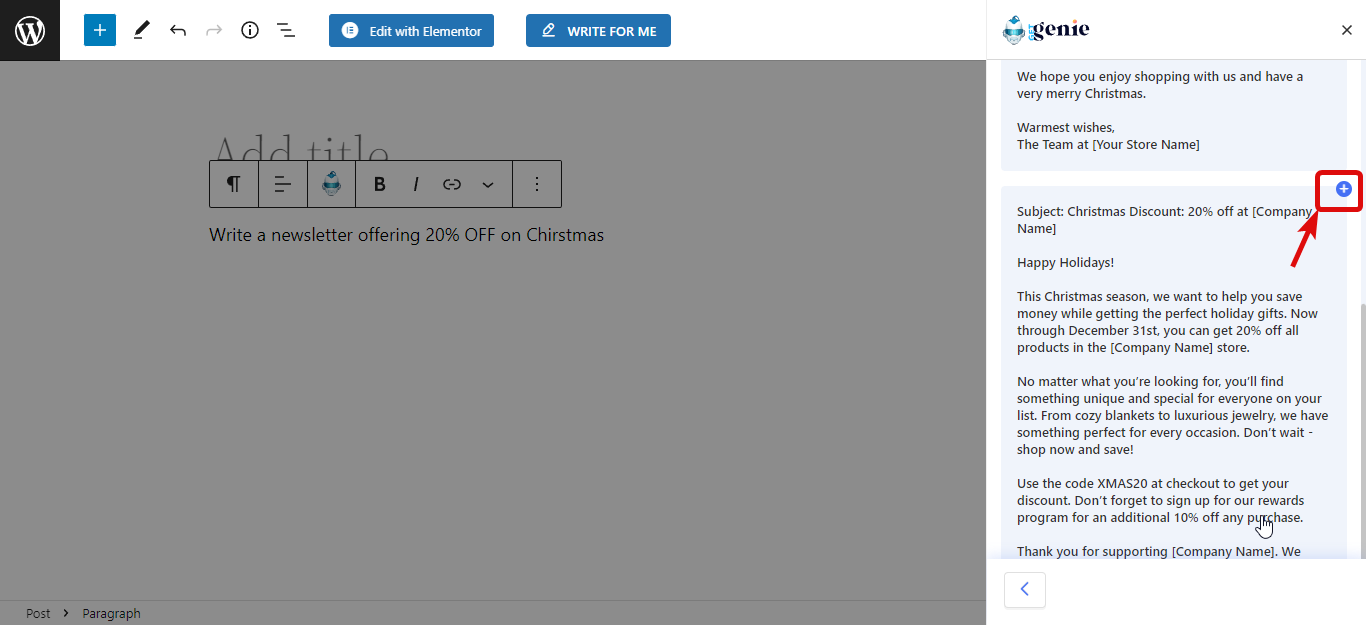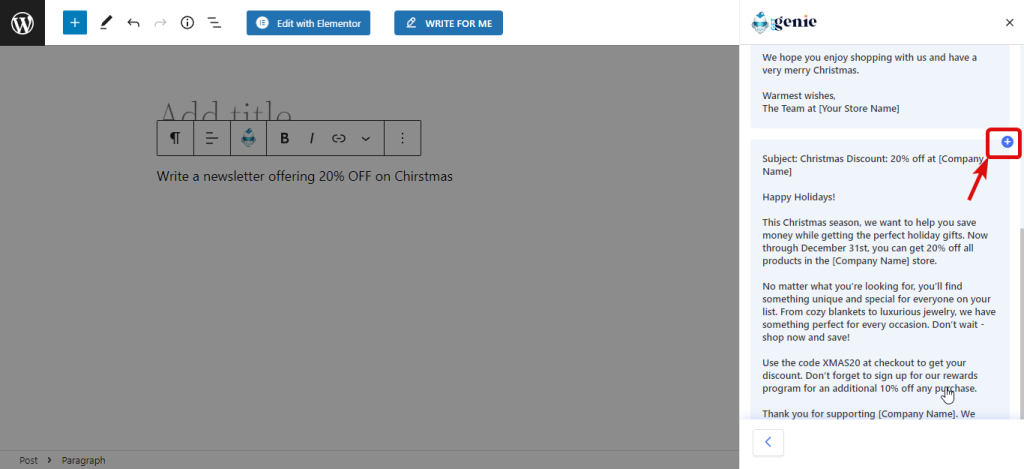 New to GetGenie?
Let's learn about this marvelous AI writing assistant in more detail in the next section 👇👇
Get to know GetGenie AI writing assistant a little better
GetGenie is the most advanced and best AI writing assistant for writing all sorts of copies and content. This is the only tool you will need because the WordPress AI content writing plugin does the work of 10+ AI tools – Writesonic, WriterZen, Frase, Rytr.me, Copy AI, etc. by itself!
Whether you are a marketer or writer, this AI tool can be your best friend in executing all writing tasks with minimal effort. Especially, if you are looking for an assistant to write a blog then you must start using this tool. Because GetGenie AI is undoubtedly the best AI blog writer available in the market because it offers all the options you need to come up with an engaging, informative, and SEO-friendly blog.
If you are a WooCommerce store owner struggling to put together compelling product copies for hundreds and thousands of products, then GetGenie can help you tremendously. Just like a blog wizard, GetGenie also offers a WooCommerce Wizard using which you can generate SEO-optimized, engaging product titles, product short descriptions, and product long descriptions and add them to your product instantly.
On top of being fantastic and the Best AI writer and AI product description generator, this amazing tool provides 30+ other writing templates that you can use to generate any sorts of marketing content you possibly need to grow your content marketing strategy.

Final Words
Now GetGenie is smart enough to take an AI command that is similar to a human-to-human conversation. Genie Mode makes the already magical AI writing assistant even more amazing and more powerful for all writers and marketers looking to write creative content with the help of AI.
I would also recommend you try out the other templates of this outstanding AI writing assistant for WordPress as well. As mentioned before though it's a WordPress plugin, you always have the option to use the content this tool generates on any platform you want.
Are you excited to use this newly launched magical Genie Mode? Do try this feature out and share your experience in the comment box.