Ai Rank Tracking: The SEO Game-Changer of Tomorrow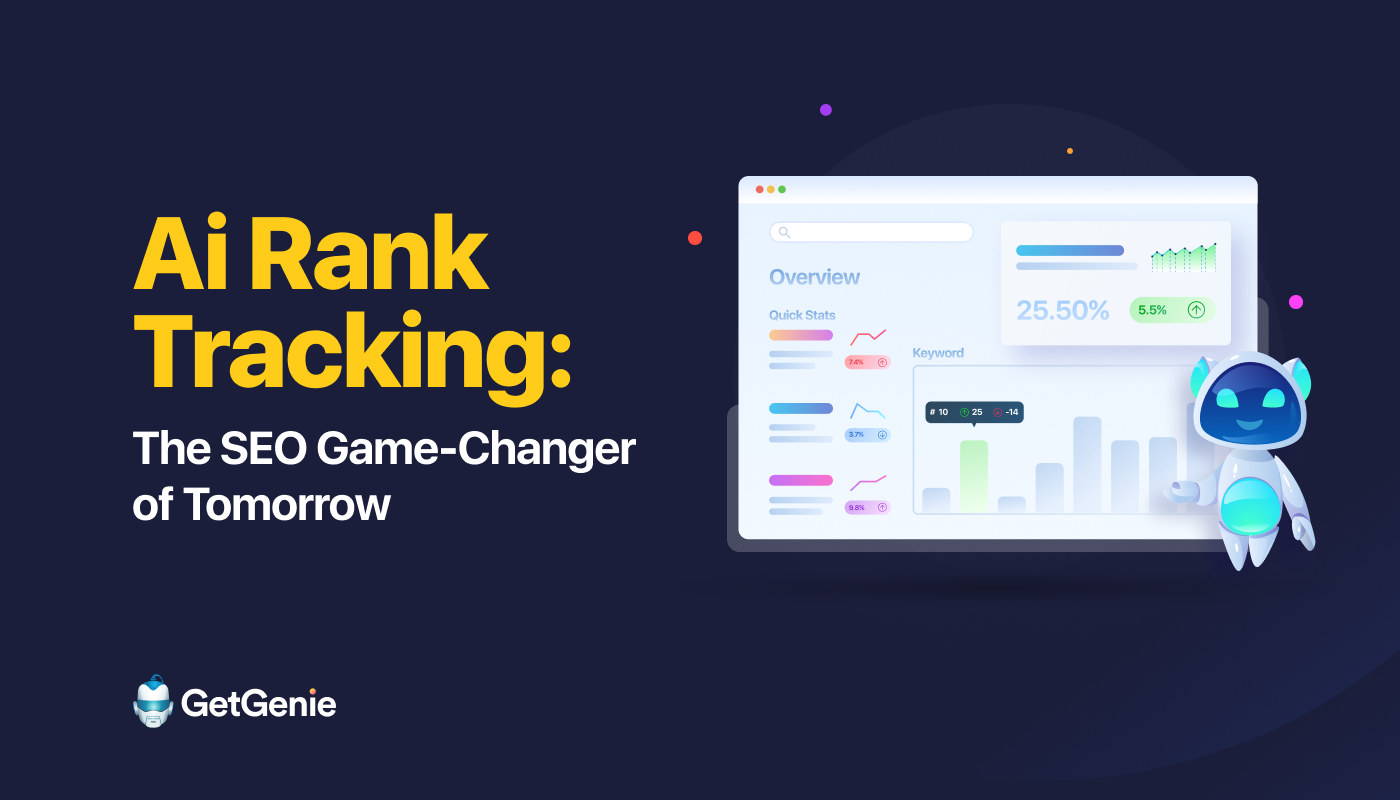 In today's tech-driven world, artificial intelligence (Ai) is crucial to many facets of our daily lives. Ai is a powerful tool, helping with tasks like automation, decision-making, and gaining insights. The use of Ai in rank tracking is SEO-Game Changer. It makes the laborious task of tracking rankings simpler. Its predictive abilities allow tracking rank changes, spotting trends, and taking action when necessary.
Additionally, Ai provides valuable insights into strategies like search engine optimization. It supports informed decision-making and competitiveness for businesses. Its speed and accuracy make it a valuable asset for tasks like rank tracking and other online activities. It enables businesses to achieve more with less effort, leading to improved rankings.
Overview of Rank Tracking Using Ai
What is Ai Rank Tracking?
Ai Rank tracking is the process of utilizing Ai to track how well your website performs for particular keywords or search queries. It entails monitoring how these keywords perform over time in search results. This enables you to see how your rankings change and how it affects the number of people visiting your site.
Users of Ai rank-tracking technologies receive data that may be difficult to interpret by looking at statistics. These tools display how rankings and other indicators are changing using a variety of visualizations. If your Ai tool has a dashboard with easy-to-read charts, you can quickly see trends, patterns, or sudden changes.
Why is it a Game-Changer in SEO?
➡️ Keyword Strategy Assessment
See how well your keyword strategy is working by checking if changes lead to better rankings. If they do, it's a sign your strategy is successful. You can also find low-performing pages on your site and improve them by changing content and keywords.
➡️ Check Competitors
Keep track of what your rivals are doing. Are they doing better than you in searches for important keywords? This info can help you improve your marketing strategy.
➡️ Identify Website Traffic Concerns
Look for problems with your website's traffic. If your ranking drops a lot, it might mean someone is trying to harm your website or you're using bad SEO methods.
➡️ Enhance Profitability
Increase your earnings by finding pages that make you more money. Focus on finding new keywords that help you sell more.
5 Ai Tools to Track Ranking
These five advanced Ai-powered free rank tracking tools provide insightful analytics, real-time updates, and deep insights into your website's performance in search results. Let's explore how these Ai tools can elevate your SEO game and help you stay ahead.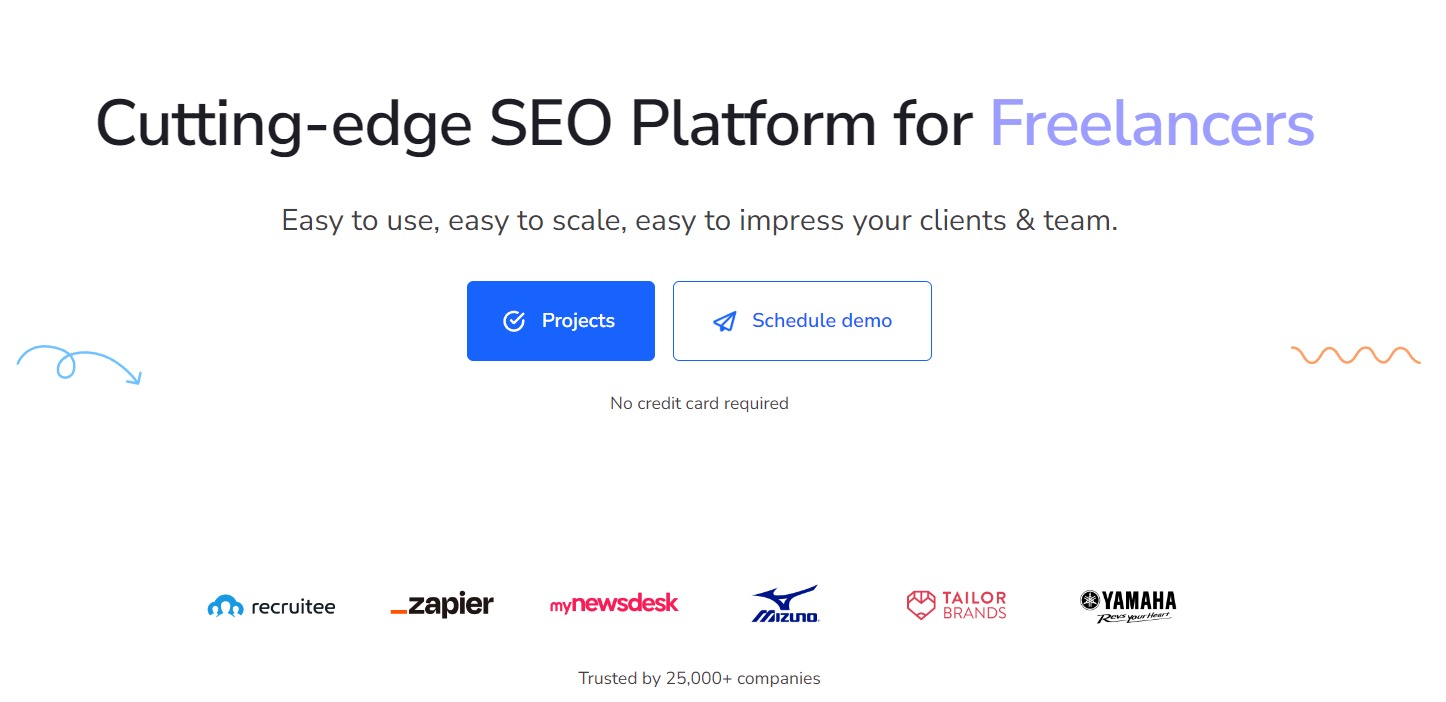 SERanking stands as an all-encompassing SEO solution meticulously crafted to elevate your website's search engine rankings, enhance overall website performance, and fortify your online presence. At its core, SERanking empowers users with comprehensive insights and in-depth reports, providing a clear and detailed view of the website's performance within the dynamic realm of search engines.
This robust tool goes above and beyond by not only allowing users to gauge their own performance but also keeping a vigilant eye on competitors, offering invaluable insights into their strategies and tactics. SERanking becomes your strategic ally by tracking backlinks, scrutinizing their quality and relevance, and thereby ensuring a strong digital footprint.
Core Features:
SE Ranking's Ai-powered On-Page SEO Checker provides a checklist of actionable steps to enhance a web page's search engine rankings. It assesses various page elements and metrics. It helps search engines gauge content relevance and user experience. Use this tool to seize every opportunity to enhance your on-page SEO and maintain complete control over your web pages.
Getting quality backlinks is like gaining trust in SEO. They boost your website's credibility and Google's trust, leading to higher rankings. More links show your content's value, attracting organic traffic. Use our Backlink Checker tool to analyze your or your competitors' links and shape effective strategies.
Competitor Keyword Checker
SE Ranking's competitor keyword checker offers key insights into your rivals' keywords, SEO performance, and helps gauge keyword competitiveness. Discover search volume trends, Google Ads cost-per-click, and global keyword competition effortlessly.
Pricing Plans:
Free 14-day Trial – available
Essential – $55 per month
Pro – $109 per month
Business – $239 per month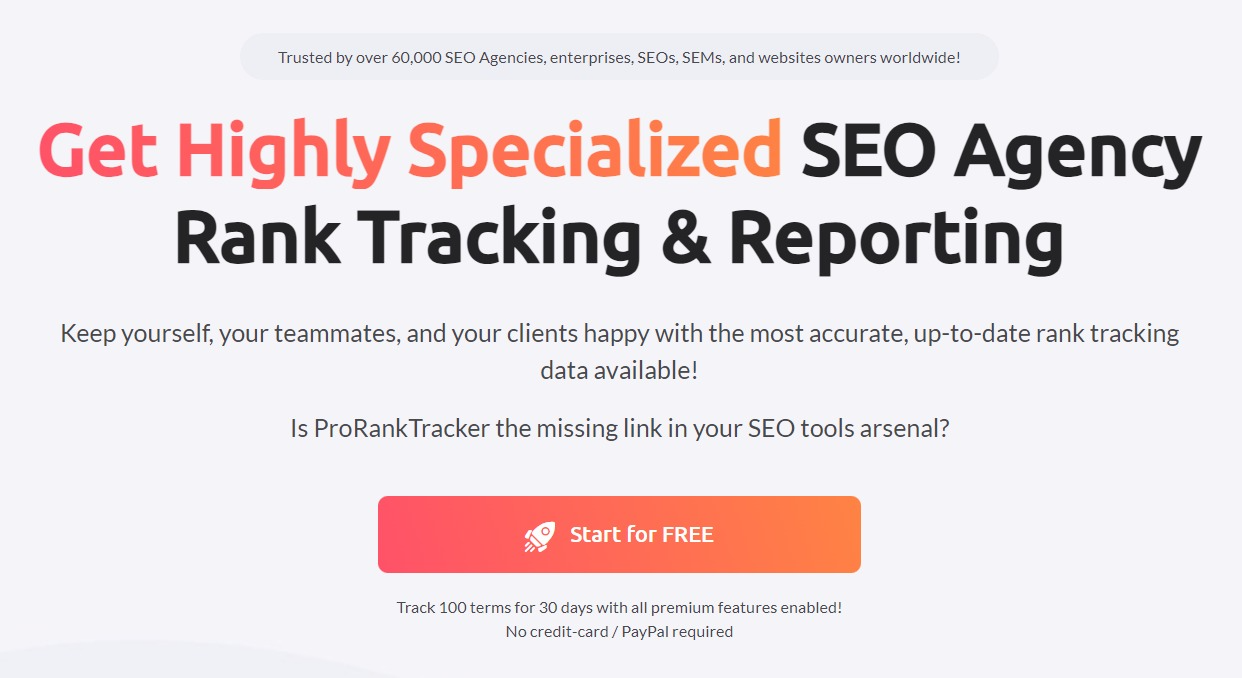 ProRankTracker is a specialized tool for tracking and reporting website rankings. Along with analytics, insights, and notifications to keep your team and clients updated, it offers precise search engine ranking data. Pro Rank Tracker allows you to create and share impressive reports, improving your workflow. With its transparency and reliability, it's a valuable SEO tool trusted by over 60,000 SEO agencies to enhance rankings and keep clients.
Core Features:
Pro Rank Tracker offers insights into past data to identify trends and enhance tactics. It offers user-friendly reports for sharing with clients or team members, earning praise from SEO pros worldwide. It provides robust tracking tools that let you keep tabs on keyword positions across a variety of search engines, locales, and devices.
The Insta-Check feature of ProRankTracker is a simple way to update your systems and tools with the most recent rankings and raw data. With Insta-Check, you can check rankings for any terms in your ProRankTracker account. It's a pay-as-you-go service where you use credits to check single URL rankings or the top 10/30/100 for specific keywords.
ProRankTracker offers a variety of reports. It includes current rankings, progress reports, and live reports to share with clients and colleagues. You can customize these reports using our white-label template tool, and they are available in many languages. You can also send reports and notifications to clients using your own email address as the sender.
Pricing Plans:
Free Plan – $0 per month
Starter – starts at $13.5 per month
Pro – starts at $89 per month
Agency – starts at $180 per month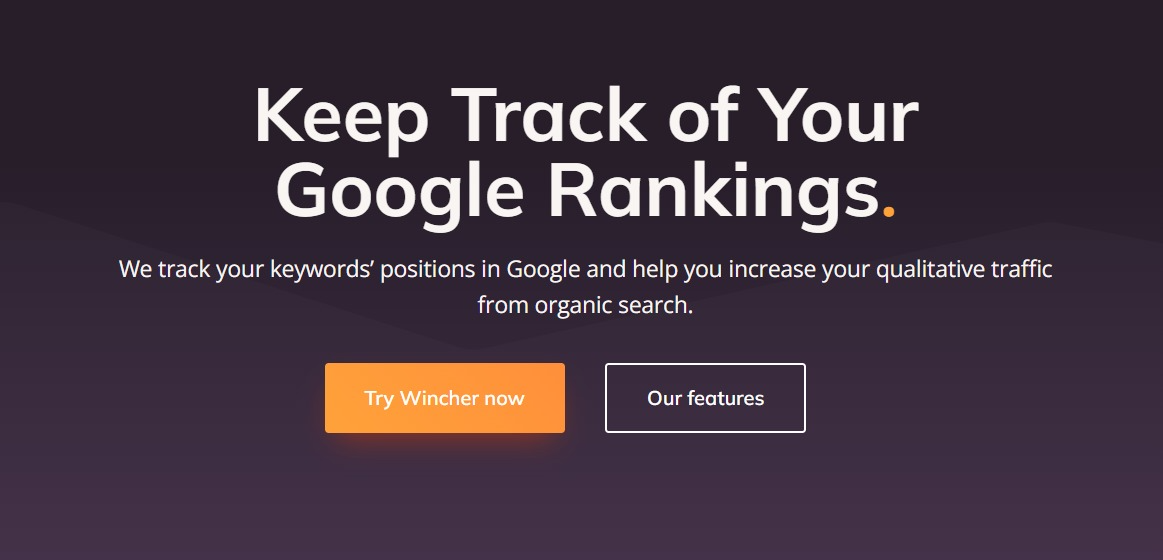 Wincher is an SEO tool for keyword research and tracking changes in search engine rankings. It assists users in staying updated on their page rankings for specific target keywords on Google's search results. Furthermore, it provides a daily, in-depth report on your current keyword positions. By keeping an eye on local keyword rankings, you can identify areas for improvement and strengthen your local SEO strategy.
Core Features:
Competitor Ranking Updates:
Use Competitor Tracking to monitor your rivals' keyword strategies. Add a competitor, and the tool fetches their traffic and keywords for comparison with your performance and Google results. This reveals their strengths, helping you craft stronger strategies to outperform them on specific keywords.
Wincher's Daily Ranking feature offers daily updates on your search engine position data. This also applies to your competitors' ranking changes, allowing you to stay one step ahead in SEO. This feature is especially useful for quickly addressing unexpected drops in rankings.
To track your website's performance in local searches, a local rank tracker is essential. Wincher enables tracking in over 10,000 locations across 180 countries. It is suitable for small business owners and bloggers. Whether you need to check one location or many, you can rely on accurate data to assess your performance.
Pricing Plans:
Free 14-day Trial – available
Starter – $39 per month
Business – $74 per month
Enterprise – $289 per month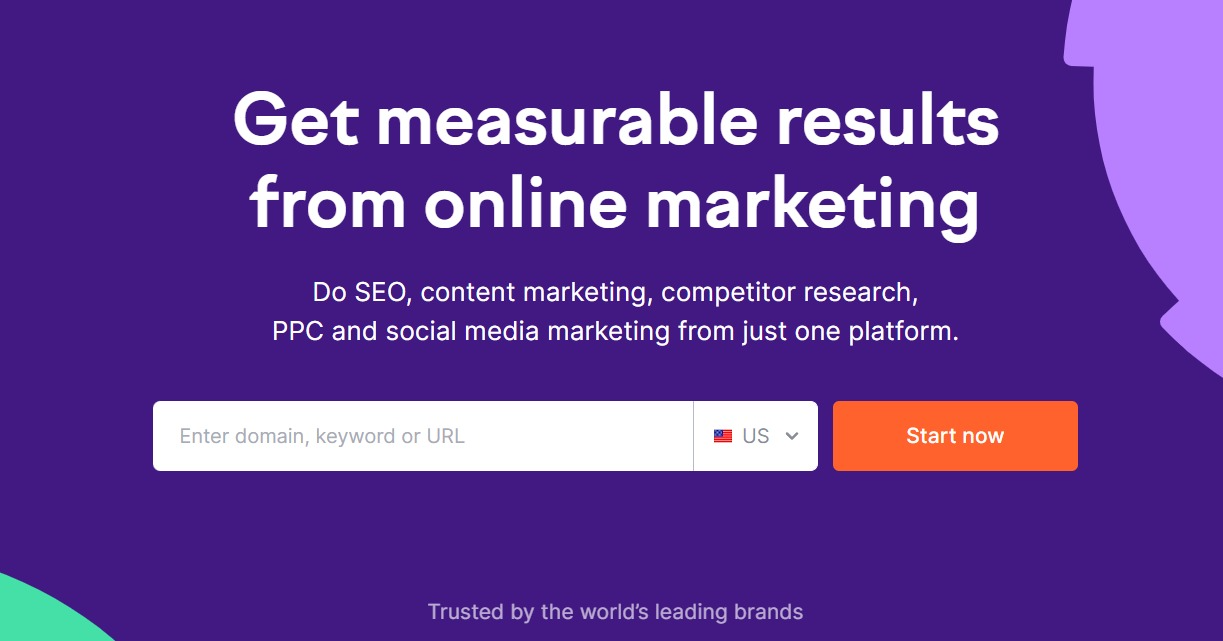 Semrush is a comprehensive suite of tools for increasing web exposure and learning about marketing trends. This one-stop digital marketing solution aids in the management of SEO, pay-per-click (PPC), social media, and more. This software is intended for those who need help with their digital marketing. SEMrush makes it simple for you to understand and use SEO even if you have little experience or skills.
Core Features:
You receive a report with this function that details your site's current keyword rankings. Additionally, you may track these words and phrases by region. You may see the development of your efforts to rank higher for your keywords as extra information about your site enters Semrush over time.
You can input a domain name and get a list of all the backlinks that Semrush can locate for it in the 'Backlink Analytics' area of the tool. You can identify when a domain has gained or lost backlinks as well as the value of the links. The information offered can be used to enhance your own SEO efforts or to learn more about those of a rival.
Semrush Sensor is a tool that tracks a website's SEO performance and global search trends. It monitors Google results for potential algorithm changes, helping you understand how they impact your rankings.
Pricing Plans:
Free 14-day Trial – available
Pro – $129.95 per month
Guru – $249.95 per month
Business – $499.95 per month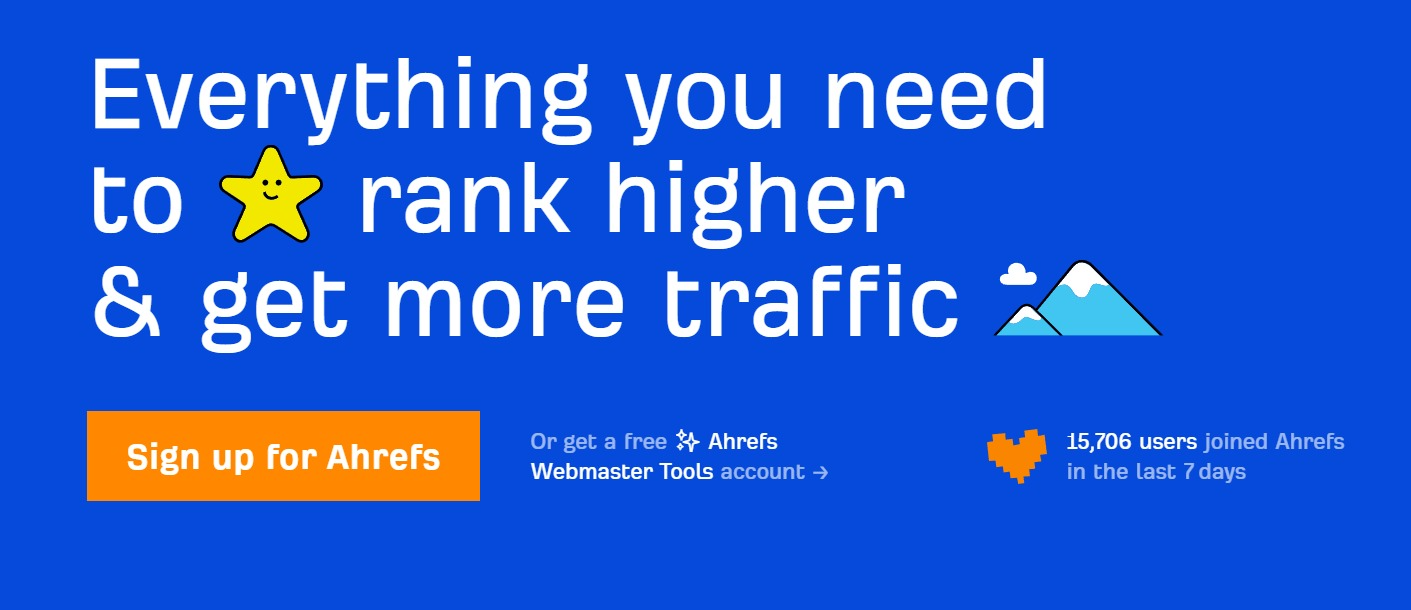 Ahrefs is a potent all-in-one SEO toolkit that digital marketers, SEO experts, and organizations of all sizes use. It offers various tools, including keyword research, competition analysis, backlink tracking, and more. These tools enable users to raise the search engine ranking of their websites.
Core Features:
Updates on Desktop & Mobile Ranking
You can check your Google rankings on desktop and mobile in 190 different countries with Rank Tracker. Enter or import a list of keywords, add many countries for each phrase, and provide the URLs of your rivals. Ahrefs will begin collecting data and will update you frequently.
Users of Ahrefs' Rank Tracker can track changes in the position of their website and certain keywords over time. Users can track the performance of their website in search engine results pages (SERPs) and find ways to raise their ranking.
This feature lets users examine any website and learn about its backlink profile, organic search traffic, best pages, and more. Users can delve deeper into particular data to learn more about the advantages and disadvantages of their website.
Pricing Plans:
Free Access to Webmaster Tools – available
Lite – starts at $99 per month
Standard- starts at $199 per month
Advanced- starts at $399 per month
Enterprise – starts at $999 per month
How to Track Your Ranking with SERanking
Monitor your live rankings using SERanking, following these guidelines:
1. Log in to your SERanking account or sign up. Once signed in, click on "Create Project". From there, you will need to enter the information manually including;
General information like website URL, project name, search range, and access settings.
Choosing search engines like Google, Yahoo, Bing, and YouTube. You can also add multiple search engines to your project.
The keywords you are interested to track in.
The competitors you want to track their ranking positions.
Statistics and analytics services where you can integrate SERanking with Google Analytics or Google Search Console.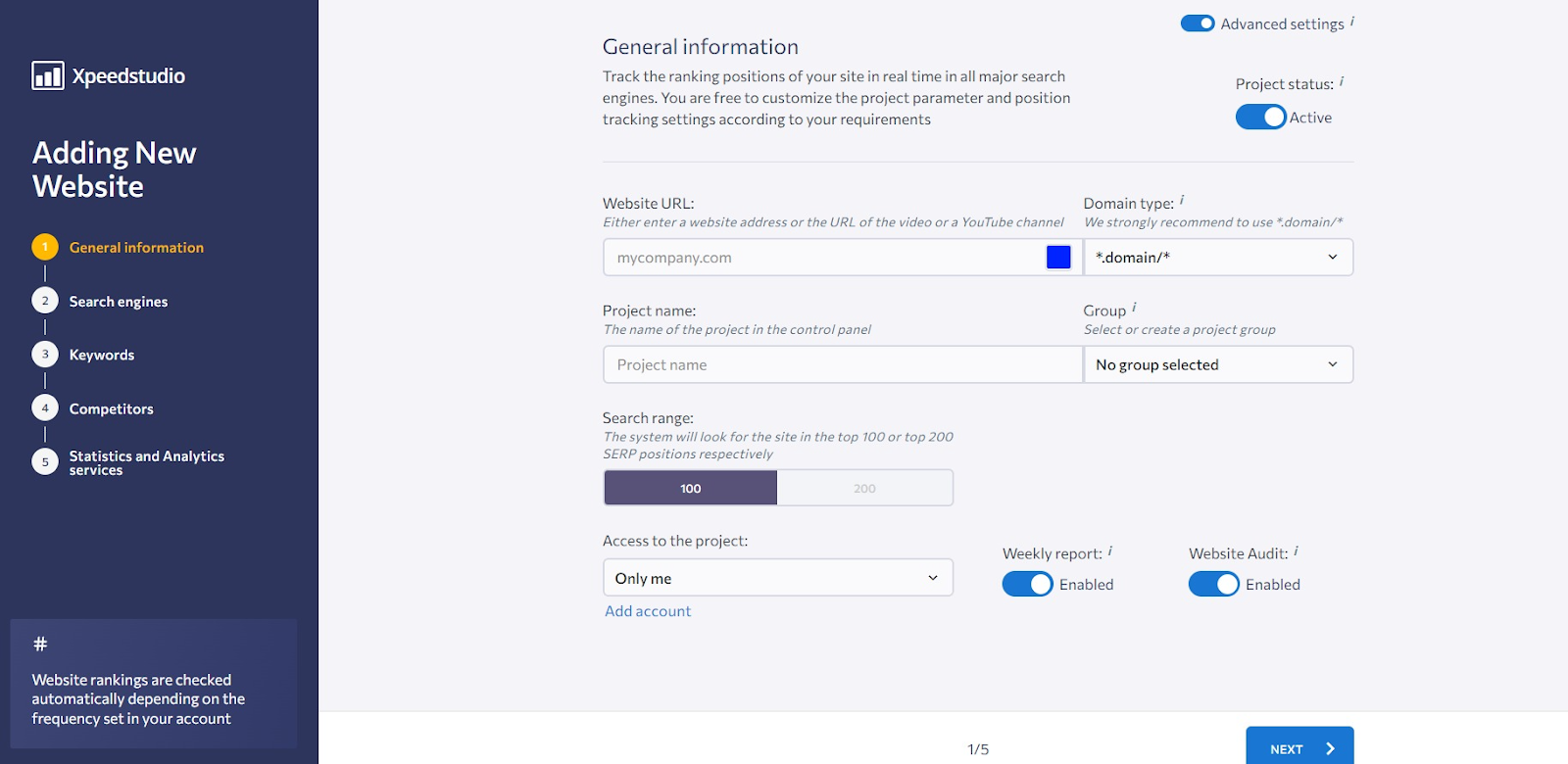 2. In your dashboard, you will see a "Ranking" menu with four areas namely; Summary, Detailed, Overall and Historical Data.
👉 The Summary tab provides a simple and convenient method for examining all keyword-related metrics in a single location. Here, all parameters are organized into distinct data blocks:
Average Position
Search Visibility
Organic Traffic
Distribution of Top Positions
Keywords in SERP
Keyword Overview
Pages
Competitors
Distribution of Competitors
Notes
👉 The Detailed section outlines the keyword metrics including;
Ave. position
Search visibility
SERP features
Percentage of keywords appearing within the top 10 search results
Each metric is represented with numbers and line graphs for a better understanding of the performance of each keyword.
👉 Within the Historical Data section, you can observe the evolution of search engine rankings, commencing from the initial baseline date.
👉 The Overall mode provides the convenience of viewing rank-tracking data for all search engines on a single page. This feature proves particularly beneficial when comparing performance data across various search engines, eliminating the need to navigate through multiple tabs.
3. As you scroll down your screen, you will find the table keyword with a variety of indicators. To customize the indicators you want to display on your screen, you have to go to the "Column" section and select the indicators from various options.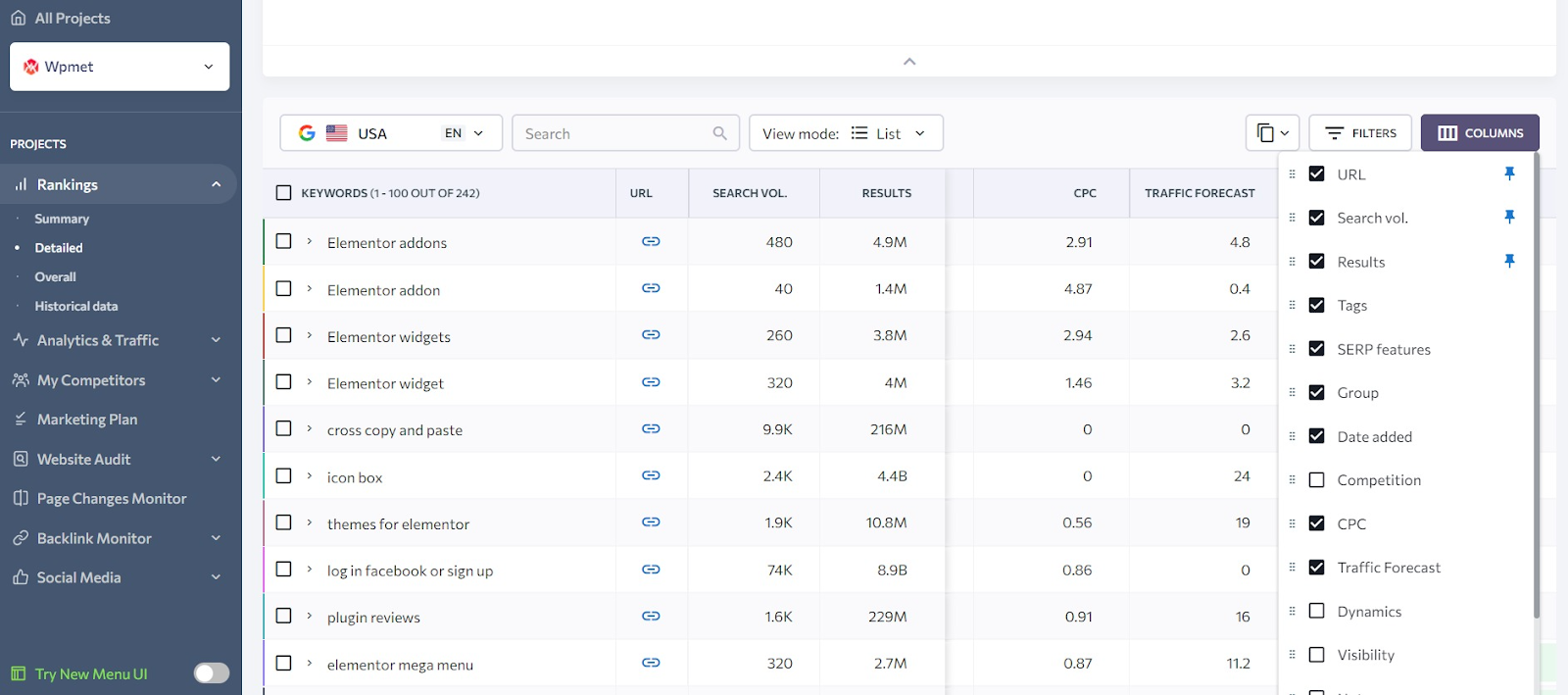 4. Utilize the filter feature to identify the keywords that have met your specific queries.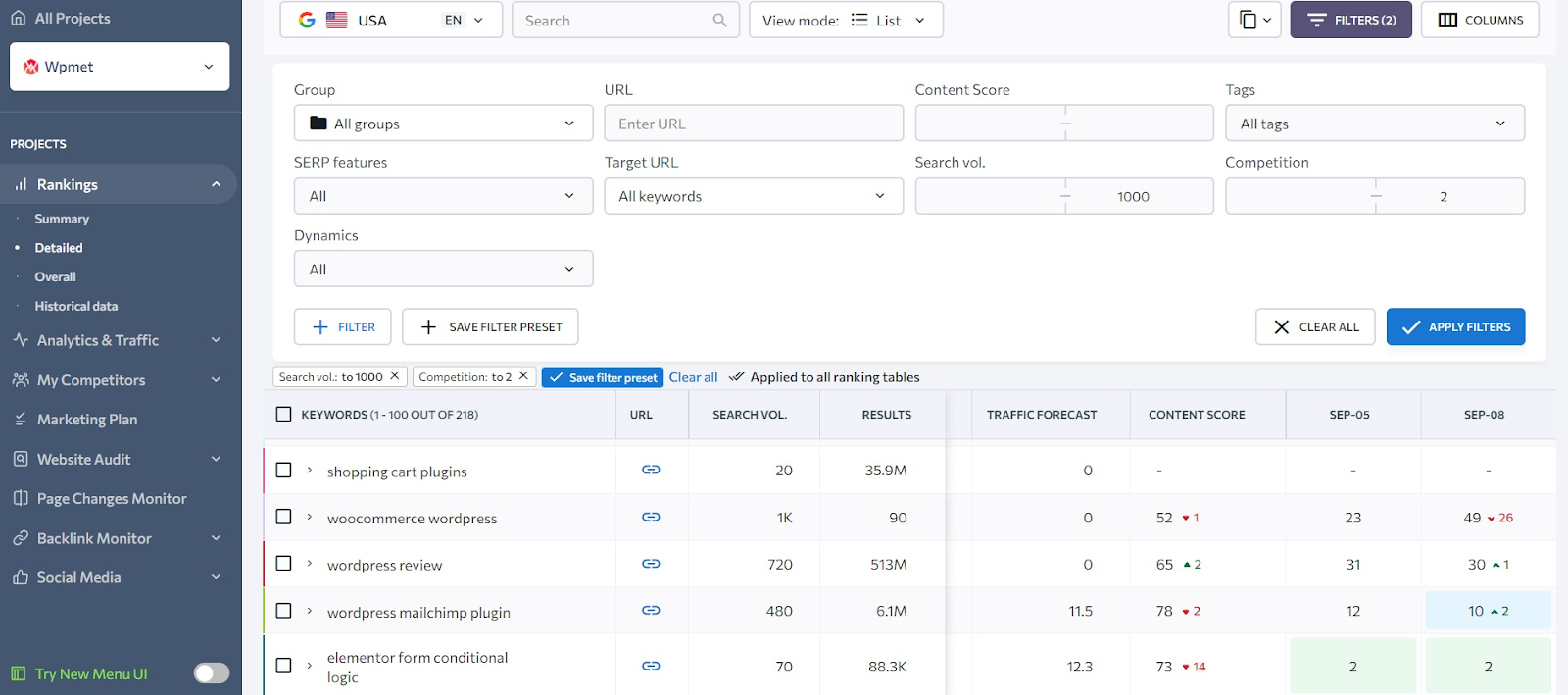 5. To associate a target URL with multiple keywords simultaneously, simply hover your cursor over the keyword in the table and select the "Target URL" option from the dropdown menu. Subsequently, input the desired target URL in the popup window and click "Save." To exclusively review the rankings for the specified target URL, mark the corresponding checkbox within this window.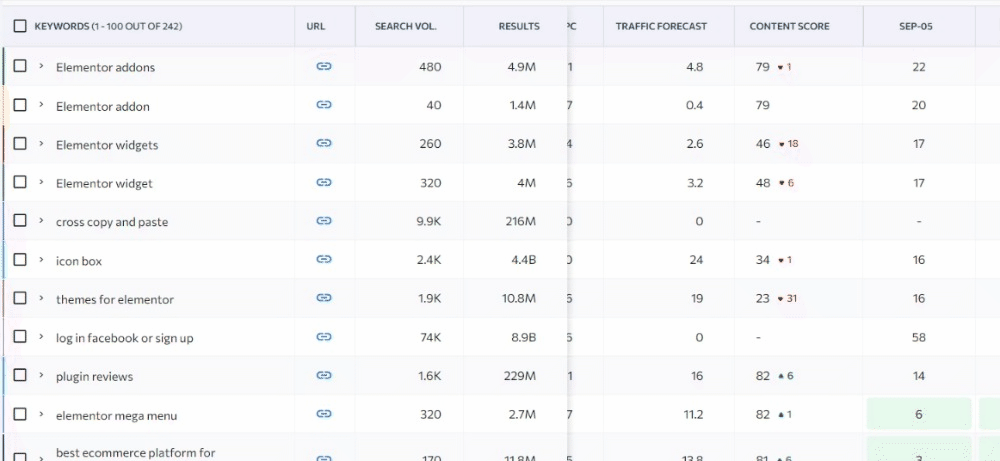 6. To configure a target URL for multiple keywords simultaneously, choose the keywords from the table and select the "Target URL" button located in the upper menu. Following the same steps as you would for a single keyword, input the target URL into the popup window and check the "Check rankings for target URL only" field as required.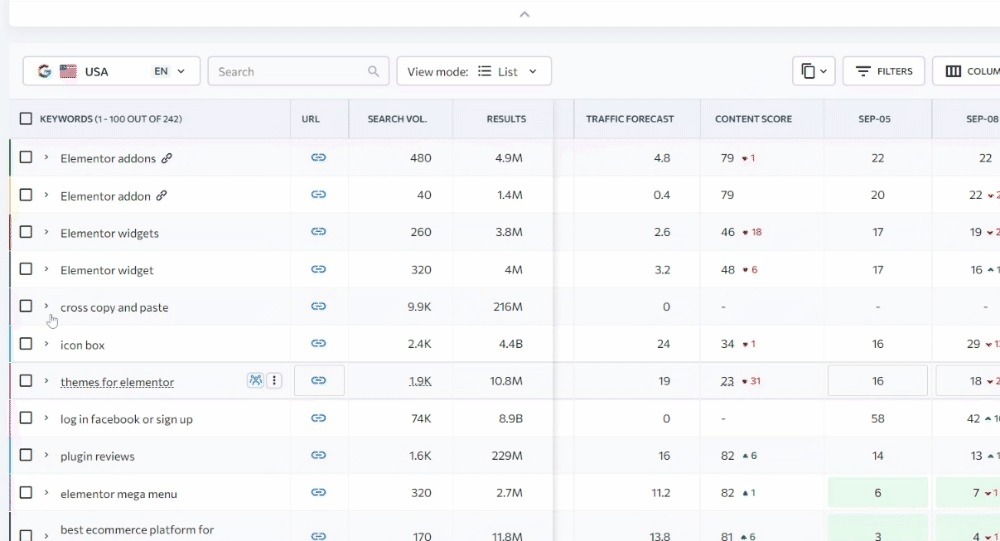 7. As your site is growing, your keywords are also increasing. You can always add your list of keywords by clicking on the "Add Keywords" button.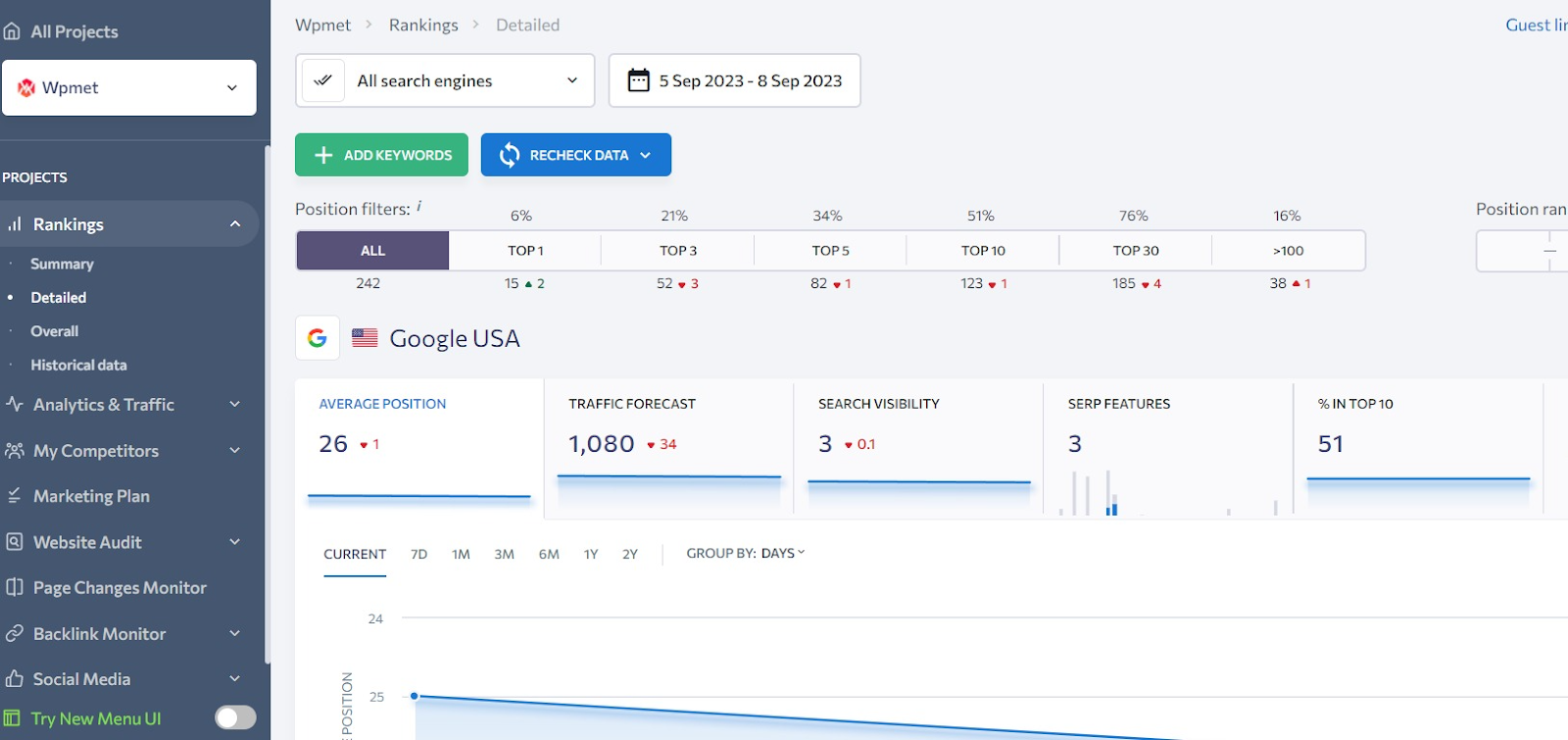 Important Reminders:
Ensure that you monitor or track it in the suitable region.
Include and monitor competitors to assess the competitive landscape.
Keep an eye on rankings following website modifications.
Organize keywords into clusters.
Assign a target URL to identify concerns like keyword cannibalization or the presence of multiple URLs in the SERP.
Link Google Search Console (GSC) to effortlessly incorporate keywords.
Automate the scheduling of ranking reports.
Integrate SERanking with Looker Studio to construct a polished report.
Final Notes
Indeed, Ai rank tracking is revolutionizing SEO. It simplifies tracking website rankings and boosting online visibility. It keeps you ahead, adapts to trends, and guides data-based decisions for effective website optimization.
In this journey, we've introduced five top Ai tools: SERanking, ProRankTracker, Wincher, Semrush, and Ahrefs.
SERanking is best for small and medium businesses, and individuals.
ProRankTracker is ideal for SEO experts, digital marketers, and advertisers seeking precise monitoring and analysis of keyword rankings.
Wincher is ideal for bloggers, marketing professionals, and affiliate marketers.
Semrush is well-suited for SEO pros managing multiple projects, SEO agencies, and professional bloggers.
Ahrefs is perfect for tracking keyword rankings across multiple projects.
If you are looking for a writing assistant that ensures SEO-optimized output, GetGenie is leading the way. It can help you conquer the tough ranking competition.