GetGenie's Magical Journey of 2022 : Year in Review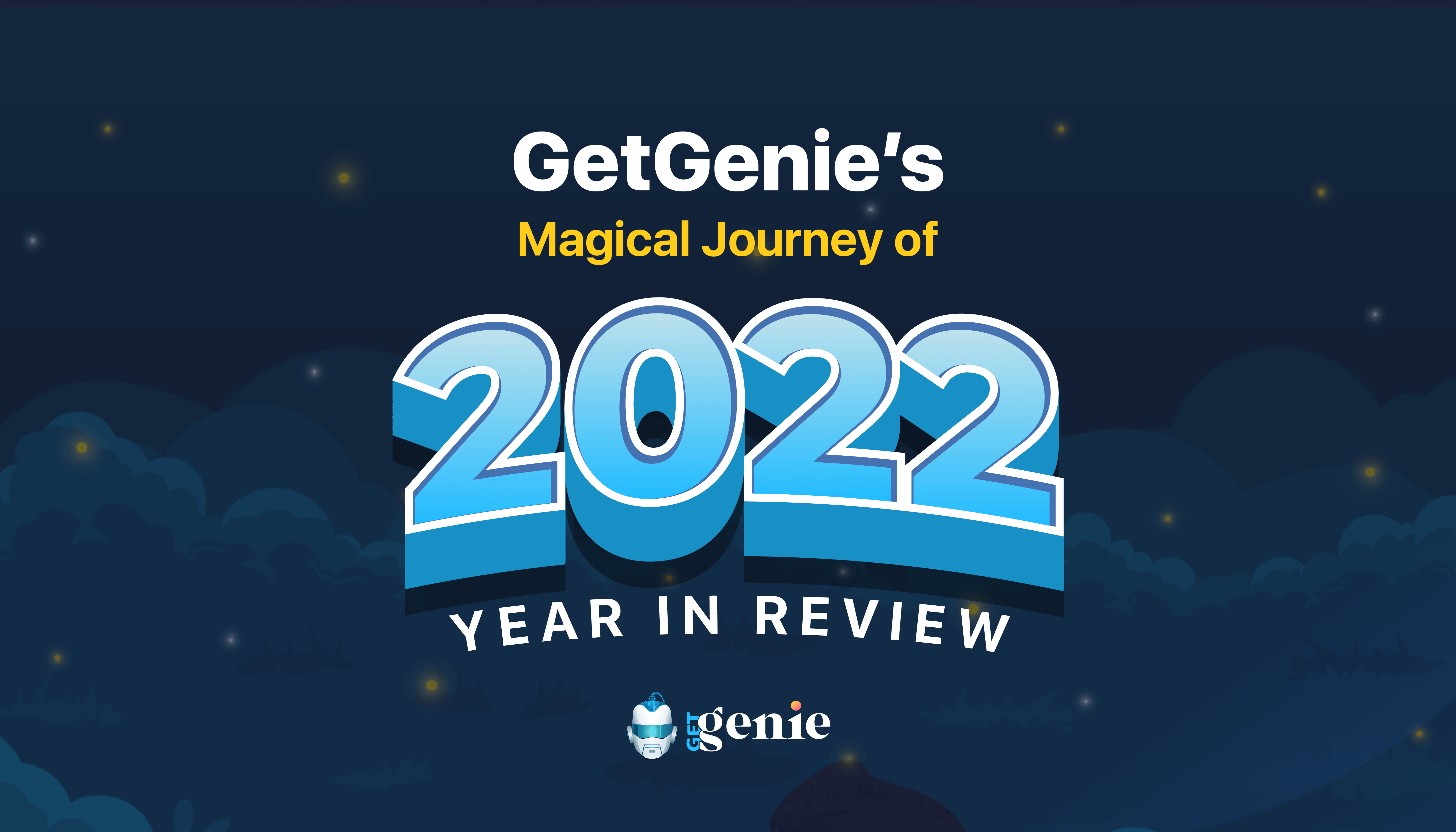 Happy 2023 everyone !! 🥳
2022 is over but it's not the end for us; rather it will always remind us of the magical beginning of GetGenie AI 🧞. It always will be the most special year for us as this was the birth year of GetGenie AI.
With the aim to put some magic in all the writers' and marketers' lives, we started a journey towards magical content creation. And, it has been quite a journey so far! We released so many awesome features and got amazing responses from our users.
However, the journey wasn't a piece of cake, it took months of research and hard work for the whole team to achieve the success we did.
So, we want to begin the new year of 2023 with gratitude towards all our clients and well-wishers while also remembering all our achievements of 2022.
You will also get to know what we plan to offer our customers this new year, so keep reading…
🔮 We Started Our Journey of Magical Content Creation, SEO Optimization, and More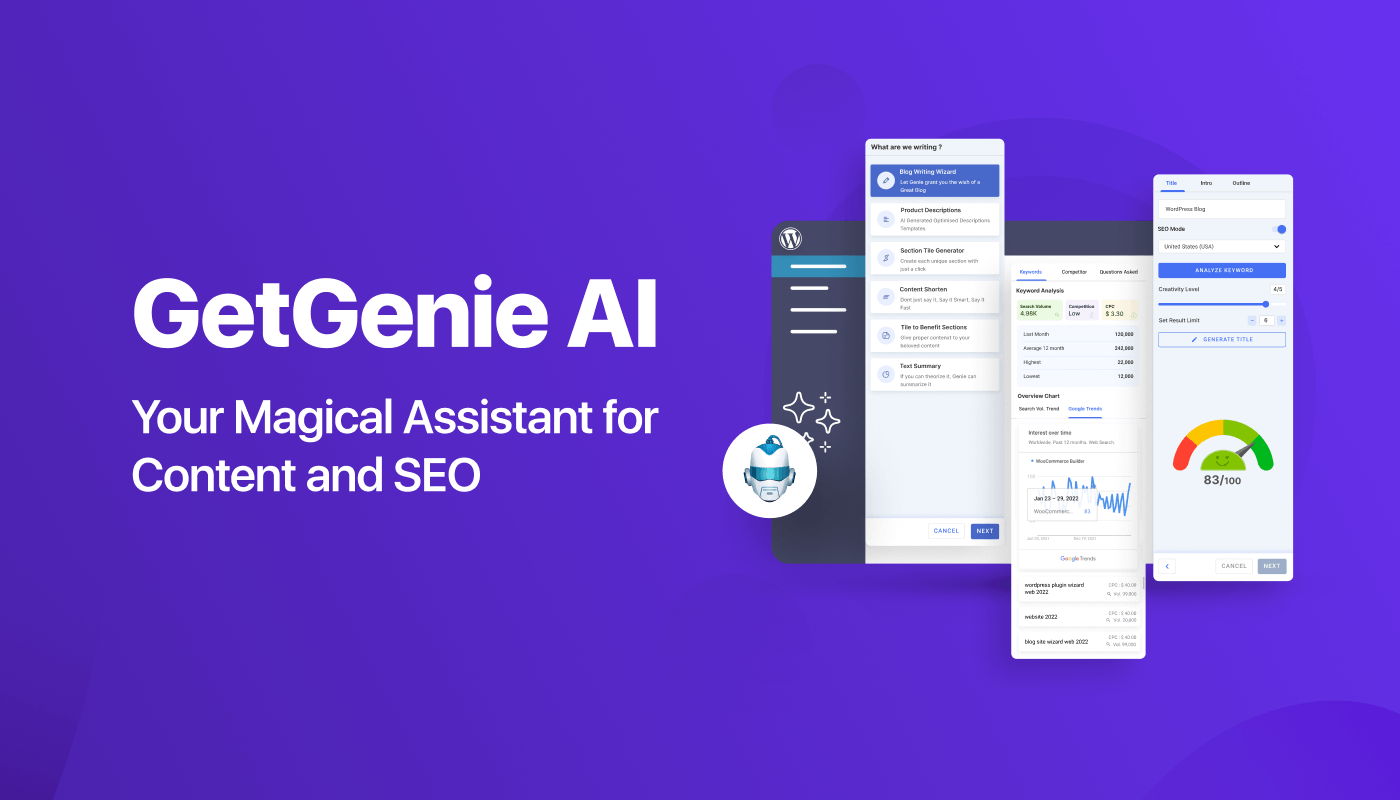 We were determined to launch an AI writing assistant that will take care of all the tedious tasks related to content creation and optimization for WordPress users. That's why we were focused to emphasize on content creation as well as SEO optimization features with the release of GetGenie AI. Here is an overview of the features we started our journey with:
✅ Blog Generation
Blogs are one of the most popular forms of digital content and WordPress is the most popular CMS. Keeping this in mind with GetGenie AI, we offer a blog wizard that empowers you to generate a complete blog using the WordPress interface. You can generate any kind of blog post (listicle, how-to guide, and so on) using GetGenie's blog wizard from the WordPress dashboard.
Along with writing a blog, you also get these useful features with GetGenie to ensure you write the most informative, useful, and SEO-optimized blog so that organic traffic keeps coming to your site:
☑️ Keyword Analysis
Writing a blog without targeting the right and relevant keyword will not bring the result you hope for. That's why for fruitful blog generation, GetGenie offers a keyword analysis feature as well. With this feature, you will find the Search Volume and CPC of a given keyword along with the Google data trend for that keyword. Not just that, you will also find a list of related keywords that you can use to improve your blog's target audience.
🔔🔔
You can do Keyword analysis country-wise such as the United States, United Kingdom, Australia, USA, Bangladesh, etc., or Globally.
☑️ Competitor Analysis
Well, as much as you need to target the right keyword, you need to make sure you write a blog that is more informative and useful to the users. Because that's what Google considers while indexing a blog post. And to stay ahead of your competitors, you need to know what your competitors are up to.
With GetGenie AI, now you can check your competitor's blog from the WordPress dashboard. You can check the number of headings, words, and images they use. In addition, you can also check the content for each of the headings. In short, everything you need to know about a competitor's blog is available inside the WordPress dashboard.
☑️ Frequently Asked Questions
Adding faq to your blog is a common practice among bloggers as it increases your chance to appear on the featured snippet. Now you can check the frequently asked question about your keyword/topic on popular platforms such as Quora and Reddit directly from WordPress Dashboard.
☑️ Prepare Outline
While you can use all the above data you will get from keyword analysis, competitor analysis, and FAQ to prepare an outline by yourself but you don't have to! Because GetGenie does that for you too. The interesting thing is you can generate multiple sets of outlines using this AI writing assistant.In addition, you can also add a heading to the outline manually. More importantly, you can check and add a heading/outline from your competitor's outline directly using this magical tool.
🔔🔔
GetGenie helps you generate
multiple titles, and intro, as well as write and rewrite the content
of the blog as many times as you want.
To check how you can
write a complete blog along with keyword, competitor analysis, and outline preparation
check this blog ⤵️⤵️ :
How to write a complete blog using GetGenie AI.
☑️ SEO Optimization
Once you are done writing the blog, GetGenie provides you suggestions in the form of the recommended number of words, headings, and images to improve the quality of your content. In addition, you will also find a list indicating the problems with your current content and improvement suggestions. GetGenie gives you a content score out of 100 so that you get an idea about the quantitative measurement of the quality of your content.
☑️ SEO Assistant Templates
Along with writing you also need to write an SEO title and SEO description to ensure your place in the SERP top places. GetGenie covers that too with templates such as title ideas, meta descriptions, and featured snippets.
A wholesome blog generation tool, right? Well, GetGenie is not just limited to that — it offers so much more!
✅ Content Creation Templates
Not just blog posts, GetGenie AI writing assistant offers a bunch of templates to create different kinds of content. Some of the templates include Next Paragraph, Feature – Benefit, Paragraph Answer, Sentence Rewriter, Bullet Point to Answers, Product Ad Copy, Next Sentence, Pros and Cons, Short Answer, and many more.
✅ Copywriting Templates
Following a copywriting framework ensures you come up with a persuasive piece of writing that actually brings in sales. GetGenie offers multiple copywriting frameworks such as AIDA, BAB, and PAS.
🔔🔔
Want to learn more about the AIDA copywriting framework and companies such as
Apple and Coca-cola uses AIDA in their marketing
? Then check this blog ⤵️⤵️ :
How to apply AIDA in content marketing 
✅ WooCommerce Templates
WooCommerce powers 28% of all online stores and to help these million people with an engaging and SEO-optimized product description generator, GetGenie has the perfect solution! It offers a WooCommerce blog wizard that helps you to write WooCommerce Product Title, WooCommerce Product Short Descriptions, and WooCommerce Product Long Description from the product page itself.
✅ Social Media Copy Generation
Social media is not just part of our everyday lives but also part of marketing activity for almost every business. And GetGenie helps you manage that smoothly. You can create social media posts for any platform using GetGenie's social media post template.
Well, we just started with these features and didn't stop there. Move to the next section to find out more about the new addition we did throughout the year to the magical GetGenie AI.
🔮 Journey Towards Greater Excellence and Better User Experience
Success is a journey and we thrive for greater excellence every day. With each new release of 2022, we introduced new features to make GetGenie more powerful and give our users a better writing experience. Here are some of the features we successfully released in 2022:
✅ Addition of Multi-Language Support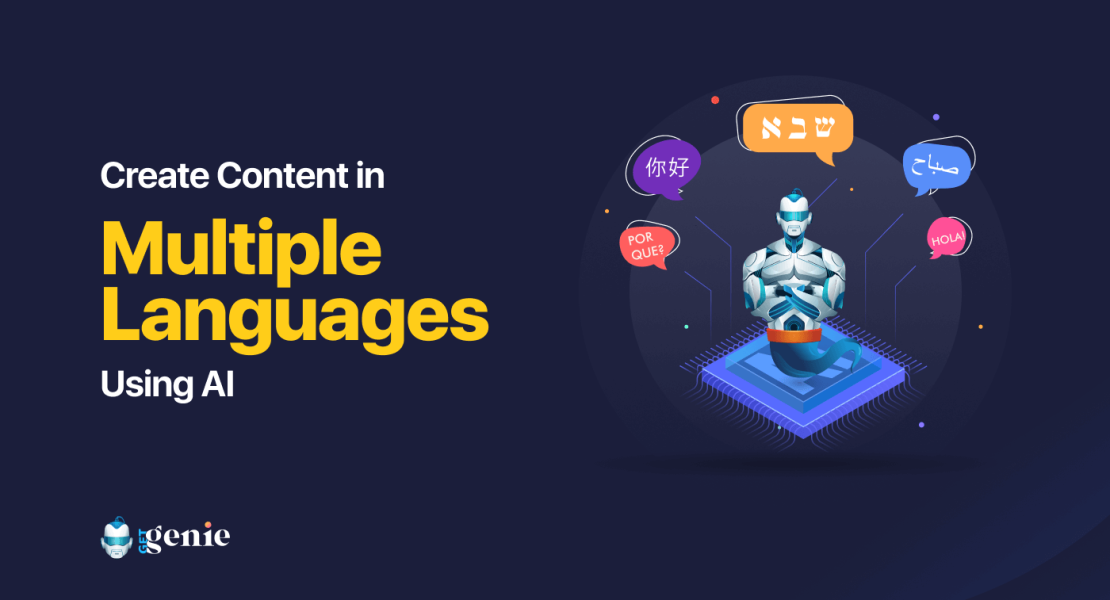 Soon after the release of GetGenie AI, it became popular among people of different regions and languages. This increased the demand for the inclusion of languages other than English and to fulfill the demand, our team released multiple-language support for this AI tool. Currently, GetGenie can also generate content in Spanish, German, French, Hebrew, Arabic, Italian, and Portuguese.
🔔🔔
We also added RTL support for some languages.
✅ Introduction of Genie Mode
Looking for a template is no difficult task because the UI of GetGenie is super user-friendly. However, as mentioned earlier we are hungry for a greater level of excellence and to ensure a better user experience we introduced Genie Mode in 2022.
With this feature now users can give the smart AI command to generate a review, email, social media copy, and more using just one template. No need to look for multiple templates.
✅ Content Creation Inside Gutenberg and Elementor Page Builder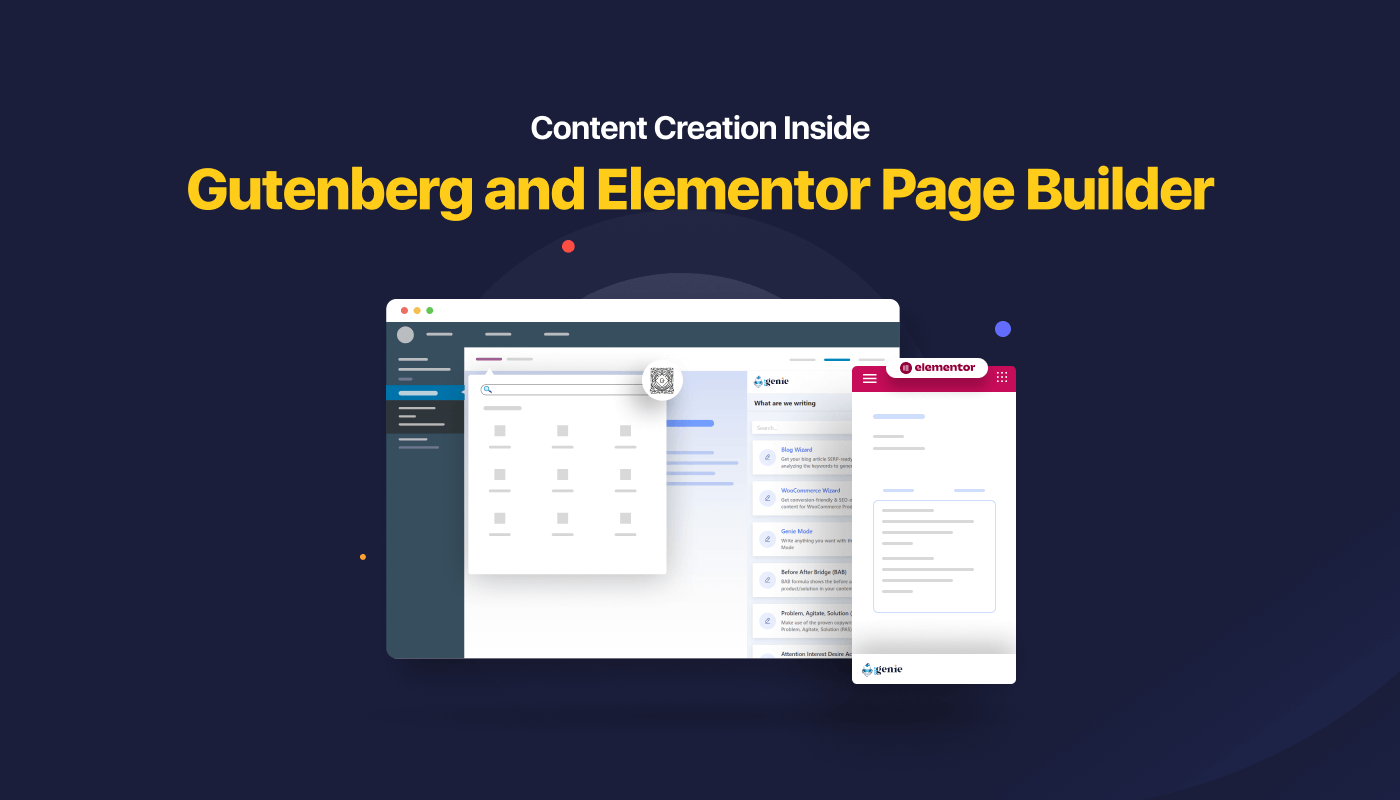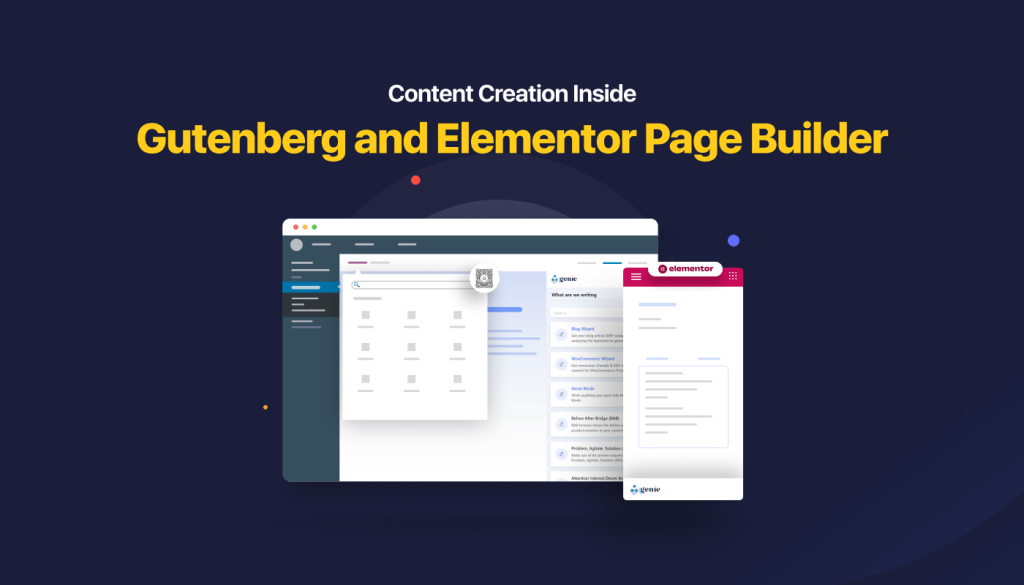 GetGenie is now compatible with both Gutenberg and Elementor page builders. Now users can generate content from the blog page directly in any of these two-page editors. Moreover, one can access all the templates of GetGenie from the blog post page. 
✅ Adopted "GPT3 Davinci 003"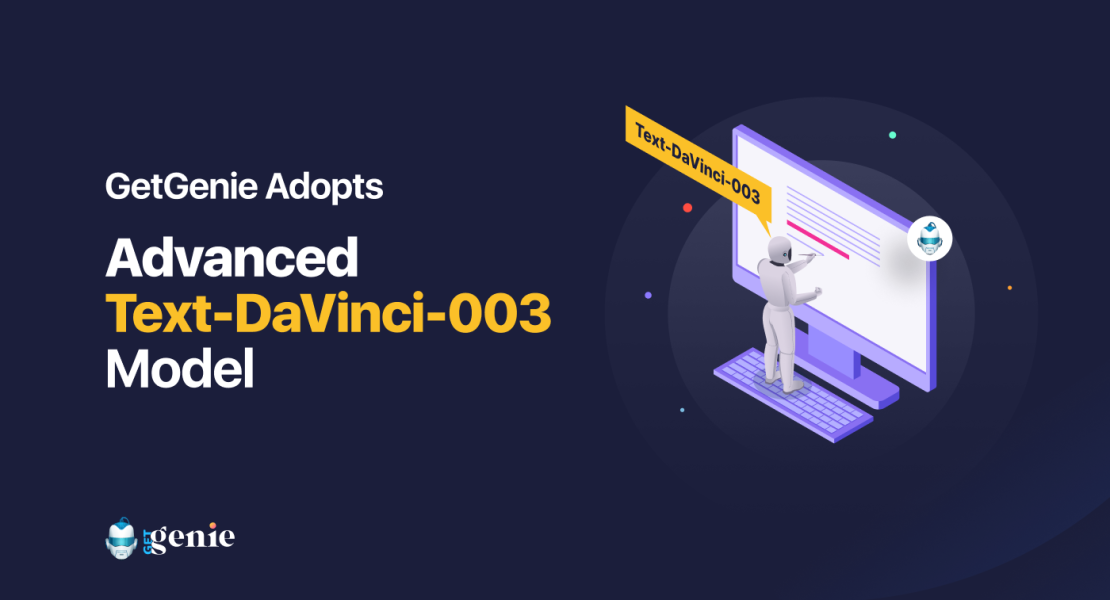 To improve the quality of content GetGenie embraced GPT3 Davinci 003 right after it was launched by OpenAI. This latest InstructGPT mode is an advanced reinforcement learning based on a human feedback model that requires minimal supervision. With GetGenie adopting text-DaVinci-003, it's now able to generate more improved and optimized content with few instructions.
🔮 Achievements and Milestones of 2022
We started the journey in August 2022. In this short span of 5 months, we have archived some remarkable milestones. While we anticipated this kind of response from our users believing that in our product and the hard work behind it, experiencing the responses in real is really overwhelming.
✅ Achieved 2k Active Installations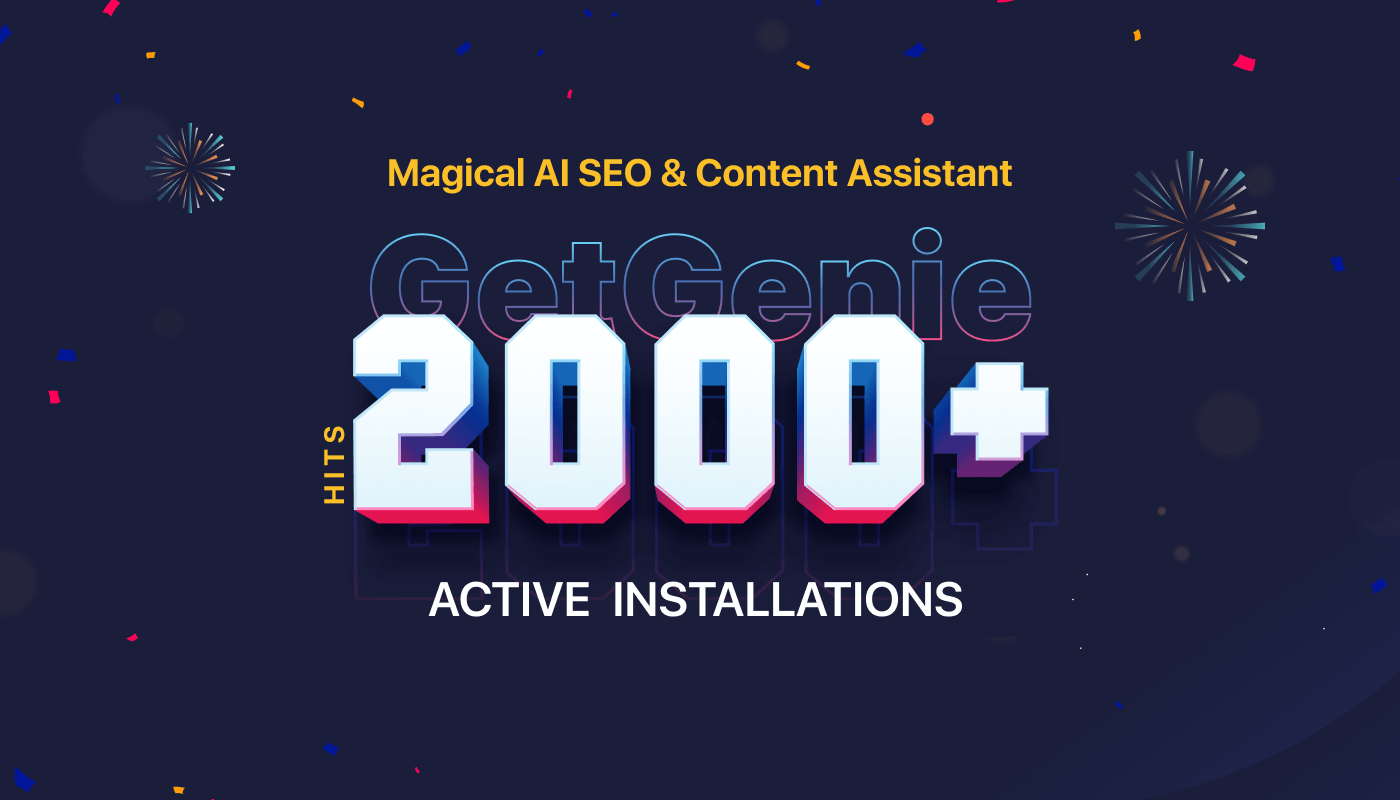 In less than 4 months, we successfully accrued 1000+ happy users. And soon after hitting the milestone of 1k active installations, in December 2022, we hit 2000 active installations. This constant upward growth in active installations is proof of the high quality of service GetGenie offers.
✅ Top Ratings from our Happy Users: 90% of Users Voted 5 Stars ⭐ on WordPress.org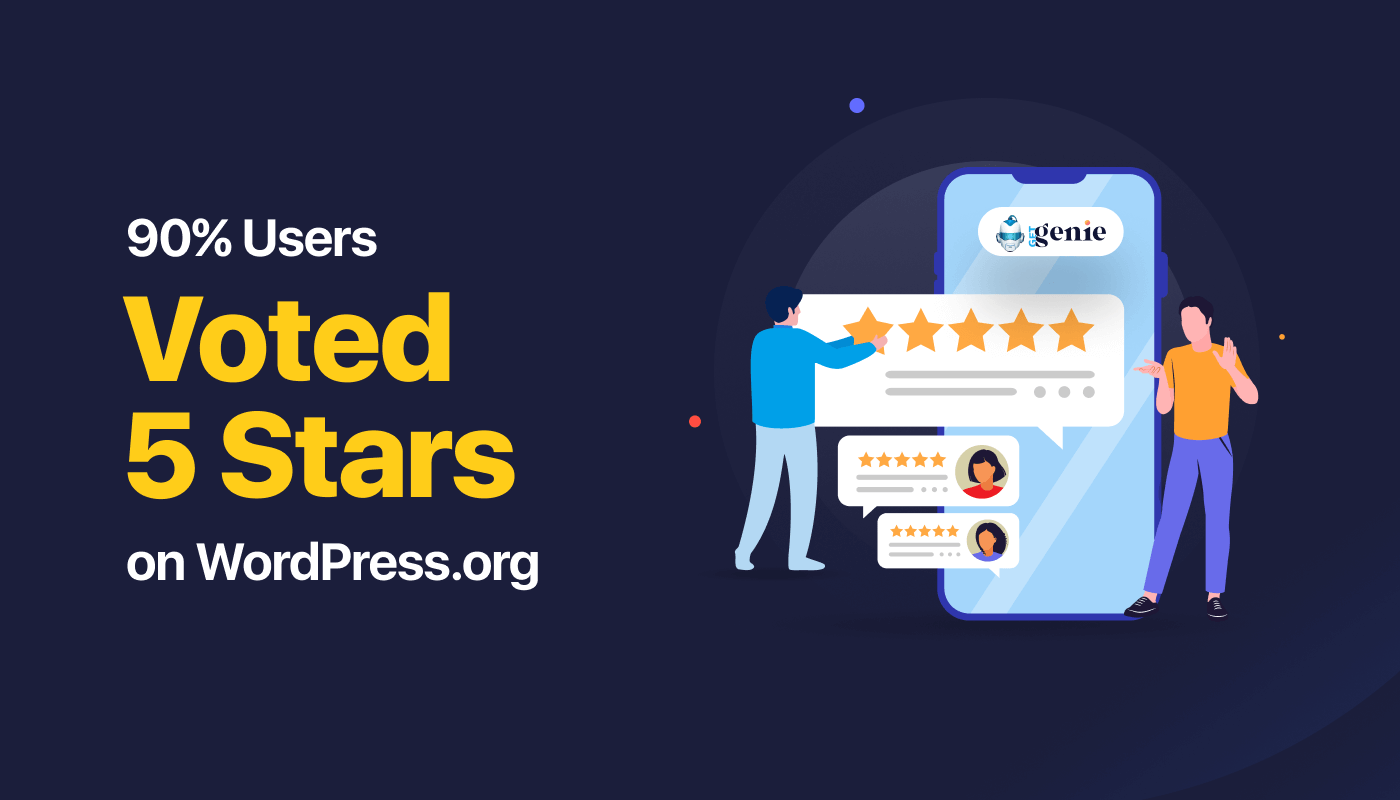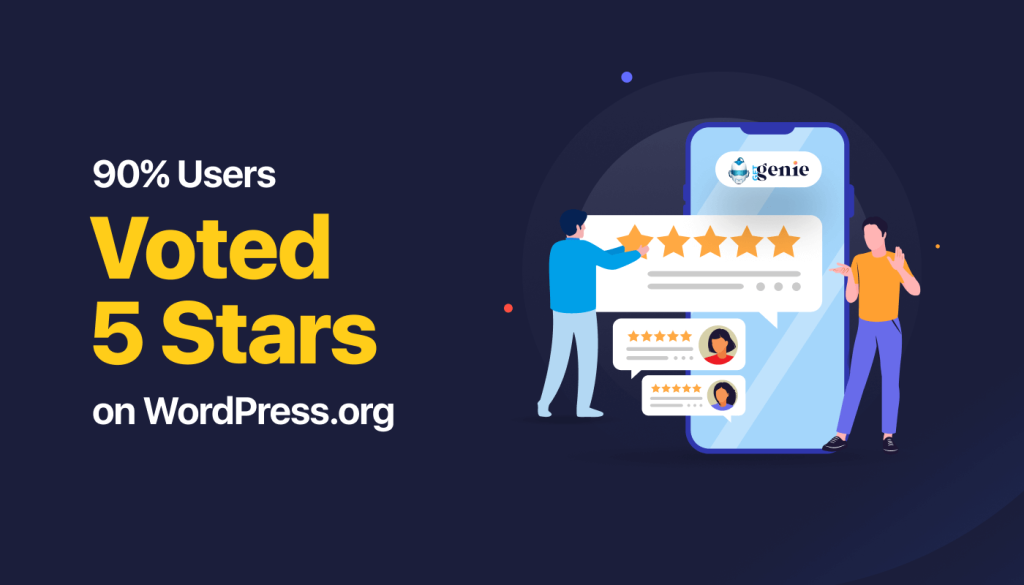 We offer 24×7 customer support to ensure our user's work doesn't get paused because of technical issues. Last year we have helped many users with the problems they were facing and they are extremely happy with our service as 90% of our users voted 5 Star ⭐ on WordPress.org.
Here are some of the kind words from our users:
Best AI around all any other AI

⭐⭐⭐⭐⭐
Amazing tool & Best support ever !

⭐⭐⭐⭐⭐
Amazing Tool

⭐⭐⭐⭐⭐
Well, all these achievements motivate us to work harder and present our users with better, more optimized, and useful features. Move to the next section to find out our plans for the year 2023.
🔮 GetGenie's Roadmap For 2023: What new features to expect?
2023 will be a year of more advanced features and a smoother user experience. Our roadmap is full of mind-blowing features, some of which are mentioned below:
✅ New content templates such as Ask me anything, Website headlines, Website sub headers, Press release, etc.
✅ Copywriting frameworks such as QUEST, landing page copy, etc.
✅ Social media templates such as Twitter threads, Facebook posts, etc.
✅ Browser Extension using which you can integrate GetGenie into your browser.
✅ Boss Mode where you can give a voice command to GetGenie AI
✅ More Language Support such as Dutch, Polish, Vietnamese, etc.
✅ Plagiarism Checker
✅ Multiple tones of voice
✅ User Role
Final Words
Overall, we can say it was a fruitful year in terms of both feature releases and sales for the GetGenie team. We were able to give users new features to elevate the experience of content creation with each release. In addition, our support team also gave their best to help the users in every way possible.
With gratitude in our hearts towards all our users and subscribers, we want to start 2023 with more power to overcome new challenges to achieve greater excellence.
On that note, we want to wish all of you a very happy new Year.