How to Gear up SEO Strategies with Ai Integration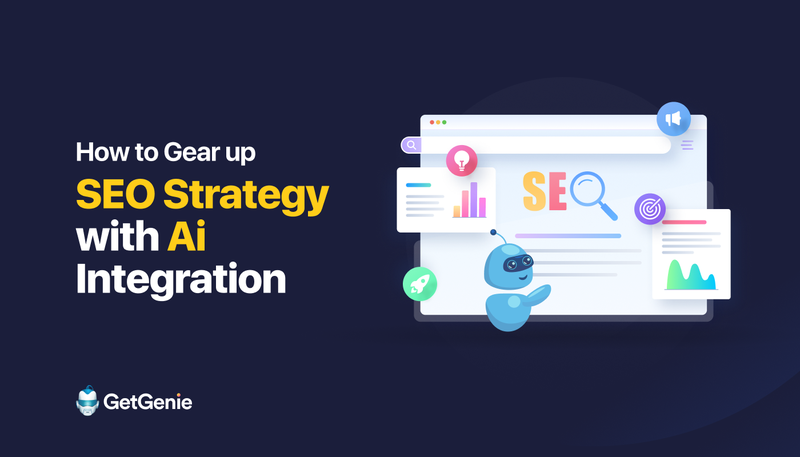 From Amazon smart shopping recommendations to displaying Google ads, Ai manipulates and simplifies every sphere of our lives. This not only makes our lives easier but also substantially helps to implement SEO strategies in the right way possible.
Gladly, Ai integration for SEO strategies brings unprecedented results in content generation. Because Ai can change the way you pull off SEO strategies for search results in minimal time and effort. Do you know how?
If not then, don't skip this SEO and Ai-powered guide that will reveal helpful tactics on how to gear up SEO strategies with Ai integration.
Importance of Ai integration in SEO strategies
Staying ahead in the SEO game needs proper content optimization which is impossible without planning and implementing meaningful strategies for search results. Preparing these SEO plans consumes lots of time. Because you need to go through each content and optimize that accordingly.
But, with the revolution of artificial intelligence, applying SEO strategies is getting easier and faster. Besides, Ai brings many more opportunities by identifying and simplifying SEO techniques. Here are some potential benefits of using Ai for SEO:
Ai tremendously helps plan and select keywords for content, resulting in top ranks in SERP.
It assists in predictive SEO and analytics to avoid sudden traffic drops.
With quick optimization suggestions, it will save you both time and effort.
Ai SEO tools are effective for optimizing content with NLP keywords. Because these Ai tools suggest a collection of NLP keywords with each topic.
It allows you to identify the content gap with insightful competitor analysis.
Ai SEO tool ensures the delivery of quality content with plagiarism checks.
These tools facilitate content ranking by including related search queries.
It also lets you update content without a hitch with proper inputs.
How to combine SEO strategies and Ai integration for optimal results
Since you know the future of SEO with Ai is flourishing to boost content visibility and ranking, it's high time to learn how to implement it. So, check out a few tactics on how to use Ai for SEO strategies:
Proper keyword selection
Keywords are the way to connect with your audience. Before starting content, you need to perform keyword analysis and optimize your content with those keywords, resulting in rank on SERP. This is the most common SEO tactic and precondition for ranking high.
Now, the integration of Ai with SEO has eased this task. With a single click, artificial intelligence like GetGenie.Ai is capable of listing down all the relevant keywords related to your search query. Besides, all the necessary data such as search volume, keyword difficulty, and CPC are displayed along with these keywords.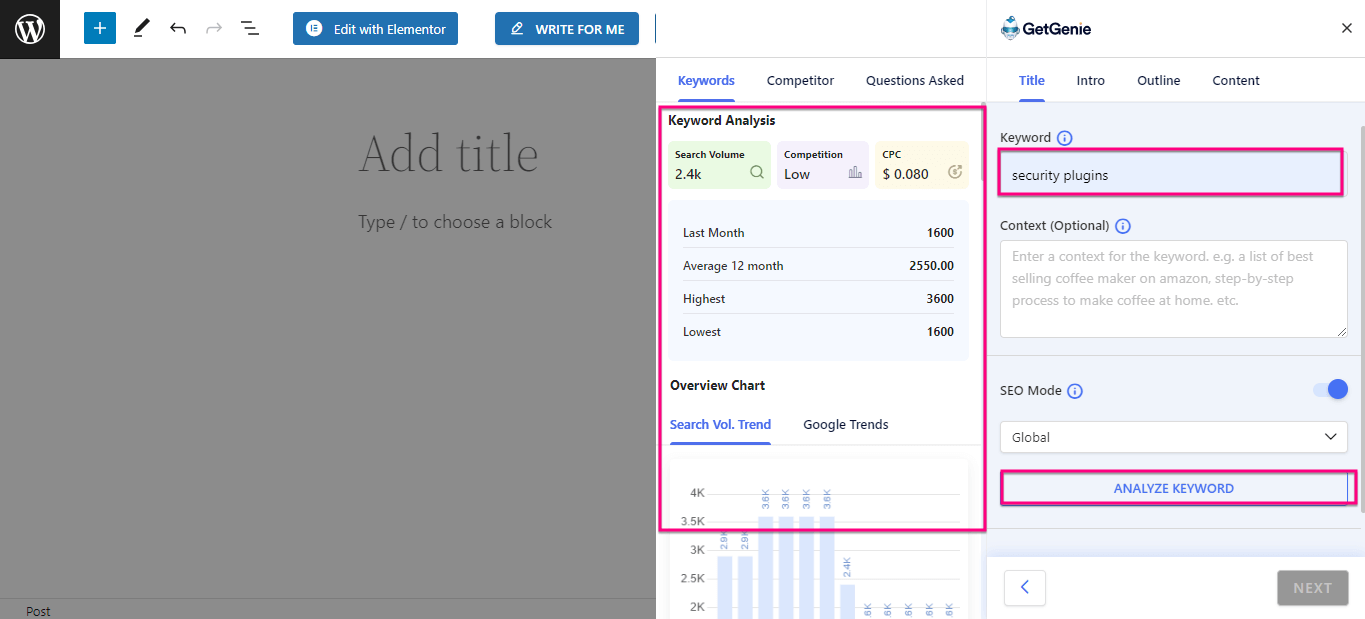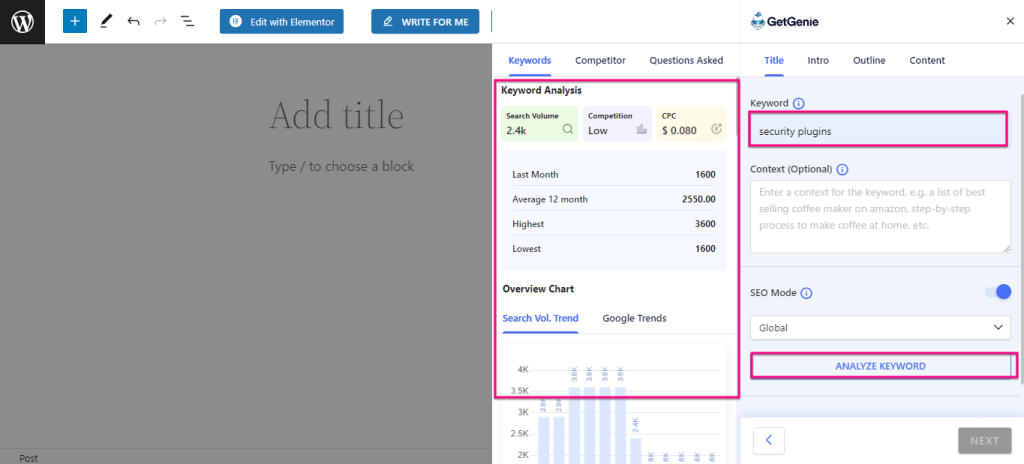 Also, these related keywords will assist you in unveiling future trends and search topics, allowing you to receive the best results by optimizing content with those keywords.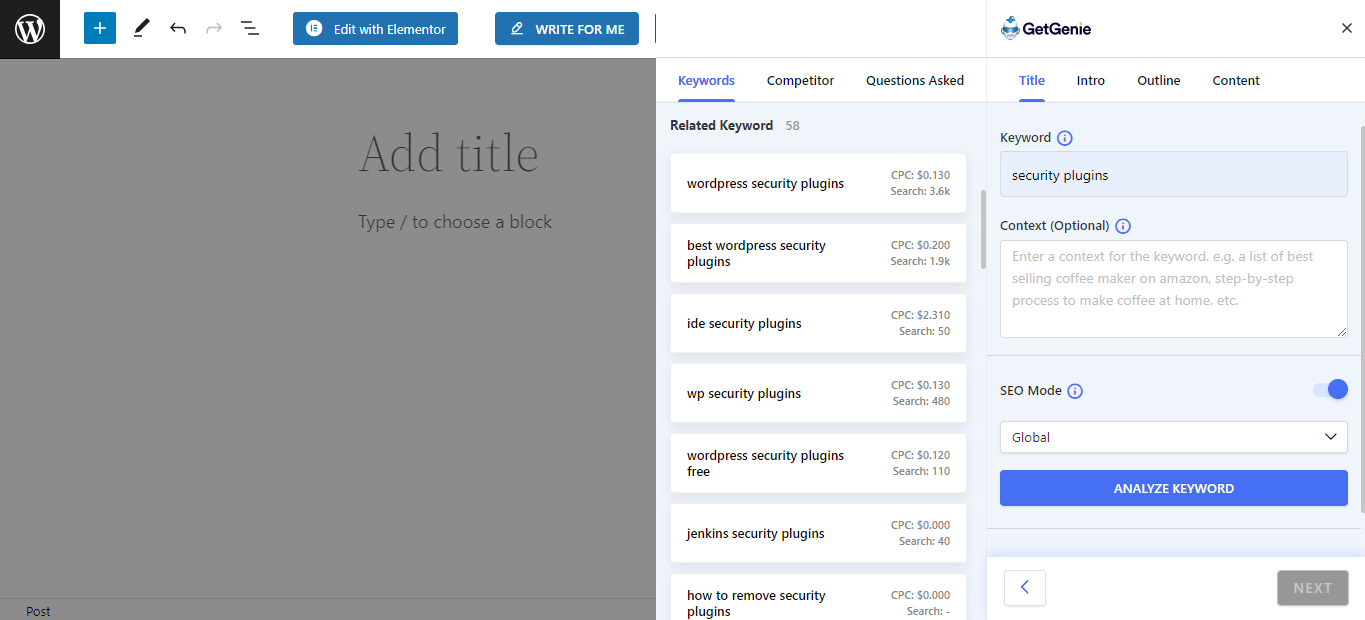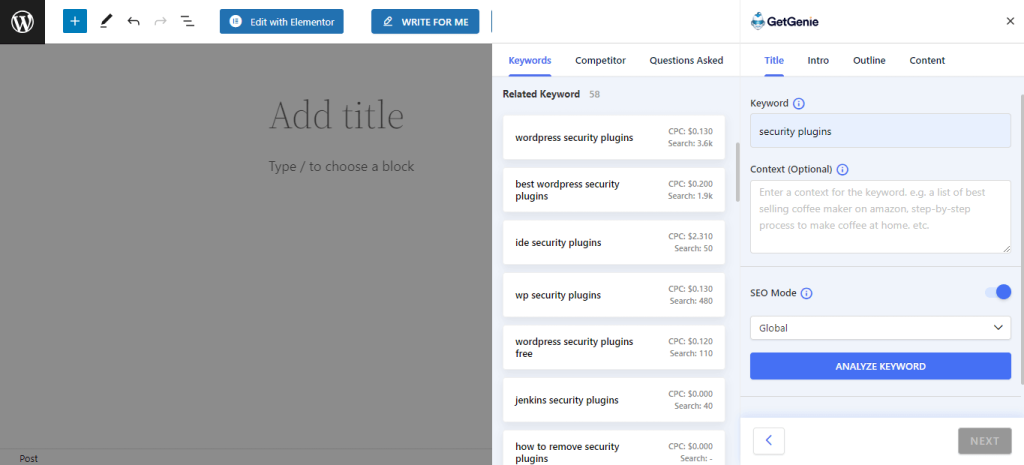 Content gaps with effective competitor analysis
Google prioritizes unique and informative content while crawling and ranking them on search results. This means your content won't get a spotlight on SERP if it's generally written. So, you have to find a content gap with each topic.
Thankfully, with the growing influence of Ai in every sphere of content writing and optimization, content gap analysis is a matter of time now. Because it combines all competitor's ranked content on a single dashboard, allowing you to identify content gaps without going back and forth.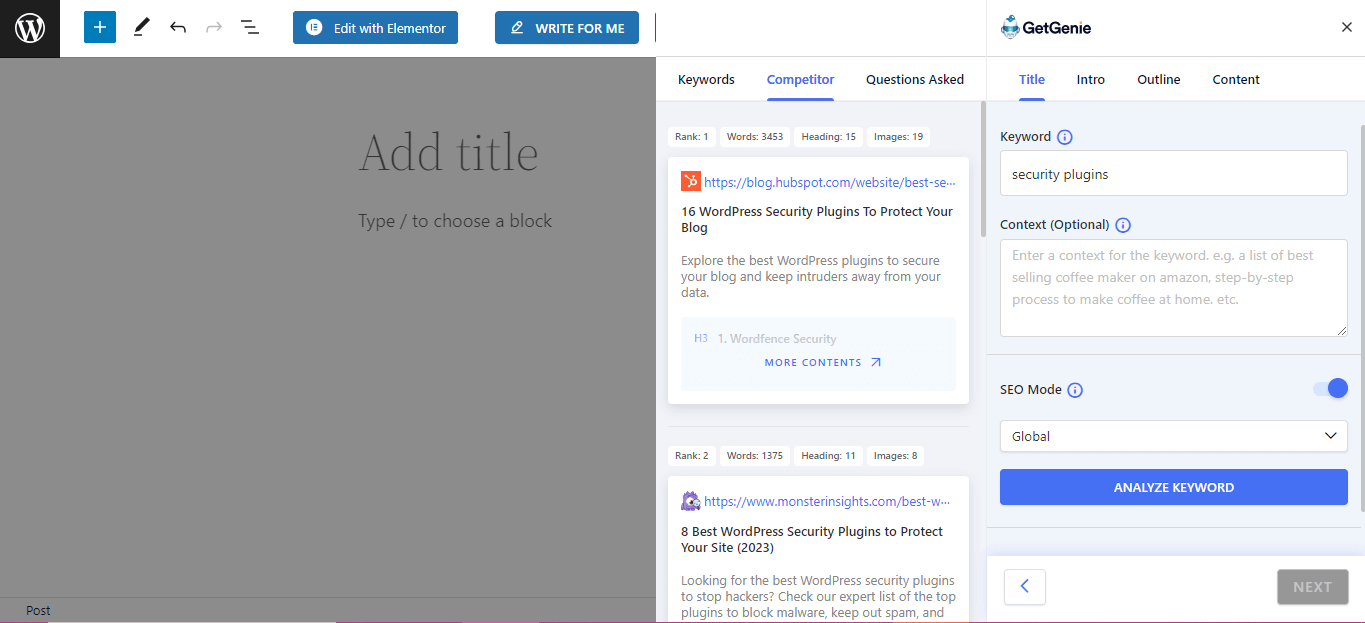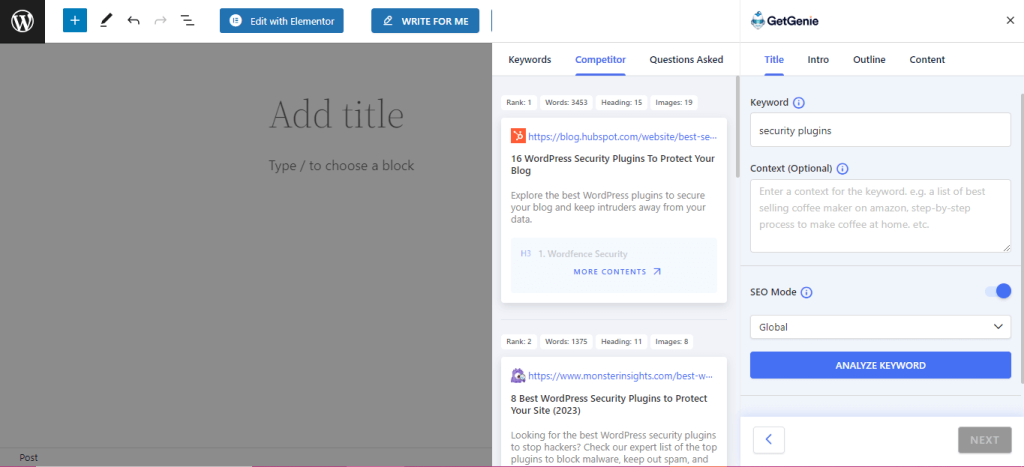 On top of it, artificial intelligence helps you to get insights from H2H comparison and showcases a graphical representation of all the ranked blogs with their keywords.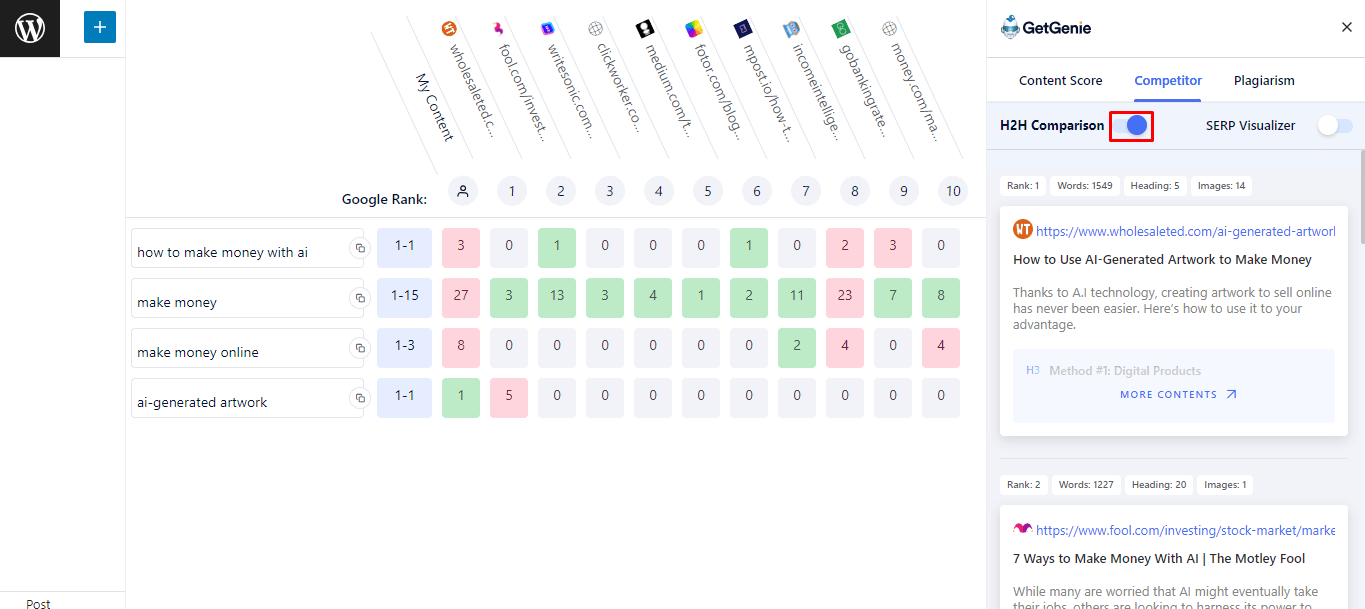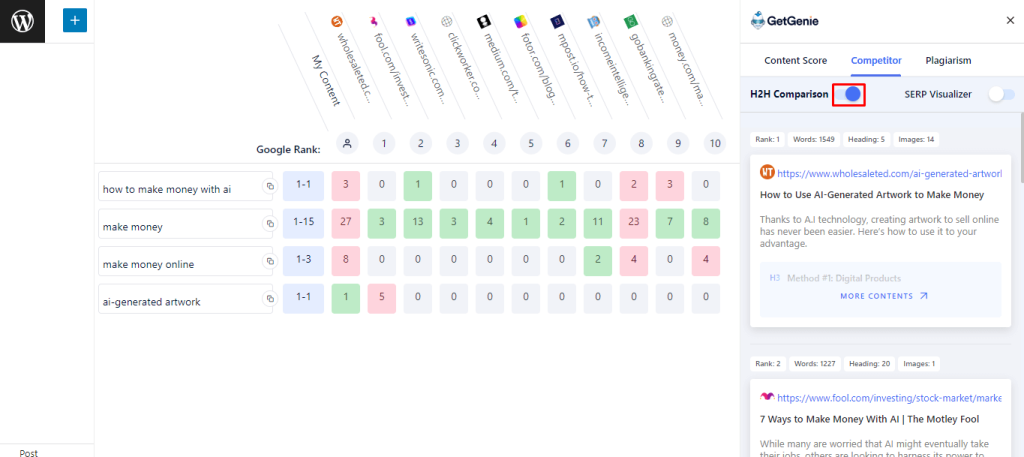 Furthermore, basic metrics like word count, headings, images, internal links, and external links of those ranked blogs can be easily checked through the SERP visualizer.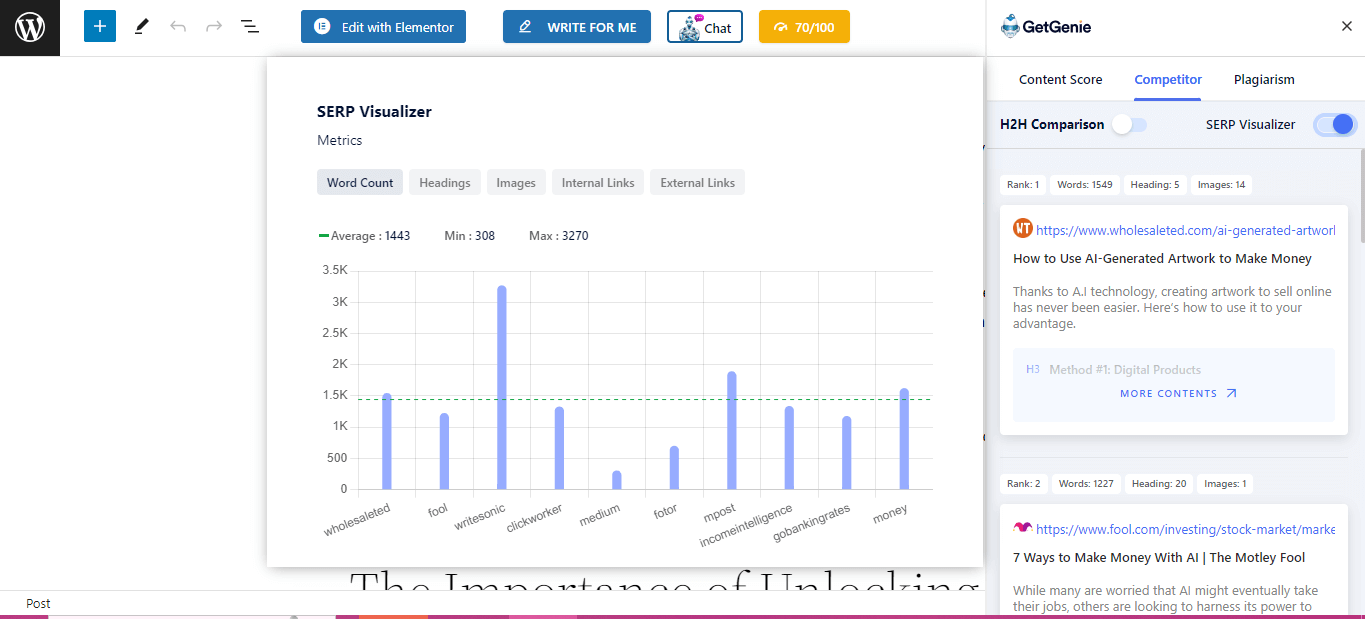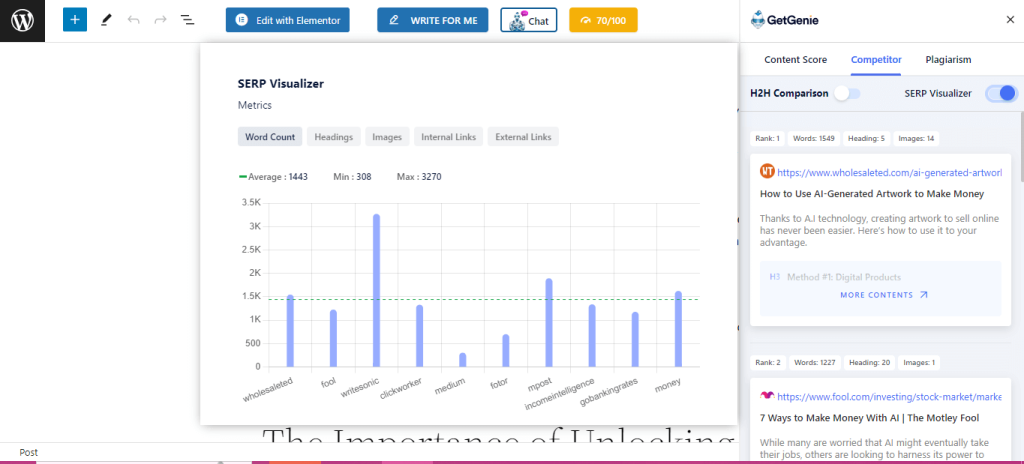 FAQs for related search topics
Adding frequently asked questions tends to make your content visible on search results. The FAQ section mainly answers additional small queries associated with the main topic. By including this section in your content, the possibility to rank also increases in the "People also asked" section.
Now, there are two ways to find FAQs for your topic. One is from the Search Engine itself and another one is using Ai. You will find a list of queries after searching the topic in Google. Covering and answering properly those topics will help you to rank for those queries.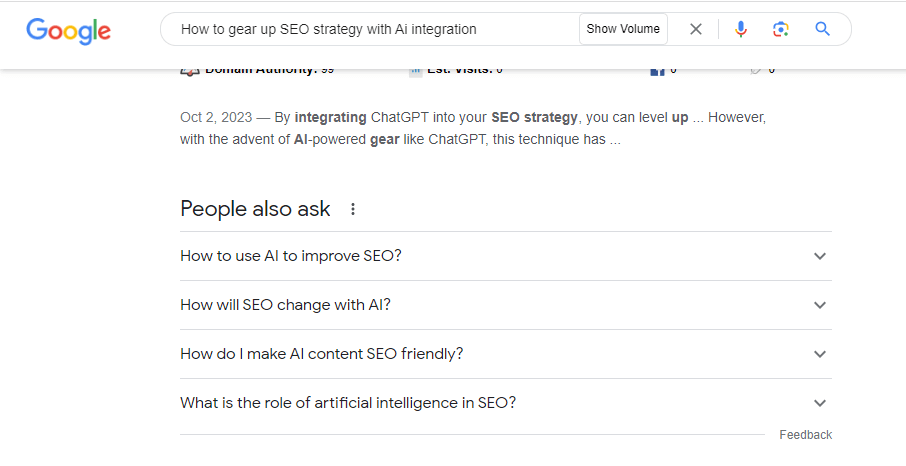 Besides, using GetGenie like Ai for answering SEO queries will list down all the associated search questions that come with this topic. For example, GetGenie.Ai has a completely separate tab named "Question Asked" right beside the competitor tab.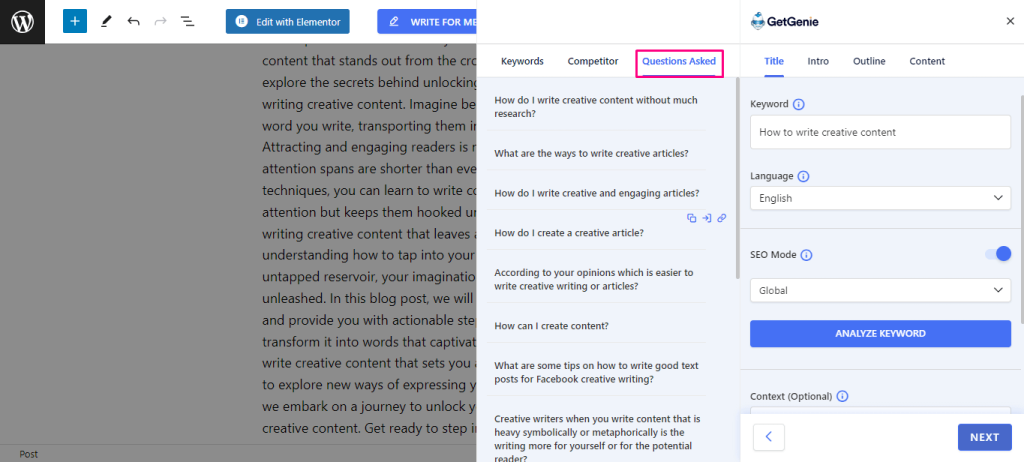 Score-based content optimization
It's another SEO strategy that can be implemented effortlessly with Ai integration. This score-based content optimization guide is built on Search Engine ranking factors and algorithms. It means the suggestion comes from Ai helps in improving ranking possibilities. However, hitting a 100 percent score doesn't give you the surety of coming in the first page. It will always depend on the quality and value of your content.
Optimizing content using Ai will give you an additional spark to boost your SEO ranking. For instance, GetGenie.Ai offers score-based suggestions to rank on Search results.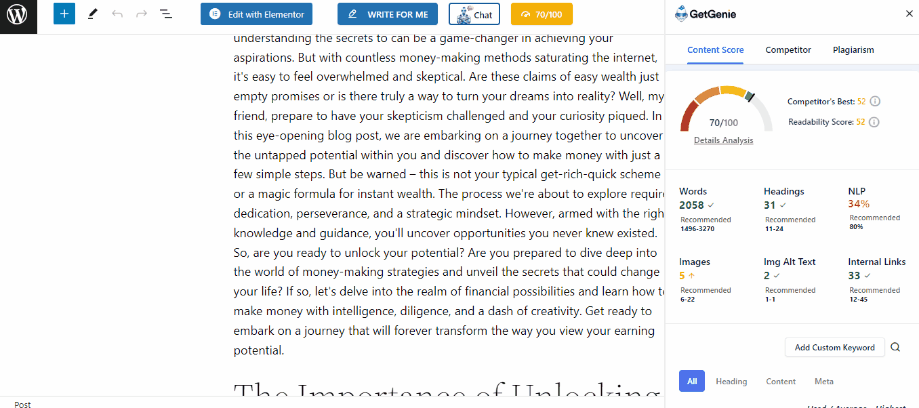 Optimizing content with NLP keywords
Since 2019 Google has emphasized utilizing NLP keywords in content writing. The purpose of using these NLP keywords is to find out the true user intent. However, finding these NLP keywords is quite difficult without a tool. Because Ai tools can analyze the main topic and prepare a list of related NLP keywords connected to it in a flash.
For example, GetGenie. Ai suggests natural processing language keywords for heading, content, and meta. Besides, the number of uses of these keywords is also mentioned for receiving the optimal results. On top of these, it allows you to add custom keywords to the list of NLP so that you can make maximum utilization of this SEO strategy with Ai integration.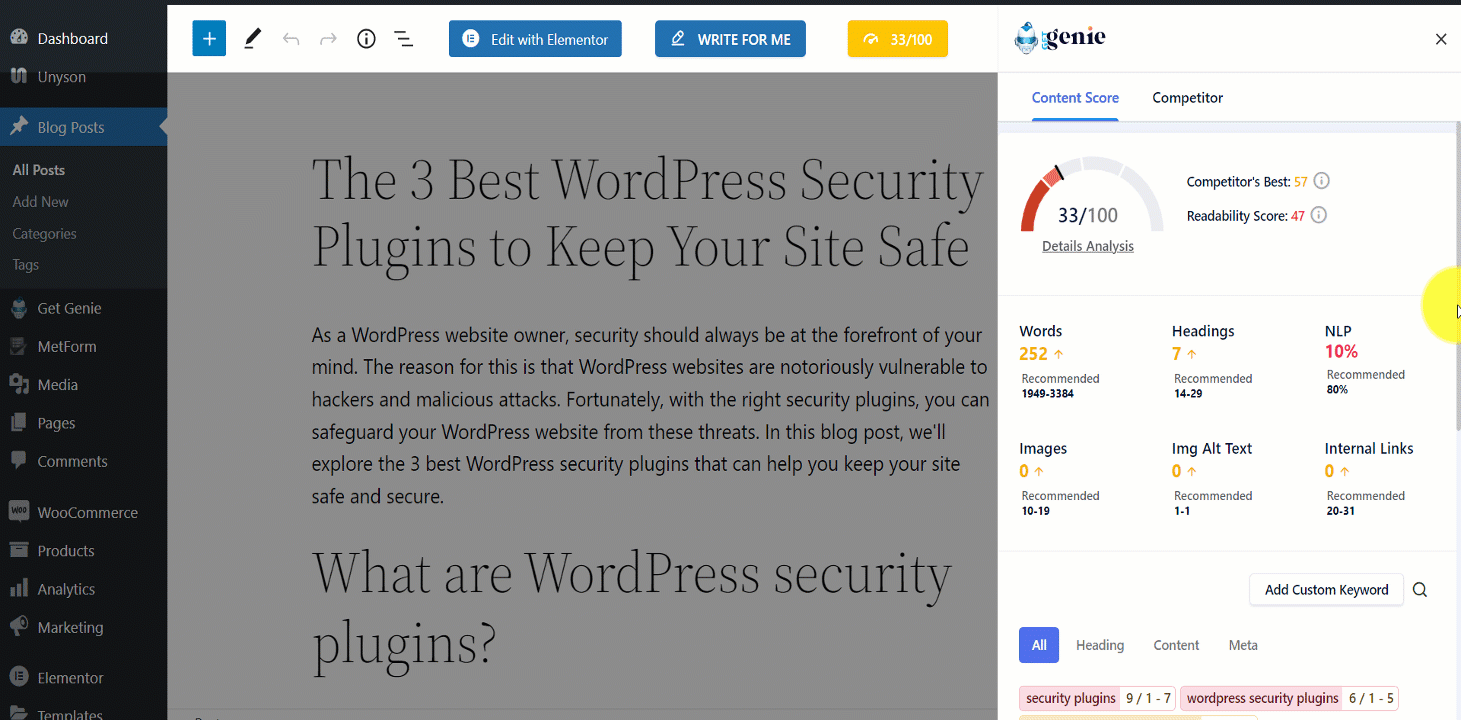 Checking for plagiarism
Google penalties plagiarized content to maintain originality and ensure readers get a guide from helpful content. No matter how resourceful your guide is, if it is copied from another content then it will be restricted for sure. And you will never be able to rank with that content.
That's why every writer checks plagiarism before publishing content. But, how? Using a tool of course. Because it's an extremely difficult and long-drawn-out task for a writer to identify plagiarized content. However, now with the induction of Ai in content marketing, doing plagiarism checks has gotten easier. Because with a single Ai tool like GetGenie, you can do everything along with plagiarized content checking. Therefore, you don't need to switch between tools for carrying out multiple tasks.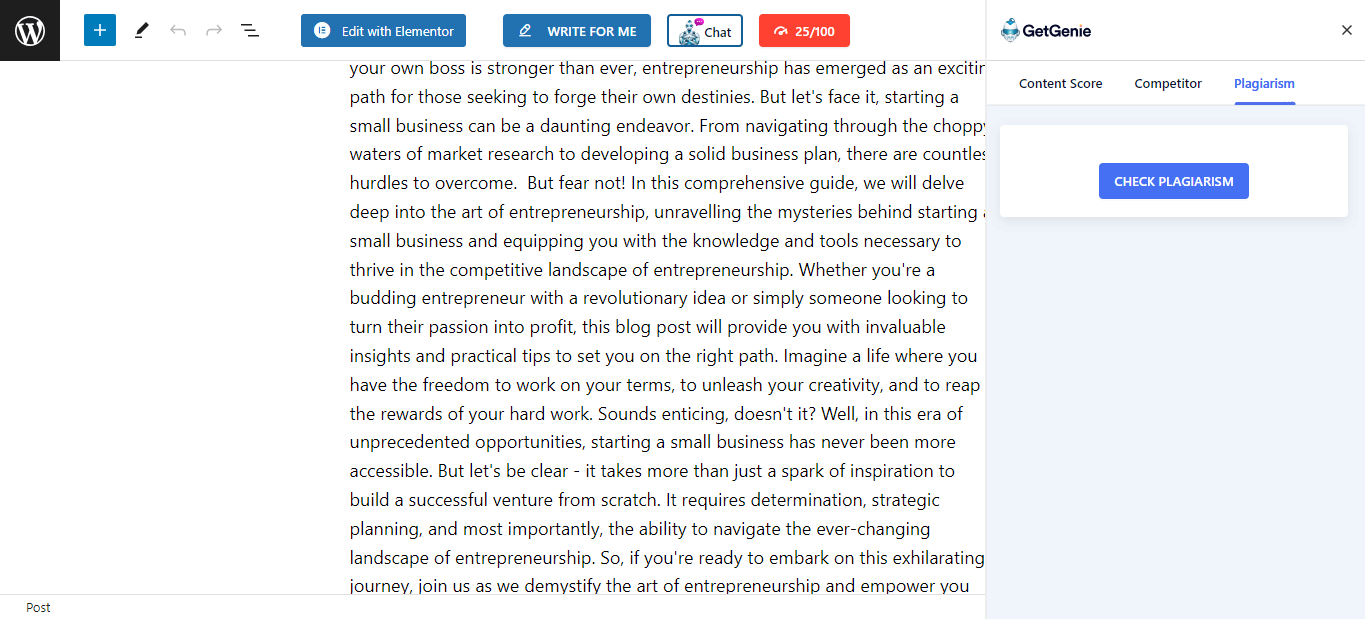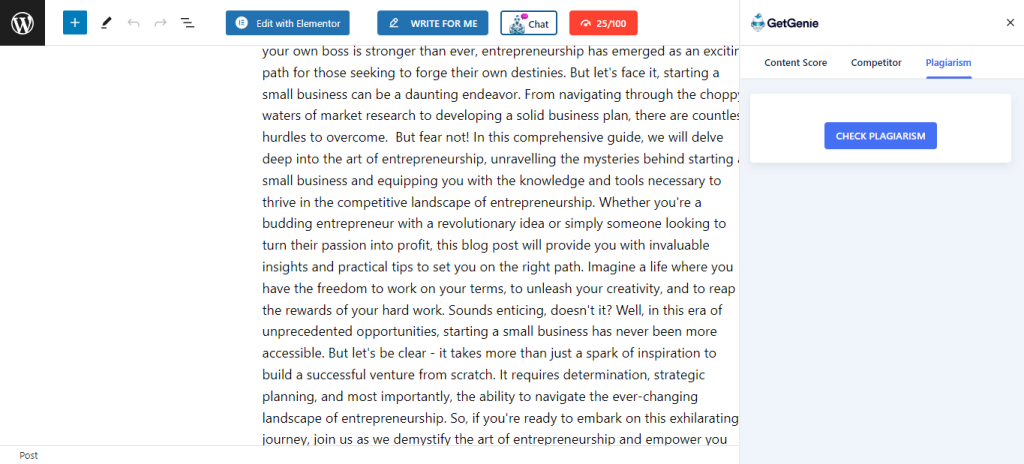 Powerful Ai SEO tool to check out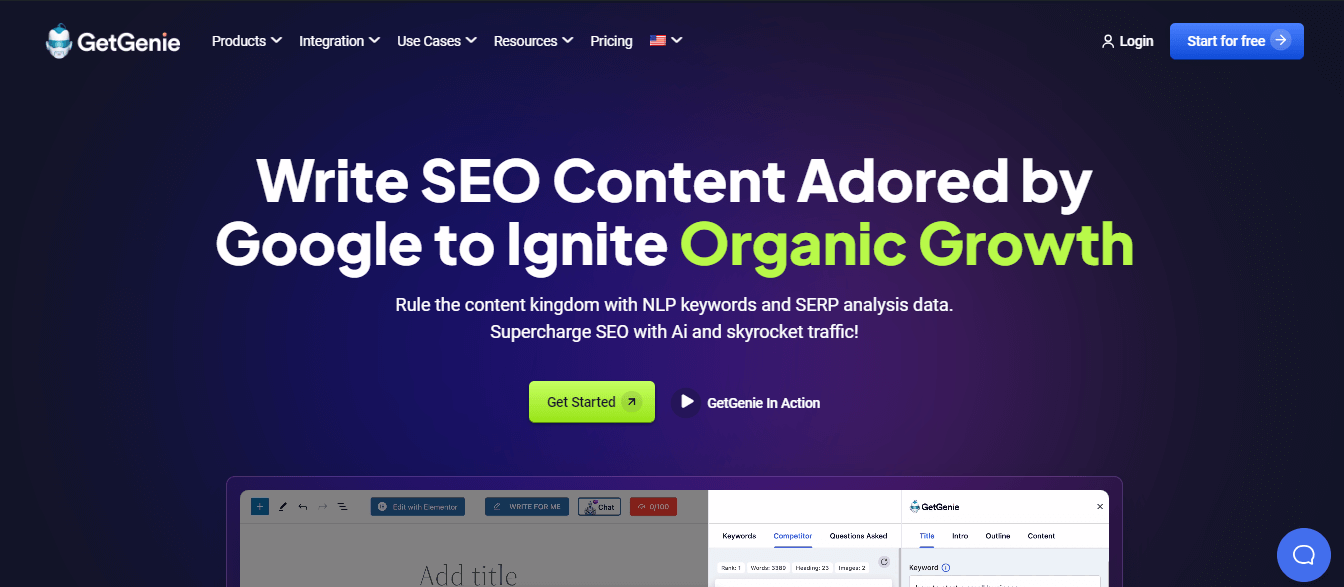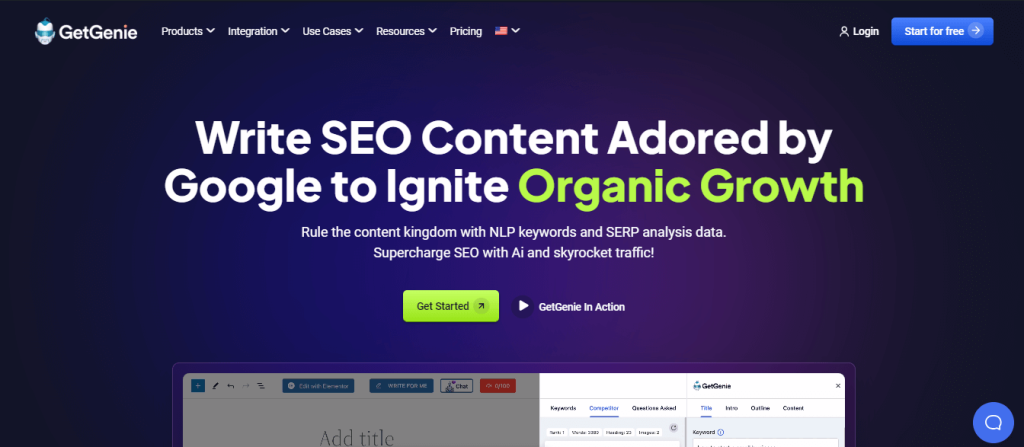 SEO strategies and Ai integration are the best combination for bringing prolific results in content marketing. Because it fastens SEO strategies by introducing automation with Ai. Besides, Ai tools like GetGenie bring everything into one place including content research, writing, optimization with NLP keywords, and plagiarism checks.
From content planning to quality ensuring, everything can be done through this Ai content and SEO assistant. But, how?
Of course, by using its super advanced 37+ Ai templates and wizards. Moreover, it is trained to give the most updated and quality output that meets the requirements of Google's helpful content update guides. Also, tweaking content with score-based optimization and quality checking through plagiarism gets easier by GetGenie Ai.
Additionally, this tool is not limited to WordPress users. Whether you're a WordPress or SaaS user, you can seamlessly use this Ai SEO tool using WordPress as well as Playground interfaces. Simply put, it can combine with your SEO strategies and maximize results with Ai integration.

Summing up
The future of SEO with Ai eliminates the traditional process and brightens the way we optimize content for Search Results. It streamlines SEO strategies with NLP keywords, score-based optimization, competitive analysis, plagiarism checks, etc. Additionally, it reduces the overall time needed for content optimization by introducing automation.
And you already know how to use Ai for boosting SEO strategies. Fortunately, Ai tools like GetGenie map out SEO strategies by bringing everything in one place, eliminating the need to switch between tools for content optimization. So, if you consider one tool for SEO then, GetGenie can be a result-driven Ai SEO assistant.