Benefits Of AI Integration: AI For WordPress In 2023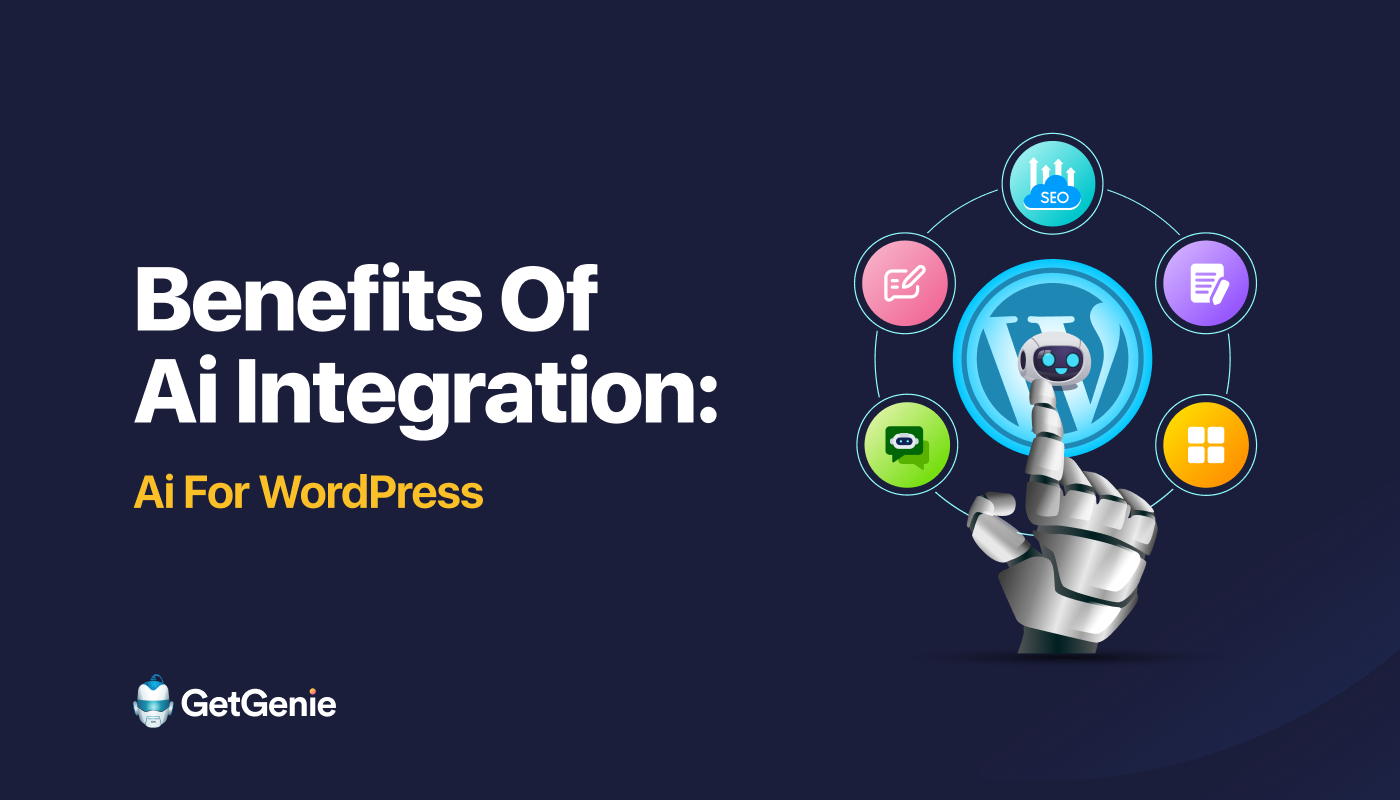 Welcome to the wonderful world of Artificial Intelligence, where machines are getting smarter daily and can do fascinating things. In recent times, AI has been gaining vast popularity and mass adoption. It's not sci-fi anymore, as it has become a part of our reality — impacting our everyday experiences.
AI is now used in a wide variety of applications, from voice assistants to personalized recommendations on streaming services. AI Its popularity is primarily due to how effective and simple it is to use.
Thanks to the analyzing power of AI, it has revolutionized many industries, such as finance, healthcare, media, written content, and even transportation. For digital content management, AI for WordPress is also getting popular day by day. The benefits of AI are visible in many aspects of content creation.
It is fascinating that AI can be implemented anywhere and work just as well. Today we will be showing you the benefits of integrating AI into WordPress, as the form of a plugin. We'll see how you can use GetGenie AI for WordPress!
Understanding AI Integration on WordPress
You can access a completely new level of functionality by using a WordPress AI plugin. Imagine having a chatbot on your website that can respond to visitor questions in a human-like manner. It is comparable to having a virtual assistant at your disposal.
Additionally, by automating tasks like on-page SEO, copywriting, and image optimization, an AI plugin can make your life simpler. You're in for a delightful surprise if you haven't yet discovered the magic of a WordPress AI plugin!
Some notable features of AI that are extensively utilized in WordPress include:
1. Chatbots and virtual assistants
Chatbots are a great way to improve the user experience of your site. With an AI chatbot for WordPress, you can get new functionalities. Imagine having a chatbot on your website that can respond to user questions in a way that feels as natural as a human conversation. This can surely increase visitors to the site and improve conversion.
2. Content recommendations and personalization
To provide visitors with personalized content recommendations, this AI feature makes use of artificial intelligence to assess user behavior, preferences, and historical data. Website owners can improve user engagement, decrease bounce rates, and improve conversion rates using content recommendation and personalization.
3. Automatic content generation
WordPress is all about managing content and this feature is what makes AI integrations for WordPress so popular. It uses artificial intelligence to produce excellent content that is both relevant and interesting.
It is especially helpful for businesses and content creators who need a lot of content in a hurry. They can rely on the AI plugin's automatic content generation to quickly generate high-quality articles, blog posts, product descriptions, and more.
4. Content optimization and SEO
AI has the power to optimize your content for maximum visibility on search engines. It can assist you in keyword research by finding relevant keywords, which can drive your content up into the SERPs.
There are some great AI tools (like GetGenie AI) that can do all the heavy lifting of content optimization and SEO for you. These plugins will keep up with the latest SEO trends and best practices.
5. Performance tracking
Some plugins with AI for WordPress come with performance tracking and analytics features. These give you information on keyword rankings, organic traffic, click-through rates, and other metrics, making it possible for you to track the effects of your content optimization efforts over time.
We can only add so many benefits of integrating AI into WordPress, as there are too many and ever-growing. We have just shared the tip of the iceberg and the use case it holds. Let's now find a plugin that does everything we've stated and more.
GetGenie: The AI Solution for WordPress
GetGenie AI is an outstanding AI assistant for writing content. It is available for integration on different online platforms, be it SaaS or WordPress. The best thing is, you will get the same set of features everywhere. If you are planning to publish content on WordPress, you must have this plugin if you want to create the best reading material with minimal effort.
GetGenie uses an NLP framework and machine learning algorithm to write both short and long-form content on the fly. It can also be used for keyword research and analysis to maximize your SEO outcome. You can write social media posts, product descriptions, ad copy, and anything regarding creative writing.
WordPress Integration of GetGenie
The best part is that popular WordPress editors like Gutenberg and page builders like Elementor & Bricks Builder are completely compatible with GetGenie AI for WordPress.
It uses the latest OpenAI-powered API (Application Programming Interface) that bridges the gap between OpenAI and WordPress and works as a plugin of Open AI for WordPress, plus many added SEO features to top it off!
Benefits of Integrating GetGenie AI into WordPress
Among the plethora of use cases for GetGenie AI, let's find out what the benefits of integrating GetGetgenie AI for WordPress are.

AI-powered SEO tool
Search engine optimization or SEO is important if you are targeting your content to rank on SERP (Search Engine Result Pages). There are continuous changes in the Google algorithm and it updates regularly. With the help of AI for WordPress, you can easily do keyword research and find out the most impactful SEO practices and be on top of the competition, all from one place!
With GetGenie AI, you can optimize your SEO with AI finesse on your hand. This makes the plugin very much suitable for SEO specialists and content writers.
Blog writing assistant
Are you struggling to complete blog content? Well, here comes GetGenie AI for WordPress to ramp up your writing flow, with its blog writing wizard. It has the full-fledged functionality to help you write a blog post, from start to finish.
All you need to do is to give some prompts and let AI do all the heavy lifting, from keyword research, and blog outlining, to completing the blog. You can also try out GetGenie AI for complete blog generation with just one click.
Long-form content generator
Getting tired of writing lengthy content? AI got you covered here too. GetGenie has the ability to generate long-form content created with AI for WordPress sites.
With its NLP (Natural Language Processing) tech, it can help you write and optimize long-form content on the fly. If you are here for content marketing, GetGenie AI is a must-have in your arsenal of writing tools.
AI copywriter
With GetGenie AI for WordPress, you can write impactful ad copies, without much of an effort. Captivating the audience has never been this easier. AI copywriting offers high-quality, tailor-made content that resonates with your target audience, whether you require powerful sales copy, attention-grabbing headlines, or educational blog entries.
Get rid of writer's block and time-consuming brainstorming sessions by simply inputting what you want! Using GetGenie AI's intelligent algorithms, you have the power to generate convincing and enticing copies that drive results.
Ready templates!
GetGenie AI for WordPress comes with a wide range of 37+ templates for writing.

☑️ You need a product description? We've got the template.
☑️ You need a caption for socials? You got it.
☑️ You need an ad copy? You can generate templates, and make a big impact.
… and so much more!
There is always a template on GetGenie that will fit your requirement.
GenieChat with multiple personas
Imagine ChatGPT, but a more personalized and tailored one with 22 different personalities. Also, it's like a ChatGPT WordPress plugin, but better!
That's GenieChat, from GetGenie AI for WordPress, for you!
Why, you may ask?
Well, it lets you create and set up virtual chat agents with several personas, each aimed at specific client segments or situations. GenieChat enables you to bring these virtual characters to life, offering a fully dynamic and immersive user experience.
Learn more about the chatbot powered by AI for WordPress here.
Content score analyzer
A superb feature of GetGenie AI for WordPress is its content score. It incorporates all the necessary variables and metrics to understand the content quality and puts on suggestions to make things better.
GetGenie's SEO score feature will analyze keywords, analyze the content from competitors, give you word suggestions with the help of the NLP algorithm, and finalize your content outlines, all from one page.
Bottom line
AI brings out endless possibilities in terms of creativity. GetGenie AI for WordPress can help elevate your creative workflow in many ways. If you are putting content on WordPress, you would be saving time and effort in creating content with GetGenie AI installed.
Whether you're a seasoned marketer, a business owner, or a passionate blogger, GetGenie AI can significantly improve your WordPress experience. Consider how easy it would be to create great copy, appealing headlines, and engaging blog entries with just a few clicks. It's like having an expert ghostwriter at your disposal, ready to generate high-quality, convincing writing whenever you need it.
Embrace the future of creativity and unleash all the possibilities of your WordPress website with GetGenie AI's outstanding capabilities.