Ultimate Guide to the Challenges of Implementing Ai on WordPress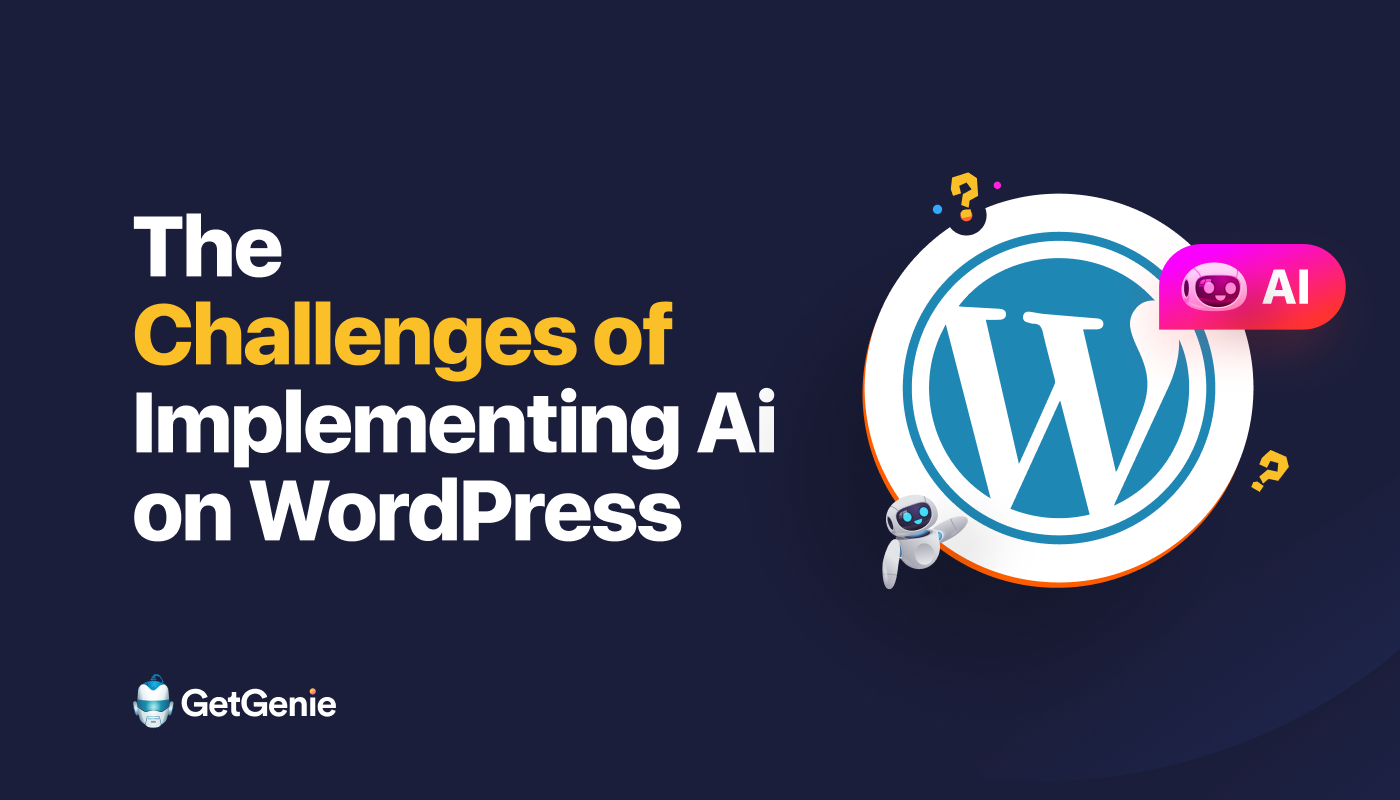 Implementing Ai on WordPress opens new windows of opportunity. But you must consider the consequential challenges that come with the implementation. To reach the ultimate goal you have to overcome the challenges of implementing Ai on WordPress.
Ai in WordPress can give difficulties like ensuring compatibility, requiring customization and integration efforts, processing sufficient data, and many more. However, it is crucial to unlock the potential of Ai-driven capabilities.
In this blog, we'll talk about the challenges of implementing Ai on WordPress and their solutions. Also, we named a few WordPress Ai plugins to enhance your website functionality.
The Challenges of Implementing Ai on WordPress
Here you go..
The common challenges of implementing Ai on your WordPress site 👉
✔ Technical Complexity
Integrating Ai into WordPress requires technical expertise and knowledge. Matching compatibility with existing WordPress plugins and themes can be a technical challenge.
Overcome the Challenge
To overcome the technical complexity you have to understand Ai frameworks and technologies well. You can also hire or train personnel having Ai skills for your website. They will help you to implement and manage Ai solutions effectively.
✔ Data Availability and Quality
You will not find large amounts of high-quality data available within the WordPress ecosystem. Ai algorithms require these data to train and deliver accurate results. So this is a challenge.
Overcome the Challenge
The solution is to collect and preprocess data from various sources. This way you can make it usable for WordPress Ai applications.
✔ Model Selection and Fine-tuning
Not all Ai models are suitable to perform every task. Also, the right tool may require some tuning according to your needs. It requires significant effort and experimentation. That is why selecting the most appropriate one can be challenging.
Overcome the Challenge
You have to gather proper expertise and understanding of the problem domain to choose the right Ai model. Afterward, you need to fine-tune the model to optimize its performance on WordPress-specific tasks.
✔ Performance and Scalability
Implementing Ai solutions on WordPress must consider performance and scalability. Ai algorithms can be computationally intensive and optimizing algorithms can be a challenge. Also, to handle large volumes of data and user requests you have to give an effort to optimize infrastructure.
Overcome the Challenge
Your WordPress website or application should be responsive and perform well under heavy user load. You can get control of the issue by implementing caching mechanisms, optimizing data processing and storage, load testing and performance tuning, etc.
✔ User Experience and Integration
Another challenge is to integrate Ai seamlessly into the user experience of a WordPress site or application. You may find it difficult to ensure Ai features are intuitive and user-friendly. Additionally, integrating Ai with existing plugins, themes, and workflows may require customization and development efforts.
Overcome the Challenge
To enhance the overall user experience you have to concentrate on careful design and testing.
✔ Ethical and Privacy Considerations
Ai solutions often deal with sensitive data, and ensure ethical use. You must remember that protecting user privacy is essential.
Overcome the Challenge
Organizations must be mindful of compliance with data protection regulations. You need to implement appropriate safeguards to secure user data when implementing Ai on WordPress.
Different Ai Tools for WordPress Users
Ai tools are efficient to perform advanced jobs quickly. For your WordPress site, you can find various suitable Ai tools. Whether your business is small or big these plugins ensure a high level of customer service and sales automation.
Let's know some Ai tools for WordPress that are helpful to minimize your manual workload.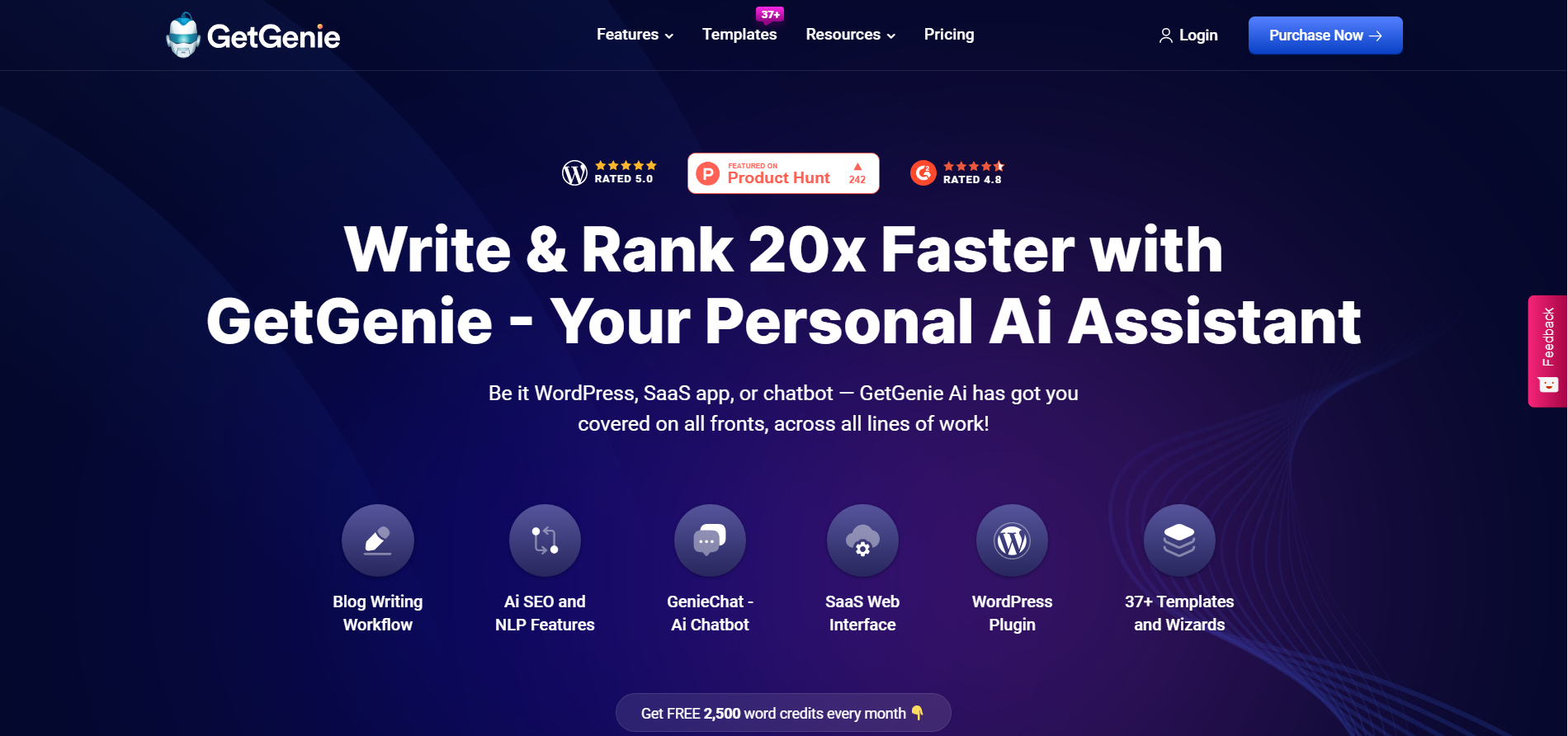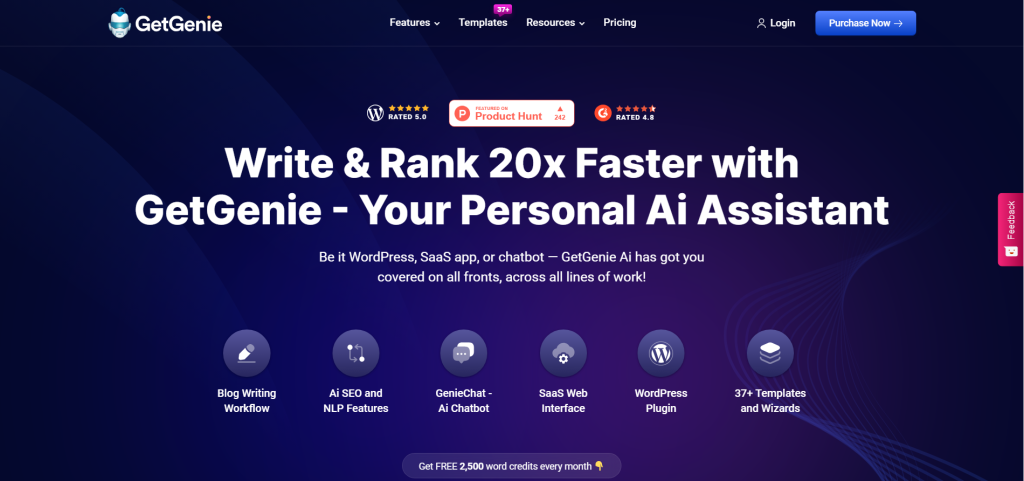 GetGenie Ai is an artificially intelligent writing assistant. It is designed to help WordPress users automate their writing tasks, rank top on Google search, and boost sales.
Currently, the tool provides 37+ writing templates. Also, you can get the one-click blog generation with GetGenie Ai. It offers this feature for you to make a complete blog in no time.
Plus, there is a web editor that you can access using a web browser.
You can use the web editor from here app.getgenie.ai/playground
The platform also offers GenieChat, a conversational Ai chatbot. It chatbot can be used to interact with customers and answer their queries quickly and accurately. GenieChat has 22+ chat personalities and provides natural, human-like conversations.
Looking for a powerful SEO WordPress plugin? Here is one, it helps you optimize websites for search engines. It provides a range of features and tools to improve on-page SEO, enhance website visibility, and increase organic traffic.
Rank Math SEO is designed with a built-in SEO analysis feature. It suggests relevant keywords, generates XML sitemaps, enables the implementation of rich snippets, and so on.
Quttera Web Malware Scanner is a security plugin specifically designed for WordPress websites. It helps protect WordPress sites from malware and other security threats. It works by scanning the website's files and detecting any malicious code or suspicious activity.
The plugin offers real-time scanning, employs advanced scanning techniques, and detects known malware with potential exploits and vulnerabilities. It assists in restoring clean versions of the WordPress files. Also, the plugin checks if Google and other blacklisting authorities blacklist your website/blog or not.
This is your voice assistant with a variety of voice recognition features powered by Ai. You can install this plugin to your WordPress website and optimize the user experience.
It works by accessing a number of cloud services to perform the voice dialog functionality. It supports 130+ languages. You will get a microphone for every search bar and a floating icon for every page or place. You can use Elementor to enable voice search on your WooCommerce shop. It also provides an optional add-on that allows your sites with large volumes of data and processes.
Time to Overcome the Challenges
Don't get afraid to face the challenges of implementing Ai on WordPress. It's time to know the difficulties and get solutions out of them.
WordPress websites with Ai power ensure improved user experiences and prevent automation of repetitive tasks. These WordPress sites can lead to increased engagement, efficiency, and competitiveness in the online space.
You can try the best Ai tool to improve your WordPress site now 👇