Top 7 Ai Tools for Content Writing: Make Your Blogging Life Easier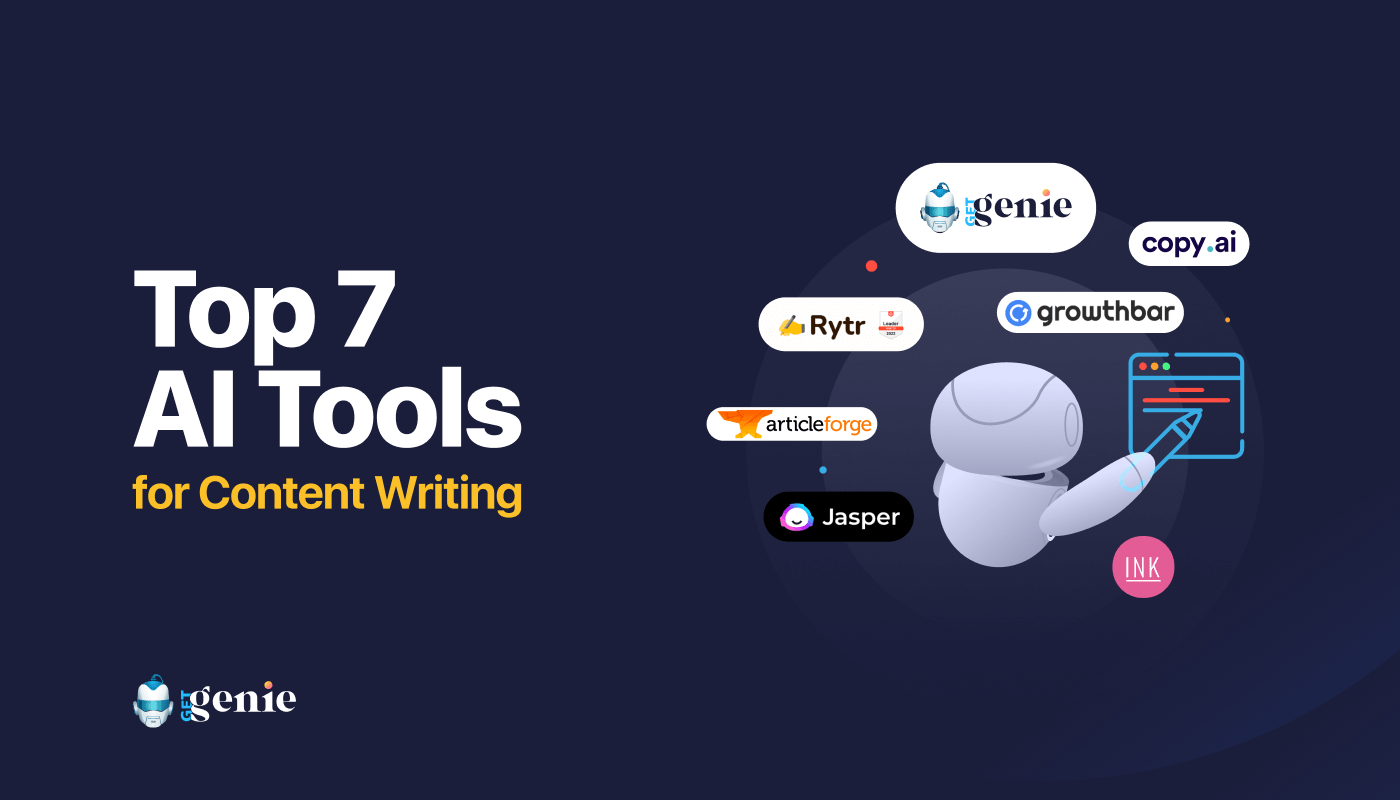 Everybody needs to write content for personal or professional purposes. It can be anything. For example, writing content on your wedding card. Before, you had to write everything manually which was quite time-consuming.
Now because of the available AI content writing assistants, you can rely on them and lighten up your workload. But, the question is what to choose for content writing. Don't need to be worried.
Here, you will get to know about the best 7 AI tools for content writing along with their exclusive features, plans, etc. So, let's jump to a better blogging life…
Why do you need AI tools for content writing?
Without any doubt, the use of AI tools in content writing is immensely increasing as they are making life easier by providing tons of content creation facilities. Besides, some effective AI content writing tools will ensure the generated content is optimized for SEO. Apart from this, it also offers other benefits to content writers. Let's have a look at how AI tools can facilitate the content writers:
Content creation in less than an hour: This is the main purpose of using AI content writing tools. AI tools can generate content within a few minutes which is quite impossible for human beings no matter how skilled they are.
Involve in other marketing tasks: An AI blog writer saves your time and you will easily manage to focus on other marketing tasks which will be more fruitful for you and your business.
Reduced working load: An AI content writer is also beneficial for decreasing the working load. For example, you need 5 to 6 hours to write a blog manually. Whereas by using AI tools you can generate it in less than an hour.
Blogging ideas: These tools not only let you create content in less time but also they will help you to generate content ideas. As a result, you can generate a yearly content calendar within a few hours.
Competitor analysis data: Day by day data related to competitor analysis is getting more accessible with the blessing of AI blog writers. You can create content that will rank well on search engines because of getting nitty-gritty competitor analysis data.
These benefits prove that using AI tools for content writing can change your life in a better way. Now it's time to figure out which AI tool is the best for content writing. If you are confused about what to use, then don't miss the next section.
7 best AI content writers in 2023
There are different types of AI content writing tools available online. Though the purpose of those AI tools is the same, they vary based on the features and benefits. Some are more beneficial and some are less. So, you have to figure out which one is the best among them.
That's why the 7 best AI writing software are gathered and described here so that you can choose the best AI tools in 2023 out of all the available tools.
GetGenie.AI: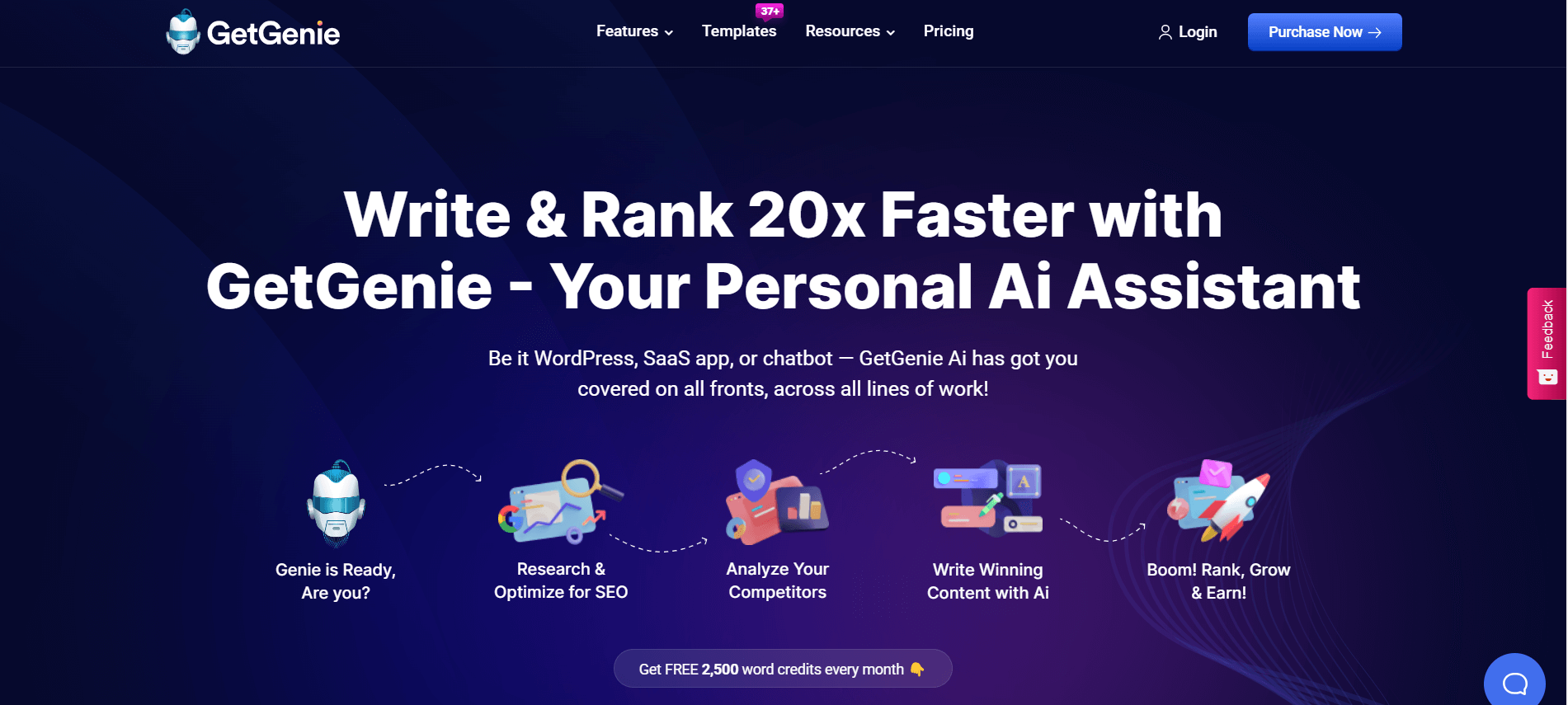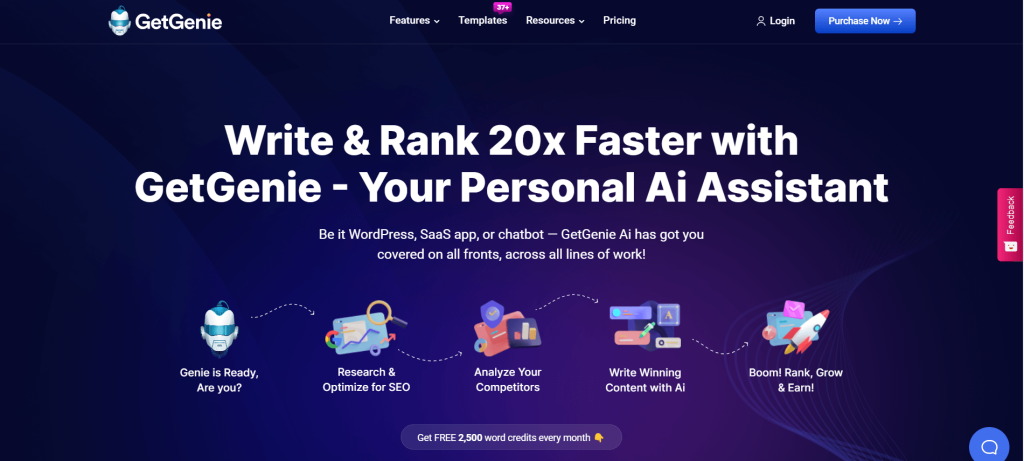 GetGenie.AI is the best AI content generator as this not only generates content but also ensures your content is well-researched and optimized. Besides, it helps you to generate content that will rank well on Google and other search engines. Moreover, you can get keyword and competitor analysis data through GetGenie.AI.
On top of it, you will get various content writing and copywriting templates that will let you create converting content and copies within a few minutes inside WordPress as well as a SaaS interface. Also, you can use this best AI content generator right from your WordPress site.
Absolute features of GetGenie.AI:
37+ content writing and copywriting templates.
On-page scores for better optimization.
Related Quora and Reddit question suggestions.
WooCommerce wizard.
33+ language support.
Analyzed data for both keywords and competitors.
Fast title, intro, and outline generator.
Creativity level adjustment option.
Plans:
Starter: $0 per month.
Writer: $19 per month.
Pro: $49 per month.
Agency: $99 per month.

Rytr: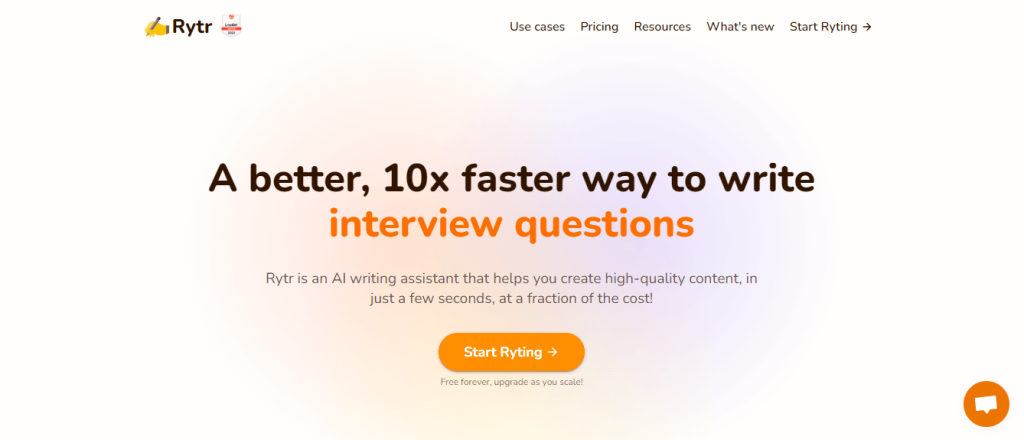 Rytr is a blogging and at the same time copywriting tool that is available for all the popular platforms such as WordPress, Shopify, etc. It creates content with perfection that influences website visitors to take action. This tool generates as well as manages your written content. As a result, content is organized and stored properly.
Apart from that, you can create customized use-cases for blogging and copywriting. Also, you can come up with a unique brand and converting CTAs by using this AI content writing tool. Furthermore, different types of frameworks are available for copywriting.
Absolute features of Rytr:
30+ templates for bloggers and copywriters.
30+ language support.
Content creation with 20+ voice tones.
Plagiarism checker.
Customized use-case.
Interview questions, job and product description generator.
Plans:
Free plan: 0/month
Saver plan: $9/month
Unlimited plan: $29/month
INK: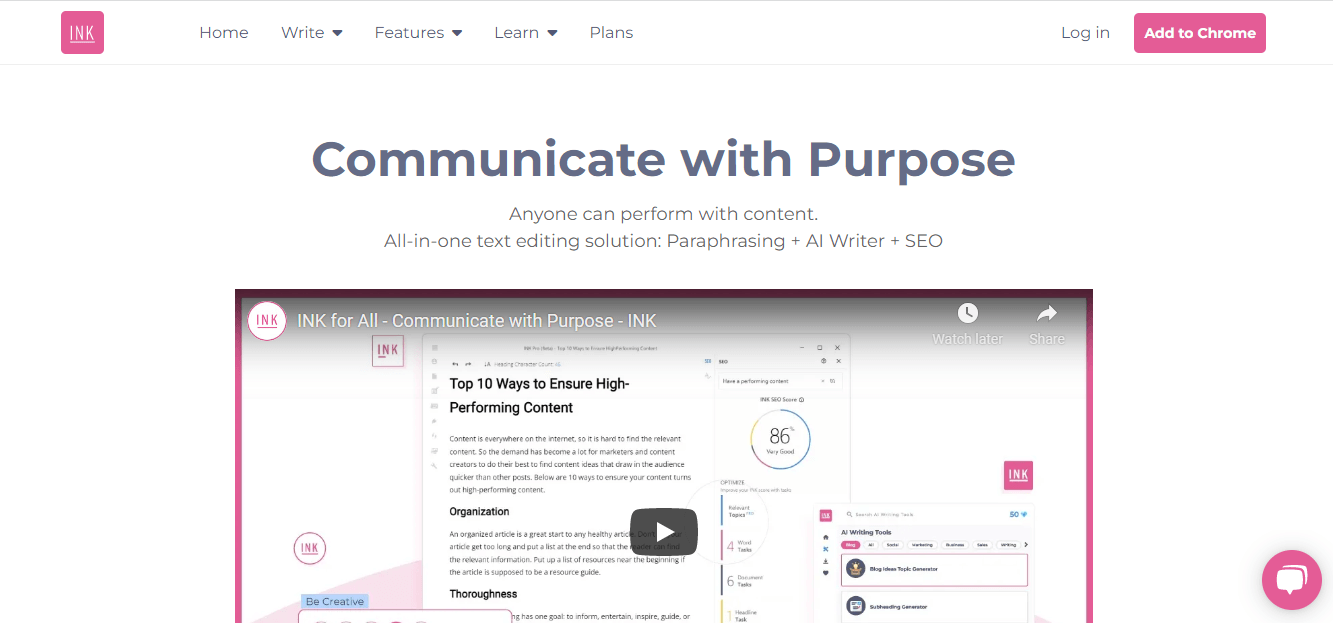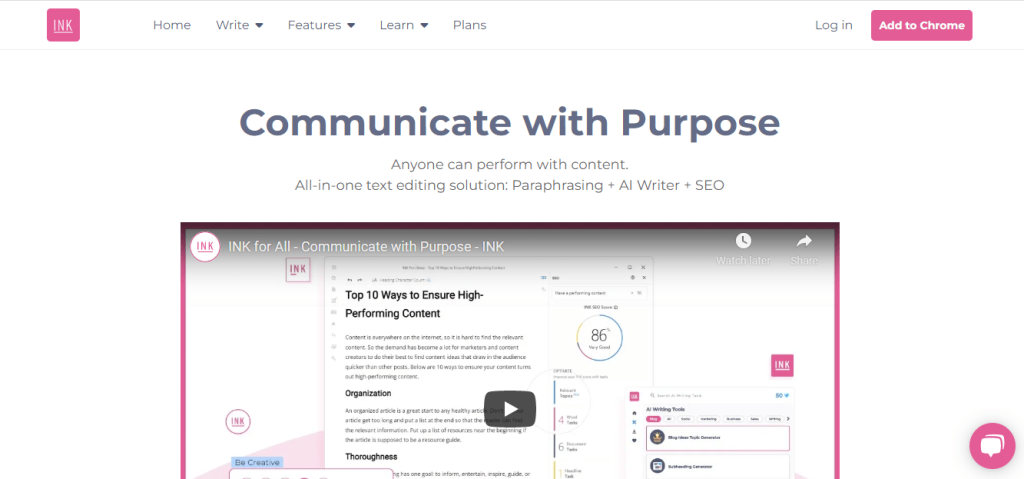 INK AI writing tool comes up with three facilities such as AI writer, SEO optimizer, and Copy assistant. With this tool, you can create plagiarism-free content that you can further optimize with its SEO optimizer. it also provides on-page scores that will help you to polish your content more for better results.
Besides, if you don't like the generated content, then you can rewrite it again and again. In the coming days, another new feature is adding to this AI assistant which is Content ideation. INK claims to be one of the best AI tools for content writing that you can try in 2023.
Absolute features of INK:
50+ helpful short form tools for email, social posts, copywriting, etc.
Auto suggestions for perfect content creation.
Unlimited rewrites.
Chrome extension.
Content production scaling.
Remove the use of writer's block.
Plans:
INK Suite FREE: 0/month
INK Suite Professional: $50/month
Growthbar: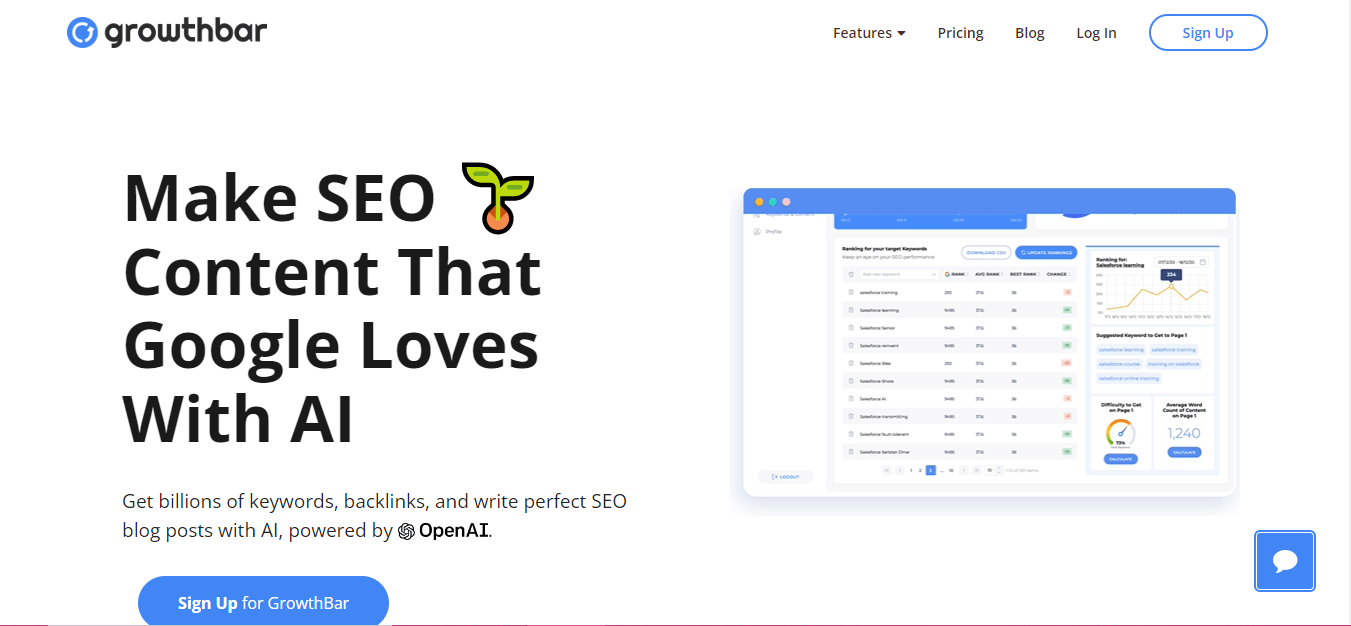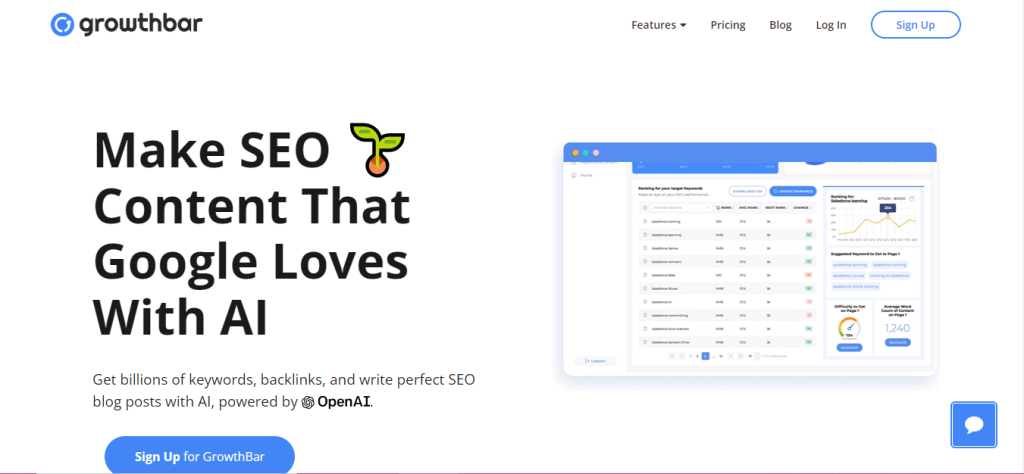 Growthbar claims to generate SEO-optimized content that ranks well on search engines. It provides full-packed solutions to bloggers to write content that convert by offering easy keyword research, outline generation, Keyword tracking, competitor analysis, blog generation, optimization, etc.
In addition, it is available in various ways to help you generate the best content for your site. For example, you will find a free chrome extension of this AI tool. It also provides 1000 competitor keywords, backlinks, and Google ads keywords per query for the premium versions. Furthermore, live support is available for the Agency package users.
Absolute features of Growthbar:
Keyword research as well as keyword tracking options.
Post, outline, and content generator.
Well researched data for competitor analysis.
Chrome extension is also available.
Excellent content idea generator.
Easy content optimization guide.
Plans:
Standard: $29/month
Pro: $79/month
Agency: $129/month
ArticleForge: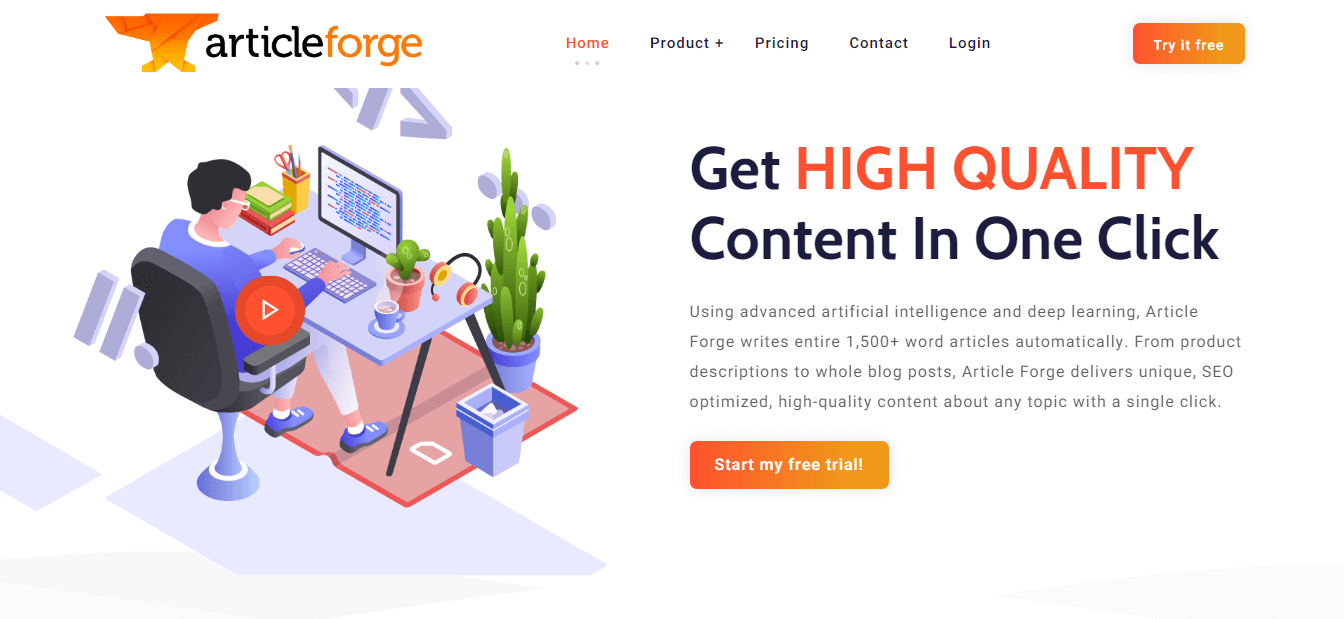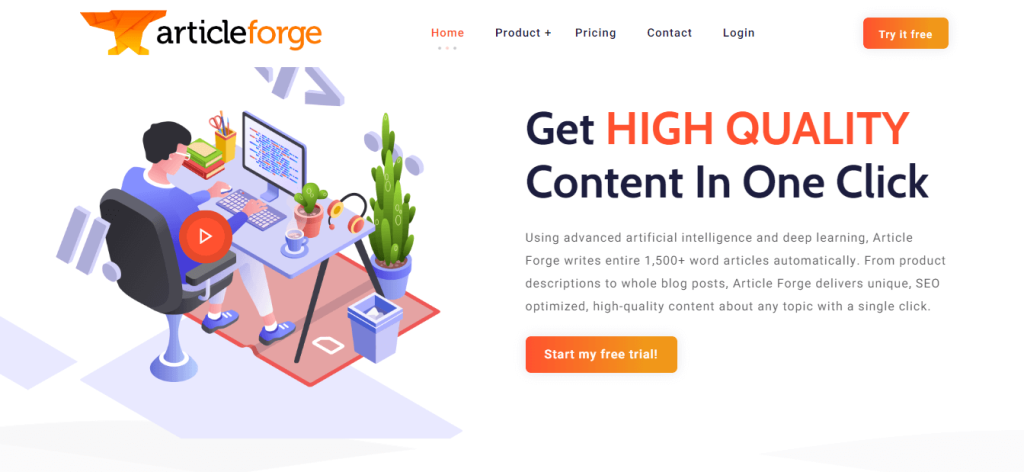 ArticleForge is a premium AI Assistant for content writers that is available in three paid plans. This AI tool ensures that you are only one click away from your converting content. It means you can generate any kind of content with a single click in less than 60 seconds.
ArticleForge will create content that is 100% SEO optimized and plagiarism free. They also provide a 30-day money-back guarantee. Like if you generate 10 blogs with it but, didn't get satisfying content, then you will be refunded.
Absolute features of ArticleForge:
5-day free trial.
Plagiarism-free and optimized content.
It has API access.
Super fast content generation.
30-day money-back guarantee.
Plans:
BASIC: $13/month
STANDARD: $27/month
UNLIMITED: $57/month
Copy.AI: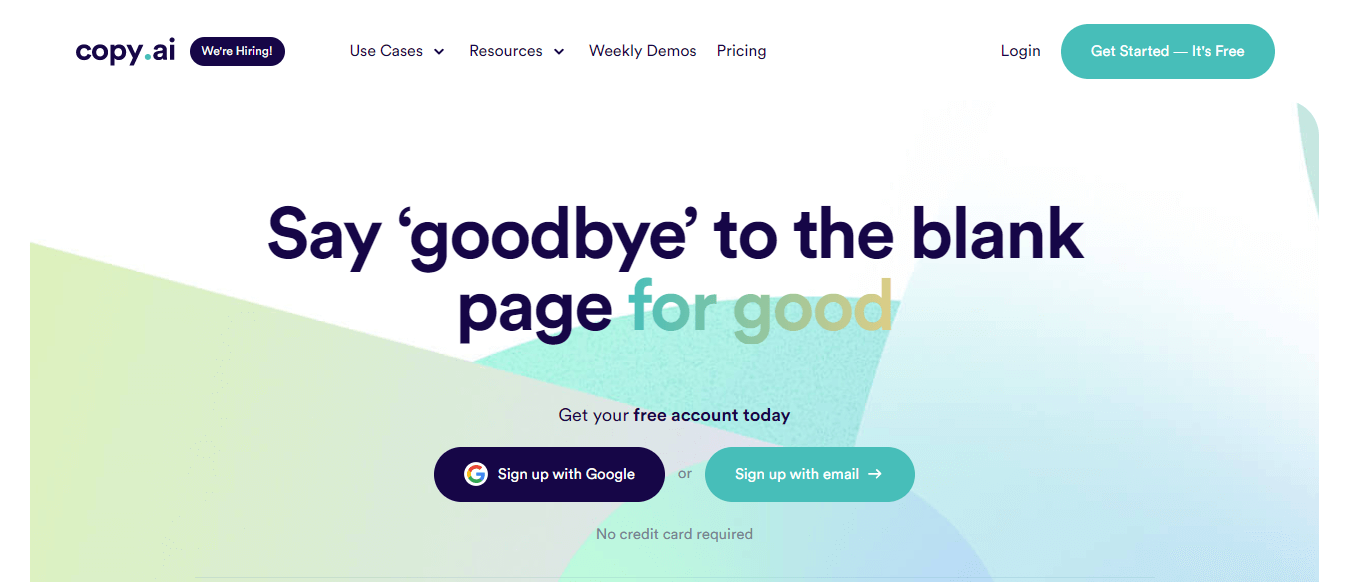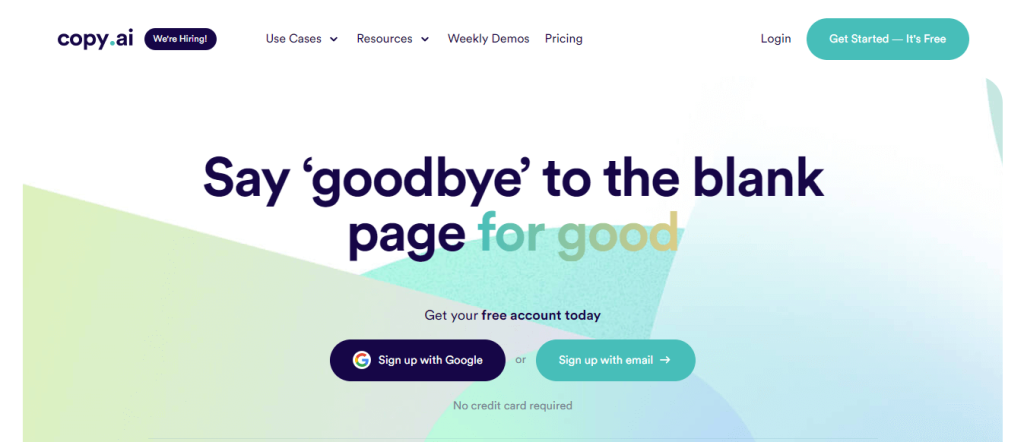 Copy.AI is another AI content writer that generates fresh, engaging content within seconds. It creates content with ten times faster speed with an advanced AI language model. Besides, this excellent AI content writer can create any type of content such as email, website, eCommerce, ads, social media copy, etc.
As a result, this is not only helpful for writers but also for marketers. This AI tool for content writing will assist you to enhance your social channel as well as website visitors. After creating content with this tool, you can optimize and change the content as you like.
Absolute features of Copy.AI:
90+ tools for copywriting.
Available in 25+ languages.
New blog wizard tool.
Top-notch support from the team.
Plans:
Free: 0/month.
Pro: $49/month
Jasper.AI: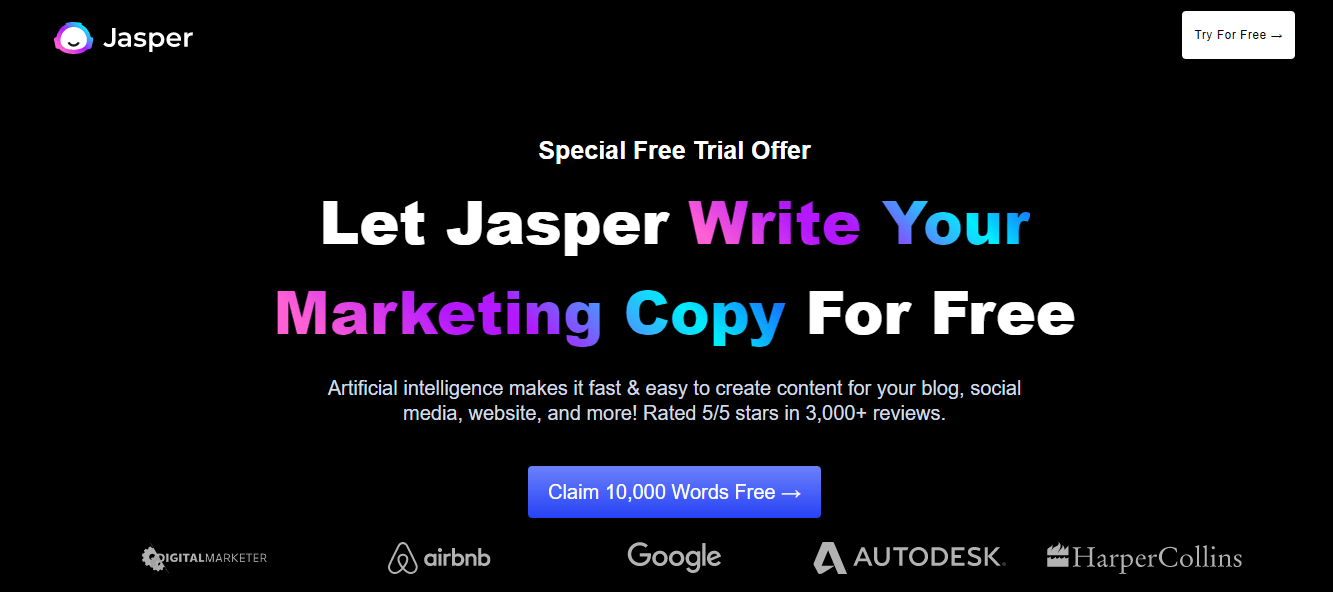 Jasper.AI is a well-known AI content writing assistant that generates content for blog posts, stories, books, etc. It provides a free trial for new users. It is good not only for blogging but also for copywriting. Copywriters can enjoy various copywriting skills by using this AI tool.
Besides, it is connected with Surfer SEO for better optimization and ranking. This tool won't confine you by offering less language support. You will get support for all the popular languages. As a result, you can generate content in any language to boost traffic and conversion.
Absolute features of Jasper.AI:
Regeneration option for existing content.
Super fast content creation and optimization.
25+ language support.
50+ excellent copywriting skills.
Fresh and plagiarism-free content.
Plans:
Starter: $49/month
Boss Mode: $99/month
Business: Customized plan.
Can you write a story with an AI content writing tool?
Yes, you can write a story with an AI content writing tool. AI tools can generate any type of content including stories. As AI absorbs tons of online data and generates content, it can write a story by using online references.
You can even write novels by using these AI content writing tools. Just you need to pick the best AI writing software for writing and polishing stories.
So, the best AI writing software is
Congratulations! Now you know almost everything about the 7 best AI writing tools. It is time to make a decision and make your blogging life easier. After getting the above list, you still need to shortlist it more. Do that carefully, because the quality of your generated content will depend on it.
All the above tools are suitable for content writing. But, if you want to choose a tool that can skyrocket your content writing by generating quality content then, GetGenie.AI is perfect for that. You will get tons of templates for smooth content creation. Apart from that, you will also get well-analyzed data and suggestions for converting content creation.