Best Ai SEO WordPress Plugins – List of Top 5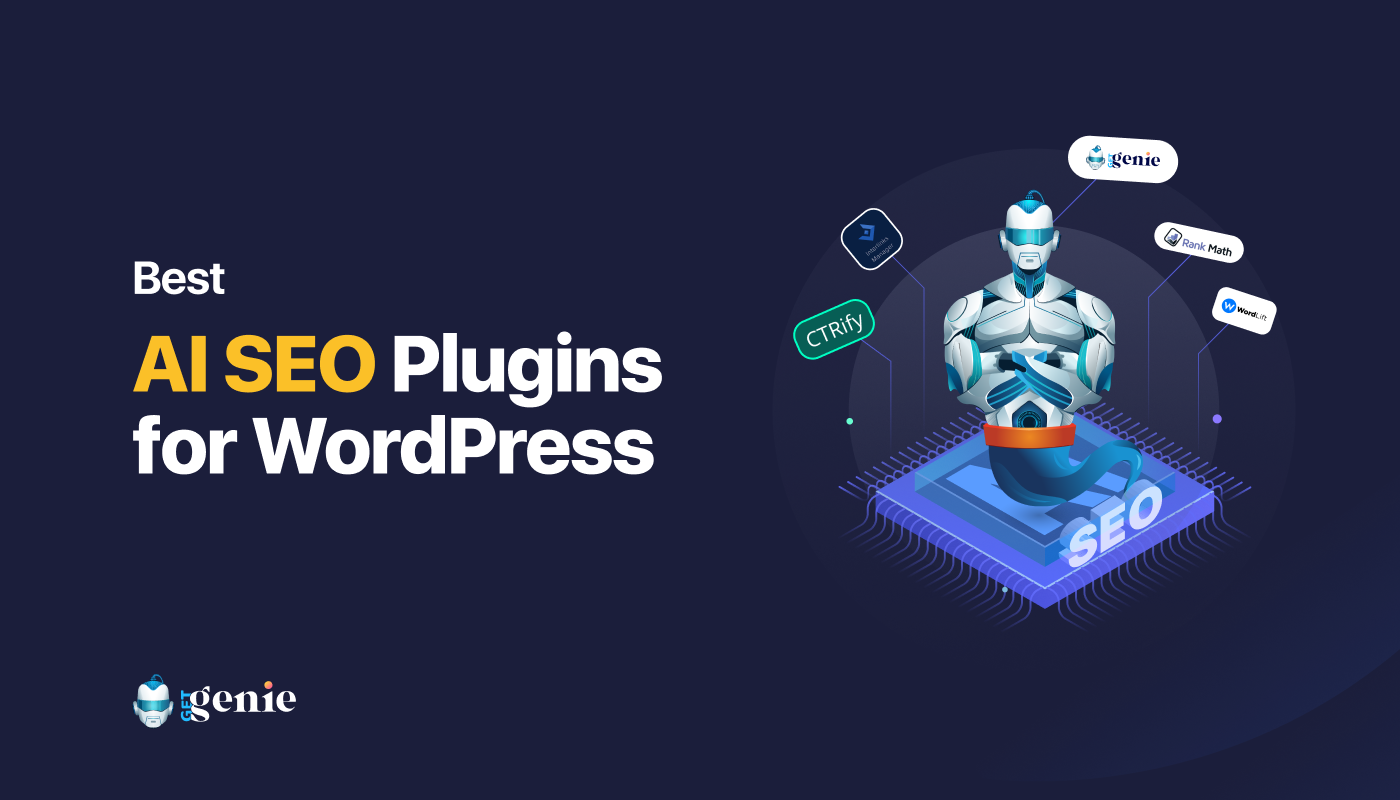 No matter how good your content is until someone reads it. If you want to get organic traffic to your website, the best thing you can do is optimize the content for search engines which is also known as SEO.
What about doing SEO inside your WordPress dashboard with the help of AI SEO WordPress plugins? Yes, if you are a WordPress user, you can optimize the content while writing it.
Currently, there are some amazing WordPress SEO plugins available that use artificial intelligence. Let's dig deep into them!
What is a WordPress SEO plugin?
WordPress SEO plugins help the webmaster to optimize the posts, pages, and other structures of a website to get a better ranking on the SERP. Depending on the type of plugin, the features may vary. But the primary goal of each plugin is the same — improve the ranking on SERP.
As mentioned, the features will vary for plugins. An SEO WordPress plugin is used to give some suggestions based on the SERP to improve the content and pages of a website. As it is using artificial intelligence, the suggestions become more effective.
Top 5 WordPress SEO plugins
After going through several AI WordPress SEO plugins, we finally have selected the top 5 AI-powered SEO plugins that might help you to boost your ranking and get more organic traffic.
Key features
SERP statistics with detailed data
Does a deep keyword research based on the seed keyword
Google trends data to get better ideation regarding trending topics
Frequently asked questions from relevant forums based on the SERP data
Content optimization scores and suggestions to improve the score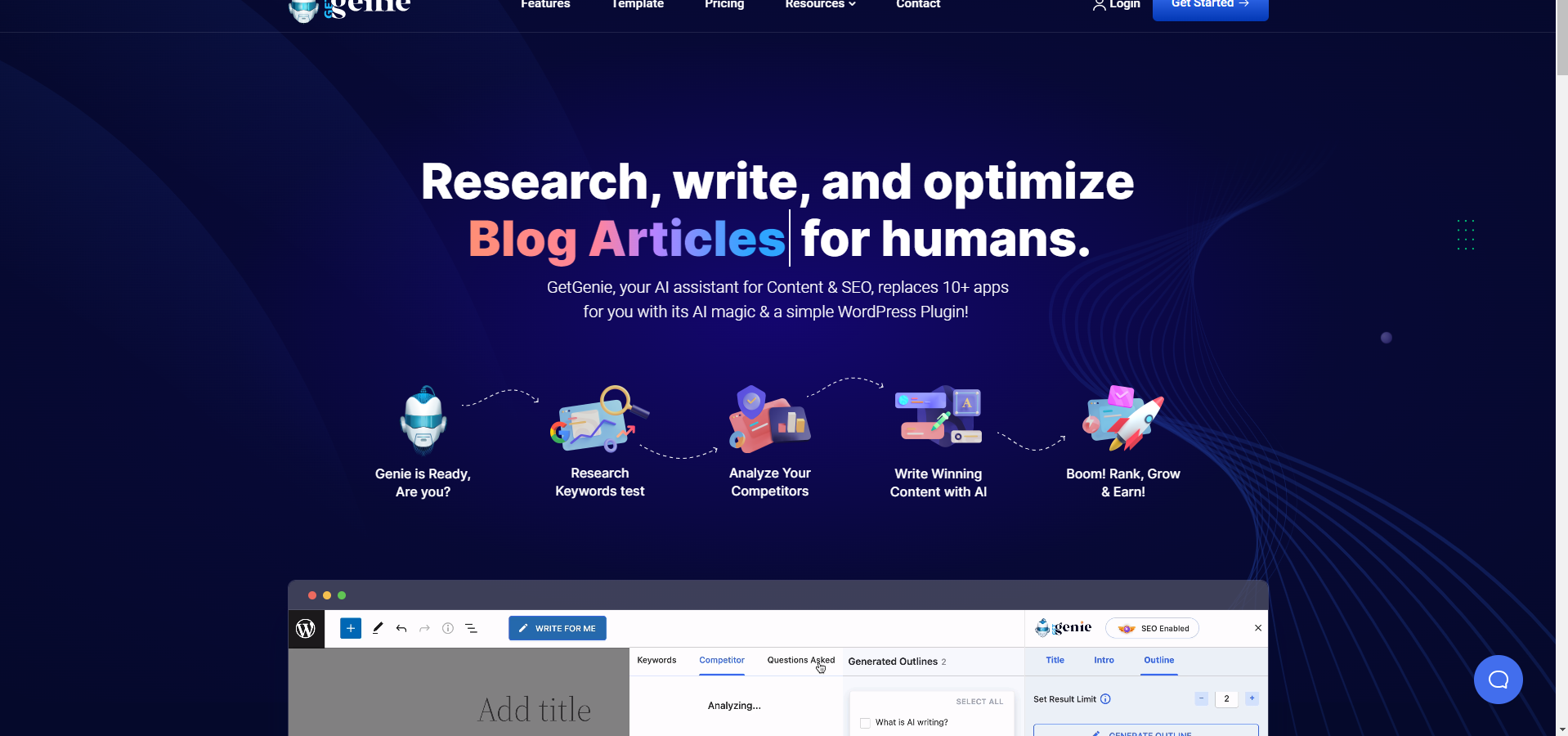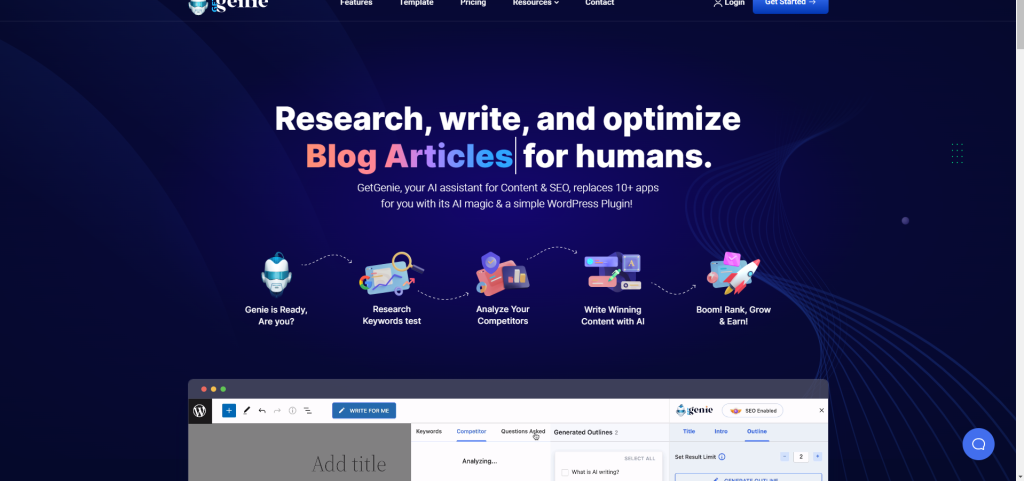 The first one in our AI WordPress SEO plugin is the GetGenie AI. This is a standalone WordPress plugin that has combined SEO features with an AI content writing assistant. This means you can write inside the WordPress dashboard and optimize the content at the same time.
One of the most crucial parts of search engine optimization is choosing the right keywords for content. GetGenie is the perfect WordPress keywords plugin with the best pricing. It helps to find the relevant keywords for content, check the competitors' keywords, and SERP data to target potential keywords.
This plugin uses artificial intelligence to sort the data and show only the valuable keywords and which keywords have the potential to rank for the first page. So, users don't have to waste time on the research part. Everything happens just with a few clicks.
The good part is, after writing the content, users can even check the content score to optimize for SEO and make sure that everything is going in the right way. Not only that, it gives suggestions to improve the content score and get better results.
Advantages
Easy-to-understand dashboard
Content outline builder based on SERP
Google trends data for traffic estimation
Content optimization score with suggestions
AI content writer with lots of templates
Gives free credits to try out the tool
Disadvantages
Currently, there is no option to optimize pages

Key features
Clean and easy to understand
Suggests improvement for pages and posts
Keyword tracking option to update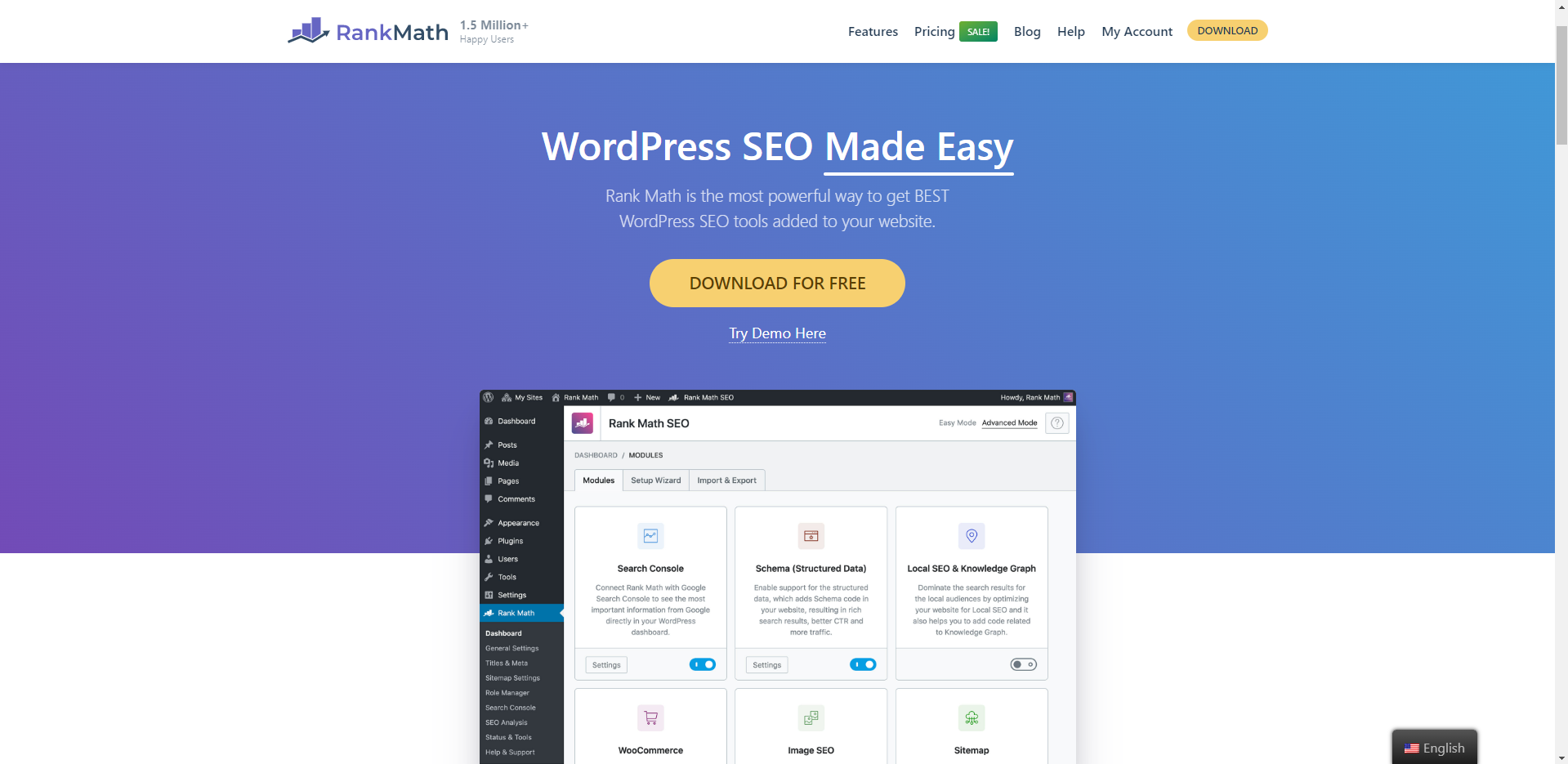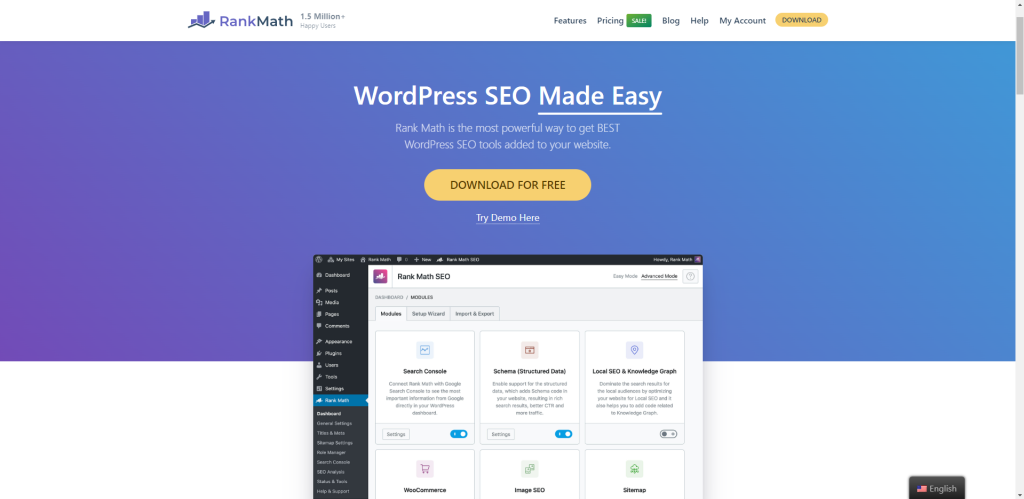 RankMath is a dedicated SEO WordPress plugin that uses artificial intelligence to suggest SEO improvements. After installing the plugin, it gives a dashboard where users can navigate to the features easily. It comes with 15+ modules for a wide range of functions.
With RankMath, you can SEO-optimize pages and posts. The best part is you can optimize the content while writing it on the WordPress dashboard. RankMath has certain variables as the SEO standard. While you are meeting all the conditions, it will mark them as green and if you didn't meet the guideline, it will be marked as red.
For each of the variables, there will be suggestions for the users to improve the content.
Besides content optimization, users can track keywords, download detailed reports for the site, check technical SEO suggestions, and more.
Advantages
Real-time content score based on content quality
Suggestions to improve the content score
Shows click data and impression data for target keywords
Pillar content option to ensure proper internal linking
Disadvantages
Can't generate content
Some SEO suggestions don't meet the modern SEO standard
Key features
Provides SEO report based on the brand keywords
Analyzes the URLs of the site and suggests improvement
Allows to create cluster campaigns for keywords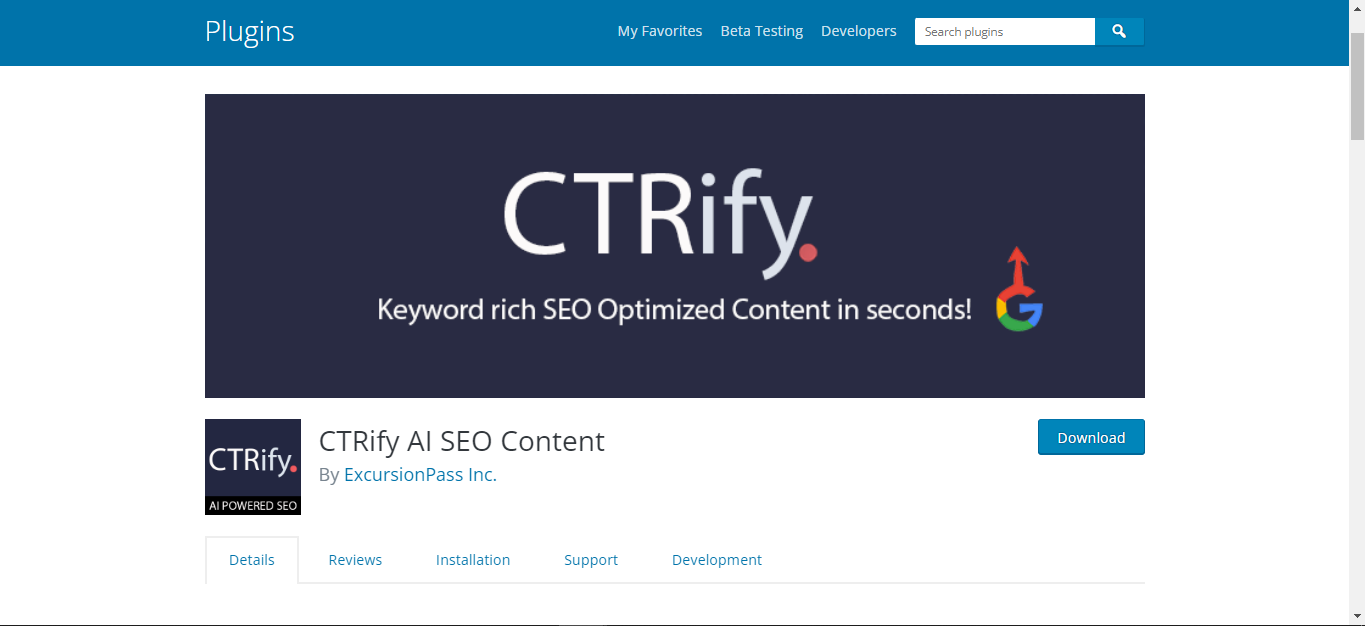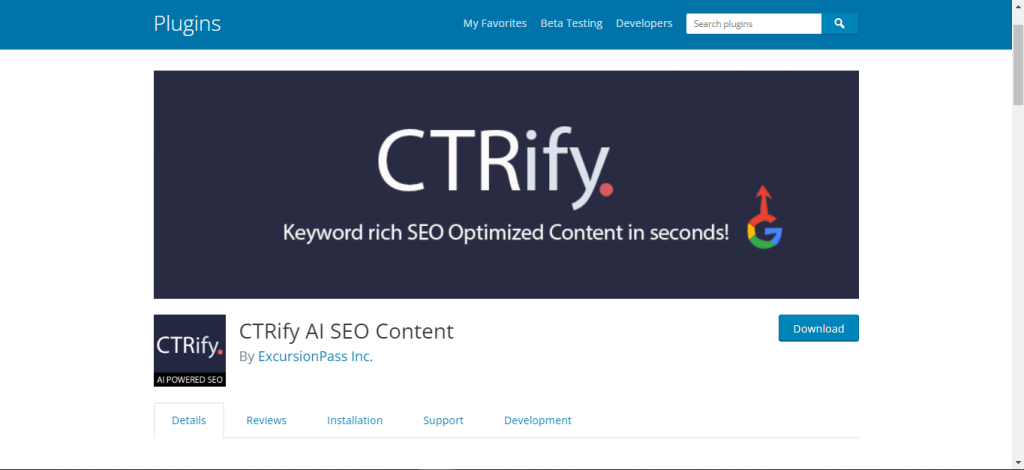 While instructing a writer, we often suggest the writer ensure the SEO factors, right? CTRify AI SEO WordPress plugin promises to provide optimized content without any manual effort.
So, once you install this WordPress plugin, you can just give the keyword, and generate content. But there is no free option with this plugin. The user needs to purchase at least one package to generate content.
For keywords, you can put the brand keywords and the URLs and it will show a detailed report for the content improvements.
While most SEO tools for WordPress suggest only on-page SEO, CTRify suggests doing backlinks as well. Besides, it offers to buy premium backlinks.
Advantages
Easy-to-understand dashboard
Campaign and keyword cluster creator
Helps to generate SEO-optimized content
Disadvantages
Free credit is not available
Not a good one for organic content marketing
Needs third-party tools to perform the research
Key features
Makes it easy to implement structured data
Suggests contextual internal link building
Improves the search visibility of content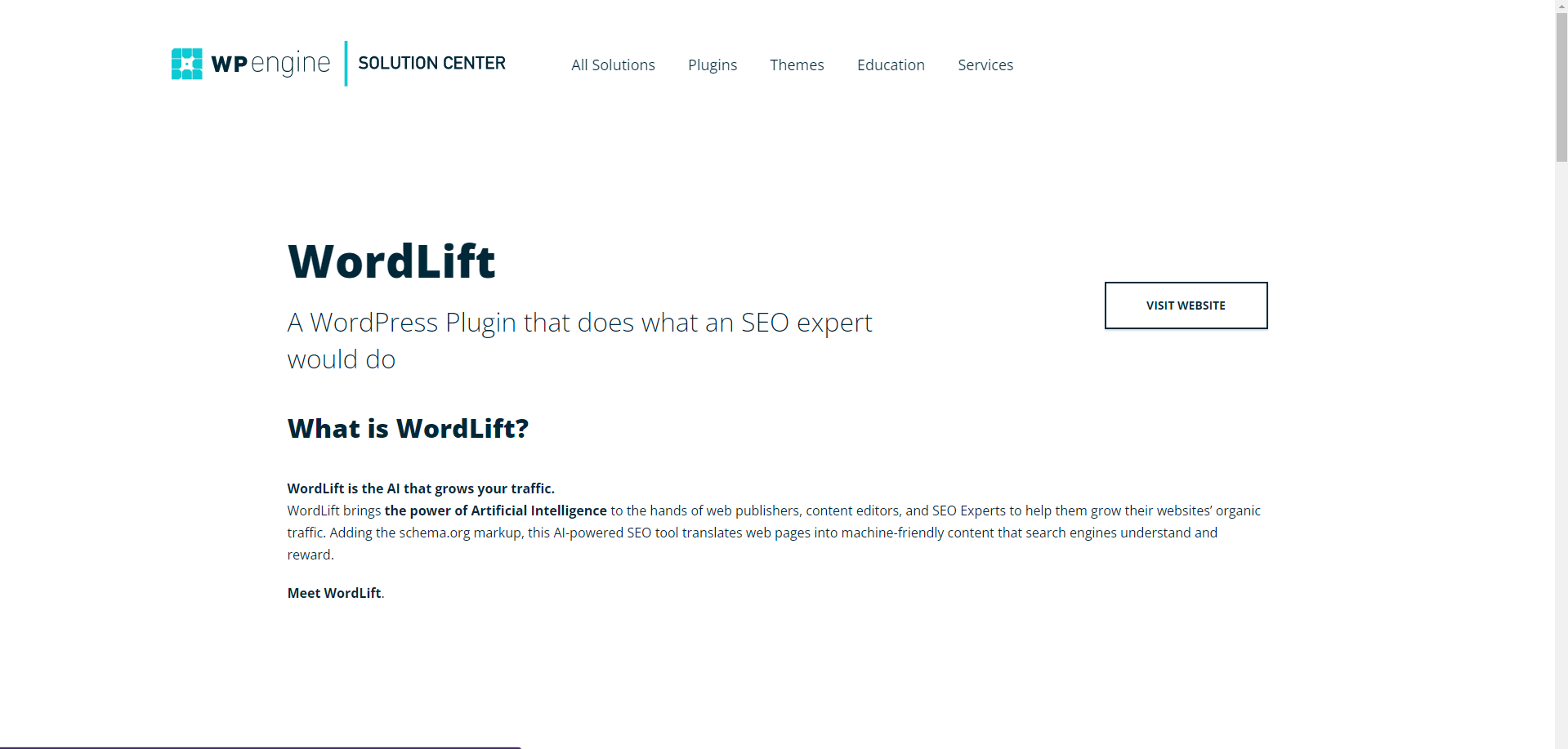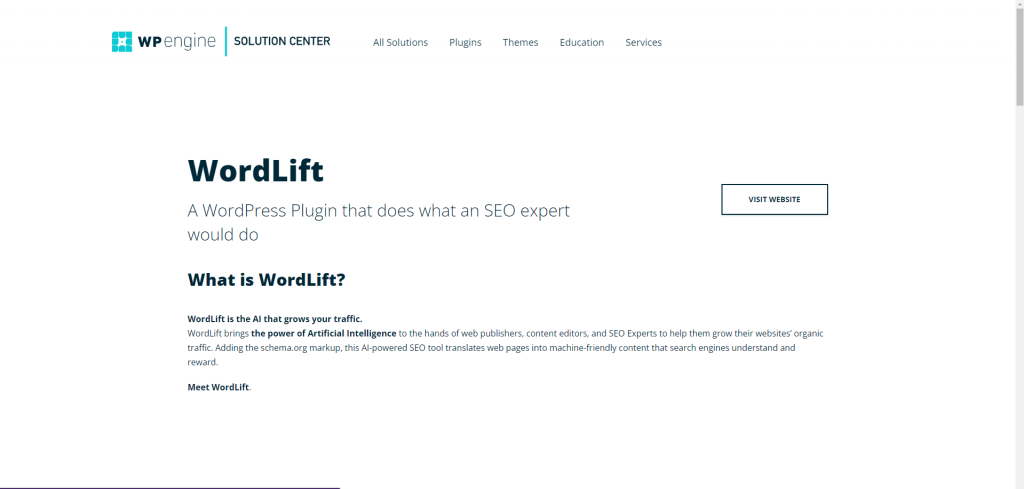 If you don't need a content-generating option and are looking for a solution to improve your existing content. You can try the WordLift plugin. This WordPress plugin actually works as an SEO assistant.
As mentioned, once you install the WordPress plugin, you can start analyzing all your content. For instance, you can find out which content requires schema data. Whether it requires a question schema or a blog schema, WordLift will find it for you. The structured data makes it easy to improve search visibility.
WordLift also smartly suggests internal linking so that all content gets enough priority to get better visibility on the search engine.
You will miss the content generation and content score with this tool.
Advantages
Suggests to improve structured data
Automates the internal linking process
Provides free trial to try out the tool
Improves overall infrastructure of the website
Disadvantages
Doesn't have any content creation feature
The content scoring system isn't available
Key features
Calculate the link juice for internal linking
Suggest multiple internal linking options based on the keyword
Tracks the links to count the number of clicks on that particular link
It's a Gutenberg-ready plugin for internal linking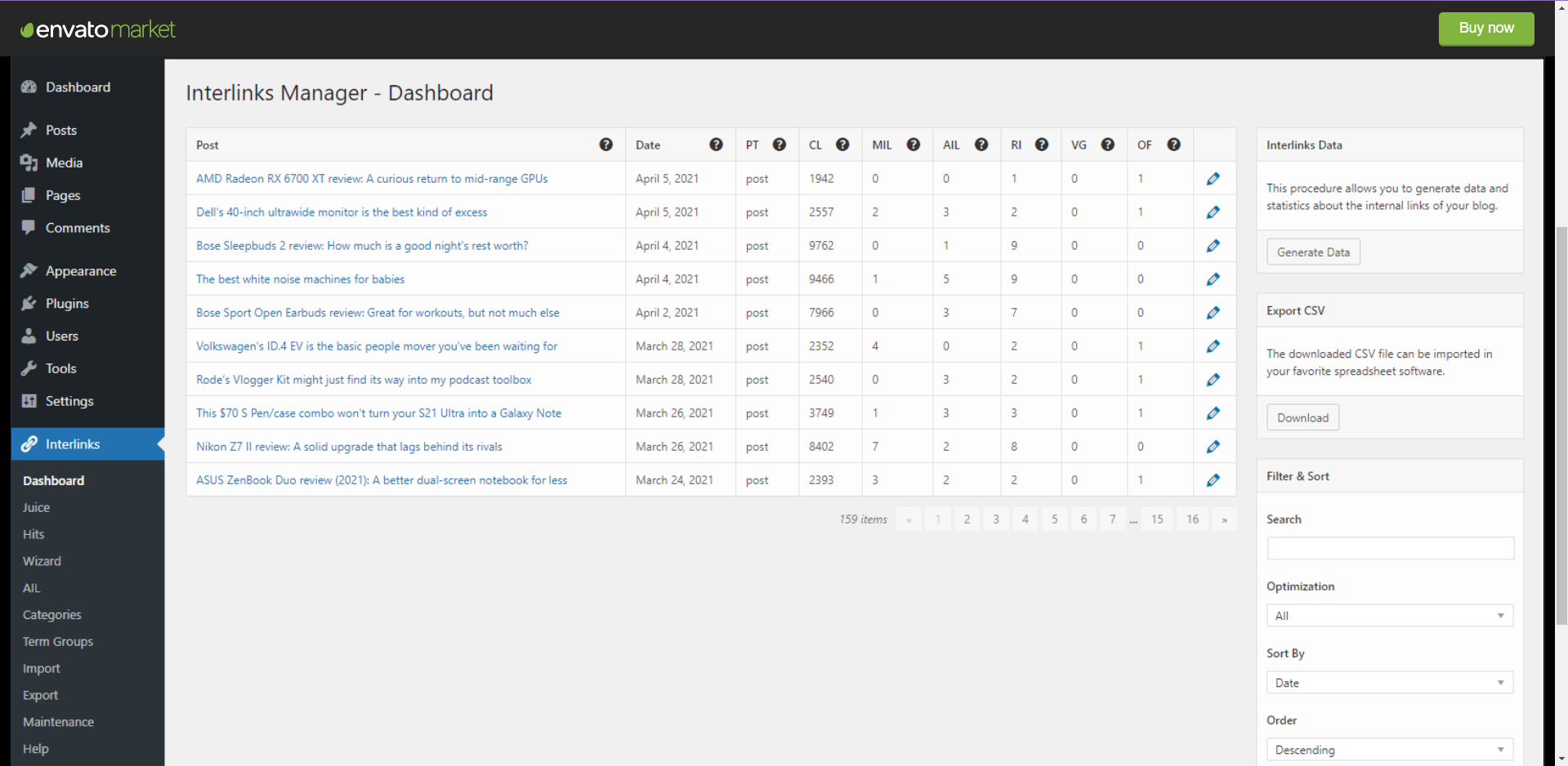 We all know that getting links for content helps to boost the ranking. But is it all about getting backlinks from other websites? Not really! Even if your content gets links from other website content, it will help get better visibility on the search result.
If you want to perform internal linking with less effort, you can try the Internlinks Manager. Once you install this plugin, you can generate a detailed report for your website where it will suggest improvements for internal linking.
Unlike most of the available tools, it calculates the link juice distribution and tells the users what to do. Even it tracks the internal links for a better result.
The most exciting thing is, if you enable the auto internal linking, this tool will start creating links itself.
Advantages
Clean and easy-to-understand interface
Allows for CSV data export
Multilanguage ready for users' convenience
Link tracker for continuous updates
Disadvantages
Suggests only internal linking
No particular suggestions to improve the content
Which SEO plugin is best for WordPress?
Here you got the list of best AI SEO WordPress plugins with a variety of features. Now you might be wondering which one you should choose!
First of all, there are only a few AI-based SEO tools out there. Among them, RankMath has been in the market for a long time. Also, it is providing amazing results regarding on-page optimization. But there are certain limitations of this tool. For instance, it can only suggest how to improve the content for selected keywords.
But if you're looking for an all-in-one solution, the GetGenie AI tool is the best option for you. It doesn't require integrating any third-party tools. You can simply install the plugin inside the WordPress dashboard, do keyword research, build the perfect content outline, and finally expand the outlines with a single click.
So, there is no need to use multiple tools for content generation. Everything is automated here to dominate the SERPs (Search Engine Result Pages).
The best part is, you can see an analysis of your content and improve the content quality based on the tool's suggestions. I would say it is the most complete AI SEO WordPress plugin.
How can you benefit from WordPress SEO plugins?
If you are going to use AI SEO plugins for WordPress for the first time, it might feel a bit complex. But remember that AI-powered SEO results will speed up your work progress. The things that you can do manually — AI-powered tools can generate within seconds. So, you can focus more on the results and better ROI.
How? You can do keyword research, analyze competitors' data, build a content outline, find content gaps, and more. Everything you can do just with the help of an AI tool. Though there could still be some errors, it saves a huge time for content marketing.
AI tools also come as a complete package so that users can perform keyword research, generate content, optimize existing content, and more. All these things are on an affordable budget. You can hope to cut the marketing budget.
Some frequently asked questions
After going through the plugins, still you might have some queries. To get additional information, check out the following questions and answers.
Should I use an SEO plugin in WordPress?
Yes, you should use at least one SEO plugin for WordPress. The right selection of SEO plugins will ensure better ROI from your content marketing. Also, you can save more time and get an extra hour for checking the content quality.
How do AI SEO plugins work?
If you have ever worked on an SEO project, you know that certain factors impact the SEO results for content. An AI tool does everything from scratch without much human effort. It generates reports, suggests improvements, and finally gives a content score to pre-assume the result.
Should I follow all suggestions from WordPress SEO tools?
Not really! Unless you are using a tool that guarantees error-free suggestions. As AI tools use different methodologies for research, sometimes there could be errors. Make sure you are checking the suggestions carefully.
Do I need prior experience to use an SEO WordPress plugin?
Prior experience will help you for a better understanding of tools. Though it doesn't need advanced knowledge, still you should have a clear concept regarding SEO standards.
Is there any WordPress SEO report plugin?
Yes, you can use SEO report plugins such as RankMath and Yoast to generate a report.
Wrapping up
You finally got the list of the best AI SEO WordPress plugins. It is time to get the most out of these plugins. You can't go for each. You should choose the tool that actually meets your requirements. If you want to get tons of features in the same WordPress plugin, GetGenie is the ideal solution.