Content Repurposing Ai: The Future of Content Marketing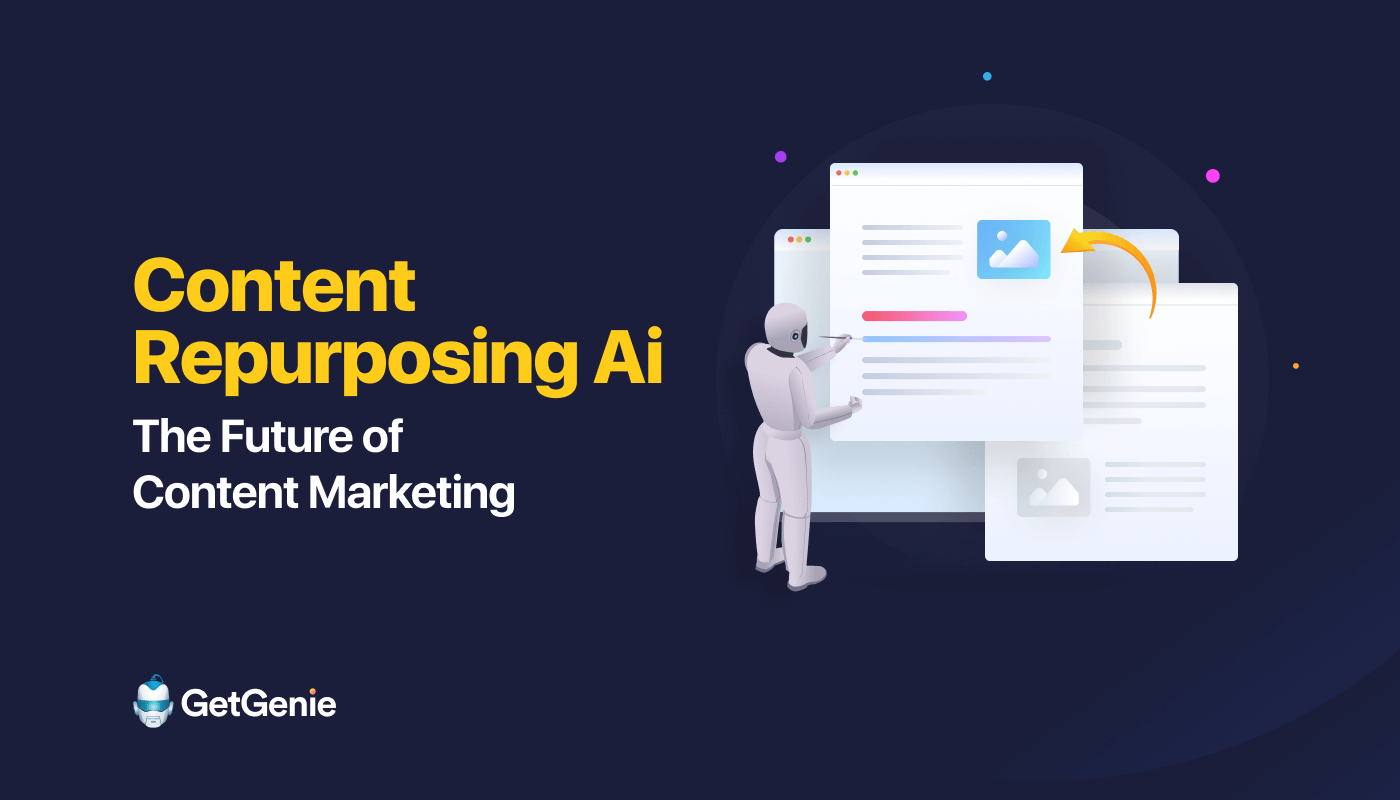 Ever heard about content reusing utilizing Ai to extend the lifespan of your writeups?
Content repurposing Ai, undoubtedly, stands at the spearhead of content marketing. Its ability to efficiently and intelligently transform existing content into multiple formats can provide a revolutionary impact on content promotion. Besides, it accelerates content visibility as well as scalability.
Thus, content reusing should be the topmost focus of writers or marketers all around the globe. And, here we're going to unveil the method of content repurposing using Ai. So, let's dive into the transformative power of content reusing.
What is content repurposing?
Content repurposing means transforming existing content into different formats to boost its reach and longevity. It's the most adopted content strategy that makes your content last longer for better results.
Some examples of content repurposing are generating podcasts from blog posts, converting blogs into videos, transferring blogs into social copies, etc.
Why is content repurposing crucial for marketing?
Repurposing content revolutionizes content marketing by offering endless benefits. Here are the major reasons why content reusing is important to proliferate content engagement:
Boost engagement and longevity: Repurposing content allows you to escalate the lifespan of your older content and promote them differently to a broader audience.
Unique learning materials: Since repurposing content means making content available in different formats such as videos, podcasts, guest posts, social copies, etc. you can promote your content in every possible way. This will ensure remarkable success in content marketing.
SEO benefits: Content repurposing is also good for Search Engines since your audience will find you on every platform, creating gargantuan impacts on SEO. This improves your website visibility and ranking.
Greater brand awareness: This repurposing strategy brings new opportunities for facile branding. For instance, repurposing content helps you to convert blog posts into podcasts, YouTube videos, Shorts, eBooks, etc. Therefore, you can do brand promotion in various ways.
Lead generation: It's also fruitful for lead collection. Repurposing allows you to collect leads by offering ebooks, podcasts, and various marketing materials.
How to repurpose content using Ai
Due to the positive outcome of content reusing, people rapidly started to utilize this technique in their content marketing. Although, manual content repurposing is a tedious job to do. That's where Ai comes in handy. It not only gives you various content repurposing ideas but also gets your job done without a hitch.
Luckily, there are numerous content repurposing tools or software for it. Nevertheless, you can't blindly rely on all the available tools. Only a few are well grounded where GetGenie placed one of the top positions. This content repurposing tool generates content in multiple formats in a trice. Here are a few techniques of content repurposing Ai:
Method 1: Generate blog posts from podcasts.
The first method is generating blog posts from podcast topics. GetGenie has a dedicated template for it called "Blog Wizard". This Blog Wizard comes with all the features that are required to write a complete blog post such as:
Keyword research.
Competitor analysis.
Title, intro, and outline generation.
One-click blog & step-by-step content creation.
Want to explore more? Let's check out how to generate a blog post using GetGenie.Ai:
First, go to GetGenie >> Ai writing from the WordPress dashboard. Then, hit the Blog Wizard template.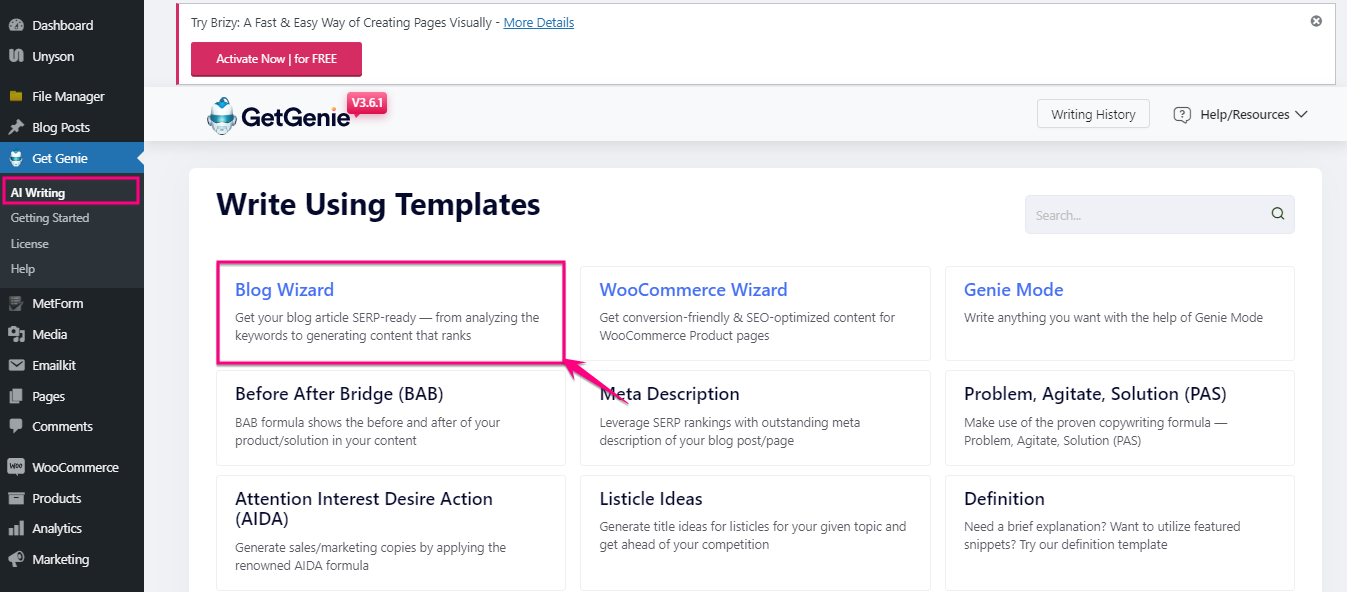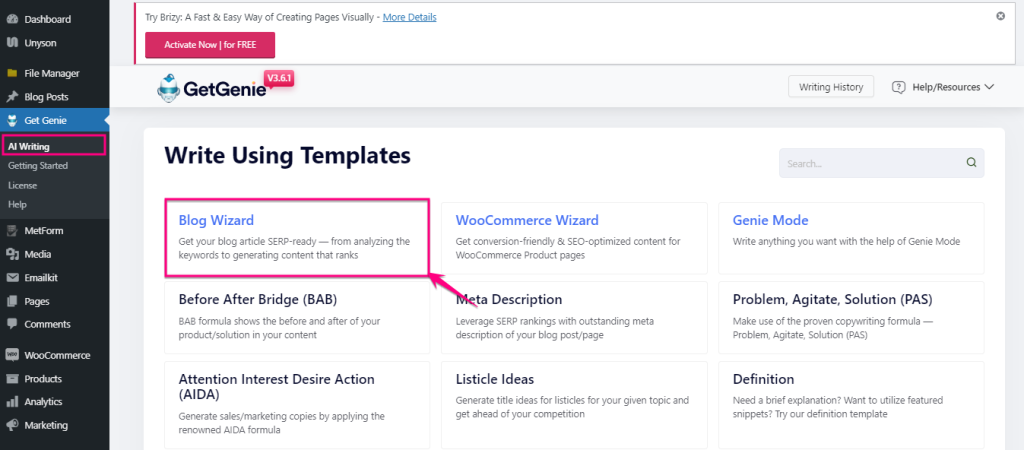 Now, enter a focus keyword of the podcast topic and enable SEO Mode. After that, hit the Analyze keyword button. This will list down all the necessary keywords for your topic.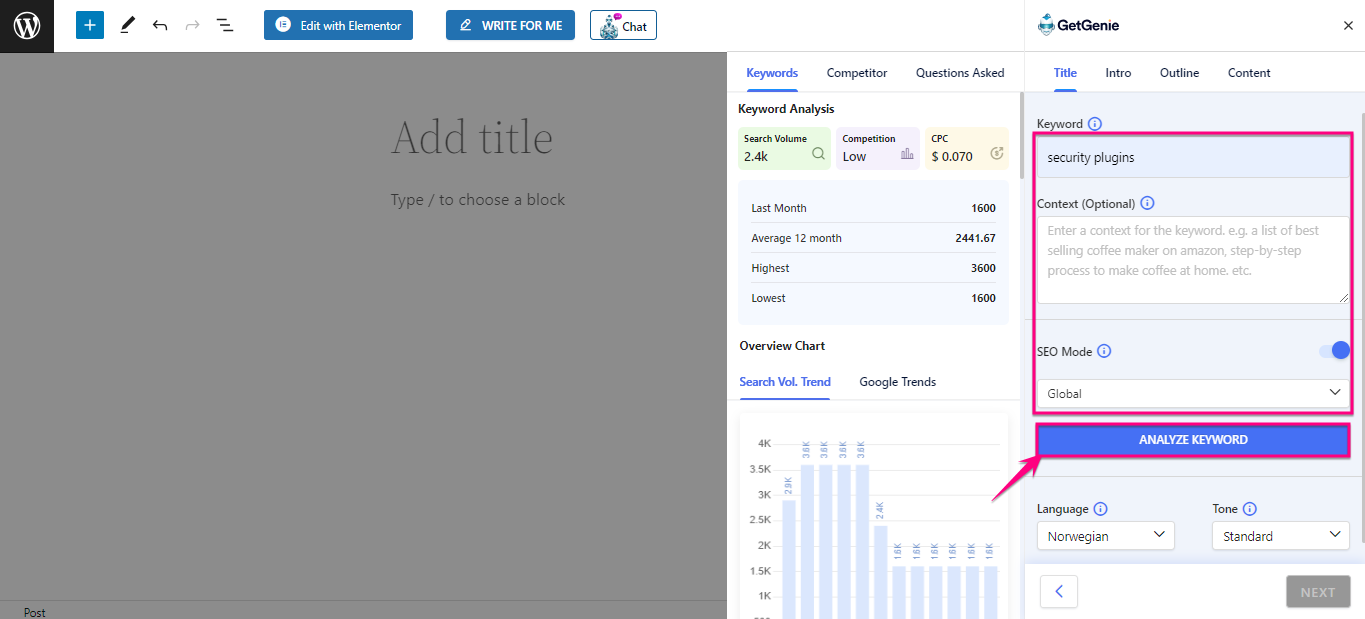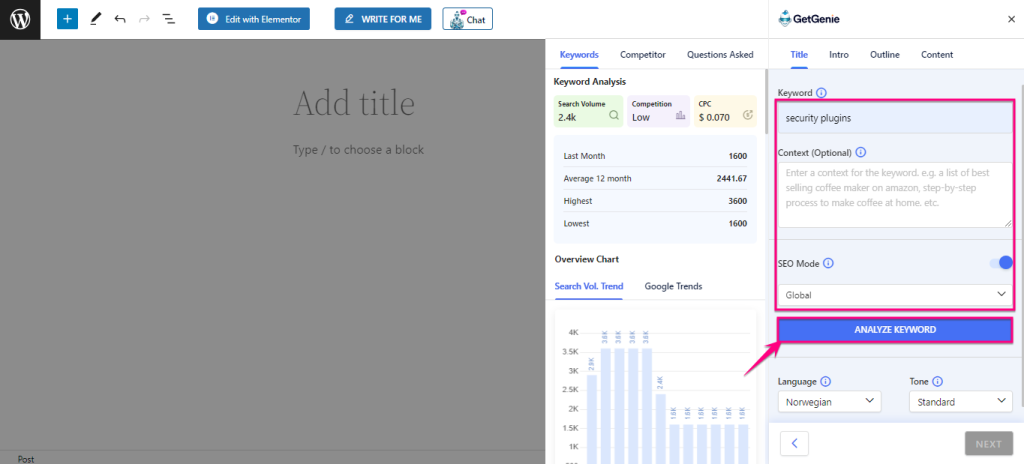 After that, go to the competitor tab and hit the fetch data.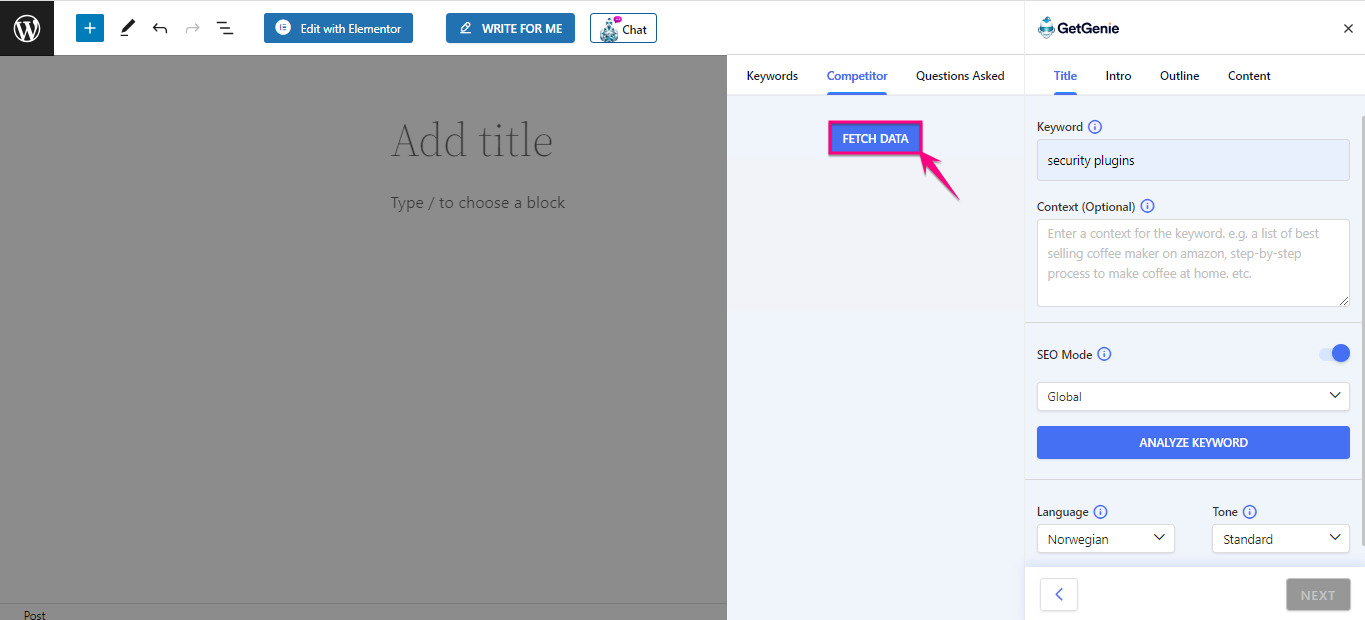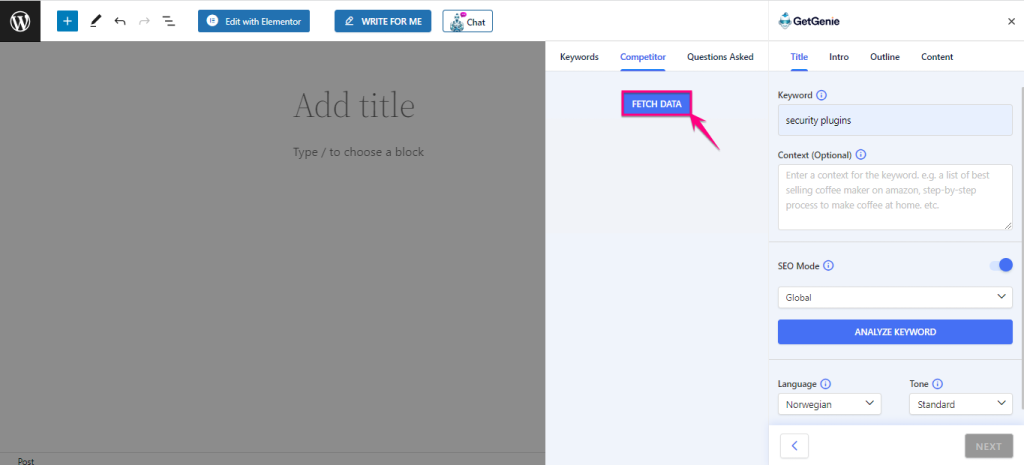 This will list all the competitors' ranked blogs along with their word, heading, and image count.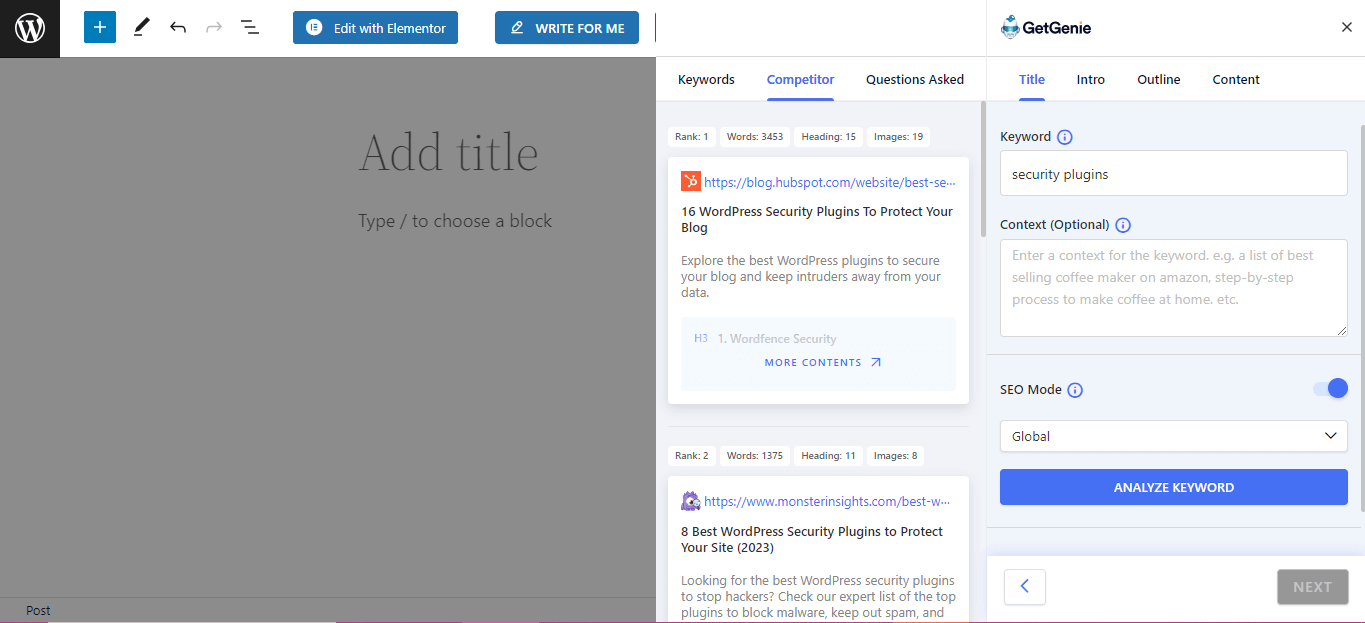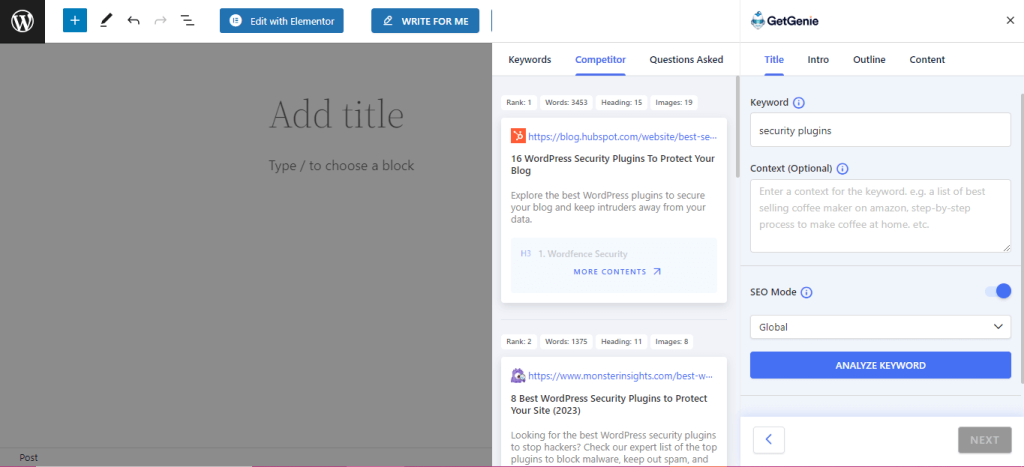 Then, set Language, Tone, Creativity, and Max Results, and hit the "Generate Title" button.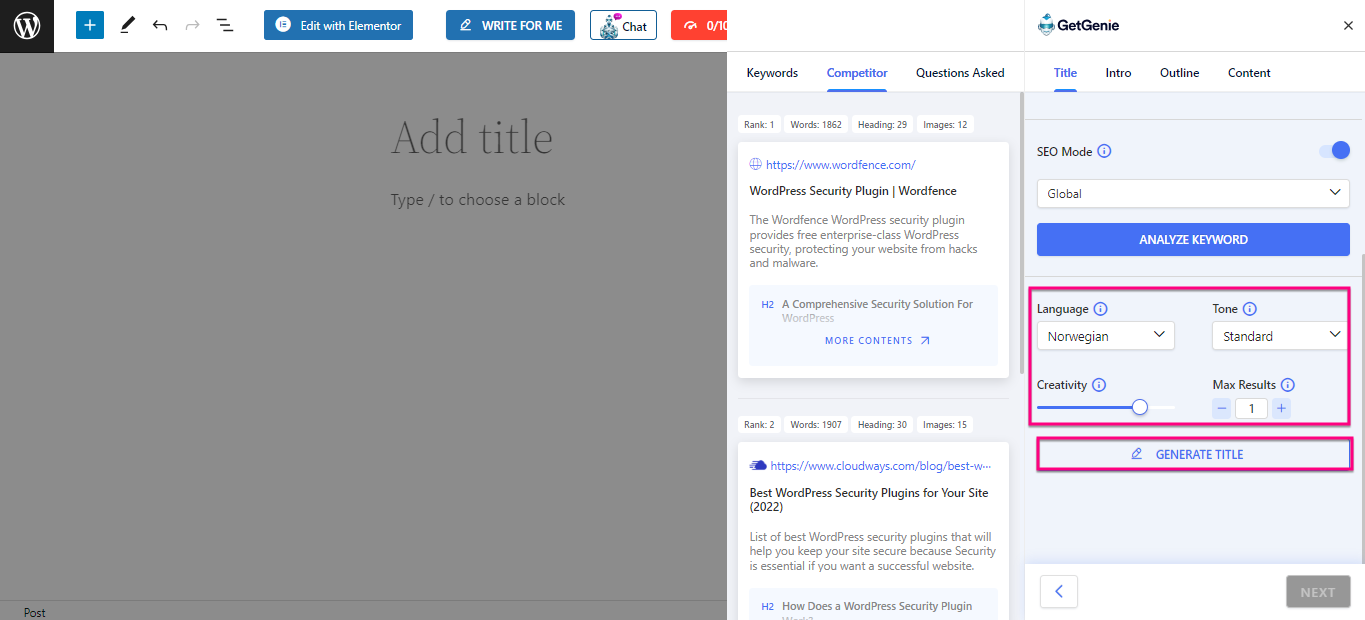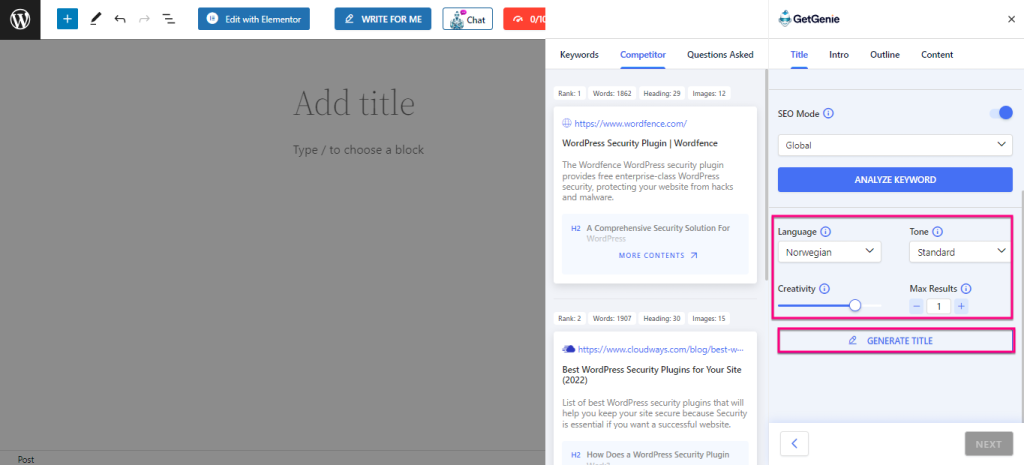 After commanding title generation, you will find results below the button. Now choose one and click the Next button.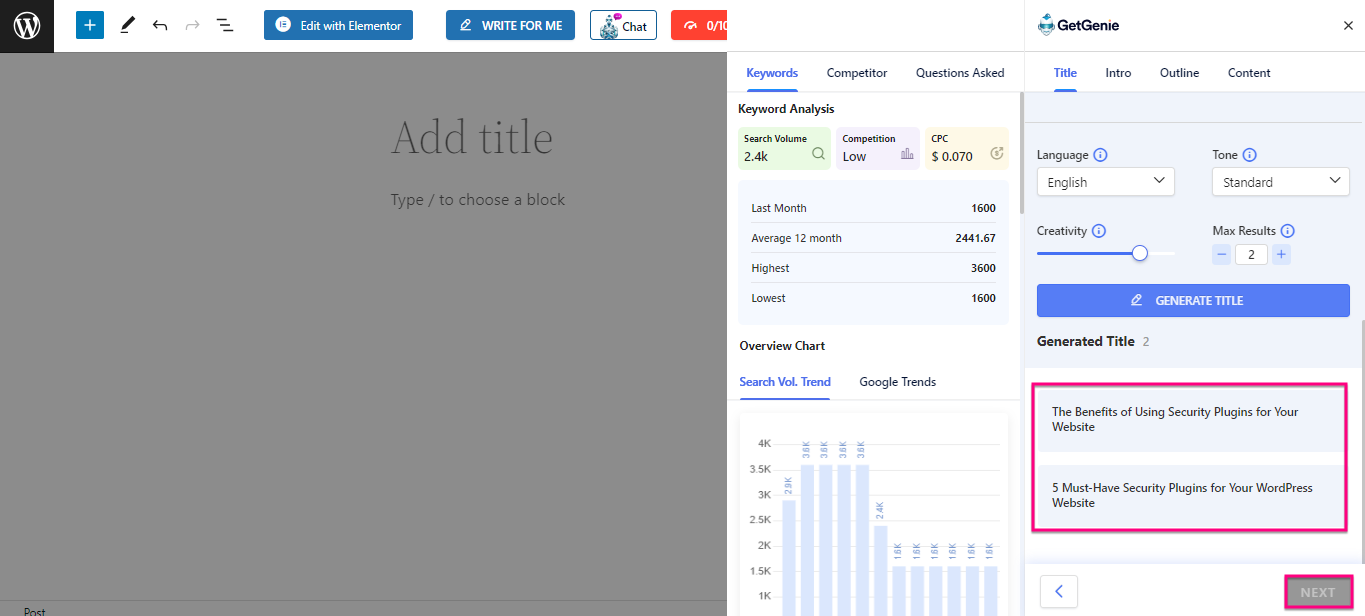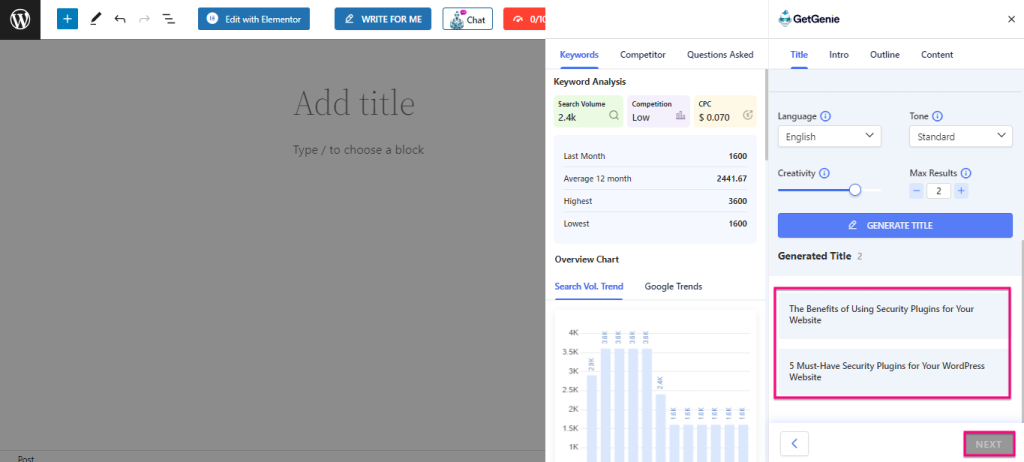 Similar to the title, generate the intro and click the Next button after selecting one.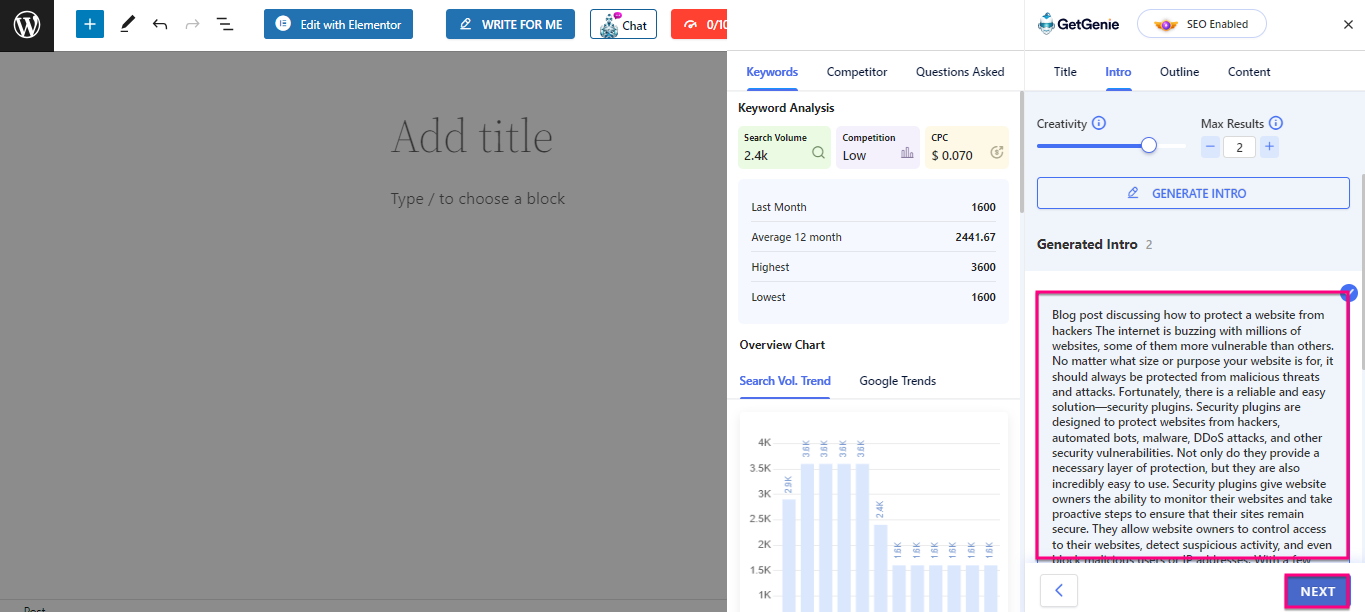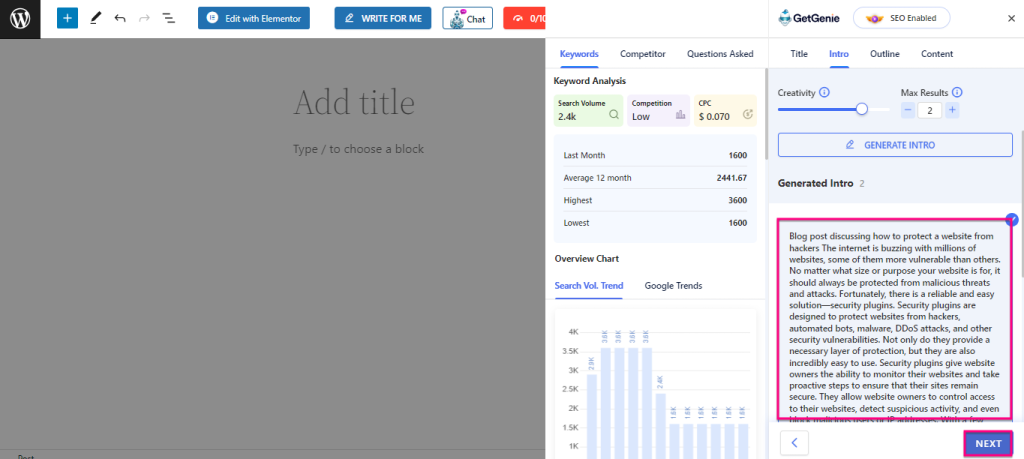 ow, generate outlines by pressing the button and selecting an appropriate outline. After adding an outline, click the next button.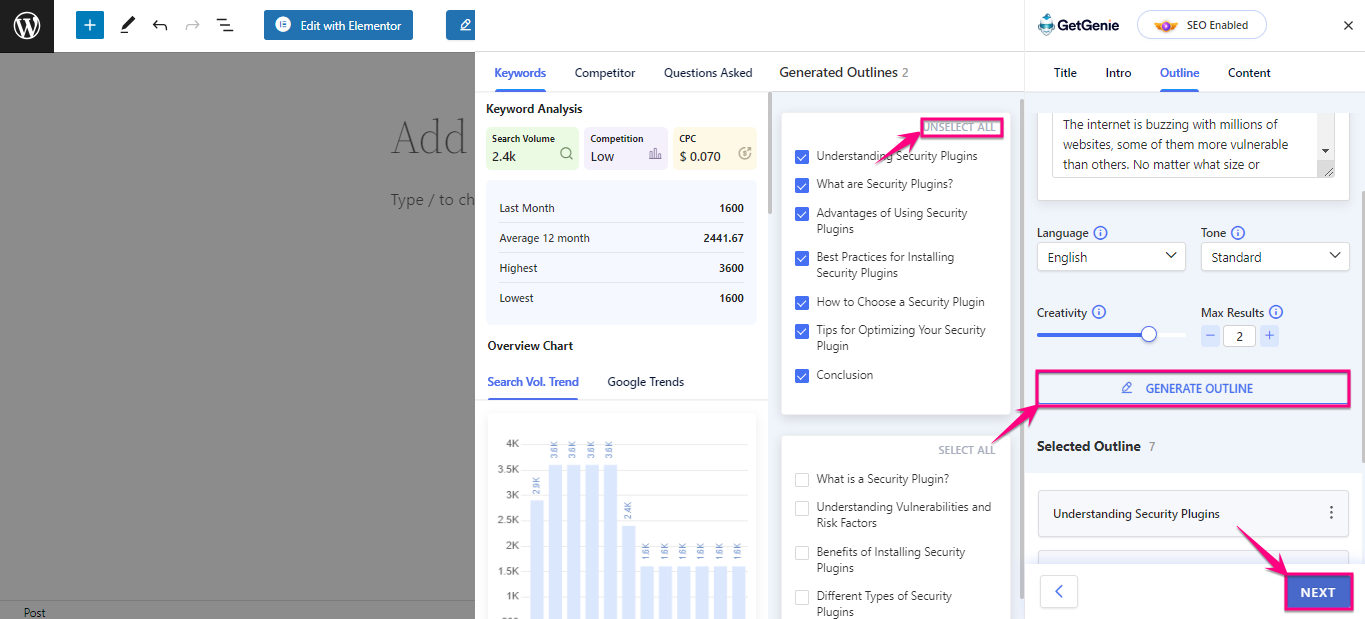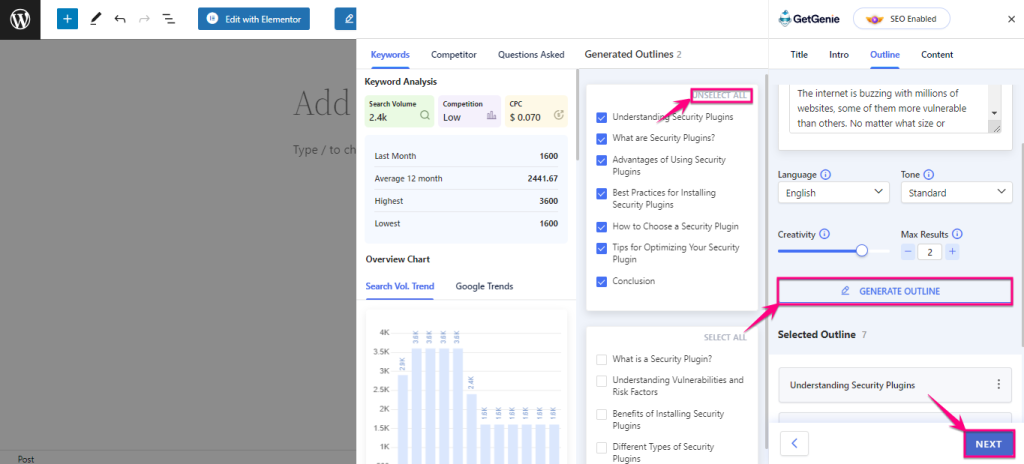 Here a tab will pop up for one-click and manual blog generation. To avoid a step-by-step process, press the One-click blog button next to it.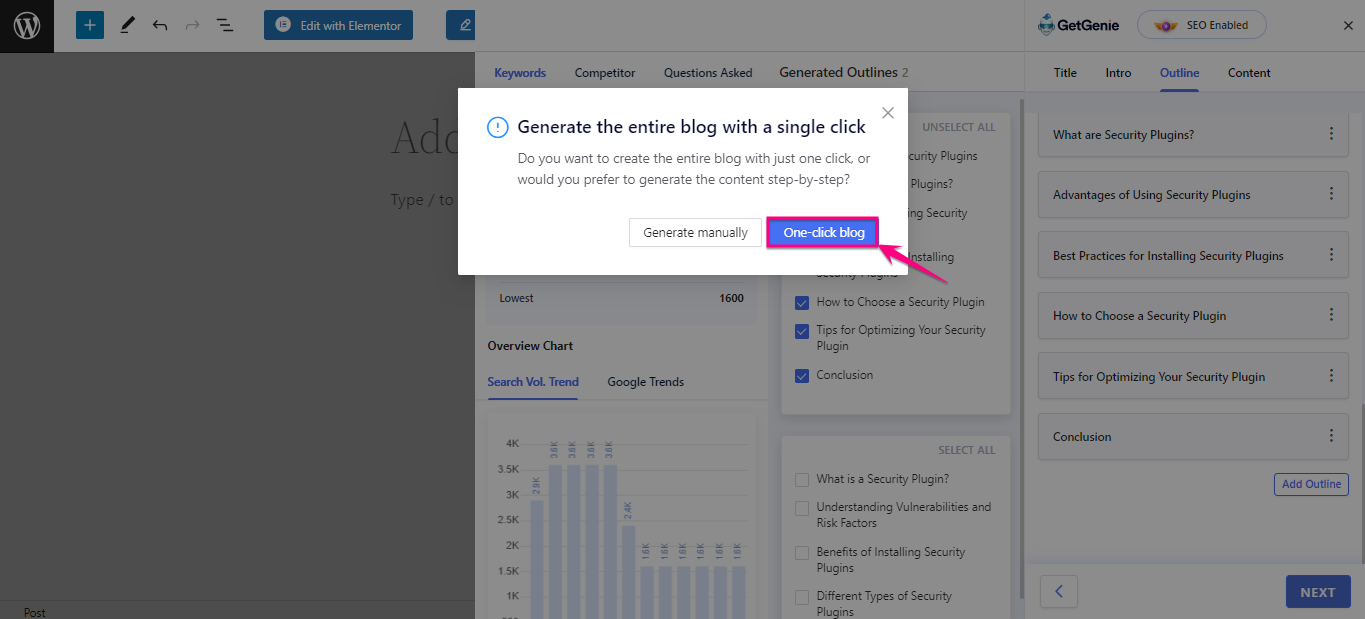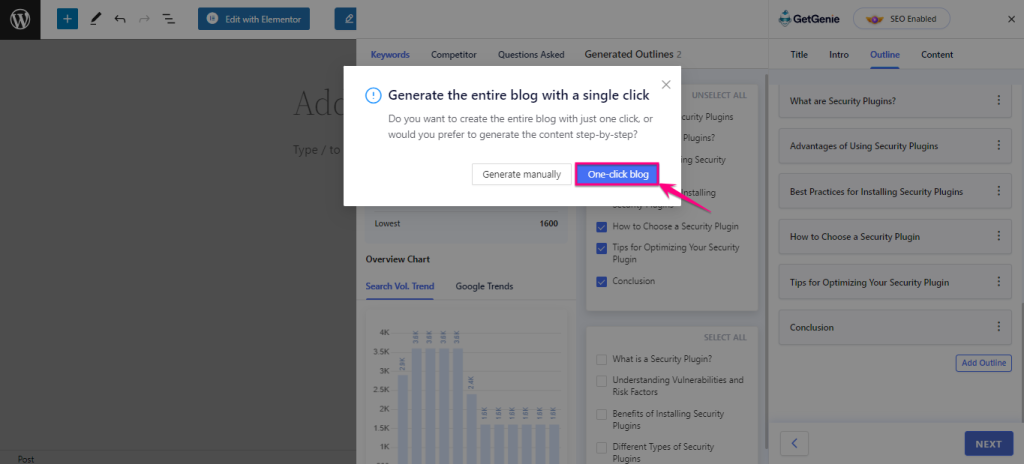 This will write up your complete blog post in the blink of an eye.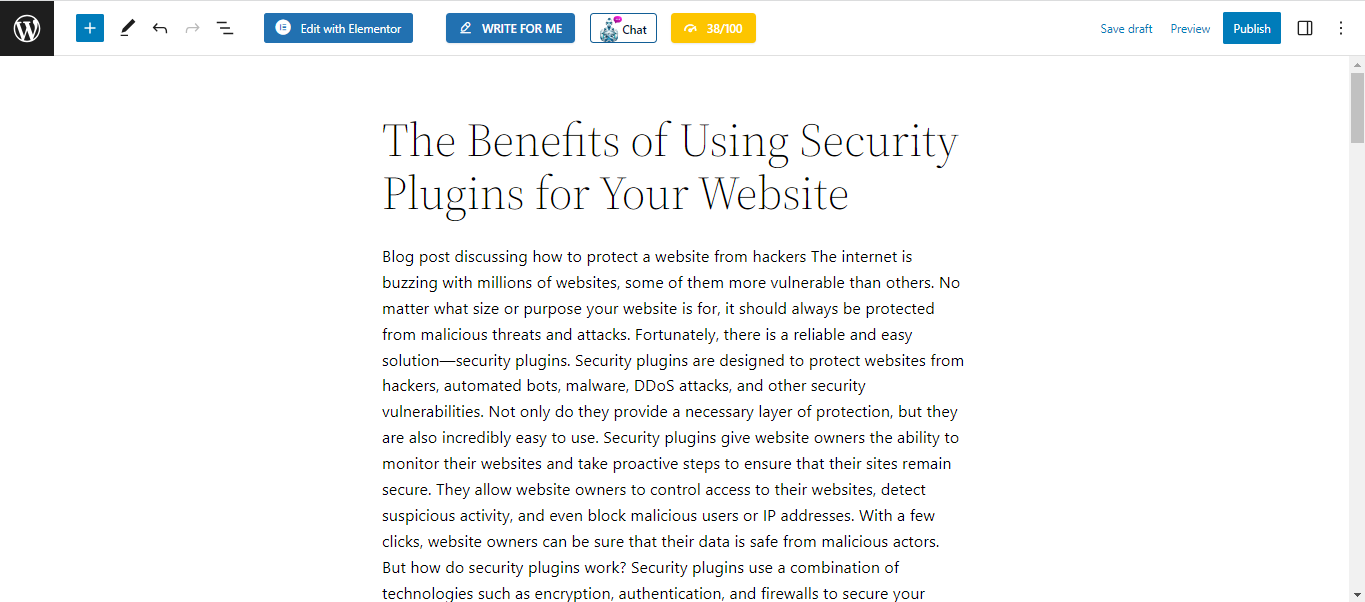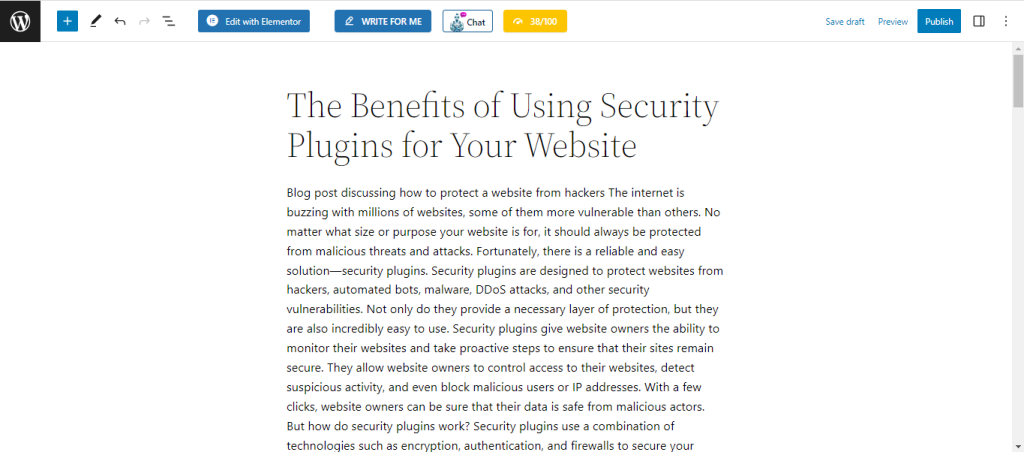 Method 2: Social media copies from testimonials.
Another method of content repurposing Ai is generating social copies from testimonials. It will lift the engagement of your audience and boost your content reach more than ever. Here is how you can generate social copy using GetGenie.ai:
First, you need to select the "Social Media Post/Copy" template from GetGenie's template list which you will find by visiting GetGenie >> Ai Writing.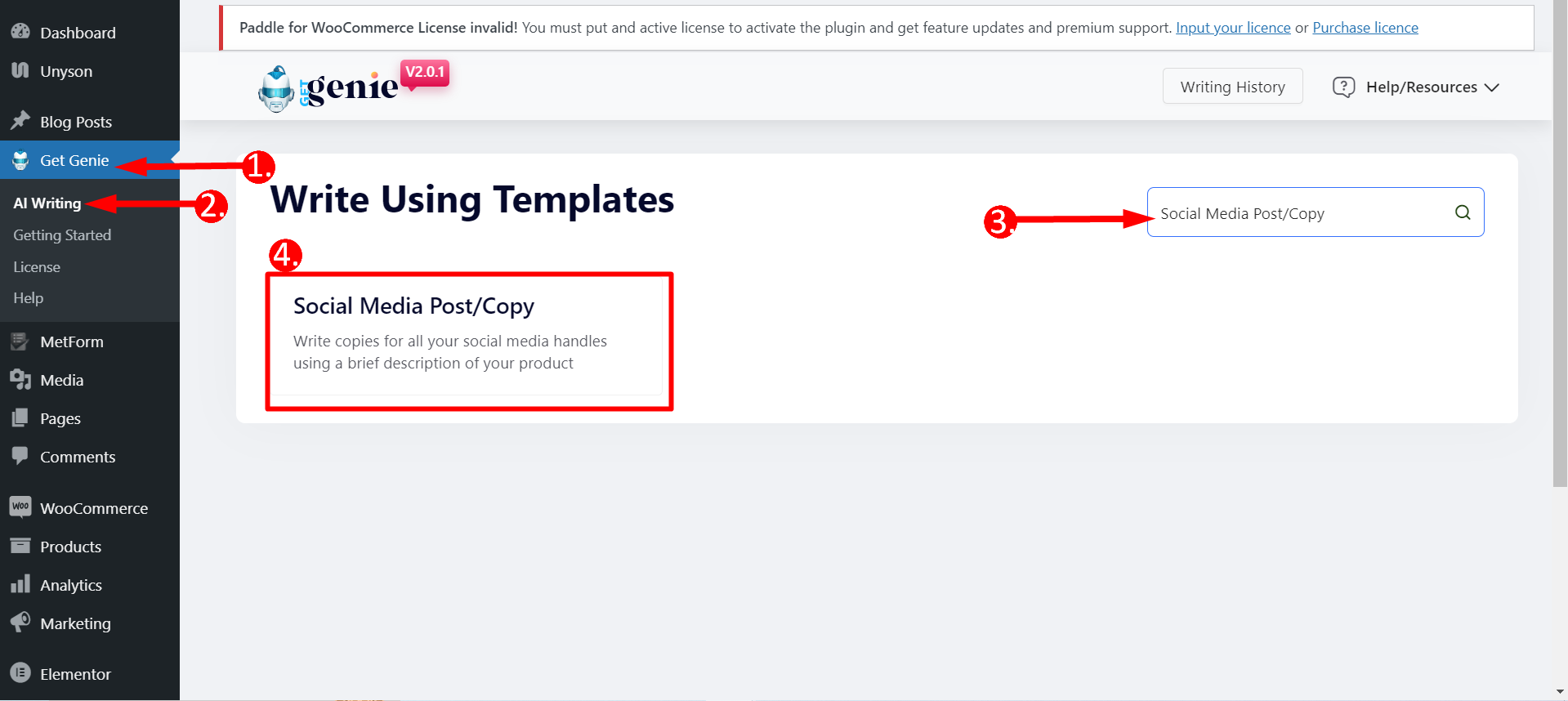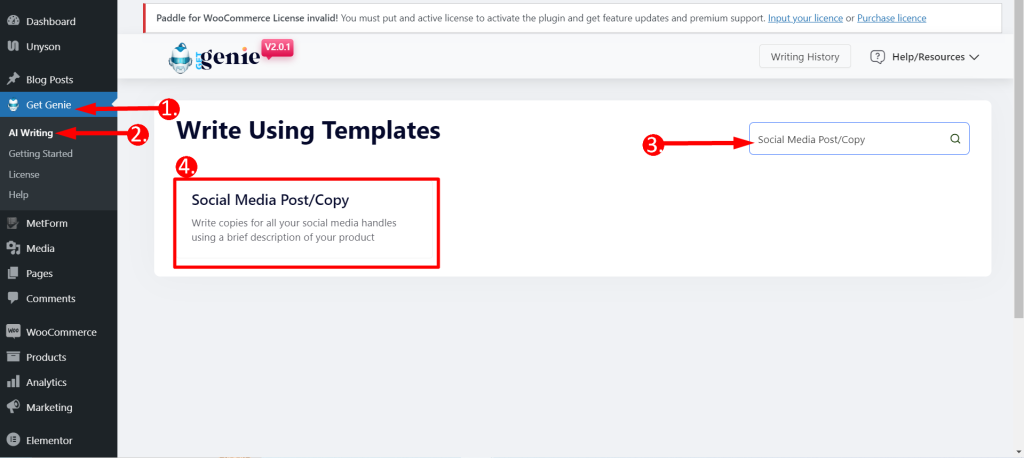 Now, enter the Product name and testimonial as a Product brief. Then, hit the Write button after selecting Language, Tone, Creativity, and Results.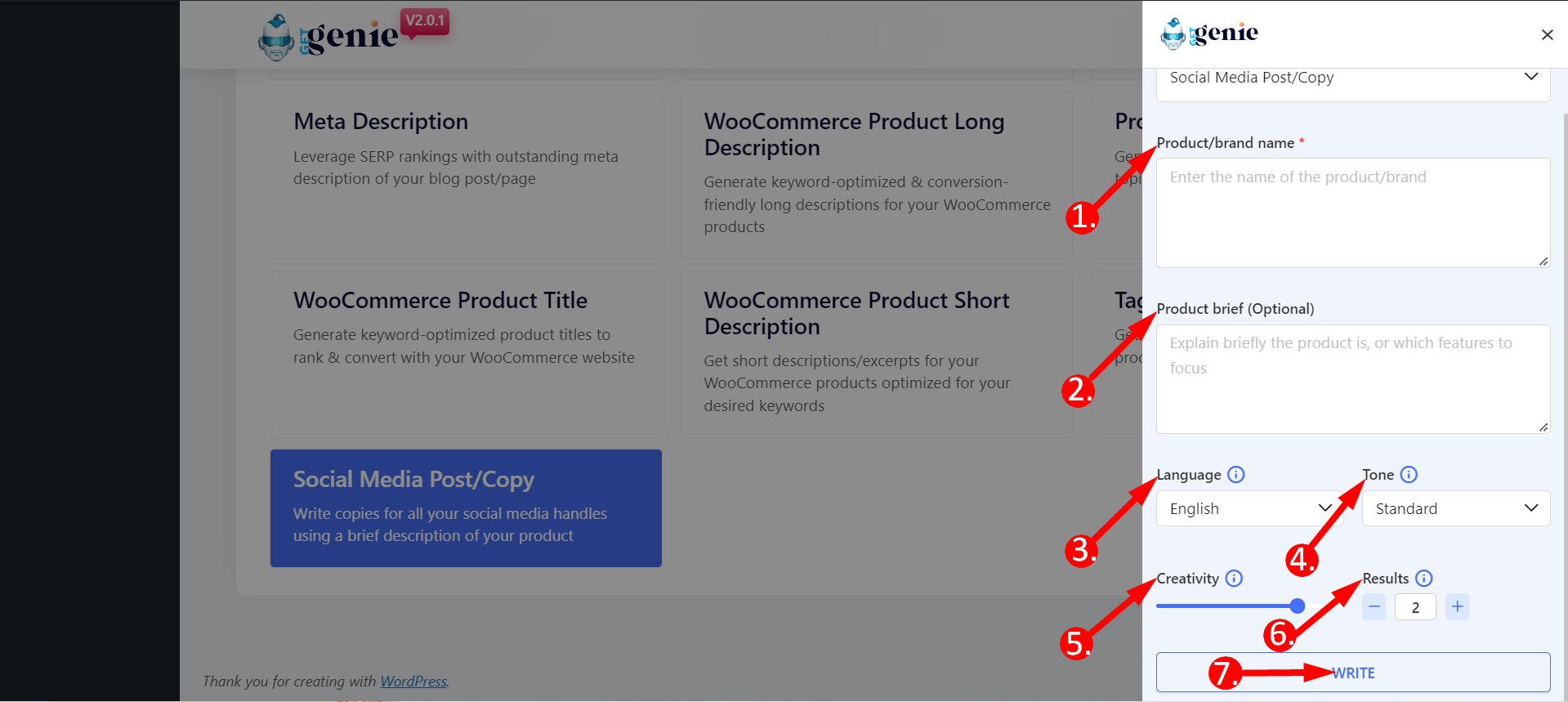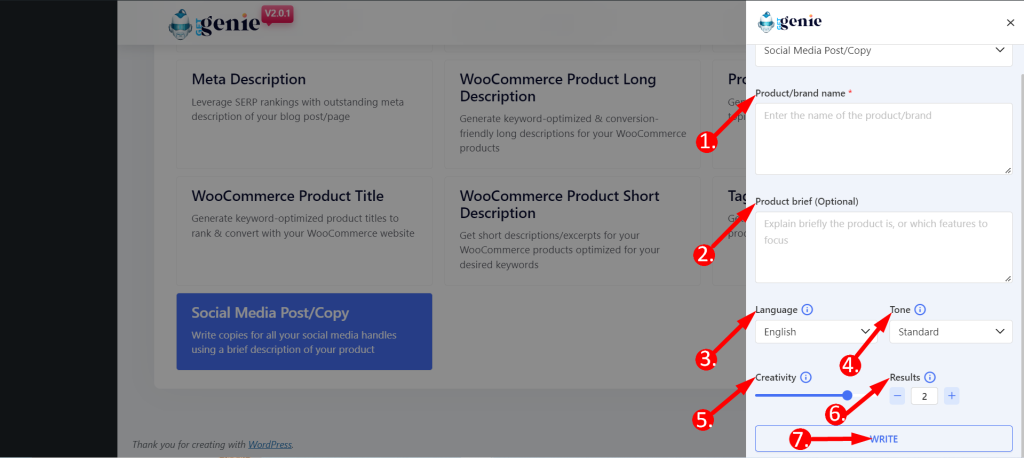 This will generate the same number of outputs you have chosen for the Results.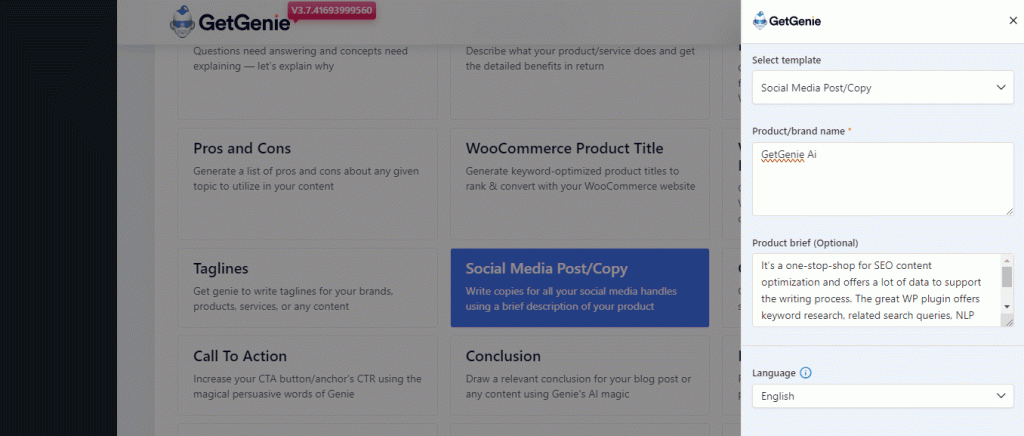 Now, hit the one you feel is suitable to copy to your keyboard.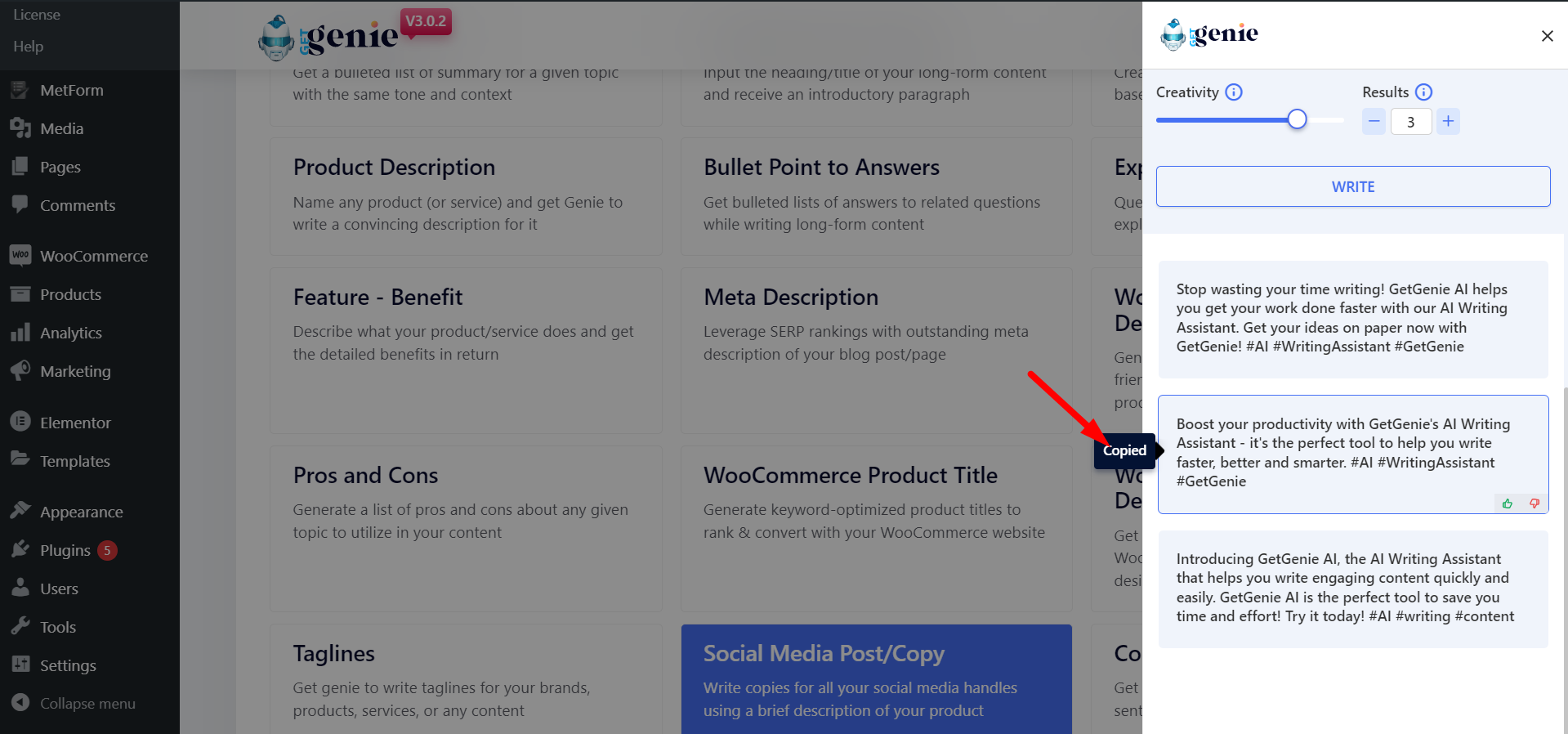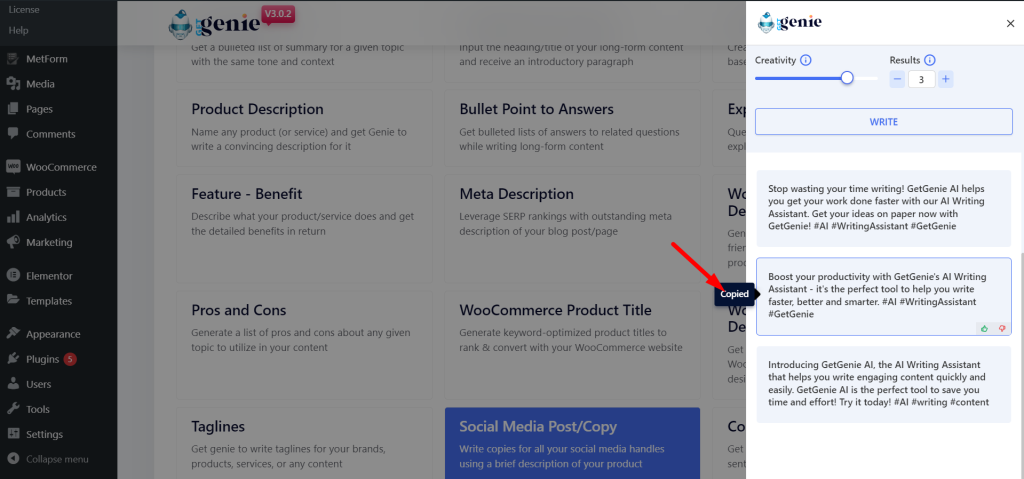 Method 3: Convert long-form content into short.
Content reusing is also possible by compressing your long-form content into short. Through this method, you can compress any lengthy content and reuse it for any product, service, or post.
To nimble this process, GetGenie has a dedicated template called "Paragraph Compression". Because this template allows you to compress a paragraph in no time at all. All you have to do is select "Paragraph Compression" from the GetGenie template library.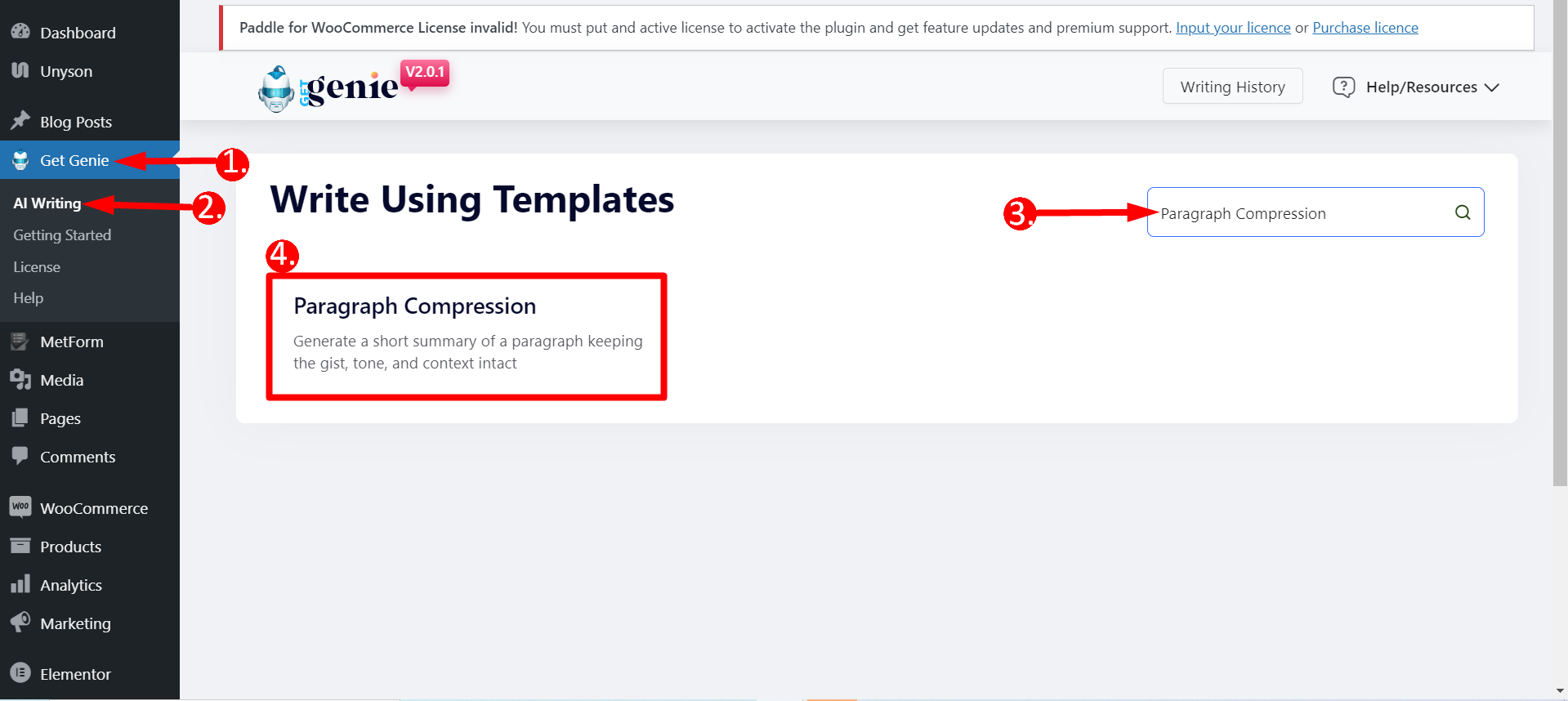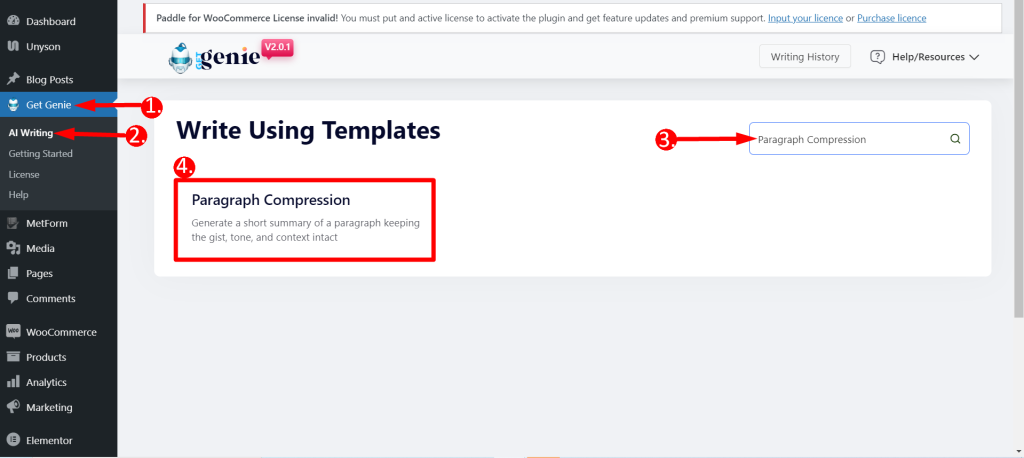 Then, enter the paragraph needs to compress and adjust Language, Tone, Creativity, and Results. After that, click the Write button.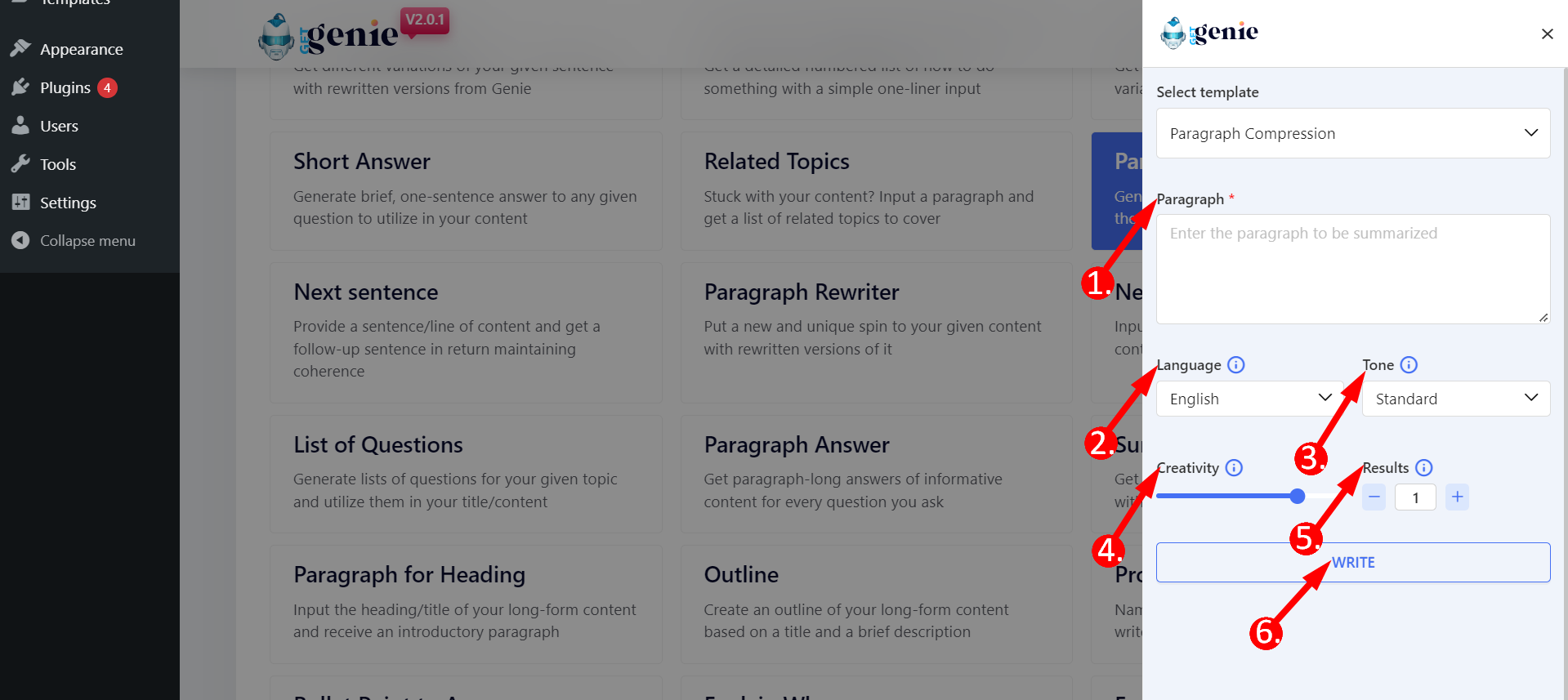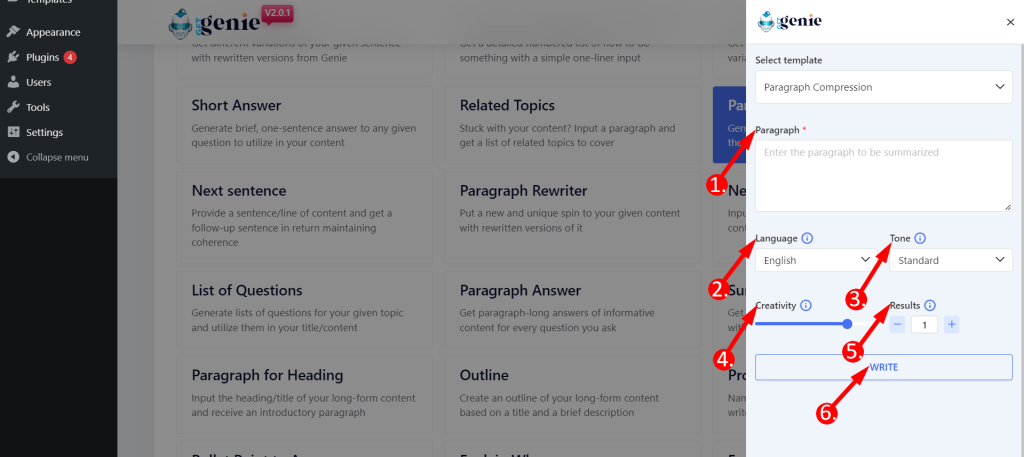 It will take a few moments to offer you the results that you're looking for. After paragraph compression, select the content that is right up your street by clicking on it.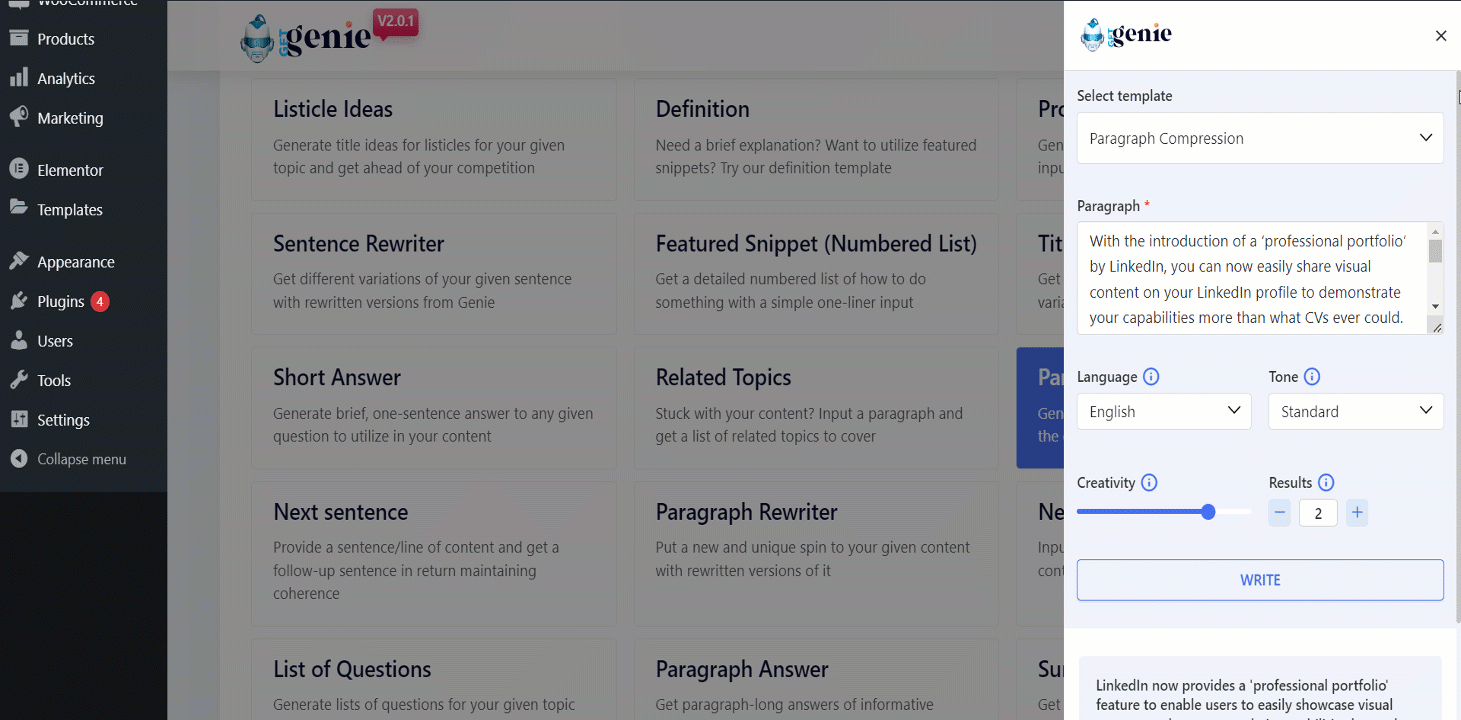 Method 4: Taglines from product description.
GetGenie, the content repurposing tool will also allow you to generate taglines from product descriptions which can be a winsome repurposing technique. Follow the similar process mentioned above to select the Taglines template.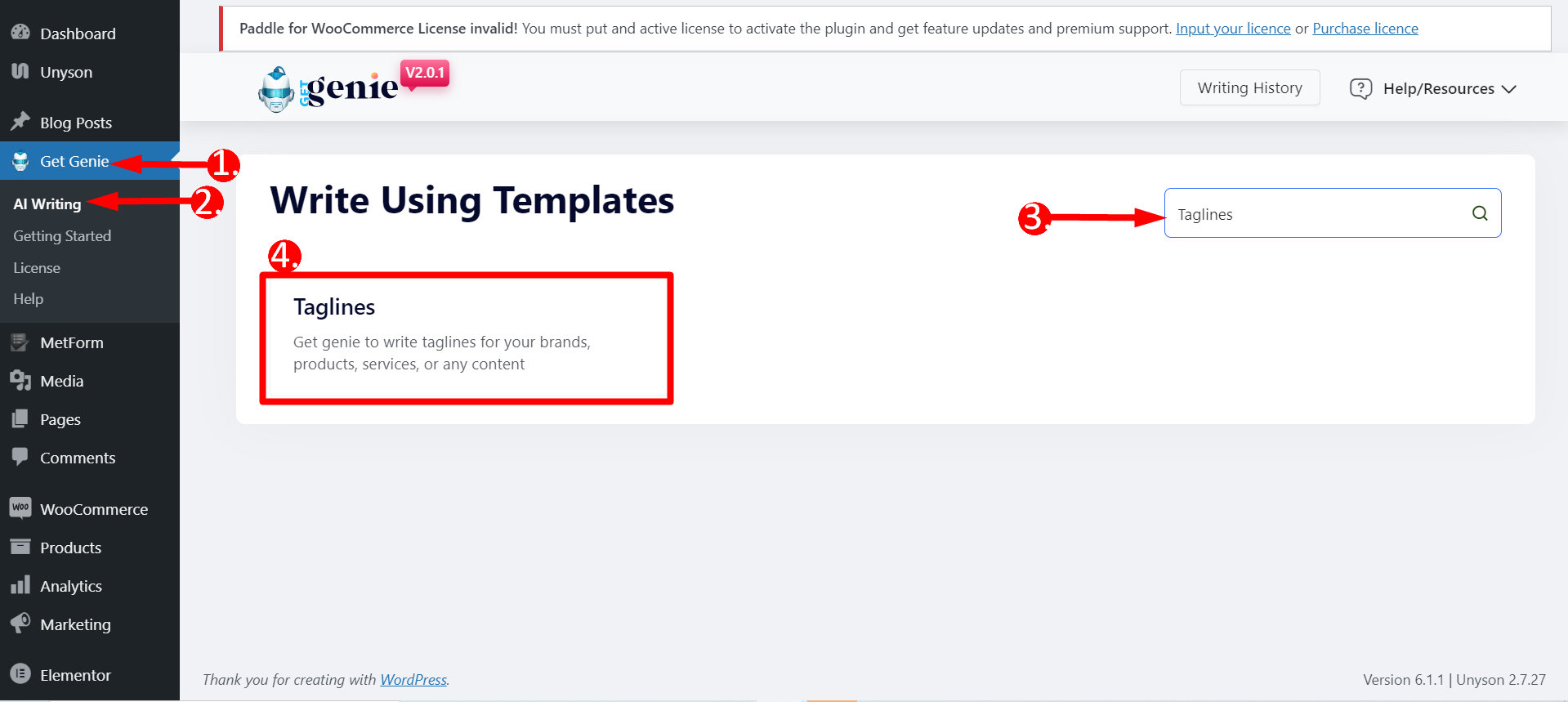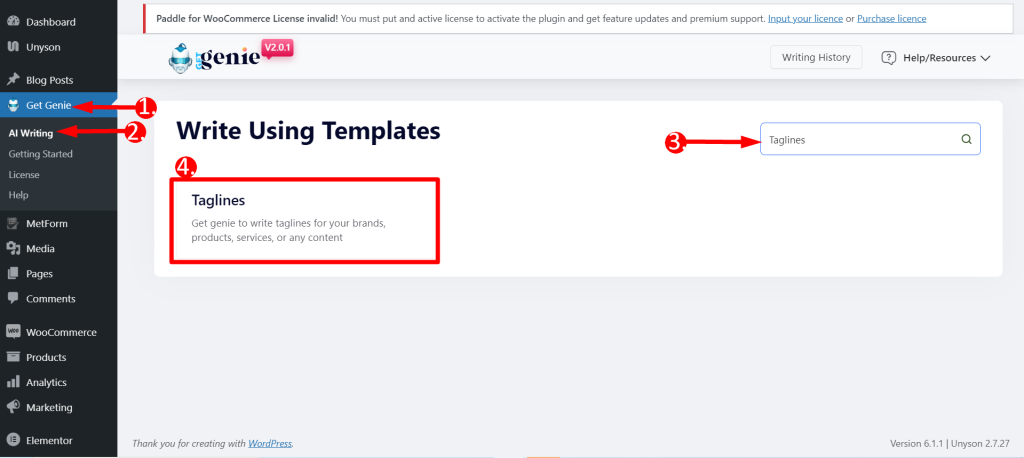 From here, you need to enter the Product Name and Product Brief. Then, adjust the Language, Tone, Creativity, and Results. Now, hit the "Write" button to get inputs from this template.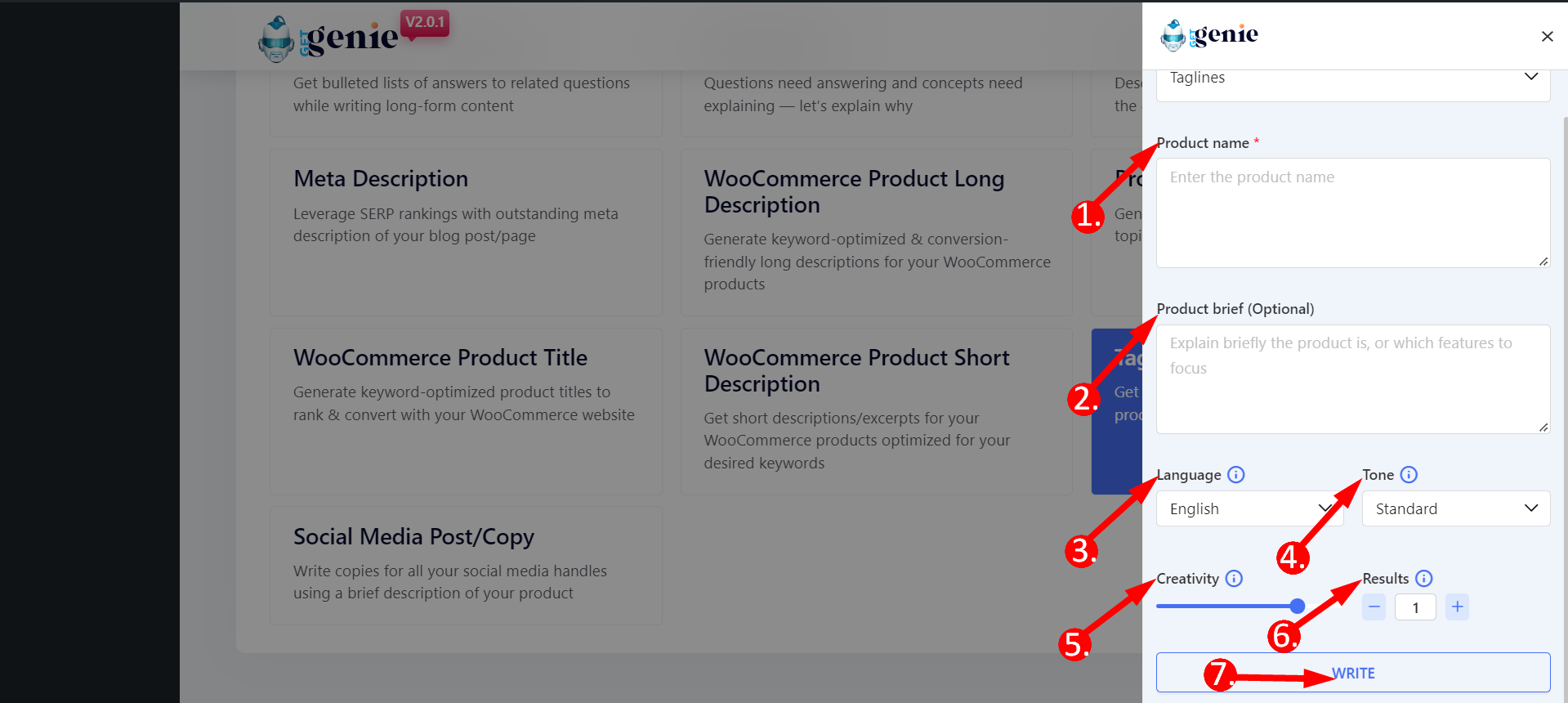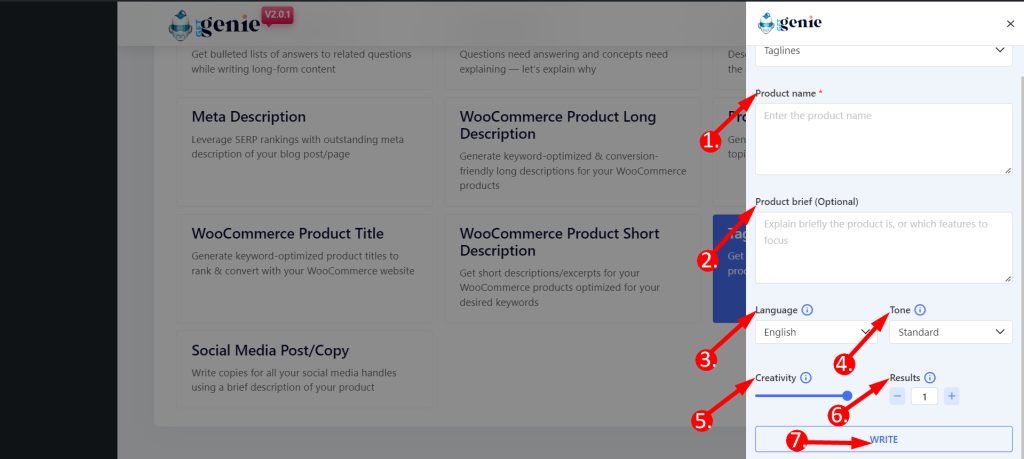 Here is the demo of generated taglines from this template.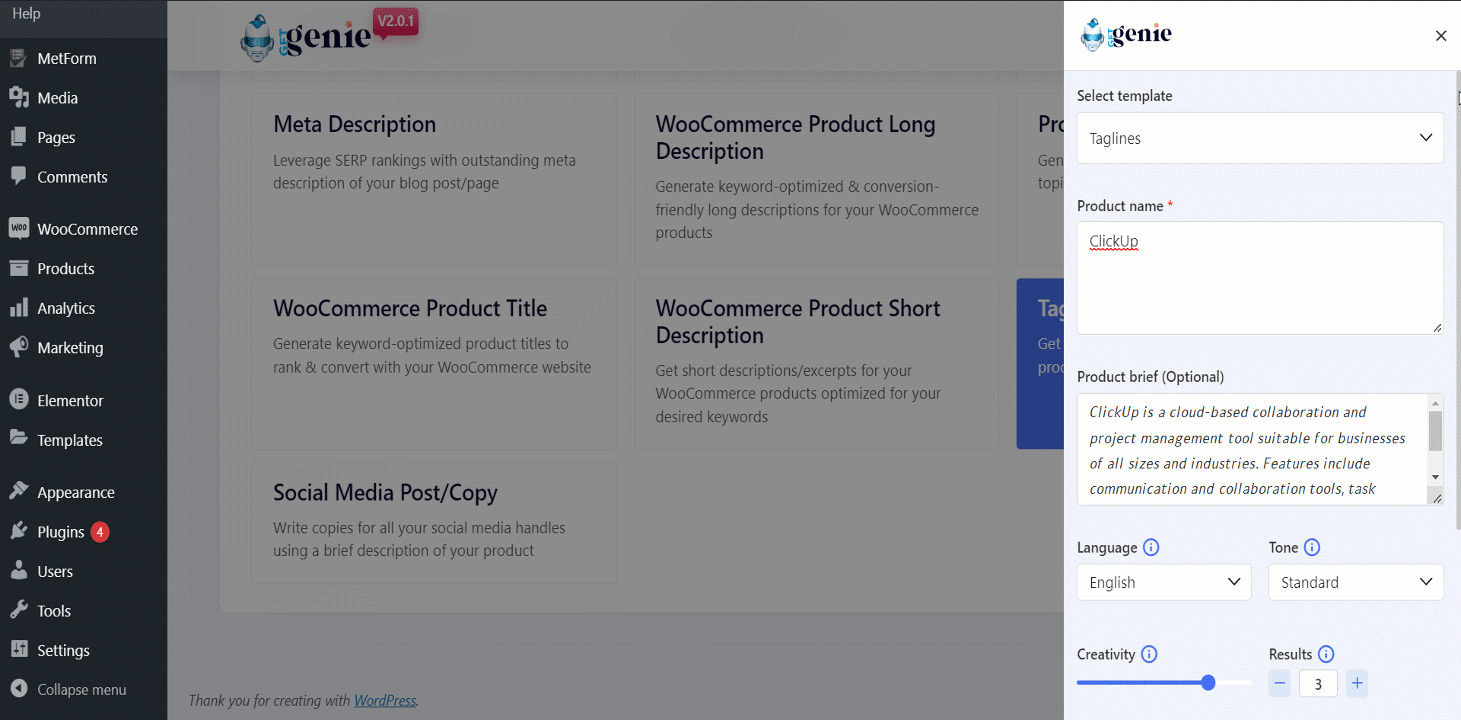 Method 5: Title ideas from topics.
The fifth method is generating title ideas from topics using GetGenie.ai. It's one of the potent content repurposing Ai techniques that revolutionizes title ideation. Here is the process of title ideation using GetGenie:
First, search and select Title Ideas from the template list which will open up a tab from the right side.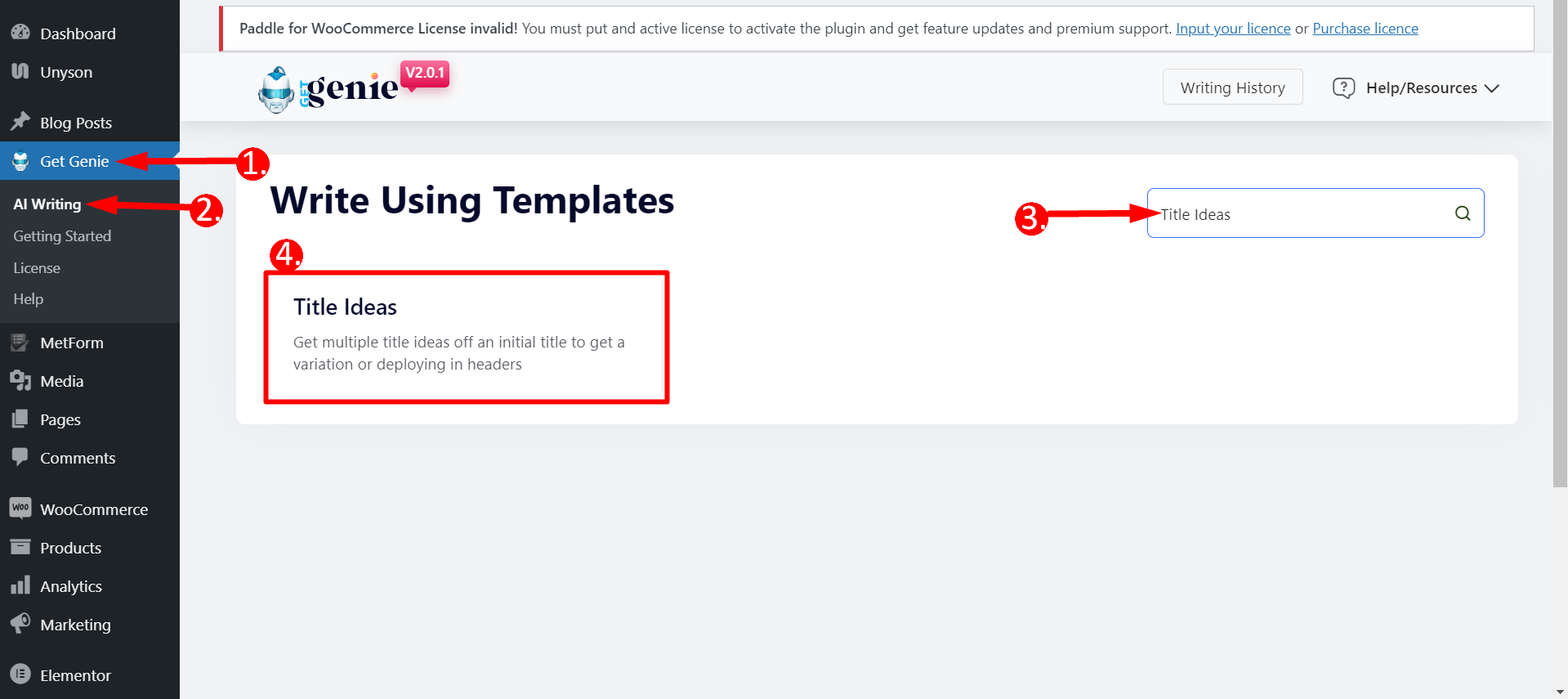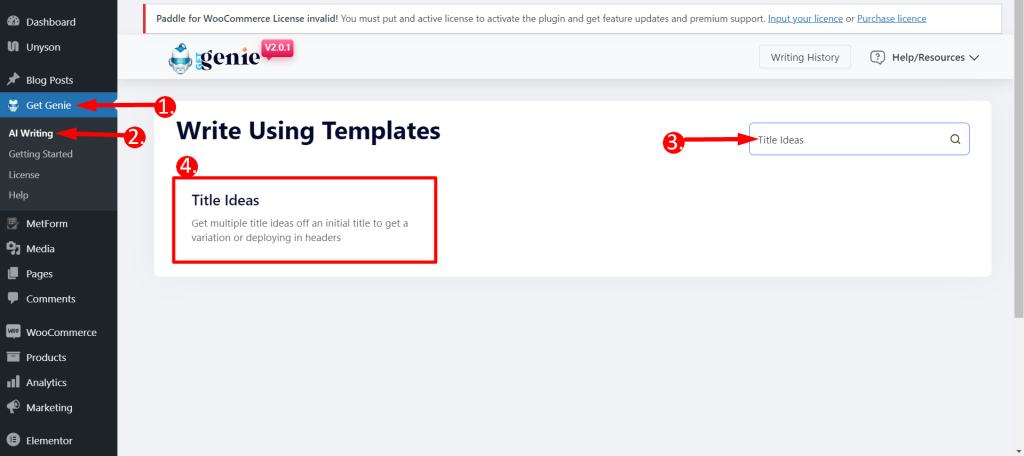 Now, Just like the other template, fill and adjust the input fields and hit the "Write" button.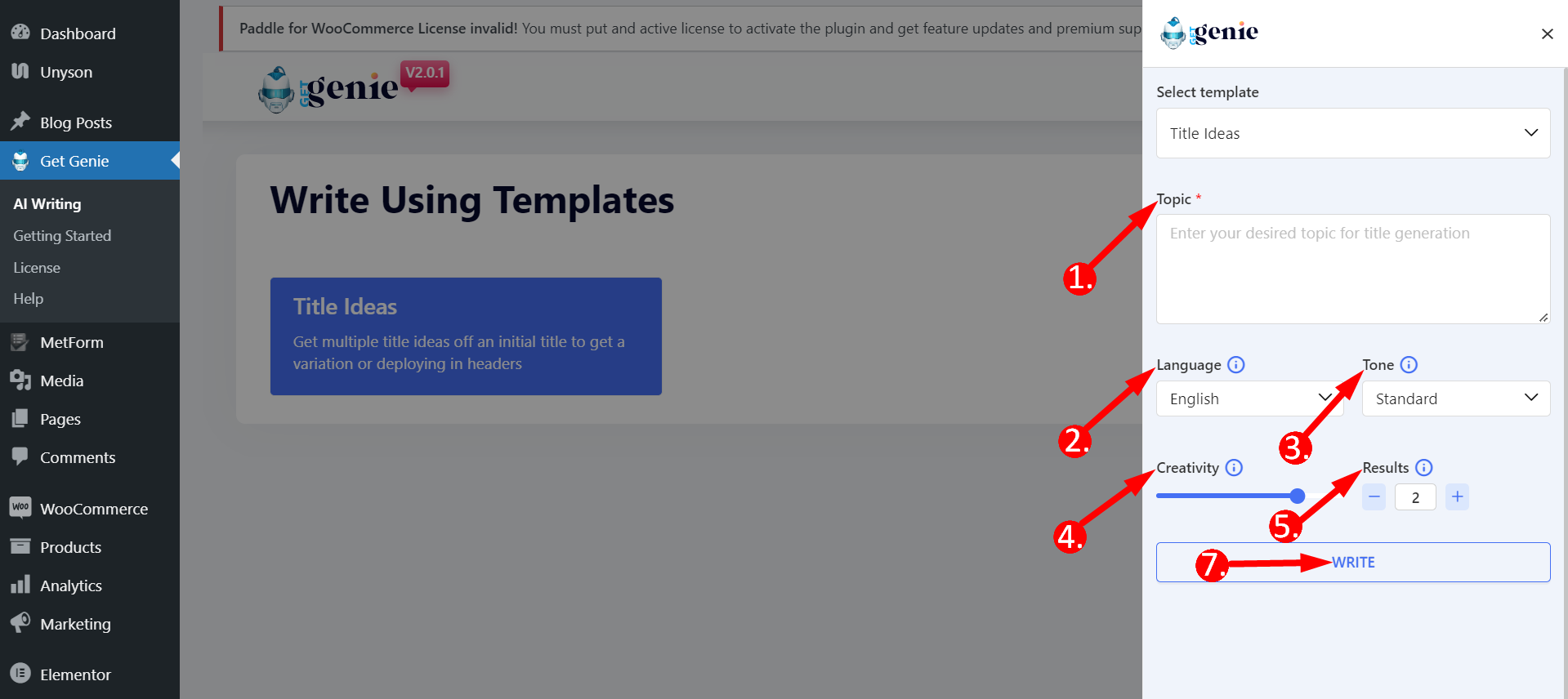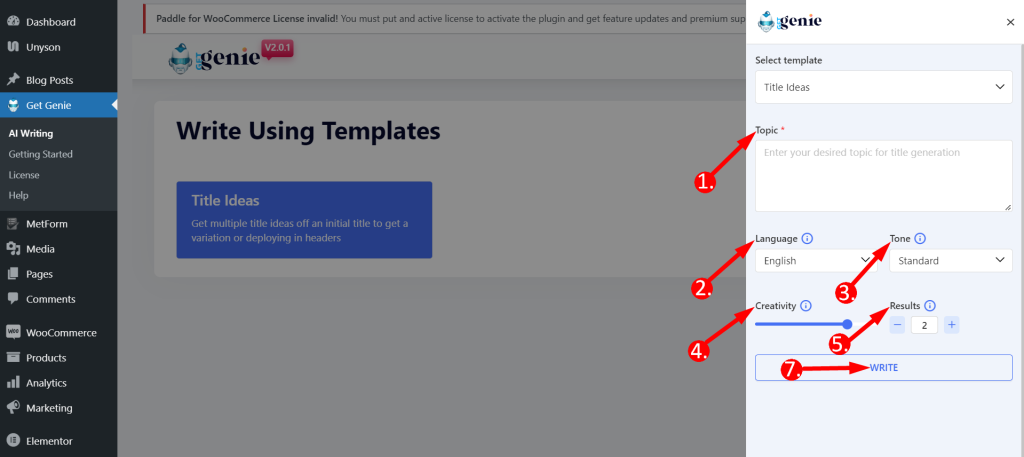 This will create a list of title ideas for your given input. Finally, copy-paste the input that you prefer.

What If You Are Not a WordPress User?
If you're not a WordPress user, you can still utilize GetGenie for Ai content repurposing. Because it offers a SaaS interface called "Webview" to ensure seamless content creation. And, you can access this Webview or Playground by just signing up. To access this SaaS interface, you have to Sign up with this URL first.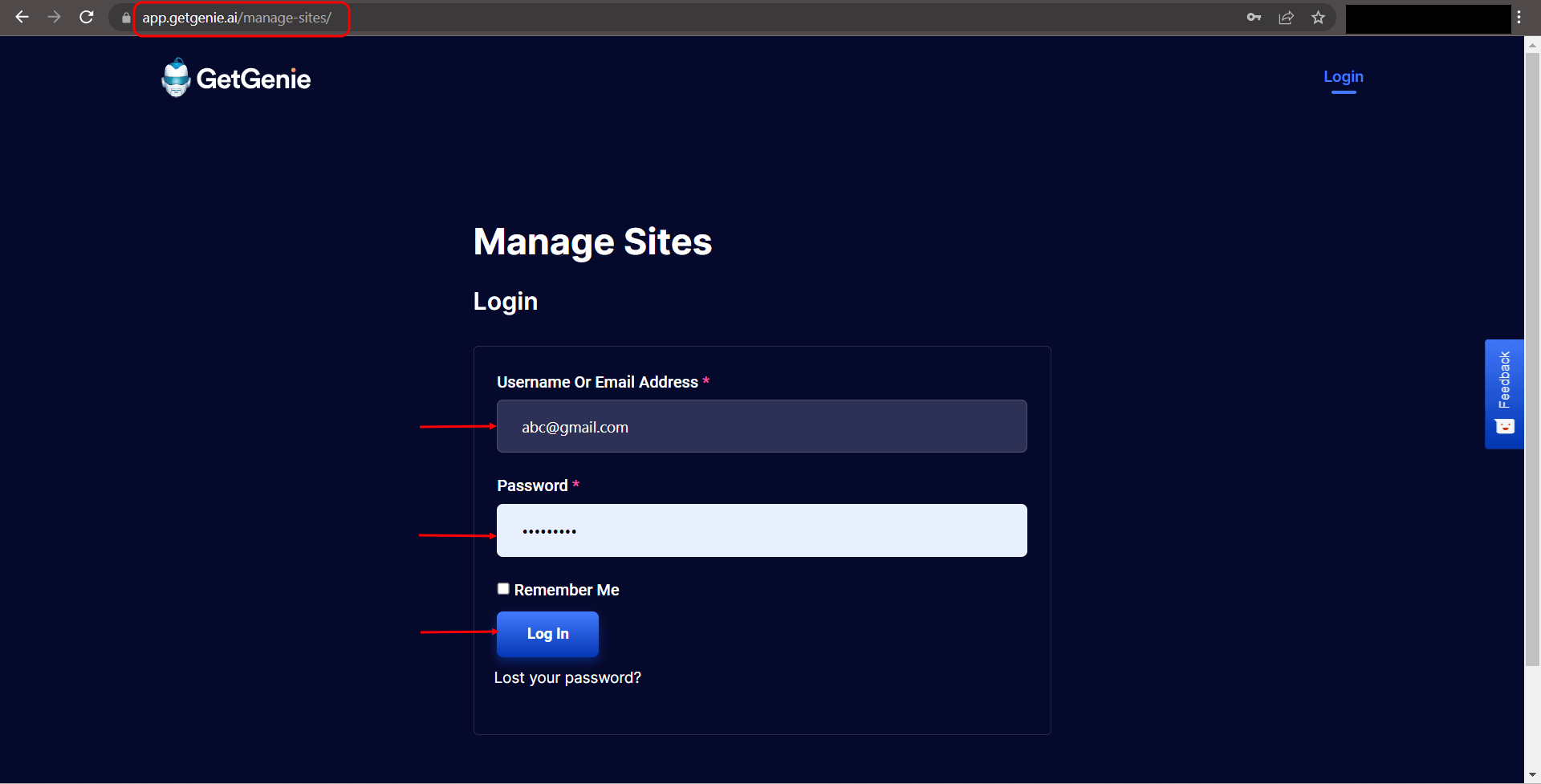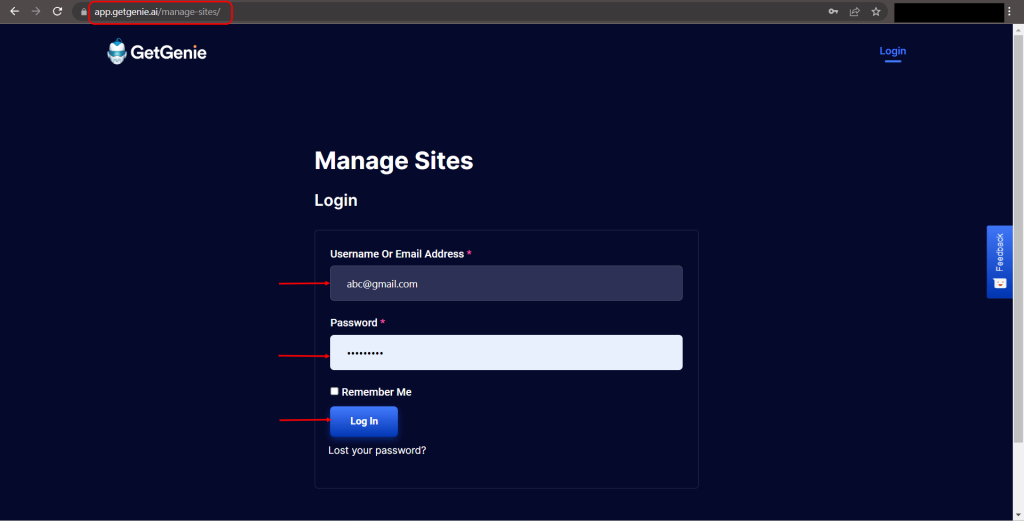 This will redirect to a SaaS interface from where you have to select "Playground".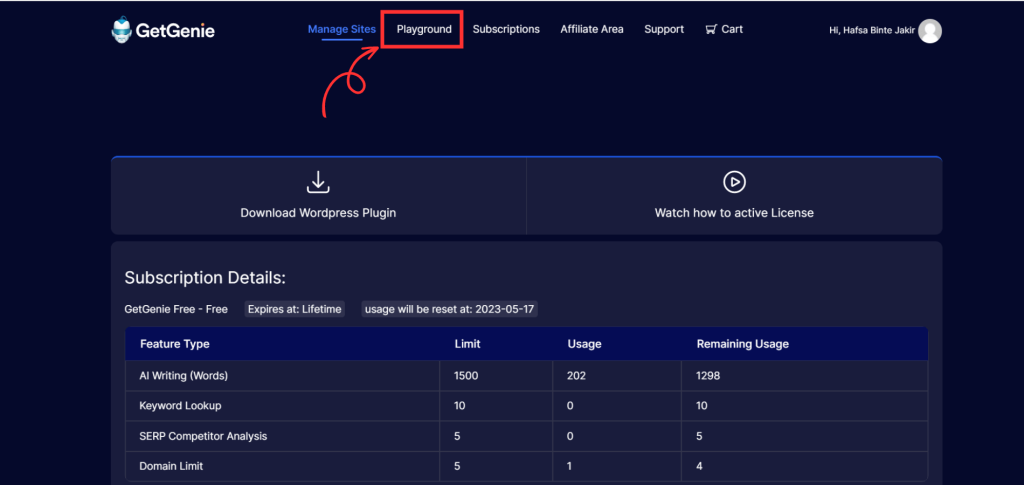 This will take you to another tab. Here you have to add a new document.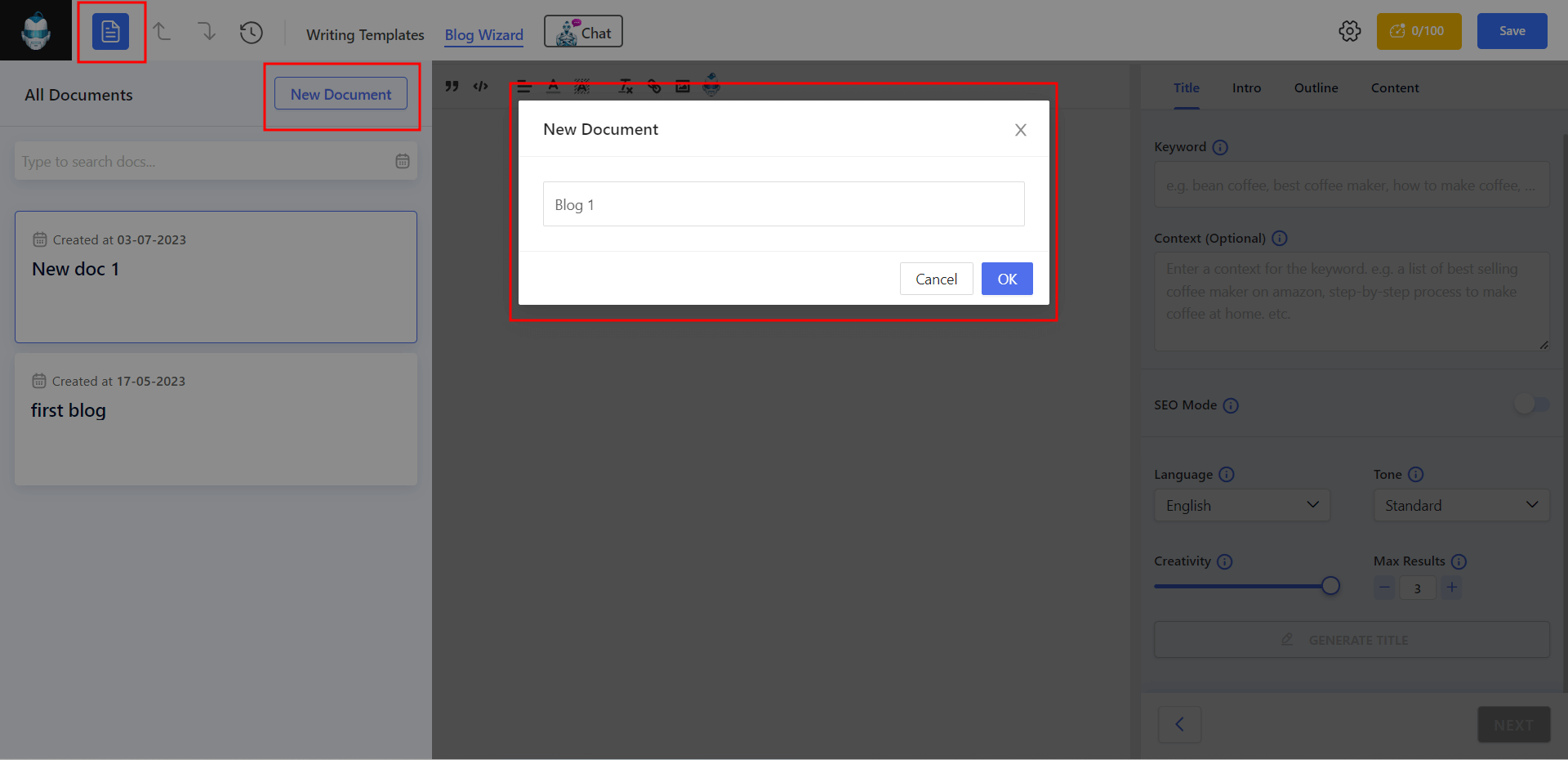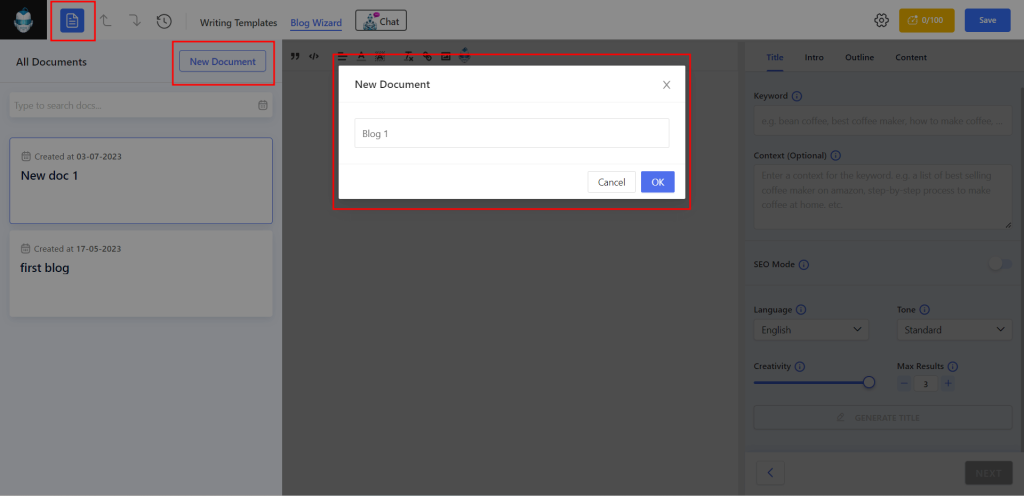 After adding a document, you can generate or repurpose any content through its 37+ templates. Thus, you can still repurpose your content using GetGenie, if you're not a WordPress user.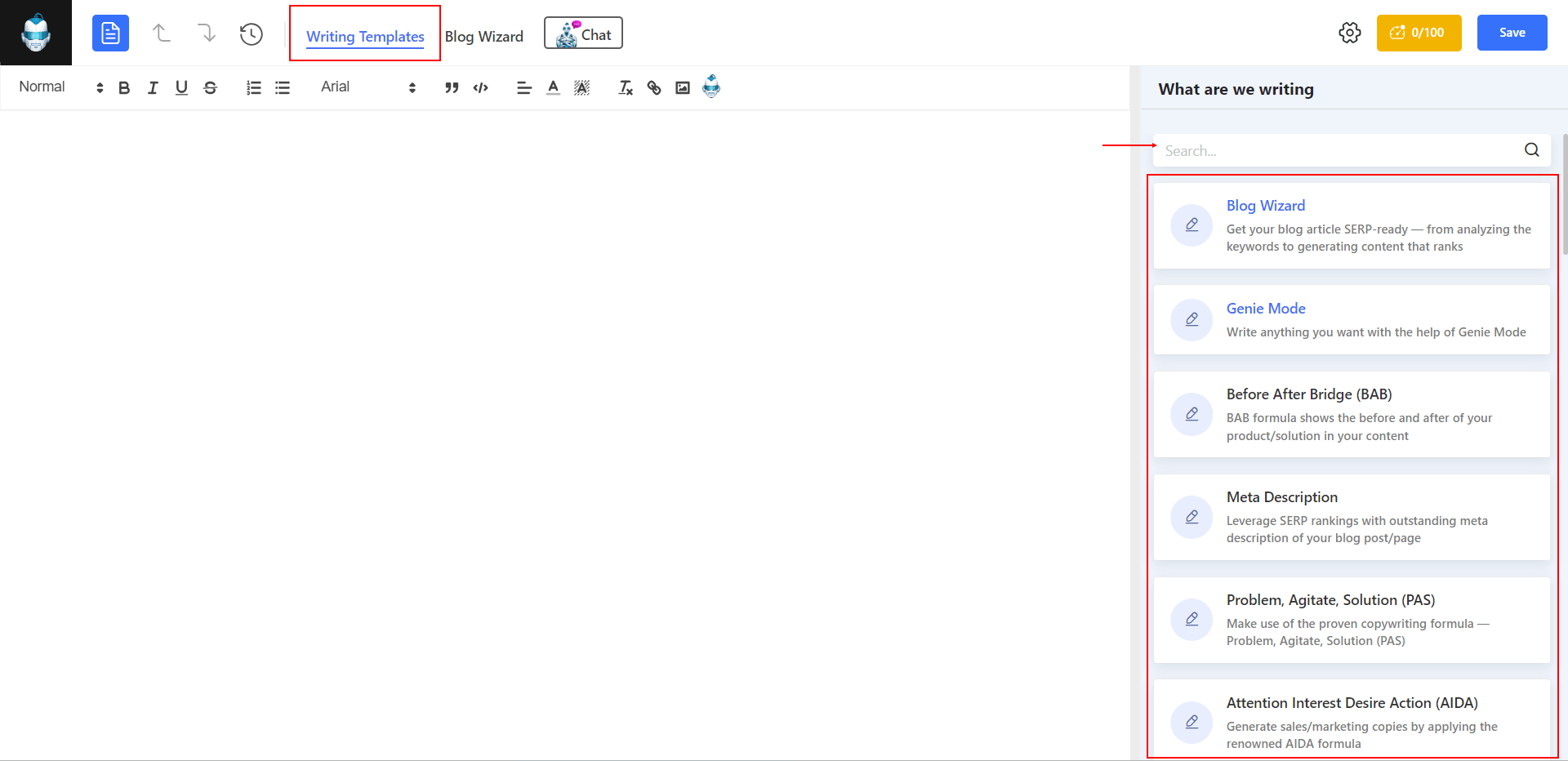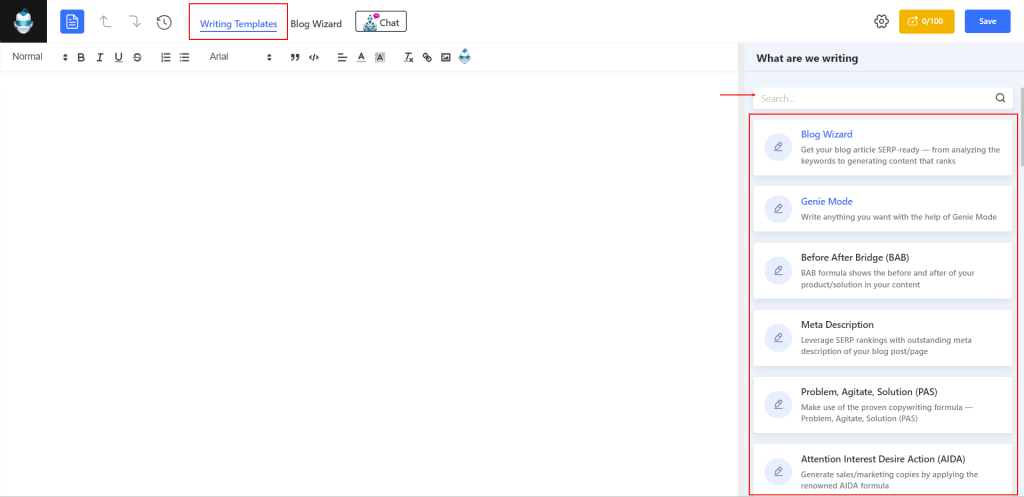 Which Ai is best for content repurposing?
GetGenie is the best for content repurposing as it offers both WordPress as well as SaaS interfaces for flexible content creation. It means you can leverage 37+ templates to repurpose content on any interface. Moreover, since GetGenie supports multilingual content creation, you can repurpose content in 32+ supported languages. That's why GetGenie Ai is the best tool for content repurposing.
Repurpose content using Ai
The future of content marketing can witness an inconceivable success with Ai-driven content repurposing. As we've explored ways of content repurposing Ai using GetGenie, it's not the question anymore how to repurpose content. Rather it's a concern whether you are ready to adopt Ai for content reusing or not.
So, are you still stuck with the decision of content reusing? If yes, don't anymore as it will reduce the competitiveness of surviving in this fast-paced world. Take full advantage and extend the lifespan of your content with Ai.