How to Write WooCommerce Product Description with Ai that Converts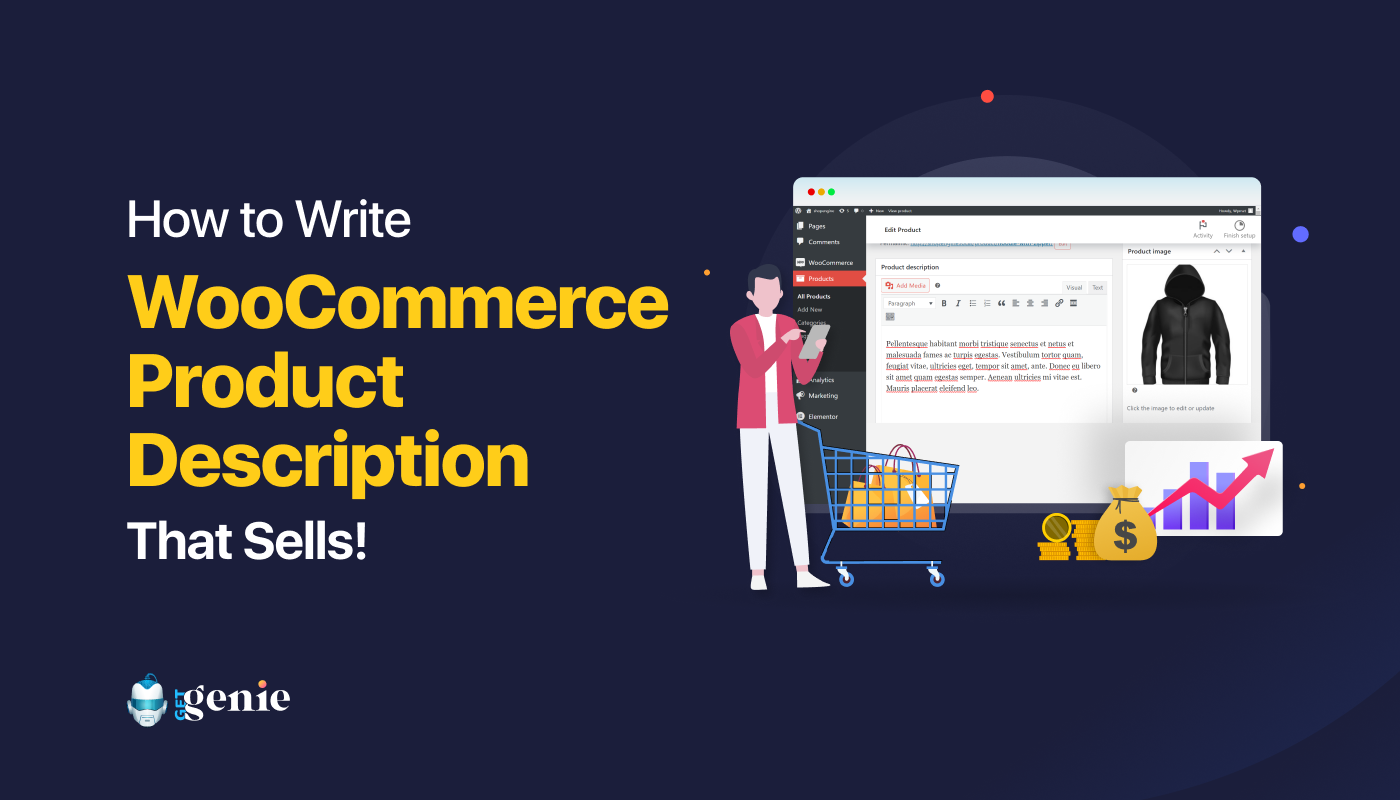 Running a successful WooCommerce store requires more than just listing products and setting prices.
To truly drive sales and convert visitors into customers, you need to craft compelling and convincing WooCommerce product descriptions that accurately describe the value and benefits of your products.
Unfortunately, writing an effective product description that converts can be a time-consuming and challenging task. But the good news is that by following a few simple rules and strategies, you can learn how to write product descriptions that will grab the attention of your target audience and boost your sales.
What is WooCommerce product description?
If you're starting a WooCommerce store, the importance of framing effective product descriptions cannot be ignored. A well-written product description not only informs potential customers about the features and benefits of a product, but it also tempts them to make a purchase.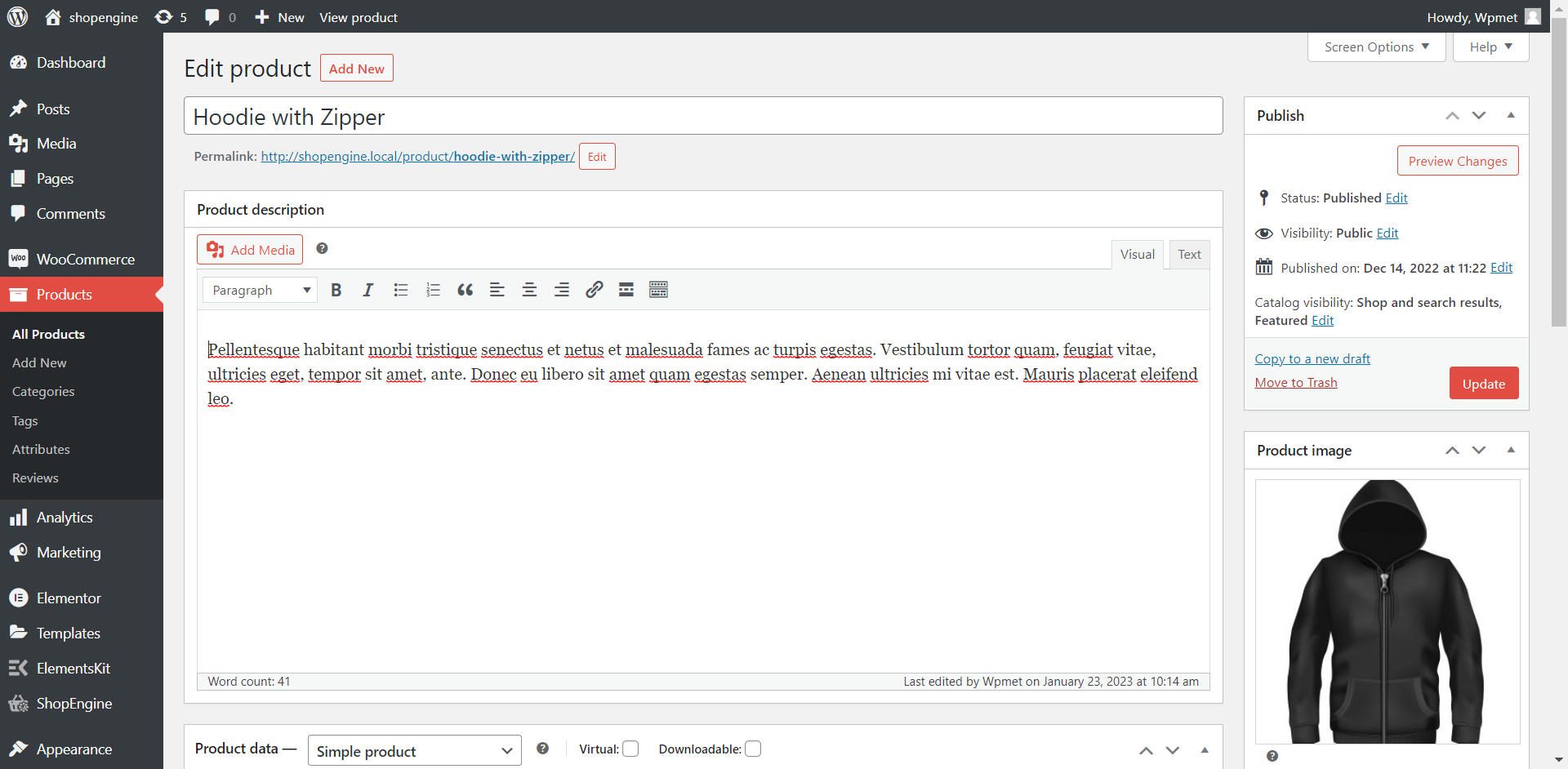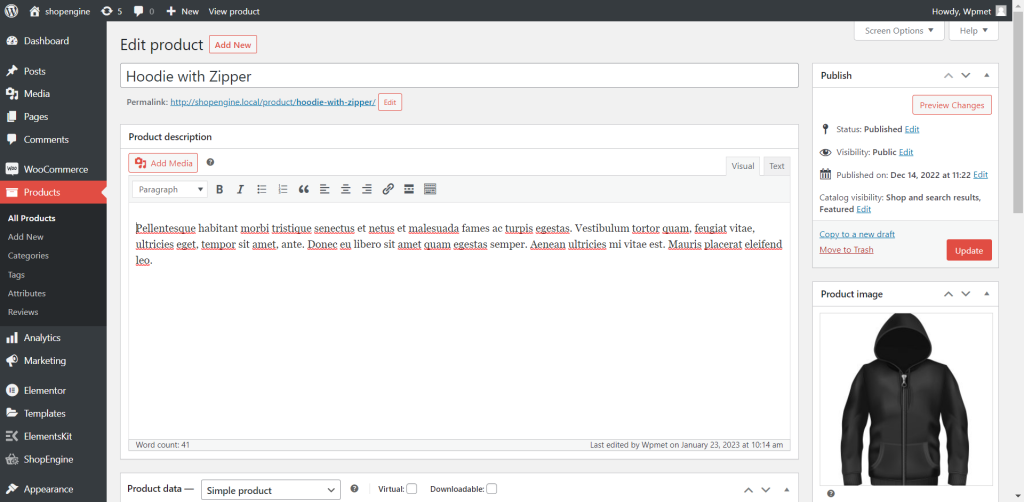 A product description should include a detailed explanation of the product's features, benefits, and how it solves a problem for the customer. It should also include customer reviews, product images, and even video demonstrations, to give potential customers a clear idea of what the product looks like and how it works. In order to make your product description as effective as possible, it is important to focus on the writing process and make sure that your descriptions are clear, concise, and persuasive.
By Writing effective product descriptions, you can increase the possibility that your potential customers will become actual customers.
How to write an engaging WooCommerce product description?
Writing a product description is time-consuming. Before even writing the first word, you need to plan it properly so that you don't miss a single chance to convince your customers.
To write a WooCommerce product description, first, come up with the solution that you are providing. You are selling a product means you know it is somehow special. But you are the person who knows why the product is special. You need to make users feel the same about the product.
Write the description in short paragraphs and a paragraph shouldn't contain more than three sentences. However, an exception can be made if it needs to.
Since you learned how to craft an engaging product description, let's explore the easy guide on how to write a product description without a hitch.
How to generate bulk product descriptions for WooCommerce with AI?
It is overwhelming to write each WooCommerce product yourself. But do you realize that it is going to take too much time? Well, there is an effective solution for you where you don't have to spend too much time and you can write a description for products with a few clicks.
Yes, I am talking about an AI writing assistant named GetGenie. This WooCommerce product description generator comes with a dedicated feature called WooCommerce Wizard through which you can get an easy guide on how to write a product description. Like a Genie from the lamp, GetGenie fulfills your wishes to write effortlessly just by providing a few simple pieces of information.
For this, install the AI writing assistant on your website and go to the site's dashboard. Go to GetGenie > AI Writing > WooCommerce Wizard.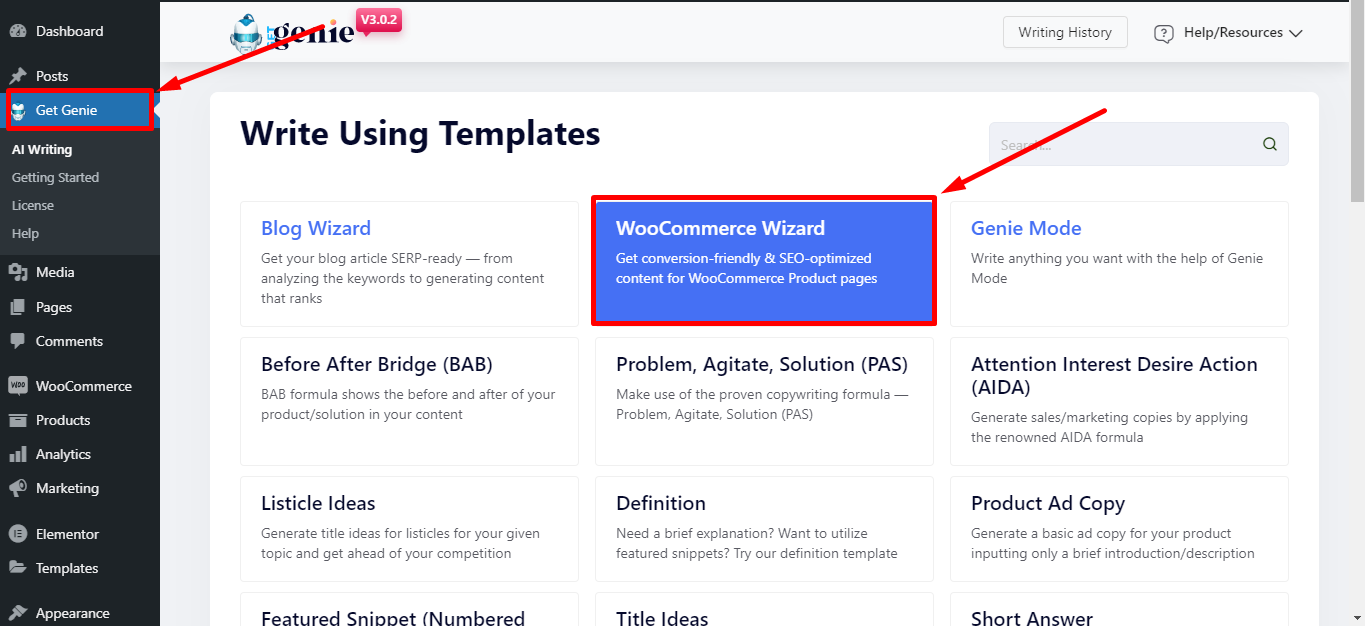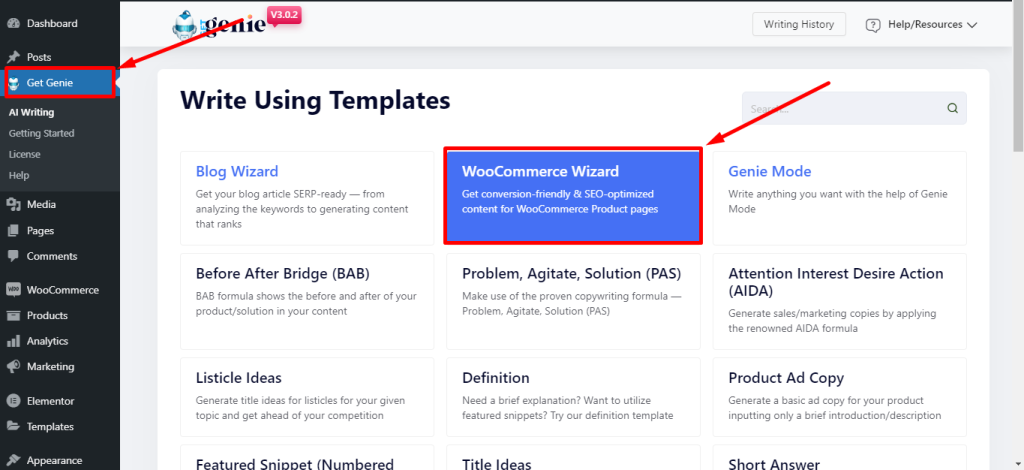 You can either generate a long description or a short description. However, you can generate both WooCommerce descriptions one by one.
Now you will get all the options to get personalized and Search Engine optimized product descriptions. First, write the name of your product and give a short brief about it. In the next step, choose other settings such as language, tone, creativity level, and the number of results to generate a description using this WooCommerce product description plugin.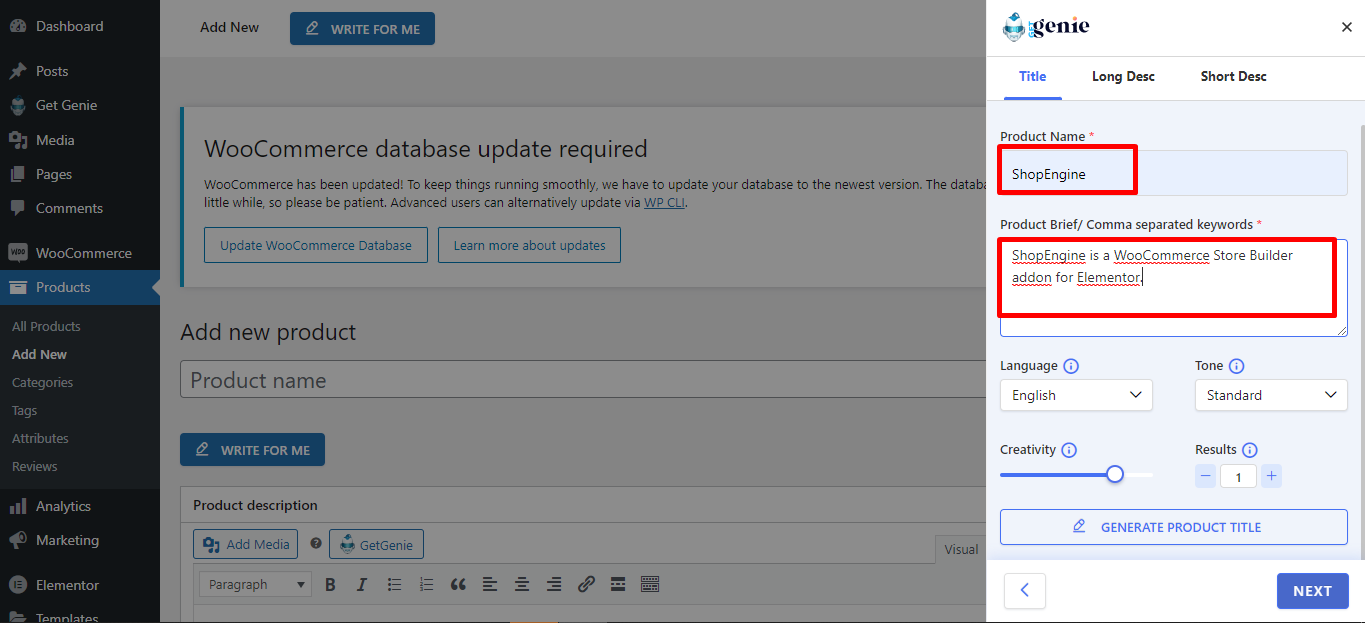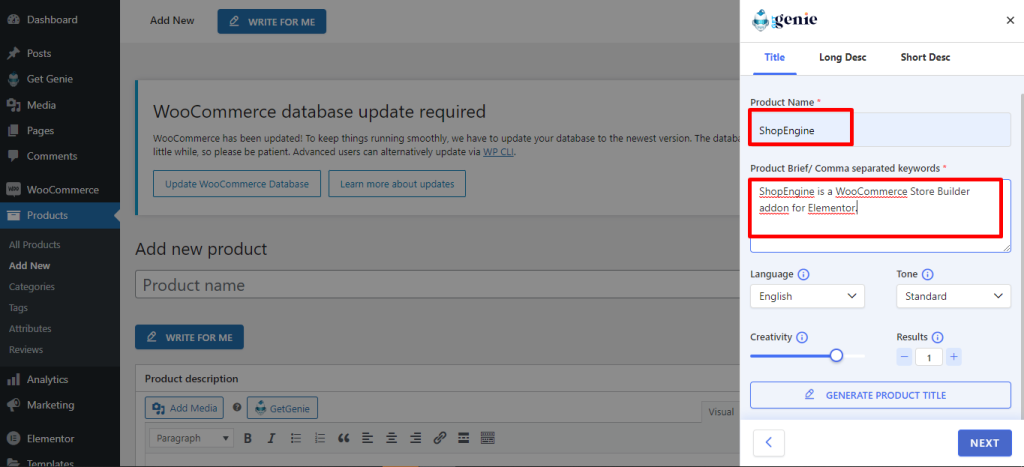 Once you are done with providing the necessary information, hit the generate button and you will get the product descriptions that are ready to use on the product page.
Similarly, you can generate a short version of the product description. If you need multiple ideas, simply select multiple outputs using this WooCommerce product description plugin.
Besides, you can also generate WooCommerce product descriptions using the playground of GetGenie which allows you to use this Ai writer in the SAAS interface. For that, navigate to https://app.getgenie.ai/manage-sites/ and sign in.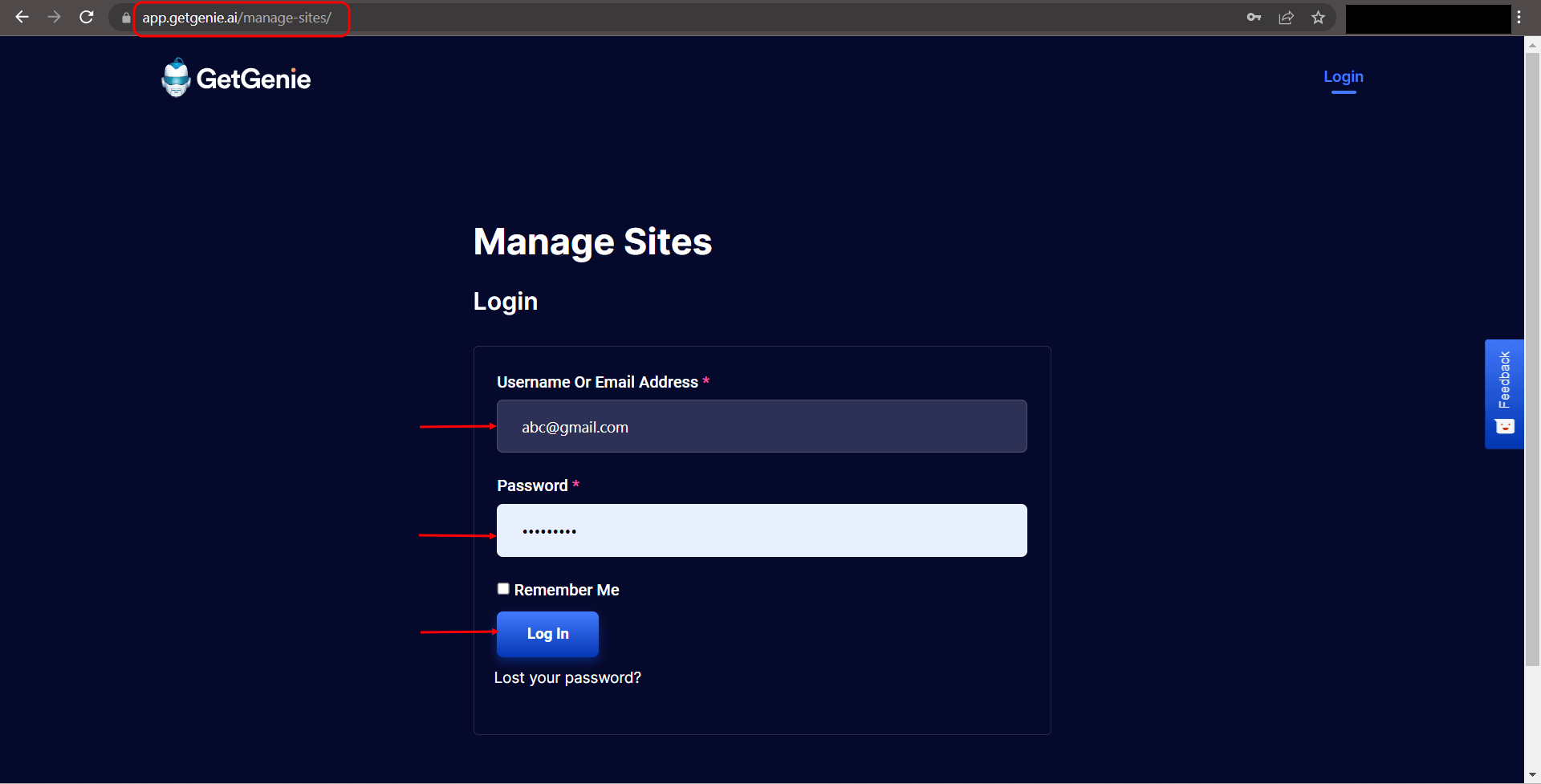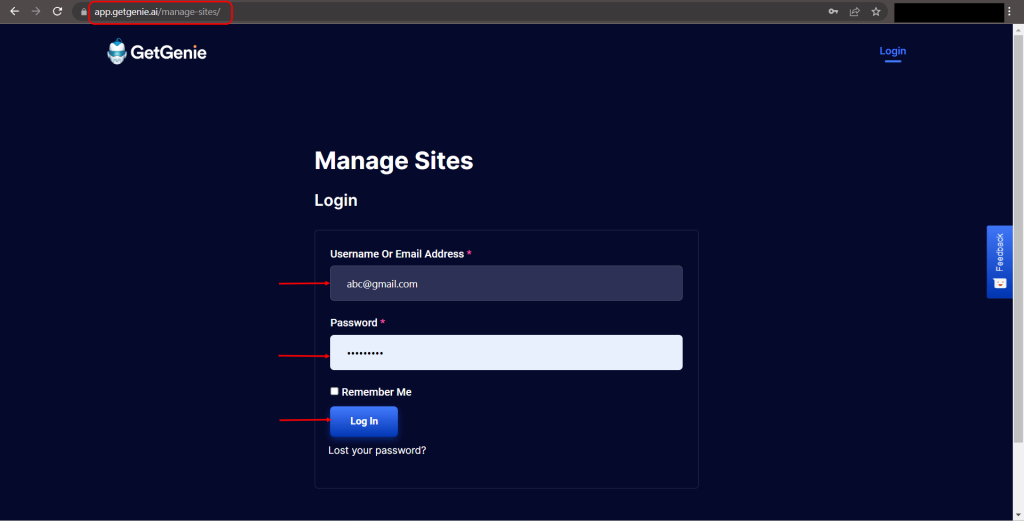 Now, hit the Playground tab right next to Manage Sites.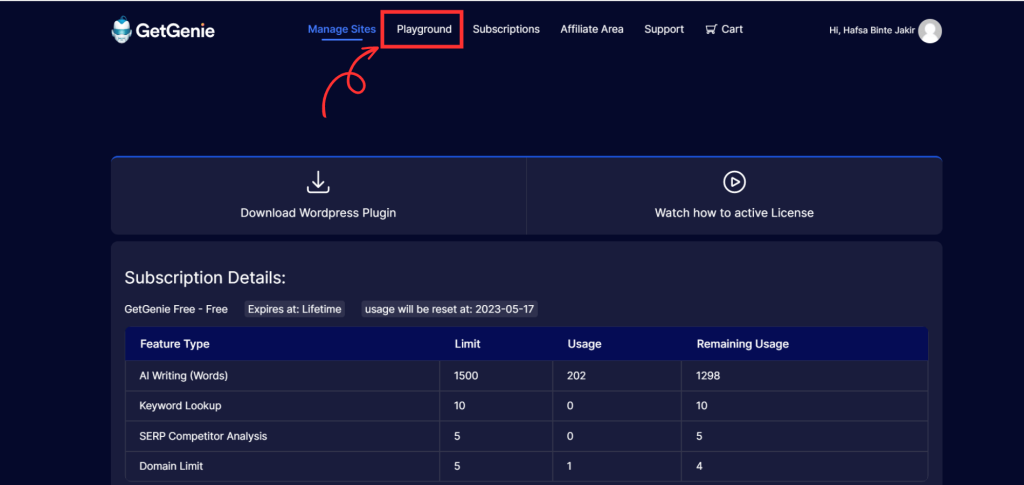 After that, add a document by clicking "Add Document" and enter the name of the document. Then, press the OK button.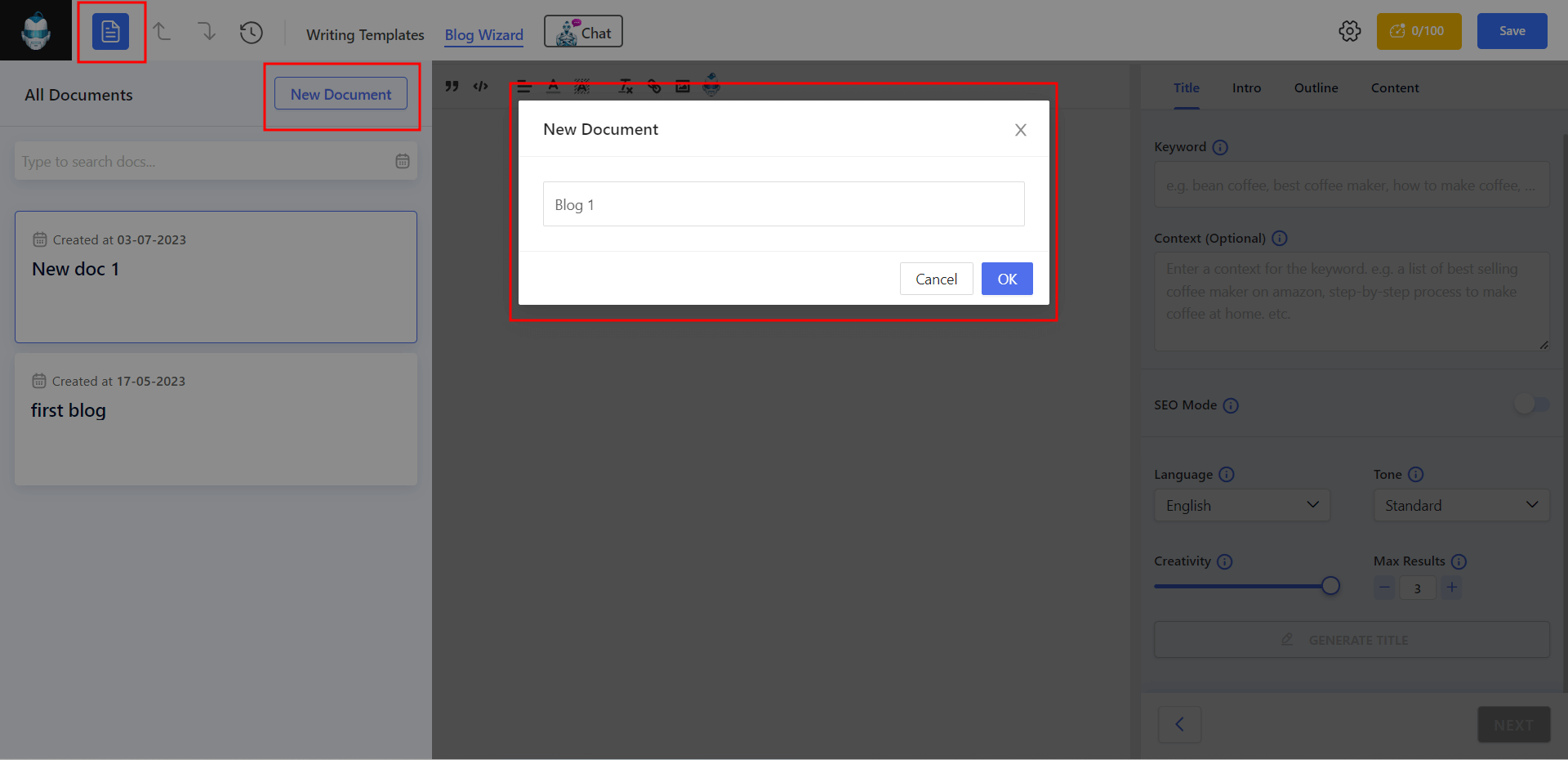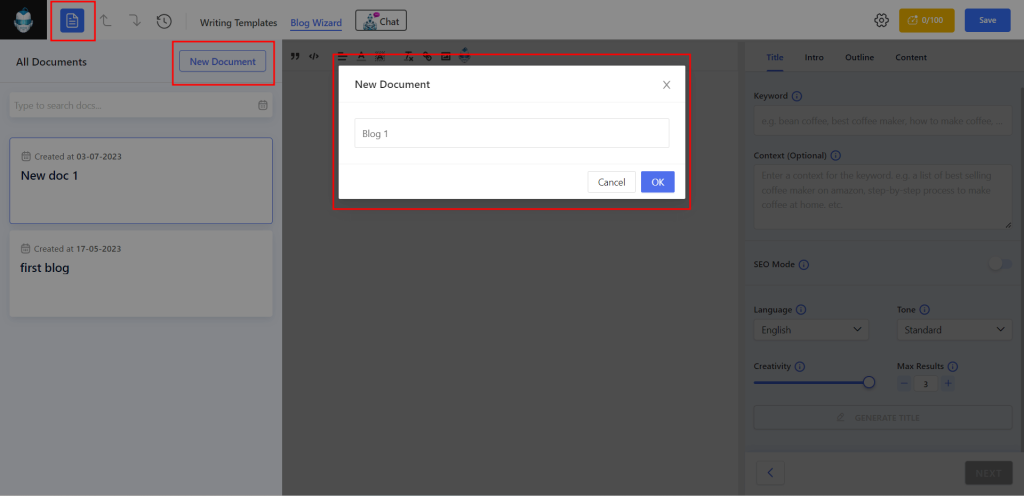 Here you will find the WooCommerce short and long product description templates in the SAAS interface. You don't have to be a WordPress user.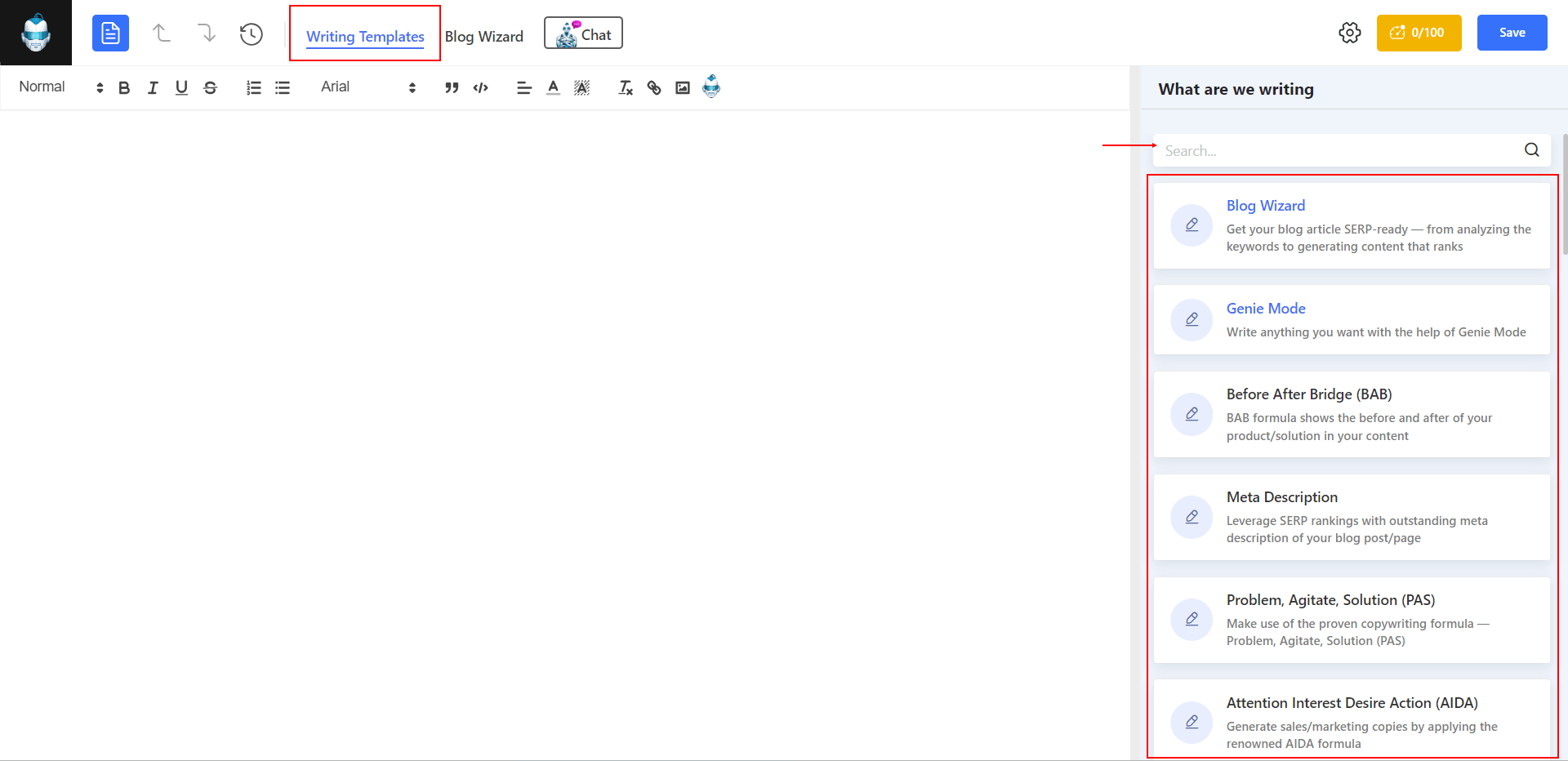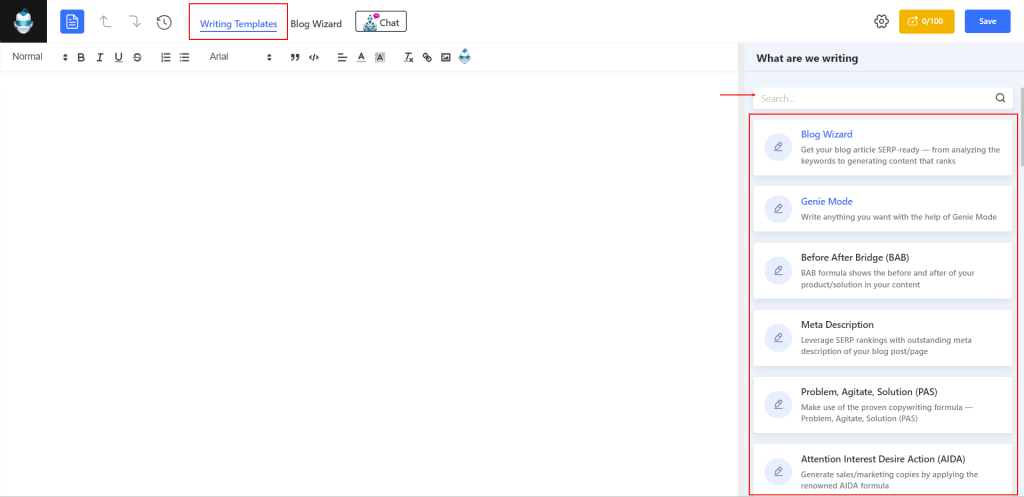 Also, for each of the product descriptions, it won't take more than a few minutes. So, writing product descriptions in bulk will not be a challenge anymore.
How to optimize WooCommerce product description that converts?
A product description page on a WooCommerce store is not just about listing the details of a product, it's about utilizing various elements to convince visitors to make a purchase. To perfectly optimize the product descriptions, you must consider all aspects of the page.
One of the most crucial elements to consider is the use of powerful words and keywords. These not only help to grab the attention of potential customers, but they also play a critical role in improving your search engine ranking and driving more quality traffic to your site.
In addition to keywords, it's also important to focus on describing the features and benefits of your products in a way that effectively communicates their value to potential customers. This means highlighting how your products solve problems and emphasizing their unique selling points.
Customer reviews are another valuable component of product description pages. By including positive feedback from early adopters of your products, you can use social proof to increase conversions and build trust with potential customers.
Do AI-generated product descriptions affect the conversion?
Before going into the detailed discussion, there is nothing to do with whether the product description is written by an AI or a human. Only the quality matters.
Now the question is if AI writing tools can understand human psychology to make it convincing. Well, AI writing tools are trained to write like a human. When you are using the WooCommerce wizard feature of GetGenie, you will see all the outputs are already human-written.
If you have previous experience and know what a conversion-friendly product description looks like, you will be pleased by the outputs of this WooCommerce product description generator.
So, there is no relation between the AI-written product description and the conversion. It is all about if the description is written to convince the customers. Even if a human writes the WooCommerce product description and doesn't follow the right path, you can't expect a high conversion rate.
Conclusion
So, you have all the information that you need to learn for how to write a WooCommerce product description that converts. Writing effective product descriptions for your WooCommerce store is crucial.
Optimize your product descriptions by using keywords, highlighting features and benefits, using persuasive language and social proof. Try to include high-quality images and videos. Must include customer reviews. Remember to test and optimize your WooCommerce descriptions regularly to improve your sales and build a successful WooCommerce store.