How to use Ai rewriting tool to improve the quality of your blog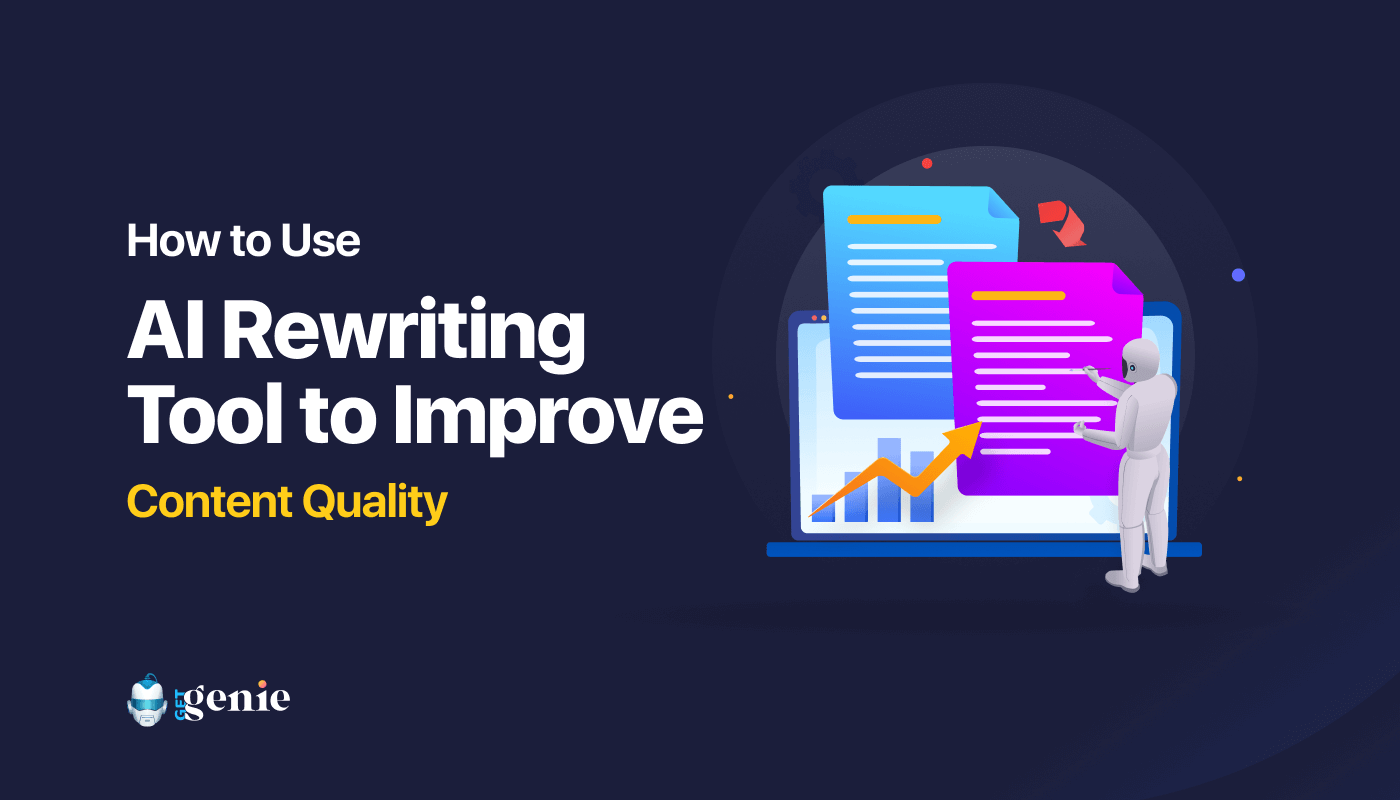 Publishing unique and quality content is Google's one of the top ranking factors. However, every week, coming up with fresh content and meeting deadlines is challenging for content writers. In such cases, an AI rewriting tool can be a great assistance to generate 100% unique content.
But, unfortunately, many writers are still unaware of the blessing of these AI rewriters. So, here we will discuss everything about a WordPress AI rewriter. Also, we will show how to generate quality content using the best AI rewriter.
What is an AI rewriting tool?
AI rewriting tool is an artificial intelligence that can rewrite any content by keeping the meaning intact. Through its built-in algorithm, it understands the meaning of the content and rewrites content accordingly without changing its meaning.
Also, an AI rewriter can rewrite content in the shortest time by using its own words and at the same time, the meaning will be the same as the previous content.
Benefits of using an AI rewriting tool
Artificial Intelligence has been helping people over the years in their personal and professional lives. Here an AI rewriter is a very simple tool but its output is incredible. Because through this AI rewriter, you can instantly rewrite content without changing its actual meaning.
However, the time that you will need to rewrite will surprise you as it barely takes a few minutes to rewrite it. Besides, its output and the required time to generate output; an AI content rewriter offers lots of other benefits too. Here are the other benefits of AI content rewriter:
It ensures your content is 100% plagiarism free.
You can rewrite content with these writers as many times as you want.
An AI rewriter also facilitates content generation and optimization.
It allows you to focus on other work by simplifying your rewriting task.
This tool can improve the quality of your written content with its brilliant algorithms.
These are the general benefits of using an AI rewriter. Since you know the perks of using an AI rewriting tool, let's dive into the full process of improving content quality using this tool.

How to improve content quality using an AI rewriting tool
Regardless of having multiple free AI article rewriters, all of them don't offer the same features. Some are capable of generating the finest quality content and some are less. Here we are using the GetGenie AI for rewriting content as it has a dedicated template for it which is called "Content Rewriter".
Through this Content Rewriter template of GetGenie AI, you can instantly rewrite a paragraph by following only two steps. So, take a look at the steps for improving content quality using GetGenie:
Step 1: Get an AI rewriting tool.
First, you need to install GetGenie AI to enjoy its content rewriting feature. For installation, visit your WordPress admin dashboard and hover your mouse on the Add New option under Plugins. Click on it after that.
Now, search for GetGenie in the Search Box and click the "Install Now" button. After installation, you need to activate it by clicking the "Activate" button.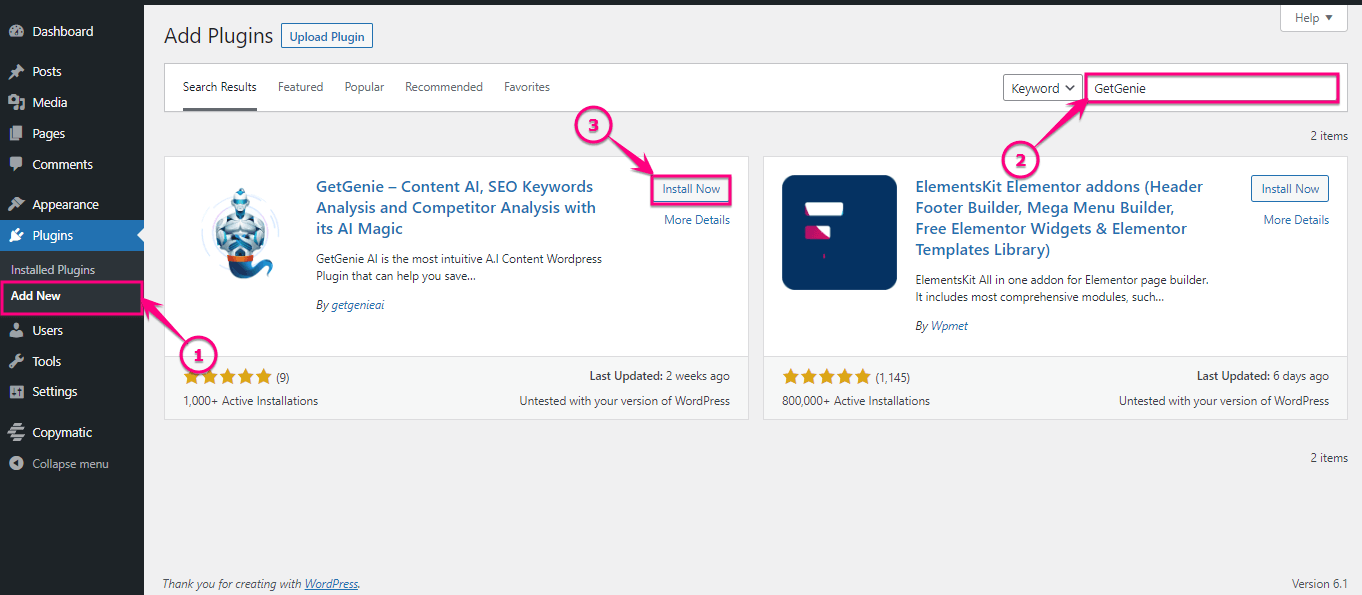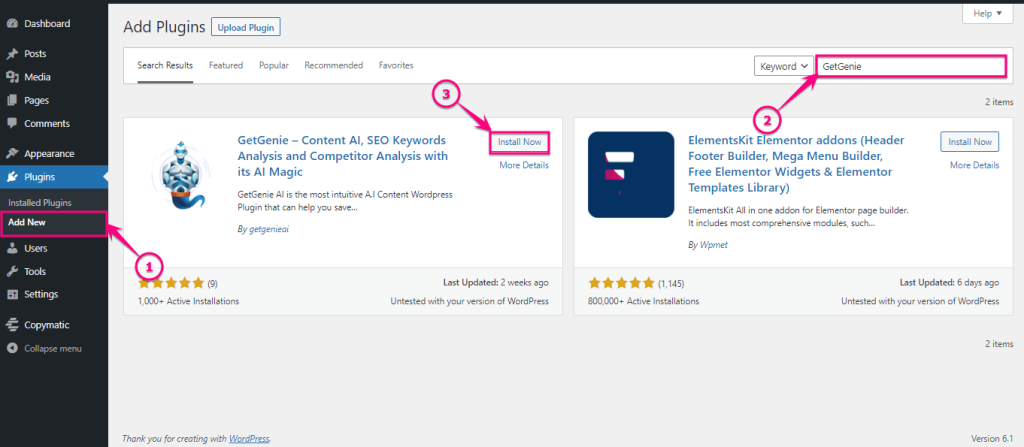 Step 2: Rewrite a paragraph using the Content Rewriter template.
In the second step, you have to go to the post for which you want to rewrite the content. For rewriting your blog post, visit Blog Posts > Add Posts and click the "Edit" option of the post that you want to rewrite.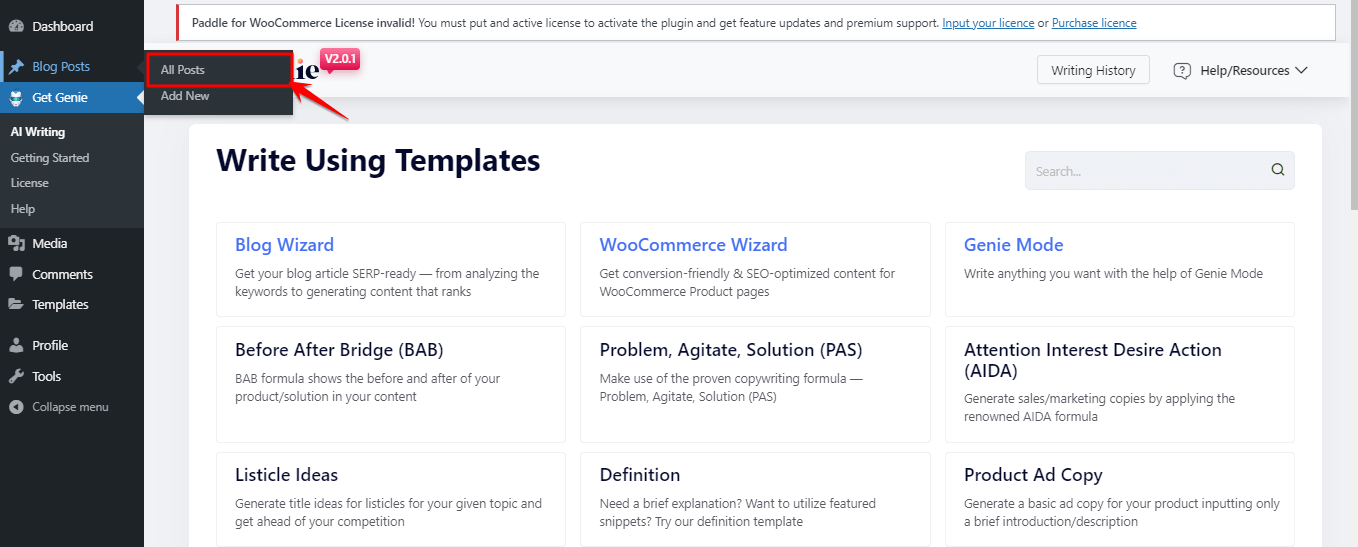 After going to that blog post, click the "WRITE FOR ME" button and search for the "Content Rewriter" template in the Search Box.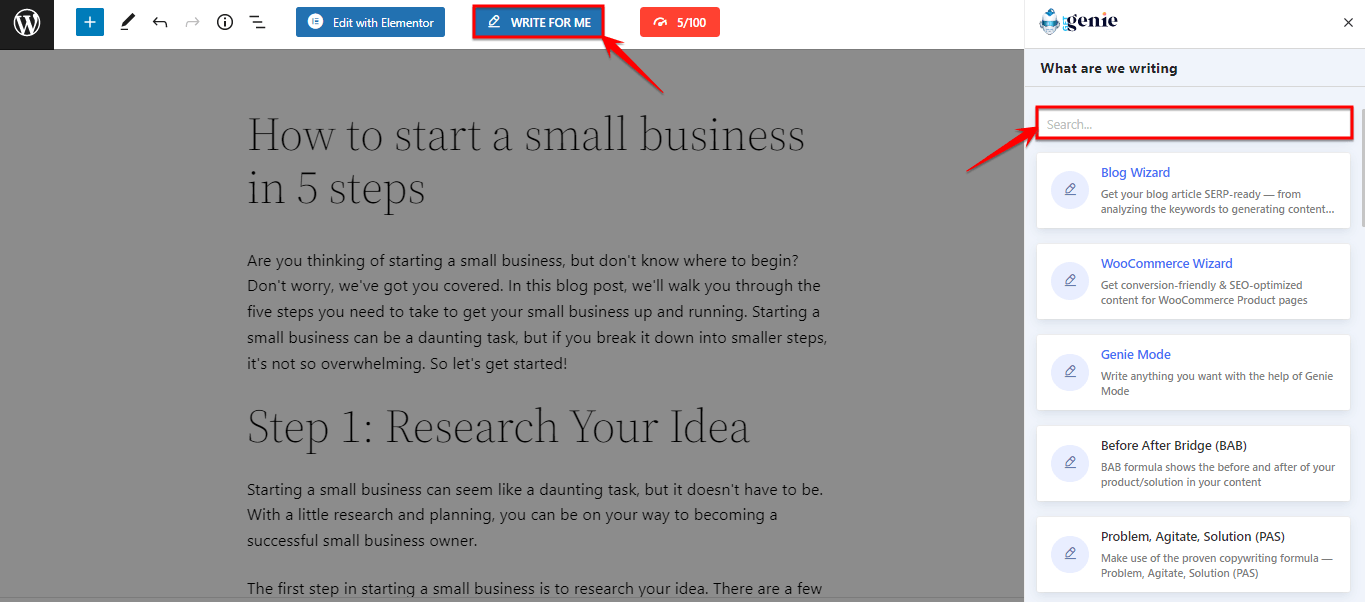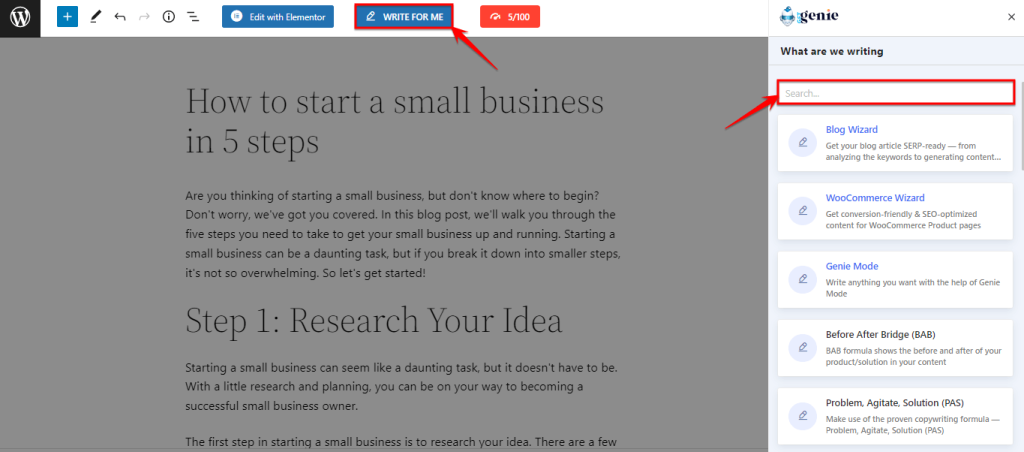 Now, here comes the input for rewriting a paragraph using GetGenie. You need to insert content in the following input fields:
Paragraph: Enter the paragraph you want to rewrite using this AI rewriting tool.
Language: Select the language of your rewriting content.
Tone: Here choose the tone in which you want your output.
Creativity Level: Adjust the creativity level that indicates how unique you want your output to be generated. The higher will generate more creative output.
Results: Select how many outputs you want for your given input.
After selecting all the above options, Click the "Write" button to get the outputs.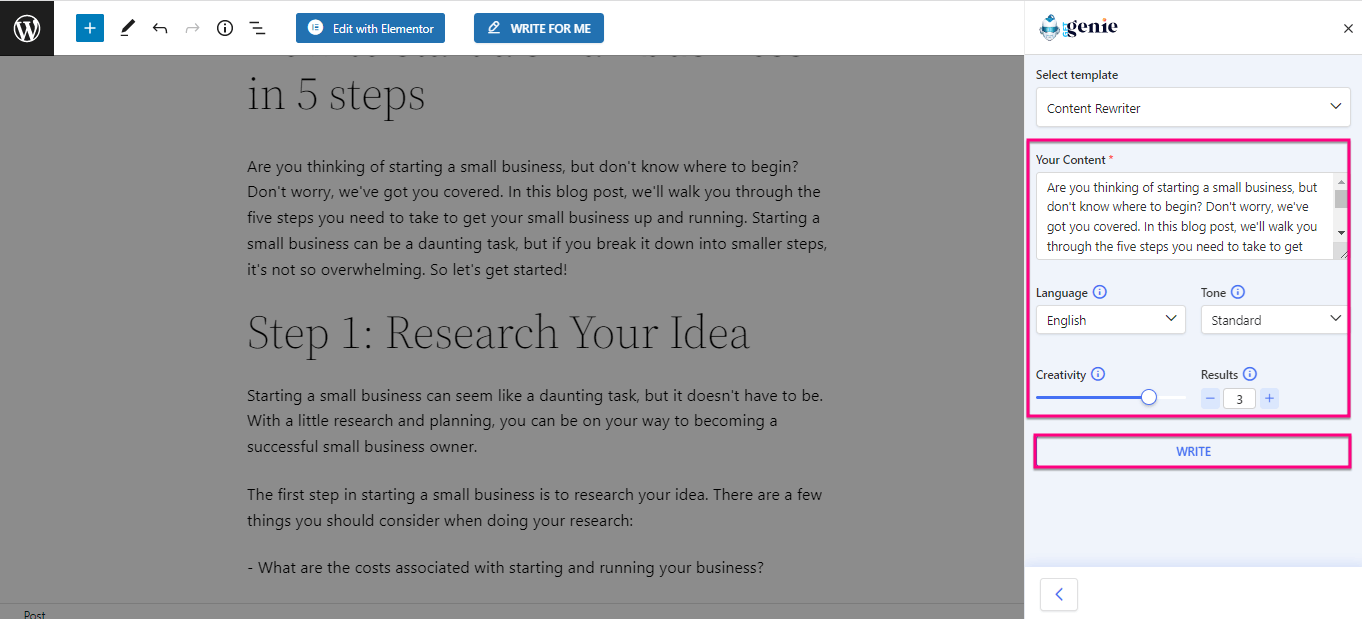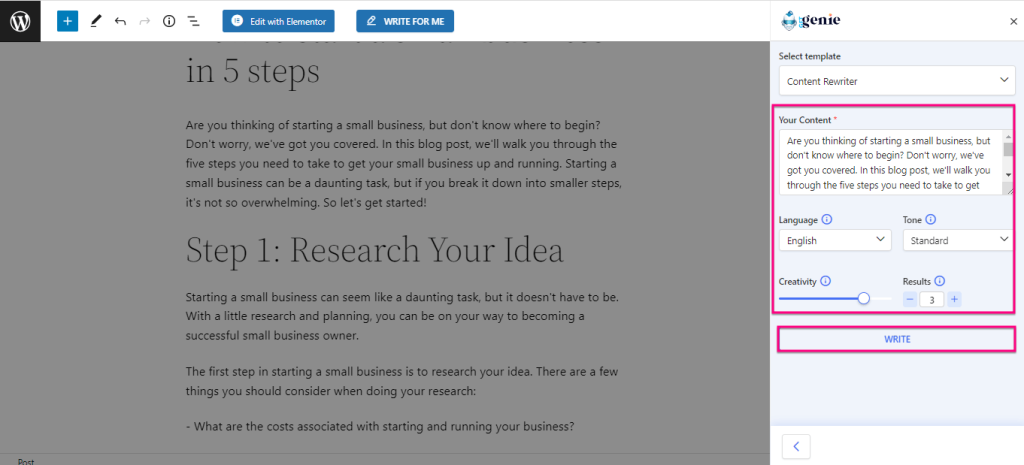 So, here are the outputs of your rewritten content using GetGenie AI. Click on the output you like to copy to the clipboard. Finally, exchange your rewritten content with the original.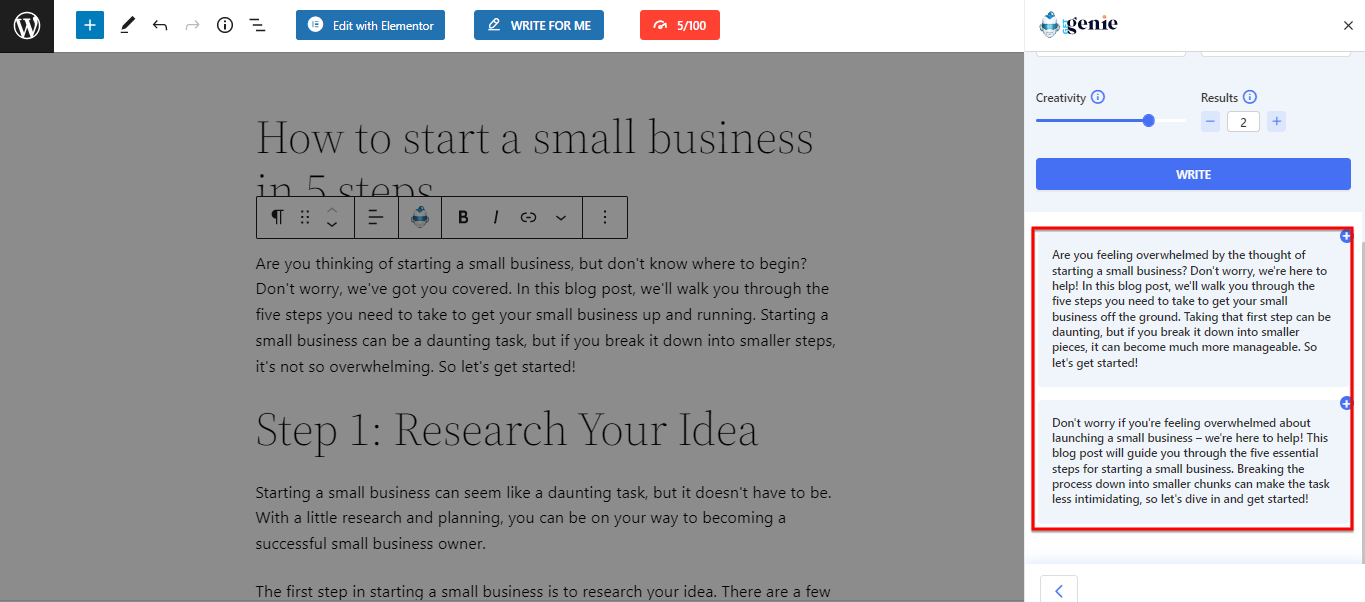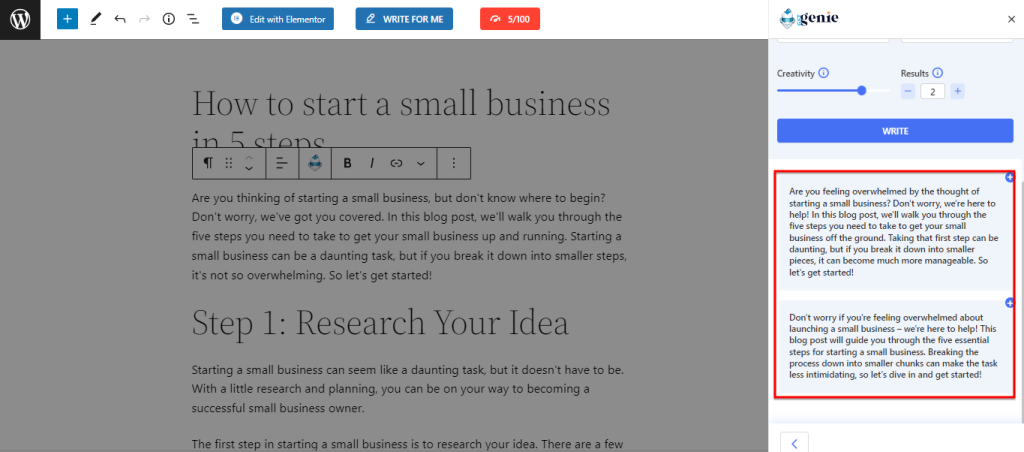 You can also use the SAAS version of GetGenie to rewrite a paragraph outside WordPress. And for it, you have to log in first to this URL and go to the Playground tab.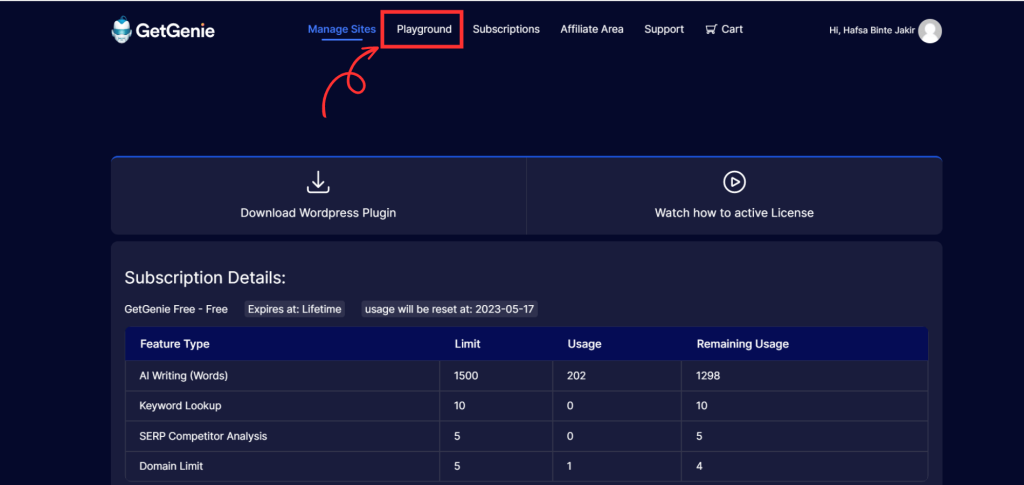 After clicking the tab, it will take you to the Webview of GetGenie where you can rewrite a paragraph or use any templates to generate your desired output.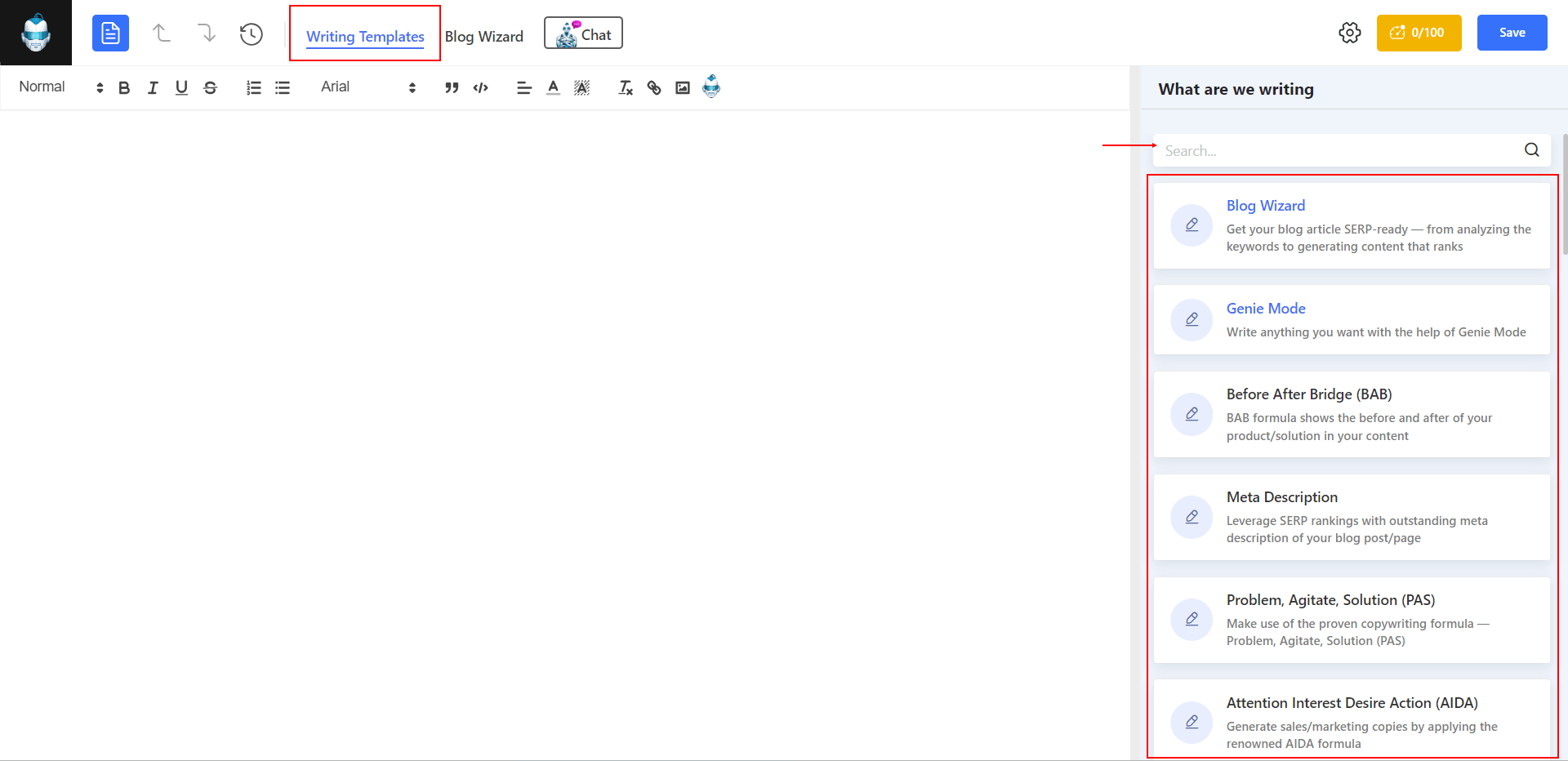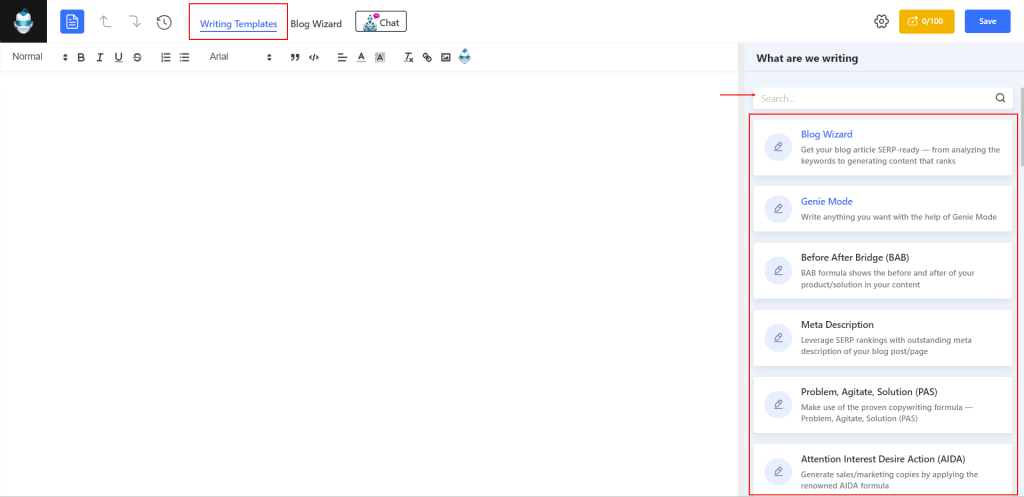 Why is GetGenie the best AI rewriter tool?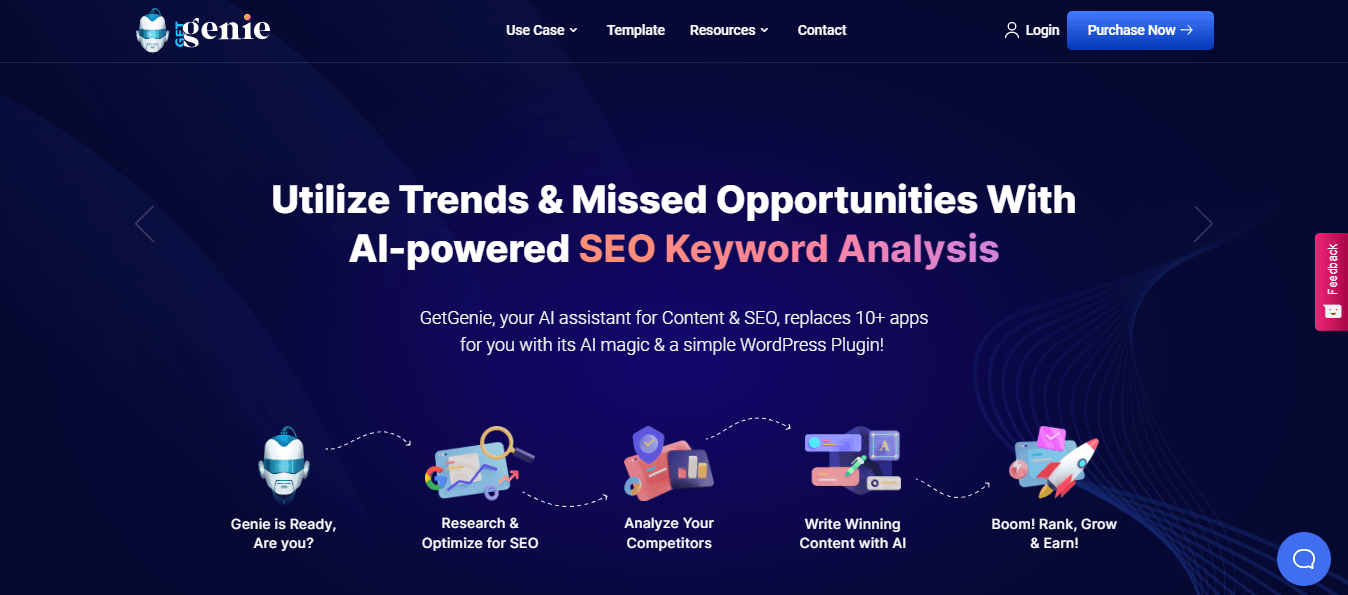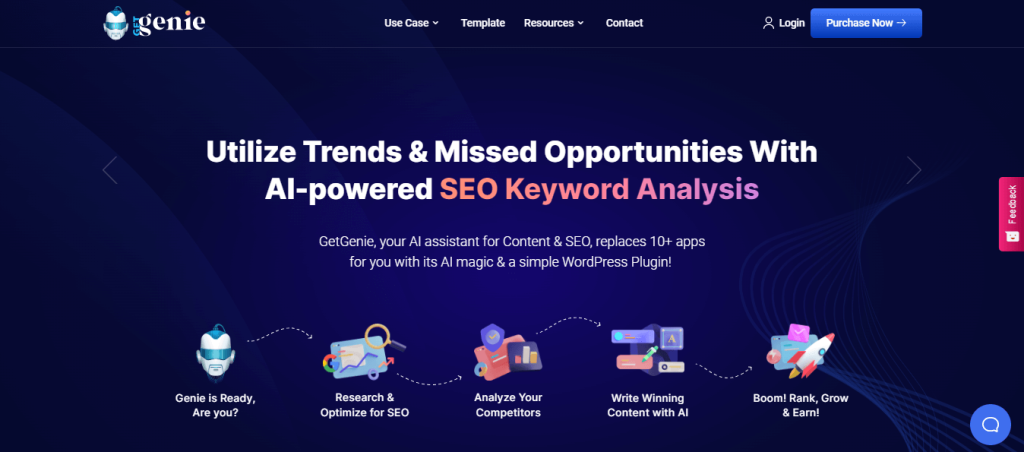 GetGenie has the most user-friendly interface through which even a beginner can rewrite content without any assistance. Sometimes, the rewritten content quality is better than human-generated ones. Also, it has many more options that make it the best AI rewrite tool.
Take a look at the reasons why GetGenie is the best AI rewriter tool:
Fastest and best quality content rewriter:
GetGenie is the fastest rewriter tool. Because it has the option to consume your input and rewrite the best output without harming your content's meaning. It is one of the most flexible AI rewriters ever.
Content creativity level:
With GetGenie, you have full control over adjusting the creativity level of the content. For example, if you set the creativity level from 2 to 4, GetGenie will provide more innovative output. Here you can set the creativity level from 1 to 5. So, you can partially influence the output of GetGenie AI.
Monthly free credits:
It is rare for AI writers to offer monthly free credits. But, GetGenie lets you generate 2500 words monthly for free. Therefore, you can use its Content Rewriter template to rewrite 2500 words for your blog posts or content.
Rewrite staying in the WordPress ecosystem:
GetGenie lets you rewrite content while staying in your comfort, WordPress. Because this Content rewriter has integration with WordPress. As a result, you can rewrite and add paragraphs to your post within a few seconds.
Improve content quality using the AI rewriter tool
Content rewriting is a very monotonous and time-consuming task as you have to rethink your content. You can even miss task deadlines by doing the same job over again. However, you can solve this problem by using an AI rewriting tool.
Nevertheless having different free AI article rewriters, you might struggle to get quality outputs from these tools. Because sometimes these tools fail to maintain consistency with the inputs.
Still, there are some AI rewriters that can offer quality outputs according to the given inputs. And, we have already put together the process of how to rewrite content using GetGenie. Follow the simple steps above and rewrite content to improve content quality.