How to Write Pros and Cons for a Product Using an Ai Writer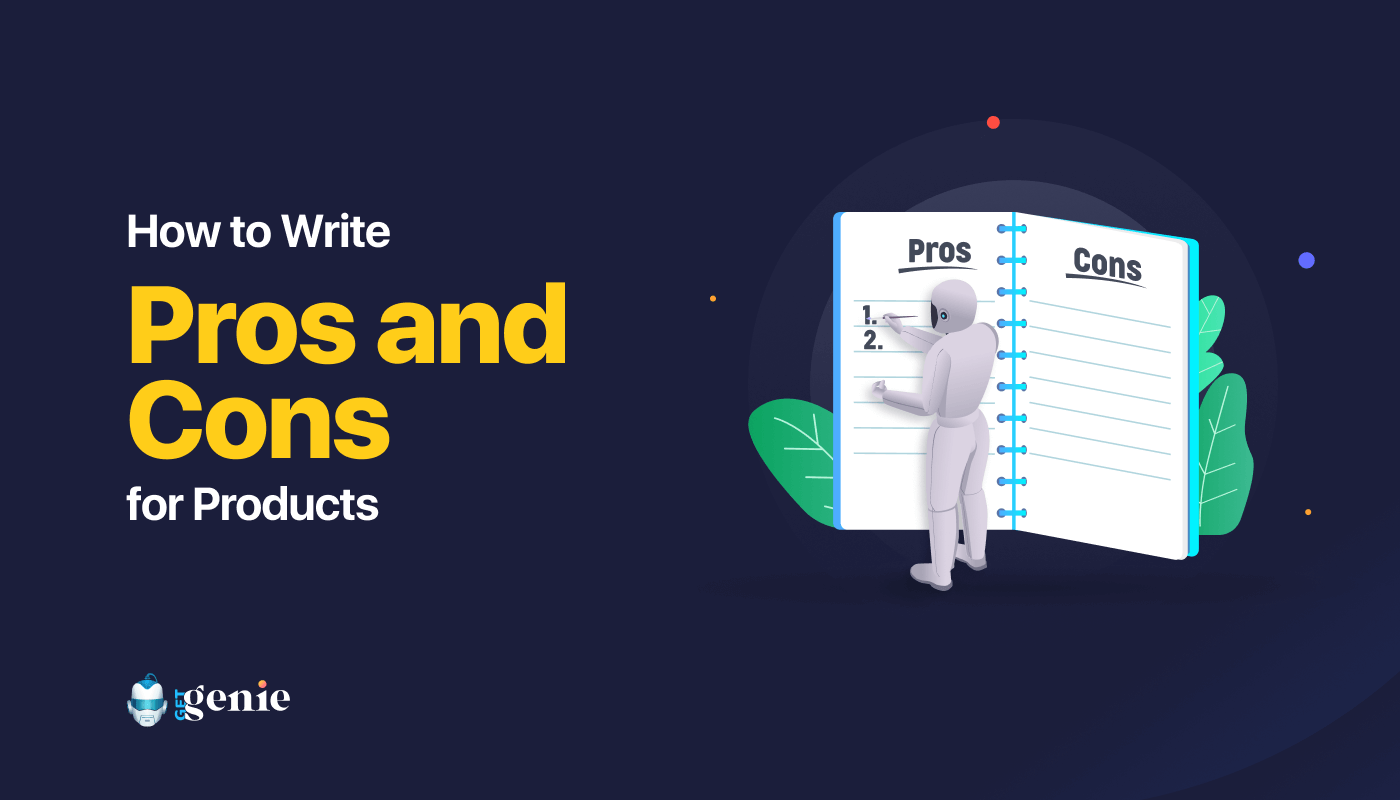 It is very normal to analyze multiple options before buying a suitable product. Here the analysis means going through their comparisons, pros and cons, etc. However, writing the pros and cons is not easy as you must research a lot to come up with relevant information.
Manual writing takes a lot of time to research and gather this vast information. In comparison, an Ai writer takes less than a few minutes to write well-researched pros and cons. Nevertheless, still, most people prefer to write pros and cons manually which takes a lot of time and effort.
So, here we have come up with this blog to simplify your tasks and let you know how to write pros and cons list using the most convenient Ai writer.
Why leverage Ai to write pros and cons for a product?
Pros and cons are important to give a complete overview of any product. It helps the readers to compare a certain product with other available products in the market. However, writing pros and cons on a topic needs a thorough feature analysis that might take lots of time.
In this case, an Ai writing assistant can be a savior. Because it can instantly generate pros and cons following your instructions which requires less than a few seconds. Besides, an Ai writing assistant analyses all the available data on the internet and serves you the most convenient output for you.
Furthermore, you can also write pros and cons in multiple languages using AI. Therefore, you don't need to take the hassle of content translation which can simplify your task.
On top of that, you can regenerate content as many times as you want using AI. As a result, choosing the best output will be easier for you.
Lastly, an effective and efficient Ai writer can generate the best quality output that a human brain might take lots of time and effort to come up with. That's why it is wise to use Ai writers to generate well-written pros and cons for a product.

How to write pros and cons list using Ai
An Ai writer facilitates humans to write any content in the blink of an eye. Some of the Ai writers also have the option to write pros and cons using AI. But, did you ever try how to write pros and cons for a product utilizing AI? If not then, follow the three easy steps mentioned below and generate pros and cons within an instant.
Here we will use GetGenie to generate pros and cons as it has a dedicated template for it along with 37+ different templates. Again, it is a WordPress Ai writer which means you can now write content staying in your comfort. So, go through the following process to write the pros and cons using GetGenie Ai:
Step 1: Install and activate an Ai writing assistant.
To make a list of pros and cons for a product, you need to install a suitable writing assistant first. For it, visit your admin panel and go to Plugins>> Add New.
Here, you need to search for GetGenie in the search box and hit the "Install Now" button. After completing the installation, activate it to enjoy its wonderful pros and cons feature.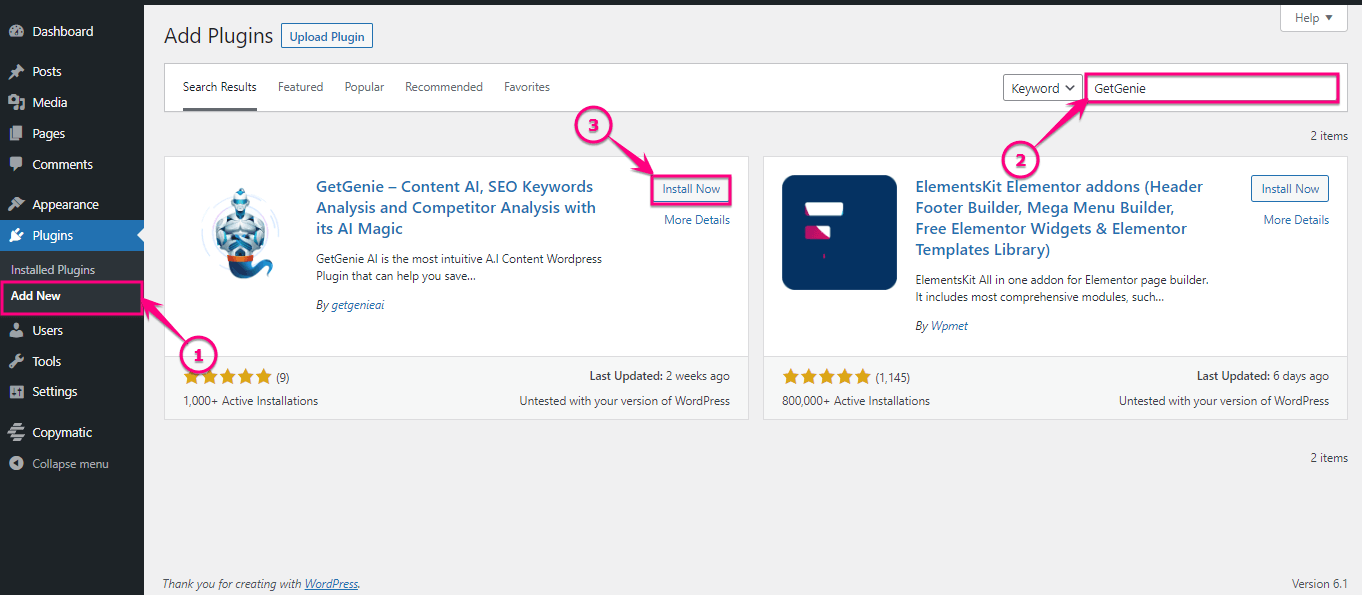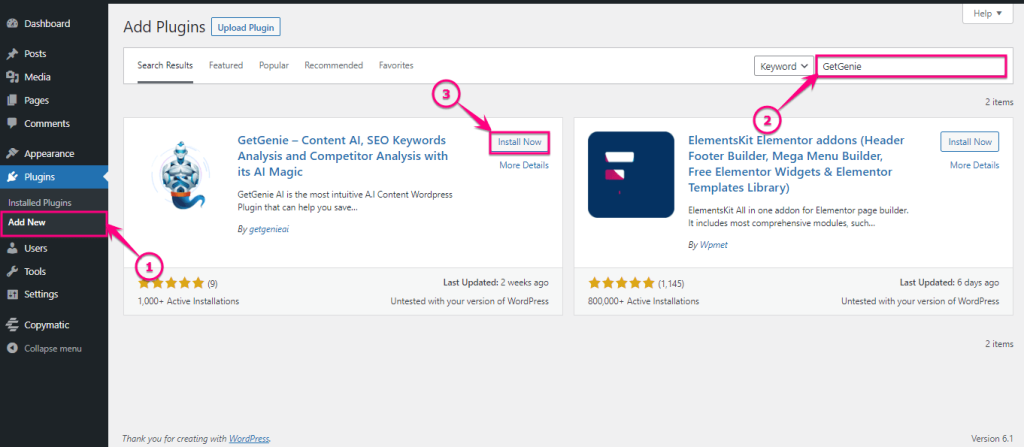 Step 2: Generate pros and cons using a template.
In the second step, you have to utilize its template for making a pros and cons list. To do that, hover your mouse on GetGenie and click the Ai writing tab.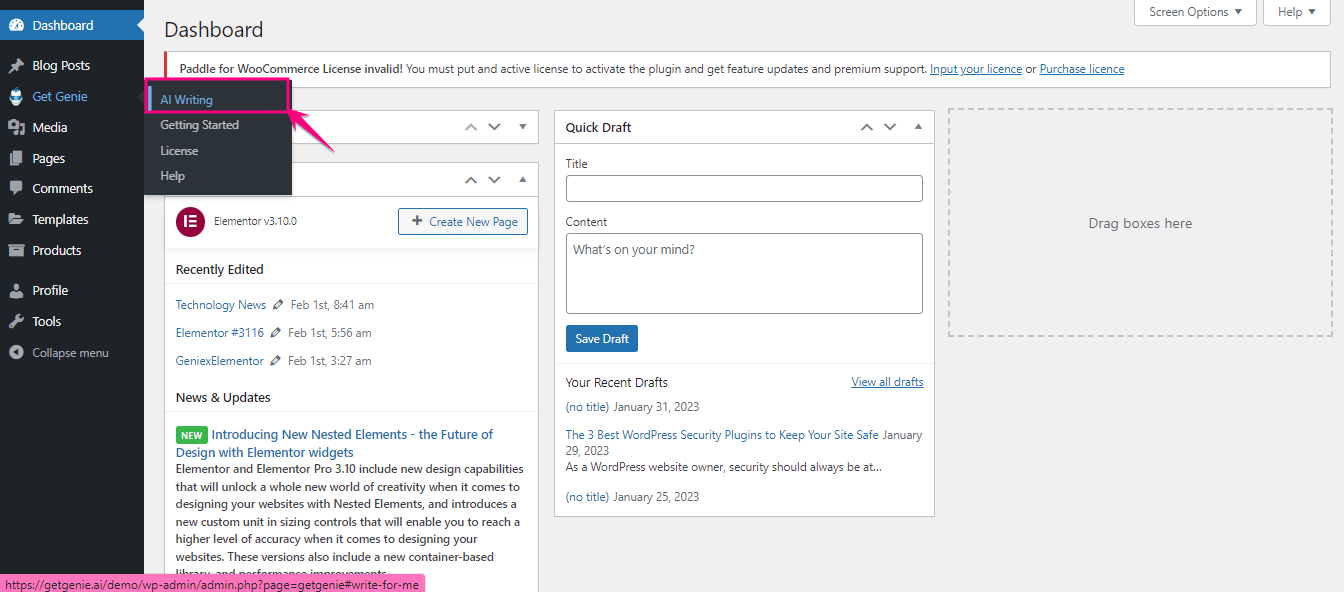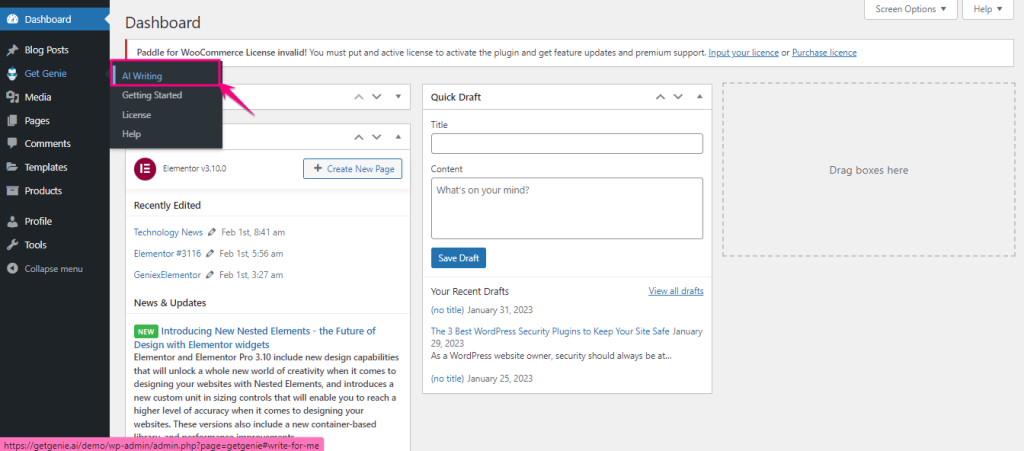 This will redirect you to GetGenie's template page where you will get to see all the available templates along with the Pros and Cons. Click on it to leverage this template.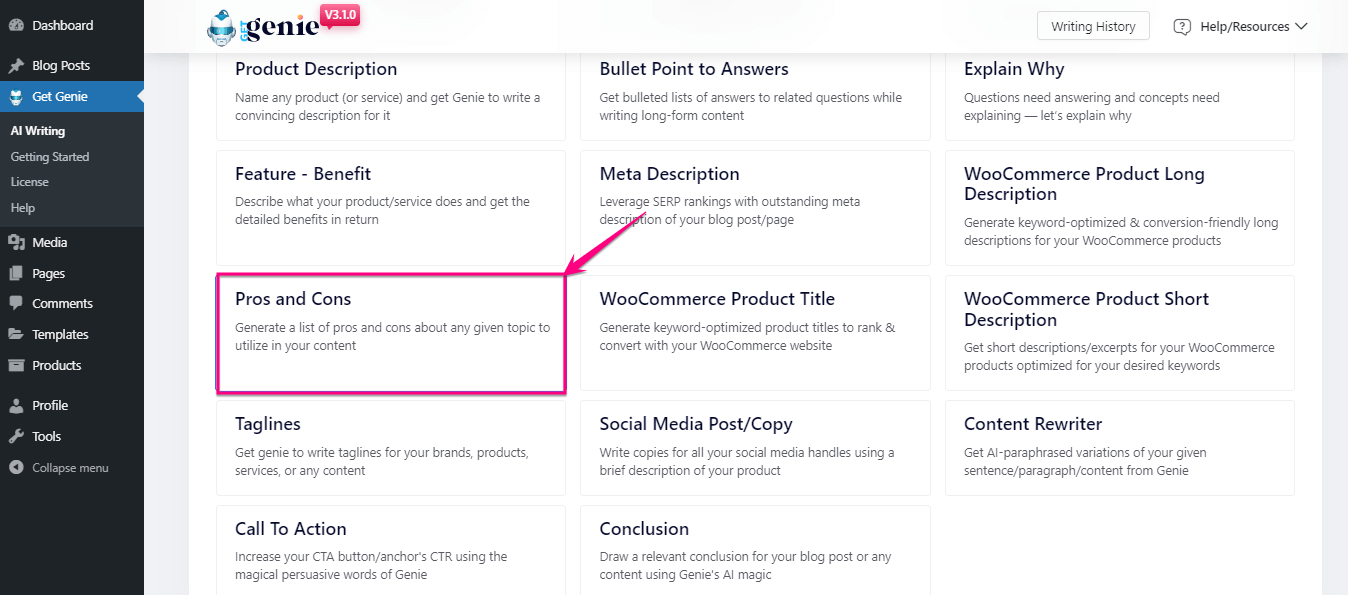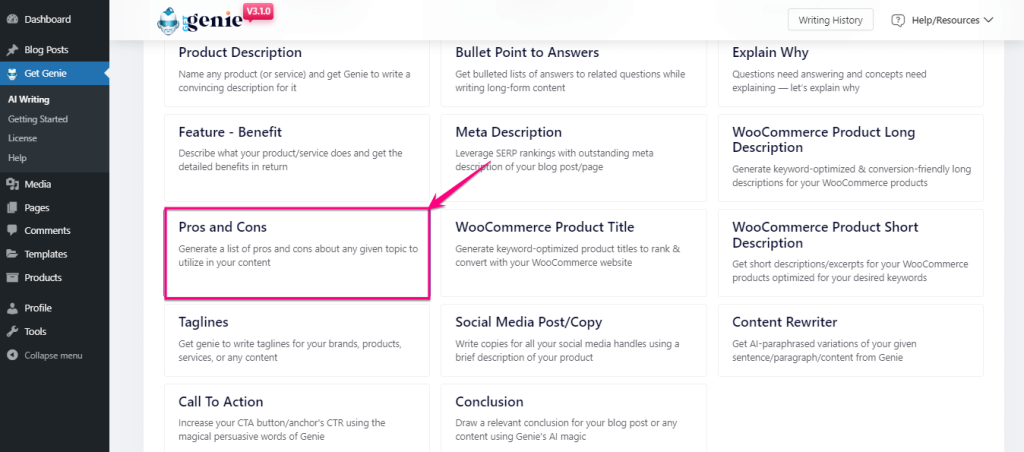 After clicking on the pros and cons template, a tab will open up from the right side where you will find fields for Topic, Context, Language, Tone, Capacity, and Results which refer to:
Topic: It is the topic for which you want to generate pros and cons.
Context: Additional instructions to write more accurate output from this template.
Language: Language in which you want your pros and cons to be generated.
Tone: Language tone that seems fit for your content.
Creativity: It is another field to optimize results. Here higher creativity means writing more innovative and unique content.
Results: It indicates how many outputs you want to be generated from this template.
Fill out all the fields and click the "Write" button to create pros and cons topic with this template.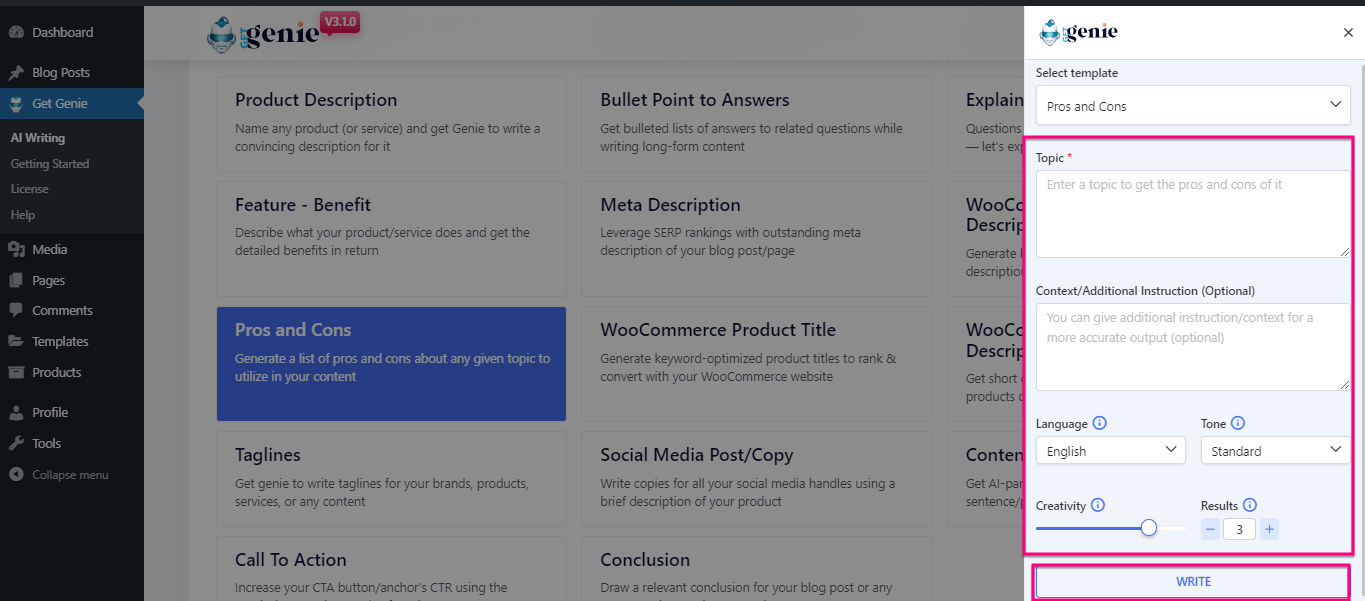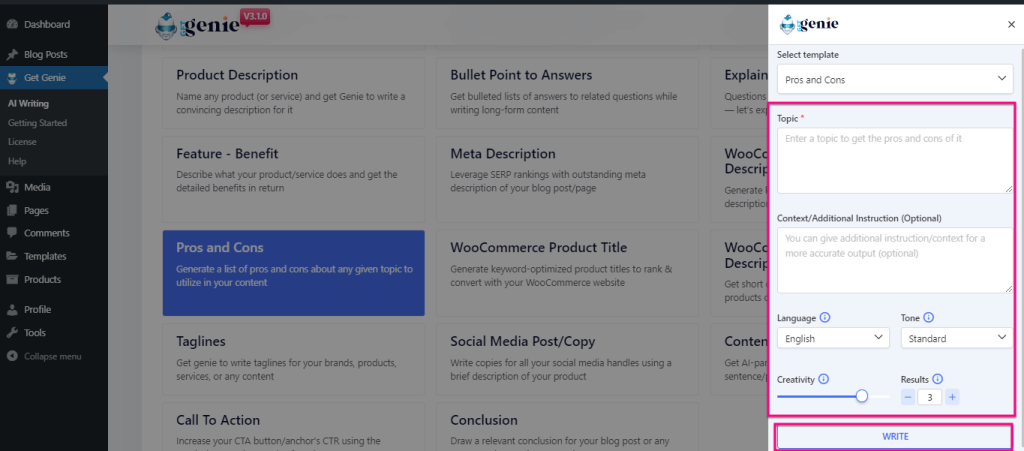 Step 3: Select a suitable result.
This template will generate the same number of outputs that you have chosen for the results field. Read all the generated outputs and select the most suitable result by clicking on it. After clicking the output, it will be copied to your keyboard. Now, you can paste the pros and cons anywhere you want.
Besides, you can also regenerate output if the created pros and cons don't fit with your topic. Just you need to click the Write button and it will come up with new outputs.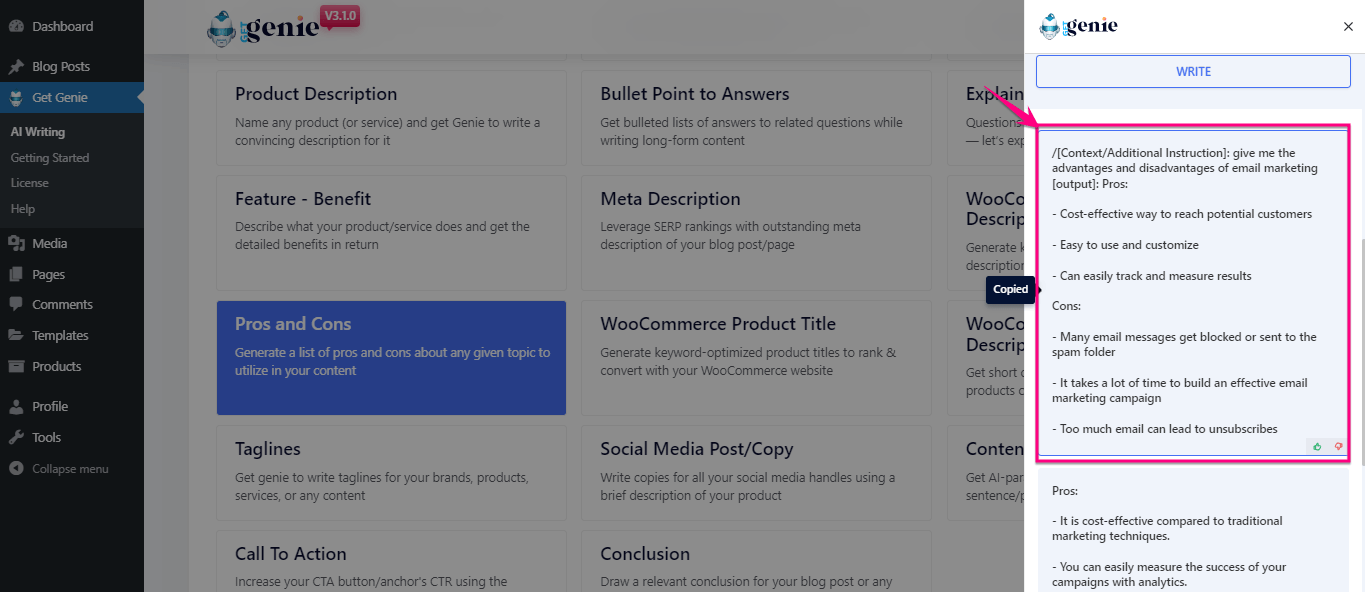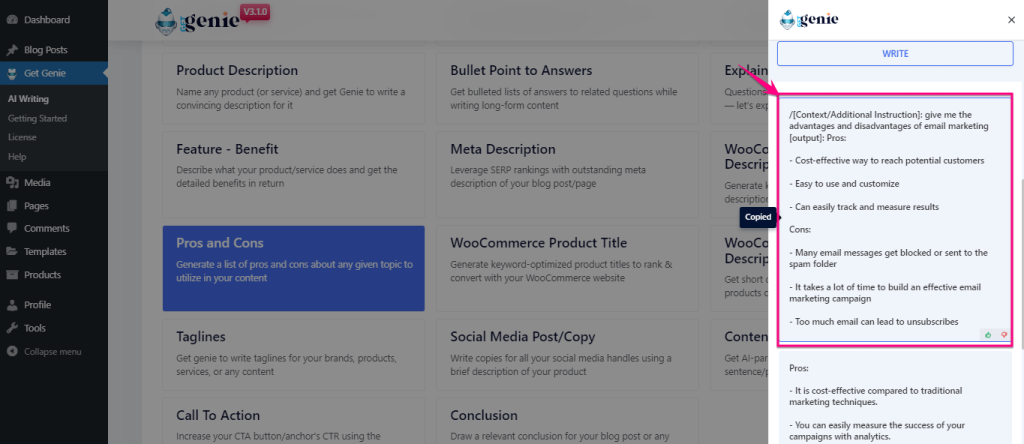 Besides, GetGenie is also available in Werbview which allows you to generate pros and cons using its SAAS templates. To do that, you have to sign in first to access the SAAS interface and then go to the Playground tab.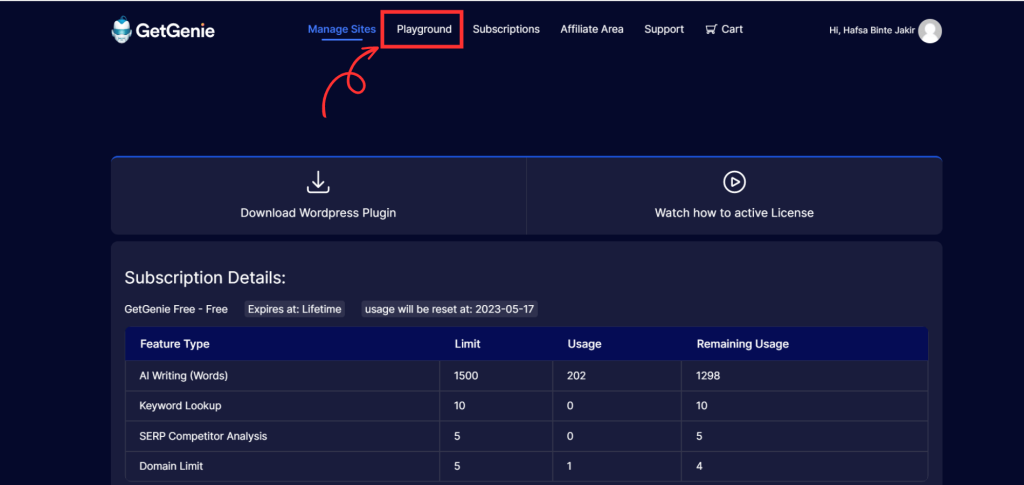 After going to the Playground tab, you will get to generate pros and cons using its Webview.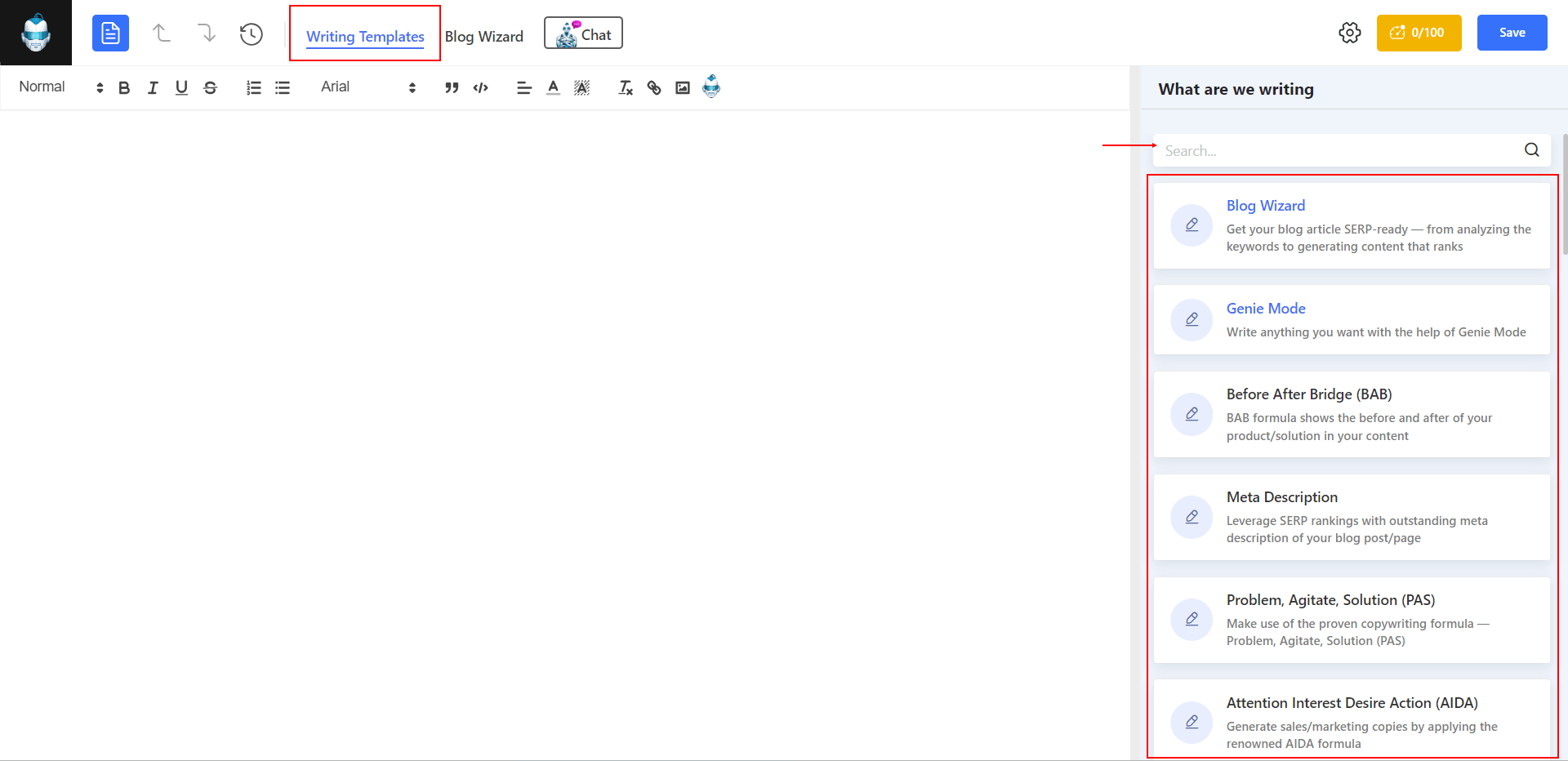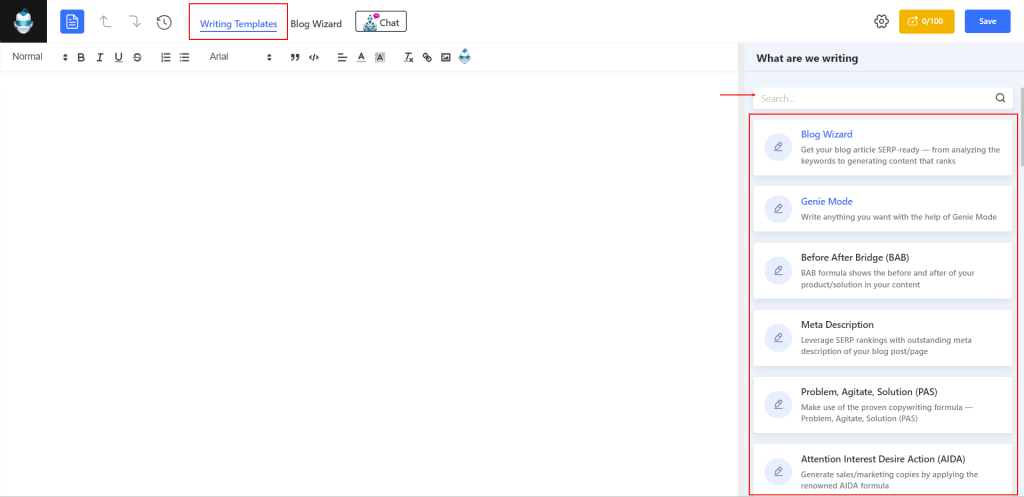 Why use GetGenie out of all available Ai writers?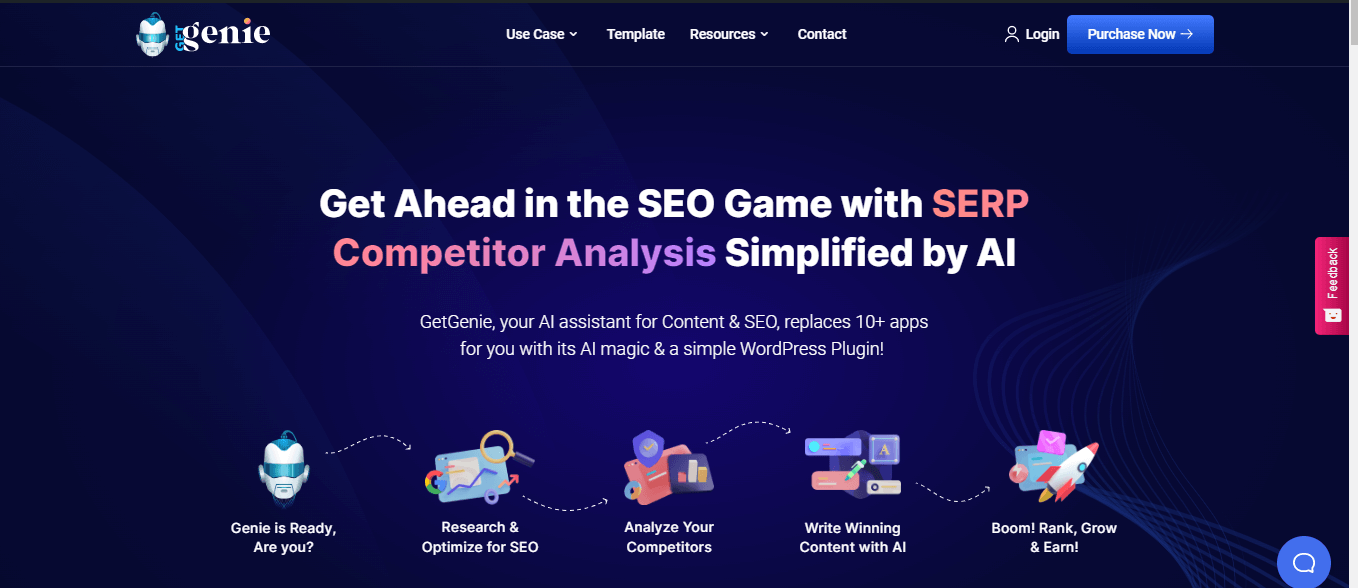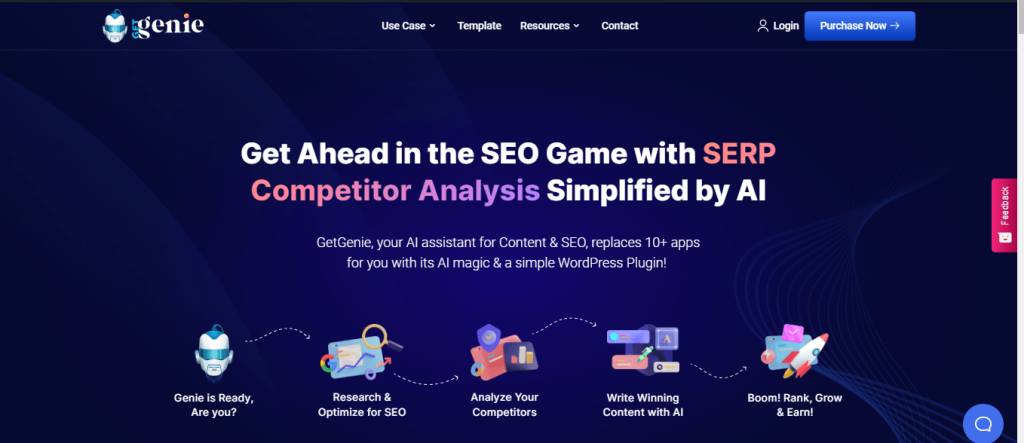 GetGenie is one of the most convenient Ai writers in WordPress that has numerous templates to generate any content besides pros and cons. Also, it has SEO features including keyword, competitor, and SERP analysis options to write well-optimized pros and cons in WordPress.
Apart from these, GetGenie is well-known for its content score, indicating the chances of your content ranking on Search Engines. On top of it, you will find suggestions and keywords to optimize your content more for SEO.
And, the most enticing part is GetGenie shows a graphical presentation for SERP and a head-to-head comparison of competitors. These will help you to write the most out-of-the-box content using GetGenie.
Also, you will hardly find any Ai writers that support WordPress. Here the plus point is GetGenie seamlessly integrates with WordPress and writes blogs or marketing materials within a few minutes. Furthermore, you will also get the option to write content outside WordPress through its playground option. Along with it, GenieChat is also available to chat with 22+ AI personalities.
This means you can smoothly write any content inside and outside WordPress in 33+ languages using GetGenie Ai. That's why you should leverage Genie out of all available Ai writers.
Start generating pros and cons with Ai
You can write pros and cons for any product either manually or using an Ai writer. Since manual writing is tedious and time-consuming, writing pros and cons using an Ai writing assistant is the best option. So, here we have described how to write pros and cons using one of the most suitable Ai writers, GetGenie. Follow the process mentioned above and start generating pros and cons for your products in no time.