How to Write an Essay with Ai [6 Tools to Try]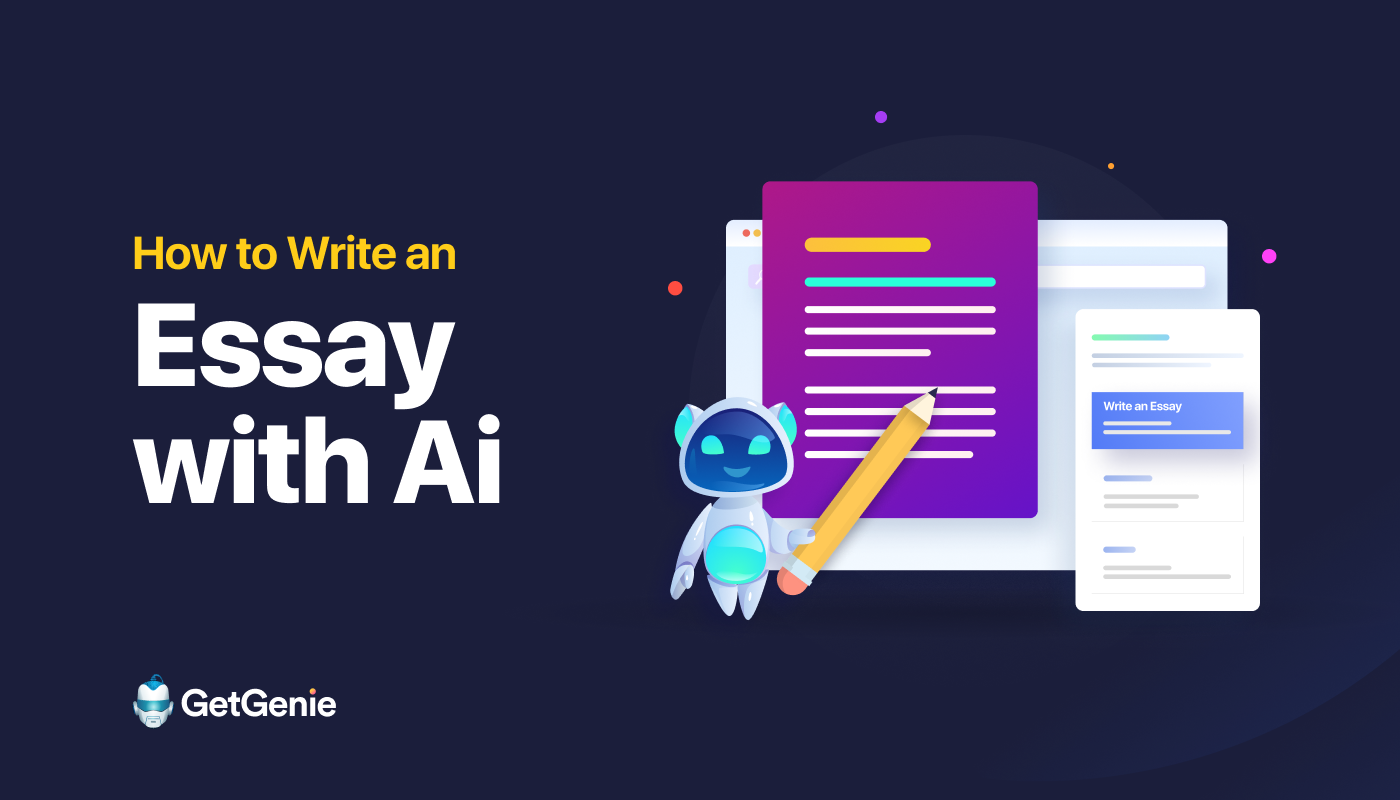 Essay writing is both an art and a skill that allows individuals to express their thoughts, ideas, and arguments effectively. Whether you're a student tackling academic assignments or a professional crafting persuasive documents, the ability to write a well-structured and engaging essay is a valuable asset.
However, crafting an essay is a bit difficult. It requires well-organized thoughts, thorough research on the topic you will talk about, and creativity. If you've ever wondered, "Can I use Ai to write an essay?" The answer is, yes!
With Ai, you can save time and effort with its built-in enhancement in:
Efficiency
Speed
Creativity
Grammar
Style
…..and so on!
6 Best Ai Tools to Write Essay
With the aid of Ai, the daunting task of composing a well-structured and compelling essay becomes more manageable. Now, you might be wondering, "Which Ai tool is best for essay writing?" Let's delve into nine remarkable Ai tools designed to assist and enhance the essay writing process, including free Ai writing generators.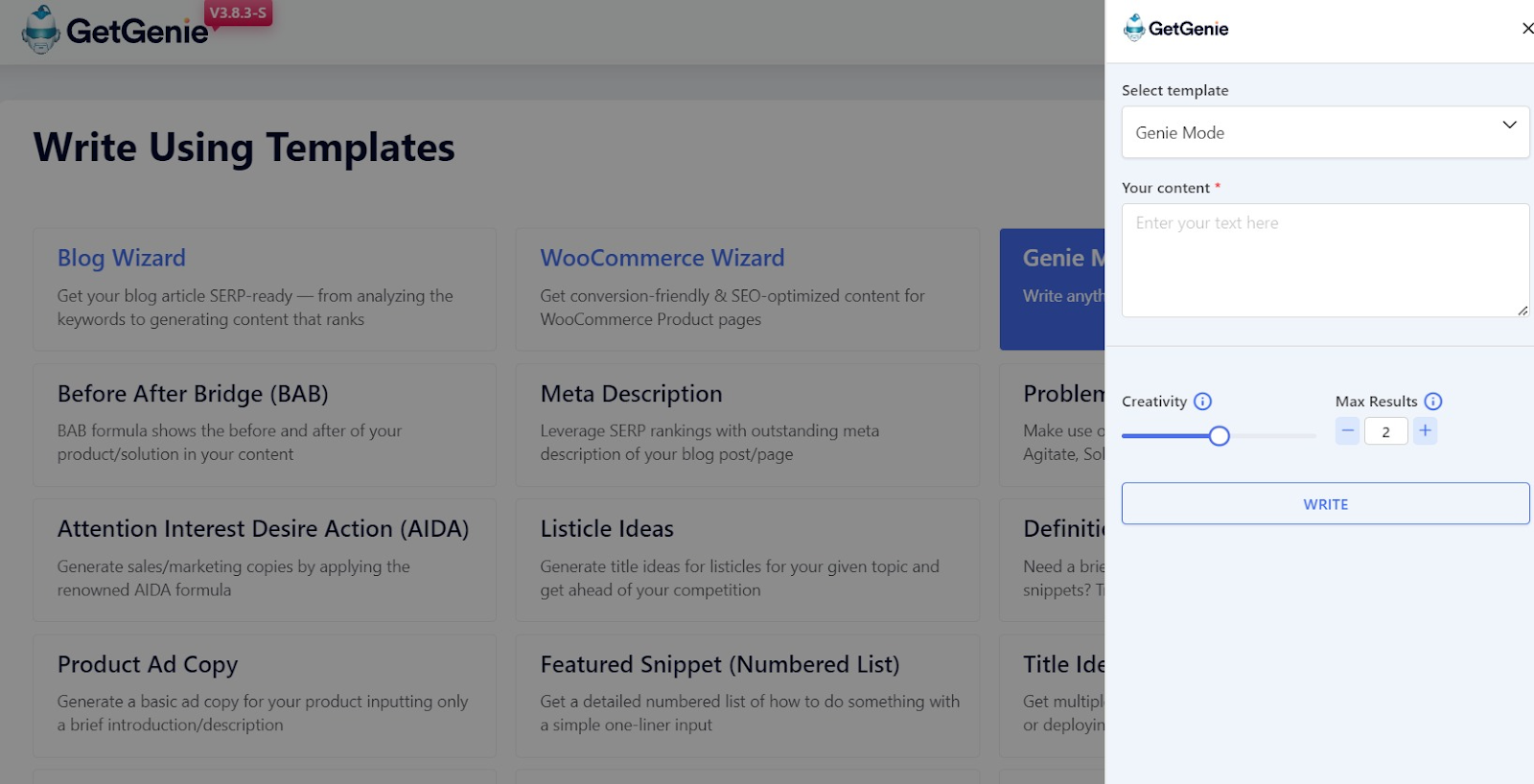 GetGenie Ai, an advanced Ai-driven content and SEO assistant, provides a streamlined solution for producing top-notch content. One notable feature of GetGenie is the Genie Mode where one can generate an essay by customized prompts. It can produce high standards essays without requiring lengthy and tedious prompts.
With Genie Mode, you can adjust the creativity level of Ai-generated outputs. One remarkable feature of Genie Mode is its capability of producing multiple outputs. Users have the option to select the output that has met their requirements.
Additionally, Genie Mode is thoroughly trained and tested to deliver top-notch content that is completely free of plagiarism and human-like output. It utilizes the most recent language model, text-davinci-003, developed by OpenAI. Specifically designed for conversational interactions akin to the ChatGPT tool.
Essay Writing Features:
Craft essays and extensive content with robust data and a distinctive perspective.
With a user-friendly interface ideal for beginners or non-experienced writers.
Available as a WordPress plugin and also a SaaS application.
Supports 37+ languages around the world.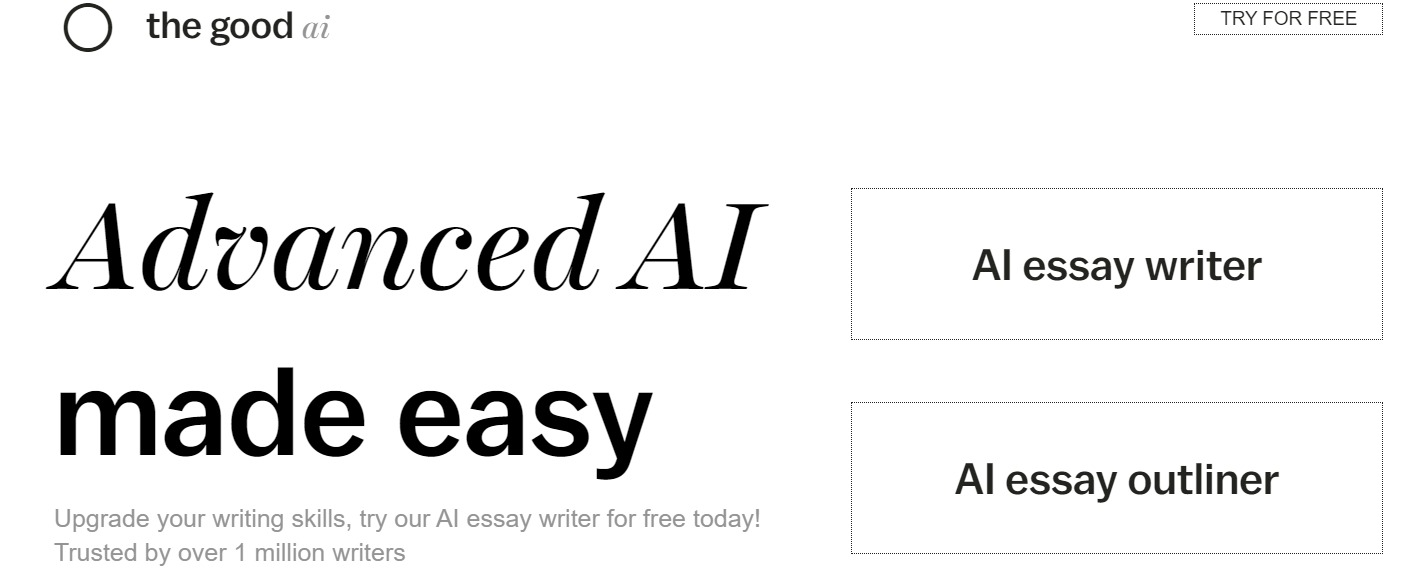 The Good Ai essay writer is a powerful tool that can help you write high-quality essays. This tool can generate essays on any topic, in any style, and with any word count.
Good Ai has features to help you edit and improve your writing, such as Ai auto-complete and advanced essay outline features. It possesses the ability to augment human capabilities, especially in intellectual domains like creative writing.
Essay Writing Features:
Helps you create a proper plan for your essay before you start writing.
Creates a well-structured and complete essay from a manually inputted short idea about the topic.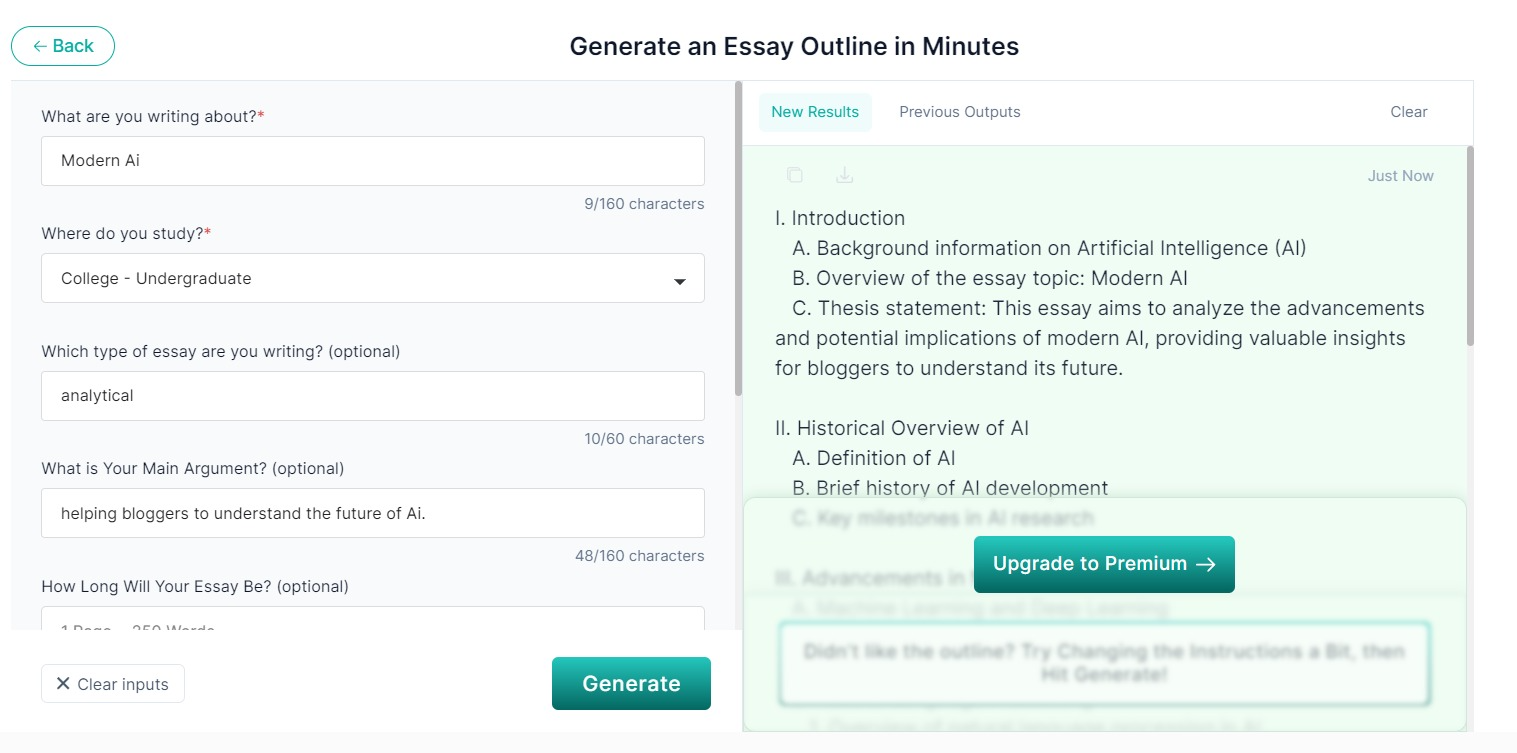 This Ai-powered tool can generate high-quality essays and is a great tool to start the writing process. MyEssayWriter.Ai offers a custom essay writing feature that meets the unique needs of each user. Users can provide key parameters such as topic, word count, and desired writing style. Then, it will produce a well-structured essay in just a few minutes.
MyEssayWriter.Ai is very helpful for users who need help with complex topics. It can create original, well-researched, and customized essays. Additionally, with this Ai-powered tool, you can create a structured outline that serves as a guide for the introduction, body, and conclusion if you wish to write your essay manually.
Essay Writing Features:
With a user-friendly interface.
It scans users' essays for plagiarism, maintaining the user's integrity.
Allows rephrasing of existing content, while preserving the original meaning.
It can summarize a lengthy content into a brief.
It can expand a short essay with a human-like output.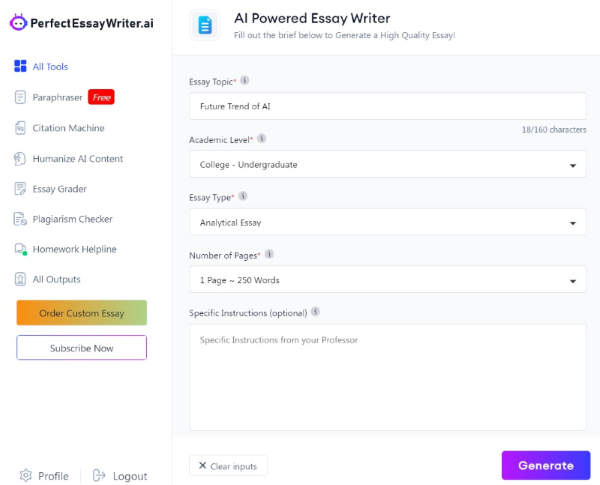 PerfectEssayWriter.Ai uses advanced Ai algorithms to analyze prompts and generate well-structured essays with high writing standards. It can also adapt its writing style to match the desired tone, such as analytical, persuasive, or informative. This makes it a versatile tool for a variety of writing needs, from academic assignments to professional reports.
Moreover, PerfectEssayWriter.Ai has a great writing analysis. It makes sure that each output is well structured, grammar and spelling proof, and plagiarism-free with high readability to be easily understood by the majority.
Essay Writing Features:
It provides users with suggestions for citation styles and formatting requirements.
Provides topic suggestions and generates essays with accurate information .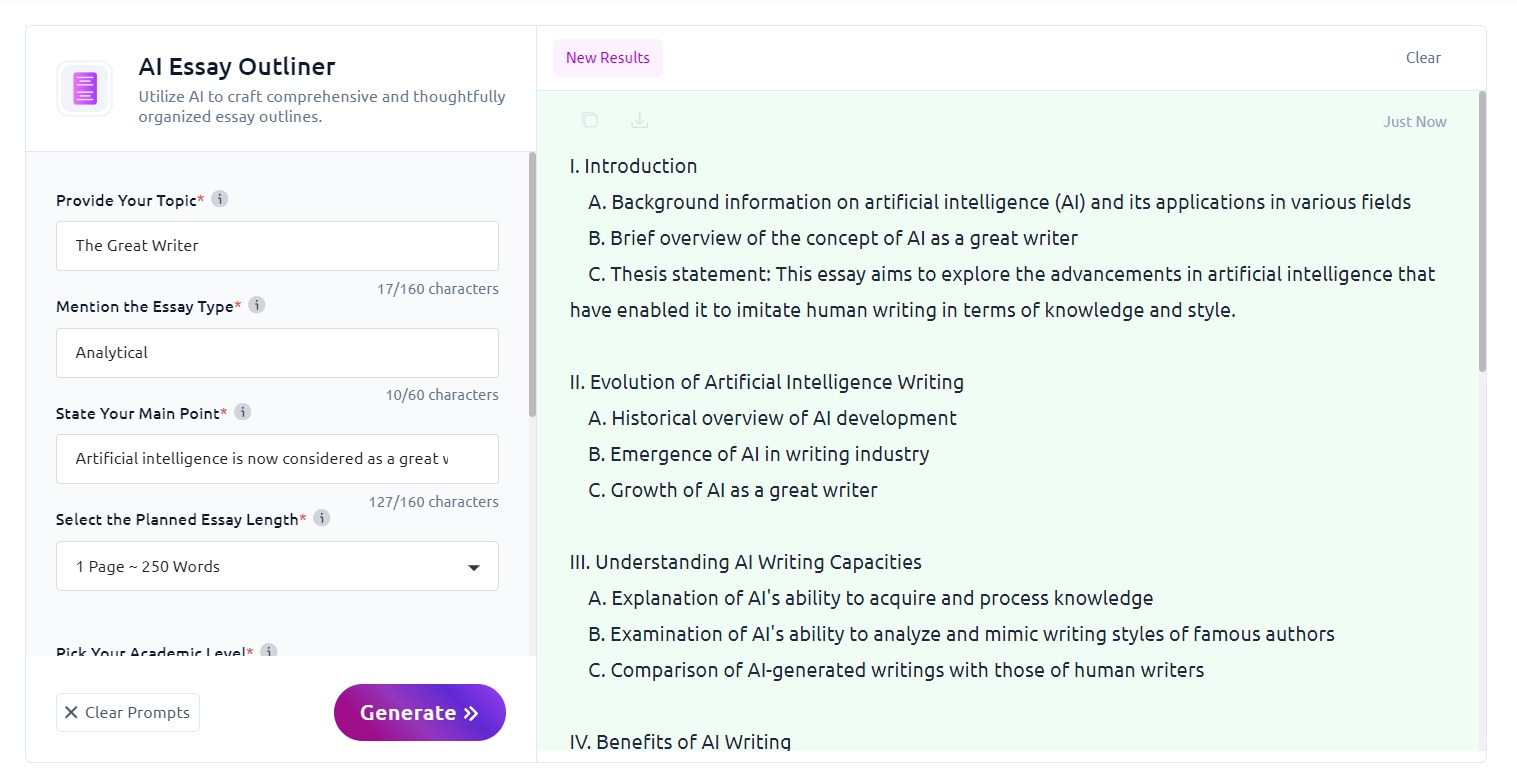 EssayService.Ai is a cutting-edge Ai tool designed for academic writing and essay support. It's capable of producing initial drafts or complete essays using user-provided prompts, substantially streamlining the essay-writing process. This tool leverages intricate algorithms to comprehend essay prompts and create pertinent content.
Essay Writing Features:
Generates essays adhering to academic writing standards with a well-organized and coherent structure.
Receive tailored essays crafted to match your distinct needs and preferences.
Quick and effortless essay generation process.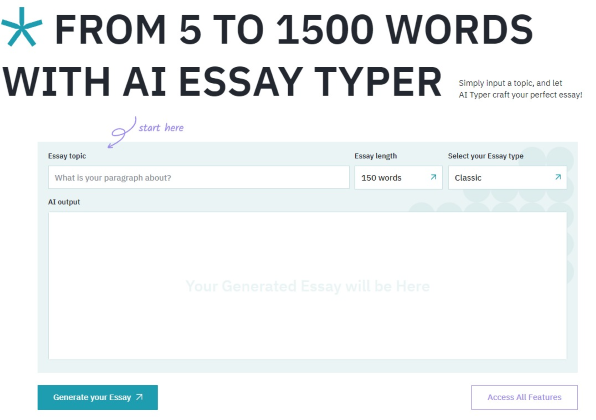 EssayTyper.ai is an Ai-powered essay writing tool designed to support students and writers in crafting original, well-structured essays. Leveraging advanced algorithms and artificial intelligence, this app can analyze user input and generate customized essays that meet specific needs.
EssayTyper.ai is ideal if you are only up to a short essay. It offers a free essay typer and essay detector with a low word limit.
Essay Writing Features:
Rapidly generates a significant amount of text, saving users valuable time and effort in essay composition.
Produces essays with impeccable grammar for a high-quality final product.
Adheres to the structure and content standards seen on reputable scientific and educational websites.
How to Write an Essay with Ai
Crafting an essay efficiently with Ai can be a fantastic time and energy saver, but the approach must be meticulous. To write an essay with Ai, keep in mind the 5 guidelines and "Voila!" 🕺🕺🕺 — there you have your great essay!
1. Selecting the Right Ai Tool
Begin by choosing an Ai-powered writing tool that aligns with your specific needs. There are a variety of Ai tools available, each with its unique features and capabilities. Consider the tool's ability to generate content relevant to your essay topic and style. You can choose any from the 6 Ai tools mentioned above ☝️☝️☝️.
2. Providing Input and Guidance
Once you've chosen an Ai tool, input the necessary information. This usually involves entering the essay topic, any specific guidelines, and key points you want to address in your essay. Clear and precise instructions will guide the Ai in generating content that suits your requirements.
Here, we are using Genie Mode of GetGenie to write a compelling essay. GetGetnie has functions in ensuring that your essay has the desired readability score and is free from plagiarism. Moreover, GetGenie can provide you multiple outputs in just one click for you to choose that best represent your style.
Notes:
➡ Enter your content or your prompt in the "Your Content" field.
➡ Adjust the level of creativity according to your choice.
➡ Adjust the maximum results you want for GetGenie to generate.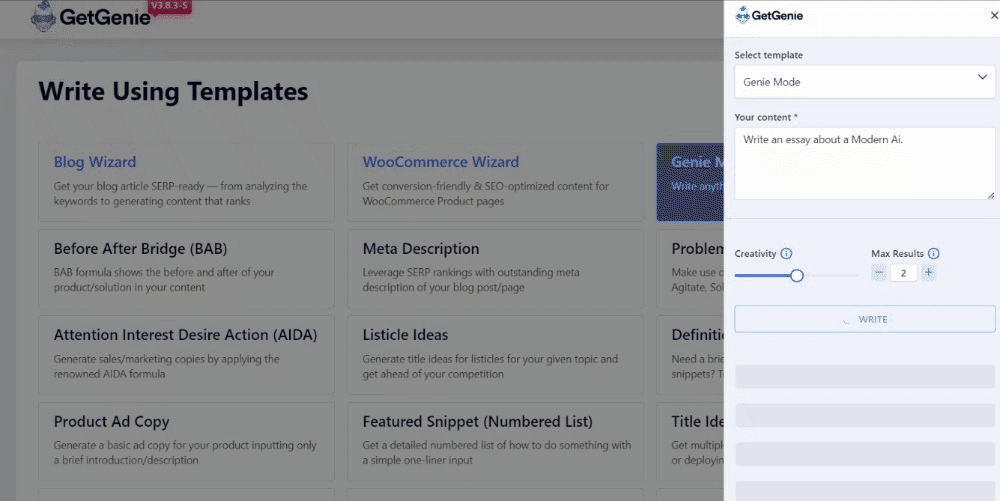 3. Reviewing and Refining Ai-Generated Content
After the Ai generates the initial content, review it carefully. While Ai is adept at creating coherent text, your personal touch and understanding of the topic are invaluable. Modify and refine the content to align with your unique writing style, ideas, and insights.
4. Incorporating Personal Insights and Creativity
One of the strengths of human intervention in Ai-generated content is the ability to infuse personal insights. Your creativity and critical thinking can take the content to the next level. Incorporate original thoughts, examples, and perspectives to make the essay truly yours.
How can you personalize your content creation? 5 simple
steps
for you!
5. Checking for Plagiarism
Utilize plagiarism-checking tools to verify the originality of the content. Ai-generated content is based on patterns and existing data, so it's important to ensure the essay is free of any copied material. Make necessary amendments to maintain authenticity. But when you are using GetGenie, you don't have to undergo this step because the tool also prioritizes the authenticity of your essay with its built-in plagiarism checker feature.
How can you avoid plagiarism in your content? Incorporate
strategies
while writing your content with Ai.
6. Final Edits and Polishing
Proceed with final edits and proofreading to enhance the overall coherence and clarity of the essay. Pay attention to grammar, punctuation, formatting, and any other stylistic elements that can refine the essay and make it presentable.
Final Verdict
With the advent of Ai, the essay writing process has become more accessible and efficient. Ai-driven tools offer several advantages, including enhanced efficiency, speed, creativity, and assistance with grammar and style.
Whether you need initial drafts, complete essays, or assistance in generating content, these tools can substantially streamline the essay-writing process. Take note of the guidelines and you'll have a great essay.
If you are looking for Ai that has everything to write your essay, GetGenie is the right choice for you!