How to Win Google Helpful Content Update and Recover Your Website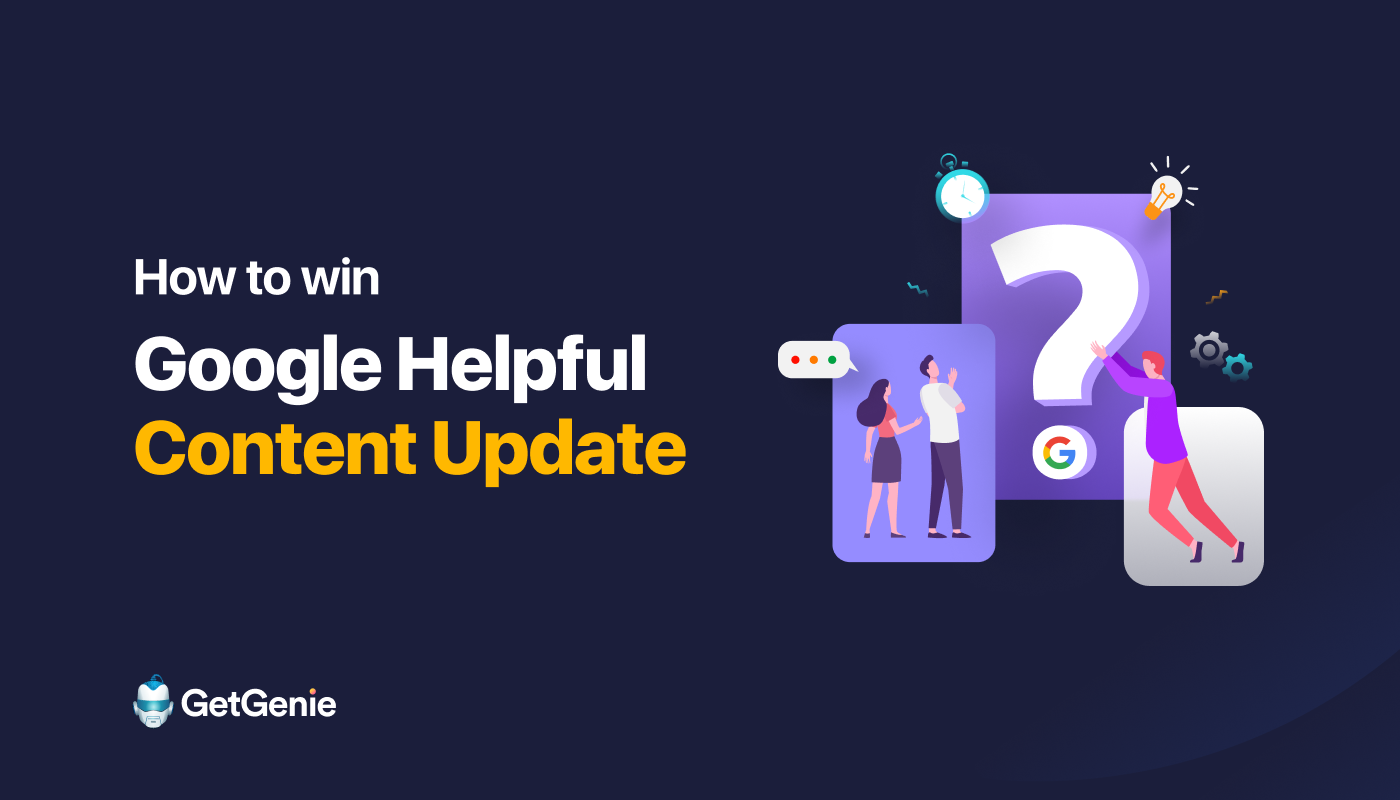 Google has rolled out a new algorithm update, AKA Helpful content update. The purpose of this algorithm update is to ensure that Google is presenting the most valuable and user-friendly content to the searchers.
Now, as a blogger, how would you overcome google helpful content update? That's the question! Or, maybe one of your websites has got hit, what's now?
Get all the answers to your queries here.
What is Google helpful content update?
Helpful content update is an algorithm update used by Google Search to promote useful and original content in search results. It assesses the quality of content on websites. If your site offers content that people find valuable and helpful, you're in good shape.
However, if your site has content that doesn't meet user expectations, it might not perform well in search results. Google's system automatically identifies unhelpful content using a machine-learning model. It also takes into account the overall utility of a website.
It means, if some of your content is really valuable for users while some pieces of content are not up to the mark, your website still can get a hit.
To improve your site's ranking, it's a good idea to remove unhelpful content. Google continuously evaluates websites, and if it sees that your content has improved over time, your site's ranking may get better.
How to win or recover a helpful content update (HCU)?
If you are struggling to rank your content and have a feeling that a helpful content algorithm is the reason, you should focus more on your content. The same goes for websites that already got hit.
Here are the things you should do to recover or win the new algorithm update —
Include original research
Paraphrasing from someone else's content or just rewriting the same thing as your competitors won't give you a better ranking.
Writing from others' ideas means you didn't do any research and you are not providing any additional value. This can easily lead your content to failure.
So, how to overcome the issue? You should always add some original researched data to the content. For instance, you can ask a question in a relevant forum and find out the percentage of people agreeing or disagreeing with something.
You can also go through multiple sources of information, analyze the states and include it in content. Sometimes you can collect text-based information and present it with a chart or graph.
Update your existing content
No matter how much effort you put in while writing and publishing content, you should regularly update and optimize the existing content. People like to read and see fresh information and so does Google.
Instruct your website editors to dedicatedly work on content updates. Add new information for the contents and update them. Look for the keywords that are picked by Google. Simply login to Google Search Console and list down the keywords that are picked by Google but you didn't add much content for that particular keyword.
Now add information for those keywords and you will see the magic. If everything goes well, you will see the growth in organic traffic.
Do internal linkings properly
According to Backlinko, if you use keyword-rich anchor text for internal linking, it will help to pass the link juice throughout the whole website. This potentially enhances the chance of getting a good ranking position on the SERP.
Proper internal linking gives a positive SEO signal to the search engine Google. Wondering why? Well, when you are internally linking relevant resources of your other posts, it helps the readers to stay on the same page and get everything conveniently and this is the goal of Helpful content update.
With GetGenie, find out the number of internal linkings of your competitors. Check the details and come up with a strong strategy and create better internal linking.
Link to external sources
It is not essential that you just link with your own web pages. Instead, you can link to other reliable resources to make it more authentic. Even Google has its own External link building guideline.
Sometimes we create content on different topics and might use some words that need external resources to explain it. In such cases, it is always better to link to those resources.
So, should you use external linking for each of the blog posts? Not at all! You should create internal linkings only when it is necessary.
Establish Author's authority
While writing the content, the author should sound like an expert and should include some relevant information to establish it. The best practice is establishing EEAT.
Also, I would recommend you to hire authors based on their expertise and experience on that particular topic. An author who has experience in the relevant field will always give better content output for sure.
Stop writing filler words
Did you ever hear that Google ranks longer content or that writing more words increases the chance of getting ranked on the SERP? Well, Google never said that longer content is more helpful! Instead, it always prefers to satisfy the searchers.
What is EEAT?
The concept of E-A-T (Expertise, Authoritativeness, Trustworthiness) is used to evaluate the quality of search results. It introduces an additional element, "experience," known as E-E-A-T.
This means that not only should content be expert, authoritative, and trustworthy, but it should also reflect real-life experiences, such as using a product or visiting a place. The text highlights that different types of content are needed for different purposes.
Google's search rater guidelines emphasize the importance of original and helpful content in various formats from diverse sources. While not entirely new, these updates aim to better reflect how people search for information.
The guidelines help assess search ranking system performance and are useful for content creators aiming to succeed in Google Search.
Do helpful content updates and Ai content have correlation?
At some points, yes, the HCU is kind of correlated with Ai written content.
Why?
In most cases, Ai writing tools just generate content based on some particular structures. Tools can't understand how to do research and collect data from multiple sources.
Also, the writing tone in most tools remains the same and sounds robotic. As a result, those contents don't help the readers much. As a result, the content might get hit by Google's algorithms.
Does it mean you shouldn't use Ai in content writing? Not at all! You can still use Ai tools to write content but in a better way.
While writing the content, provide your researched information to the Ai and instruct you to write the content using those pieces of information.
Use GetGenie's customized content feature to get custom output each time. You can even optimize each of the sections of a blog post by providing the keywords.
How do you write helpful content?
If you want to write really helpful content for your readers, don't ever solely rely on Ai tools for writing. Do the research part yourself before you start writing the first word. When you feel like you have in-depth knowledge and you can explain it easily to one of your friends, you are good at writing.
Now build a strong content outline with a flow that your target audience might want to know in different steps.
If you are writing with a heading 'A', the next heading 'B' should align with A. Never ever blindly insert keywords in the content. Instead, keep the keyword placements natural.
After writing your content, read it loudly and try to find out the content gaps.
Submit your content to the editor to get more feedback and edit it accordingly.
How to use Ai in the age of new Google search?
After multiple algorithm updates from Google, people are getting confused if they should still use Ai writing tools. Well, getting hit by updates doesn't mean it is all about Ai written content. Google says it doesn't differentiate between human written content and Ai written content as long as it is providing value to the readers.
But yet, Ai written contents are mostly getting hit. The reason? Not using Ai as an assistant. It is overwhelming to write content just with one click. But you shouldn't always try that — especially for topics that require in-depth research.
For such topics, go for the content customization. While generating each of the paragraphs, provide the necessary information to the Ai and see the output. You should also input the keywords in the content and place them naturally.
Once you are done with the content writing, go thoroughly to it and try to find out if it is satisfying the search intent.
Do competitor and SERP analysis to find if you are providing more values than your competitors. And finally, if you see everything is going well, you can publish it.
Frequently asked questions
If you have more queries about Google Helpful Content Update (HCU), check out the following questions and answers.
My site got hit, what should I do?
Start going through the pages that have recently seen traffic drop. Compare the last 3 months ranking positions from Google Search Console and list down the pages that are losing traffic. Now update them with fresh data and try to make them helpful for the users.
Why is search traffic dropping for existing content?
Sometimes traffic drops for existing content because Google finds a better content than you that is providing more value. Also, it could happen that you are not updating the content but the topic you have covered there needs new information.
Does long content perform better?
Google has never said long contents perform better. You should increase the number of words only if the topic demands. Don't go for filler words that don't provide any value to the readers.
Do Google updates help with SEO?
Yes, Google updates might affect the overall SEO on a big scale. The algorithm changes might help some content to rank better while some content might get down from the SERP.
Final words
So, now you have the breakdown of Google Helpful Content update. Start writing and optimizing your content based on the new guideline. Never consider ranking a content just with ordinary content anymore. Write human first content and Google will reward you accordingly.