Davinci vs Turbo — A Detailed Comparison That You Need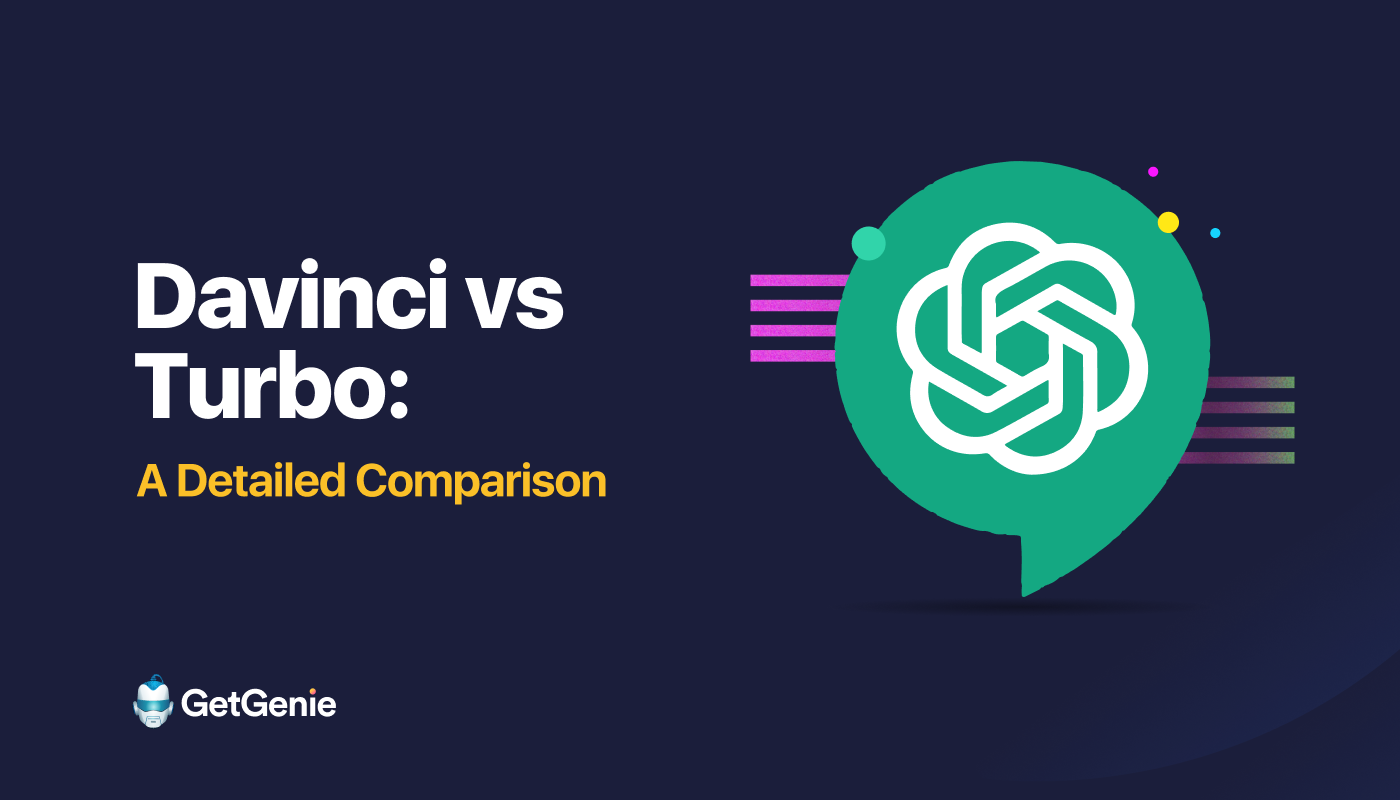 AI in the writing industry is revolutionizing the whole thing. Writing tools based on different GPT models are becoming heavily popular. OpenAI — the mother company of GPT has introduced different models for writing.
Davinci and Turbo are the two most popular models for different types of writing.
If you consider Davinci vs Turbo in terms of use cases, you will find similarities and dissimilarities between the models.
This blog post is going to discuss everything you need to know about these two models of GPT.
Overview of Davinci model
The GPT-Davinci model is one of the most powerful versions of the GPT language model developed by OpenAI. It is a large-scale language model that was released in June 2021 as part of the GPT-3 family of models. The GPT-Davinci model has 175 billion parameters, making it one of the largest and most powerful language models in existence.
It is designed to generate high-quality natural language responses to a wide range of tasks, including language translation, summarization, question-answering, and more. It is capable of understanding the context and nuances of language and can generate responses that are both coherent and meaningful.
One of the key features of the GPT-Davinci model is its ability to perform zero-shot learning, which means that it can perform tasks that it has not been explicitly trained on. This is achieved through its large number of parameters and the extensive pre-training it undergoes, which allows it to learn and generalize from a vast amount of language data.
Overall, the GPT-Davinci model represents a significant advancement in the field of natural language processing and has the potential to transform the way we interact with language-based technologies.
Overview of Turbo model
If you're reading this, you probably know about ChatGPT and OpenAI APIs. The GPT-3.5-Turbo Model is the latest and greatest language model created by OpenAI, and it's what powers ChatGPT. With this model, anyone can make their own chatbot that's just as good as ChatGPT.
The new GPT-3.5-Turbo model can take in a bunch of messages, instead of just one like before. This means it can remember what you said before and use that information to give you better responses. It can also follow certain instructions to make the response even better.
So, if you generate an answer for a certain query, you can recall the same thing for the next answer or next writeup. Not only that, the Turbo model of GPT can do analysis and present the analyzed data in tables and other formats.
It is more user-friendly and anyone can start anytime without any additional context.
Davinci vs Turbo — comparison between the GPT models
DaVinci is known for its ability to generate longer and more coherent text, making it well-suited for content creation, language translation, and other complex language tasks. It has been trained on a larger and more diverse dataset than Turbo, which enables it to perform better on a wide range of language tasks.
On the other hand, Turbo is designed for simpler language tasks such as chatbots, basic language processing, and other similar applications. It has a smaller model size and is less expensive than DaVinci, making it a more cost-effective option for simpler use cases. However, due to its limited capacity and accuracy, Turbo may not be as effective for more complex language tasks.
In terms of availability, DaVinci is only accessible through OpenAI's API access program, while Turbo is available through both the API access program and some third-party tools. However, the availability of both models may be subject to changes and limitations imposed by OpenAI.
Overall, the choice between DaVinci and Turbo depends on the specific use case and budget of the user. If the user needs high accuracy and the ability to generate longer and more complex text, DaVinci may be the better option, even with its higher cost.
Davinci vs Turbo – comparison table
If you are in a hurry, just check the following table to have a clear idea about these two models of GPT.
| | | |
| --- | --- | --- |
| Feature | DaVinci | Turbo |
| Model Size | 175B parameters | 6B parameters |
| Performance | Higher accuracy and ability to generate longer texts | Lower accuracy and limited ability to generate longer texts |
| Cost | More expensive | Less expensive |
| Use Cases | Better suited for complex language tasks such as content creation and language translation | Better suited for simple language tasks such as chatbots and basic language processing |
| Availability | Only available through OpenAI's API access program | Available through OpenAI's API access program and some third-party tools |
| Training Data | Trained on a larger and more diverse dataset | Trained on a smaller dataset |
Wrapping up
As a user of GPT, you should explore different models of it to find out which one is performing better in your case. The good thing is, there are tools like GetGenie AI that have both the davinci and Turbo models for generating different types of writeups.
With GetGenie, you can enjoy writing blogs, copies, emails, advertisements, social media posts, answers to queries, and more.