The Ai Face-Off: GetGenie vs ChatGPT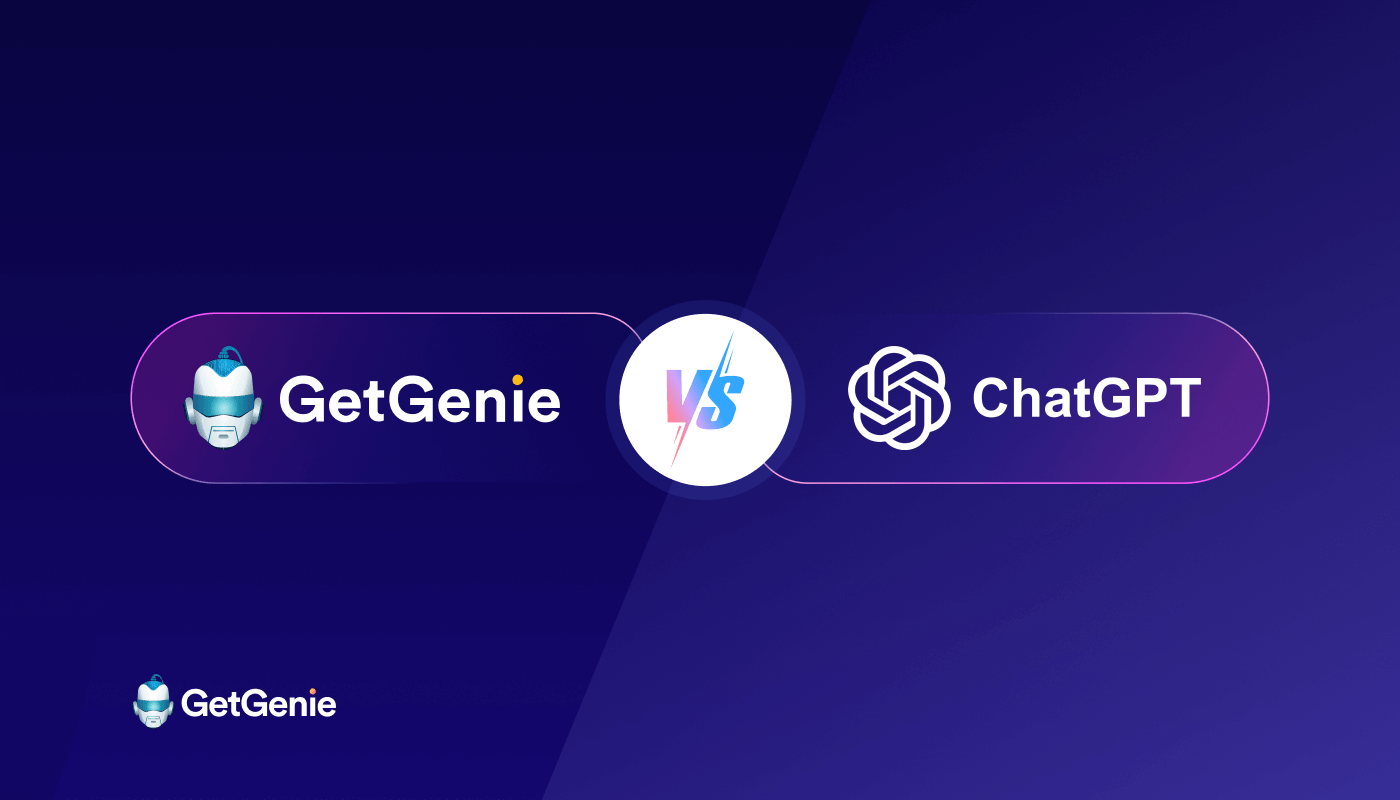 Enter the arena of Ai comparison as we bring you the Ai face-off of GetGenie vs. ChatGPT. In this article, we compare two big Ai players to see what they can do to create and share content.
Join us on this exploration as we delve into the intricacies of GetGenie and ChatGPT. We'll uncover their standout strengths and how they're changing digital engagement. It's time to witness the clash of these Ai giants and gain insights into the future of technology.
Common Denominator of GetGenie and ChatGPT
GetGenie and ChatGPT are both Ai tools that help with content creation. To fully comprehend these Ai tools, let us first define each.
Getgenie is a comprehensive SEO-integrated writing tool for WordPress and web browsers, catering to creating lengthy and concise content. If your concern lies in enhancing your SERP ranking, GetGenie is ready to provide an SEO-optimized range with a content score.
ChatGPT is explicitly designed for generating human-like text in a conversational context. It is trained to understand and generate coherent responses in natural language, making it suitable for everyday applications.
What makes GetGenie similar to ChatGPT?
Both tools use Ai algorithms and NLP (Natural language Processing) to aid users in creative and communication tasks. Free versions of the two tools are built upon the GPT-3.5 architecture, while the pro versions of GetGenie and ChatGPT are built upon GPT-4 models. These models are a version of the GPT (Generative Pre-trained Transformer) series of language models.
GPT-3.5 and GPT-4 are designed to generate human-like text and understand the context in various natural language processing tasks. It's a highly advanced language model that utilizes a transformer architecture. It is pre-trained on massive text data, allowing it to perform tasks like text generation, translation, summarization, and more.
GetGenie vs ChatGPT: Features Comparison
Step into the battlefield of intelligence as GetGenie and ChatGPT, two formidable Ai text generation platforms, go head-to-head. In this GetGenie vs ChatGPT face-off, we explore their strengths and capabilities to help you navigate the landscape of Ai-powered content creation.
GetGenie's Features and Capabilities
What makes GetGenie set apart as a leading solution in the Ai field is its feature-rich identity. It offers a host of 37+ templates and functionalities designed to enhance your experience and empower you with unparalleled capabilities.
1. Unique SEO Features with Blog Wizard
The main highlight of GetGenie is its Ai-powered SEO content assistance. These SEO features are embedded in the Blog Wizard template. This ensures that the contents you can generate through Blog Wizard are SEO-optimized. We will uncover the things you want to know about these SEO features in a short while.
SEO features include:
SEO Keyword Analysis
NLP Keyword Suggestions
Competitor Analysis
Related Questions
Content Score
SERP Visualizer
Head-to-Head Analysis
2. Multi-language Support
GetGenie's language support is expanding. It now translates Ai content into 33+ languages, including Korean, German, and French. This helps you reach more audiences and achieve business goals, as language is key to effective communication with clients.
3. Templates
GetGenie offers various templates suitable for each unique purpose:
➡️ General Writing
Templates such as the following can be used for your writing tasks:
Listicle Ideas
Definition
Featured Snippet (Numbered List)
Paragraph Compression
Content Rewriter
Next sentence
Next Paragraph
List of Questions
Related Topics
Pros and Cons
Short Answer, etc.
➡️ Long-form Content Writing
Blog Wizard Template is the most convenient template for writing long-form content. This feature allows you to generate long form content either manually or through a single click (One-click blog).
With a One-click blog feature, GetGenie can provide you with Ai-generated complete content, ready to be posted on your website in just seconds. Don't worry, you'll get to know more about this feature as we go along with this journey.
Here are other templates you can use for your long-form content writing:
Meta Description
Outline
Title ideas
Conclusion
Bullet Point to Answers
Paragraph for Heading
➡️ Copywriting / Landing Page Copy
GetGenie offers various frameworks exhibiting unique strengths that you can use in creating your landing page copy. Here are the frameworks you should pay attention to:
PAS (Problem-Agitate-Solution) Framework – Works best for short copies.
AIDA (Attention, Interest, Desire, and Action) Framework – Applicable for content, copies, and various ad campaigns.
BAB (Before-After-Bridge) Framework – Helps connect the product and the outcome.
Feature – Benefit – Its concept is to present the benefits of a product to its customers.
Genie Mode – "Ask Me Anything (AMA)" feature allows users to input custom prompts to get your copywriting output from the Ai system.
Call to Action (CTA) encourages customers to purchase your products and avail of services offered.
➡️ eCommerce Posts
If you are looking for a tool to work best on your eCommerce posts, GetGenie has something for you. Here are the templates you can use for your eCommerce product pages:
WooCommerce Wizard
Product Ad Copy
Product Description
WooCommerce Product Long Description
WooCommerce Product Short Description
WooCommerce Product Title
Taglines
➡️ Social Media Posts
Social media is very important for achieving your business goals. Worry no more, as GetGenie has various templates for your social media engagement:
Social Media Post/Copy
Instagram Caption
Instagram Bio
LinkedIn Post

Strengths and Success of ChatGPT
ChatGPT is a prompt-based Ai tool. It consists of vast voice tones and writing styles. It also supports various languages. If you are savvy in prompts, then ChatGPT is for you. However, ChatGPT's premium account allows you to access its readily available templates in various areas.
1. Copywriting – ChatGPT offers readily available templates for:
➡️ Blog Writing – ChatGPT will allow you to generate the following:
Blog Post Titles
Blog Post Descriptions
Blog Post Outline
Complete Blog Post from Topic
Entire Blog Post from Outline
Introduction Using Framework
Paragraph of Text
➡️ Book Writing – ChatGPT can generate a plot, title, outline, and chapter for your book writing.
➡️ Content Writing – ChatGPT allows users to generate content titles, briefs and outlines, monthly calendars, and FAQs, rewrite existing content, and convert their articles into a listicle.
➡️ Course Writing – If you are into education services, ChatGPT can generate a course idea and outline lessons and assignments.
➡️ Email Writing – ChatGPT can edit an email into a professional one. This tool also allows users to generate the following:
Marketing Email
Sales Prospecting Email
Cold Outreach Email
Follow-up Email
Referral Email
Subjects Line
Email Newsletter Calendar
➡️ ChatGPT allows users to create a generic landing page and landing page for eCommerce, affiliates, and SaaS platforms.
2. Marketing – ChatGPT offers templates for marketing, including AIDA, PAS, FAB, and BAB Frameworks. Additionally, this tool allows users to create a buyer persona, long-form sales letter, and video sales letter.
3. Social Media – ChatGPT offers readily available third party plugins you can use for your social media engagement. Social media channels include:
Facebook
Instagram
LinkedIn
Pinterest
Tiktok
Twitter
Youtube
GetGenie's Edge Over ChatGPT: Unmatched Features
Although ChatGPT and GetGenie are the same Ai tool and use the same technology (GPT-3.5) which are useful for your content creation for your blogs, eCommerce stores, marketing, and social media engagement, etc., GetGenie has unmatched features that are not offered in ChatGPT. These features fill in the gap of ChatGPT, simplifying your content creation and streamlining your workflows.
Blog Wizard
In contrast to ChatGPT, GetGenie comes with a robust feature called the Blog Wizard. This feature allows you to create entire blog posts quickly. With just a few inputs, GetGenie can craft a complete blog post in just minutes.
All you need to do is provide a focus keyword related to your topic. GetGenie will then sequence your blog post's title, introduction, and outline. After generating these segments, GetGenie can craft your complete blog post within minutes.
Furthermore, you can customize its settings based on your preferred language and tone. What's more, with GetGenie, you have the chance to have multiple options by specifying the number of results with just one click. While in ChatGPT, you need to ask the system to regenerate a response. This Blog Wizard incorporates two methods of generating a complete blog post – Generate Content Manually and One-click Blog.
And that's not all – you can also use GetGenie's rich features to rewrite and edit various sections of your WordPress blog post.
One-click Blog
When comparing ChatGPT and GetGenie, it's clear that GetGenie offers a unique advantage. GetGenie's feature not only streamlines the process of creating WordPress blog posts but also introduces two powerful features for enhanced efficiency.
This innovative GetGenie feature streamlines the entire WordPress blog post creation process with the integration of the Blog Wizard template, and the One-click Blog.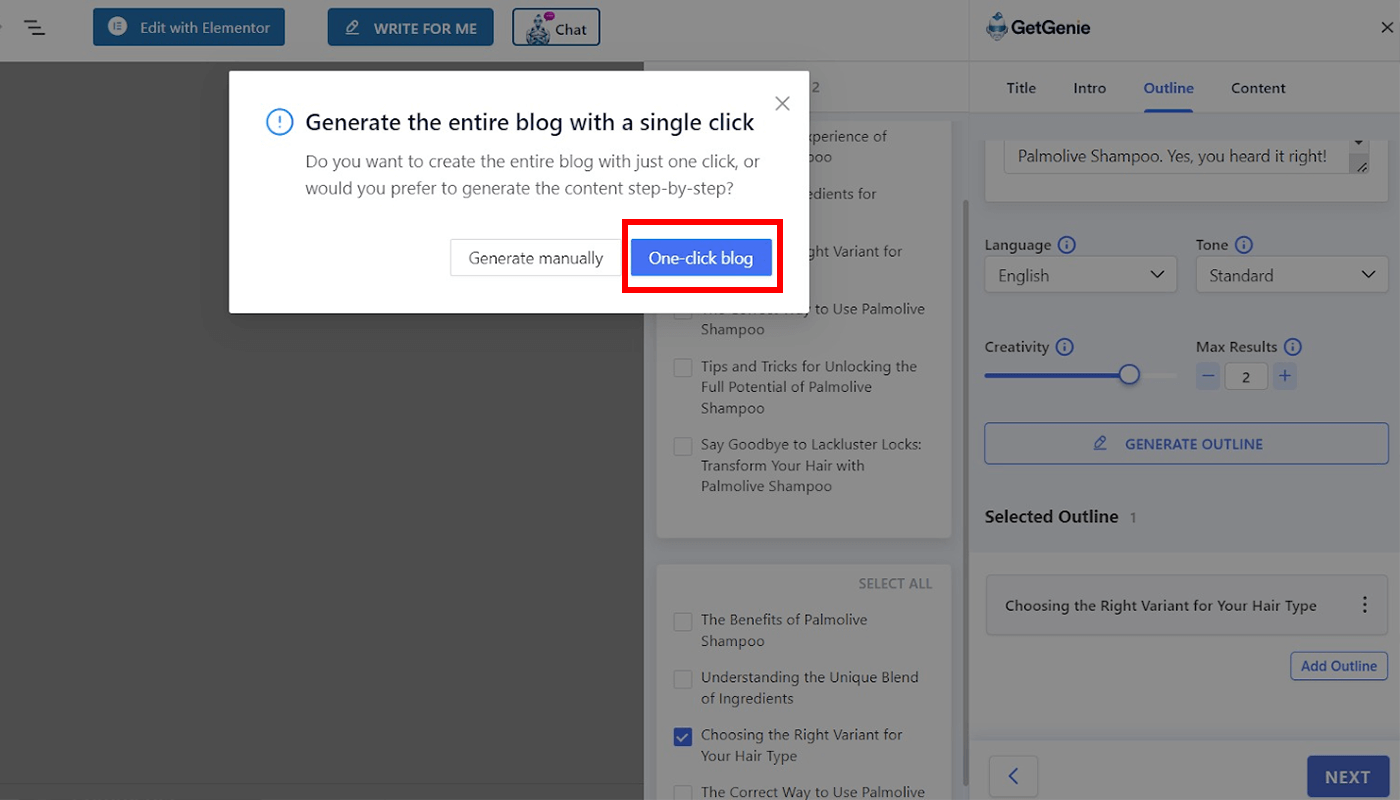 Gone are the days of writing content for each heading separately. With GetGenie's one-click blog feature, crafting blog posts is a breeze. Just one click covers all titles, making content creation effortless and efficient.
To utilize this feature, you need to select the "Blog Wizard" template and fill in all the fields, including completing the "Title," "Intro," and "Outline," and you will then be prompted to select "One-click Blog." You can then submit the finished, enticing content directly to your website after a few seconds.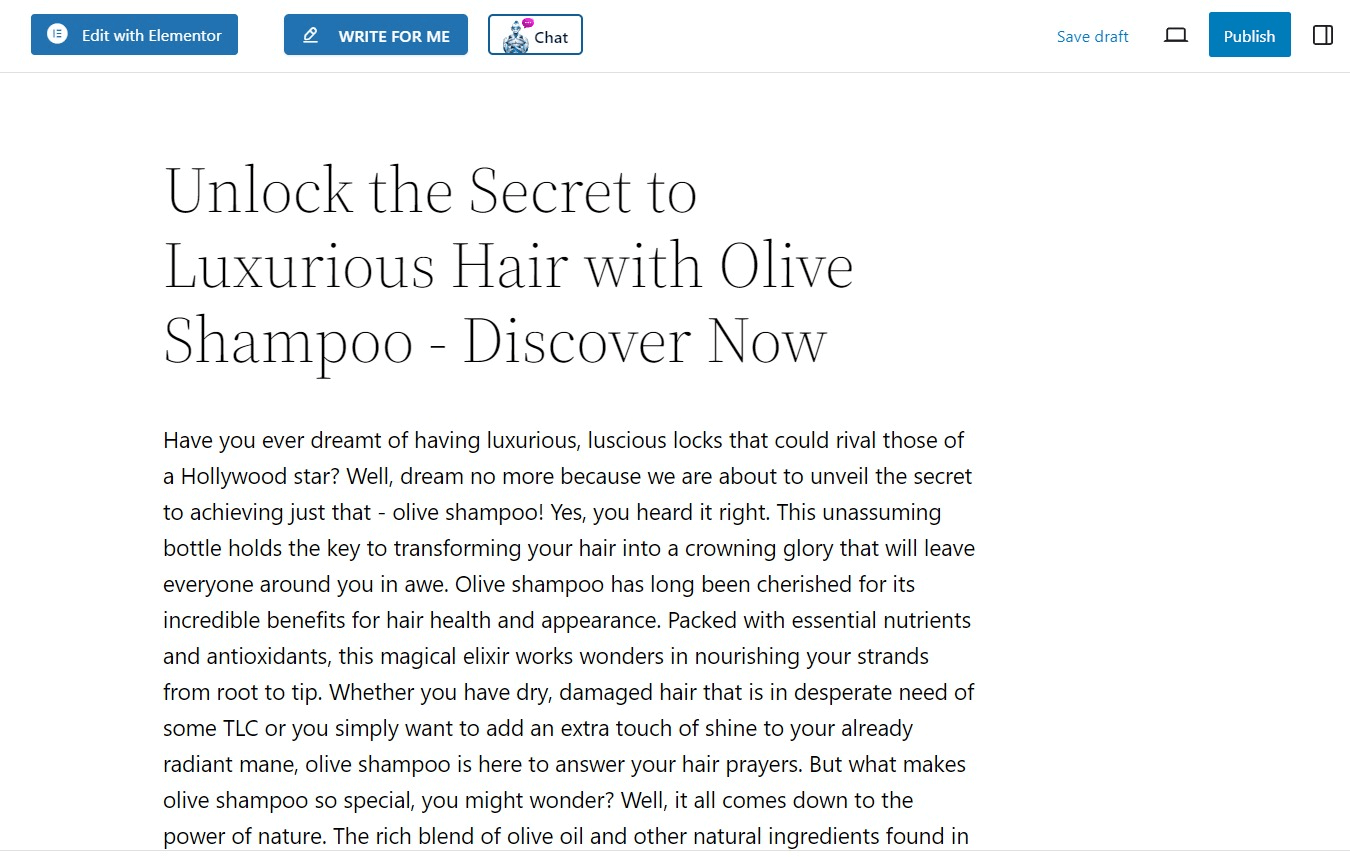 WooCommerce Wizard
While ChatGPT can assist in crafting marketing content, it lacks specific templates tailored for eCommerce posts, particularly for products. This is where GetGenie comes into play.
GetGenie's WooCommerce Product template is a handy tool for creating detailed product long and short descriptions. This feature enables you to generate a comprehensive product description for your eCommerce store and ensure that the output is SEO-optimized and will yield a higher conversion.
This outstanding feature allows you to customize its settings to match your brand. You can choose your product page's preferred language, tone, creativity level, and the number of results to choose according to your preference.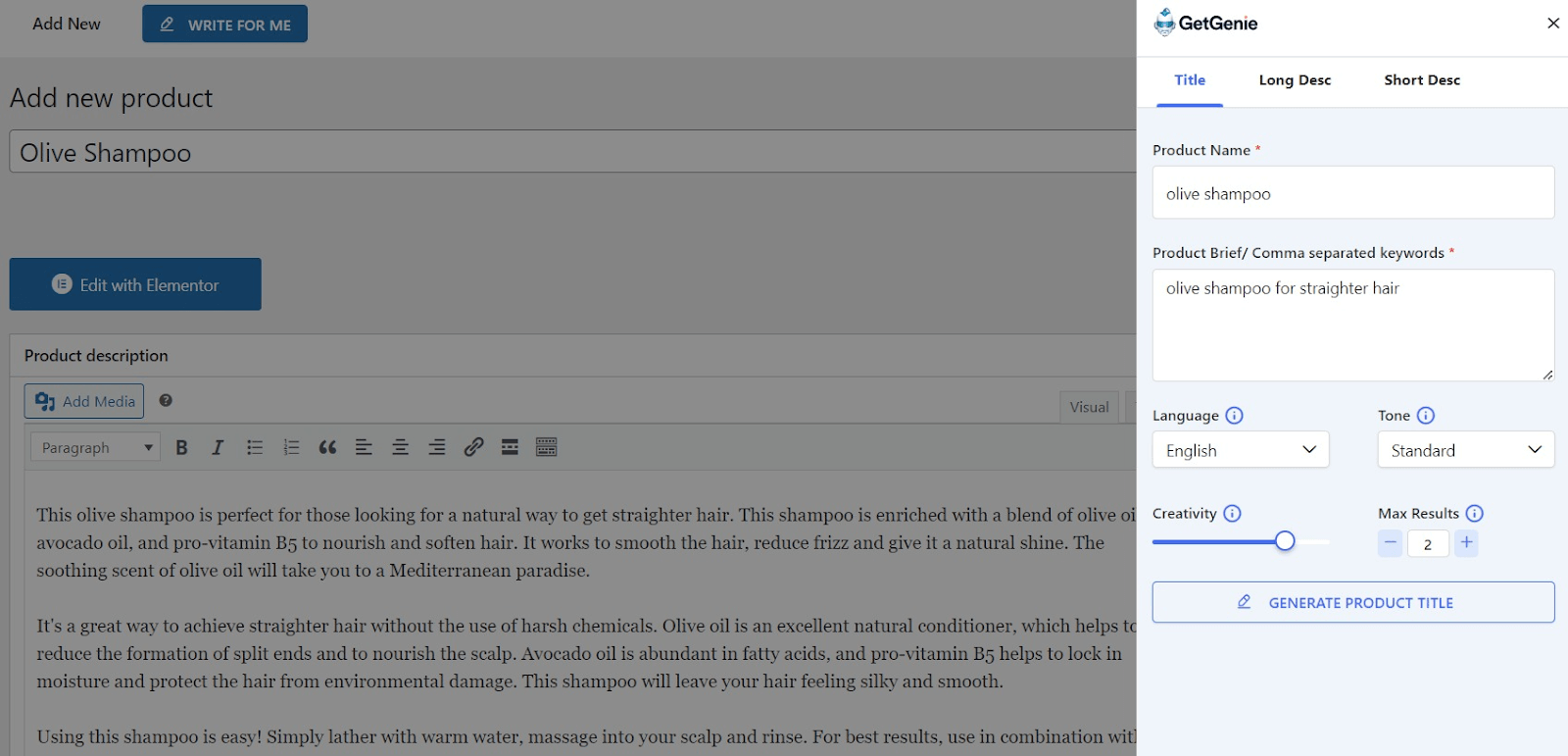 WooCommerce Wizard eliminates the hassle and time-consuming product description creation. With just a few clicks and boom – your product descriptions are ready without worrying if it is SEO-optimized and has a higher conversion potential.
SEO Features
Unlike ChatGPT, GetGenie takes a different path by offering a complete solution that combines a blog wizard, an SEO writer, a keyword analyzer, and a content score analyzer, all in one place.
GetGenie has special SEO features in an easy Ai WordPress plugin. Let's quickly go over them.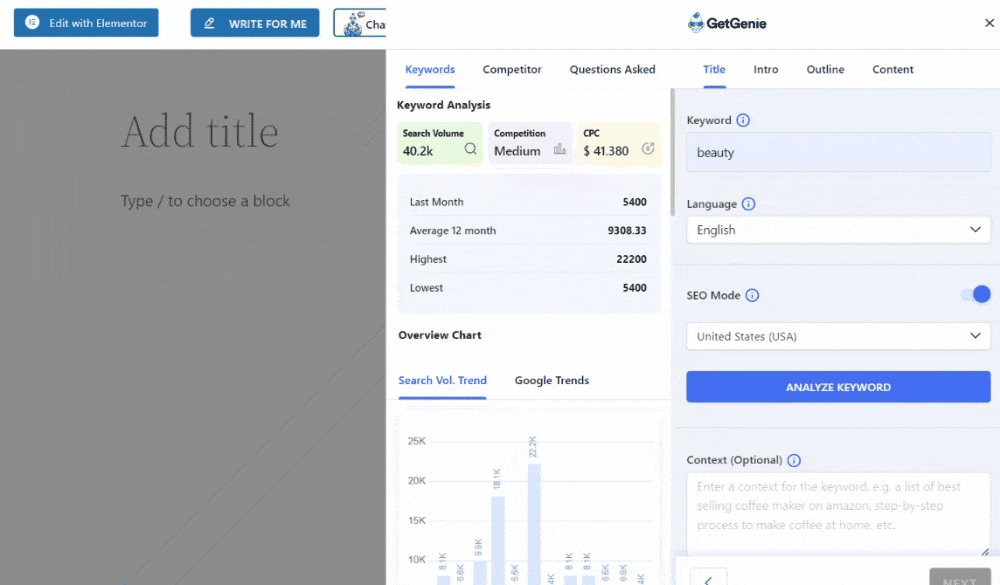 ➡️ Keyword Analysis
Selecting keywords is vital to reach your audience and get noticed by search engines. With GetGenie, you can research and analyze keywords, including Google trend records. It offers in-depth analytics on search volume, cost per click, competition, and more.
GetGenie's Ai writer is driven by a keyword search feature. It offers keyword analysis with details on search volume, cost per click, and competition.
Search volume means how many times people look up a keyword.
Competition is about keyword ranking.
CPC means cost per click.
➡️ SERP Analysis
SERP analysis examines search engine results. It helps you know what to put in your content and beat competitors. With Ai-powered tools, GetGenie gives you data from SERP analysis. Now, creating content is more accessible with Genie Ai's writing help.
➡️ H2H Competitor Analysis
H2H means Head to Head comparison. It's a technique that compares content using keywords and Natural Language Processing (NLP). It helps analyze competitors' content. With Genie's Ai, you can compare with your SERP competitors and see their Google rankings.
➡️ Content Score
GetGenie uses Ai to give your content and SEO score for better rankings. This score tells you about your online content's quality. Genie optimizes your content using Ai tools for SEO. You can quickly get a content score for each piece. Install GetGenie in your WordPress dashboard to use this feature.
Integration Options and Ease of Use
When it comes to integrating advanced Ai-powered tools into your digital infrastructure, the quest for seamless compatibility and effortless implementation stands paramount. Additionally, a user-friendly interface is a significant consideration when choosing a tool that can be found from both tools.
GetGenie's Integration Possibilities
In a rapidly evolving digital landscape, a business's online presence is its modern façade. Combining cutting-edge technology and user-centric interfaces becomes crucial in driving engagement and conversion rates. GetGenie strides into this territory as a formidable contender, offering an array of integration possibilities that ease the transition into Ai-enhanced communication.
Whether you're established in the WordPress ecosystem or exploring the realm of SaaS platforms, GetGenie extends its hand with seamless integration options. For WordPress fans, embedding Genie's prowess into your website becomes an intuitive endeavor. The harmony between Genie's capabilities and the WordPress framework is set up with finesse, allowing you to harness Ai-powered chat capabilities without intricate coding knowledge. With the mere flick of a virtual switch, you usher in a new dimension of user engagement.
The magic of GetGenie remains strong when traversing the terrain of SaaS platforms. The prowess of its integration options extends to this realm as well. Regardless of the complexity of your software environment, GetGenie embraces it with open arms, enabling businesses to engage with their audience through Ai-fueled conversations, delivering personalized experiences that resonate.
ChatGPT's User-Friendly Implementation
The intrigue doesn't stop at GetGenie; the limelight shifts to ChatGPT, a technological marvel that epitomizes user-friendliness in its implementation. Gone are the days of grappling with complex instructions or wrestling with intricate setup processes.
ChatGPT's user-friendly aura stems from its intuitive design, where a seamless blend of artificial intelligence and human-like interaction converges. Implementing ChatGPT doesn't require a legion of tech wizards; instead, you can avail of its excellent function and prompt-based templates by just opening ChatGPT in your browser and logging into your account.
This implementation ease is balanced with sophistication. Beneath the surface of user-friendliness lies a robust architecture capable of deciphering queries, understanding context, and producing human-like responses. It's a fusion of simplicity and sophistication that basks in the limelight of Ai's power.
However, ChatGPT doesn't integrate with WordPress or the SaaS platform.
User Experience and Interaction
User experience and interaction reign supreme as the pillars of successful digital ventures. Both tools exhibit excellent user experience and interaction. This section delves into the intricacies of user engagement, exploring how GetGenie and ChatGPT are reshaping the realms of Ai-driven conversation and interactivity.
GetGenie's Approach
GetGenie steps onto the stage as a catalyst for transformative interaction, encapsulating a multifaceted approach that transcends the boundaries of traditional chatbots.
At the heart of GetGenie's approach lies the Chatbot called GenieChat– an ingenious creation that serves as a virtual assistant, ready to engage users with a human-like touch. It is designed through the integration of the API of ChatGPT Models.
What makes GenieChat unique?
Unlike other chatbots, GenieChat isn't confined to scripted responses; it has evolved into a conversational companion that adapts and learns from each interaction, culminating in a user experience that feels personal and genuine because of its 22+ chat personalities. It surpassed other chatbots because of its responsive capabilities and ability to understand context, decipher intentions, and offer tailored solutions.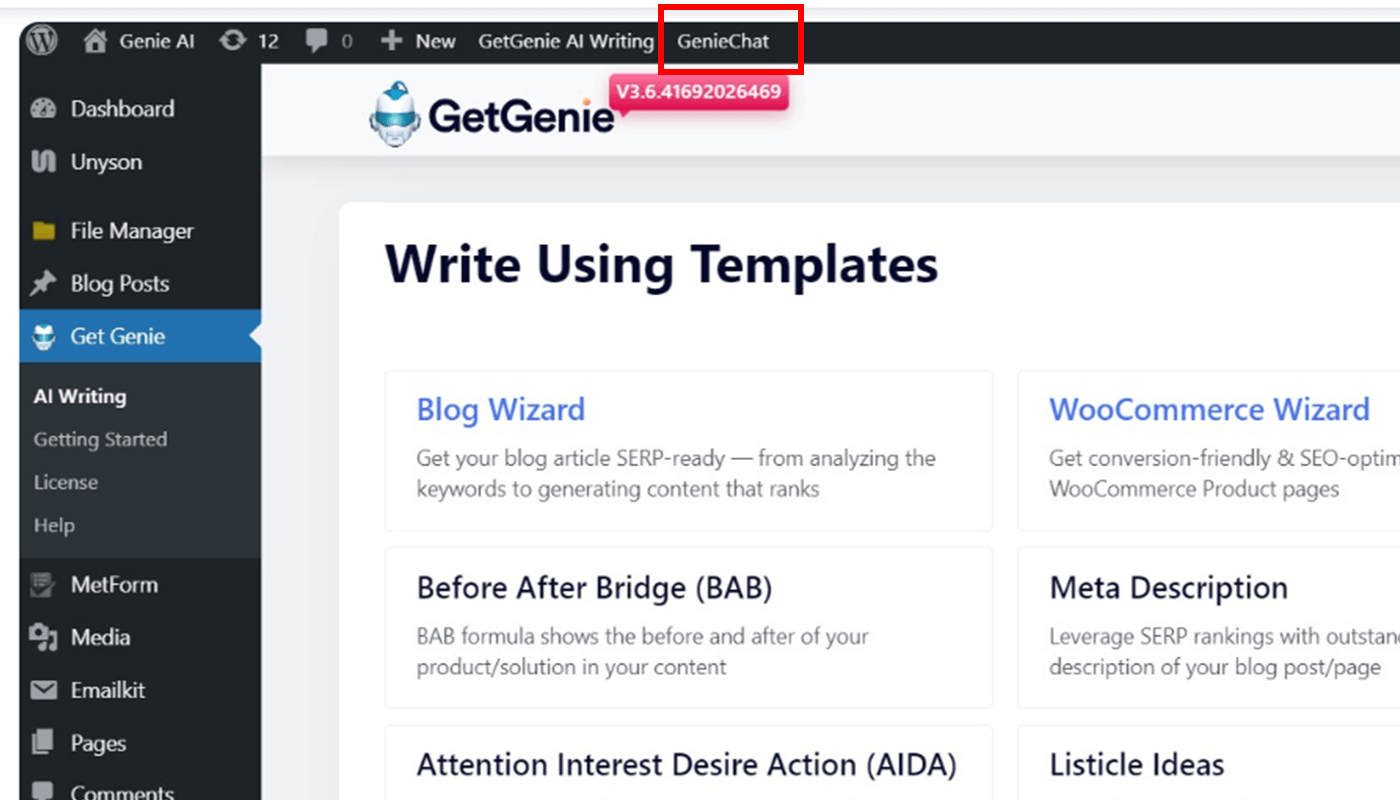 Notable Features of GenieChat
Ask anything and receive pertinent answers
22+ chat personalities
Choose the answer size (small, medium, or large)
Set the options for hiding or showing the prompts
Stores previous chat history for future use
Edit the input prompt if necessary
Generate the output again if you're not happy with it
Like/dislike the output
Click on the result to copy it
Clean the chat history
Engaging Conversations with ChatGPT
ChatGPT paints a canvas of lively discussions that mirror human discourse. Through a seamless blend of natural language processing and deep learning, ChatGPT renders conversations as intriguing as they are informative. Moreover, ChatGPT acts as a Google search alternative. The only drawback is the need for more source references.
What sets ChatGPT apart?
ChatGPT maintains context in conversations, creating a natural flow similar to real discussions. Its ability to make sensible and relevant responses gives every interaction a meaningful touch, keeping users engaged and connected.
Engagement goes beyond sharing facts; it's about creating an experience. ChatGPT excels at this by adding feelings and subtlety to its responses. It guarantees that each conversation isn't just informative but also emotionally resonant. Users get involved in a realm where interactions aren't cold and formal, but lively exchanges that leave a lasting impression.
Making the Choice: GetGenie or ChatGPT?
Choosing is challenging, especially since each tool has a unique winning edge. The table below shows the GetGenie vs ChatGPT face-off results on different parameters.
| | | |
| --- | --- | --- |
| Parameters | GetGenie | ChatGPT |
| Features | Wins | KO |
| Integration | Wins | KO |
| User Experience & Interaction | Wins | KO |
| Price | Wins (Pro@$13.3/mo) | KO (Plus@$20/mo) |
When choosing an Ai tool, it is essential to consider its features, integration, user experience, and interaction, and price.