Top 5 Effective Content Idea Generator Tools to Produce Your Content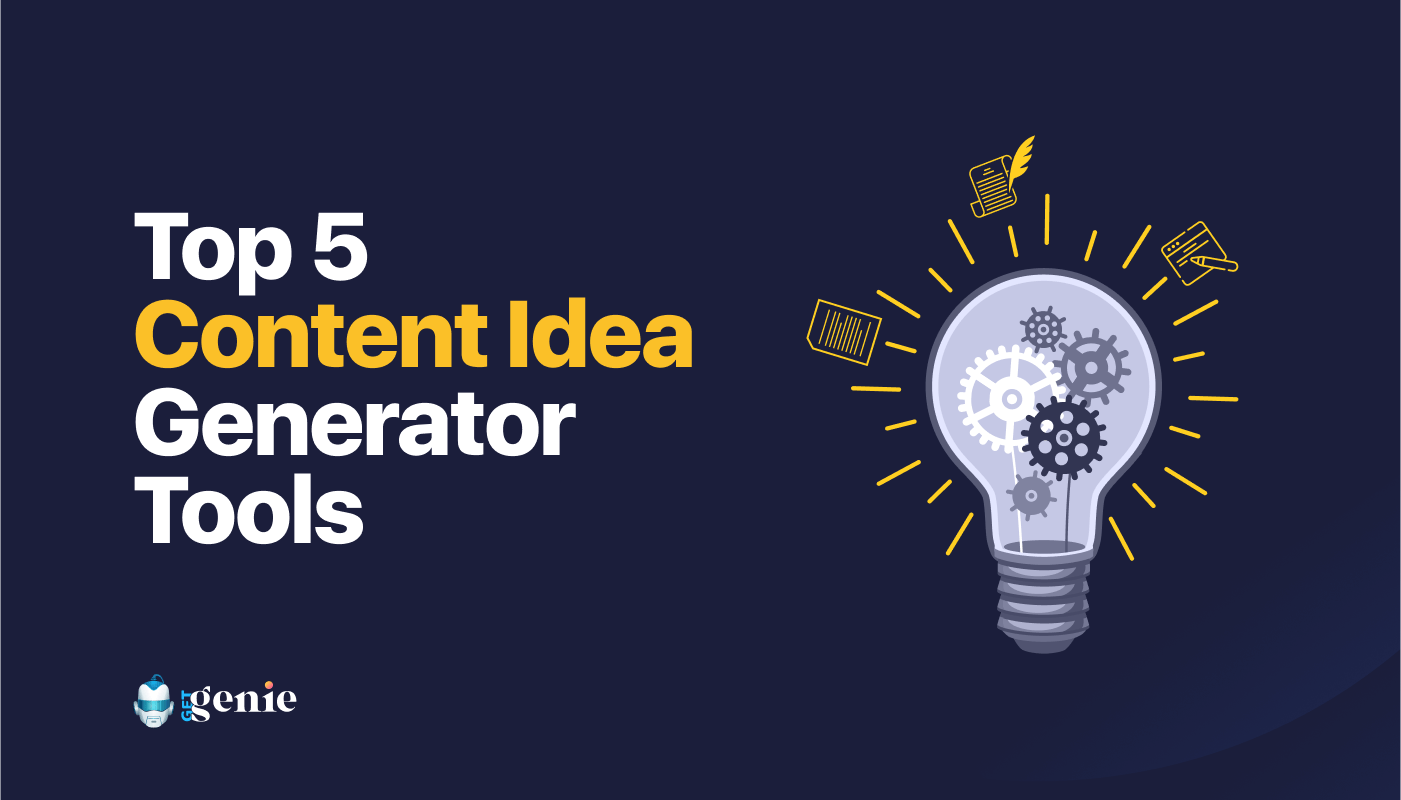 Are you struggling hard to find out engaging and converting topics for your blogs, videos, and content? If yes, then you will be glad to know that now you will find many content idea generator tools online that can generate topics for your website in a blink of an eye.
Bloggers as well as companies need to come up with fresh topics every week. This is a huge headache as, after a few months of blog publishing, you will feel like you have run out of all the topics. Now you have nothing to write on.
The good news is now you will find lots of idea generator tools to rely on. Here this blog is written to guide you toward finding the best tool by providing a list of 5 effective content idea generator tools.
What is a content idea generator tool?
A content idea generator is an artificial intelligence tool that generates topic ideas for blogs, posts, videos, or any other content for your website within a few seconds that might take days for a human being to figure out. You just need to enter the related keywords and it will instantly suggest lots of content titles or headlines.
Why do you need to use a content topic generator?
Publishing content regularly is a fruitful way to boost traffic. If you are an owner of a small business, then publishing content one to four times a week is okay. But larger companies should post content regularly.
Now to publish content regularly, you will need topics to write on. You have to do research for blog topics which is time-consuming. Here content topic generator tools help you to get content ideas in the least possible time.
Besides, the blog ideas generators will ease blog publishing tasks too. As a result, people who need to handle multiple sites can easily do that with blog topic idea generator tools. Solopreneurs are also getting a huge advantage from these AI content idea generator tool. Moreover, you can do competitor analysis along with outlines and full blog generation.
Thus, this will reduce the workload and you will be able to invest your time to do other important marketing tasks. In simple words, content topic generator tools will simplify your blog idea and outline generation processes.
Top 5 effective AI content idea generator tools
As you have found out the importance of content idea generator tools, it is time to know which tool will work best for you. Have a look at the below list of 5 functional content idea generator tools to figure out which tool will work best for you: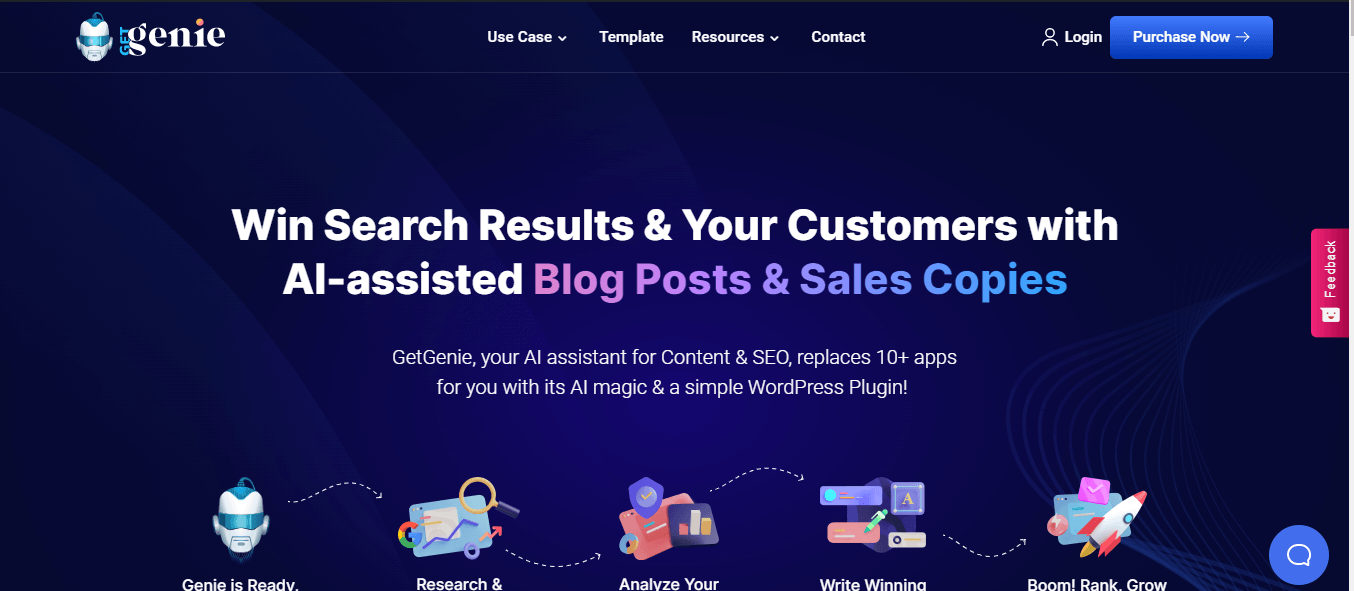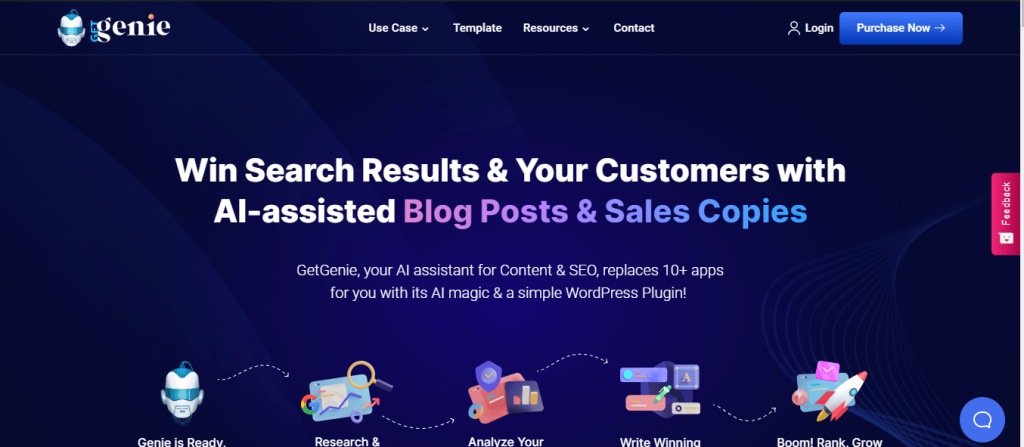 GetGenie.AI is the best companion for generating topic ideas, outlines, and blogs because you will get templates for everything. You can get content creator ideas within a few seconds by using this tool. This free content idea generator will provide you with multiple blog titles from there you can pick any you like. On top of that, this blog ideas generator is 100% optimized for SEO and speed.
Moreover, you can generate winning and converting copies for your landing page as it also provides templates for copywriting. Just you have to choose the correct template and you are ready to rock. This free blog topic generator will also suggest Quora and Reddit questions for your content. To cut a long story short, you can do anything with this AI content generation tool.
Functions of GetGenie.Ai:
It suggests trending and high-traffic generating keywords.
GetGenie.Ai shows a live score for doing on-page SEO optimization effectively.
It offers a one-click blog generator.
You will get competitor analysis data for keywords.
Available as both a WordPress plugin and a SaaS tool.
This Ai tool will offer you copywriting templates that are based on popular frameworks.
It has templates to generate social media and email copies.
You can generate tutorial and listicle blogs faster with this AI tool.
Very fast meta and outline generation are possible with this tool.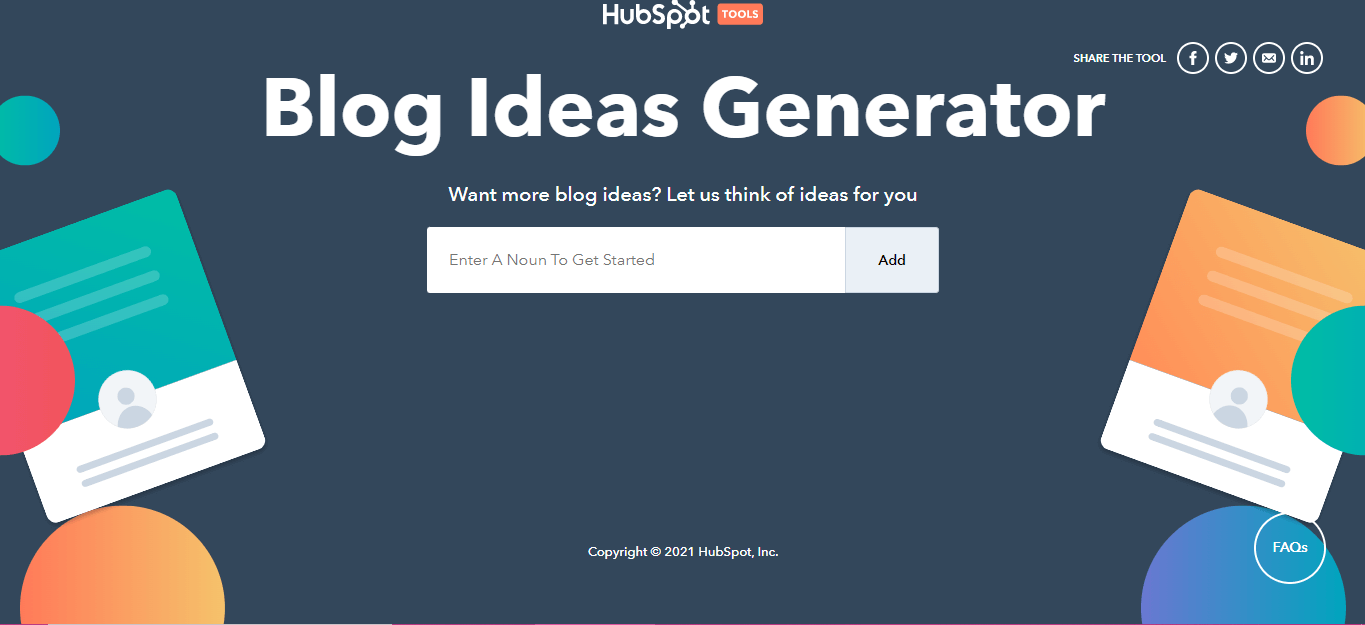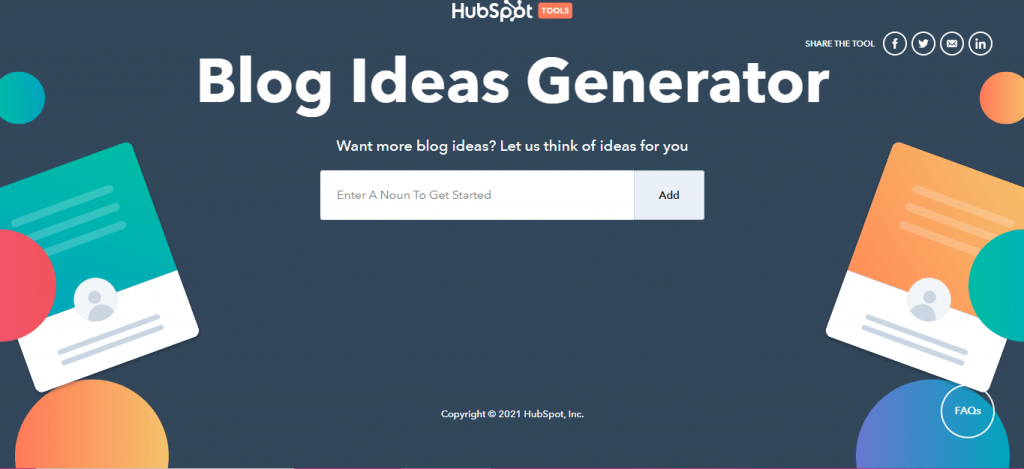 HubSpot's blog topic idea generator tool is the fastest content ideation and creation tool. You can generate blog ideas for a week or year. A week content ideation option offers 1 to 5 blog topics whereas a year option provides 250 blog topics.
But, if you want to generate blog topics for a year, then you have to pay for this blog idea generator tool. With this tool, you can generate content creator ideas by simply entering one to five nouns. Moreover, you can regenerate topic ideas as long as you don't find satisfying blog titles.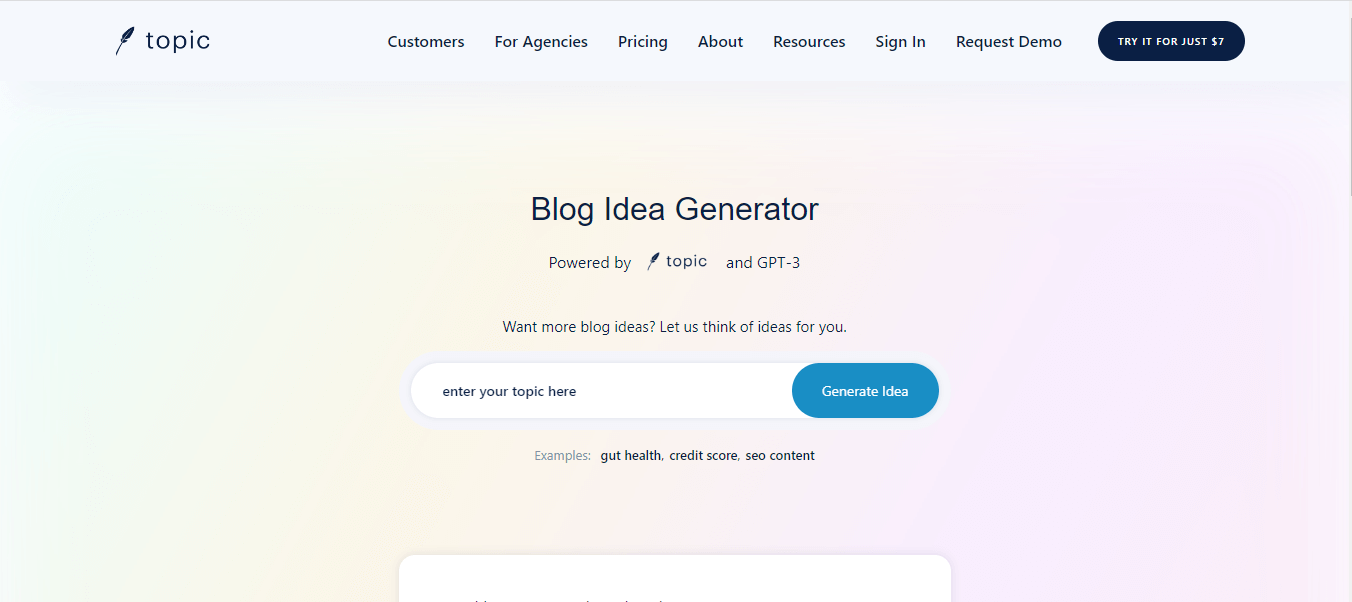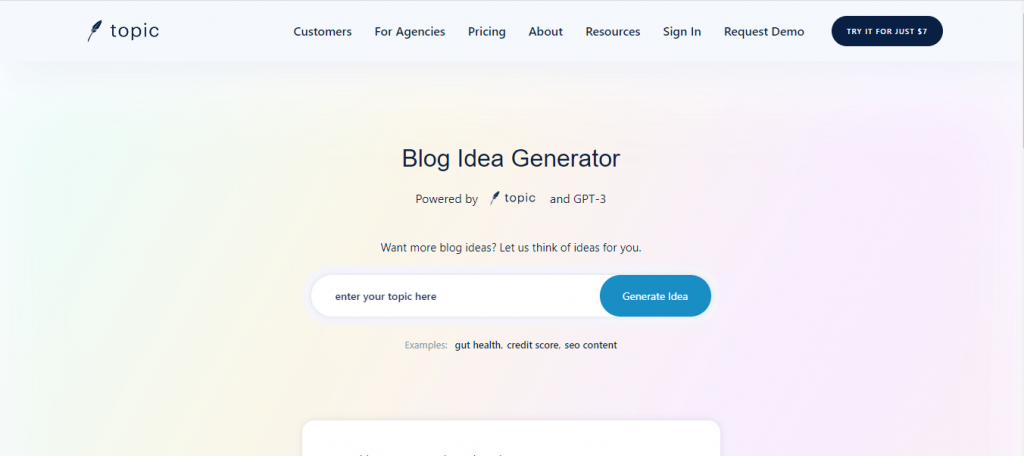 This is a free blog topic generator tool that suggests blog titles by putting related keywords in the search box. To get access to this tool for free, you need to create an account first. After that, you can leverage this tool for blog title ideation. But, it only provides one blog title at a time.
Topic's blog idea generator offers other opportunities too such as content brief, optimization, etc. But to get those benefits, you need to buy this tool.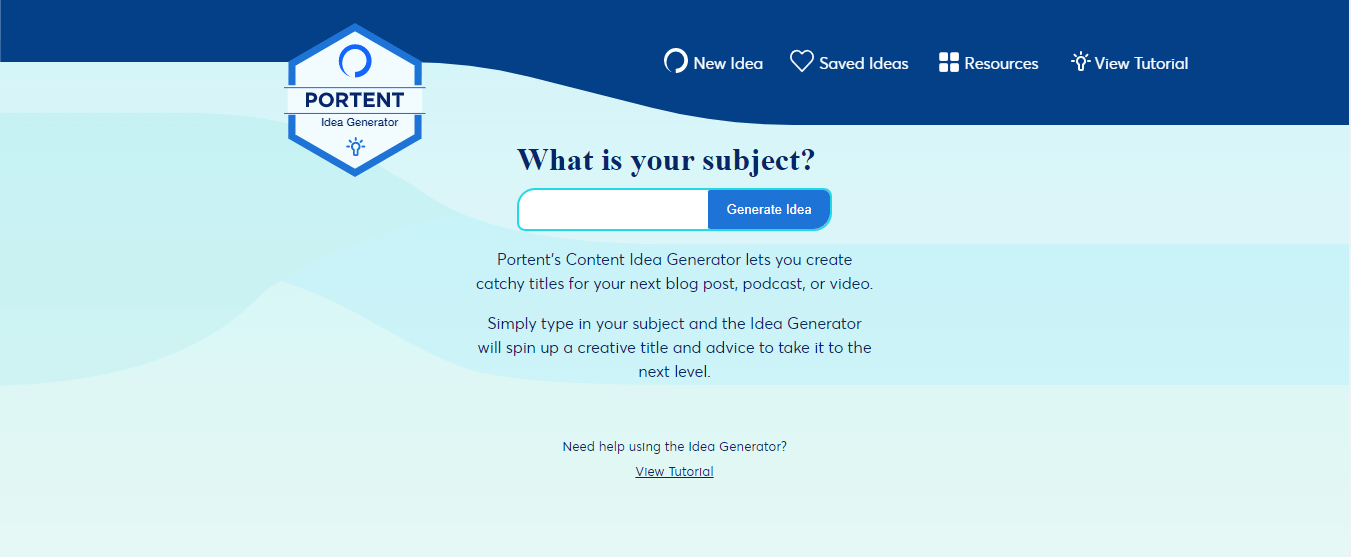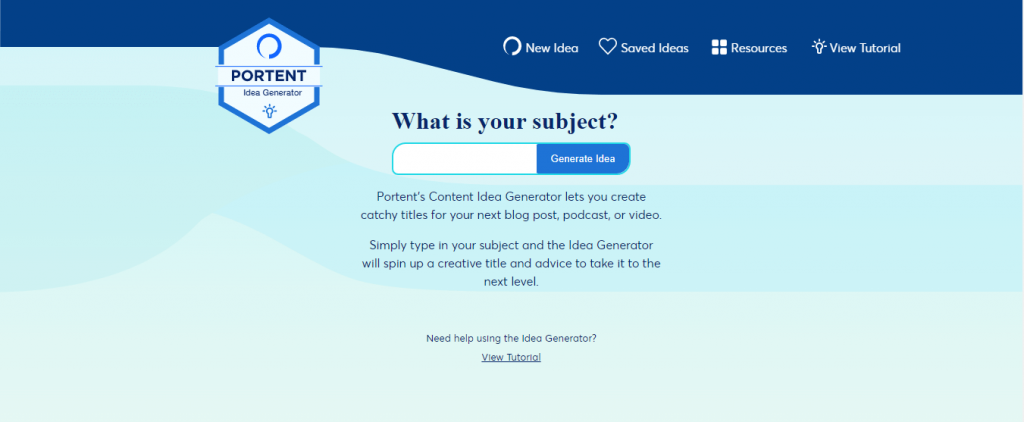 Portent's blog ideas generator will let you generate the most convenient blog title by typing keywords in the search box. After that, this generator tool will instantly show you the title of your blog. Besides, if you don't like the title, then you can also search for another one.
Moreover, this AI content topic generator tool provides three other facilities such as saving ideas for the future, tweeting, changing your blog subject, etc. With the help of the "See another title" option, you can generate as many blog titles as you want.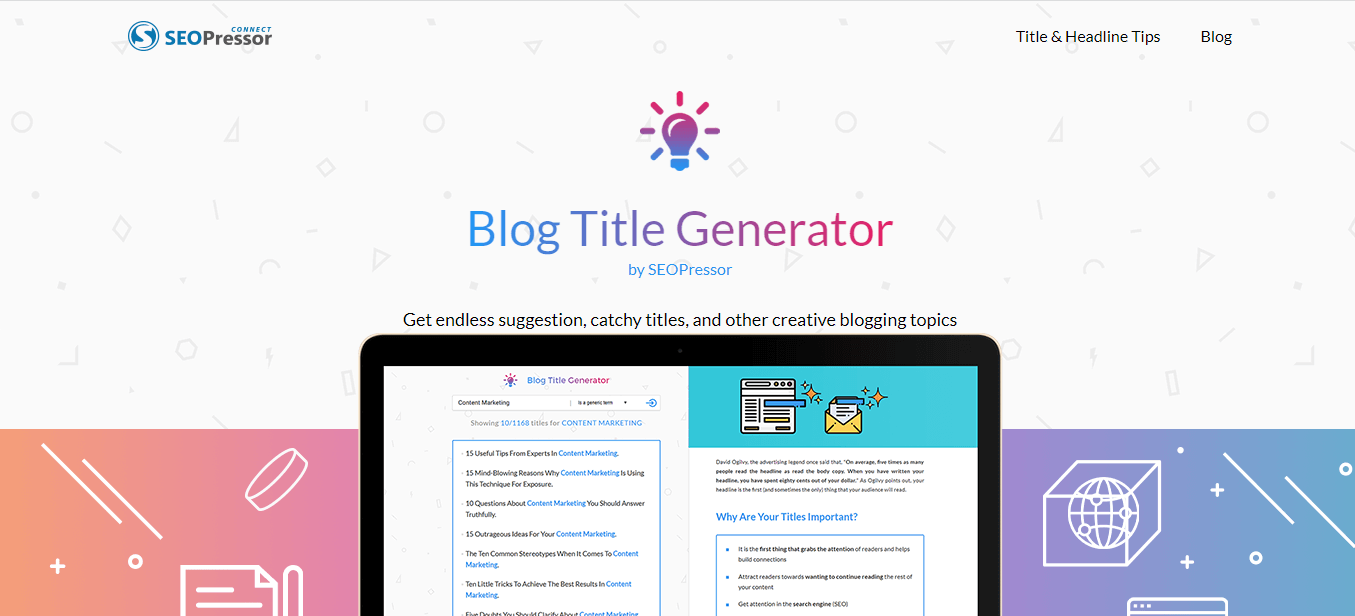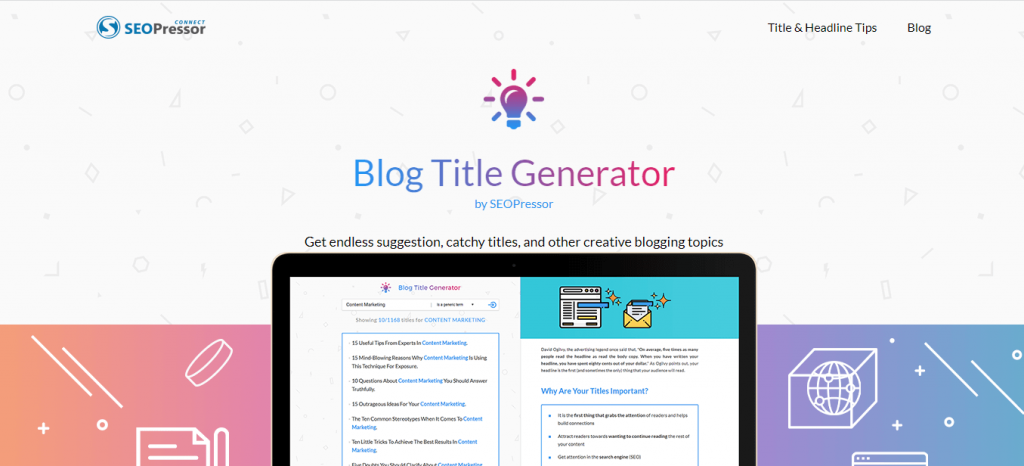 This is a premium blog title generator tool that will assist you to create engaging titles for your blogs, video, and content. A title or headline is the first thing that a visitor notices before reading a blog or any content. A catchy and perfect title can even boost conversions which you can generate with this tool.
First, you have to enter the keywords related to your topic. It will suggest you a list of blog titles, from there you can pick according to your market or audience. Apart from that, you can refresh any time you like if you are not satisfied with the provided titles. Along with it, this tool will let you generate full content for your selected engaging title. Further, you can optimize that as much as you like.
So, the best content idea generator tool is
Here from the above shortlist, you have known pretty much everything about the 5 best blog ideas generator tools. Now, it is time to decide which one is the best among them. If you have read from start to end, then you have already figured out which one is the best. But, let me make it more clear.
Mostly with all the above tools, you can only generate blog titles. For content generation, you need to rely on other tools except for GetGenie.Ai and SEOpressor. Since SEOpressor is a premium tool, you can't use it for free. On the above list, only GetGenie.Ai is a free and the most suitable tool for content creation and optimization. Here you will find templates not only for title ideation and content generation but also for copywriting that are available both in the SaaS version and WordPress.
Apart from these, you will get all the SEO data for your chosen keywords and also find related Quora and Reddit questions that will ease your marketing activities.