How to Create a Website Content Outline within 5 Minutes with AI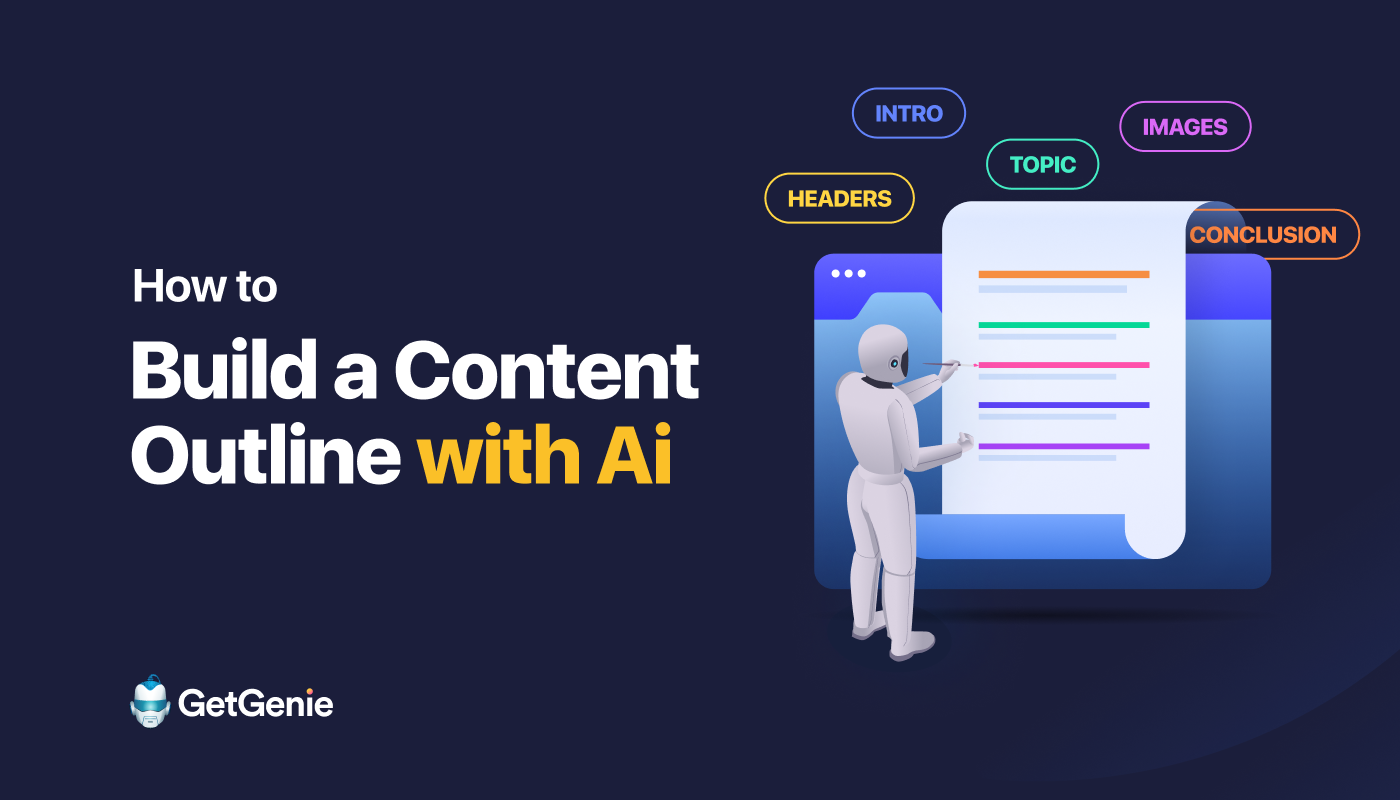 Writing the right content can keep you ahead of your competitors. However, before you write a single word, it is essential to prepare a content outline that includes all the information a visitor might be looking for.
So, how can you create a website content outline that makes your blog post more effective and data-driven? What about if I say you can now write a content outline within minutes?
Yes, that's possible when you are using the right method. In a few minutes, I am going to reveal everything.
What is a website content outline?
I understand that some of you may already be familiar with the concept of a content outline. However, if you are new to content marketing and are trying to understand what it entails, this explanation is for you.
A website content outline is a written plan that helps you organize your ideas before you begin writing a blog post. It functions like a map, guiding you through the process and showing you what to cover in your post.
The content outline typically consists of the main points you intend to cover in your post, along with supporting sub-points and any additional details you wish to include. By creating a content outline, you can ensure that your post is well-structured, easy to read, and includes all the information your readers may be seeking.
Why should you create a content outline before writing it?
When starting to write content, there are two approaches you can take. The first is to prepare an outline and then write the content based on that outline. The second approach is to start writing the content and then include different headings based on the demands of the topic. The question is which approach is better?
If you try to write and build the outline at the same time, you may lose focus and struggle to come up with a structured idea for the blog. It is essential to create a content outline beforehand to ensure a coherent and organized structure.
On the other hand, if you write the content and the outline simultaneously, you may find it challenging to meet search engine requirements. However, when you write the content outline before the first word, you have complete control over the content structure. This allows you to analyze gaps in your competitor's content and generate better ideas. Additionally, it makes it easier to satisfy search engine web guidelines.
How to prepare a content outline within minutes?
Creating a perfect content outline from scratch can be a difficult task as it requires extensive research based on relevant keywords and subtopics.
However, with the power of artificial intelligence, this process can be made easier. This is where GetGenie AI comes in handy, as it offers a built-in content outline builder that can generate multiple outlines for a single topic with just one click. What's even better is that you can start using this tool for free.
To access GetGenie AI, you can either install the plugin on your WordPress website or use the web version.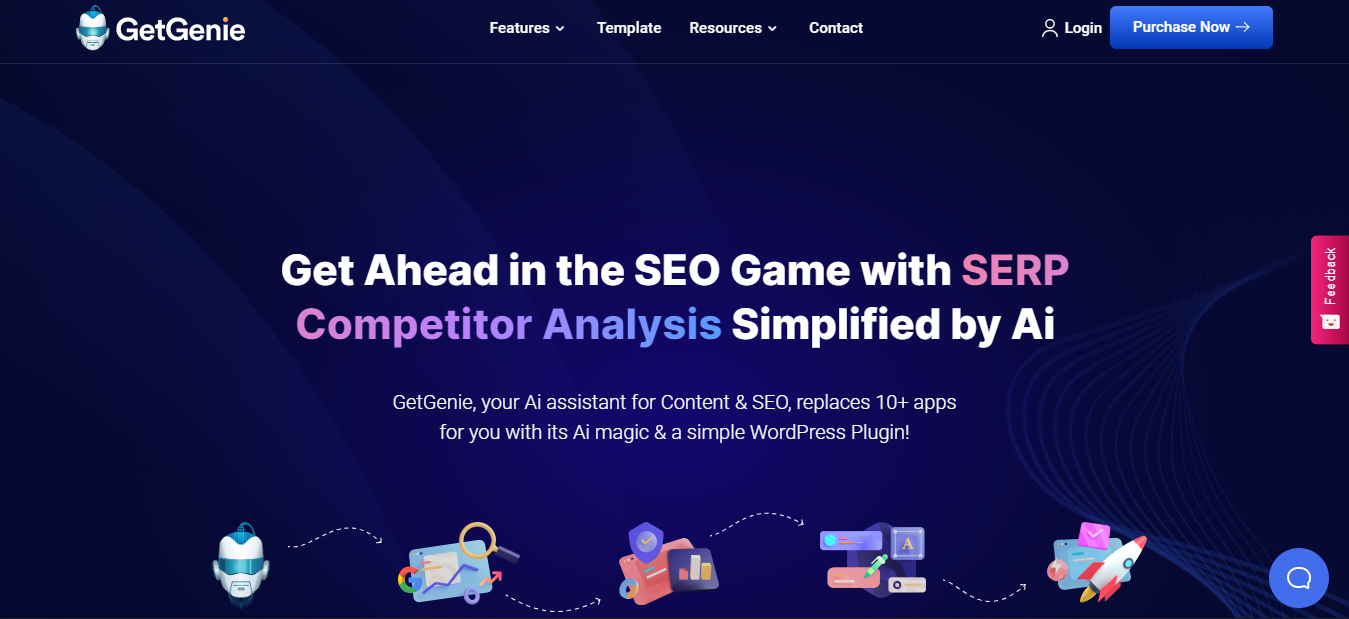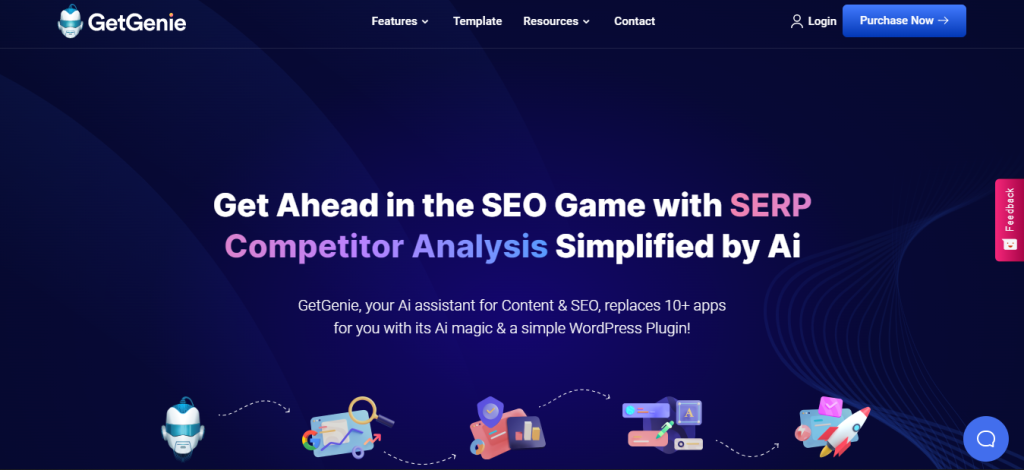 Once you have accessed the tool, select the outline builder option from the template list and fill in the required details.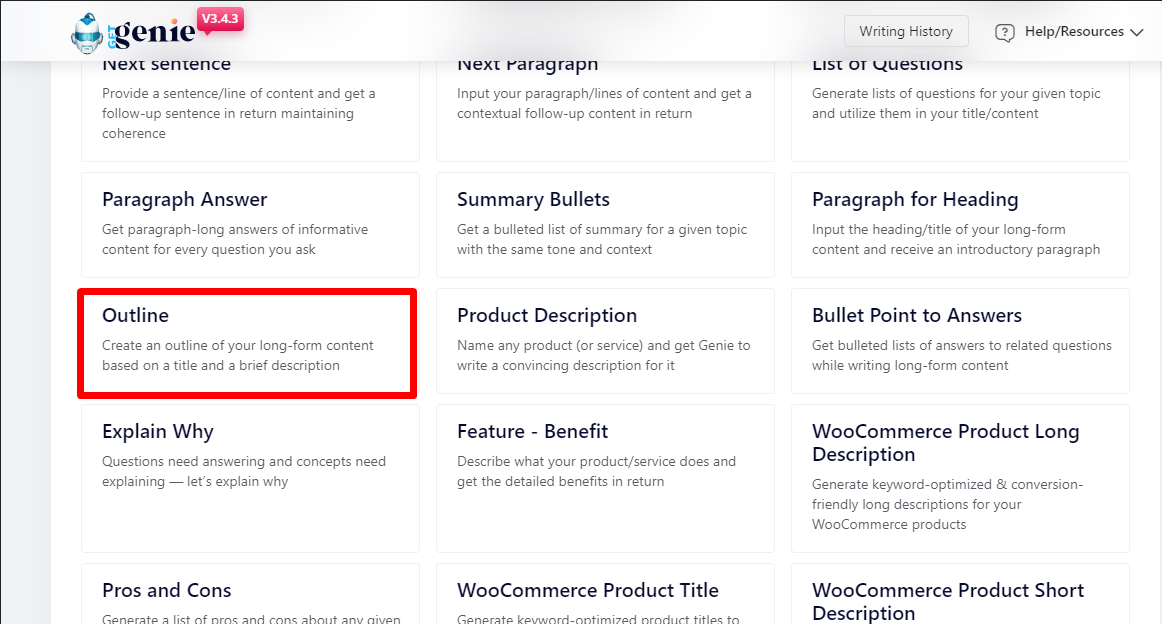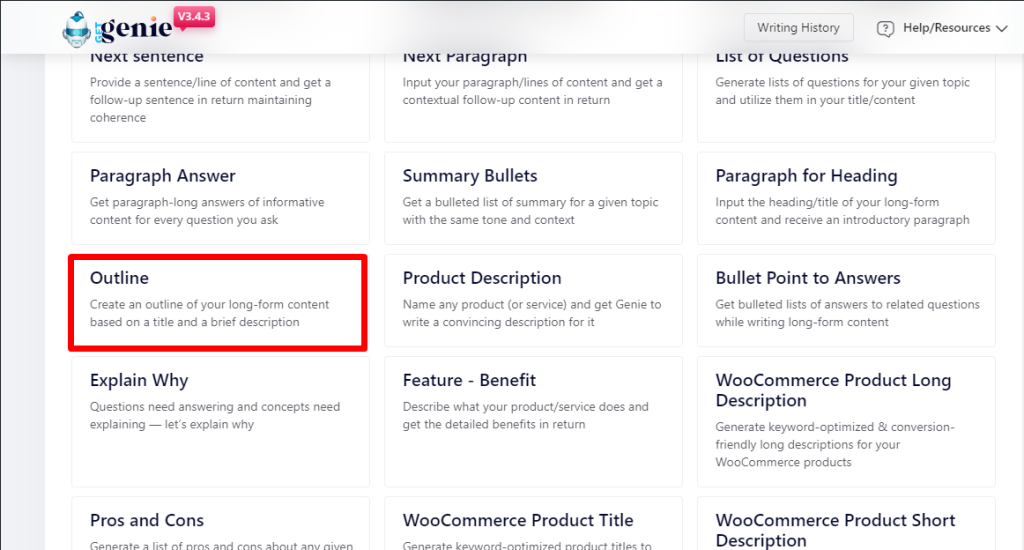 These include fields for the blog introduction, language preference, tone, creativity, and the desired number of results.
However, if you are using the blog wizard, you will find the content outline builder by default in the content editor.
To begin, provide a brief introduction to your blog so that GetGenie AI can better understand the topic you will be discussing. Next, choose your preferred language for the output and adjust the creativity and number of results fields according to your needs.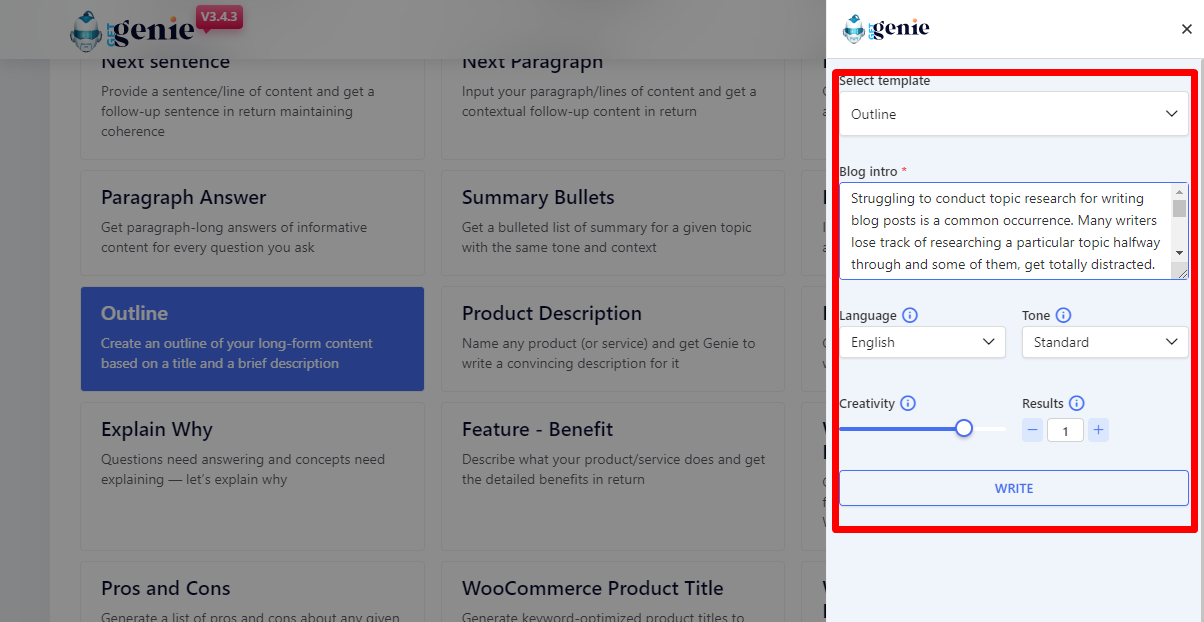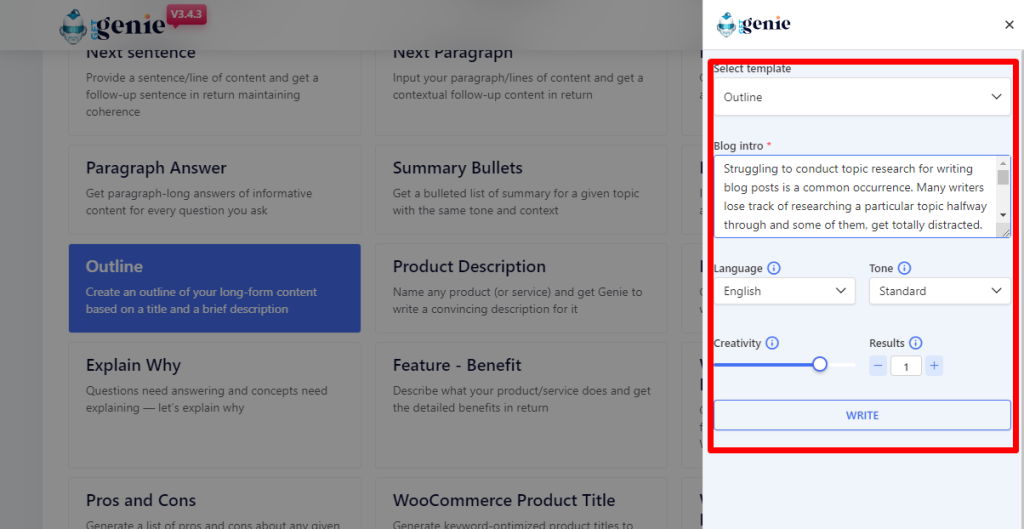 If you require multiple versions of the content outline, simply select the number of results you want.
Once you have filled in all the necessary fields, click on the 'write' button and GetGenie AI will generate a selection of content outlines for you to choose from. You can review the variations and select the one that best suits your needs.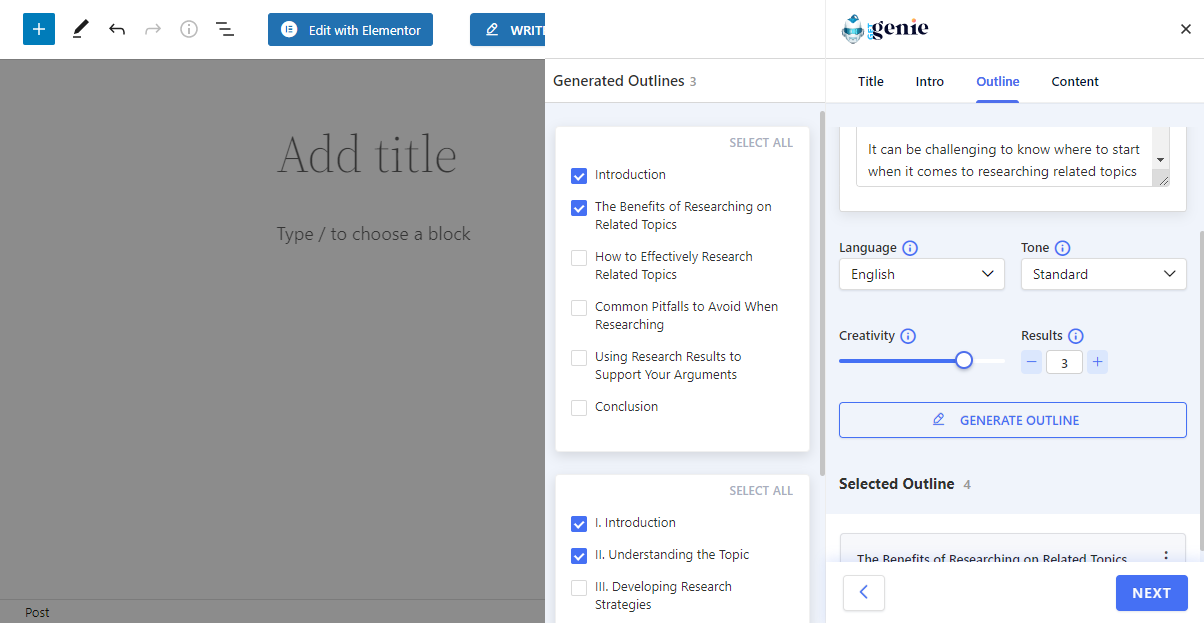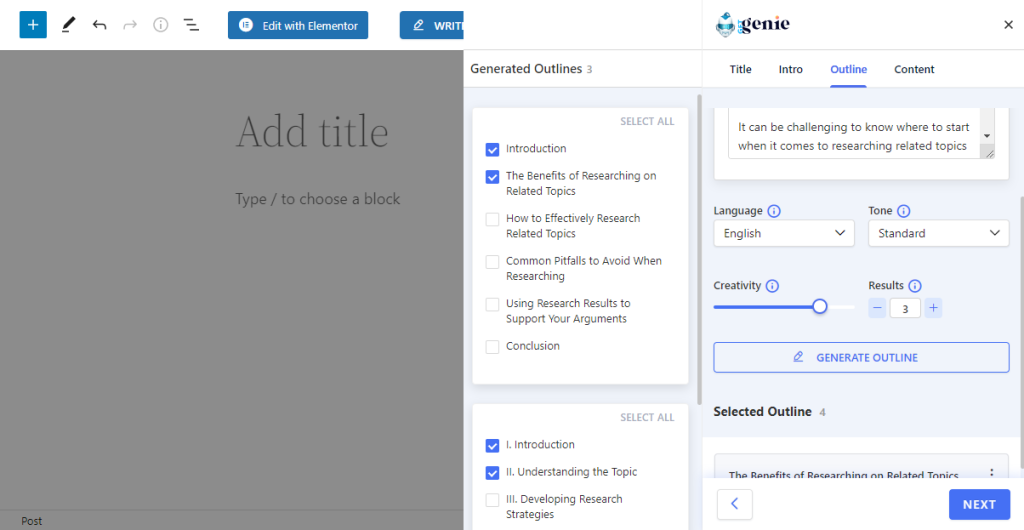 Alternatively, you can select unique headings from different versions and create your own custom content outline.
If you feel that the generated content outline is missing some crucial headings, don't worry! You can always add new headings to the outline as needed. With the help of GetGenie AI, creating a perfect content outline has never been easier.
How to improve the outline of existing content?
To improve the outline of your existing content, you can start by reviewing the existing one and identifying areas that need improvement. Look for sections that lack information, and identify the main ideas and subtopics that need to be included in your content.
Once you are done with the reviewing process, rearrange and refine the content outline, using descriptive headings and subheadings to organize your content and make it easier to read.
Consider using bullet points or numbered lists to highlight key points or summarize information, but use these tools sparingly and only when appropriate. Finally, check the ultimate structure of your content and finalize it. Updating all blog posts will give you a boost for SEO.
Wrap up
If you build the content outline accurately, the end result of the content will be flawless. Furthermore, if you utilize the GetGenie AI tool, the process will become simpler for you. With just a few clicks, you can generate several content outlines and create something exclusive that will undoubtedly put you ahead of your competitors.