Ultimate Guide to Automate Content Marketing with AI in 2023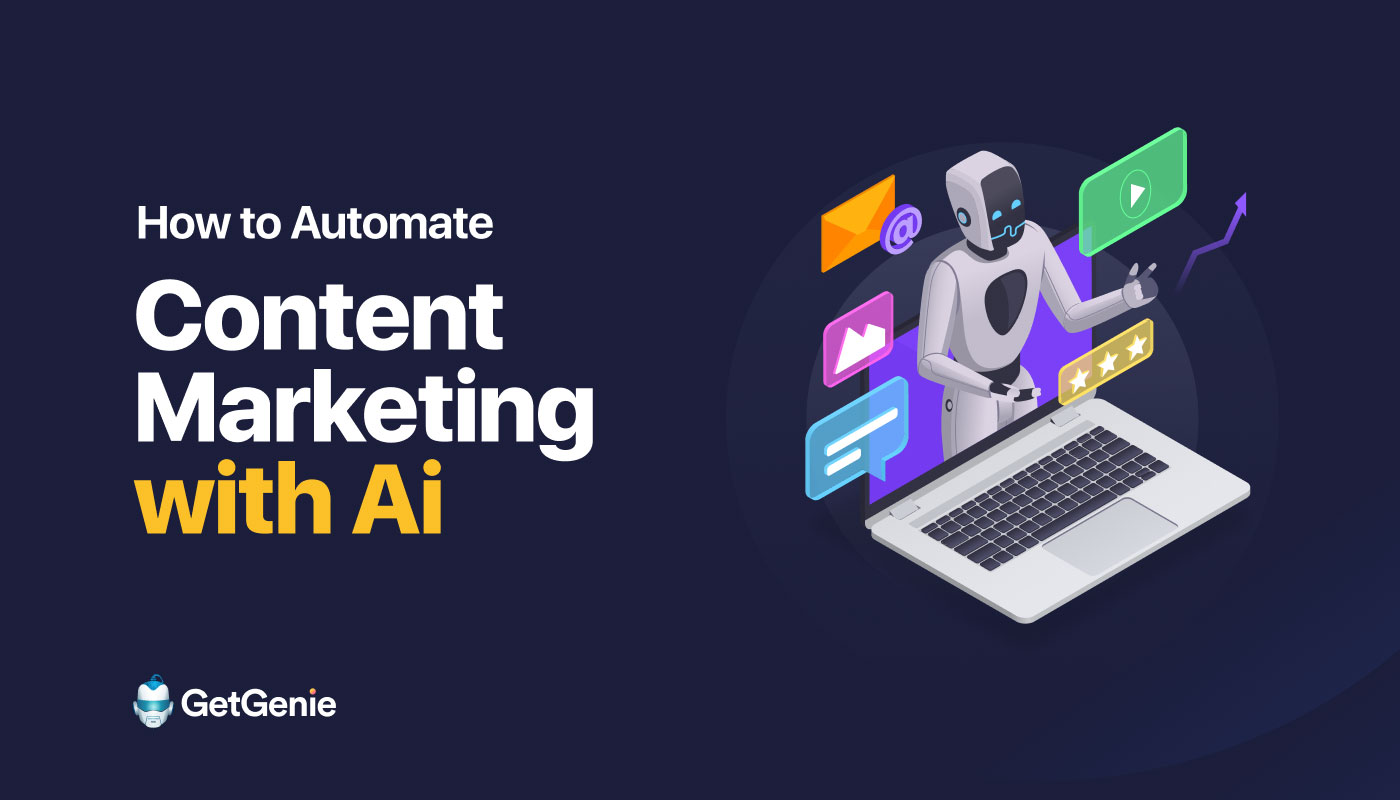 In recent years, the combination of automation and artificial intelligence has brought significant changes in many areas. Obviously, content marketing is no exception. Nowadays, content marketing with AI is now an obvious thing when it comes to elevating the marketing strategy.
With rapid transformations taking place regarding AI-based automation, it's important for people in content marketing to adapt to the changes. By far, AI can help to streamline content marketing to save time and resources, but it has far-reaching applications.
However, the true potential of AI in content marketing can truly be discovered when you get first-hand experience.
Therefore, to help you get familiar with AI-driven marketing automation, we intend to demonstrate some hands-on examples of how you can utilize AI for content marketing while discussing its basic concept and overall impact.
In this guide, we will cover different aspects of content marketing automation including copywriting, and product content marketing, as well as steps of content creation with AI including topic idea research, outline generation, title ideas, SEO optimization, and so on.
AI in the Context of Content Marketing
Artificial Intelligence (AI) is basically using computer programs, algorithms, and datasets to do the tasks that traditionally require human intelligence. AI can help automate content creation and optimization processes with better efficiency and results.
In simple words, artificial intelligence is the computerized version of human decision-making process (minus emotion).
Traditionally, computer systems can only execute a series of instructions based on a pre-defined program. They don't have the ability to learn from the previous task.
But artificial intelligence has the self-learning capability. making decisions based on data. When a new problem occurs, AI-based systems can make decisions by analyzing the given data and coming up with possible solutions. Basically replicates the human decision-making process.
In the realm of content marketing,

AI can be used to automate content creation, optimization, analysis, personalization, identify trends, and improve the overall content strategy.
By analyzing data on how consumers interact with content, AI can create content that resonates with the specific target audience and brings a better conversion rate.
With AI you can generate a wide range of content, including long-form content (like blogs), content outlines, product ad copy, social media copy, and so on.
How does AI impact content marketing?
Firstly, to assure you (the fellow content marketers), artificial intelligence won't take your job straight away, but you've to be smart enough to adapt to the changes that AI brings.
Creating high-quality, engaging content can be time-consuming and resource-intensive. This is where AI comes into play. It initially eliminates tedious work such as reading tens of articles to draft a content brief or finding a suitable word for the title. This is how content marketers are using AI for content development.
Role of AI in content marketing automation:
—————————————————————————–
👉 Content creation and optimization
👉 Content analysis and strategy 
👉 SEO and keyword research
👉 Chatbots and virtual assistance
👉 Social media management
👉 Content in multilanguge
👉 A/B testing
👉 Performance tracking
Moreover, AI shifts the content marketing approach to a data-based process.
Content marketing is becoming more strategic than just creating and publishing content. So it is important to take a data-driven approach from content planning to the writing stage. Artificial intelligence does just the same.
AI content marketing tools run through a large amount of data before generating content. Therefore, the content is well-analyzed and has the possibility to get a higher conversion rate.
Here are a few examples of how content marketing with AI can help to get the best results.
Improves efficiency: As said earlier, AI can speed up the content creation process by automating time-consuming and repetitive tasks, eventually saving time to focus on more strategic initiatives.
Enhances capacity: According to a research report, 52% of companies have a small marketing team. So, AI automation can boost the content creation rate for marketing teams with fewer resources.
Precise prediction: AI can use machine learning algorithms to predict which content will perform best with specific audiences, which can help marketers create more effective campaigns.
Enhance customer experience: AI-powered chatbots can boost the user experience by generating helpful messages to the customers.
Streamline the decision-making process: AI content marketing tools often provide the option to generate multiple results. It helps the content creators to choose a best-suit output.
Boost the creative thought process: Copywriting has always been a creative work for humans. However, humans can often experience a lack of creative ideas in the head in some instances. AI copywriting tools can certainly help with that by generating ideas for creative content in a really quick time.
How to automate content marketing with AI: Hand-on example
For those who haven't experienced AI-driven marketing automation yet, we will briefly demonstrate how content marketing with AI works.
In order to demonstrate automation of content marketing with AI, we think it would be better to use an AI content marketing tool that provides web access in an interface like GetGenie Playground as well as directly integrates with websites built with WordPress. In this regard, GetGenie AI can be the perfect package for content marketing automation with artificial intelligence.

Here are a handful of tools from GetGenie AI that help you automate content marketing with AI.
👉 Content topic research
The hardest part of any task is to get started. In content marketing, topic research is the first step to putting it in gear. Automation in content marketing with AI can make this step easy for you.
Using AI content marketing tools you can generate content ideas that can accelerate your content creation process right from the word go.
For example, GetGenie AI's "Related Topic" template can generate a list of topics for a given subject. To generate topic ideas, go to GetGenie > AI writing and open the Related Topic template. 
In the template interface, enter the content to provide the context; whether it be a short description, paragraph, or snippet of the content.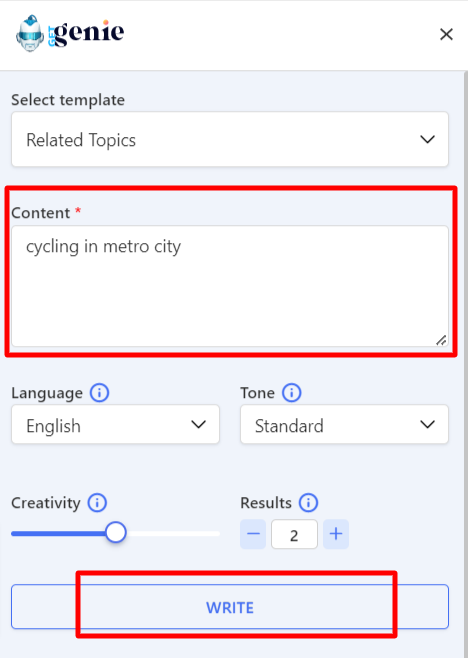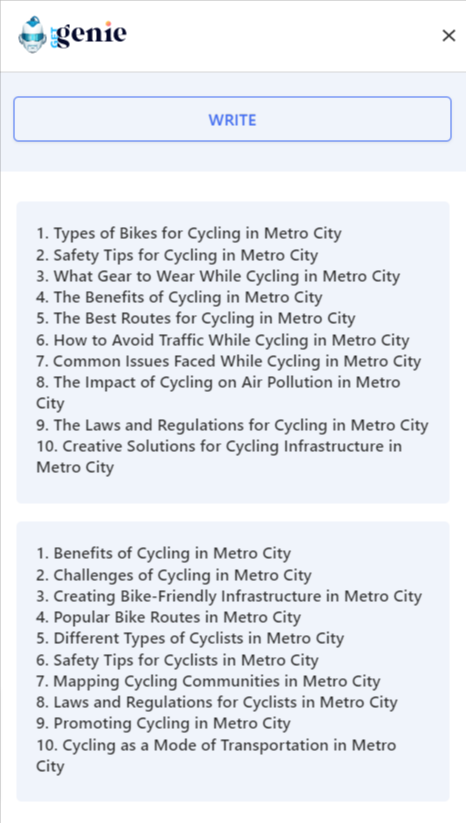 After that, choose your preferred language. Then you can set the creativity level for the output and set the number of outputs you want to generate. Finally, click the WRITE button to get the list of topic ideas for your content.
👉 Preparing content outline
Outline is considered the skeleton of the content. You can use AI-powered tools to produce an initial brief of the content, which you can then rectify and edit at your convenience. This approach could save time and effort. Moreover, AI-generated content briefs include insights from competitors' content, audience demographics, and interests. Which helps you to create optimized content for SEO and engages the target audience.
To demonstrate the AI content brief generation process, we can use the GetGenie AI template for the content outline.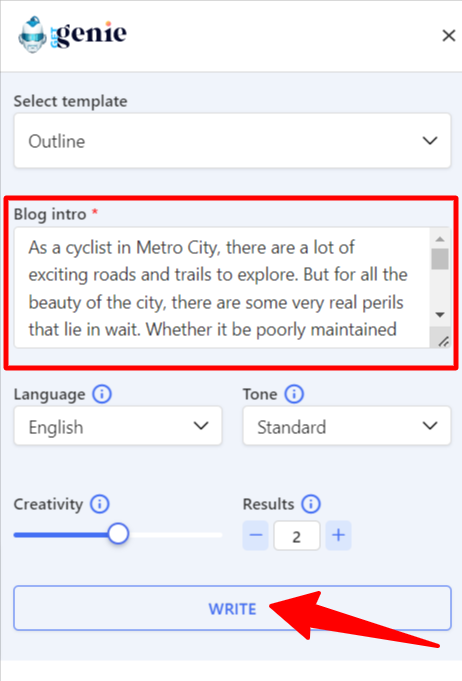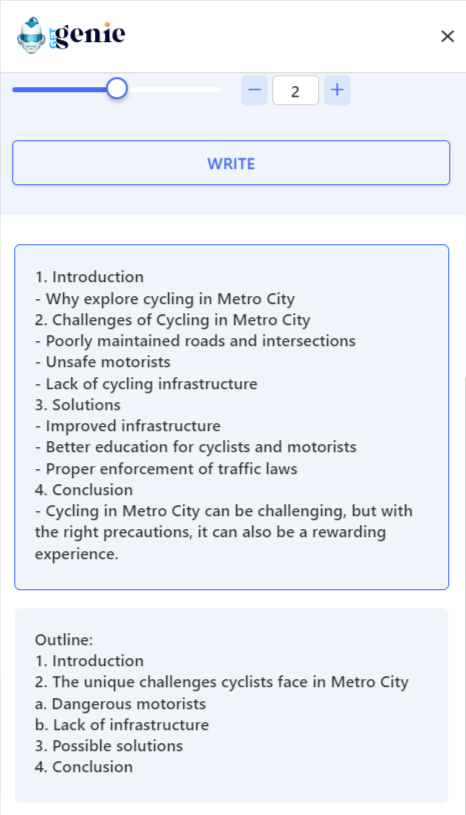 In the template, you have to enter an introductory paragraph about your content. After selecting the language, tone, creativity level, and results number, the GetGenie AI will provide a content outline that you can use to draft your content.
✍️ AI for copywriting automation
Copywriting is a challenging task for copywriters, it takes a lot of time and brainstorming to generate a small piece of content. The use of artificial intelligence can certainly be an efficient solution for copywriting.
AI-powered copywriting tools can help to generate copies for products, social media posts, and other types of short-form content.
GetGenie AI uses GPT-3 language model to generate copies that can boost the conversion rate. The AI writing assistant comes with the following copywriting features:
Product Ad copy
Social media copy
PAS formula
AIDA framework
Product Ad copy
An attention-grabbing ad copy can be the most effective way to boost product sales. GetGenie includes an ad copy generator template that provides copies for products based on the product name and description.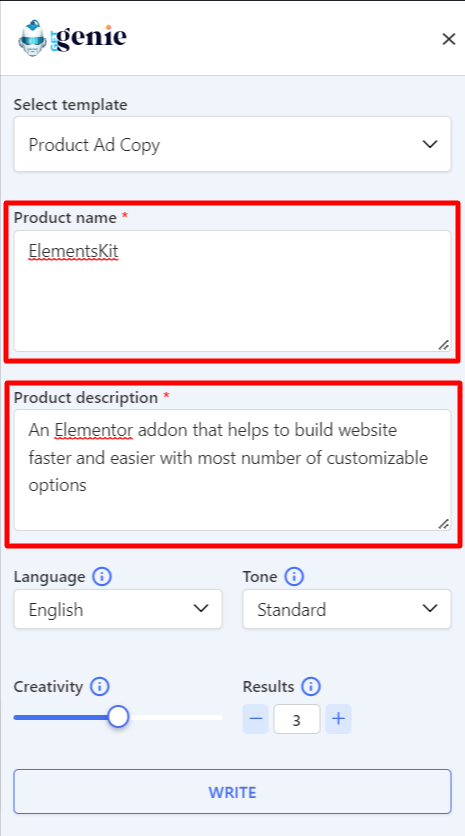 Social media copy
These days, social media plays a vital for reaching potential audiences and connecting with them. Therefore, social media copy is an essential part of content marketing nowadays. AI social media copy generator tools can help you generate attention-grabbing social posts for your business.
To get an engaging social media copy with GetGenie AI, provide the name of your brand/product and its description in the Social Media Post/Copy template. Then set the credentials like creativity, language, and others and let the AI write the copy.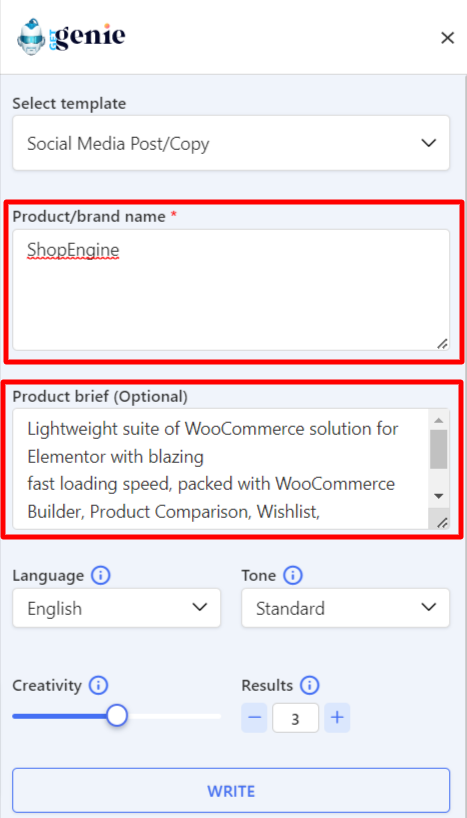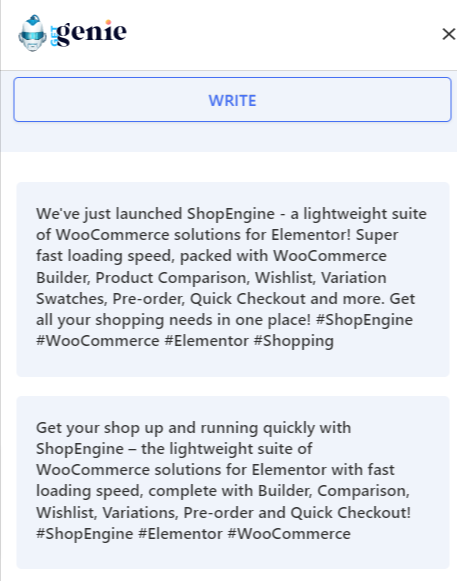 PAS (Problem, Agitate, Solution)
Problem, Agitate, Solution – PAS is a proven copywriting formula used to engage and persuade potential customers by highlighting their problem, making them feel the pain of that problem, and then providing a solution that solves the problem.
The PAS template of GetGenie AI uses this formula to generate more persuasive and effective copy that resonates with your audience and drives conversions.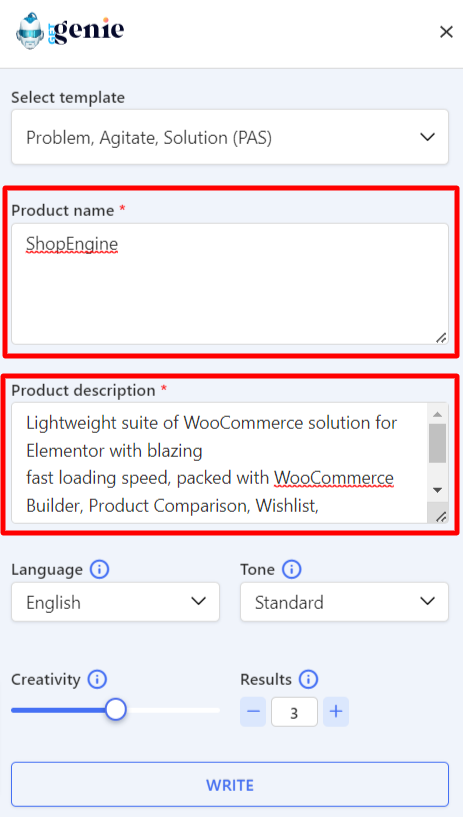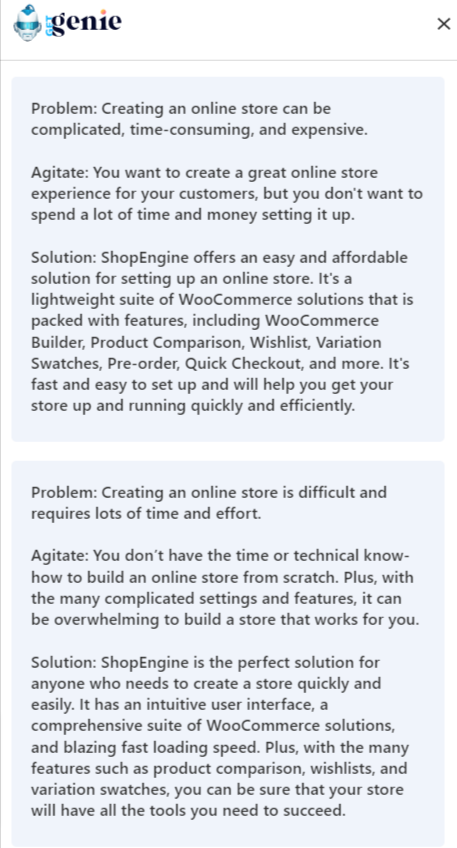 AIDA (Attention – Interest – Desire – Action)
Another proven copywriting framework. AIDA stands for Attention, Interest, Desire, and Action, which are the four stages of the framework. This formula is used in marketing and advertising to create persuasive and effective copy that captures the attention of the audience and encourages them to take action.
You can use the AIDA framework template for generating various forms of copywriting, including emails, landing pages, social media posts, and advertisements.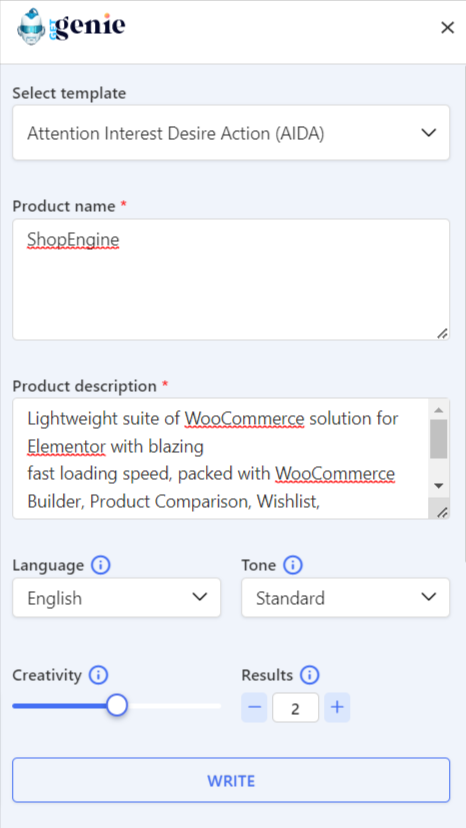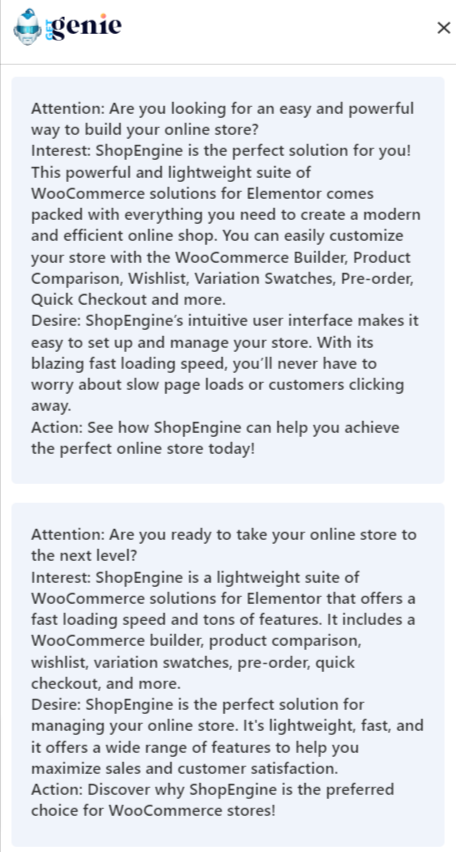 Content in multiple languages
Many AI content marketing tools support multi-language content. Personally eliminating the long process of writing content in one language and translating it into another language is the coolest thing with these AI-powered marketing tools. AI marketing tools like GetGenie Ai supports 33+ languages. So you can generate content directly into the native language and drop the lengthy translation process. This is particularly helpful if you have an audience base that is not familiar with English or the author's native language.
GetGenie AI in content marketing automation
GetGenie AI is a content & SEO assistant that integrates directly into  WordPress. From the blog, and copywriting, to SEO support it covers all aspects of content writing and optimization. The AI-powered WordPress plugin uses the latest language model to generate high-quality content for your website. GetGenie AI provides:
Full-length blog generation with SEO support.
Keyword research.
Content SEO score for the blogs in WordPress.
Content can be edited at any stage of the content generation process.
Copywriting tools to generate click-worthy copies for websites.
Tools that use proven copywriting formulas like PAS and AIDA.
Content in 33+ languages.
Overall, GetGenie AI can be a compact solution for content creation and optimization in WordPress with the highest number of functionalities.
As AI technologies continue to evolve, we can expect to see more innovative and advanced solutions for content marketing automation. So, it's important for marketers to adapt to the automation in content marketing with AI is now essential to stay ahead of the competition and achieve greater success in their campaigns. However, AI should be considered as a tool that can enhance capability rather than a replacement for human resources.