Top 7 AI Paraphrasing Tools to Try in 2023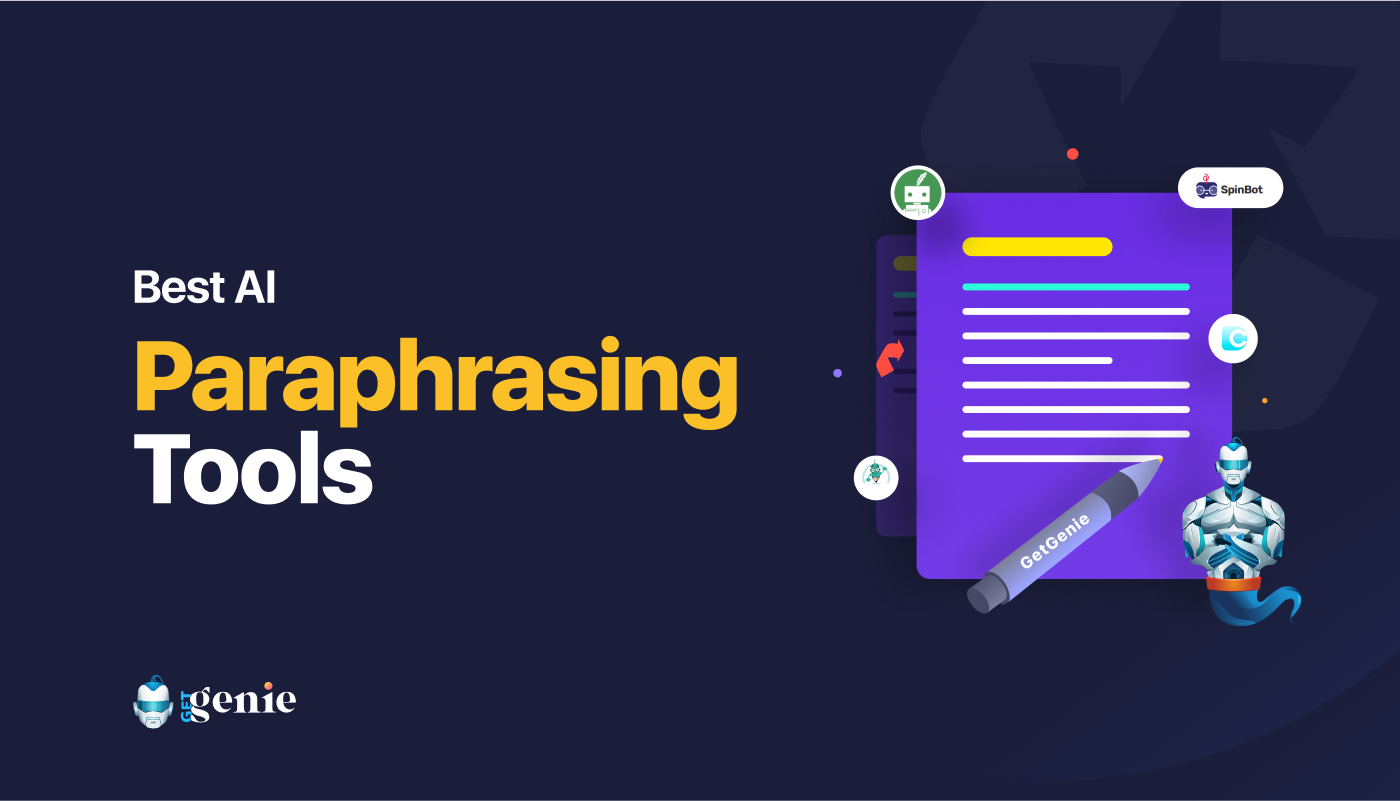 An AI paraphrasing Tool can enhance the originality of content. You can use such tools to rewrite and paraphrase sentences and paragraphs. The right AI tool can do it flawlessly to improve content.
Nowadays, marketers remain busy with so many different channels and brainstorming tasks. So, they trust some modern AI paraphrasing tools to develop real pieces of content. Thus, utilizing their valuable time becomes much easier.
So, we have discussed the 7 most powerful AI paraphrasing tools here. These are great to use for any purpose. Hope, you will find the article informative!
Is Choosing the Best AI Paraphrasing Tool Easy?
It is tricky to make the choice 🧐
Choosing a suitable AI tool from many online tools is a bit difficult today. While most of the tools serve the same basic purpose, they are still not the same.
The reason is their design and capability to function smoothly. A well-designed AI paraphrasing tool is efficient enough to give you fast and quality outputs. You know, the growing marketing field appreciates and wants informative content.
Let us educate you to select the good tool for you 👌
The Role of AI Paraphrasing Tools?
It greatly helps to maintain the uniqueness of content ✨
Paraphrasing tools rewrite and paraphrase sentences. The tools are AI-powered and know how to learn and write like humans. As a result, these tools give unique and precise content.
Improve writing- Good paraphrasing tools rewrite sentences beautifully and help to improve the quality of content. People also use these AI tools to improve their old articles.
Grammatically correct and detailed content- You don't have to worry about grammatical mistakes with trusted AI paraphrasing tools. They are smart enough to provide grammar, syntax, and stylistic mistakes-free articles.
Save time- These tools are a super time-saver. If you are struggling to write something and have no time, selecting an AI paraphrasing tool is recommended.
Increase content's readability- AI-powered paraphrasing tools usually generate engaging content. As the tools improve content quality, content becomes easily readable and attracts readers' attention.
Paraphrasing tools support multi-language- Artificial Intelligence can understand different languages. You can generate content in multiple languages using AI tools as many of the tools provide multi-language support.
Improve ranking chances on the SERP- Some AI paraphrasing tools are SEO-supported. These give excellent SEO-optimized content. Thus, you can rank your desired content on Search Engines easily.
Want to know why is it important to paraphrase? Check this out!
7 Best AI Paraphrasing Tools
All website visitors and subscribers look for valuable content. But, a good writer even faces difficulties making fine content sometimes. That is the reason AI writing assistants are becoming popular today. An AI paraphrasing tool is nothing different than a beneficial AI writing tool. To avoid plagiarism and make properly formatted textual articles the job of a trusted paraphrasing tool is vital.
GetGenie AI is the most needed content and SEO assistant. This AI tool is intended for WordPress, SaaS users, and those looking for a fantastic chatbot. It is among the latest leading paraphrasing tools today. You can rewrite sentences, paragraphs, and any web content with Genie Ai.
Features
The tool offers a paraphrasing template named Content Rewriter. However, all GetGenie templates are well-organized and easy to operate. Some attractive features are –
Creativity level – You can control how creative the outputs you want. You can set it up to level 5.
Result limit – GetGenie can produce more than one output for one input. Here, the maximum result limit is level 6.
SEO – GetGenie offers excellent SEO services for generated content like keyword research, competitor analysis, content optimization, etc. It facilitates you to rank on SERP and brings you new traffic. Also, with the blog wizard, you will get an excellent one-click blog-making opportunity.
Moreover, if you purchase the premium package you can enjoy more facilities with the templates.
How does GetGenie AI work?
In the WordPress dashboard, you just need to install GetGenie AI and find your template. For example, to paraphrase content select Content Rewriter. You have to put the content in the given field named Your Content. Afterward, adjust creativity level, language, and others accordingly. Finally, by clicking the WRITE button you will get your desired outputs.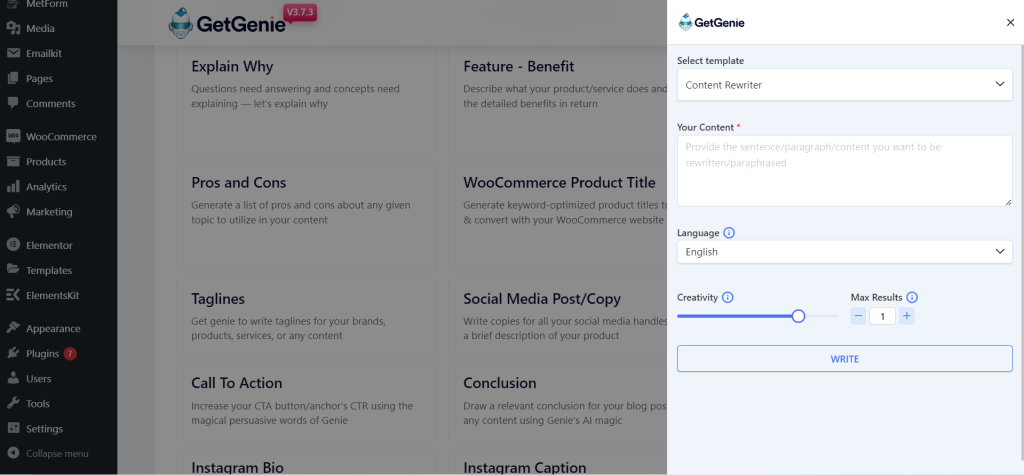 The Genie playground is the SaaS version of the tool that also presents you with all the templates. You must try 😍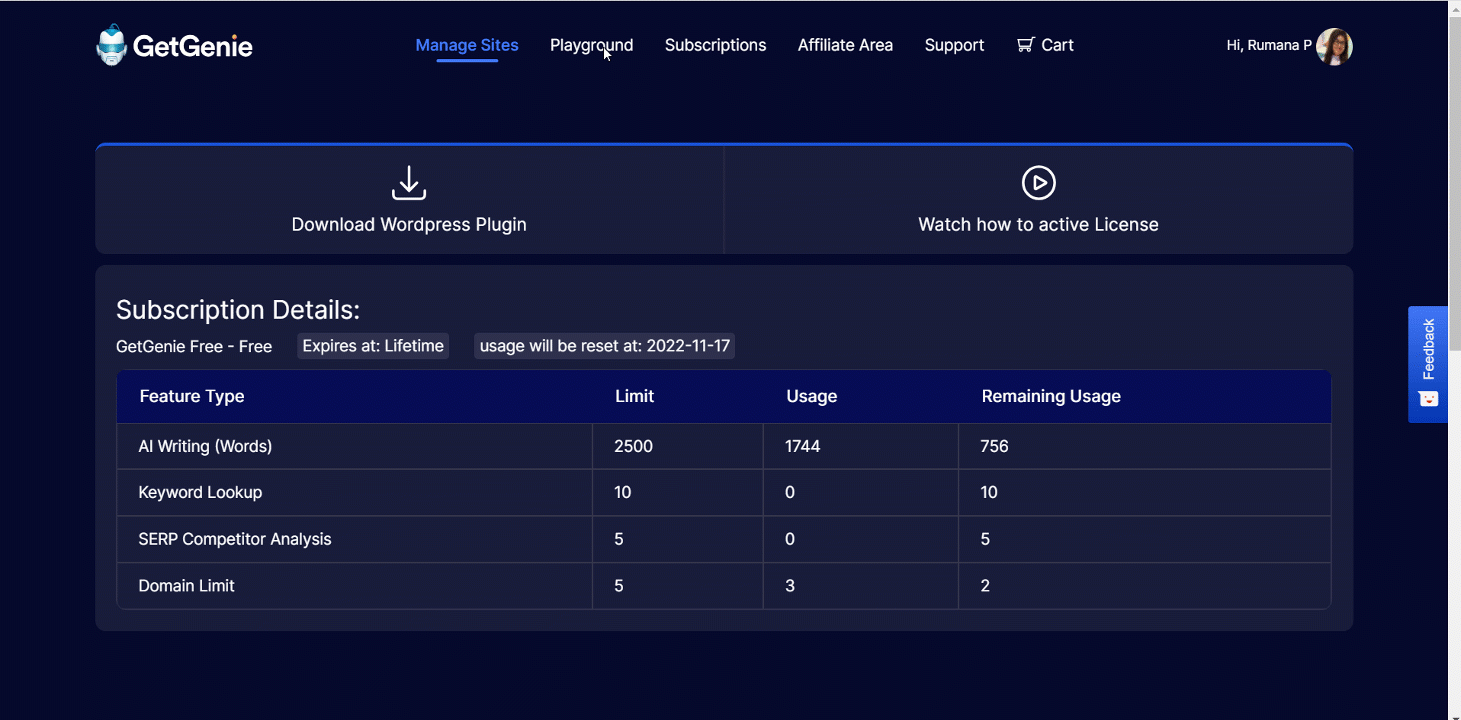 These flexibilities have made the paraphrase ai tool handier.
Deals & Pricing
You can use the tool for free for one WordPress website and many other solutions. The general pricing plans are reasonable.
| | | |
| --- | --- | --- |
| | Monthly | Yearly |
| Starter | Free | Free |
| Writer | $17 | $13 |
| Pro | $44 | $34 |
| Agency | $89 | $69 |
For more information check it out!
However, GetGenie often offers attractive deals and offers to its users. Recently users enjoyed a one-in-a-lifetime deal offered by the tool. It was an amazing offer to avail!
Our Assessment
GetGenie AI is fast, efficient, and excellent for SEO. We can give it 8/10.
To get well-arranged and fresh content QuillBot AI has brought an amazing paraphrase. It is another good choice. It especially works well for academics and publishers. For smooth paraphrasing, summarizing, and an overall efficient writing experience Quillbot AI is your best choice.
Features
Some special features are-
Customization– By using the synonyms bar you can set how many word changes you want in your paraphrased copy.
Artificial Intelligence- This AI-powered tool shows a list of possible synonyms. You can click on any word and choose a synonym from the list if you need to change it.
Integrations– It offers a Chrome plugin and a Microsoft Word plugin. So, you will get more flexibility to use the tool in your WordPress site.
How does QuillBot AI work?
From the website, you can directly use the Quillbot paraphraser for free. In the given field you have to simply copy and paste your content and press the Paraphrase button. You can control the Synonyms bar and use standard and fluency modes during the free trial. In premium packages, there are modes named Standard, Fluency, Formal, Simple, Creative, Expand, and Shorten to provide more precise content.
Deals & Pricing
It offers a free plan of 125 words. You can get to use the Standard and Fluency modes among the seven during the trial period. To know more, you can visit their website.
Premium package:
| | | |
| --- | --- | --- |
| Annual | Semi-Annual | Monthly |
| $4.17 USD per month | $4.17 USD per month | $9.95 USD billed monthly |
Our Assessment
Good as a paraphraser, summarizer tool, and for academic writing. We can give it 7/10.
Word AI is a popular name for paraphrasing sentences. It is AI-based and provides quick, better-quality content. This tool serves well for both beginners and professionals.
Features
Here comes the features of WordAI-
No Duplicate Content: The tool finely rewrites sentences from scratch. So, the users don't have any worries about plagiarism.
Turnaround Time: It is fast and efficient. You can rewrite your articles with WordAI and focus on your other goals easily.
Control: You can control the tool to be more creative with your output. Again, with unique articles, you can easily improve your SEO game.
1-1,000 Rewrites: You can write up to 1,000 original words per content. Making variations in content is quite simple and enjoyable with Word AI.
How does WordAi work?
WordAi is simple to operate. You have to put your content, press rewrite, and your new content is ready. Within seconds, you will get the output from WordAi and boost your productivity.


Deals & Pricing
You can use WordAi for 3-days on a fully free trial basis. The tool also offers a no-risk money-back guarantee for 30 Days.
| | | |
| --- | --- | --- |
| Monthly | Yearly (billed annually) | Enterprise |
| $57 per month | $27 per month | Custom |
Our Assessment
We recommend WordAi paraphrasing tools to save you time and effort. It may deserve 6/10 points from us.
Don't know how to utilize AI in writing content? Then check out this amazing blog.
This paraphrasing tool is a handy and skillful online tool. It can successfully rewrite content, and change words. It is a simple yet effective tool.
Features
Some main features of the tool include-
Multiple writing modes- Different paraphrasing modes of Paraphraser.io ensure different level outputs. Among the four modes, Fluency and Standard are available for free use. Creative and Smarter are the ones you will get to use in premium modes.
Simple UI- The tool uses the latest algorithms that have made the functions easy. You can find and utilize it in a few clicks
Creative and readable output- Paraphrase.io mountains creativity and readability of its outputs. It can paraphrase without errors.
How does Paraphraser.io work?
You have to follow the simple copy-paste process to use this paraphrasing tool. Or, You can upload a content file also, it supports different types of files. Next, just check the captcha and click Paraphrase Now. You will get your rewritten copy ready. There are also different modes available to get different standard content.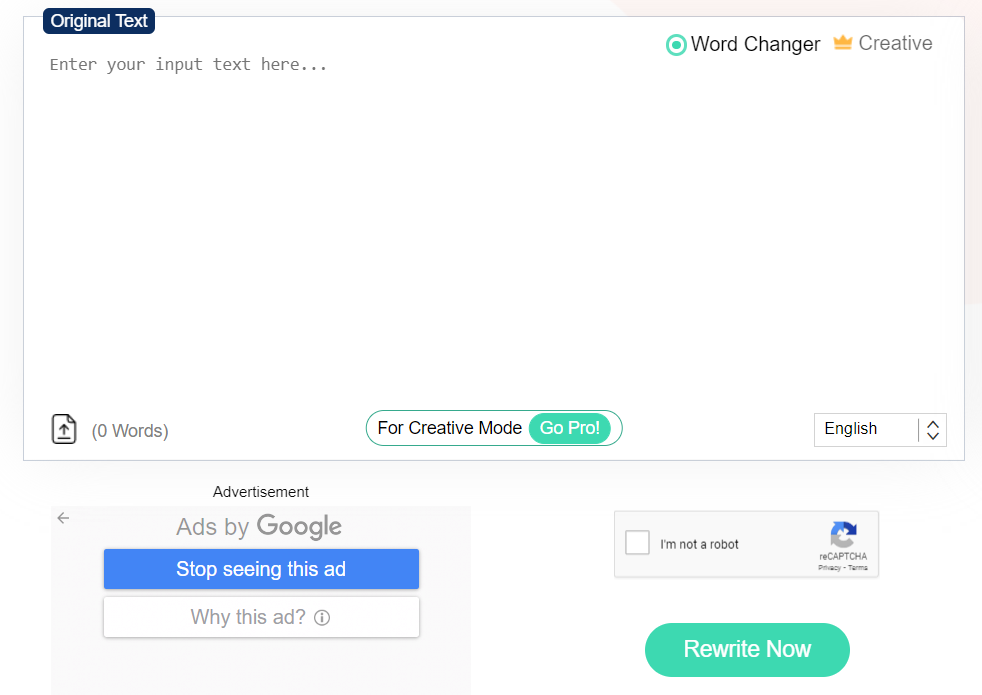 Deals & Pricing
You can try article rewriter of Paraphrase.io for free. There is no usage limit or time limit. To use advanced features the plans are-
| | |
| --- | --- |
| Monthly | Annually |
| $20 per month | $12 per month |
Our Assessment
The free version is good for beginners and students. For professional purposes, use the premium version. We recommend the tool 6/10.
It is another popular and skilled tool for rewriting human-readable content. This intelligent tool turns any old textual content into a unique one. It also helps in paraphrasing social media posts, blogs, and website content.
Features
Have a look at some of the features of Spinbot-
Content length customization- There is a content length customization bar. You can make the content short, and big or simply keep it random (default).
Rewrite capitalized words- You can capitalize words and rewrite them. For instance specific nouns, titles, or others. There is also a 'ignore field' where you can put words that you don't want to change.
Spintax checking- The tool checks the contexts of every phrase of your given content.
Choose proper synonyms- You don't have to brainstorm and choose synonyms of words, Spinbot does it all. So, you can paraphrase effortlessly and meet your requirements.
How does Spinbot work?
The tool is available in two formats, Text Spinner and Paraphrasing Tool. To use these for free you don't need to register with Spinbot. All you need to do is copy-paste the content and click the Basic Paraphrase button. The word limit is up to 1k. You will find a paraphrasing mode above that allows you to control the content length. Again, you can copy the generated outputs instantly by clicking the copy option.
Deals & Pricing
The free version comes with ads. You can use it as long as you keep ads and the captcha. No special current offer now. There is also an ad-free version available. You can check their website if you need more information.
Our Assessment
One fact is that, if you click the Advanced Paraphrase option it then redirects to another tool! However, for the paraphrasing skill, it deserves a 5/10.
The sentence rewriter and sentence spinner of SmallSeoTools company is a well-liked paraphrasing tool. The main reason for its popularity is that it is free. The tool provides quality textual content and ensures fast service.
Features
Some features of this paraphrasing tool include-
Corrects text format- The article rewriter is skilled enough to rewrite texts while keeping the spintax correct. You can paraphrase a rewritten article again if you need high-quality formatted content.
Makes SEO better- It takes care of search engine optimization of the content. Also, you can give good effort to SEO with the help of other tools of SmallSeoTools.
Quick download- The paraphrasing tool by SmallSeoTools shows the download option when your paraphrased copy is ready. You can make the necessary modifications and save the copy. It is very flexible and saves time.
However, the SmallSeoTools paraphrasing tool is helpful only for basic writing. There is no such rich feature or functionality. Again, the page shows too many advertisements that a user gets easily irritated.
How does SmallSeoTools Paraphrasing Tool work?
To use this tool, firstly, you have to go to their online page. Here, you will find a box to put your content, just copy and paste it there. Now, click the Rewrite Article button and your rewritten copy is ready.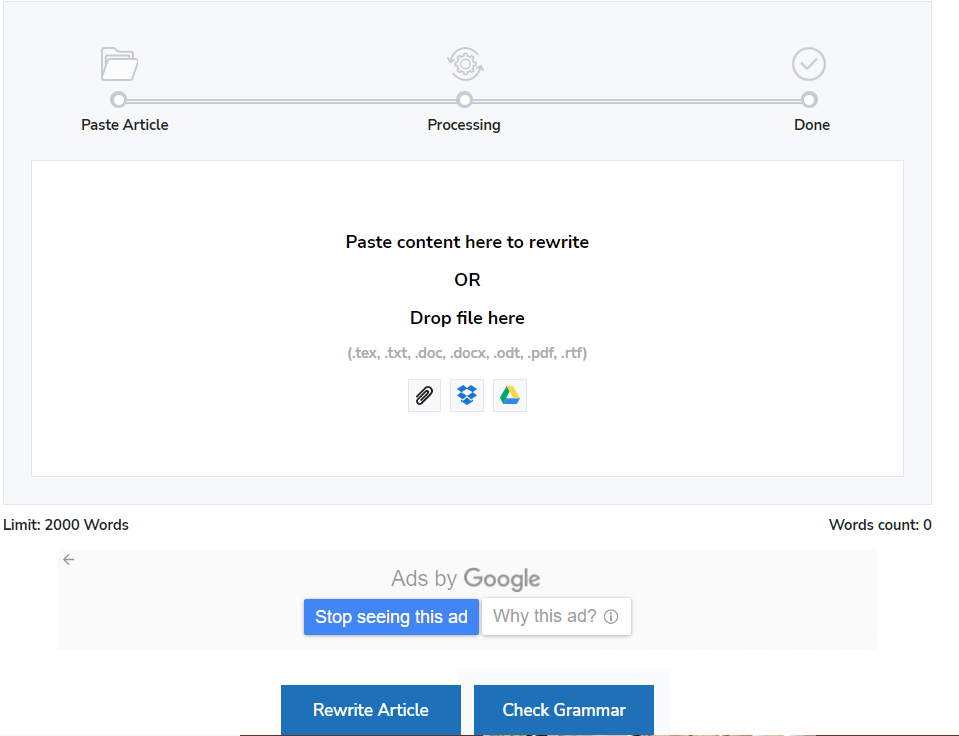 Deals & Pricing
No ongoing deal. The SmallSeo paraphrasing tool is Free. It doesn't offer any premium package.
Our Assessment
We suggest the tool to use for primary purposes. So, it deserves an overall 5/10 points.
If you wonder why to use an AI writing tool then check this article!
This is a helpful tool to change the words and reproduce any content. It's quick, efficient, and free. From students to professionals the Article Rewriter of Duplichecker tool is useful for primary purposes.
Features
Paraphrasing unlimited articles- You can paraphrase as much content as you want. Duplichecker allows you to rewrite 2k words in every attempt.
Secure- It is secure, with grammatical errors, and also spelling error-free. However, you can also try Duplicheker's plagiarism checker to check any old or paraphrased content you need.
Helps in meeting deadlines- You can solve your small content paraphrasing issues quickly with Duplichecker. No, sign-up and registration are required.
How does Duplichecker work?
You have to put your text in the text field to get a rewritten copy. Also, you can pick a file to paraphrase using the "Upload Your File" button. The process is hassle-free.
Here, for security matters, you will be required to Check Google Captcha. Finally, by pressing the "Rewrite Article" button you will get your result done.
Deals & Pricing
The tool is free of cost basically. But for advanced service, you can take its customization plan. The pricing starts from $10. As it offers many small plans it is better to check its website for details.
Our Assessment
It shows too many ads which is a little disturbing. However, for teachers and students, this tool is especially recommended. We can give it an overall 5/10.
Conclusion
A piece of content takes time, effort, and tricks to become a masterpiece. Whether you are a marketer, or blogger you must know the struggle of brainstorming. Creating unique, and informative content is not easy.
That is why paraphrasing tools are common today. The perfect tool knows how to choose appropriate words, correct grammar, spelling, and other relevant things.
So, to select a suitable paraphrasing tool, you must educate yourself first. Don't forget your WordPress site needs more engaging content to get ranked in SERP. And here, a modern AI paraphrasing tool like GetGenie AI certainly supports you in various ways.
A smart tool for you 👇