How to Write SEO-Friendly Blog Posts: 14 Tips for SEO Best Practice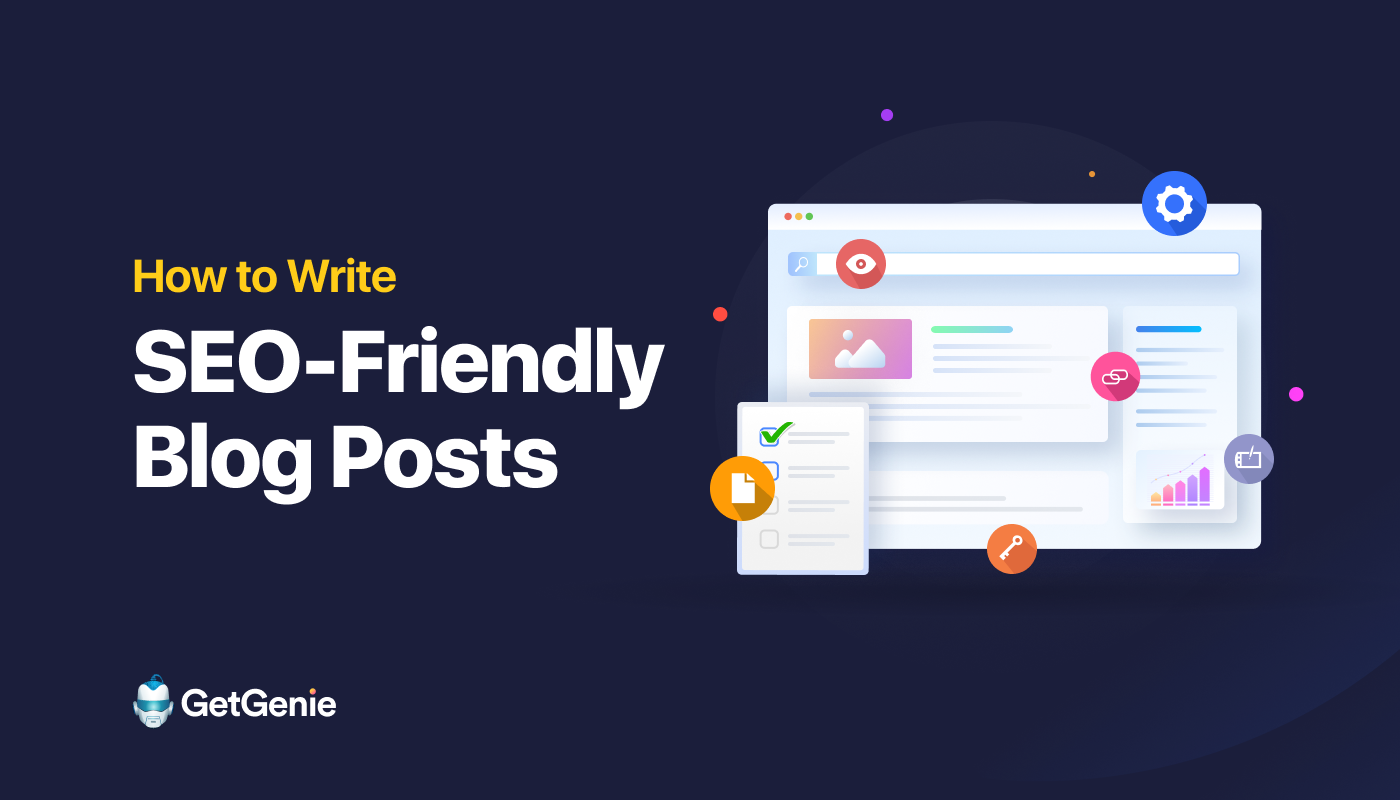 Writing content requires a lot of skills. Knowing how to form a sentence won't make you a writer overnight. It takes more than just wordplay to create blog content that will rank on search engines such as Google. You need to create a blog in such a way that it's understandable by both people and search engines.
As 68% of online experiences start with a Google search, it's only natural that you will want your content to be readable by the Google search engine. So, as a content writer, you need to make sure that your blogs are optimized for search engines. That's why you should read this post on how to write SEO-friendly blog posts. How? Just continue reading to unlock the secrets!
Why SEO is important
What is SEO writing? Simply put, SEO writing is the method of optimizing blog posts through a set of guidelines, also known as SEO best practices.
Why is optimization important, you may ask? Well, it's an organic way to set your content apart from other content and rank on SERPs (Search Engine Result Pages). Whenever you conduct a Google search to find something, similar content comes up as a list.
How does Google sort the results? 🤔
Search engines, particularly Google, have a complex system that evaluates online content to decide if it deserves a place on SERPs. This evaluation considers various factors, including content quality, relevance, and user friendliness. But one key factor that significantly affects your content's ranking and visibility is its optimization, following SEO best practices.
Optimizing your content includes things like using relevant keywords, making your content easy to read and navigate, and ensuring your web pages load quickly. By handling these factors, you can make the content more visible and likable to both search engines and readers.
So, without further ado, we will be sharing some SEO content writing tips with you that are going to improve your overall content.
First things first: Find topics and do keyword research
Searching topics helps you understand what your readers are looking for. That's why, before all the optimization and SEO, lay the groundwork for your content production by doing keyword research. You can brainstorm topics related to your blog's theme and then use tools like Google Keyword Planner, SEMrush, or Ahrefs to find words and phrases that people commonly search for. Plan ahead for your writing, and optimizations will feel a lot easier. Try to find the content gap by analyzing competitor blogs and the keywords they are not targeting.
Find out more about content gap analysis!
After the research on keywords and topics, it's time to write and make those optimizations come into play. Let's head over to the main section.
How to write SEO-friendly blog posts
Now it's time for some SEO content writing tips. We will be sharing 10 tips on SEO for blogs. We will try to break it down step-by-step for your ease. We are focusing on on-page SEO techniques, and the list of tips for writing SEO-friendly blogs is:
Make a proper structure of your content
Use accurate headings (H1-H4)
Optimize your meta description with keywords
Write with a humane tone
Make the content unique
Internal and external linking
Optimize your blog title
Avoid keyword stuffing
Add visual media
Add alt-texts in images
Optimize images for fast-loading page
Optimize your blog's length
Mobile friendliness on the blogs
Promote your blog on social media
Let's elaborate on each of the points in an understandable manner. Don't worry, we'll keep it plain and simple and provide you with the necessary SEO recommendations.
1. Make a proper structure of your content
After some extensive research on a topic and keywords, make the backbone of your content. It should be clear and intuitive. You should always start with an introduction, a body, and a conclusion.
Of course, other subheadings should also be given according to the necessity of SEO blogs.
Summarizing the whole content by creating an outline will make your writing workflow a lot easier and help you optimize the overall content faster.
Want to get the help of AI to create the perfect blog outline? Try GetGenie AI for assistance in SEO blog writing!
2. Use accurate headings (H1-H4)
Headings are a key component when it comes to optimization. Headers help the search engine "Crawlers" search and rank your content. They get an overview of your content by reading the H1, or main header. Then the subtopics should also be given proper headers under H2, H3, and H4 tags, as they will help the reader break down the content in a proper search-friendly manner.
An easy-to-scan outline is best for search engines. That's why you should always give extra attention to the headings and try to insert the focus keyword in some of the headings to boost SEO.
3. Optimize your meta description with keywords
An important piece of the SEO puzzle is the meta description. What is it? Meta descriptions provide another landscape for Google's search ranking analysis. These concise one-to-three-sentence descriptions reside just beneath the result's title.
These little snippets of text that show up beneath your page title may seem insignificant, but they're a secret weapon for your blog's success. Think of your meta description as the movie trailer for your blog post; it gives readers a sneak peek at what to expect.
But that's not all—search engines pay close attention to meta descriptions too. When you include relevant keywords and a compelling message, you're telling search engines that your content is what people are searching for. That's why you should try to optimize meta descriptions all the time!
4. Write with a humane tone
"Avoid creating search engine-first content." – Google Search Central
Here comes the most important part: keep your writing natural and engaging. Remember, your readers are humans, not robots. You need SEO optimization for the search engine crawlers, and you need human appeal for the readers.
Human-friendly writing is engaging, easy to understand, and accessible. It ensures that readers stay interested and can easily digest the information you're providing. It's possible to strike a balance between optimizing for search engines and appealing to human readers. Use keywords naturally.
provide valuable information and maintain a conversational tone.
5. Make the content unique
Copypasta won't bring any positive outcome to your content; remember that. Avoid plagiarism at all costs because Google doesn't like duplicate content, and your website will get flagged due to this.
Google's algorithms prioritize original content. If your blog contains content that's already widespread on the internet, it's less likely to rank well in search results. Unique content tends to captivate and resonate with your readers, as people are looking for fresh insights and a unique perspective.
6. Internal and external linking
Internal and external linking are fundamental aspects of SEO article writing. These strategic links offer numerous benefits to your content and your readers. By linking to other pages within your blog (internal links), you create a network of related content, improving user navigation and enhancing the overall user experience.
Additionally, by incorporating external links to reputable sources, you can bolster your content's credibility and authority. Effective internal and external linking can help improve your blog's visibility in search results, providing valuable information and resources to your audience.
7. Optimize your blog title
A bad headline can affect your post's visibility and indexability, even with a top-notch SEO optimized body. Your blog post's title is more than just a label; it's your first opportunity to grab the reader's attention and entice them to click through.
Even with a well-optimized post body, a lackluster headline can hurt your performance on the Search Engine Results Page (SERP). That's why you should try to keep it compelling by incorporating power words that provoke curiosity. Be mindful of your title's length; it should be long enough to deliver the message but concise enough to hold reader's interest.

8. Avoid keyword stuffing
Let's talk about a big no-no in the world of SEO-friendly blog posts – keyword stuffing. This is the old trick where you cram a bunch of keywords into your blog or content, hoping to boost your search engine rankings.
Well, let me tell you, search engines have wised up to this game. Keyword stuffing not only doesn't work, but it also messes up your content and ticks off your readers. Instead, just use your keywords naturally, where they fit, and make your content flow smoothly. Remember, it's all about striking that balance between SEO and readability.
9. Add visual media
An ideal blog format should consist of images and videos whenever possible in between the paragraphs. This way, the reader will find the content engaging and not monotonous. Try to incorporate images and videos that give the post relevancy. You can add infographics like tables, charts, or gifs for explanation.
10. Add alt-texts in images
Alt-Tag or alternative text, is a brief description you provide for your images. While it may seem like a minor detail, it plays a significant role in SEO and the user experience. Because search engines cannot "see" images like humans, alt-text serves as their eyes, assisting them in understanding what an image is about.
By including descriptive and relevant alt-text in your images, you not only improve the accessibility of your blog for visually impaired readers, but you also improve its SEO. When writing alt-text, be concise and specific, using keywords naturally while providing an accurate description of the image's content.
11. Optimize images for fast-loading pages
Google has a soft spot for speedy pages because they directly enhance the user experience. One of the major culprits behind sluggish page speeds is those large, hefty images you might be using. If each image in your post weighs over 100KB, it can heavily impact your page loading speed.
Slow-loading pages can be a surefire way to tank your rankings. So, if you suspect that your blog's low ranking might be due to slow page speeds, head over to Google's PageSpeed site for a free analysis and recommendations that can supercharge your page loading times.
You can easily compress your images while maintaining their quality by using various tools, like, Adobe Photoshop Imagify or TinyPNG.
12. Optimize your blog's length
Here's the deal: Google prefers longer, more detailed articles because it helps search engines understand the juicy details of your content. Google focuses a lot on helpful content and takes into consideration whether the content is thorough and insightful, going beyond the basics and offering a comprehensive view of the topic.
However, there's a catch – long articles can sometimes be a lot to digest for your readers. And Google knows it too. In their recent update, Google addressed the fact that the length doesn't actually matter if the content is helpful and serves the purpose. As a failsafe, you should try to strike the right balance between length and information.
13. Mobile friendliness on the blogs
Neglecting mobile users means missing a significant chunk of your audience. Mobile-responsive design guarantees accessibility, visual appeal, and ease of navigation on smaller screens. Use reader-friendly formatting, such as short paragraphs and clear subheadings.
Make touch-friendly navigation a priority, making it simple for users to tap buttons and links. Speed up your blog's loading times for users with slower connections by reducing unnecessary elements.
14. Promote your blog on social media
When it comes to successful blogging, creating fantastic content is just the first step. A well-thought-out strategy is required to ensure that your blog reaches its intended audience. That's where social media comes in. Make sure, after publishing, you share it on the associated social media handles for people to see and click.
So, that concludes our 14 tips on how to write SEO-friendly blog posts.
Wrapping up
Throughout this post, we've navigated through the essential practices, from structuring your content with a well-defined blog format to the power of crafting engaging and SEO-friendly content. We've uncovered the secrets of SEO advice and blog SEO best practices that not only boost your blog's visibility but also ensure it resonates with both search engines and your cherished readers.
In the ever-evolving field of online content, where over 2 million blog posts are published each day, SEO optimization is not just a luxury; it's a necessity. With the right techniques and a clear understanding of how to write blogs that align with SEO best practices, you have the tools to shine amidst the virtual sea of words. Happy blogging!