How to Use an Ai Tool for Script Writing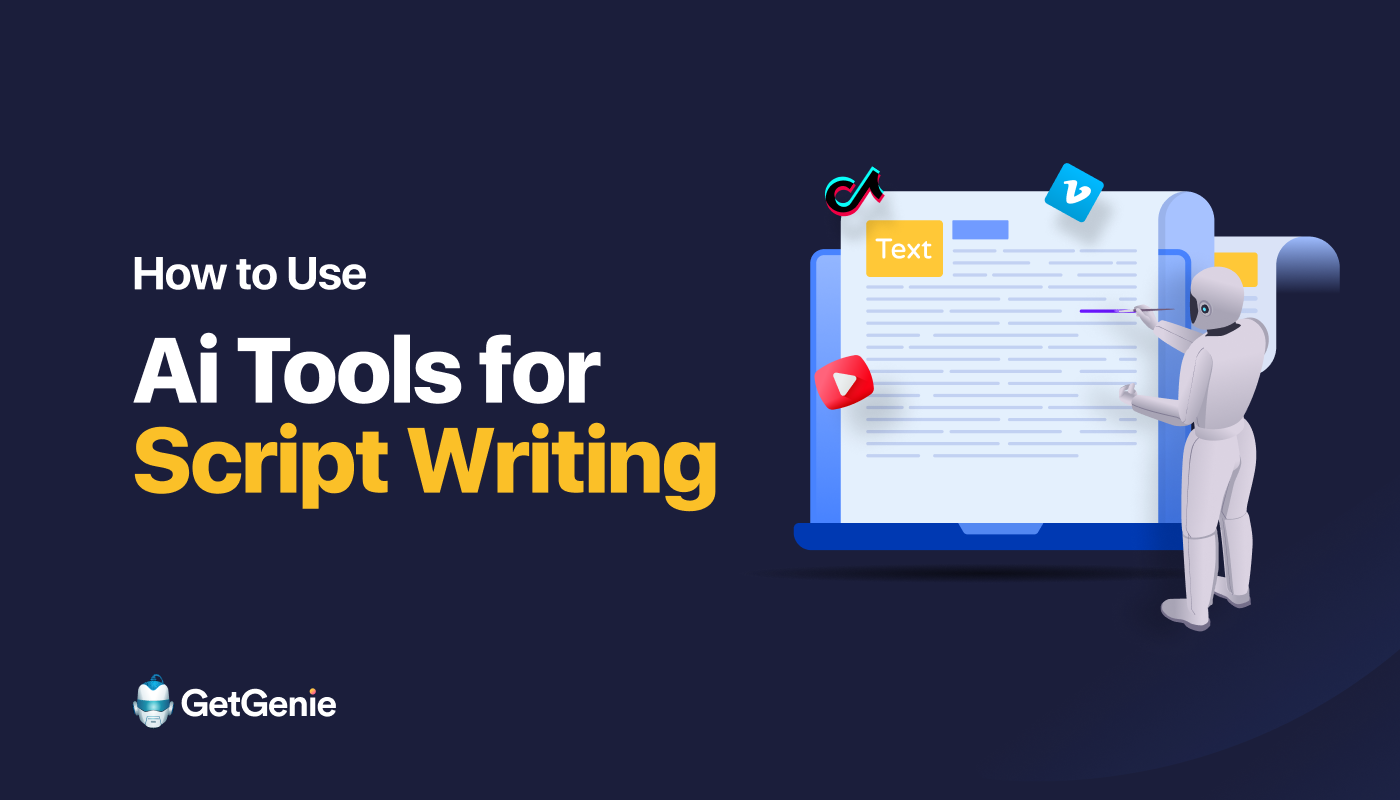 An Ai tool for script writing is powered by a set of technologies. You may have heard about different Ai script writing tools but don't know the using procedure. Well, it is a straightforward system. A standard tool is handy and offers clear documentation for its users.
In this article, you will learn all the necessary steps to use an Ai script writer tool effectively. Whether you are a seasoned scriptwriter or a beginner, this blog will also provide you with all related essential information.
What is Script Writing?
Script writing also known as screenwriting is the process of writing stories in the screenplay medium. Script writing is writing down the movement, actions, expression, and dialogue of the characters in screenplay, in screenplay format.
Moreover, script writers write scripts for videos, documents of works, movies, and so on. So, they always need precise and understandable scripts to do a job perfectly. Today, Ai writing tools do this wonderfully to help the writers.
How Do Ai Scripts Stand the Test of Time?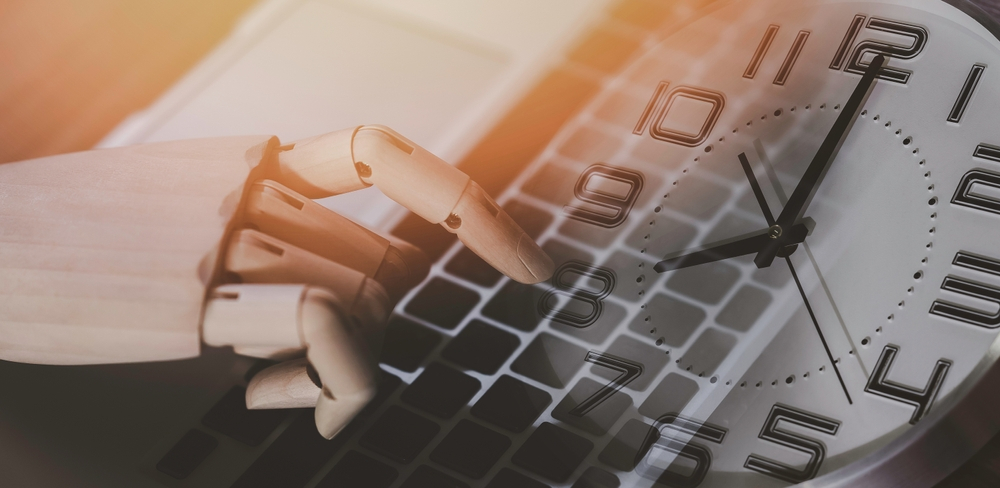 Demand for good scripts has increased and its patterns have changed over time!
To keep pace with the fast-growing digital marketing world Ai-powered writing tools play a great role today. An Ai writing tool supports various writing options in different categories. Scriptwriting is one of the popular criteria for people seeking assistance from an Ai script-writing tool. Let's see how Ai generated scripts are useful –
A modern Ai script-writing tool is trained by elements Ai, and NLP (Natural Language Processing) that is capable of creating contemporary scripts.
Besides providing new content an Ai script writer helps to improve your completed draft.
By processing the latest data the Ai system creates engaging pieces for a specific target audience successfully.
How to Use an Ai Tool for Script Writing?
Online Ai script writing tools or good Ai writing plugins work almost in the same process. Basically, artificial intelligence has made writing tasks easier and allowed people to spend more time on other important jobs.
But, how to get an ai to write a script? Well, there are many script writing ai tools on the online market.
Here, we are going to show a working process of a popular tool GetGenie Ai. It has a simple yet powerful and latest ai tool.
Top 7 benefits of the tool are –
1️⃣ It is available in two versions at present, WordPress plugin and SaaS app.
2️⃣ It serves the best content for SEO and shows a content score
3️⃣ The tool provides 37+ different writing templates
4️⃣ GetGenie Ai supports 33+ languages
5️⃣ You can get one-click blog generation support with the tool
6️⃣ It replaces 10+ apps with its Ai writing magic
7️⃣ It has a rich roadmap including the plan to launch browser extensions
Using GetGenie Ai tool for Script writing in WordPress
With the Genie mode template, you can produce scripts on any topic. It is very swift, accurate, and efficient. Besides scripts the template allows you to write anything you want.
1. Login to your WordPress dashboard -> 2. Go to GetGenie -> 3. Find Ai Writing -> 4. Find Genie Mode and click to start
The template looks like this and shows some fields. The fields including input field, setting out creativity level, and number of results. All you have to do is fill up the fields according to your need and click the WRITE button.
Here we have generated a sample script with Genie Mode. Check this out-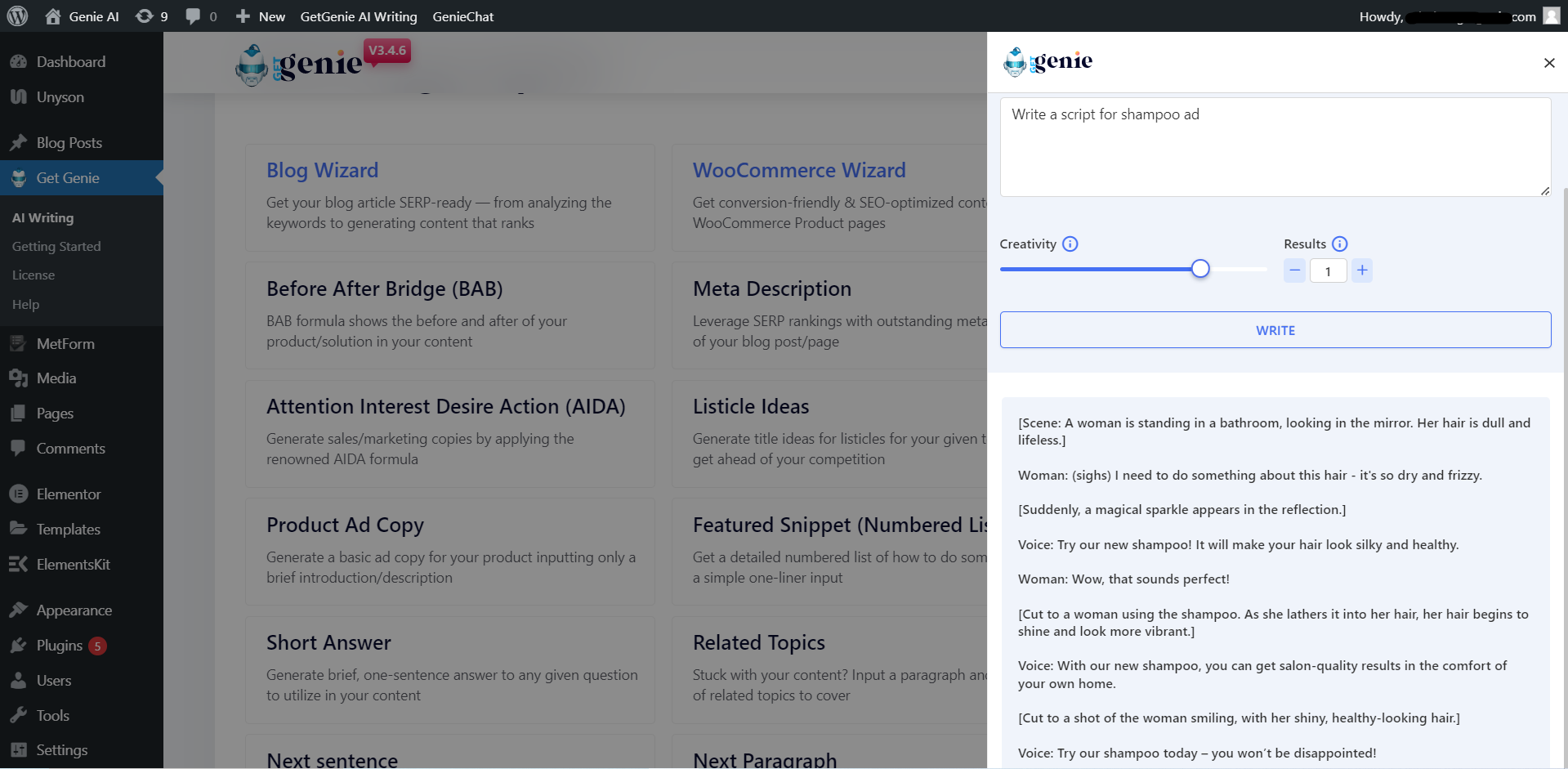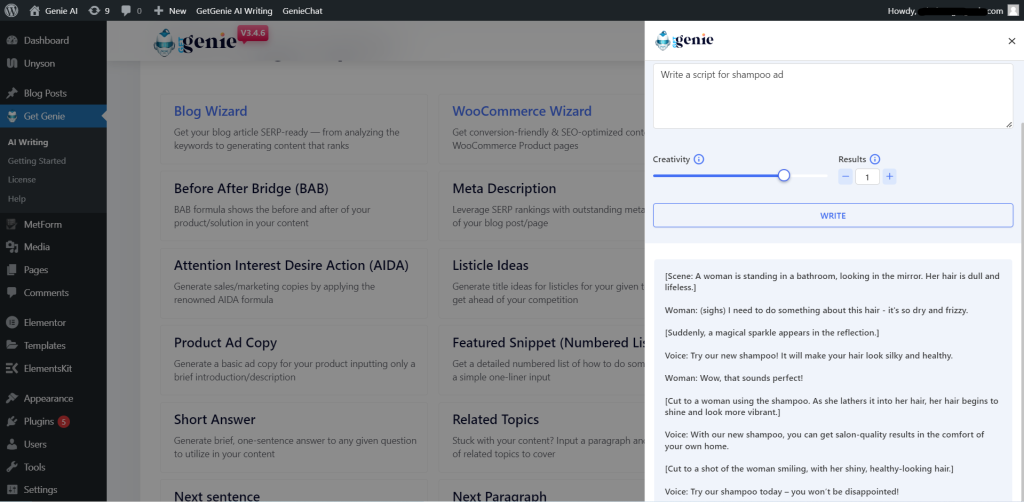 It is such a fluent way to operate an Ai-powered tool and get the expected result.
Using GetGenie Ai tool for Script writing in SaaS
You can simply access the Genie Playground and utilize the Genie mode template and other templates.
Access to manage sites and start with the playground.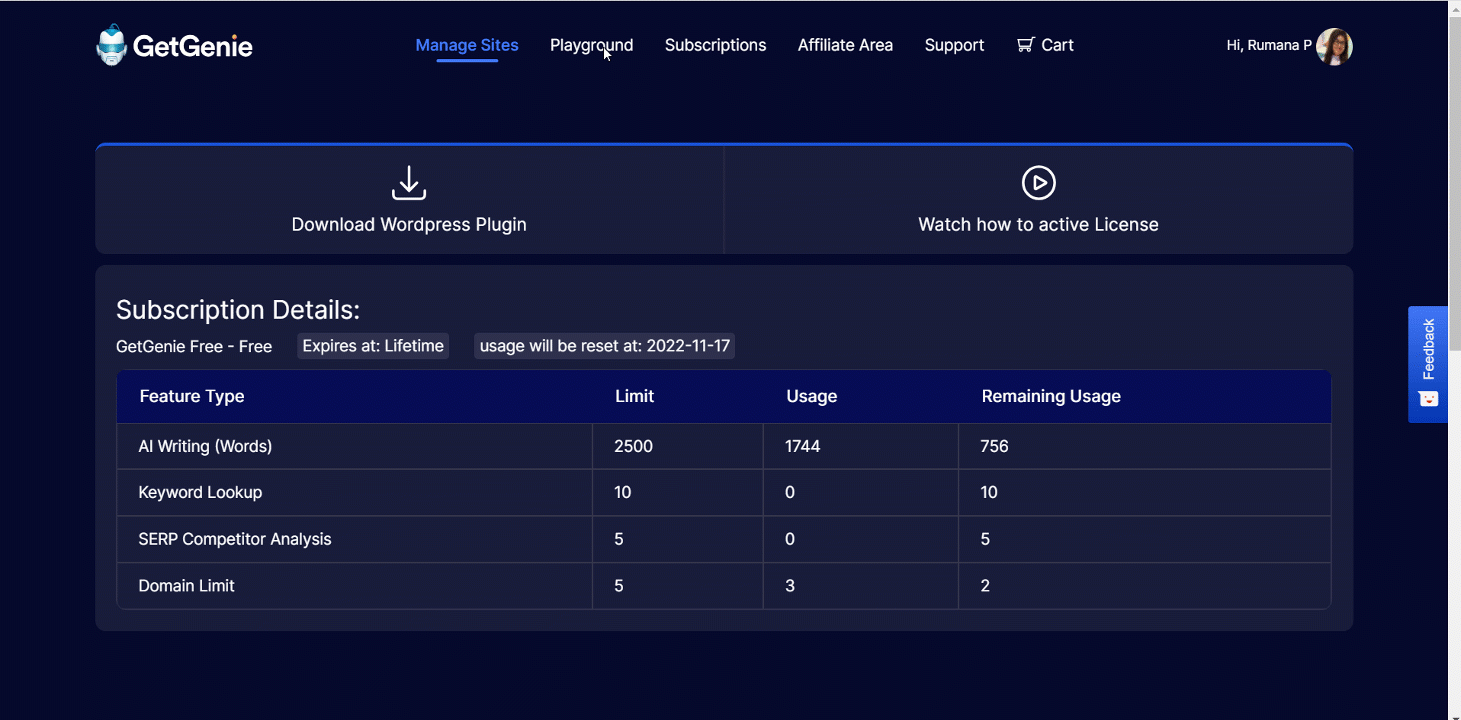 However, GetGenie Ai also offers a chatbot for you named GenieChat. The chatbot works gracefully as a ChatGPT alternative.
Top 6 benefits of GenieChat are –
1️⃣ For any query you can chat instantly with GenieChat
2️⃣ It offers 22+ different Ai personalities (Marketing Expert, Dating Coach, Financial Advisor, Personal Trainer, etc.)
3️⃣ You can select the size of your output
4️⃣ Options for checking history and deleting it are available
5️⃣ Allows you to edit or regenerate your prompt or instruction anytime
6️⃣ You can use GenieChat anywhere in your browser (extension upcoming)
Script Writing with GenieChat
From your WordPress dashboard find GenieChat at the top bar then the chatbot will appear.
To start chatting with GenieChat you have to adjust the chat personality, and size, and input your query, that's all!
Here we have generated a script using GenieChat, the result is amazing!
Find GenieChat from Playground, your favorite script writer 👇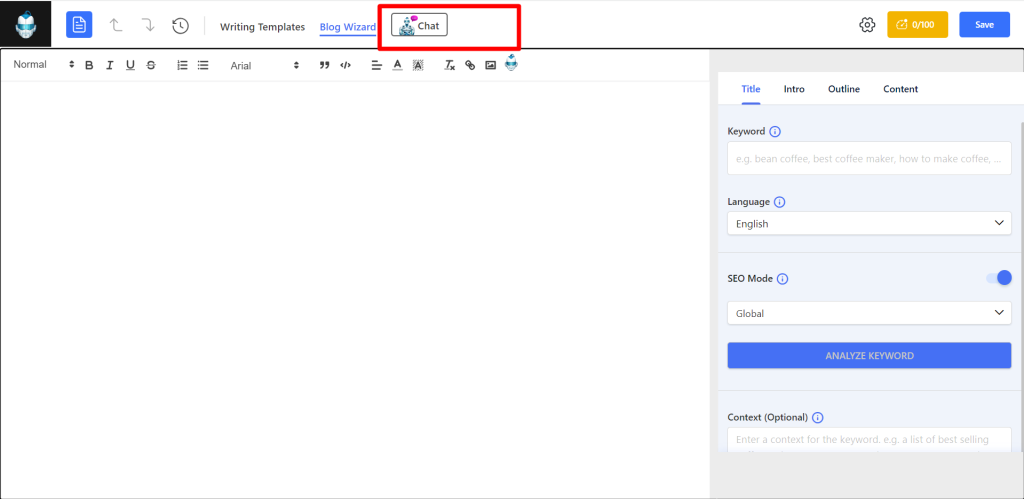 Conclusion
An Ai tool for script writing helps with a fresh perspective on a topic or idea. It helps scriptwriters overcome writer's block and saves time and effort. Business owners can promote their products, and services, and reach people more effectively at a low cost. Here is GetGenie Ai – A suitable example of a standard script writer.
So, you saw how to get an Ai tool like GetGenie Ai and use it to write scripts and stay organized. Hope, following these steps, will help you to enhance your writing skills and boost your creativity. However, while picking your script writer focus on simple UI design and output originality.