Enjoy GetGenie Ai with Unlimited Domains and Write More Words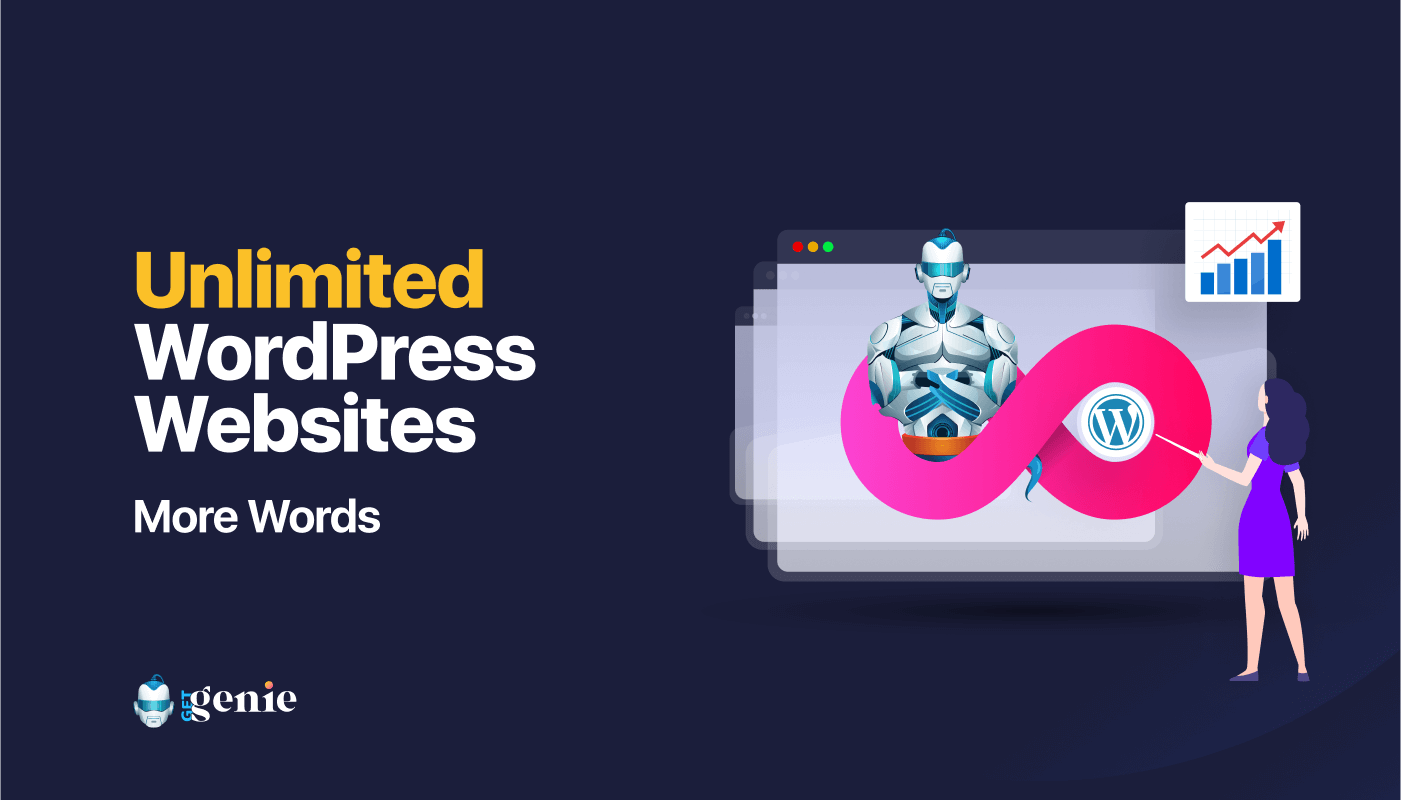 You asked, we listened. Get ready to enjoy GetGenie AI with unlimited domains and write more words for your WordPress website.
It's been a while since GetGenie was released and we have already got an overwhelming response from the community. As we are committed to the WordPress community, we have removed the domain limit from all our pro packages.
The most exciting news is, you can write 20% more words with the same old price. So, what are you waiting for? Just grab the deal and check the new pricing model.
Comparison between the pricing models of GetGenie AI
Features
Before
After
Pricing
Tier 1: $69
Tier 2: $159
Tier 3: $299
Tier 4: $499
Same as before
Access
Lifetime access
Lifetime access
Number of websites
Tier 1: 2 websites
Tier 2: 5 websites
Tier 3: 10 websites
Tier 4: Unlimited websites
Unlimited websites for all packages
Number of words
Tier 1: 10,000 words
Tier 2: 25,000 words
Tier 3: 50,000 words
Tier 4: 100,000 words
Tier 1: 12,000 words
Tier 2: 30,000 words
Tier 3: 60,000 words
Tier 4: 120,000 words
Previously, there were certain limitations regarding connecting the GetGenie AI writing assistant with domains. Let's take a look at the previous pricing model –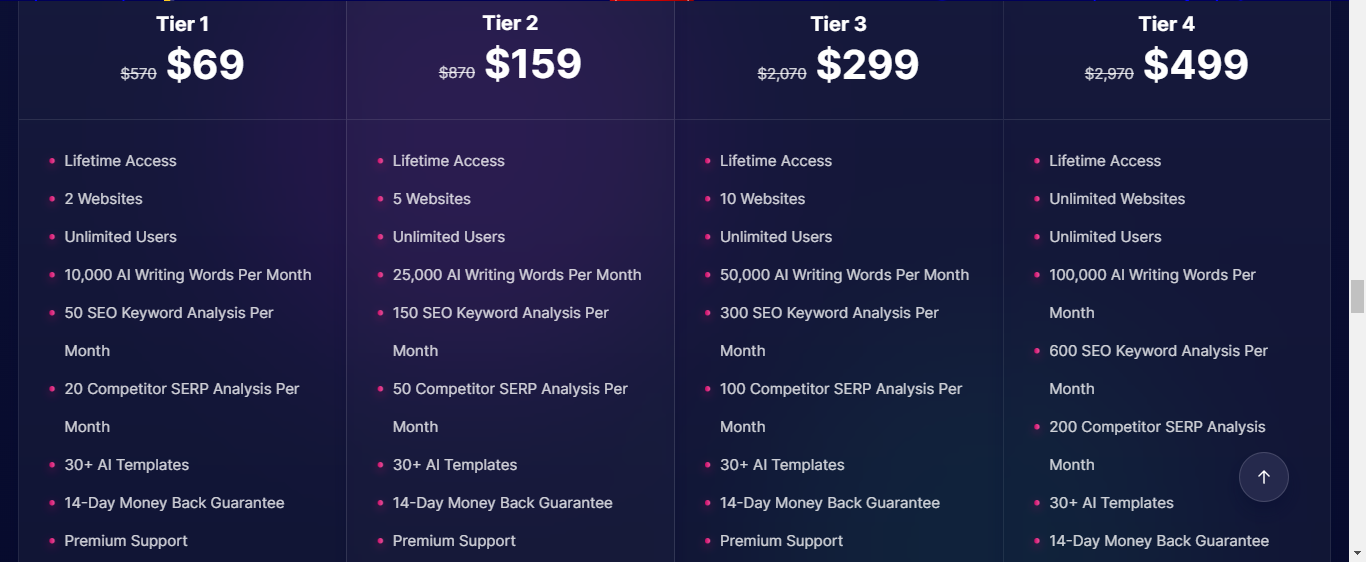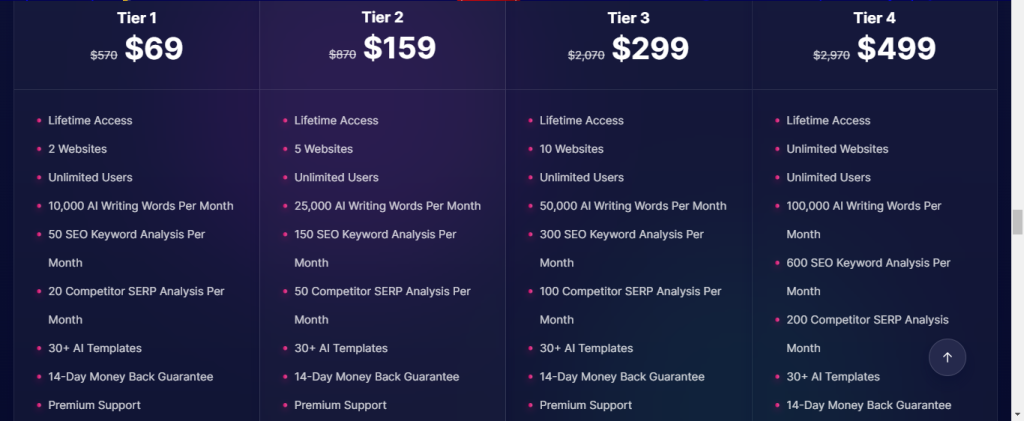 What is changing to the pricing model?
I know you can't wait for more to know the new pricing and the packages. Here are the changes in our new pricing model —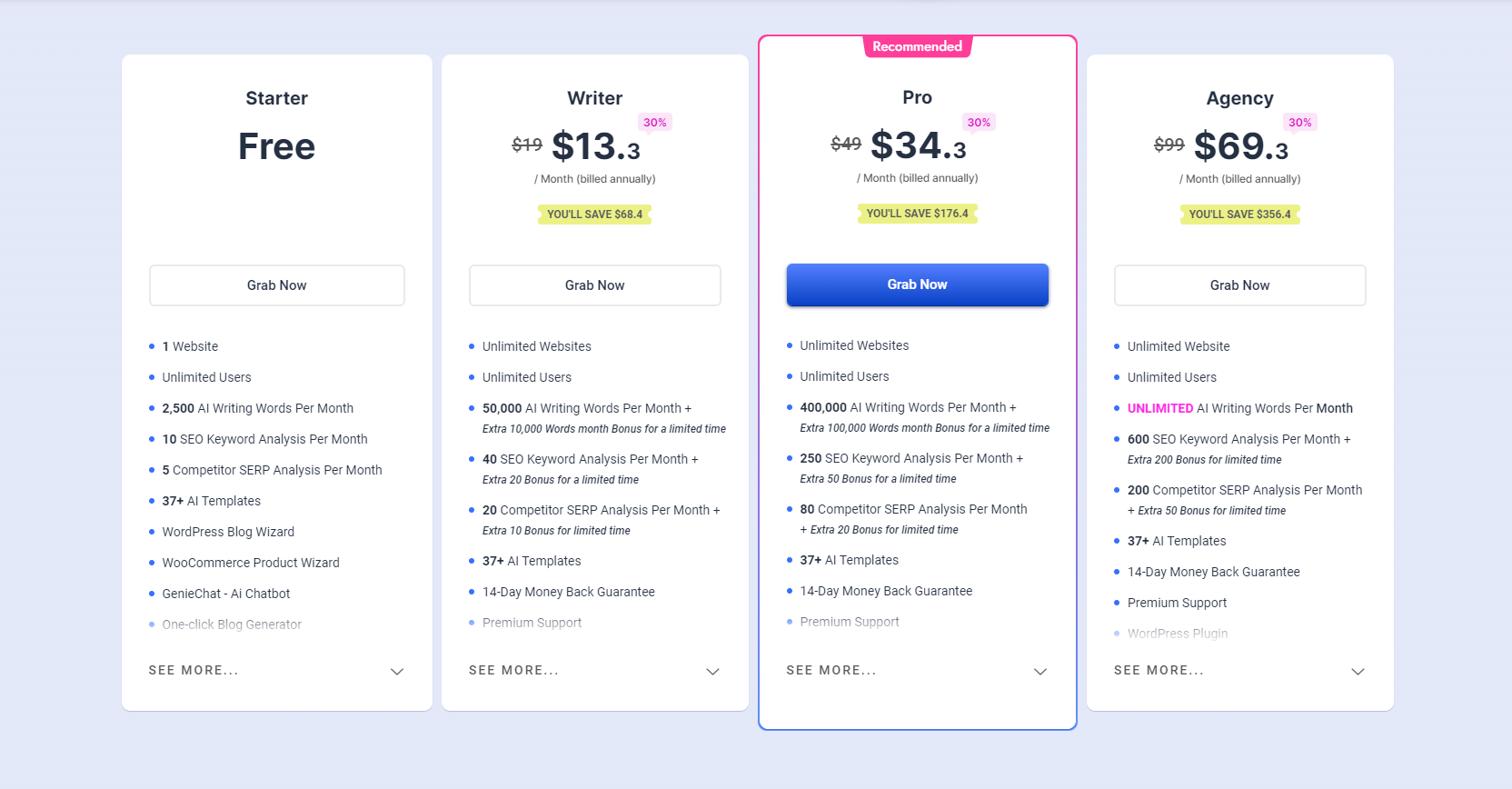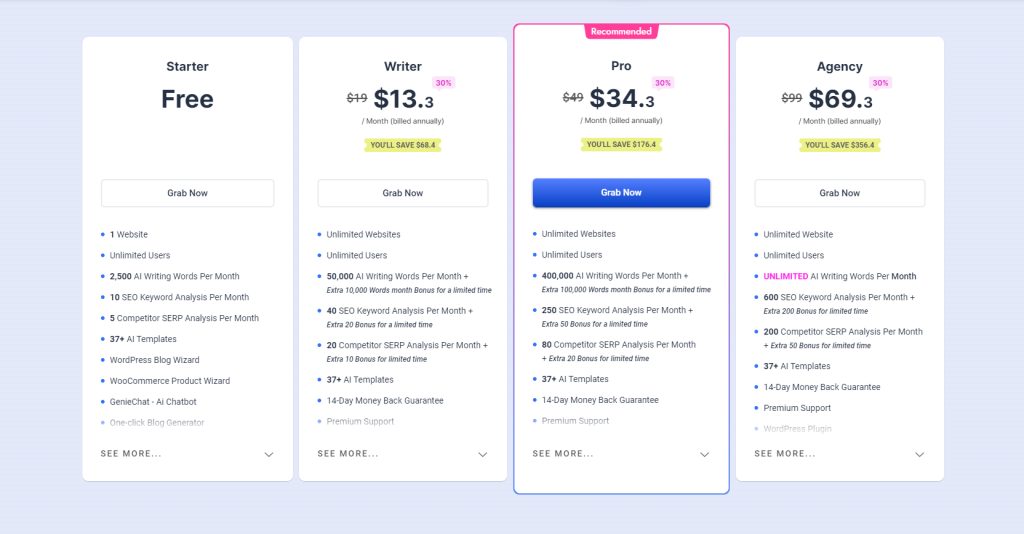 Picking the Tier 1 package, with the same pricing, you can now write 12,000 words and add the plugin to an unlimited website. Which means you got 20% bonus words. While writing the content, you can perform 50 SEO keyword analysis and 20 competitor SERP analysis.
The Tier 2 version now offers to connect unlimited websites and write 30,000 words with the previous pricing. Before the updated pricing model, there was a 5-website limit. Now, you can perform 150 SEO keyword analysis and 50 competitor SERP analysis.
Tier 3 of GetGenie now comes with 60,000 AI writing words per month which were previously 25,000 words per month. Integrate the AI writing assistant with unlimited WordPress websites. With this package, Perform 300 SEO keyword analysis and 100 competitor SERP analysis.
With the Tier 4 package, write 120,000 words per month, which is 20% more than the previous package. This package offers to install the AI writing assistant on unlimited WordPress websites from the beginning. Besides writing content and connecting the AI writing assistant, you can perform 600 SEO keyword analysis and 200 competitor SERP analysis.

What happens to the existing users?
If you have already purchased any package of GetGenie AI, don't worry! You don't have to upgrade anything. You will enjoy all the newly released features and new word limit. It means you can also install the GetGenie AI writing assistant with unlimited WordPress websites without any issues.
Why are we doing this?
Well, as I mentioned, we are always committed to the community to provide the best service at their convenience. After releasing the product, we got tons of requests from users to remove the number of website limits. Also, some of you guys requested to increase the word limit. After getting an overwhelming response from users, the GetGenie AI team decided to fulfill both of your wishes.
We do believe and hope you will always be with us. All our effort is to come up with unique solutions and make our users' lives easy.
What can you do with GetGenie AI?
GetGenie is a WordPress AI writing assistant that helps users to write any kind of content and optimize it for search engines. Here are the most common use cases that you are going to like for sure.
Write blogs
GetGenie has a dedicated blog wizard to write long-form content inside the WordPress dashboard. Before you write, you can generate the content outline based on your demand. Also, there will be data from competitors so that you can understand what to cover inside the content. With the power of GetGenie, you can write 1500+ words within minutes.
Write sales copies
Copywriting is hard and if you outsource it, it will be costly. But GetGenie makes it easy to write any kind of copy inside the WordPress dashboard. The best part is while writing the copies, you can predefine a particular format for the copy. For instance, you can use the PSA, AIDA, BAB, etc. copywriting models.
SEO optimization
Writing content for users won't help you to grab organic traffic unless you are optimizing the content for search engines as well. To overcome the issue, GetGenie AI comes with an SEO feature that helps to optimize content inside the WordPress dashboard. You will see a content score along with suggestions to improve the score. 
SERP analysis
One of the best ways to outline your content is SERP analysis. GetGenie comes with a dedicated SERP analysis feature with which you can check what your competitors are writing for a particular search query.
Other than the above categories, you can also write anything on any topic with the help of GetGenie AI.
Wrap up
GetGenie WordPress AI writing assistant is now offering lifetime deals with different packages. The deal is for a limited time and you shouldn't miss it. So, grab the best deal ever on the writing assistant and overcome your writing blocks.
Whether you are a professional content writer or just want to begin, this AI writing assistant will cater either of you. This tool comes with enough resources so that users can understand what to do and how to do it with the help of GetGenie AI.