How to Use Ai Free Content Generator for Social Media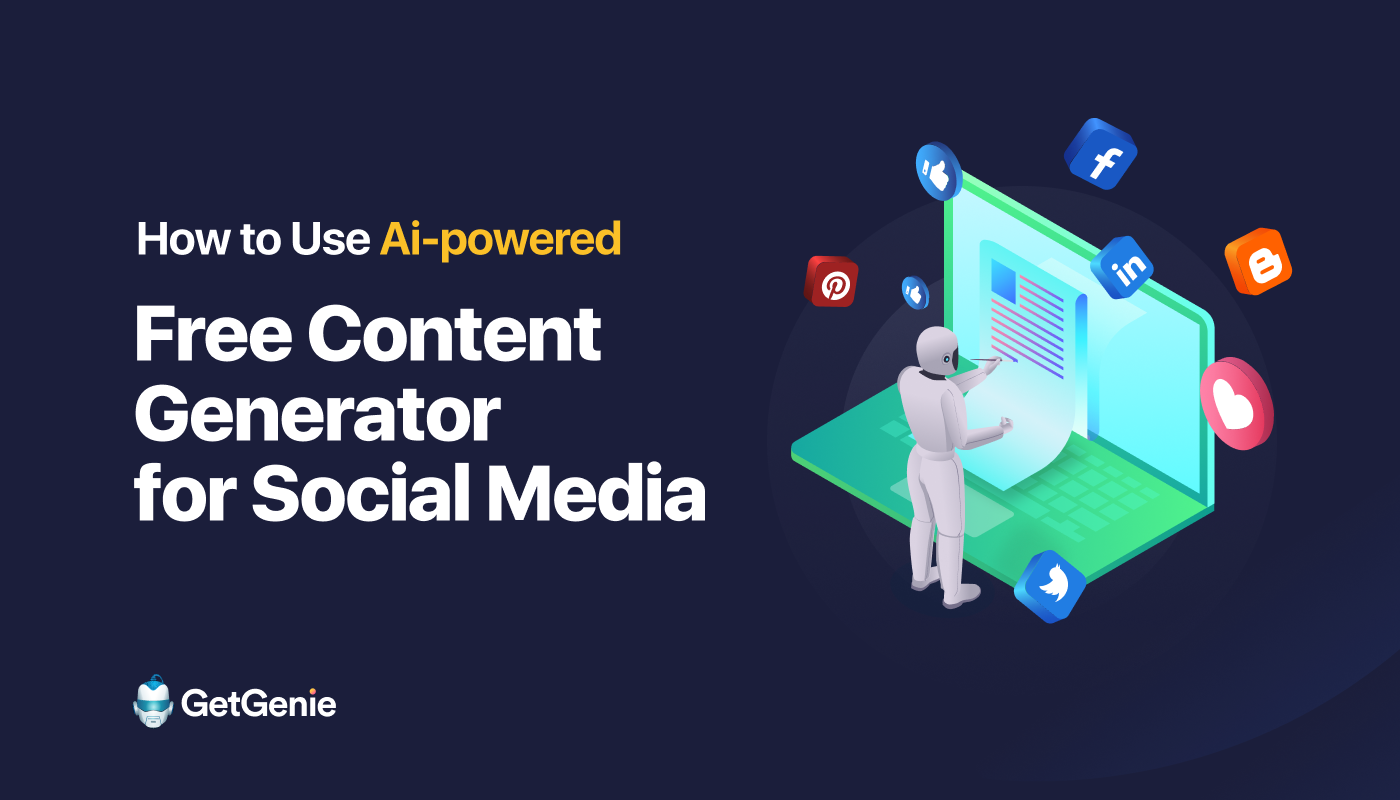 AI-powered content generators provide expert help to social media users writing any post.
Right on! In this fast-paced digital world, everyone is active on social media. They like, share, and post different topics. So, AI specialists have developed excellent writing assistants to generate different content. From a new user to any social media influencer can take advantage of these AI tools. Also, if you are a marketer, you know how social media marketing helps grab new customers' attention quickly. That is why a free content generator for social media has created a craze a lot!

Don't worry! 🤩

There are many options in the online market. You can check different free tools and select one based on their effectiveness. To go further with your tool you can then pick any of its paid packages.
The perfect tool is user-friendly and will never disappoint you. In this blog, we are going to discuss the steps of using a free content generator for social media powered by AI.
Is Using a Free Content Content Generator Worth It?
AI writing tools are smart but they need human-given exact input to produce valuable results. So, whether it is a free or paid tool you just have to provide your input to get the relevant output.
But does using a free AI tool truly sound authentic?
Yes. Here are some benefits of a free content generator for social media –
✅ A standard AI social media content provider can offer a wide range of templates free of cost.
✅ A social media copy generator provides engaging posts and new ideas even if it is free.
✅ The tool is also efficient to prevent writer's block from generating new ideas for different social platforms.
✅ A good social media content maker offers scalability to its users.
✅ It allows you to test and understand the output quality and decide to invest further.
How Does A Free Content Generator for Social Media Work?
Artificial intelligence, machine learning, and natural language processing (NLP) power an AI writing assistant. These allow the tool to analyze your text and generate accurate results and suggestions for improving it.
If you go deeper, some of the crucial features of a modern AI tool may include –
✅ Check grammar and spelling.
✅ The tool is trained to paraphrase, shorten and expand content accordingly.
✅ Provides real-time, personalized feedback and content scores on your writing.
✅ The standard you optimize content for search engines through various SEO features.
How to Use AI-powered Free Content Generator for Social Media
You can pick and test any social media copy generator online, it's simple. However, if you are a WordPress user, or seeking a standard SaaS app, then the simplest solution is to pick GetGenie Ai.
Install GetGenie AI plugin to your WordPress dashboard 👇
What else? Go for the SaaS version 👉 Genie playground ✌️
Using GetGenie AI Social Media Post/Copy Template with WordPress
Follow the below steps to use the Social Media Post/Copy Template of GetGenie AI through your dashboard.
Log in to your WordPress dashboard
Find Get Genie
Click AI Writing
Search for Social Media Post/Copy template
Click and start using
After clicking the template a panel will appear on the right side. Here you can insert your brand or product name, write a brief, set language, output tone, creativity level, and the number of results you want.
So, you just have to fill up the fields accordingly and Genie will provide your desired output.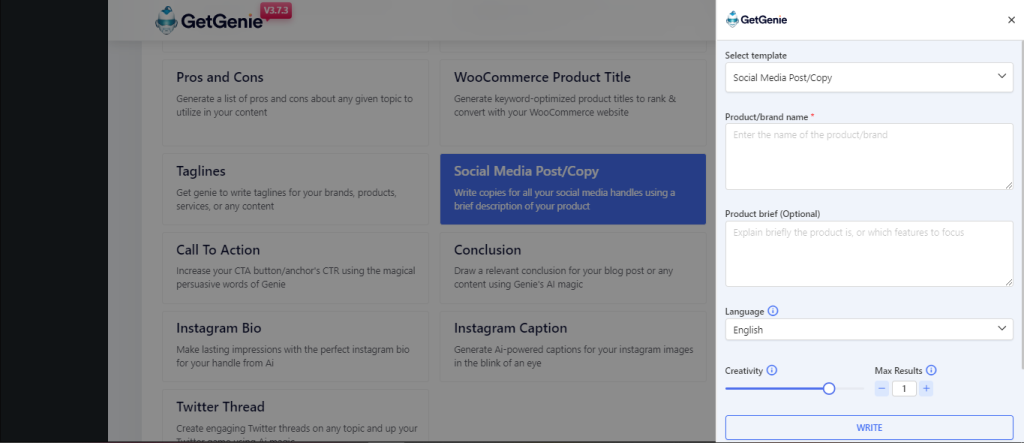 See how we filled the input areas and GetGenie AI provided an exact relevant output.
It is a quick and straight process.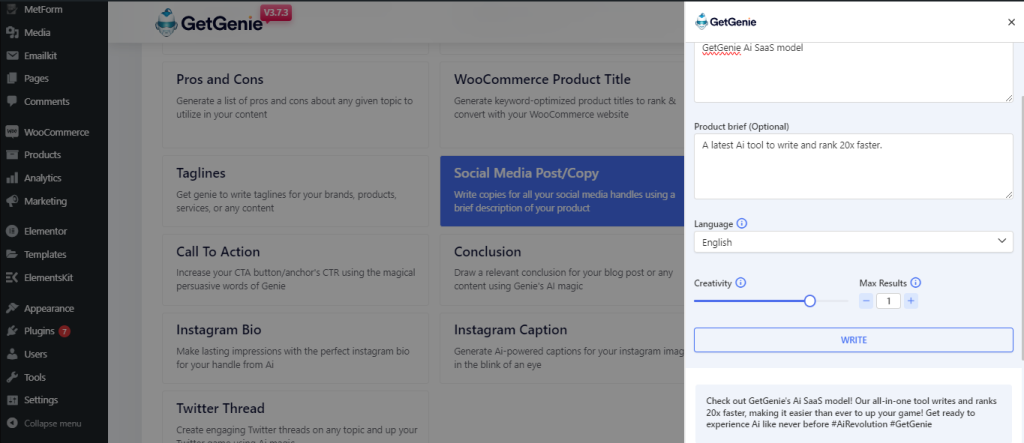 Using GetGenie AI Social Media Post/Copy Template with SaaS
Sign up or login to the manage sites and start with the playground.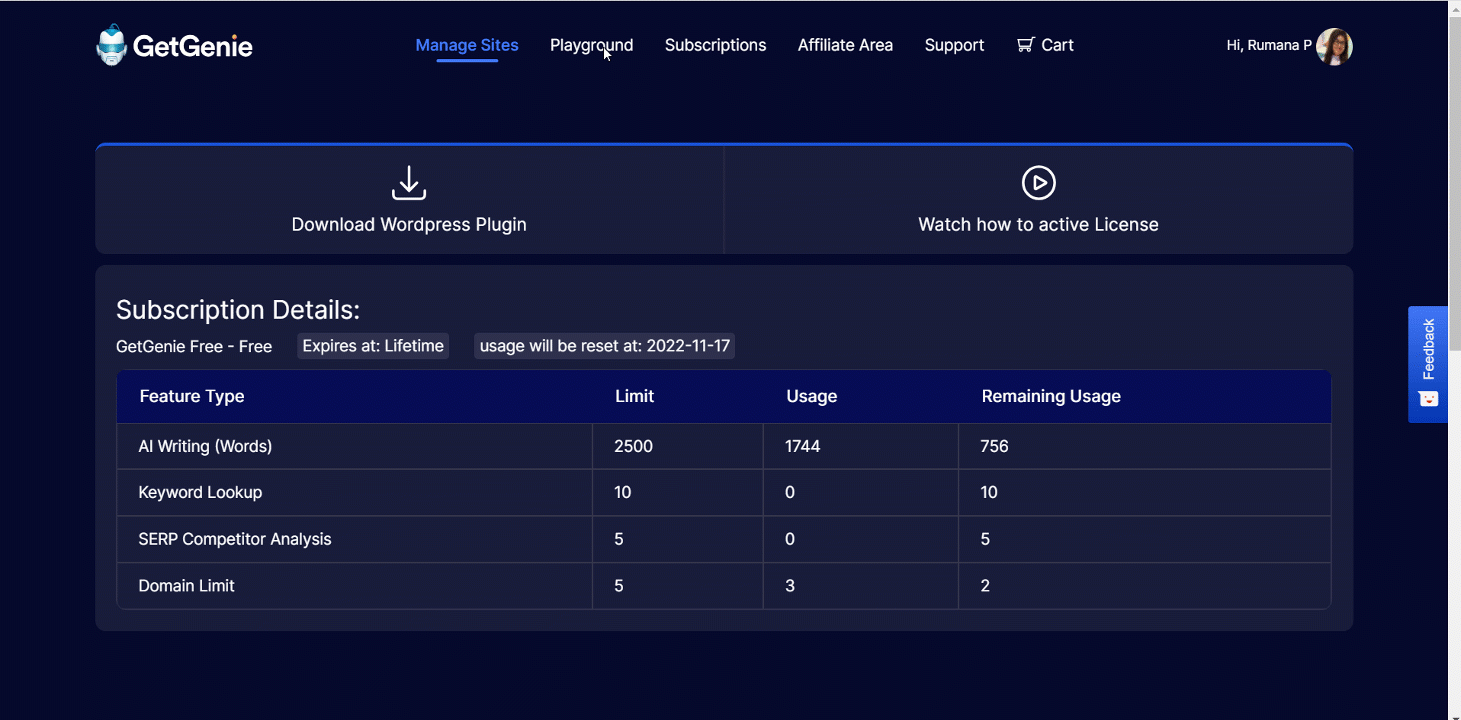 Why Choose GetGenie AI?
Look no further!
GetGenie AI is a next-gen content tool. It is not just exciting for social media copy but for long-form content seekers also.
GetGenie AI also offers a conversational chatbot called GenieChat with 22+ personalities 😎
Check out some amazing facts about GetGenie AI –
🔥 It provides SEO-optimized content with a content score.
🔥 Great for both short and long-form content.
🔥 GetGenie offers 37+ templates and language support.
🔥 It is a quick tool and provides a smooth user experience.
🔥 The premium packages are very cost-effective.
In my mind, that's enough to create successful content. To get the most out of what you write, using GetGenie AI feels like content marketing cheat codes. So, without spending a great deal of time comparing tools, enjoy AI magic with GetGenie AI.
Conclusion
To conclude the article, we must say you should not ignore the efficiency of an AI-free content generator. Whether it is long content or social media copies, it helps to meet basic content needs.
However, not every AI tool offers free plans. Pick an AI tool that allows you to test free, then decide to invest in it. Remember, you should use an AI writing tool that fits your needs. With a standard AI tool, grabbing viewers' attention on social media and ranking your content on SERP is easy.
The best social media content generator to connect with your audience 🫴