How much will Ai and Machine Learning Impact SEO (2023)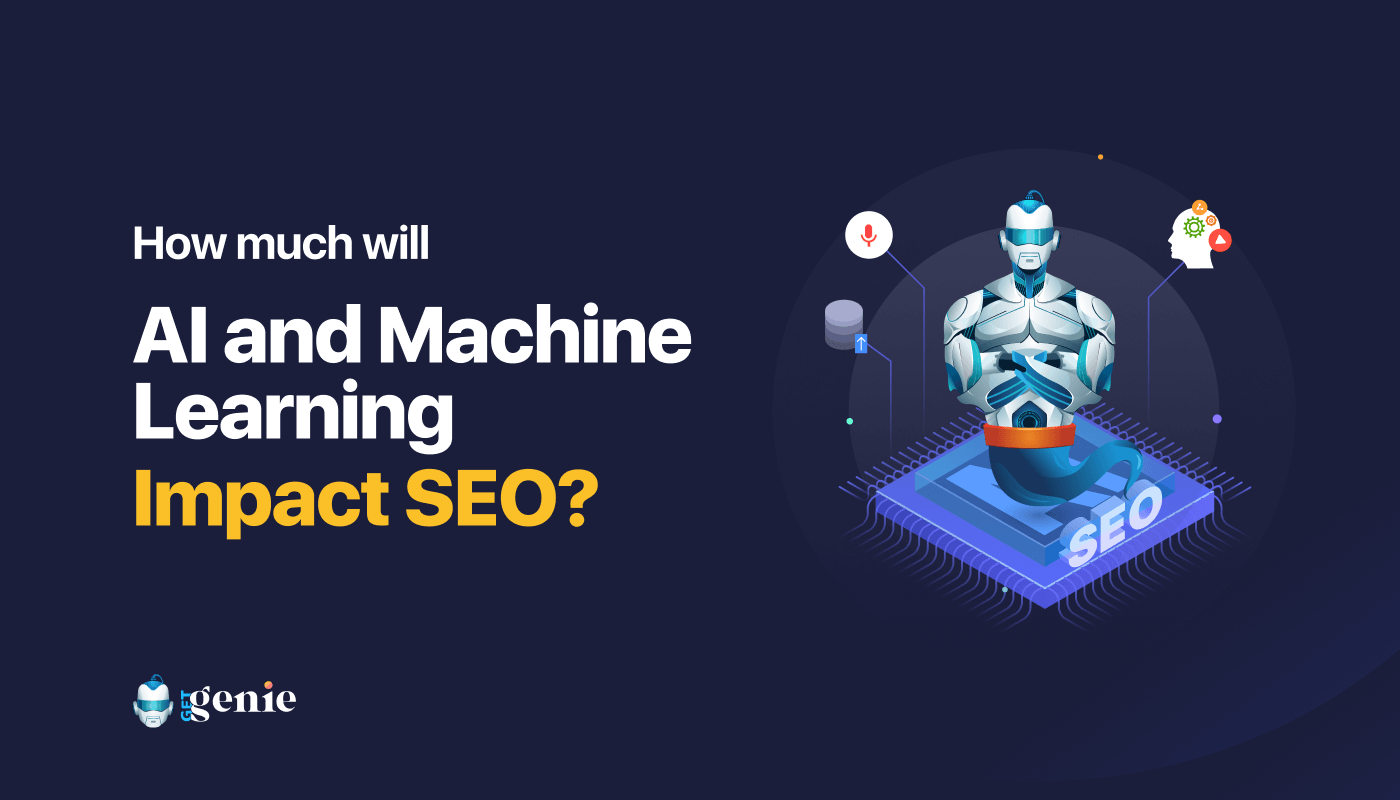 The future has arrived. Every day, advanced inventions are being invented that will transform the nature of business and, in turn, how the earth is known to us. We're discussing artificial intelligence (AI), how it is essentially impacting SEO, and more!
SEO improvements from artificial intelligence are numerous.
In addition to managing big data, AI may also perform analytics, improve user experience, and promote customer engagement. But the range of its uses is what most people struggle to understand. Given the scant facts, the general population is aware of, it is not unexpected.
However, for the sake of this essay, we're going to concentrate on artificial intelligence (AI) and machine learning and how they're being used mostly for online daily operations like research keywords, lead distribution software, search engine optimization (also known as SEO), content writing and social media marketing.
🤔 What is an AI SEO?
Most likely, you are already familiar with SEO. One of the first topics you should understand when beginning a business is this. However, if you are unfamiliar with AI SEO, we won't be too shocked.
Contrary to popular belief, search engine optimization has used artificial intelligence for a very long time. After all, search results utilize AI to crawl web pages and calculate their ranks.
In light of this, using AI in your own SEO approach is not only feasible but also smart. It can be used to operate similarly to search engine AIs so that you can get a more accurate picture of how your efforts are performing.
Additionally, you'll be able to forecast how any new moves you do will function as well as how long it will take for results to become visible.
📈 Success in SEO with AI
This definitely isn't the only advantage that AIs provide just SEO. The future of artificial intelligence may also bring success in search engine optimization, on which the majority of us can agree. And will also include:
Assist you in streamlining and enhancing our SEO efforts. With the help of AI, it will be possible to identify problems that would have been challenging to detect in previous situations.

Utilize the information to research your opponents. AI can also be used to examine and contrast the data of your competitors with your own. This will enable you to make better selections, particularly when creating your subsequent SEO strategy.

It may even suggest the following SEO actions you should do. A few AI SEO tools and services offer data-supported solutions to the SEO problems they have identified.
Speaking of SEO difficulties, customer satisfaction is one of the factors that have the most influence on SEO rankings.
👨‍💻 Customer Support is Highly Depend on SEO
It's easy. The longer people stay on your website, the more enjoyable it is for them. There is a good chance they won't come back if they didn't like it the first time. Fortunately, AI can assess and assist with this element as well.
Beyond statistics, AI may be implemented as a chatbot to assist your website visitors more, increase engagement, and, as a result, enhance user experience.
We are aware that many customers and some company owners dislike dealing with bots. Really, no one does. However, there are some straightforward topics that bots can undoubtedly help with; additionally, some bots are quite sophisticated and are capable of handling more challenging requests with interpretations that sound real.
🧐 Factors that are Highly Important in Ranking Algorithm
Although we've already mentioned, that user experience isn't the sole aspect that influences search rankings. Here are several more:
✅ Protection: Websites that subject their users to internet risks won't be ranked highly. The key is proper security indicated by HTTPS.
✅ Usability: Mobile optimization and accessibility are other factors. Your website must be mobile-friendly and usable even by people with weak network connections and physical limitations.
✅ Information: Finally, your search rankings are greatly influenced by the relevancy, reliability, and general quality of your material. Simply stuffing your posts with keywords won't cut it. For search engine AIs to read, that is. People need value, thus you would want your website to be user-friendly for them as well.
Although there are more variables that affect search results, the ones we've identified are the most important to optimize for first. Such as:
✅ Voice Search: Voice search is a further capability that AI may assist you with. It is a fantastic feature that accomplishes two goals at once. Your website becomes more dynamic instantly. There is still sufficient uniqueness in this technology for people to be really interested. Second, it can increase accessibility, particularly for people with physical limitations.
✅ Big Data Research: Massive amounts of digital information must be gathered, managed, and analyzed in order to be considered big data. It can take months or even weeks to complete. But at the other hand, a single AI will do the task in a matter of hours or even minutes.
🔮 Looking for an AI Content and SEO Assistant?
GetGenie is an all-in-one AI WordPress-based content assistant with unique and scintillating features. If you subscribe to this one and only AI assistant, you don't have to bank on other standalone AI content writing tools individually. GetGenie will do the magic!!!
Scads of reasons are there why you should choose GetGenie over others. Let's take a quick look at them-
Provides resourceful answers to questions starting with "why"
Writes a relevant follow-up paragraph for the given paragraph
Rewrites a paragraph without tweaking the meaning of the paragraph
Creates scores of varying questions on a given topic
AIDA Framework: Generates copies with the formula- Attention-Interest-Desire-Action
BAB Framework: Creates copies with the formula- Before-After-Bridge
PAS Framework: Produces copies with the formula- Problem-Agitate-Solution
Provides a variation of listicle ideas on a given topic
Give a title/topic and receive a meta description in return
Get a comprehensive definition from reliable sources
Presents pros and cons of a topic from trusted sources
Provide a short description and take look at the related topics… and many more!
Apart from these mind-blowing features, GetGenie comes with a number of other attributes that will spice up your content and gratify your readers. Let's take a quick look at the 30+ templates available in GetGenie that will help you to craft your content.
Conclusion
True, there are many advantages to artificial intelligence, but what most people don't realize is the breadth of its uses. Given the scant facts, the general population is aware of, it is not unexpected.
For instance, its SEO advantages have not yet been properly investigated. In addition to managing the big amount of content/data, it may also perform analytics, improve user experience, and promote customer engagement.
With GetGenie you can truly optimize and improve your SEO scoring also will provide you with some unique content for your WordPress site.