Introducing GetGenie: The Definitive Ai Content Assistant to Generate and Rank Content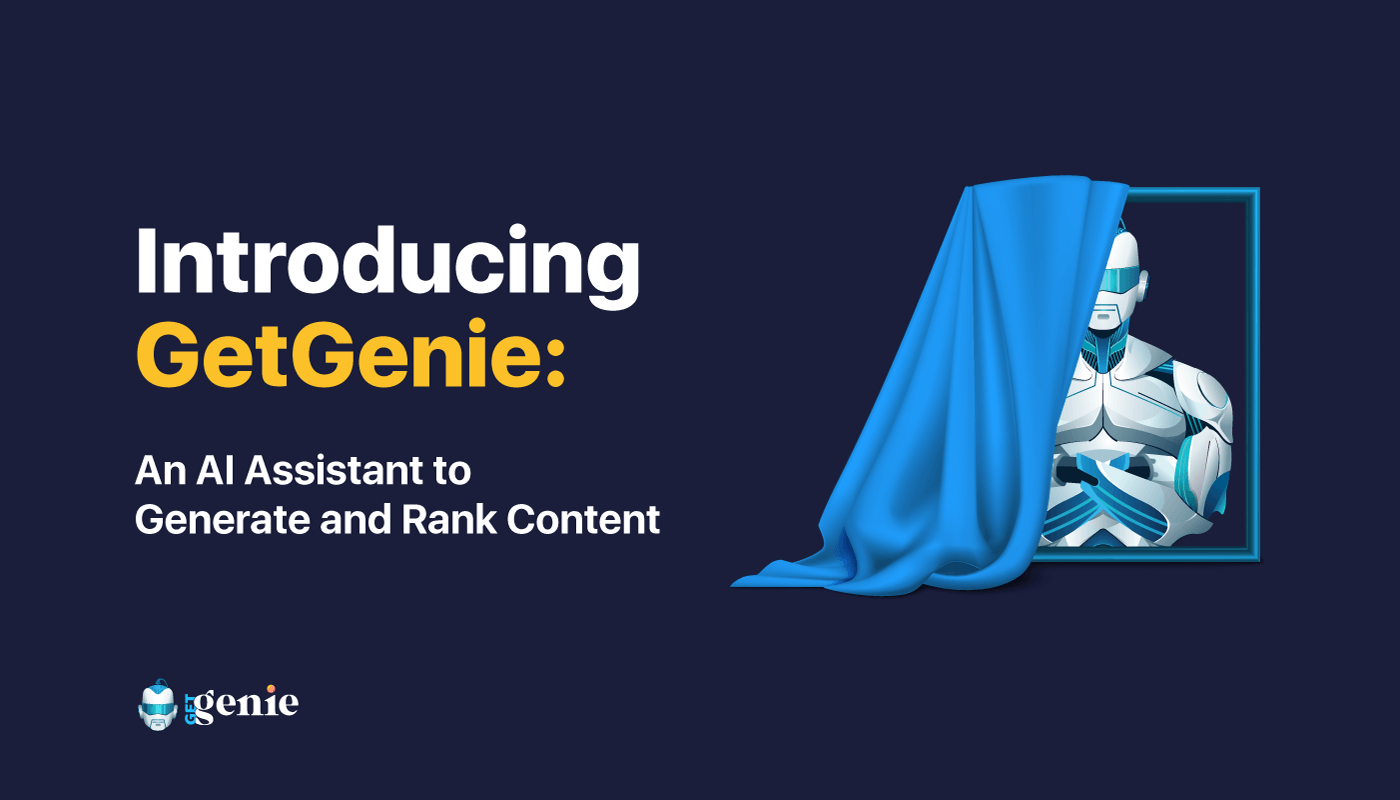 3, 2, 1, Go!
Yeah, finally, the good news is out.
We are over the moon to announce that GetGenie, the much-anticipated AI content assistant has been rolled out today and is at your disposal now. For the last many months, we have been putting an all-out effort into developing an AI-based product that will automate content writing.
We dreamt of having our own AI content assistant a few months back, it's a reality now. However, our venture to kick off the project wasn't a walk in the park. We had to carry out not just hours or days of research but weeks and months of research to finalize our product's features and other minute details.
Prior to commencing the GetGenie project, we had scores of product development ideas on our bucket list. However, we decided to invest our time and efforts in the GetGenie project considering the market demand.
As per the stats of Zyro, Almost 85% of businesses consider investing in AI as a strategic priority for them.
Now, it's time to get an overview of GetGenie, the groundbreaking AI writing software that we developed over the last 2 quarters. Without further ado, let's cut to the chase…
An Overview of GetGenie:
The very first thing that you must be wondering is why we named our AI writing tool "GetGenie". Is there going to be any Genie magic in the product? Exactly, you got it right. In the Disney animation, Genie was capable of granting wishes with its cosmic power in seconds.
Like that, GetGenie is able to grant your content writing and crafting wishes. And that's also in seconds!!! In the blink of an eye, you will have your content generated with GetGenie's magic, powered by AI.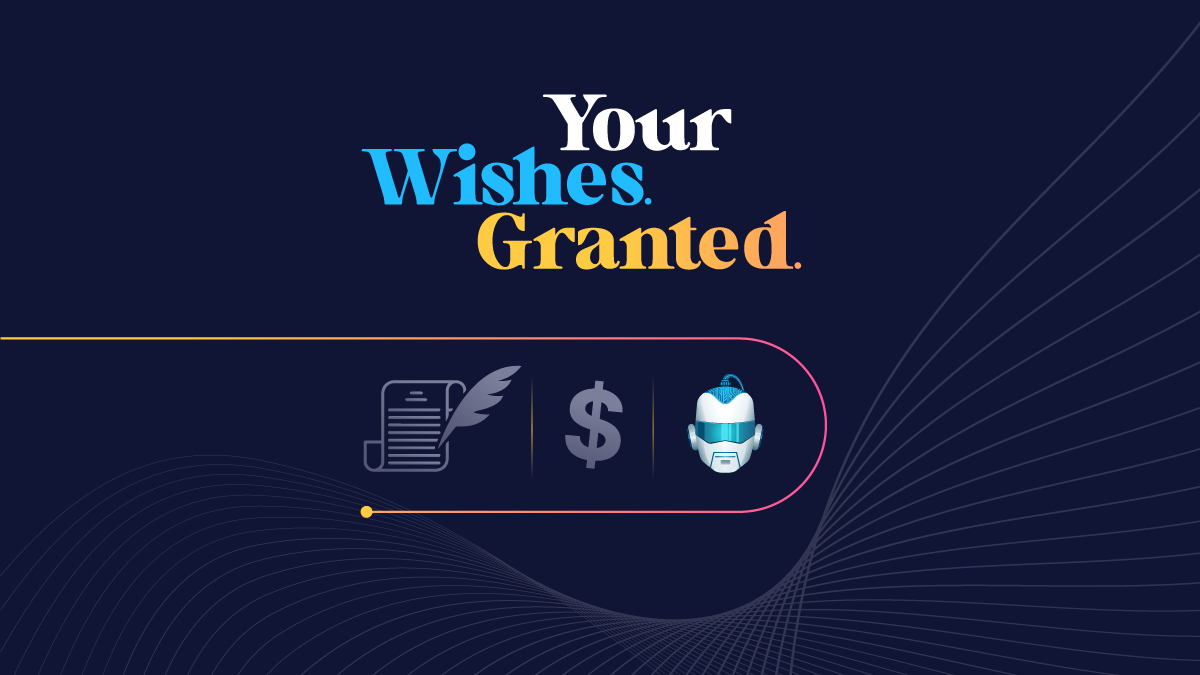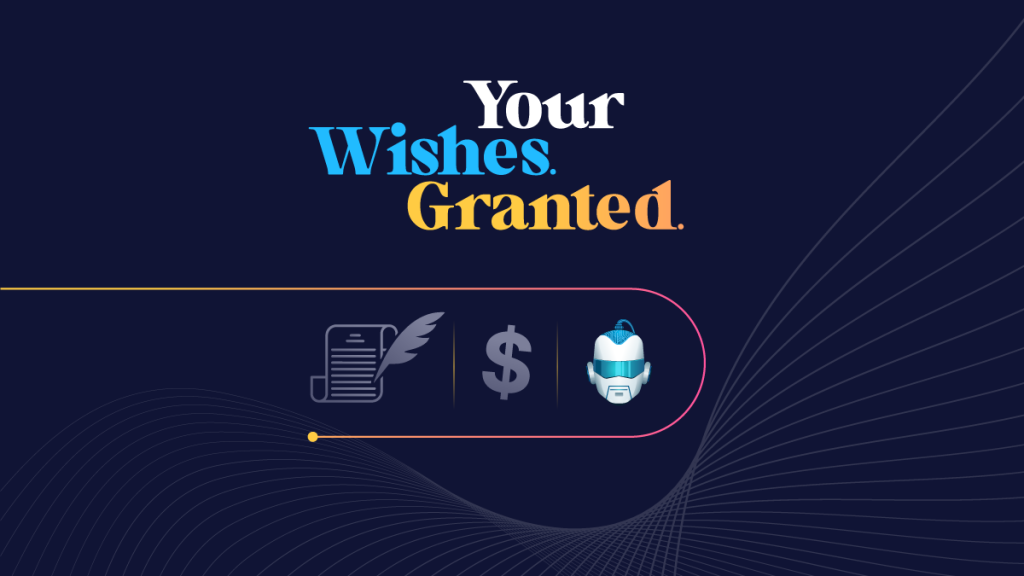 To put it simply, GetGenie is an AI writing tool, developed to facilitate your content writing task. GetGenie acts as an AI blog writer, AI article writer, and AI copywriter at once. Not only that, this special AI content assistant can also perform SEO optimization in a way that will rank your blog or article on Google.
In a nutshell, GetGenie takes over the job of researching, writing, and optimizing your content and copy leveraging the power of artificial intelligence. To operate the tool, you have to just provide the input based on your requirements. And GetGenie will return you the output in a snap.
Noteworthy Features of GetGenie:
Now comes the most thrilling part of the write-up, that is, the attributes of GetGenie. You will be ecstatic to know that GetGenie comes with some conspicuous features to speed up your entire content generation process.
What are these killer features of our cracking AI content assistant? Let's check them out one by one-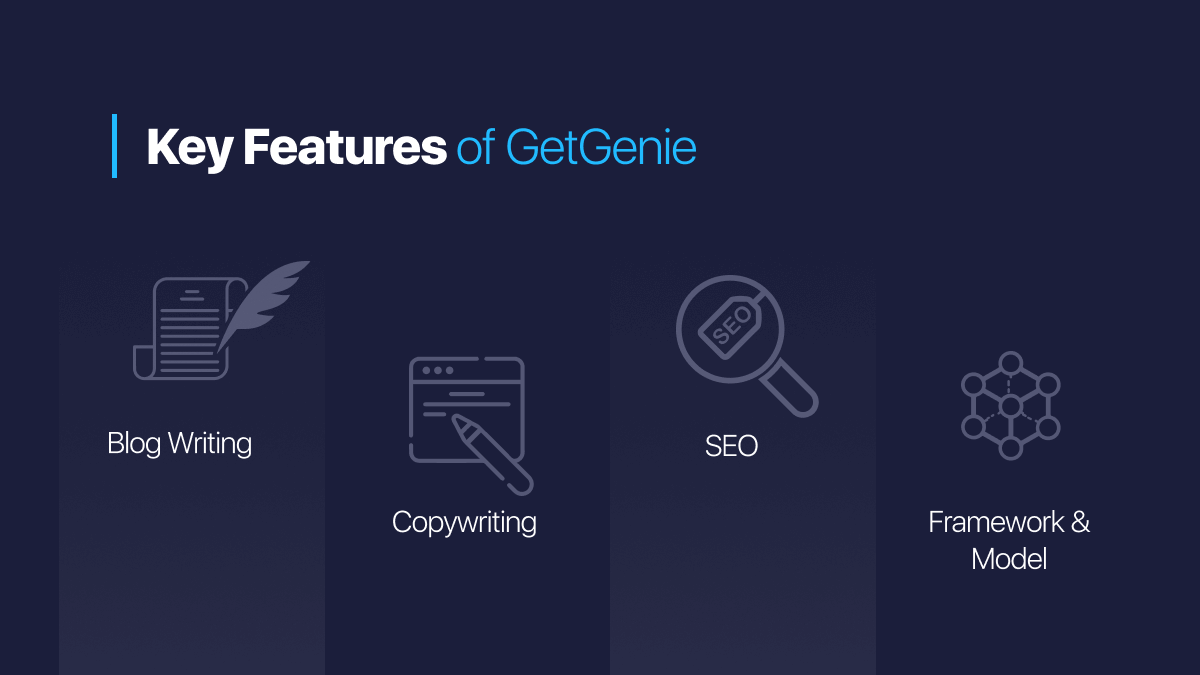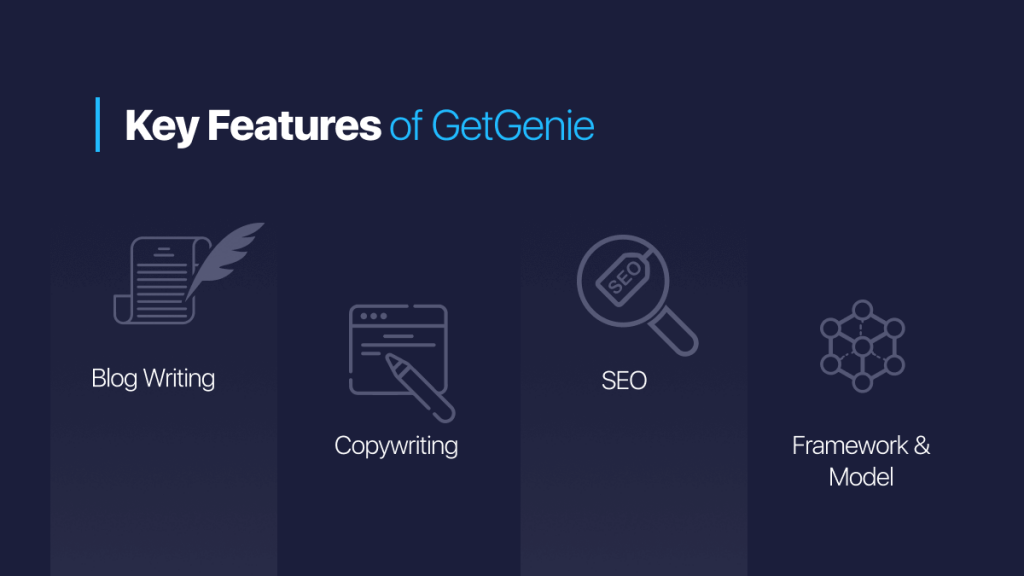 Blog Writing:
One of the prominent features that GetGenie offers is blog writing. Not just a patchy and dull blog post, rather we have developed GetGenie in such a way that it offers you a gripping and readable blog. GetGenie is competent enough to equip blog posts with all the vital sections and elements.
No matter whether it's a title, heading, tagline, intro, or any other paragraph, GetGenie has the magic to craft each of them. And what about the blog delivery time? Does GetGenie accelerate blog writing? It's super minimal!!!
Copywriting:
Copywriting isn't a snap, rather it's a holy grail. For a copywriter, it can take hours to write a sales-based copy. But for GetGenie, writing a copy is a cakewalk. It will provide you with absorbing copies on any topic that you ask for.
No matter whether it's a landing page copy, social media copy, ad copy, email copy, or product description, GetGenie can execute the job in a matter of seconds.
Search Engine Optimization:
Blog writing or article writing doesn't end merely with writing. There are additional tasks pertaining to content writing to rank your content on Google and reach out to the target audience. And we know that part as SEO. GetGenie also features this key attribute of content writing to rank on Google.
GetGenie will provide you keyword suggestions, SERP analysis, and Quora as well as Reddit questions on how you can optimize your content for SERPs.
It will also show you a live score for on-page optimization. And all these 4 features will show up before you even start writing. These features will help you to grasp the areas of improvement in relation to SEO.
Framework and Model:
GetGenie also comes with a framework and model feature. We have designed GetGenie in such a way that it can generate framework-based copies. The frameworks that GetGenie features right now are AIDA, BAB, and PAS. Each of these frameworks has a pattern.
For example, the AIDA (Attention-Interest-Desire-Action) framework first grabs attention, then piques interest, creates desire thereafter, and finally nudges people to take action.

What Makes GetGenie Stand Out:
It's a million-dollar question what sets GetGenie apart from its counterparts? In other words, why should people pick GetGenie over other similar AI content writers?
Well, GetGenie is an all-in-one AI content assistant with unique and scintillating features. If you subscribe to this one and only AI assistant, you don't have to bank on other standalone AI content writing tools individually. GetGenie will do the magic!!!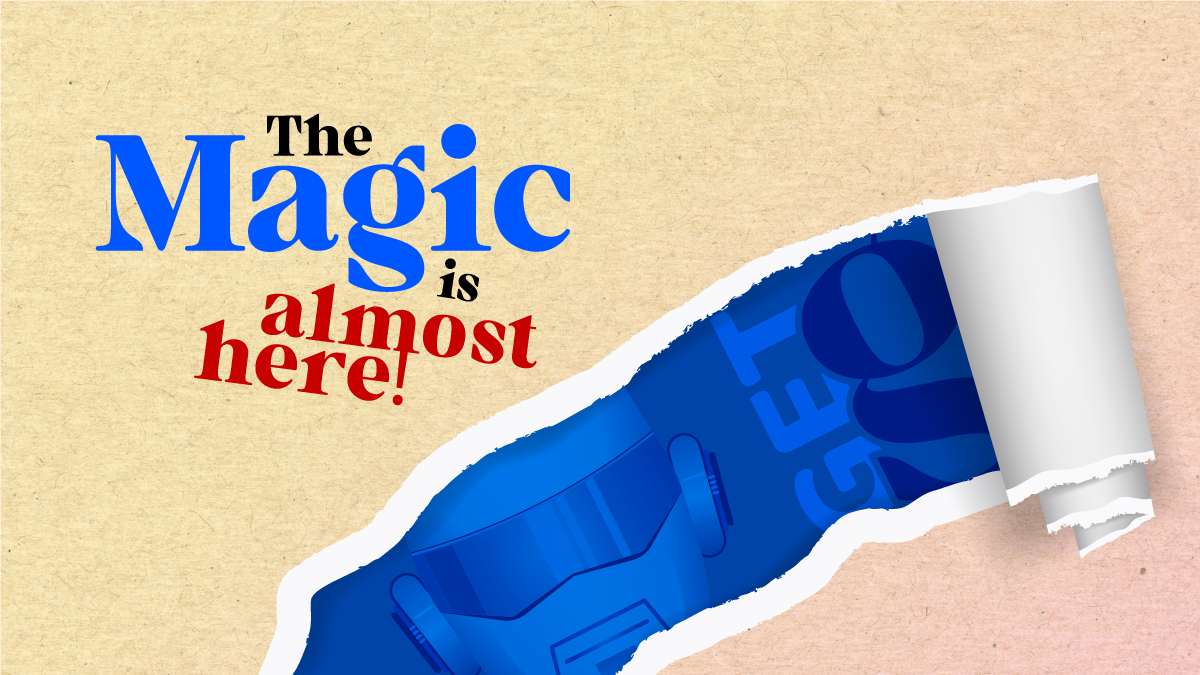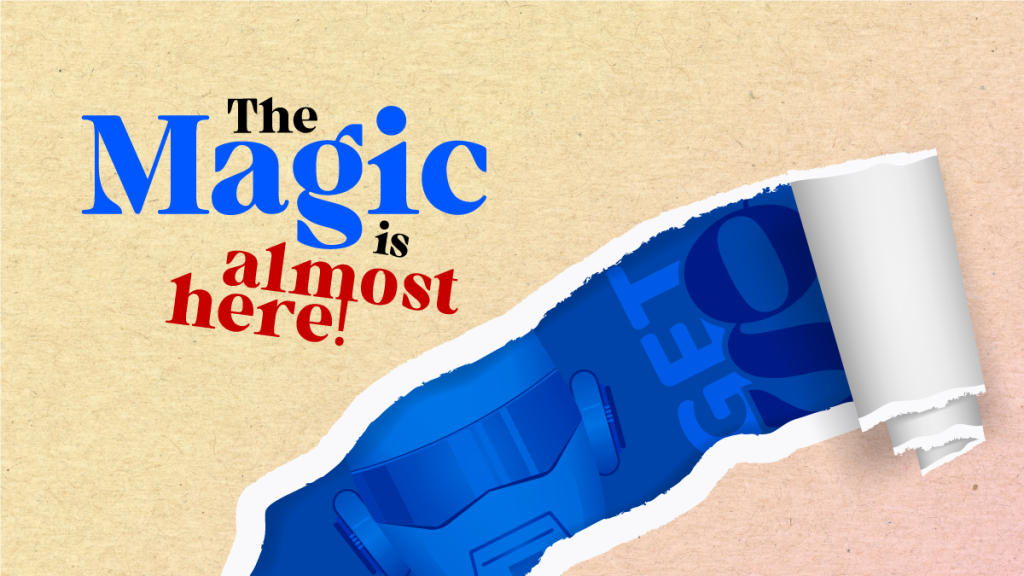 Scads of reasons are there why you should choose GetGenie over others. Let's take a quick look at them-
Provides resourceful answers to questions starting with "why"
Writes a relevant follow-up paragraph for the given paragraph
Rewrites a paragraph without tweaking the meaning of the paragraph
Creates scores of varying questions on a given topic
AIDA Framework: Generates copies with the formula- Attention-Interest-Desire-Action
BAB Framework: Creates copies with the formula- Before-After-Bridge
PAS Framework: Produces copies with the formula- Problem-Agitate-Solution
Provides a variation of listicle ideas on a given topic
Give a title/topic and receive a meta description in return
Get a comprehensive definition from reliable sources
Presents pros and cons of a topic from trusted sources
Provide a short description and take a look at the related topics
Apart from these mind-boggling features, GetGenie comes with a number of other attributes that will spice up your content and gratify your readers. Let's take a quick look at the 37+ templates available in GetGenie that will help you craft your content.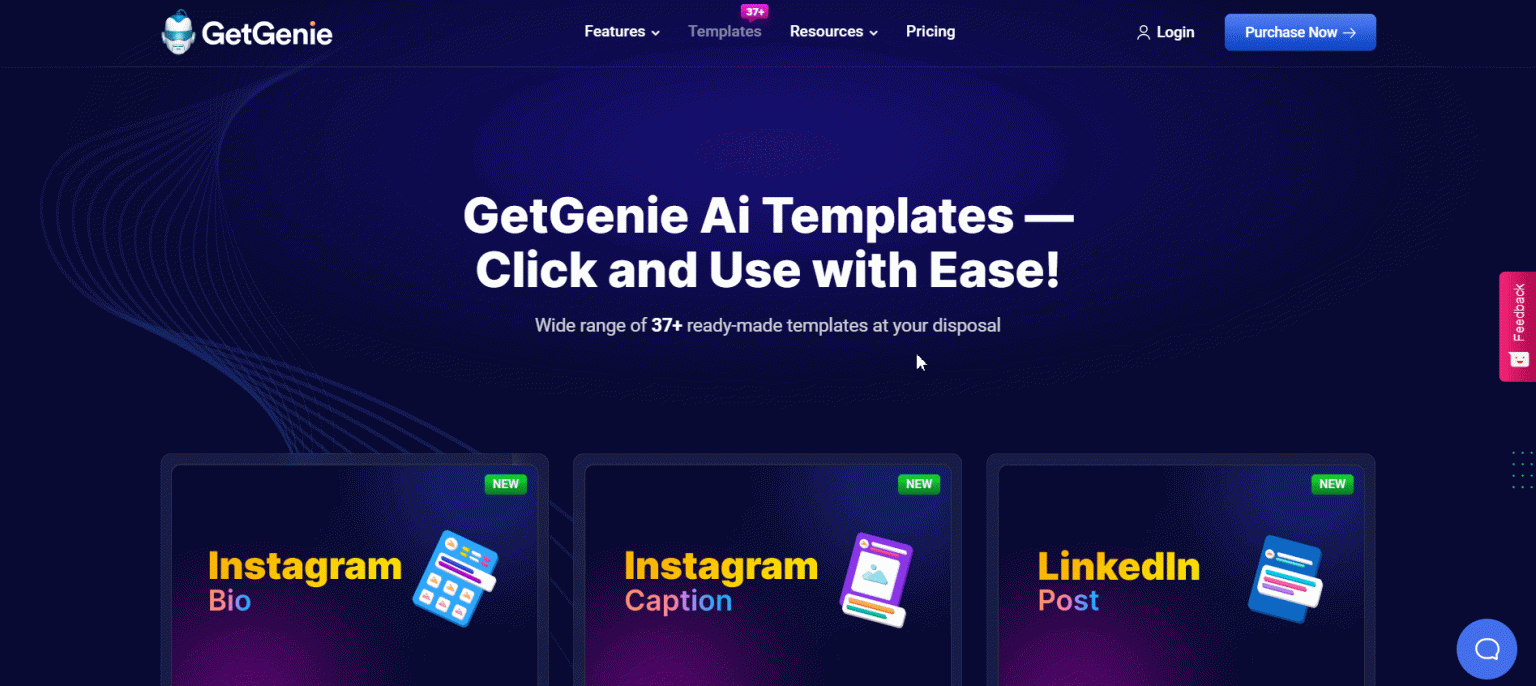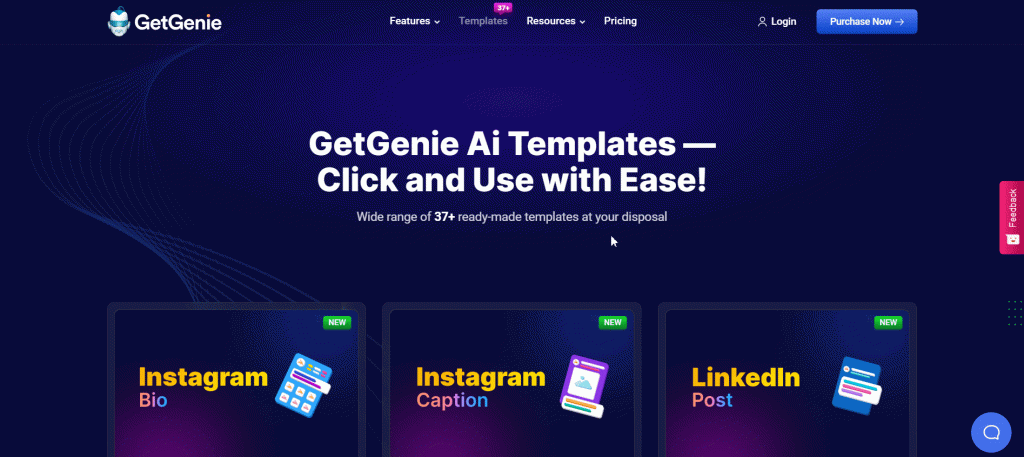 Ready to Take Advantage of GetGenie:
So, GetGenie, our AI content assistant, is up for your service. It's robust with advanced features, so much so that it will take care of everything about your content including research, writing, and optimization. Your job is just to provide your needs with a set of instructions. and the job will be done in no time.
Over to you now!!! Are you pleased with GetGenie's prominent content development features? Do let us know through the comment section. Additionally, we will keep incorporating new and handy features into this marvelous product over time.
Don't hold back from suggesting any new feature for GetGenie. We would appreciate it and take it into consideration. Also, don't forget to give GetGenie a try!