How BetterDocs Helps GetGenie to Better Manage its Knowledge Base!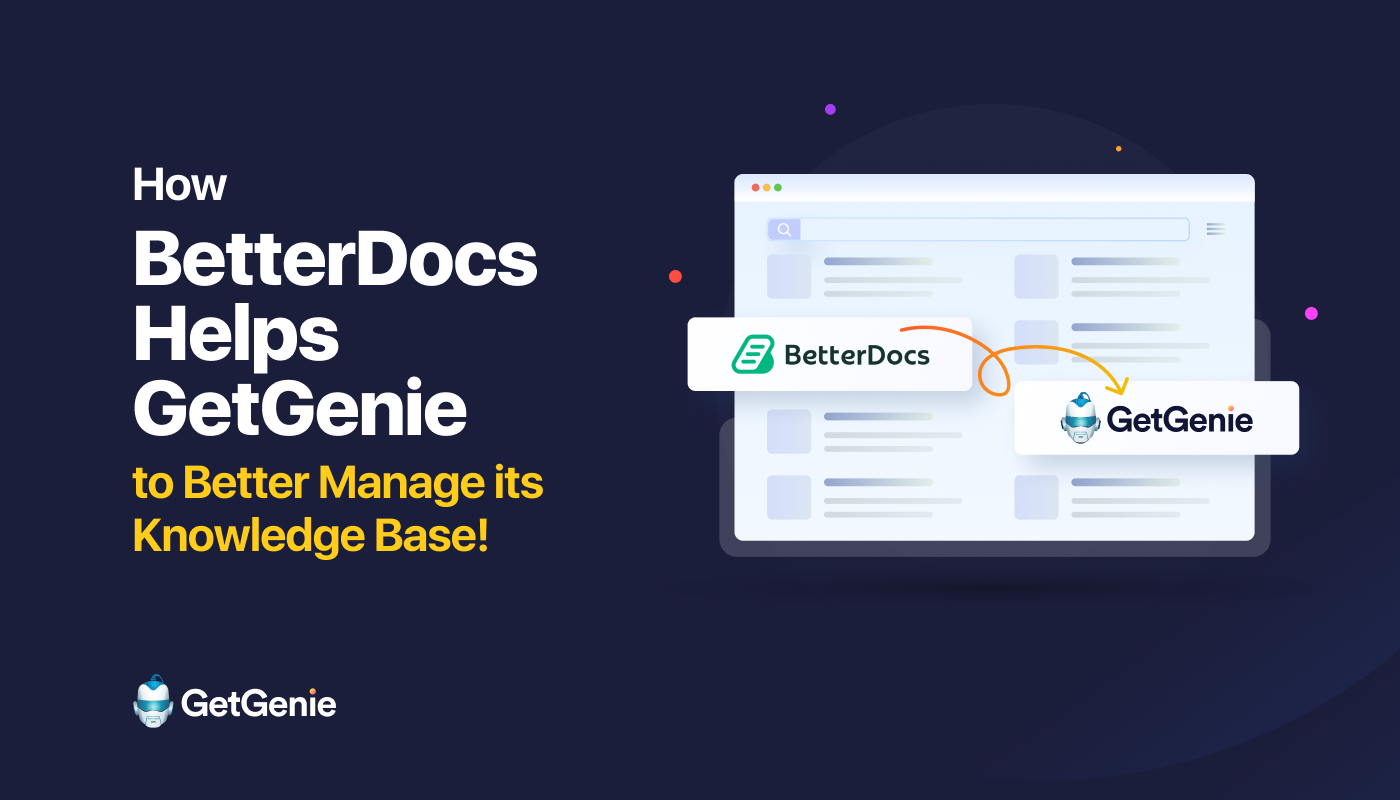 Sometimes, customers have queries regarding your products or services. And instead of waiting for customer support, they find answers right away. But how can you make it happen? With BetterDocs, the knowledge base, you can support your customers' queries just like that.
An industry report says, 70% of customers prefer to use a company's website to get answers to their questions rather than use a phone or email.
So, the knowledge base is a must-have for user engagement no matter how large or small your business is.
In this blog post, we'll discover knowledge bases. We'll also show you how BetterDocs helps GetGenie with its knowledge base and how to handle valuable resources for its users.
So, without wasting any more time, let's get started.
What is a Knowledge Base?
In the world of online businesses and customer support, a knowledge base is akin to your trusty digital encyclopedia. It's basically a centralized system for information, insights, and solutions related to products, services, or even broader topics.
The knowledge base is a virtual treasure growth that serves a dual purpose. It's a lifeline for customers seeking quick answers, and also a powerful tool for businesses aiming to streamline their support systems.
Why Do Knowledge Bases Matter?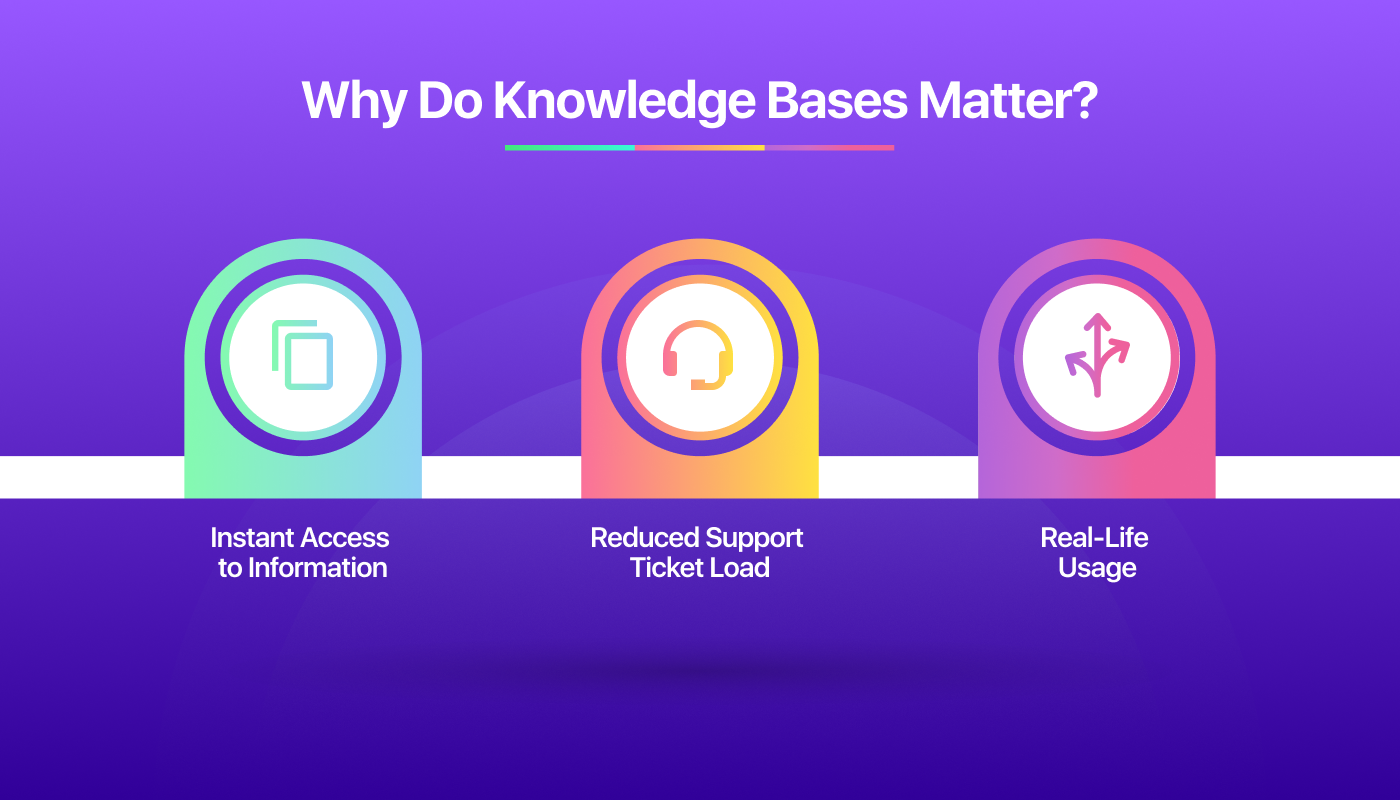 Here are the key reasons why Knowledge Bases matter-
Instant Access to Information: Imagine using a new software application and encountering a problem. Rather than dialing a support hotline or waiting for an email response, you can simply visit the knowledge base. There, you're likely to find step-by-step guides, troubleshooting tips, and frequently asked questions (FAQs) – all at your fingertips.
Reduced Support Ticket Load: For businesses, this means a significant reduction in the volume of support tickets. By allowing users to help themselves, you can allocate your support team's time and resources more efficiently.
Real-Life Usage: Consider the example of a technology company that provides a popular video conferencing tool. They maintain a comprehensive knowledge base on their website. When users encounter issues or have questions, they can search the knowledge base for answers. Here's how it benefits both users and the company:
User Benefits: Users can quickly find tutorials on how to schedule meetings, troubleshoot audio problems, or integrate the tool with other apps. This self-help resource saves them time and frustration.
Business Benefits: The company sees a significant decrease in support tickets related to common issues, allowing their support team to focus on more complex problems. They also use analytics to track which articles are most popular, helping them identify areas for improvement in their product or documentation.
Understanding BetterDocs
In the dynamic realm of WordPress, BetterDocs stands with over 30,000 active installs. It's the advanced, all-in-one solution you've been seeking to simplify your knowledge base management journey.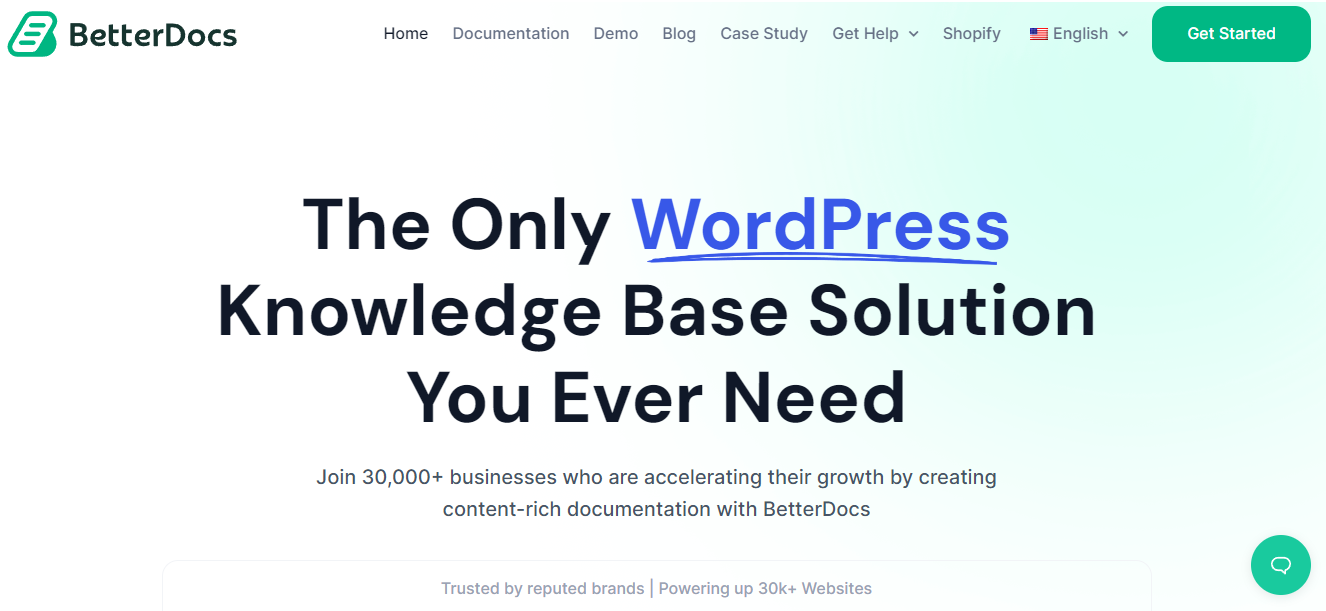 BetterDocs redefines the way we create, organize, and analyze online documentation, whether it's for internal or external audiences. Managing multiple knowledge bases becomes effortless, and the exclusive compatibility with WPML ensures that your content can transcend language barriers to reach a global audience.
As a tech-savvy WordPress user, you will appreciate BetterDocs' seamless integration with Elementor, one of WordPress's premier page builders as well as with plugins like Elementskit. This compatibility empowers you to enhance your website's functionality seamlessly.
What makes BetterDocs the ultimate knowledge base solution? Let's explore its standout features:
Ready-made templates for a visually appealing documentation site.
Full customization control for tailoring your theme to your brand identity.
Advanced search options and robust user role management.
A modern user interface with a grid and advanced list view features.
Inclusion of Table of Contents or Sticky Table of Contents for effortless navigation.
User engagement through feedback collection with emojis and social sharing.
Support for multiple knowledge bases for organized information.
Instant Answer Chatbot for efficient user support.
Internal knowledge base capabilities with advanced user role management.
Data-driven insights through built-in analytics.
WPML support for global content accessibility.
How BetterDocs Helps GetGenie
Here at GetGenie, we believe in using the right tools to enhance our operations and user experience. BetterDocs has become one of our key assets, and here's how we utilize its key features to achieve our goals.
Built-in Documentation Page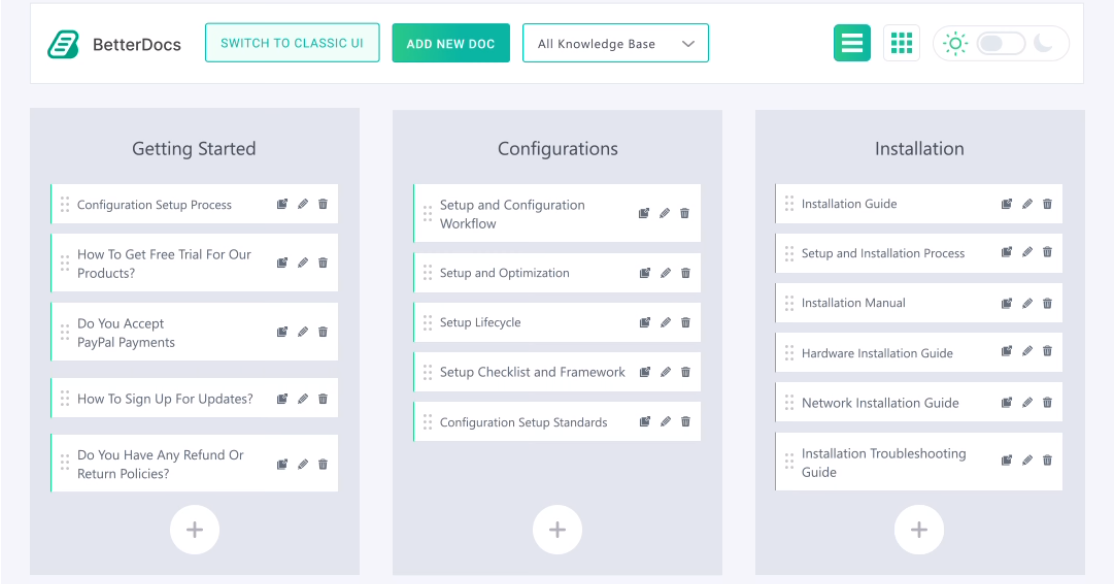 BetterDocs provides us with a built-in documentation page that serves as a centralized system for our technical documentation. This allows us to efficiently organize and manage our extensive collection of technical resources, providing easy access for GetGenie's users.

Fast Live Search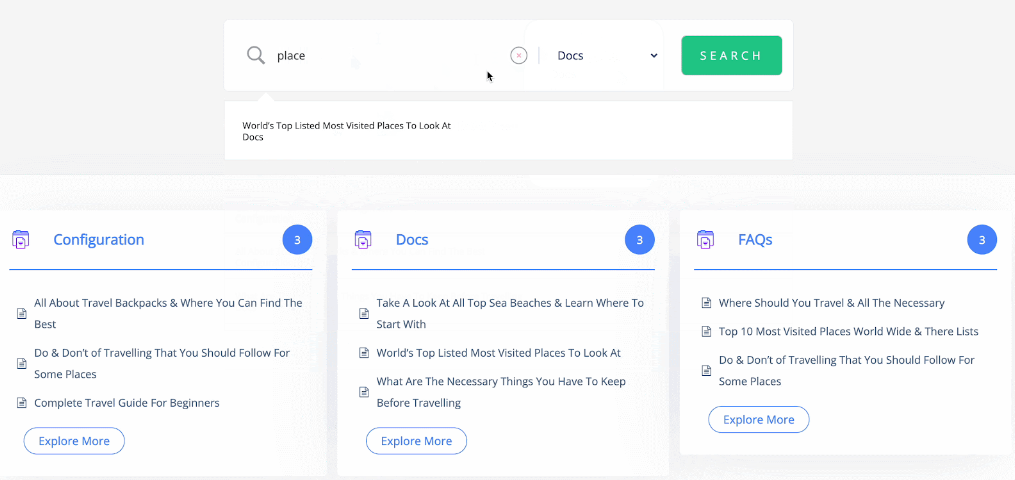 BetterDocs' live search feature functions as an intelligent search algorithm, offering real-time results as users type their queries. This makes the user experience better. It quickly finds technical information like a high-tech search engine for tech stuff.
Advanced Search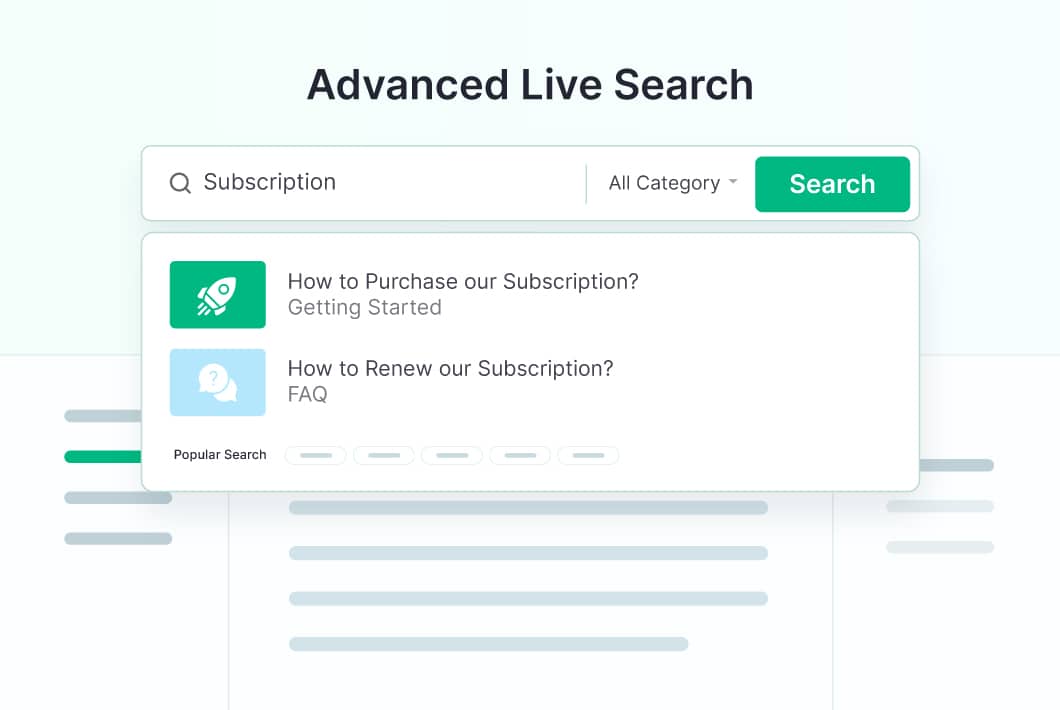 Tech pros often need specific information. Unlike basic search, the advanced search in BetterDocs allows you to use filters and specific criteria. Such as popular or category-wise searches. Helping you to narrow down your search and find information precisely.
Layout For Organized Data Presentation
BetterDocs employs a masonry layout, ensuring an organized presentation of technical resources. Think of this layout as arranging books on a shelf. So that users can easily find and read technical information.
Insights with Docs Analytics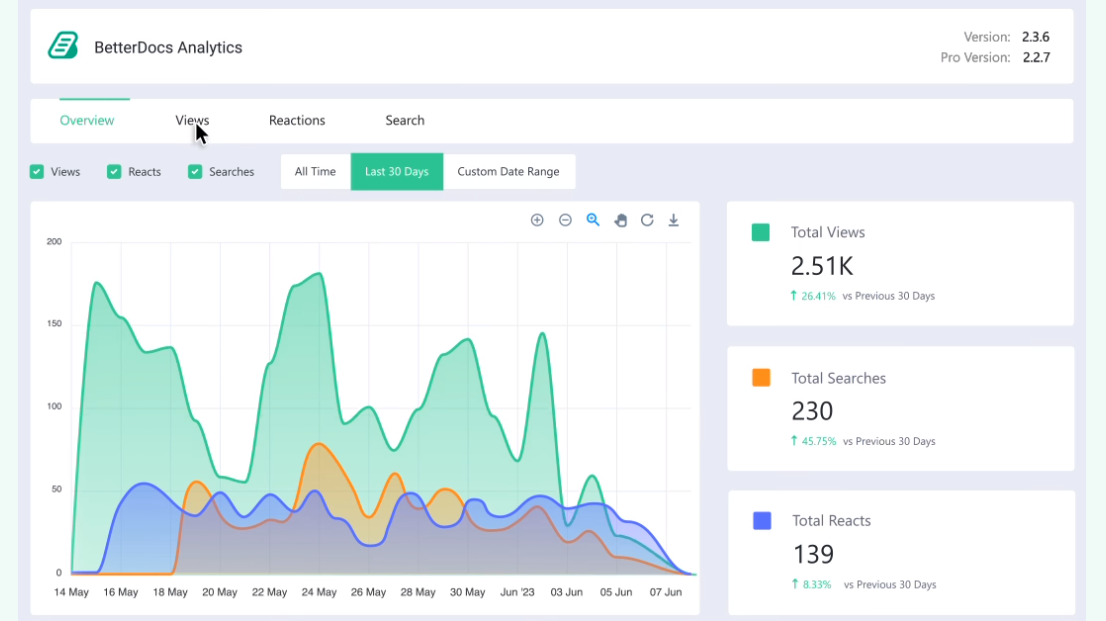 Data plays a pivotal role in our operations. BetterDocs' documentation analytics offer valuable insights, including views, reactions, and search patterns. This data-driven approach is similar to utilizing data analytics tools to optimize tech processes continuously.
Showcasing Leading Docs and Categories
BetterDocs enables us to spotlight critical technical documents and categories, much like featuring prominent code snippets in a software library. This ensures that users can easily access the most relevant and cutting-edge technical information.
Multiple Knowledge Base in Wpmet Website
Wpmet is a sister concern of GetGenie, which hosts a wide range of WordPress plugins. We use BetterDocs to create and manage multiple knowledge bases efficiently.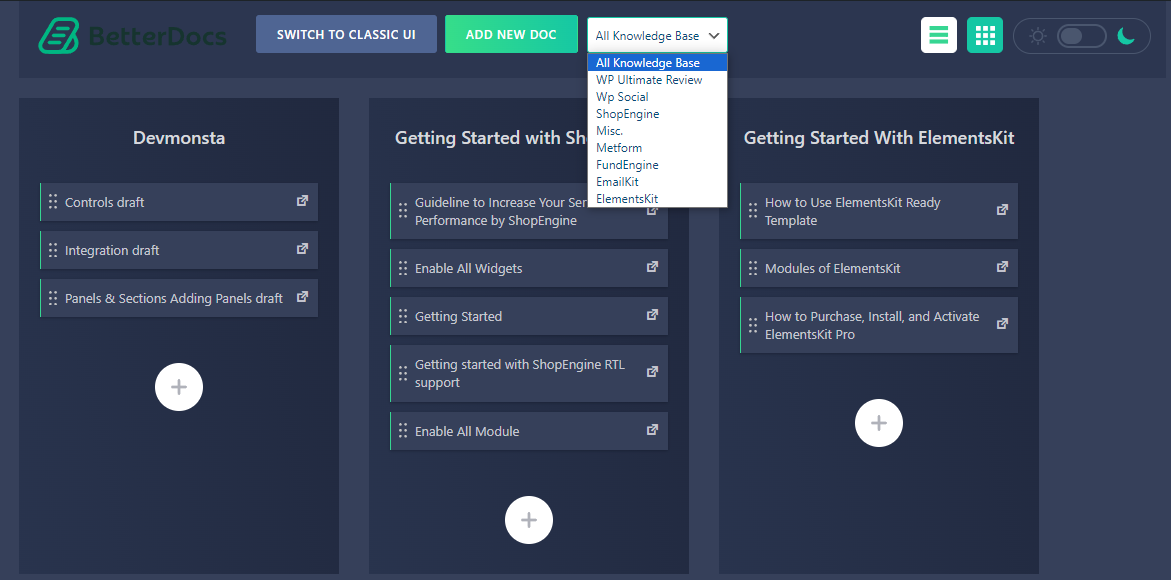 Each knowledge base focuses on a specific plugin's documentation along with the demand of its user base. By offering multiple knowledge bases, our visitors can find their relevant answers without hassle. Which leads to better support capabilities.
Easy Interface for Writing Powered by the Block Editor
BetterDocs offers a user-friendly interface integrated with WordPress Block Editor. This simplifies creating and editing knowledge base articles. BetterDocs' easy interface helps anyone without technical knowledge to produce engaging knowledge-based articles. Overall it gives a better user experience.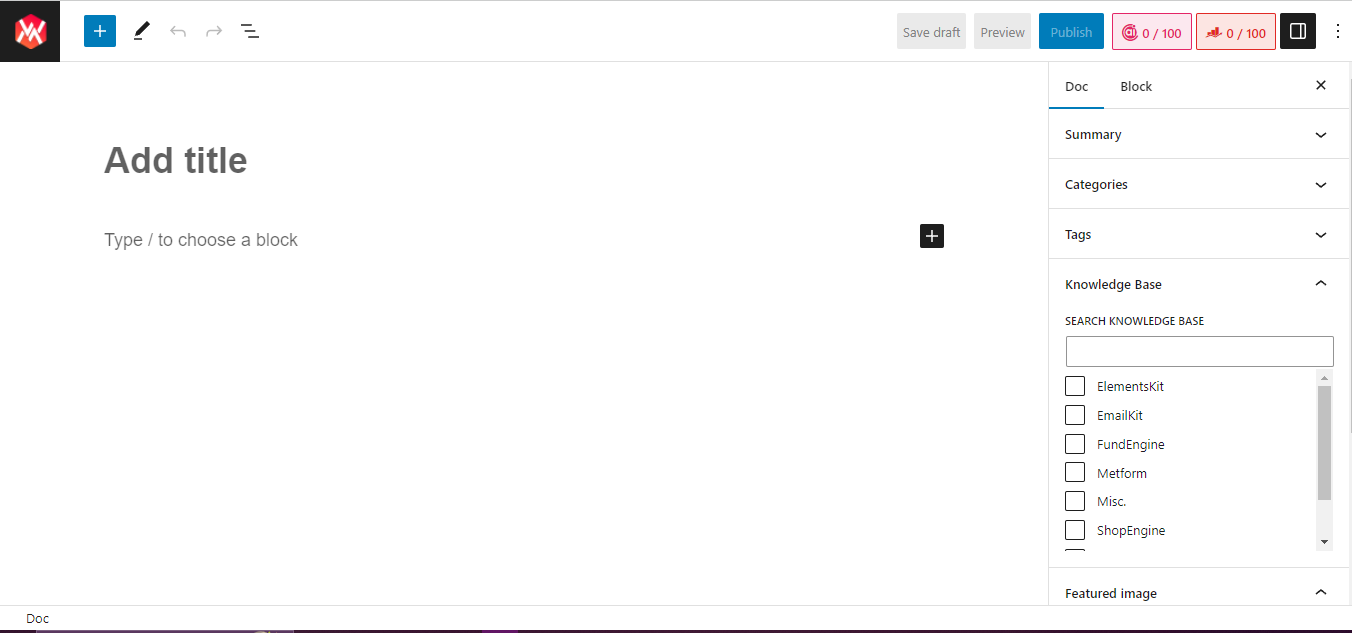 The Impact of Using BetterDocs
Reduced Support Ticket Volume: With BetterDocs, users can easily find the information and guidelines they need. This accessibility means fewer customer inquiries. And also a notable decrease in support ticket numbers.
Enhanced Customer Support Efficiency: BetterDocs makes the lives of the customer support team significantly easier. They spend less time handling basic queries and can focus on more complex issues. Which improves their productivity and job satisfaction.
Improved Customer Relationship: Happier customers are more likely to stick around. By providing a smoother experience through BetterDocs, businesses can enhance customer satisfaction. This in turn leads to increased loyalty and opportunities for repeat business.
Claim Your Exclusive BetterDocs Discount
As a valued reader of our blog, you can claim an exclusive discount on BetterDocs!
Simply use the code 'GETGENIE30' during checkout to enjoy 30% off your purchase. Don't miss this opportunity to experience flawless knowledge base management!
Final Words
Through our experience, we are left with no doubts that BetterDocs can work wonders for any business. It's not just about managing information; it's about creating a seamless experience for your users.
So, here's the deal: if you're ready to take your knowledge base game to the next level, it's time to consider BetterDocs. It's like having a trusty sidekick for your website, ensuring that users can easily find what they're looking for.
Don't wait. Start your journey toward a more efficient and user-friendly knowledge base management system today with BetterDocs.