Best Ai Title Generator to Increase CTR (Updated in 2023)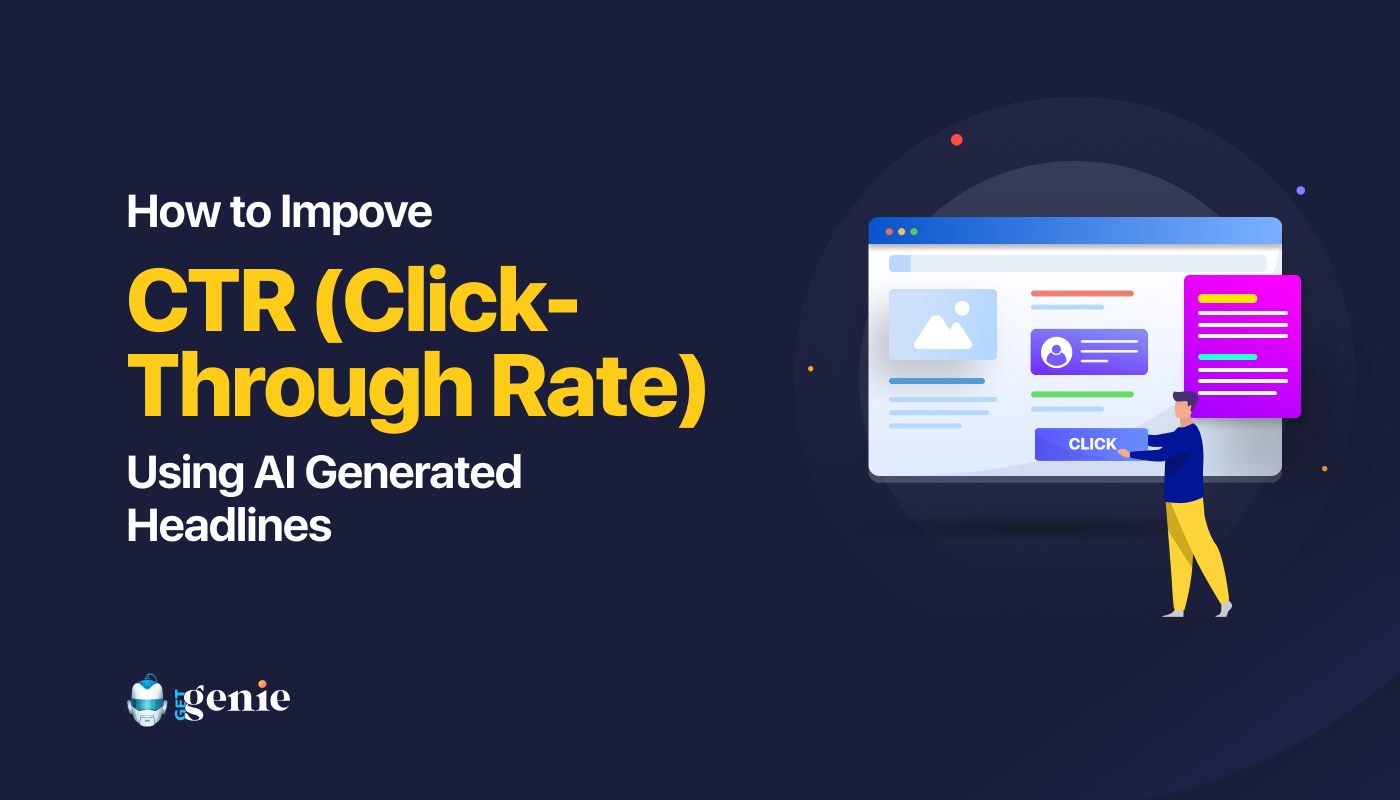 Bloggers, marketers, and website owners struggle hard to get adequate clicks on their blogs, ads, posts, and pages. The core reason behind this low click-through rate is not putting much attention while generating titles. Because it's the first thing that your target audience will notice and depending on it, they will decide whether to click it or not.
Therefore, you should pay special attention to the title no matter what type of marketing material you are publishing. However, manually creating and optimizing each title is a kind of hassle. In this case, try an alternative option which is to use an online AI title generator for your content.
Since there are many AI title generators online, picking one is puzzling. For that reason, here we will show how to create converting titles for your marketing materials with the best AI title generator.
What is an AI title generator?
An AI title generator is a tool that suggests multiple engaging titles from your provided input within a few seconds. Besides, an AI title generator can create titles according to the user search intent which makes the title of your WordPress content more converting.
In other words, an AI title generator helps you to find and use the best title for your WordPress content without any research or analysis.
How does an AI-generated title increase CTR?
The click-through rate indicates the percentage of people who click on the URL after viewing it. In other words, it can be also referred to as the percentage of people who prefer to read or explore your content or topic.
Here the main trick to draw your audience's attention is to use engaging titles for your content that fulfills user intent. If it does not satisfy user intent then they will never click. Besides, you also need to optimize it with the keywords. Therefore, you need to focus on these while writing titles for your content.
In this case, a free AI title generator is the best solution. Because it can suggest multiple suitable and converting titles that meet user intent. Thus, your users will be more convinced to click after reading the title. As a result, CTR will increase.
What are the characteristics of a good title?
There are some characteristics of suitable and perfect SEO-optimized titles. So, while crafting one, you need to focus on the characteristics and generate titles accordingly. These characteristics help you to generate a good title. Are you wondering what causes your title to perform well? Let's check out what to consider while generating a good title:
The title needs to maintain relevancy with the content and fulfill user intent.
It has to be short and precise.
Optimized for SEO with relevant keywords.
Set a catchy title that is capable of drawing customers' attention.
Make it fresh and unique.
So, follow these to craft an excellent title for your web pages.
Improve CTR using AI-generated titles
Focusing on the title to increase CTR is not a new idea. People must include it in their list to increase CTR. However, it is very time-consuming and tiring to select appropriate titles for your content. But, not anymore! Now you have a WordPress title generator online to create engaging titles in seconds.
Here we will show how fast you can generate multiple titles by using the best AI title generator. So, without further ado, dive deep into the following process:
Install and activate the WordPress AI title generator
The first step is to choose the best AI title generator that is capable of generating conversion-friendly titles. We are using GetGenie AI here as it is a free AI title generator that offers a bunch of options for online content generation.

Now, to install it, go to Plugins and click (1). Add New option. Then search for (2). GetGenie and (3). Install and Activate it.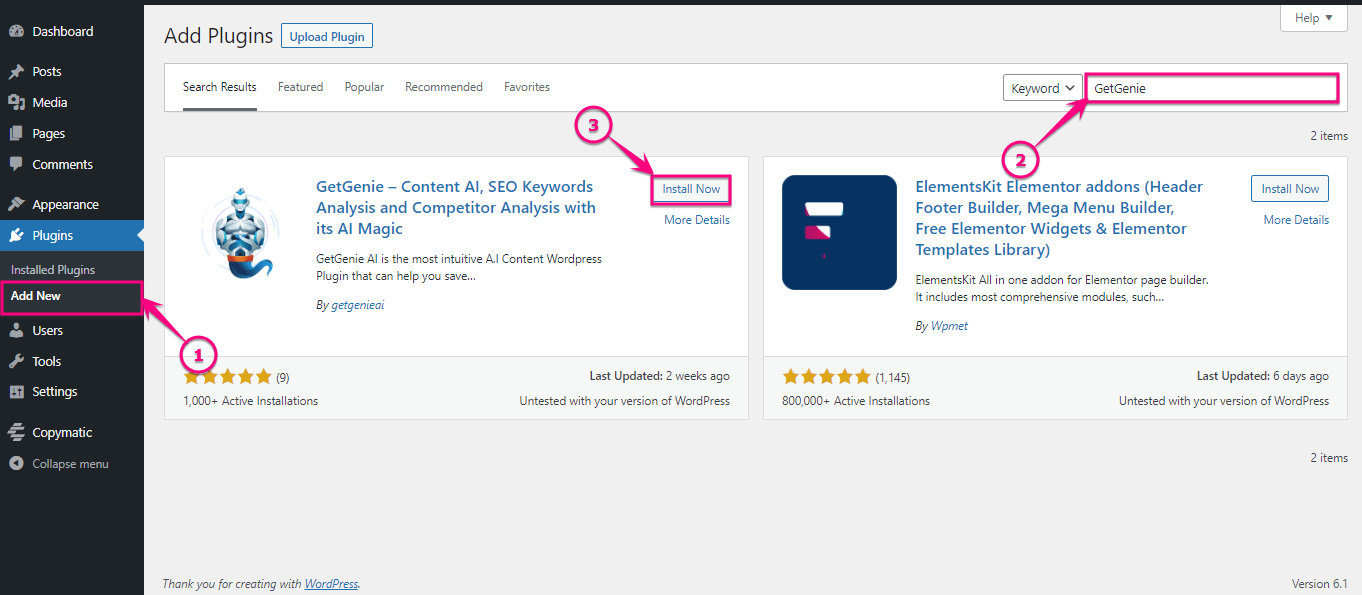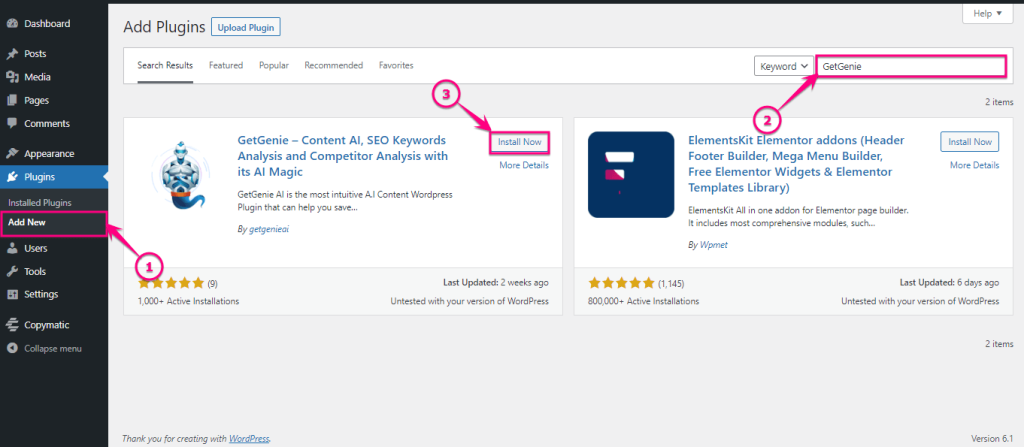 Generate engaging titles using an AI template
After installing and activating the GetGenie AI, a free title generator, go to the "Add New" option under "Blog Posts".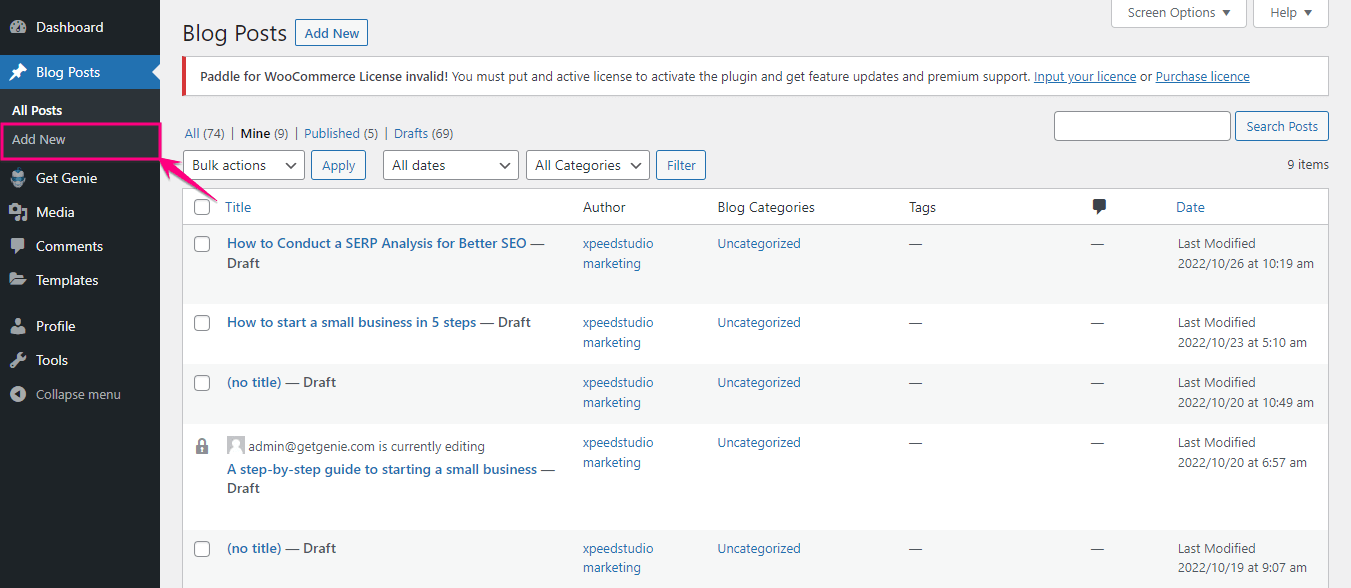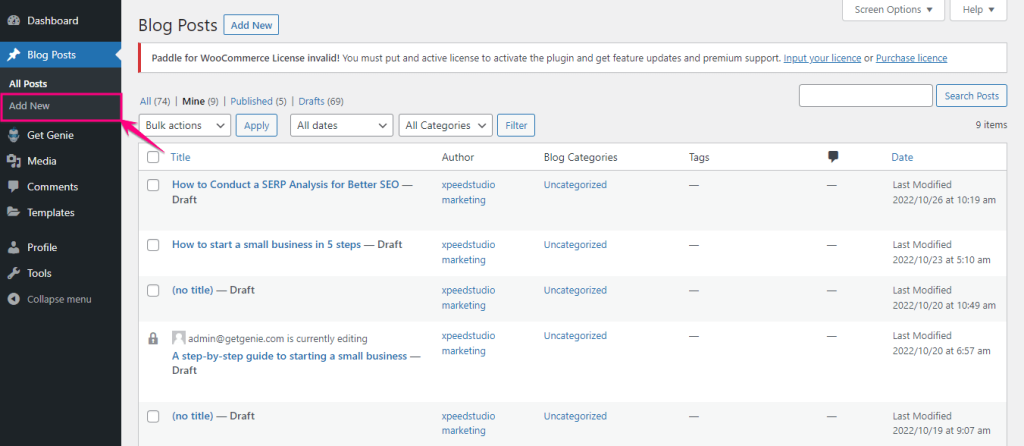 Now, press (1). WRITE FOR ME button and (2). Search for the "Title Ideas" template. Click it after seeing the (3). Title Ideas template.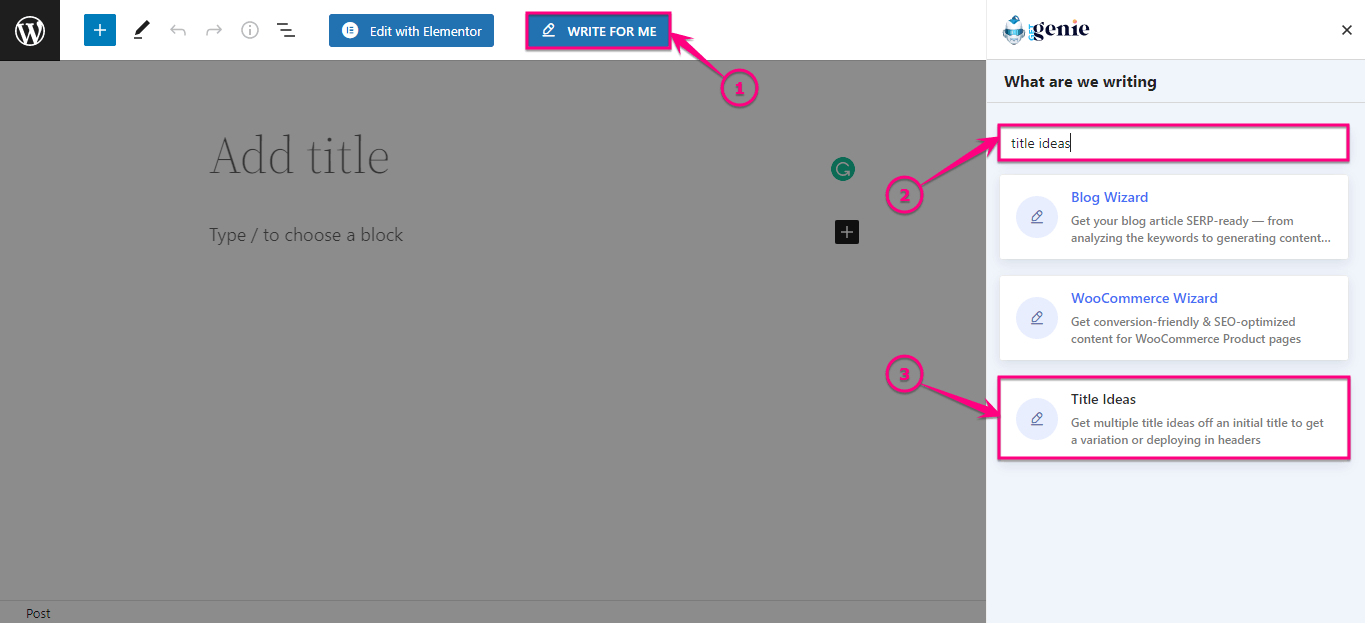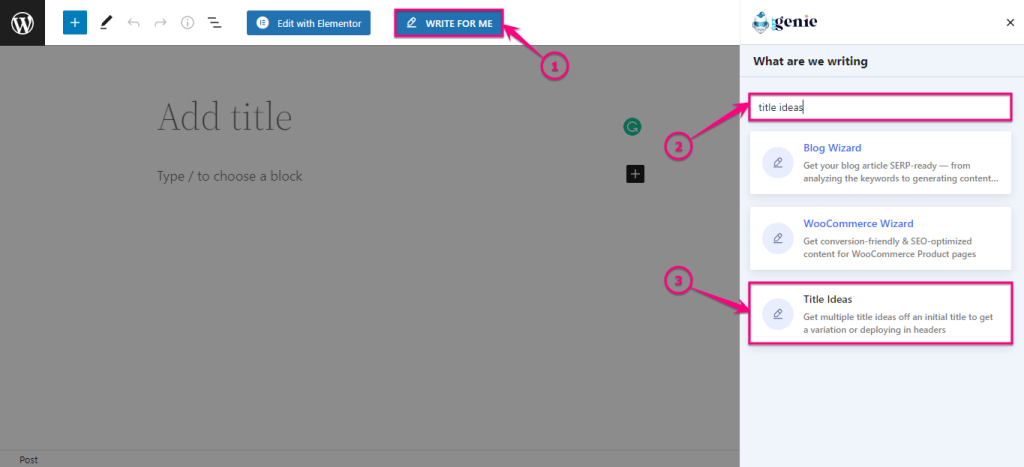 You will find quite a few fields to customize after clicking the "Title Ideas" template. Here you need to fill in the following fields to generate multiple titles through this AI template:
Select template: Choose the "Title Ideas" template here.
Topic: Insert the subject on which you want to generate the title.
Select language: Choose your preferred language here
Creativity Level: Select how creative output you want. The higher number means you will get more creative output.
Set Result Limit: Enter how many results you want after each search.
Finally, click the "WRITE" button to enjoy the output of this free title generator.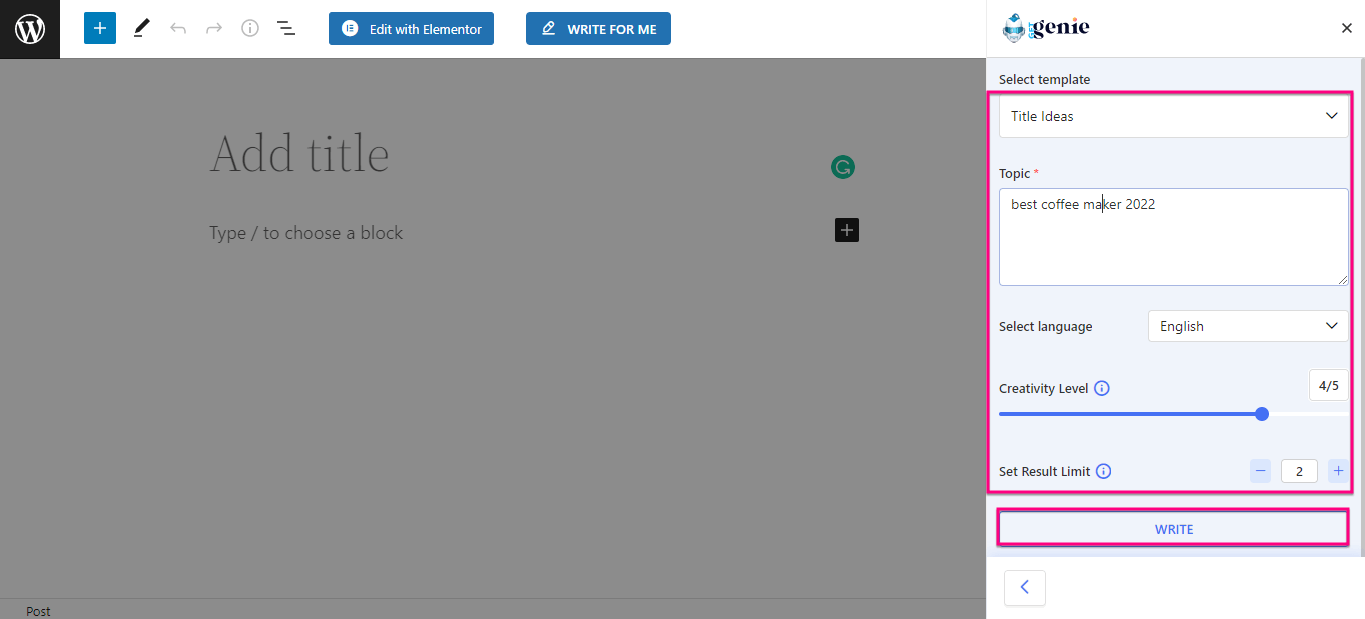 Use converting AI-generated titles
After pressing the "WRITE" button, you will find the exact number of titles that you have set for the result limit. Here we have generated multiple titles for the topic "Best coffee maker 2022". Now here are the outputs created with GetGenie, the best free AI title generator.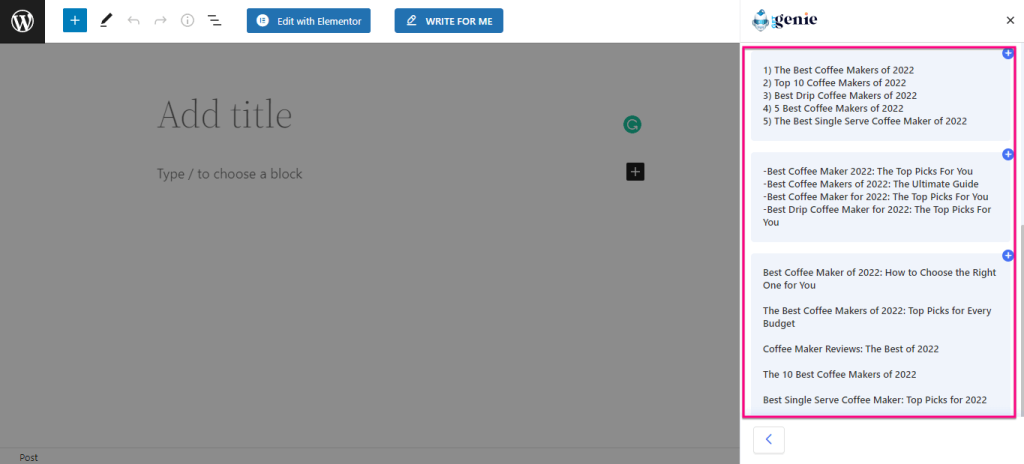 GetGenie also offers a SaaS interface for non-WordPress users. It comes with Playground or Webview which allows you to generate any type of content using 37+ templates. To get access to this SaaS interface, log in first and hit the Playground tab.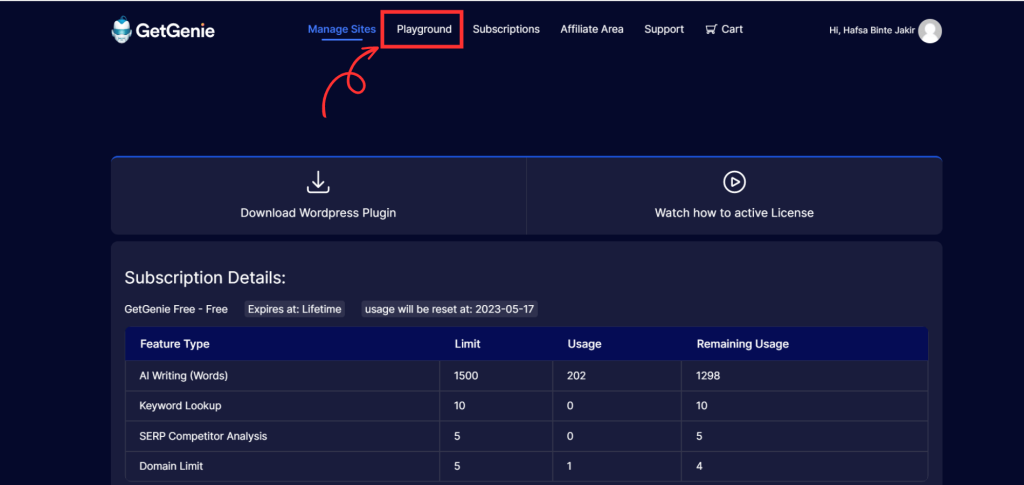 Thus, the Webview of GetGenie will be right in front of your eyes from where you can pick the Title Ideas template and generate engaging titles following the same process.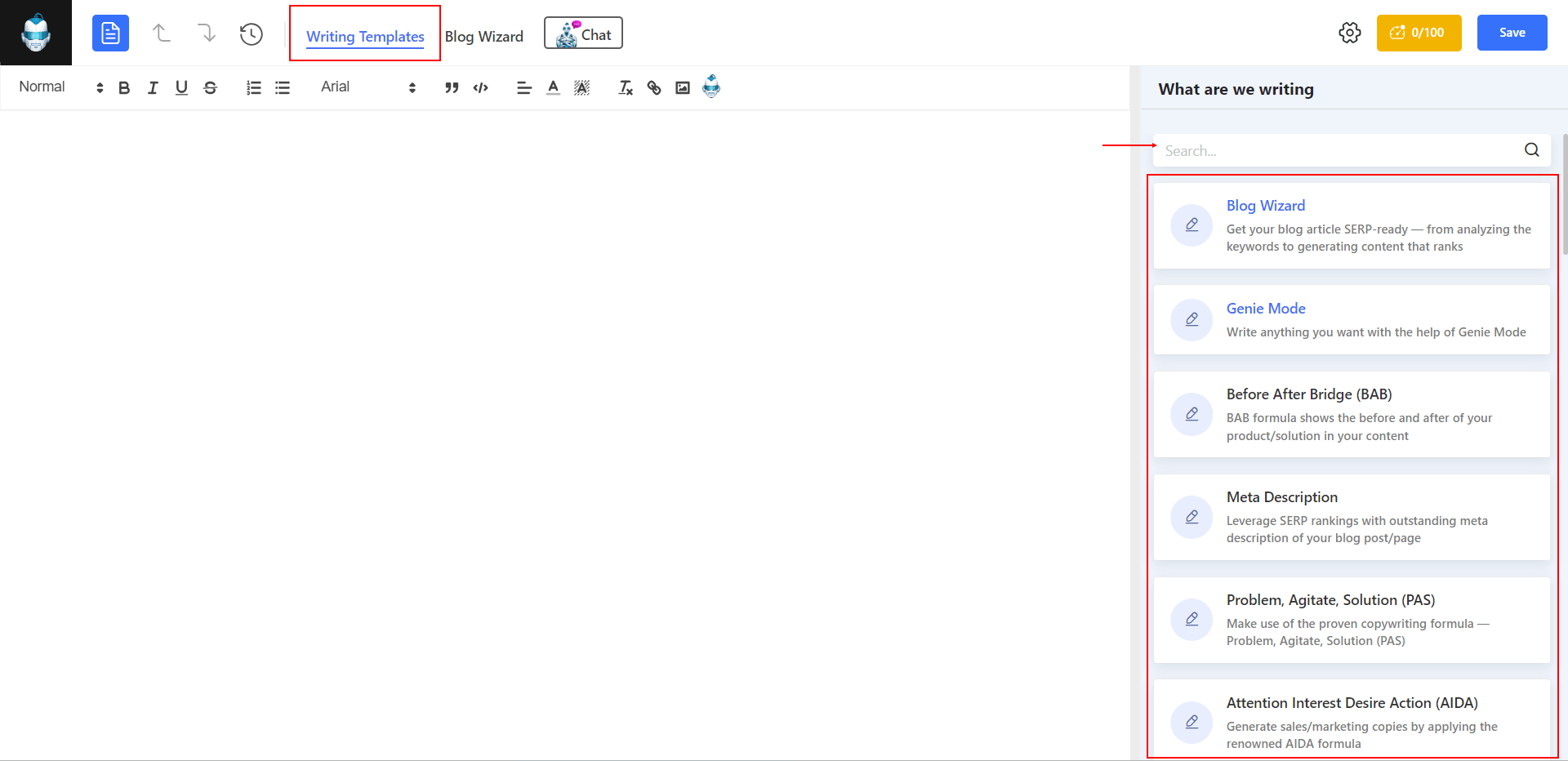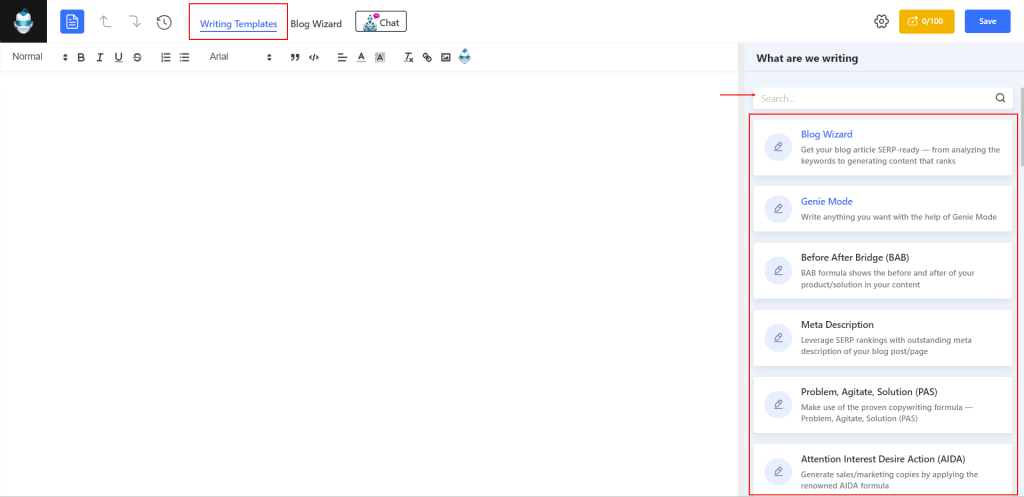 What are SEO-friendly titles?
An SEO-friendly title means a title fully optimized for Search Engines with relevant keywords. Besides, the title needs to solve problems and fulfill user intent.
More specifically, an SEO-optimized title refers to a title that gives a perfect idea of the content and that is optimized for Search Engines. These titles are capable of drawing customers' attention.
Get Started with the Best AI title generator
CTR indicates the performance of marketing material and campaign. Low CTR means your marketing content is not performing well. If your URL is not getting enough clicks, definitely there are some lackings in your content.
Using unoptimized and unengaging titles for your content is one of the major reasons for lower click-through rates. Start fixing this problem with the best AI title generator, GetGenie AI which is the all-in-one solution for writing conversion-friendly content and copies. So, make use of the AI title generator and start generating converting titles in WordPress as well as the SaaS interface.