Top 7 Text Reworder Tools to Level up your Content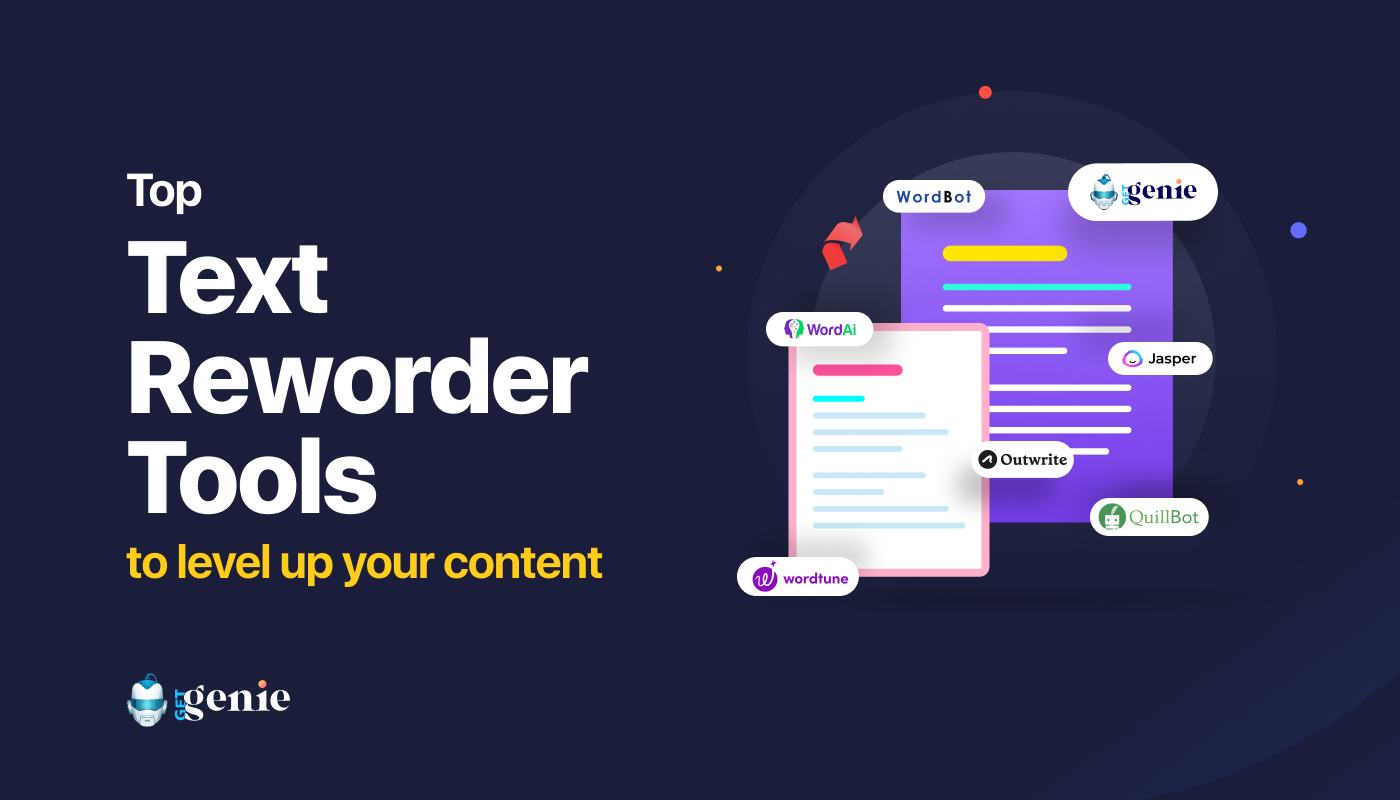 How many times after writing a piece of text have you found out that it's poorly written? Umpteen times, right? Even if you are a pro writer, it happens to you from time to time. Then, you go on to reword it, right? Even I am rewording my text too while writing this write-up.
But rewording text takes up a considerable amount of time, right? This is where text reworder tools come in handy as they can do the job for you multiple times faster. And more importantly, they can polish your text with their AI power, enhancing the overall quality of your writing.
In this write-up, I will introduce you to the top 7 text reworder or text rewriter tools for your benefit. But before that, let me pin down why you should use text reworder tools.
Why Use Text Reworder Tools:
When you write a piece of content, a wealth of text you would require to rewrite. Either you would rewrite on the go or you would rewrite after finishing your writing. No doubt, it would require you to invest additional time to craft your piece.
Why invest extra time for something that you can accomplish simply and easily otherwise? I mean you can reword your poorly-formed text with the help of a text reworder tool in a snap. Let me list down some of the benefits of text reworder tools underneath-
Make your text graceful and well-structured
Eliminate fluff from your text
Fix flaws in your text
Compress your text
Let you focus on productive tasks by saving your valuable time
Spice up text and bring out output effortlessly
Needless to say, all these benefits you can derive only if you take advantage of premium text reworder tools.
Top 7 Text Reworder Tools to Upgrade your Content:
Now, comes the principal part of the write-up and that's getting introduced to the best text reworder or text rewriter tools. I have carried out profound research in this regard and rounded up the top 7 text rewriter tools in this write-up.
Let's check them out-
After the release of GetGenie, it got quick exposure as well as acceptance among the masses due to its top-notch quality, wide range of features, and affordable pricing package. One of the useful features it includes is a content rewriting feature.


The best part of the content rewriting feature of GetGenie is that it's simple and hassle-free. You don't have to experience any difficulty while leveraging this user-friendly AI tool. All you have to do is input the text you want to be rewritten.
The rest of the job GetGenie will accomplish. GetGenie with its AI power will analyze your text and output relevant as well as compelling text without tweaking the original meaning.
GetGenie Highlights:
Easy to use text rewriter template with only requiring to enter the text
Simple and user-friendly interface
Affordable pricing plan
All the features of paid plans are available in the free plan
Rewrites relevant and high-quality text
When it comes to a text rewriter, Jasper is one of the best choices that you can make. The AI content tool has an article rewriting feature that you can deploy to reword your text. And the notable aspect of Jasper is it brings out optimal output regardless of the existing text's difficulty level.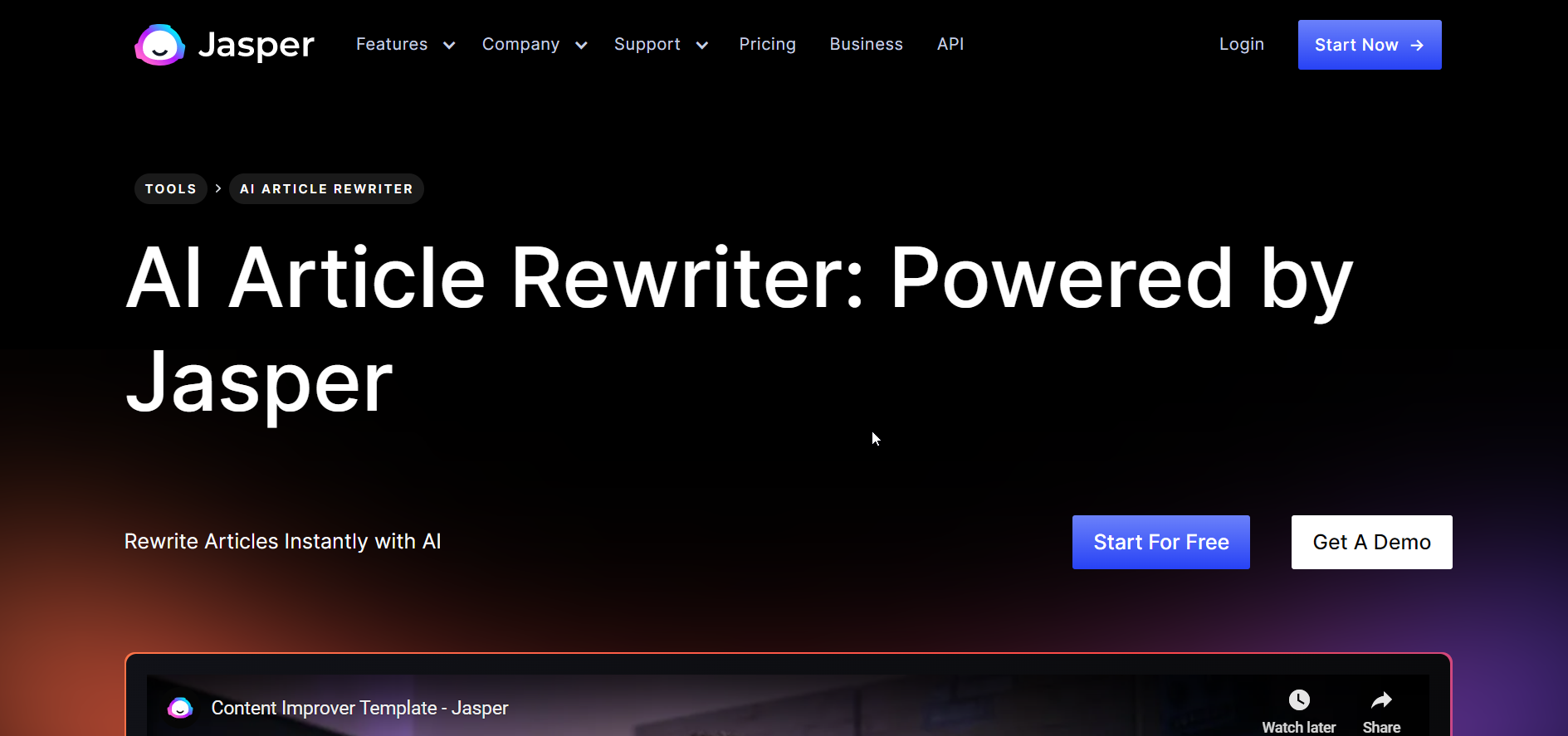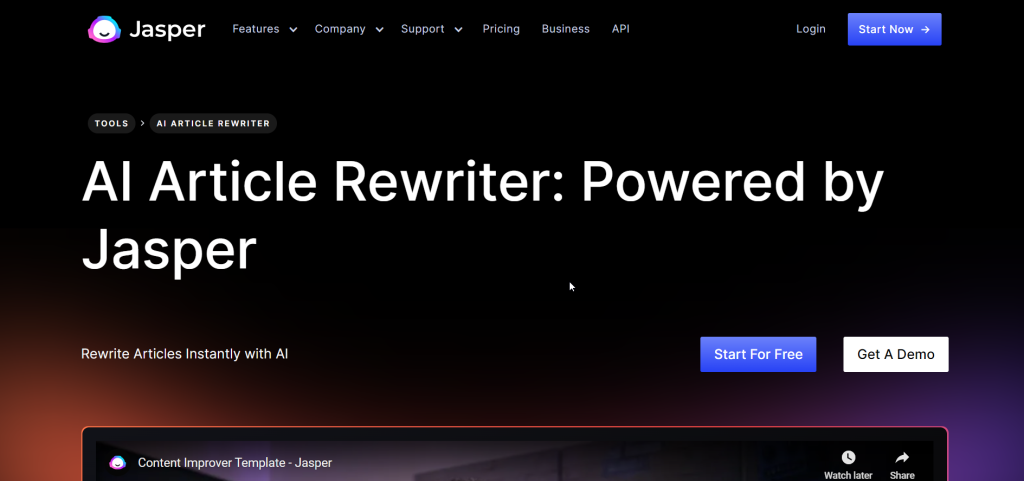 Jasper has a special feature called "learn" through which it keeps on learning as you train it. In other words, as much as you use the tool, it learns your writing style and rewrites text better than before. You can command it to generate and rewrite the text as per your tone of voice.
Apart from rewriting text, you can leverage scores of templates of Jasper, including paragraph generator, paragraph expander, text summarizer, product description, blog post topic ideas, and creative story.
Jasper Highlights:
Easy to get started due to its built-in templates
Maintains the flow and relevance of the rewritten text
Well-performing AI copywriting tool in the market
Continues to develop additional features
WordTune, unlike, the other text rewriting tools was developed by AI21 Labs. The developers behind the AI text rewriter put an all-out effort into building a top-grade AI article rewriter.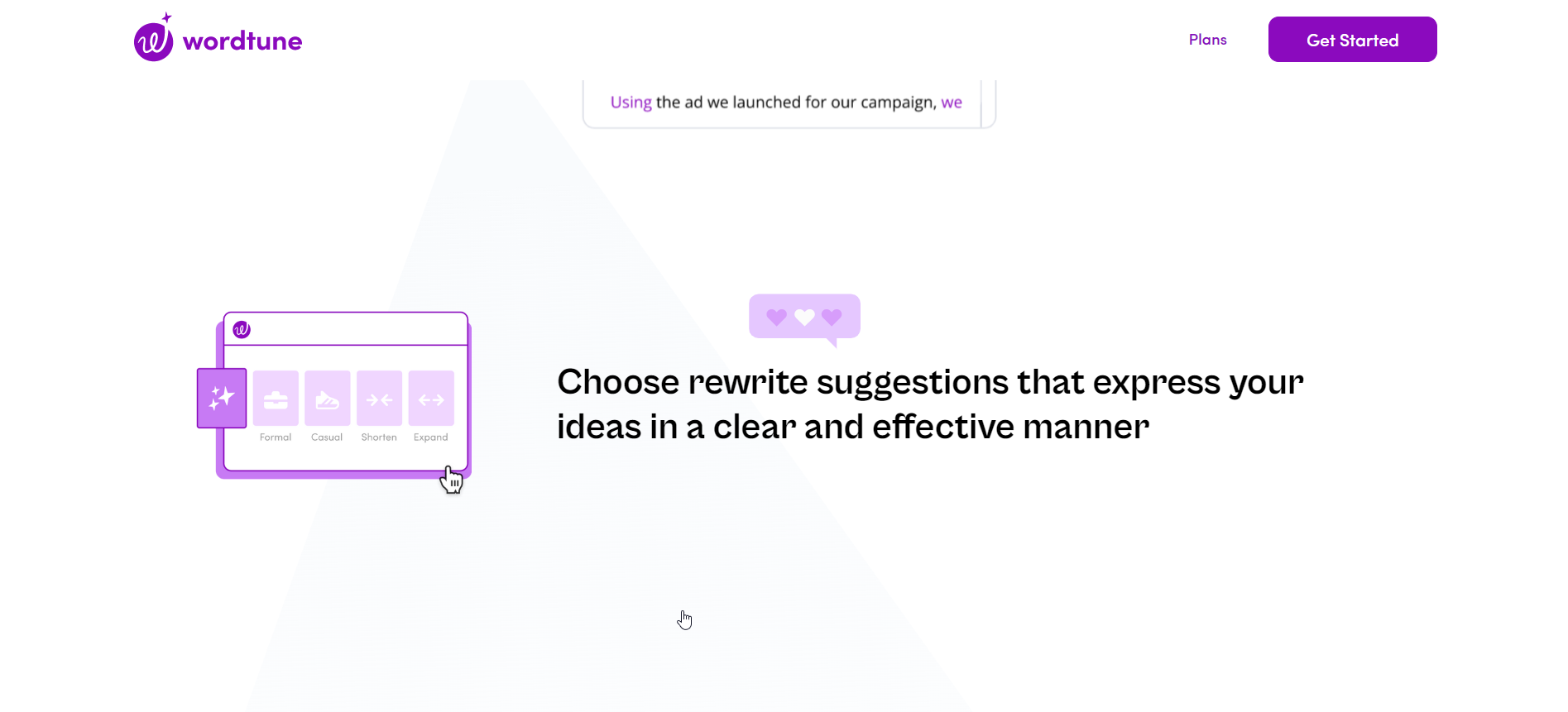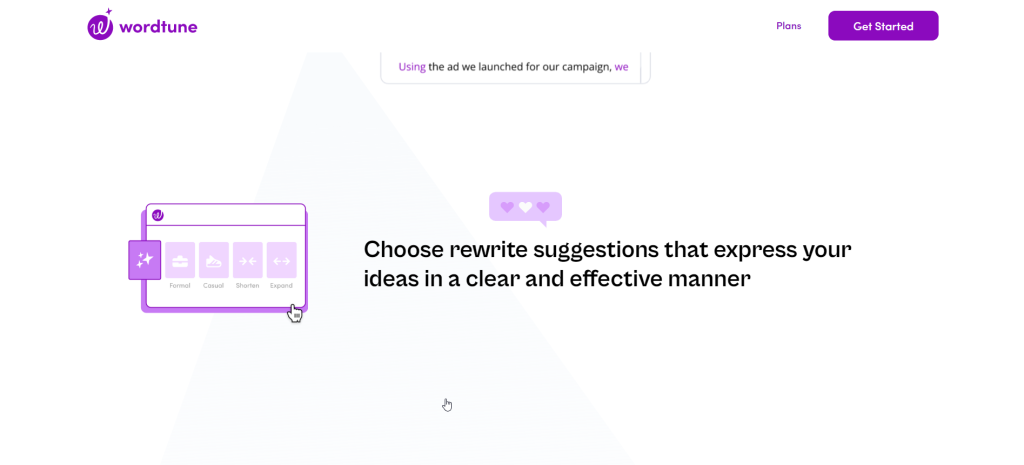 WordTune operates by getting hold of the context and semantics of a text at first. Then, it rewrites the text, and consequently, the content generated ends up being a peachy and top-rated one. The fun part is that the reworded text appears to be written by a skilled and seasoned blogger or writer.
A good thing to hear is that WordTune developers have built several other AI tools and language models. But the one that hogged the limelight is this one "WordTune". WordTune has been circulated as an AI article rewriter that revolutionizes the way we read and write.
WordTune Highlights:
A competitive tool to leverage
Able to shorten and expand text
Chrome extension available
Compatible with Google Docs, Microsoft Word, etc.
Quillbot is an extremely popular tool when it comes to paraphrasing a text. In other words, it has the ability to rewrite text up to scratch. More importantly, it has a simple and user-friendly interface which makes it easy for users to provide their input.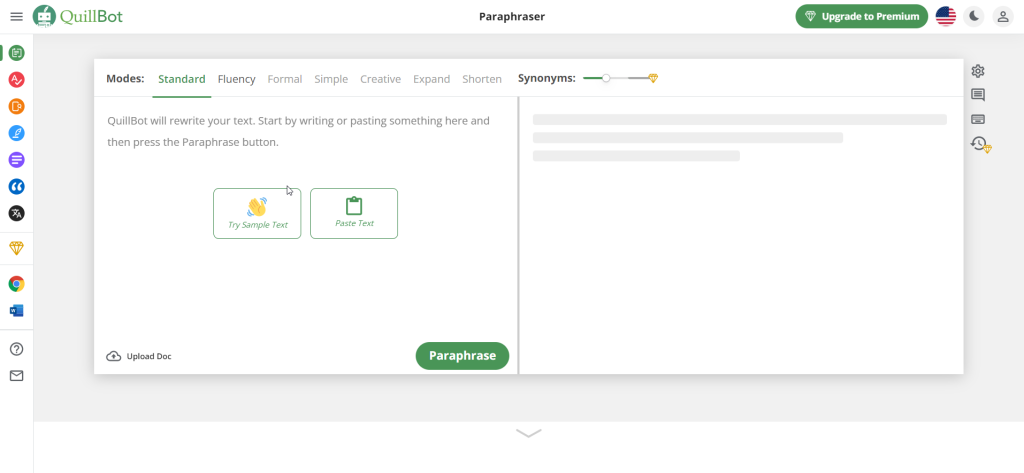 All you have to do is paste the text and Quillbot will rewrite it in a snap. To date, millions of Quillbot users have benefitted by using the tool. The catchy facet of the tool is that it lets you set the tone of the text to be rewritten.
You can even expand or shrink sentences utilizing the tool. Along with that, you can control the number of synonyms to incorporate. Apart from cashing in on the rewriting features, you can even take advantage of the grammar checker and plagiarism checker features availing Quillbot.
Quillbot Highlights:
Packs 7 different models for content rewriting
Counts on its cloud thesaurus for accurate word replacements
Boasts a grammar checker and a plagiarism checker
Available as an addon for Google Docs and MS Word
When it comes to text rewriting tools, Outwrite is one of the tools that will always be in my catalog of the best AI text rewriters. The AI tool comes with a wealth of features that will streamline your text. You will even have the luxury to expand or shorten sentences.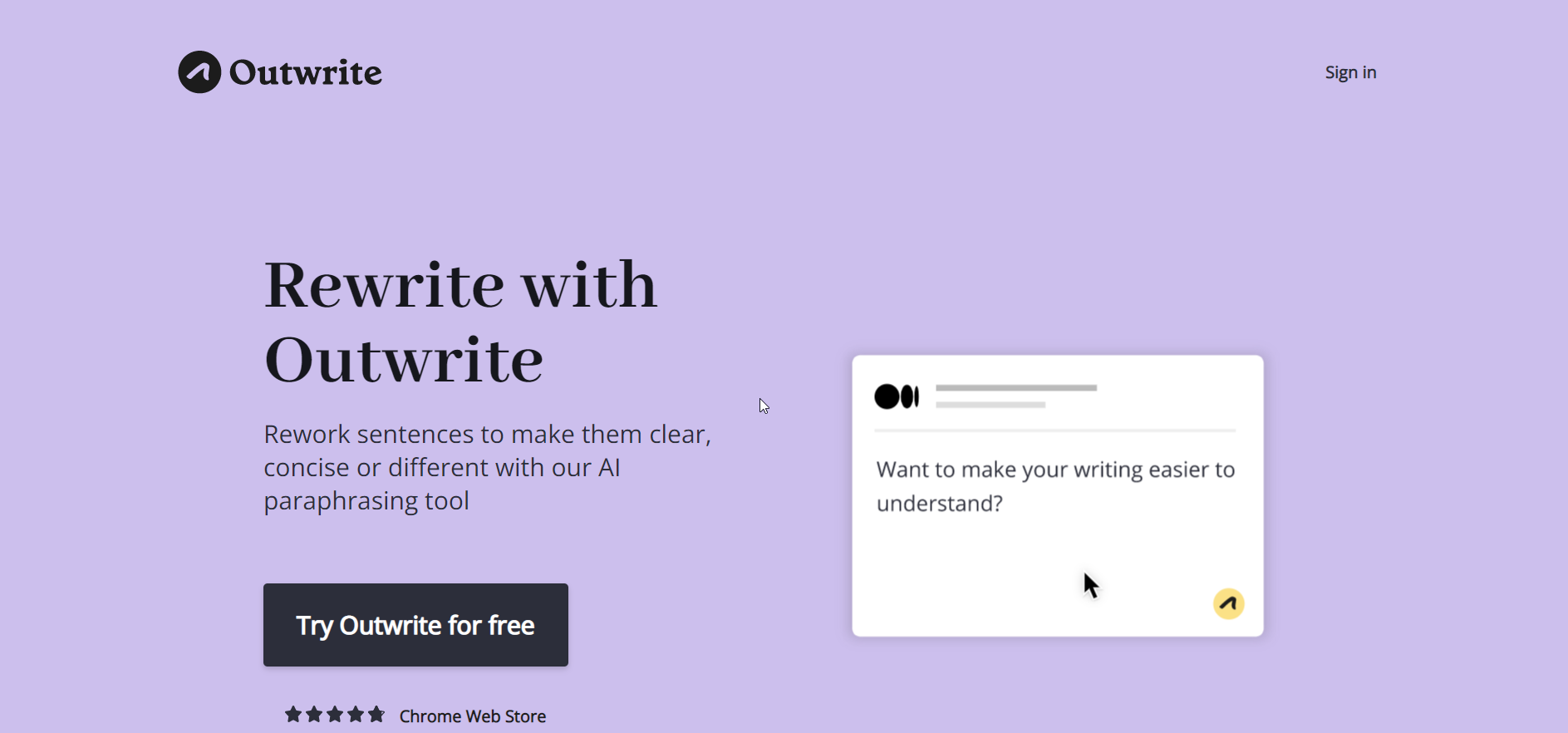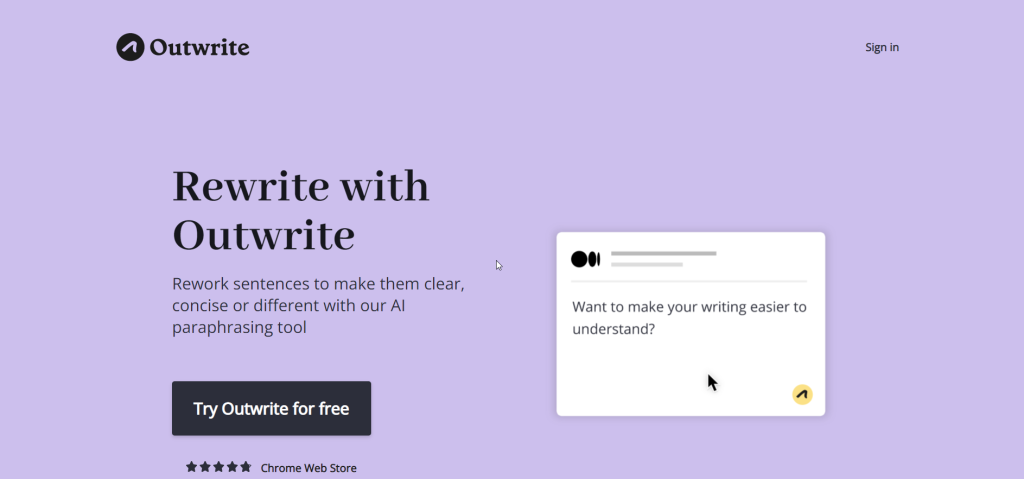 Along with that, Outwrite provides suggestions for structural improvements and vocabulary usage. This article rewriter integrates perfectly with platforms like Facebook, LinkedIn, WordPress, Google Docs, and Outlook.
On top of that, Outwrite offers a Chrome extension like Grammarly, Surfer SEO, etc. By taking advantage of Outwrite's premium plan, you can get a number of article and text rewriting services.
Outwrite Highlights:
Spell checker available
Provides thesaurus suggestions
Displays writing statistics like readability, grade level, and word count
Style and structure suggestions are available
The next AI text rewording tool that comes to my list is Wordbot. Wordbot generates human-readable text in a jiffy that often turns out to be superior to the original. The key aspect of Wordbot is that it adopts a sentence-by-sentence approach to rewriting paragraphs.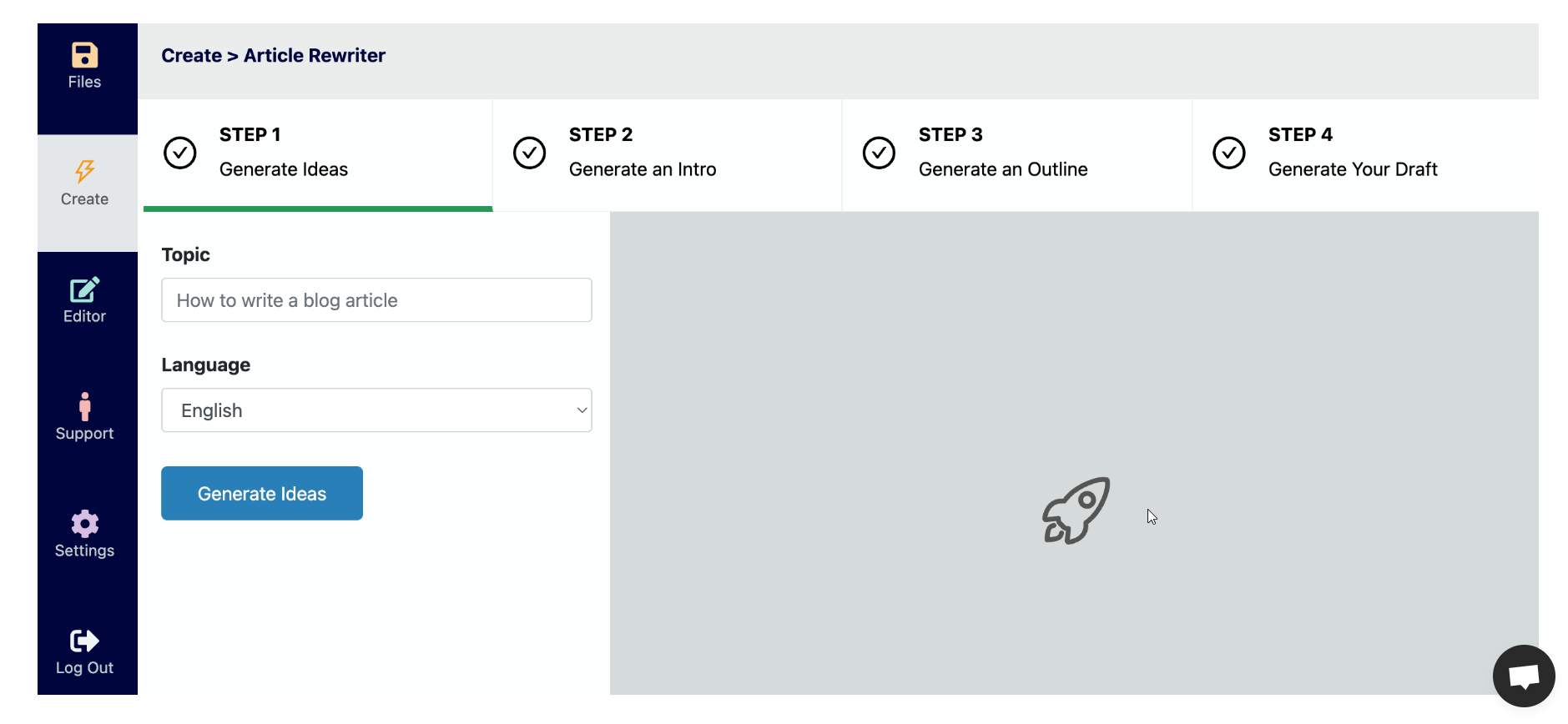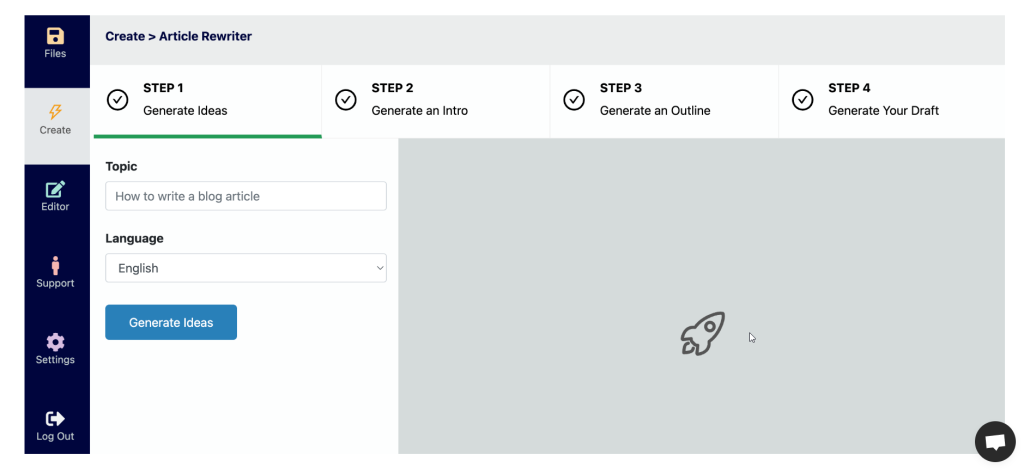 The user picks the best sentences from a paragraph and Wordbot rewords them optimally with its AI power. Not just text rewriting! Wordbot lets users paraphrase, spin, and summarise text as well. You can even conduct keyword research with this marvelous AI tool.
Wordbot Highlights:
Adopts a sentence-by-sentence approach to rewriting text
No cap on character or word usage
Generates text in seconds
Includes an article summarizer
If you are hunting for an AI text rewriter with easy and simple operability, Word AI is the go-to one for you. But ease-of-use and simplicity don't imply that the tool is behindhand in terms of quality and efficiency. In fact, it generates text up to snuff competing equally with its peers.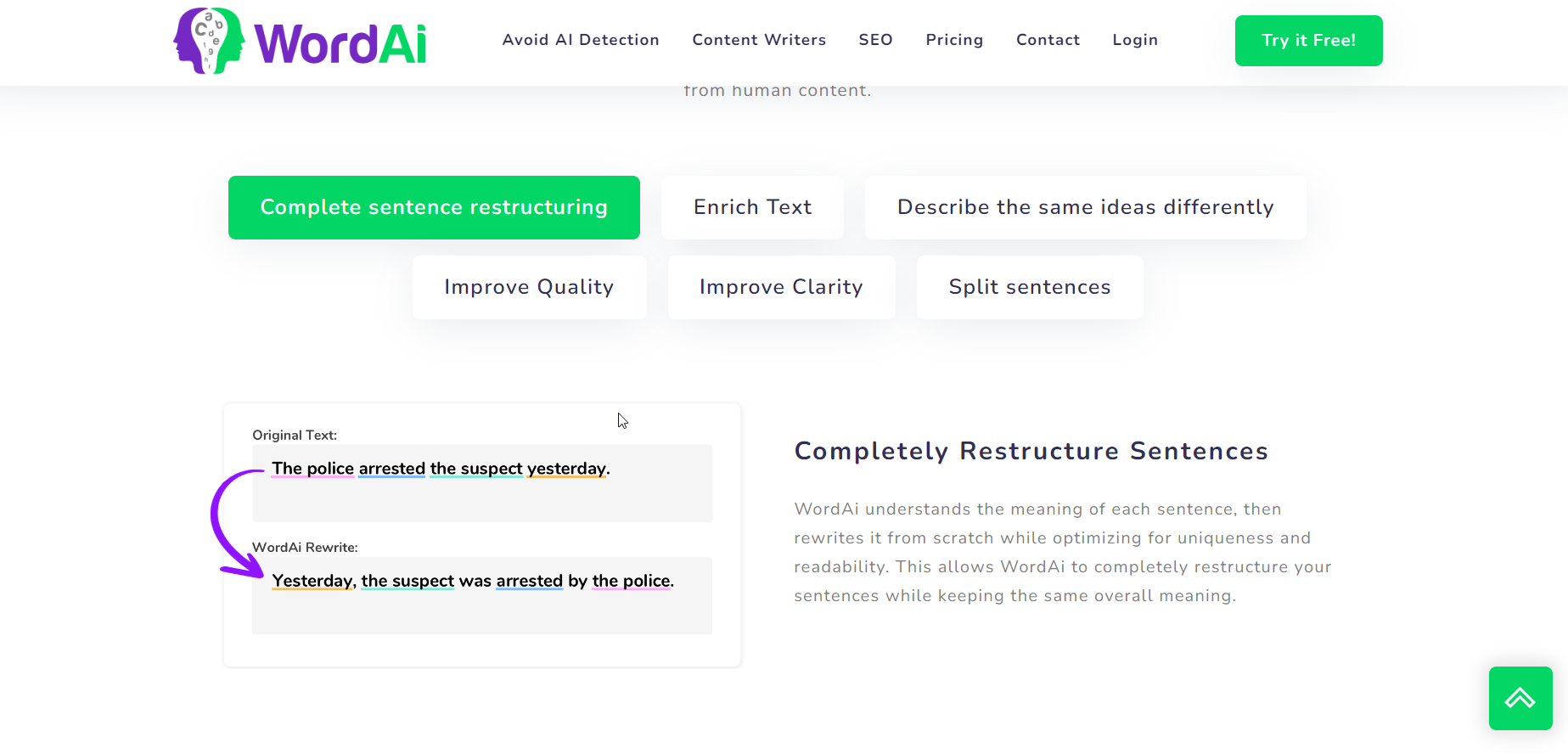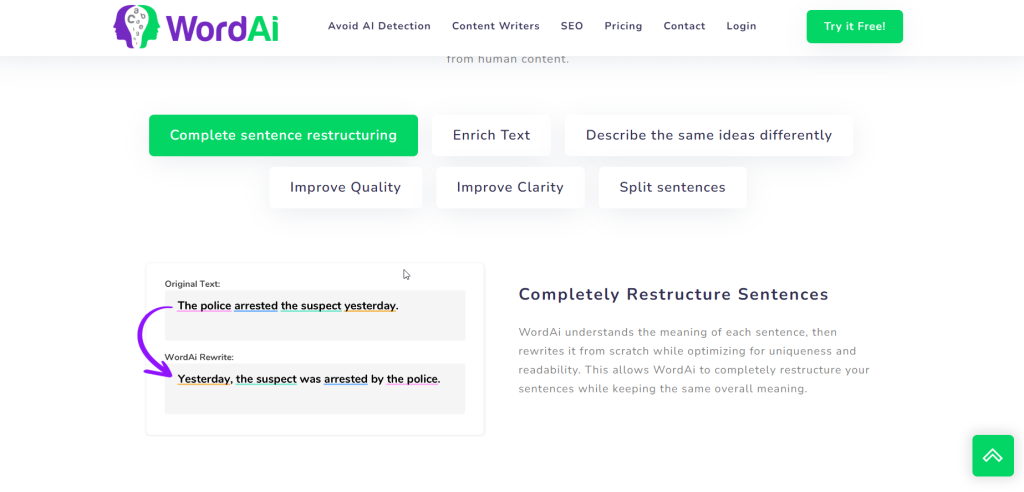 Word AI gets hold of the context and rewrites text with its AI power, maintaining supreme quality. The AI rewriters don't view the text as sentences, rather it considers text as real entity interacting with one another.
Word AI is immensely popular among SEO specialists and content marketers due to its ability to rank content on search engine ranking. The developers behind the tool have built it in such a way that it adds up relevant LSI keywords in the rewritten text.
Word AI Highlights:
Ability to rewrite an entire paragraph that looks natural
The enterprise plan allows inviting an entire team
The content calendar enables content planning easily
Able to produce bulk-spinning
Over to you:
Quality content is always key to converting audiences or even engaging them. But sometimes your brain may not function well to produce the right text at the right time. This is where a premium text rewriter will come in handy.
Apart from producing exceptional text, a superior text rewriter will also improve efficiency. I have cataloged the 7 best text rewriters in this write-up for your benefit. Now, it's up to you to choose the one that fulfills your requirements.
If you wish for a text rewriter that is first-rate, user-friendly, and affordable at once, GetGenie is the solution for you. It's up for grabs now!