Announcement: GetGenie Releases Unlimited Ai Writing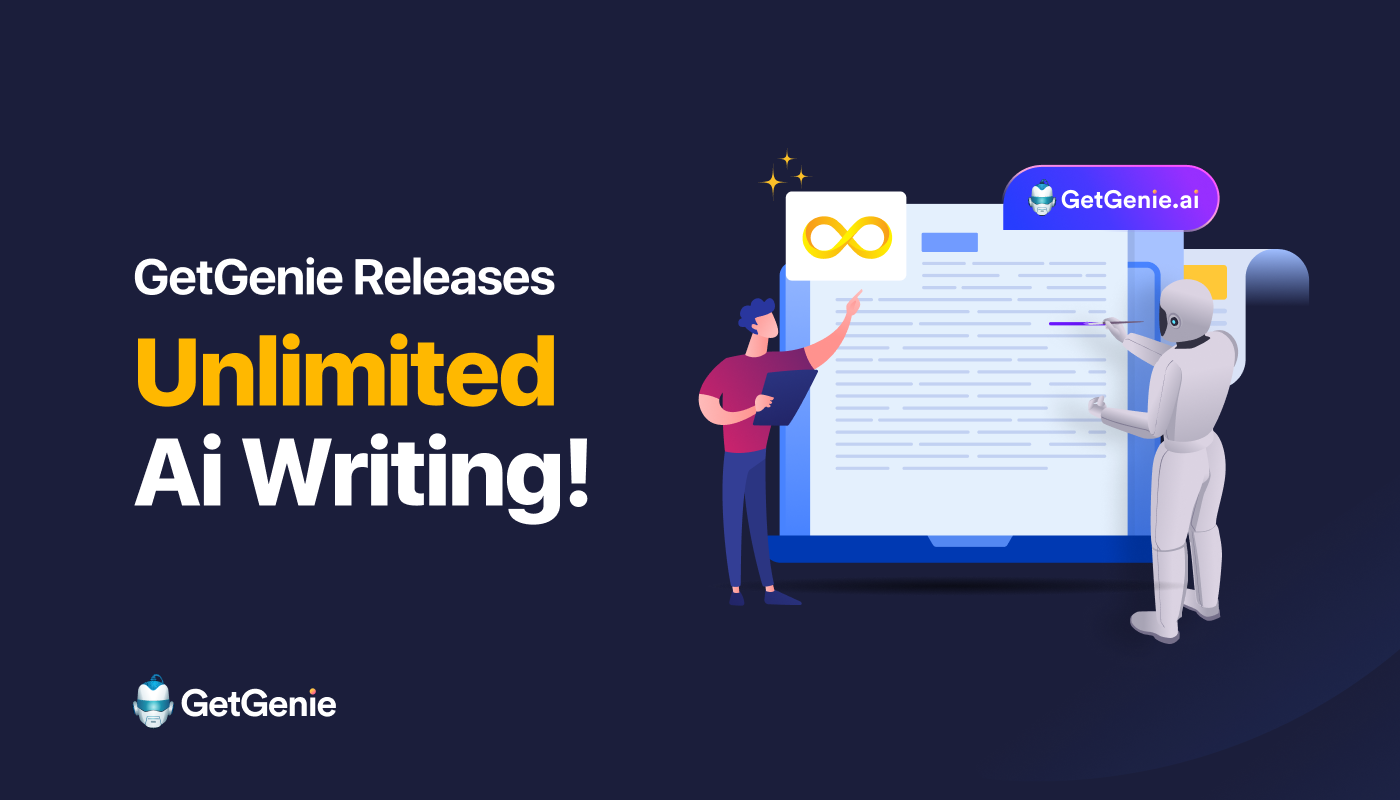 Get ready for some thrilling news! GetGenie now provides unlimited Ai writing, allowing you to write unlimited words with minimum effort.
Being limitless is amazing, isn't it? Write unlimited words and grab more traffic and more conversion.
After a year of the launch, we found out our customers want to write more words without worrying about the limit. Considering this, we finally updated all our plans and pricing.
What does unlimited ai writer mean?
An Unlimited AI writer means there are no restrictions on word generation. Regardless of the number of words you produce, you won't encounter any obstacles during the writing process.
Moreover, the writing consistency remains uncompromised.
Typically, the majority of AI writers have specific writing limitations, which may differ depending on pricing and packages.
In many instances, artificial intelligence writing tools impose monthly word limits.
If a tool has a 50,000-word restriction, you'll be unable to continue writing beyond that point.
This limitation can hamper your ability to complete a blog or produce content in bulk. Havi ng an Unlimited AI word feature helps to eliminate such issues and enables seamless writing without interruptions.
What you can do with GetGenie's unlimited Ai writing feature?
GetGenie's unlimited AI writing offers the ultimate solution for content marketers and bloggers. In today's SEO world, succeeding in content marketing requires keyword clustering, which, in turn, requires an increased output of blog posts.
GetGenie's boundless word generation – a true blessing for such scenarios!
For agencies providing content marketing or writing services, opting for GetGenie's unlimited AI writing would be a perfect investment. With no package limitations, managing multiple clients concurrently becomes feasible.
Likewise, for pro bloggers overseeing multiple websites, leveraging the limitless word generation feature is the perfect solution.
Daily content production becomes achievable, effectively transforming your writers into content machines powered by a single tool.
Moreover, GetGenie isn't solely an AI writing tool. Beyond content creation, it facilitates many SEO features including (but not limited to) keyword research, competitor analysis, and optimization, enhancing its versatility.
What is the updated pricing of GetGenie?
Currently, the unlimited Ai words writing is available only in the agency plan. The pricing starts from $99/month. However, currently, you will get a promotional discount and you can grab the agency plan just at $69.3!
There are two more packages of GetGenie — Writer and Pro.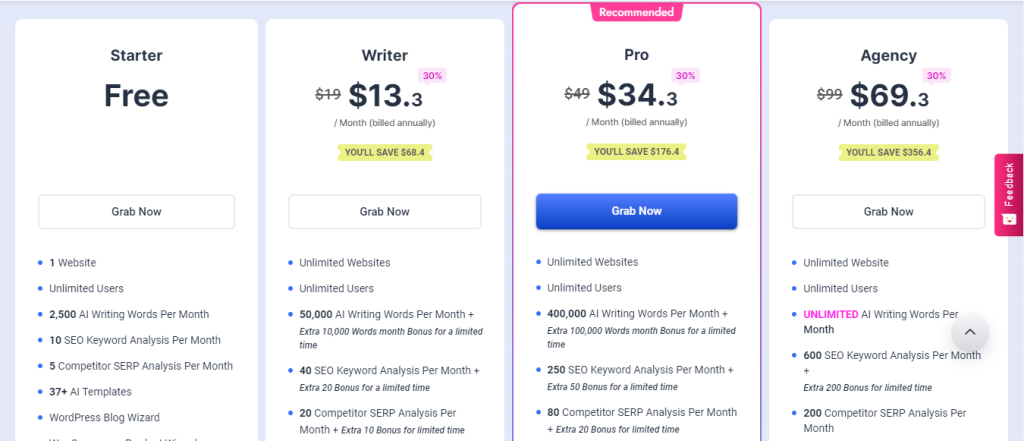 In the writer package, users can now write 60,000 words per month, which was previously only 12,000 words per month.
Similarly, in the Pro package, users can generate up to 500,000 words per month, which was previously only 40,000 words per month.
Comparison table
| | | |
| --- | --- | --- |
| GetGenie's new word limit | Before | Now |
| Starter | 15,00 | 25,00 |
| Writer | 20,000 | 60,000 |
| Pro | 40,000 | 500,000 |
| Agency | 150,000 | Unlimited |
Does unlimited words impact the content quality?
No! The unlimited words featured won't impact the content quality.
With GetGenie, you will continue to enjoy the same high-quality content as always. There is no chance of encountering any errors or experiencing a drop in quality, regardless of the number of words generated using artificial intelligence.
To ensure the best output, it's essential to provide a concise input. Additionally, if there is an option to give context, make sure to utilize it in order to obtain the highest quality of content.
Will the existing customers get the updated plan?
Yes, all of GetGenie's current customers will enjoy the new updates and pricing plan. Means, if you are an agency package user, from now, you will enjoy the unlimited Ai writing feature.
There is no need to do anything from the user end. We've already upgraded the word limits for the existing customers.
Wrap up
How does it feel to possess an unlimited AI writer at your convenience? There's no need to wait any longer. Simply select a package from GetGenie and embark on the journey of creating exceptional content. Regardless of the industry, you can now craft content effortlessly with the assistance of GetGenie's artificial intelligence.