Best WordPress Black Friday and Cyber Monday Deals of 2023
Want to double your holiday happiness by purchasing some useful, top-class WordPress plugins while saving a great deal of money?
Just like you create a new memory with your friends and family during thanksgiving, you can also use this holiday season to enrich your WordPress toolbox by leveraging the best WordPress Black Friday deals.
Nowadays it's not just black Friday, Cyber Monday has also emerged to make this long shopping holiday for people looking to buy new products, including WordPressians.
In this blog, we have listed some of the best WordPress Black Friday and Cyber Monday deals. The list includes all sorts of WordPress plugins from AI writer to website form builder to Event management plugins and many more options.
What is Black Friday?
Black Friday is the Friday after Thanksgiving and is the biggest retail sales day of the year. It kicks off the holiday shopping season, however, it's not an official holiday.
While Black Friday though sounds negative it's actually a profitable day for both sellers and buyers. During Black Friday, sellers offer huge discounts on products that attract buyers. That's the reason Black Friday results in enormous sales where both buyers and sellers are profitable.
What is Cyber Monday?
Cyber Monday is the Monday after Black Friday and the fourth day after Thanksgiving. Since it falls within the Thanksgiving season it over time has emerged as part of the long shopping season around this time of the year.
While Black Friday still is considered the busiest shopping day, Cyber Monday sees high sales as well. Not wanting to skip a holiday with family and not being able to cash in the Black Friday offers are the most common reasons people love Cyber Monday.
Best WordPress Black Friday and Cyber Monday Deals
1. GetGenie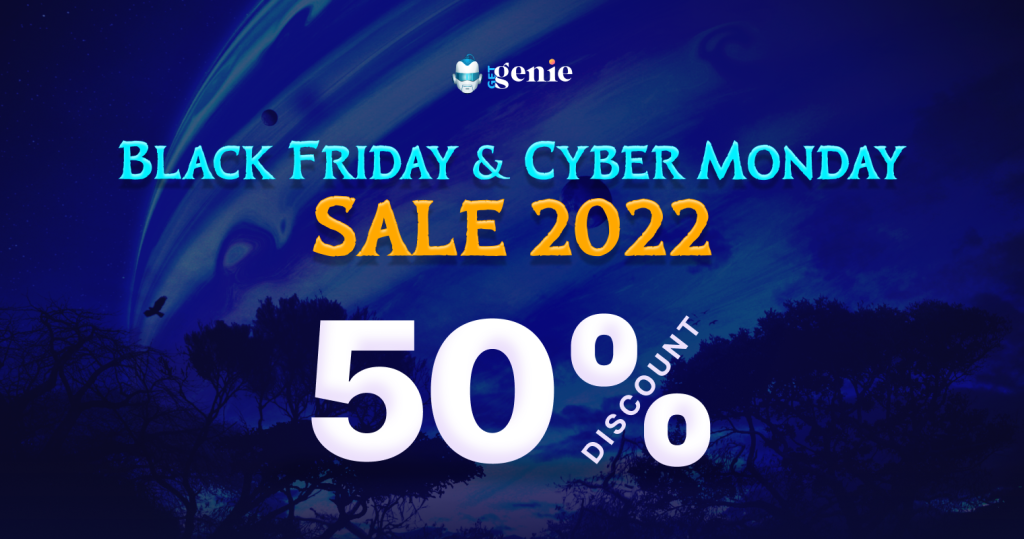 GetGenie is an advanced, AI-Based writer that can generate all sorts of content and copies within minutes. This GPT-3 powered AI writer is offering one of the lucrative WordPress black Friday deals this holiday season.
The star feature of this AI WordPress Content writer is its blog wizard which helps you to write a complete blog post from scratch following all the necessary steps such as keyword analysis, competitor analysis, SEO optimization, and so on.
You will get copywriting templates such as AIDA, PAS, Before-after-bridge, etc along with WooCommerce templates such as product titles, product descriptions, etc at a discounted price. Along with the mentioned templates, you can also leverage email templates, social media templates, etc. Another great thing about this WordPress plugin is it is compatible with both Gutenberg and Elementor.
⭐Key Features of GetGenie
Write and SEO optimizate blog
30+ writing templates
Multi-language support
100% original content
24×7 support
Well documented
Video tutorials
🛍️ Offer : Up to 50%
⏱️ Duration: 15th November to 10th December 2022
🗝️ Coupon Code: No Code Required
2. ElementsKit
If you are looking to extend Elementor's features but are on a tight budget then you can do that by getting ElementsKit at a discounted price this Black Friday. ElementsKit is an all-in-one Elementor addon that is currently helping over 800k+ satisfied users around the globe to build gorgeous websites with minimal effort.
To help you build beautiful WordPress websites, this tool offers 500+ ready-to-use sections and pages along with 85+ widgets and modules. Using all these widgets, modules and prebuilt sections is super easy as it uses Elementor's user-friendly interface.
This tool offers the most flexible header footer builder and the most advanced mega menu builder. In addition, this WordPress plugin also offers one-page navigation, modal popup, conditional logic, parallax effect, image hotspot, etc.
⭐Key Features of ElementsKit
A good number of ready to use the templates
Advanced horizontal and vertical mega menu
A lightweight Elementor addon
Can build custom Elementor widgets
Build complex web pages in easy steps
A great support team
🛍️ Offer : Up to 50%
⏱️ Duration: 15th November to 10th December 2022
🗝️ Coupon Code: No Code Required
3. ShopEngine
ShopEngine – the most complete WooCommerce builder is also offering a good deal this Black Friday and Cyber Monday. This amazing WooCommerce Elementor addon comes with a 15+ templates builder that allows you to transform your entire store's look with ease. You can build the templates from scratch as well as import ready-to-use templates.
Not just the look you can enhance features of your WooCommerce store as well with many modules such as backorder, preorder, partial payment, currency switcher, etc. All these modules are available in one plugin; no extra addon is required.
If you want an Elegant design for your WooCommerce store and ensure effortless shopping for your customer, then you must grab this WordPress Black Friday deal.
⭐Key Features of ShopEngine
60+ widgets to build a WooCommerce store
20+ advanced-level functionalities
Compatibility with Elementor and Gutenberg
Easy customization options
A friendly support team
🛍️ Offer : Up to 50%
⏱️ Duration: 15th November to 10th December 2022
🗝️ Coupon Code: No Code Required
4. MetForm
MetForm is the ultimate flexible Elementor Form builder that lets you build all kinds of forms in minutes by just dragging and dropping. This WordPress plugin offers 30+ templates and 40+ input styles so you can easily create any type of form you want.
Not just simple forms, with this Elementor form builder, you can build newsletter sign-up forms, registration forms, sign-up forms, quiz forms, multi-step forms, and many more. You can also create conditional logic forms with this awesome tool. You can find ready-to-use prebuilt forms of all kinds with this plugin.
Apart from easy yet awesome form building, this Elementor form plugin also sends admin notifications, offers Google reCAPTCHA Spam Protection, and supports all popular payment methods.
⭐Key Features of MetForm:
Prebuilt ready-to-use form templates
Easy customization
Provides shortcode option
Supports PayPal and Stripe payment systems
Can send a confirmation email to the user
🛍️ Offer : Up to 50%
⏱️ Duration: 15th November to 10th December 2022
🗝️ Coupon Code: No Code Required
5. WP Social
WP Social single-handedly will solve all your social media needs as it offers social Login, Social Share, and Social Counter. You can share your site's content on 15 different social platforms. Moreover, all the features of this WordPress plugin are easily customizable and come with a shortcode option.
You will get many style options for the social counter feature. In addition, you can also figure out the cache hours for the counter data. You can allow your customers to easily register and log in using social networks including Facebook, Twitter, LinkedIn, Google, and Pinterest. In addition, you can also keep track of social media stats.
⭐Key Features of WP Social
Share content on multiple social media
Social counter offers 11 hover effects and 18 icon styles
Ready to set social media login
10+ attractive login and registration templates
GDPR Compliance
🛍️ Offer : Up to 50%
⏱️ Duration: 15th November to 10th December 2022
🗝️ Coupon Code: No Code Required
6. Eventin
Eventin is the simplest solution to create, manage and sell events ticket and offers one of the best WordPress Black Friday deals this season. With this fantastic framework, you can manage events and show users the events on a calendar so users can easily check the upcoming event.
You will also get the option to confirm attendees using unique QR Codes. Moreover, you can check in-depth sales and attendee analytics from the dashboard. Increasing customer loyalty with CRM also becomes super easy with this WordPress Event Management plugin.
You can create and manage unlimited events with this tool and also showcase event locations with Google Maps. In addition, you can also host virtual meetings and webinars. This tool also offers third-party integration such as Fluent CRM, Stripe, etc.
⭐Key Features of Eventin:
Can maintain recurring event
Option to showcase events with daily, weekly, monthly, and annual views
Supports multi-vendor event marketplace
FluentCRM integration support
Offers a DIVI builder addon
Supports shortcode
🛍️ Offer : Up to 50%
⏱️ Duration: 8th November – 30 November 2022
🗝️ Coupon Code: TBFCM50
7. WP Cafe
WPCafe is the ultimate solution for restaurant or cafe management as it offers online food ordering, food menu, and Restaurant Reservation by itself. If you want to offer a flexible food ordering experience and keep track of sales with in-depth analytics while boosting sales with promotional offers then you should leverage this plugin's attractive black Friday and cyber Monday offers.
Another great feature of this Elementor-based restaurant management system is it offers an online pickup and delivery system. You can also set up multi-store and revenue-sharing options. Moreover, this plugin offer comes in the form of a Gutenberg block.
⭐ Key features of WPCafe:
Admin receives live order notification
Option to add a tip with the order
Branch-wise seat reservation option
Option of late/early booking
Can offer a discount on the food menu
🛍️ Offer : Up to 50%
⏱️ Duration: 8th November – 30 November 2022
🗝️ Coupon Code: TBFCM50
8. FlyCart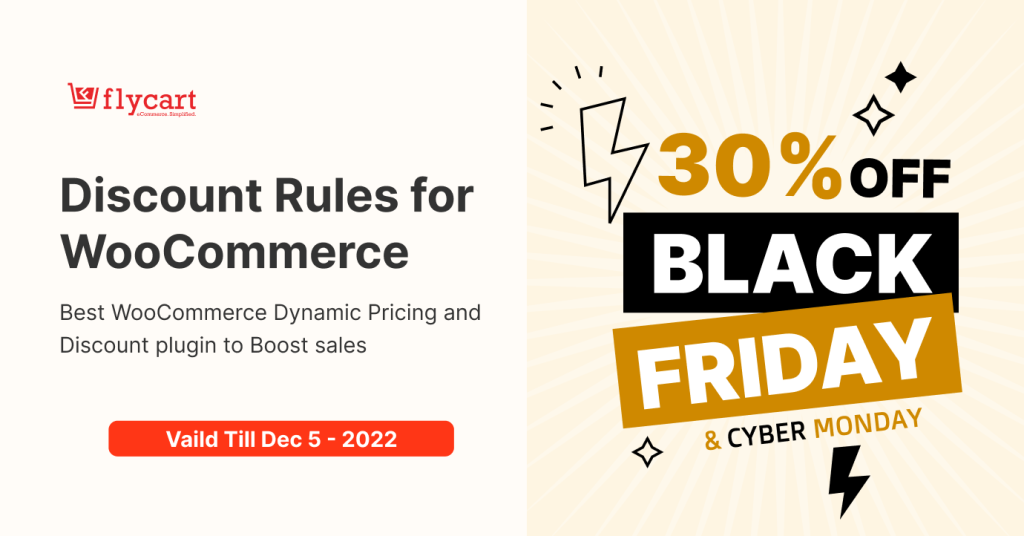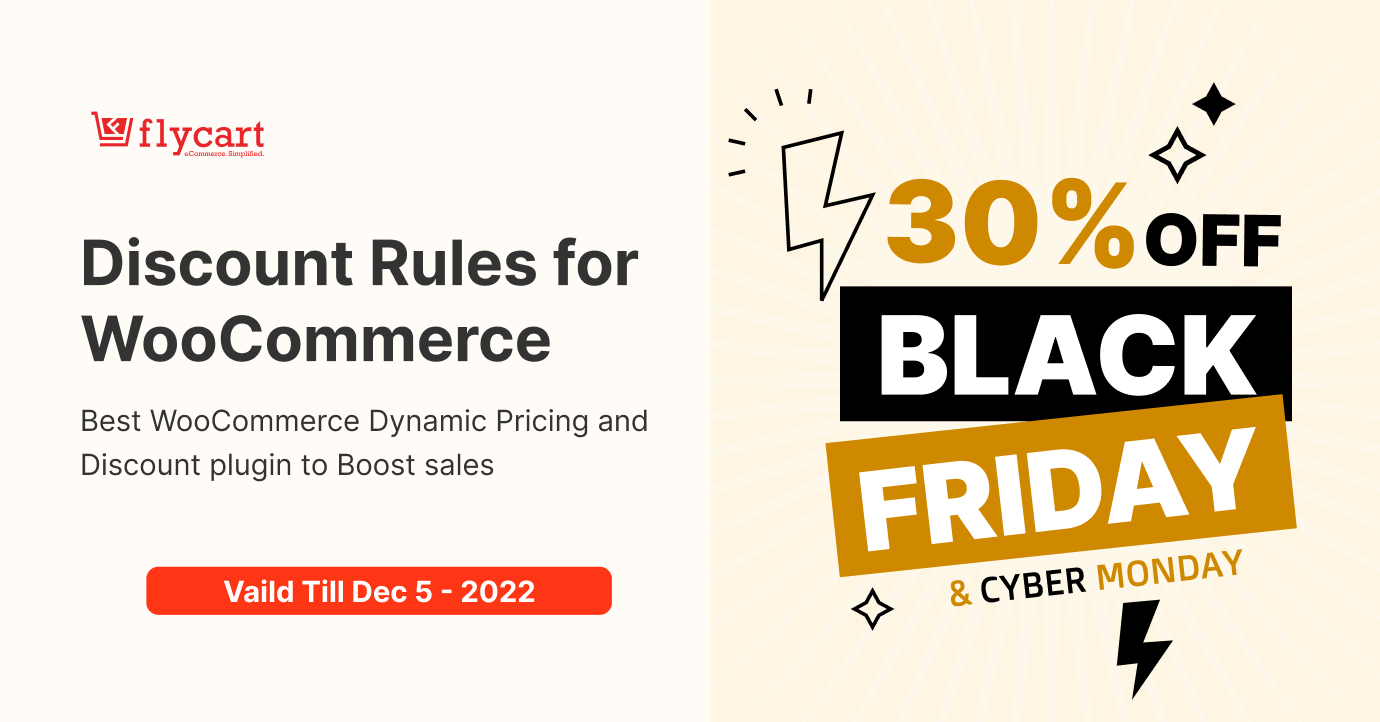 Discount Rules for WooCommerce is a dynamic pricing and discounts plugin that helps you create many advanced discounts. You can offer simple – percentage discounts, Storewide discounts, Product based discounts to complex – bulk discounts, tiered discounts, bundle discounts, buy-one-get-one offers, buy x-get-y deals, User specific discounts, Cart conditions-based discounts, category discounts, and more.
It is one of the most popular and well-performing discount sale plugins for WooCommerce, with over 90000+ active installs. Packed with all the necessary features to help you create the best shopping experience for customers & increase sales. Accelerate your sales and Average Order value now. Get the Plugin at 30% OFF this Black Friday.
🛍️ Offer : Up to 30%
⏱️ Duration: till 5th December 2022

9. Paymattic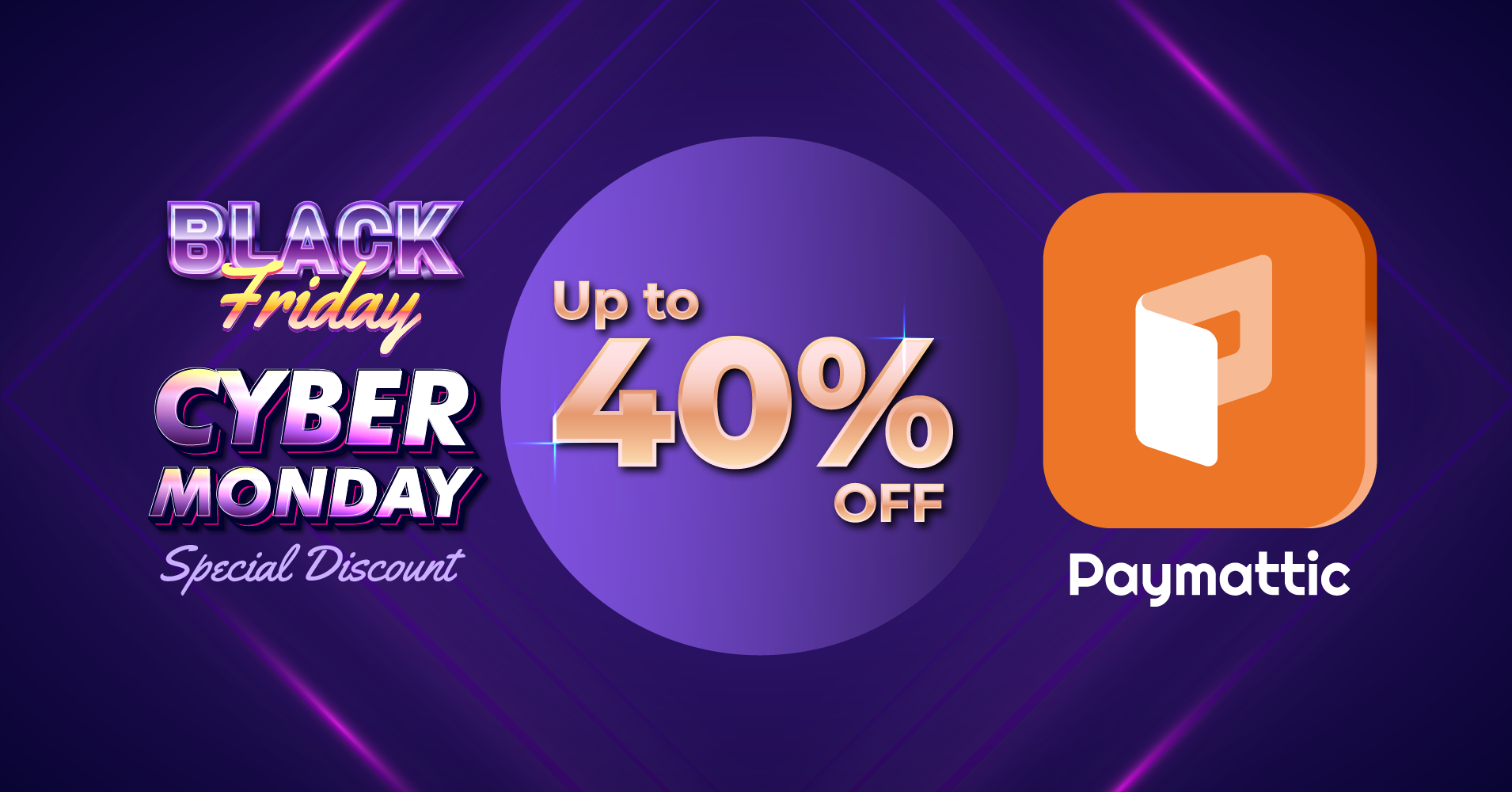 Subscription payment, simple payments, donation progress goals, LMS integration, automatic course enrollment on payment success, paid tickets – Paymattic has it all! Get a detailed reports dashboard complete with charts and graphs and a separate customer profile page for each customer. Don't miss out the chance to grab it at up to 40% on this Black Friday and Cyber Monday Season.
🛍️ Offer: upto 40%
10. Fluent Forms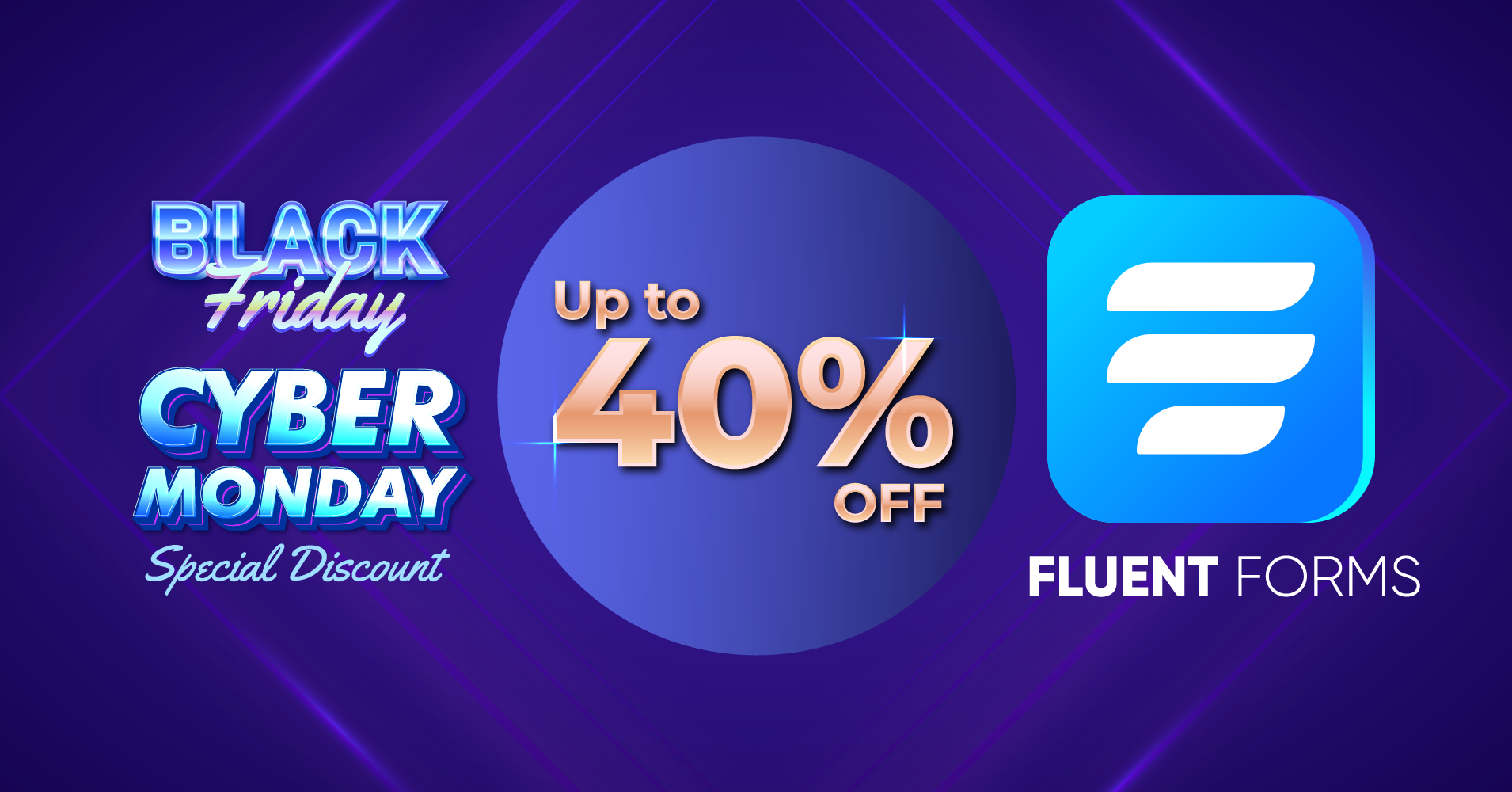 Fluent Forms is a drag-and-drop WordPress plugin with many great features and functionalities. It is the fastest, smartest, and most lightweight WordPress form builder you will find in the market. Now, on this black Friday and cyber Monday, you can generate leads, collect payments, build quizzes, and start enjoying your forms with the 40% discount on its annual licenses and 30% off in its lifetime packages.
🛍️ Offer: upto 40%
11. DashBoard Switcher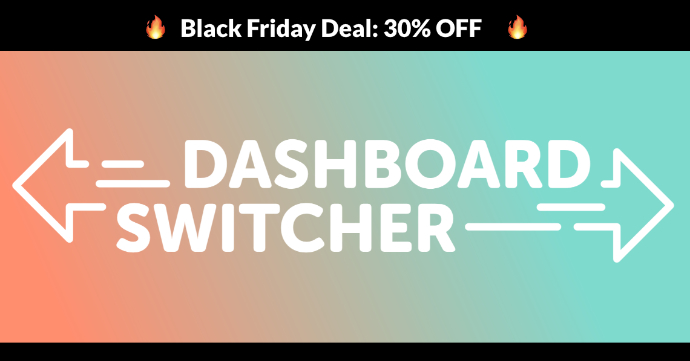 Build your own WordPress Dashboard Implement a custom made Welcome Screen, Screen Elements and Pages. Perfect for your Client Websites to create upsells, market your services, keep them update, give them Support.
⏱️ Duration: 20 November – 07 December 2022
🗝️ Coupon Code: BF2022
12. WP User Frontend Pro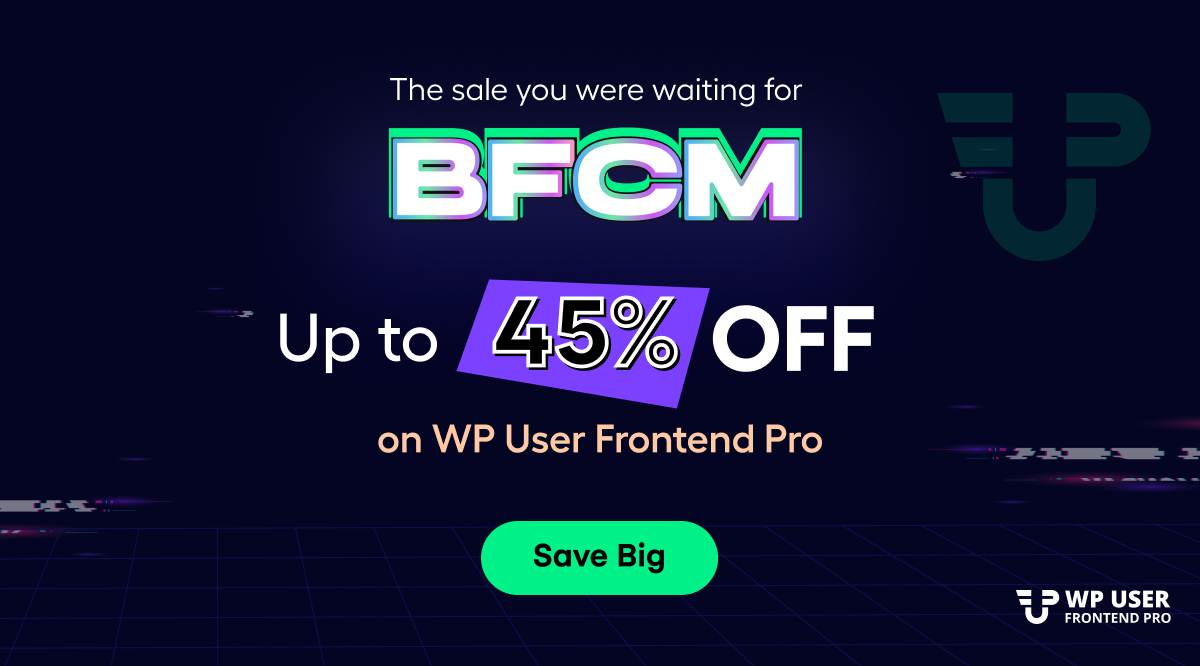 This plugin lets you enable multiple functionalities on your website like guest posting, subscription-based content submission, profile & directory building, and more with minimal effort. Plus, menu & content restriction, registration & contact forms with custom post types support, custom login – all these features have made it the most desired frontend solution among 30,000+ users worldwide.
This BFCM, you can save up to 45% on WP User Frontend Pro! Discount Amount: Up to 45% Coupon: No coupon is required Offer Validity: 21 Nov 2022 to 06th Dec 2022
🛍️ Offer : Up to 45%
⏱️ Duration: till 6th December 2022
13. weMail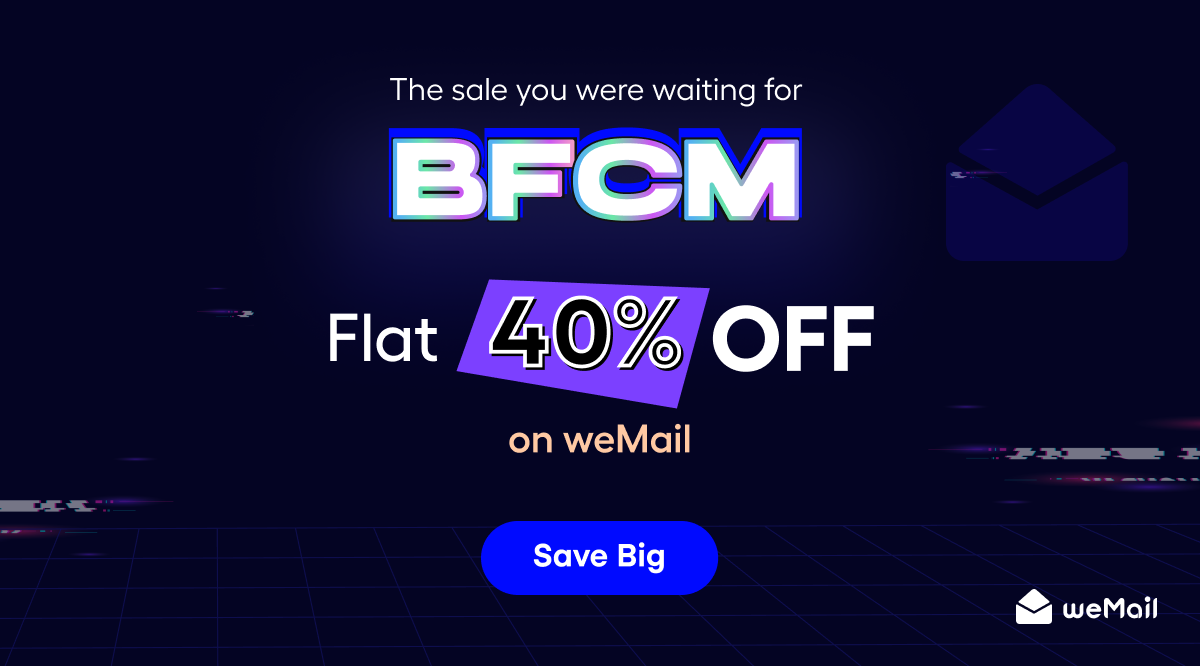 This amazing plugin has many powerful features to enhance your email marketing workflows. weMail is a complete email marketing solution for your WordPress site that comes with 100+ premade professional-looking templates, handy automation features, high-quality opt-in forms, powerful analytics, and many more.
Get a flat 45% off on weMail in this BFCM. Discount Amount: Flat 45% OFF Coupon: No coupon is required Offer Validity: 21 Nov 2022 to 06th Dec 2022
🛍️ Offer : Up to 45%
⏱️ Duration: till 6th December 2022
🗝️ Coupon Code: Not required
14. Appsero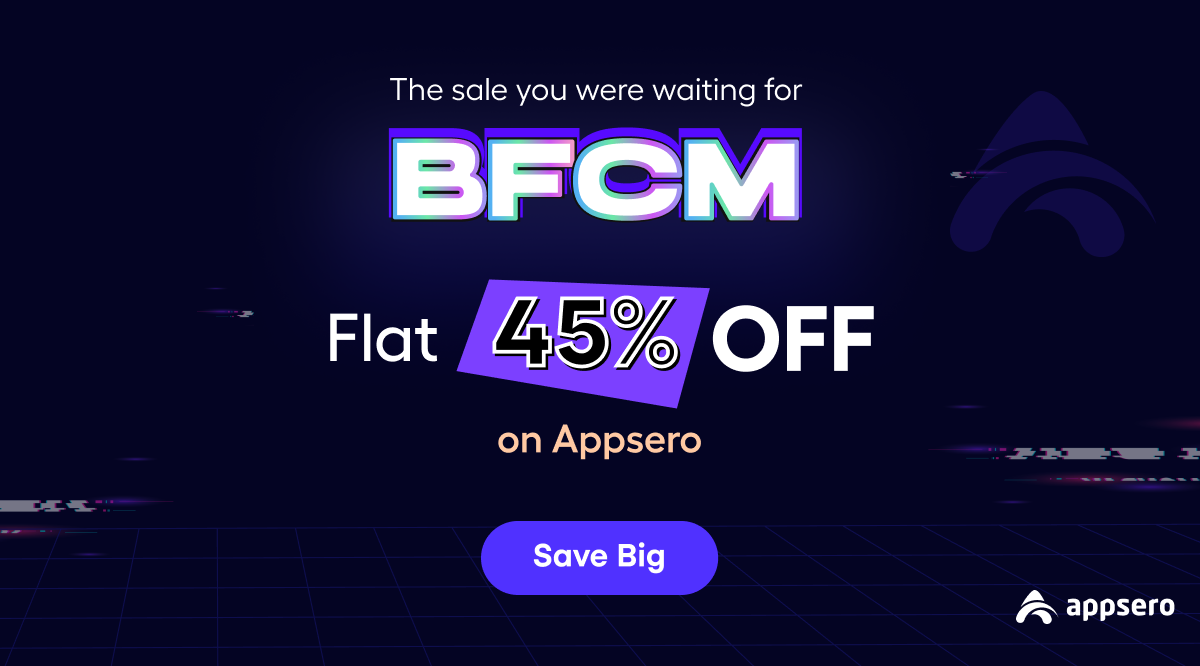 Appsero is a powerful WordPress analytics, licensing, and deployment tool. This awesome product is made for WordPress developers to ease their plugin management-related tasks. With Appsero, you can generate and check licenses, automatically deploy new updates for your plugin, and get insights over your plugin's usage, active installs, deactivations & other useful insights from a single dashboard. Get a 45% flat discount on Appsero in this BFCM. Discount Amount: Flat 45% Coupon: No coupon is required Deal Validity: 21 Nov 2022 to 06th Dec 2022.
🛍️ Offer : Up to 45%
⏱️ Duration: till 21 November 2022

15. WPVR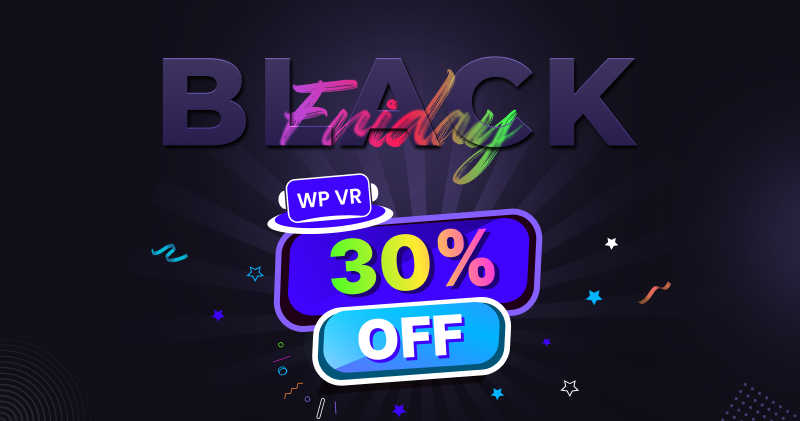 WPVR allows you to create stunning virtual tours & impress the visitors of your website.
It's a user-friendly and easy-to-use plugin that turns your 360 panorama images into live Scenes that your viewers can control.
And once you connect multiple scenes, it becomes a complete virtual tour of your property, office, showroom, hotel, or any other place you want to promote.
On top of that, you can set your custom buttons for navigation and set countless visual content inside the hotspots.
It's not expensive to create virtual tours with WPVR:
-> You can use panorama images captured with your smartphone, &
-> The plugin is at a 30% discount throughout the Black Friday season.
Some unique features of WPVR:
Create unlimited 360 virtual tours.
360 Panorama Gallery.
Interactive Floor Plan.
VR Glass Support.
Explainer video for your virtual tours.
Use Unlimited 360 Degree Images.
Cubemap Image Support.
Background Virtual Tour.
Set Information, Images, Videos, and GIFs Inside Virtual Tours.
Sell WooCommerce Products Through Virtual Tours.
Set Contact Forms Inside Virtual Tours.
Gyroscope Support.
Scene Gallery Support.
White Label Company Logo and Description.
Background Music Support.
Shortcode, Elementor, Gutenberg, Divi, and Oxygen Support.
Create Virtual Tours With Mobile Panorama.
🛍️ Offer : Flat 30%
⏱️ Duration: 20th November to 5th December 2022
🗝️ Coupon Code: BFCM30
16. Easy Video Reviews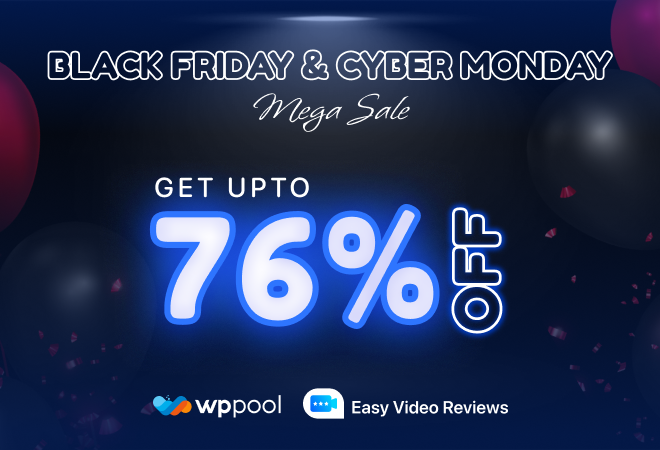 Easy Video Reviews is one of WordPress's best video testimonial plugins compatible with WooCommerce and Easy Digital Downloads. Whether running an eCommerce website or a blog, displaying video testimonials will create trust among your visitors. 1-click recording, video preview, Drag and drop video uploader, social share – with Easy Video Reviews, you'll get every video testimonial feature in one place.
Get Easy Video Reviews at up to 76% off this holiday season! That means you save about $568.10 on WordPress's most premium testimonial plugin
🛍️ Offer : Flat 76%

17. Sync data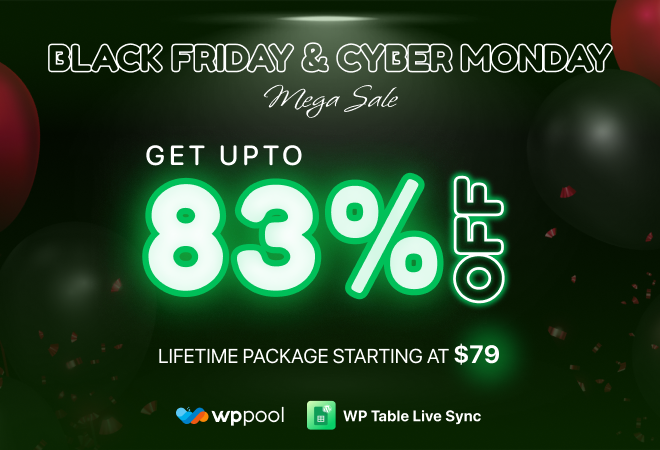 Sync data directly from Google Sheets and showcase WordPress tables in style! This Holiday Season, Sheets to WP Table Live sync brings you every WordPress table feature at up to 83% OFF and a single-site lifetime package at $79 on Black Friday. Enjoy live data sync from Google Sheets without restriction with responsive tables, Elementor widget, sticky header, data caching, multiple table styles, custom CSS, and more customization! Claim the offers soon before time runs out.
🛍️ Offer : Flat 83%
18. Gravity Forms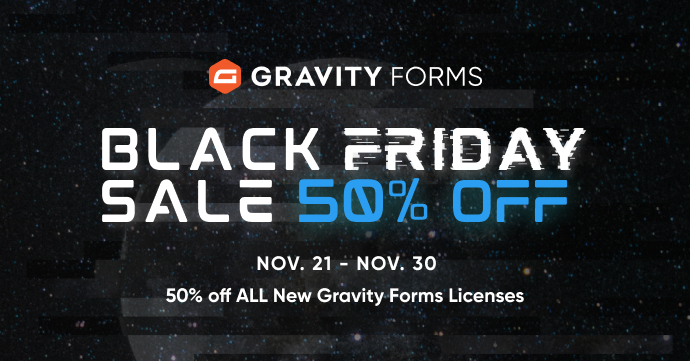 The most powerful solution for building custom forms and flows to connect with your users and expand your reach. All in WordPress.
Get 50% Off All New Gravity Forms Licenses! New Basic License – Reduced from $59 to $29 New Pro License – Reduced from $159 to $79 New Elite License – Reduced from $259 to $129 Sale runs Nov. 21 – 30! Don't miss out!
🛍️ Offer : upto 50%
⏱️ Duration: Nov. 21 – 30
19. Utobo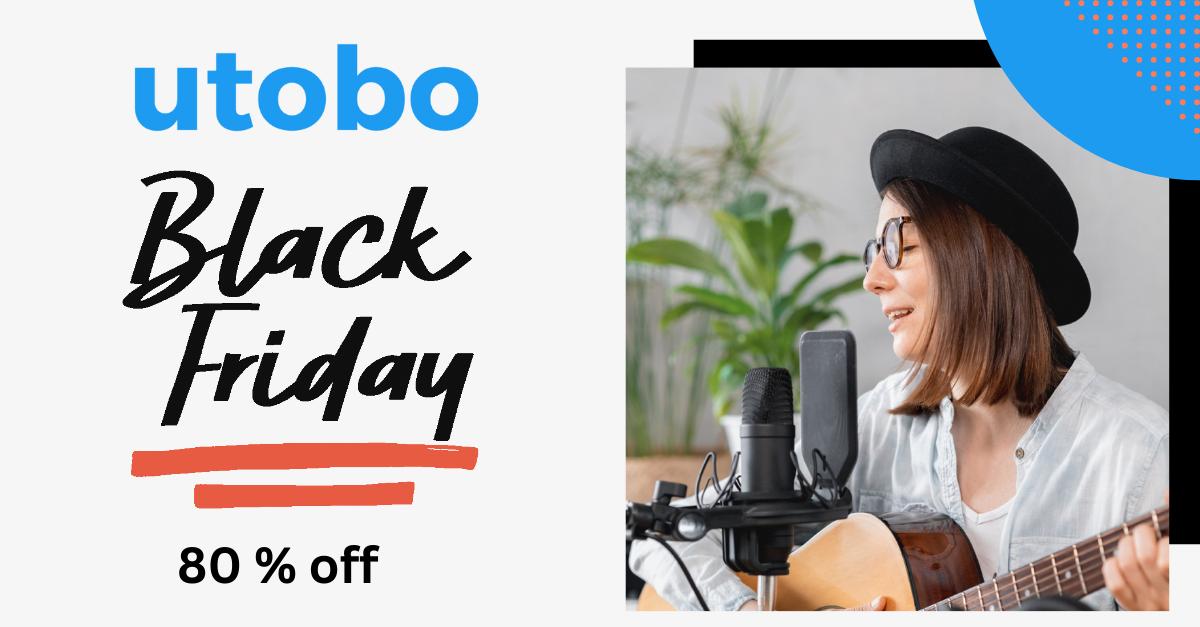 Utobo is the simplest platform to create and sell your online courses and digital products. Starting from now to Monday, Nov 27, you can get an 80% discount on all of our plans. This is the best promotion sale ever and is only available for a limited time. So hurry up and redeem your special offer! Go to
Use code: utobo80
🛍️ Offer : upto 80%
🗝️ Coupon Code: utobo80
20. Approve me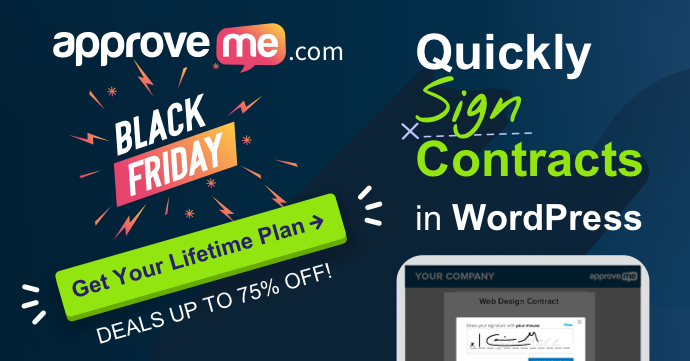 Protect your business today. Sign Legally Binding Documents Directly on Your WordPress Website. Is your current signature field UETA/ESIGN compliant? Get peace of mind with WP E-Signature. Integrate with Gravity Forms, WP Forms, Ninja Forms, Woo Commerce and more or create from scratch using our doc builder. Save Time, Automate Your eSignature Workflows. Stop taking chances with non-compliant signature fields. Add your own branding and securely own your data! WP E-SIGNATURE is trusted by Paypal, UCLA, HBO, Phoenix Suns and millions of professionals world-wide. Get up to 75% off WP E-Signature Elite. Lifetime plans available.
Offer:upto 75%
21. My ARCade plugin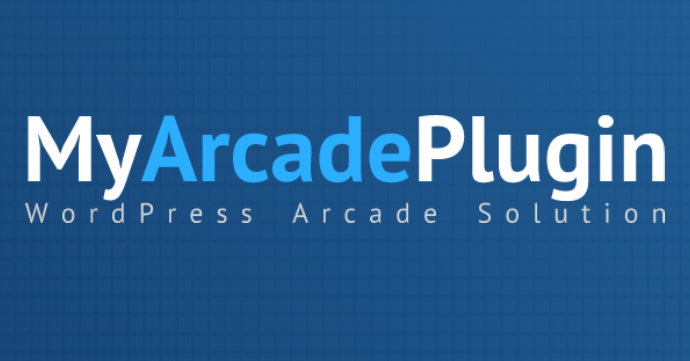 60% discount on our WordPress Arcade Plugins and Themes.
Coupon Code: BFCM2022
22. Armember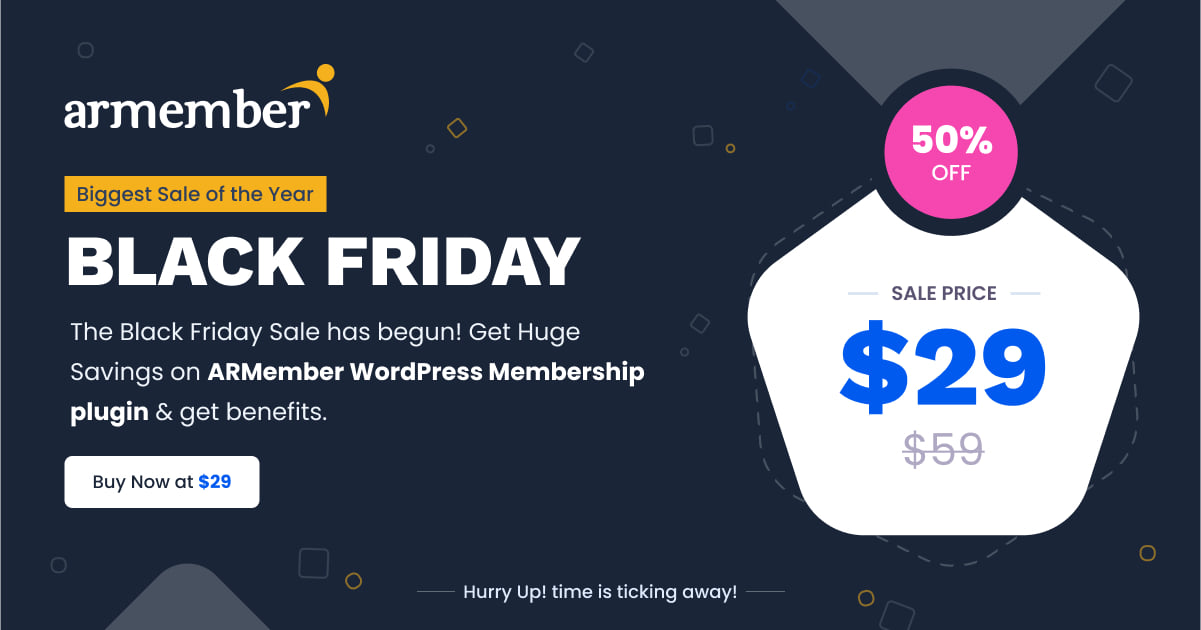 Get 50% Off on ARMember WordPress Membership Plugin! New License – Reduced from $59 to $29.
23. Business Directory plugin

Get up to 65% off the Business Directory Plugin! Create the directory of your dreams on WordPress, no coding experience needed!
24. PowerPack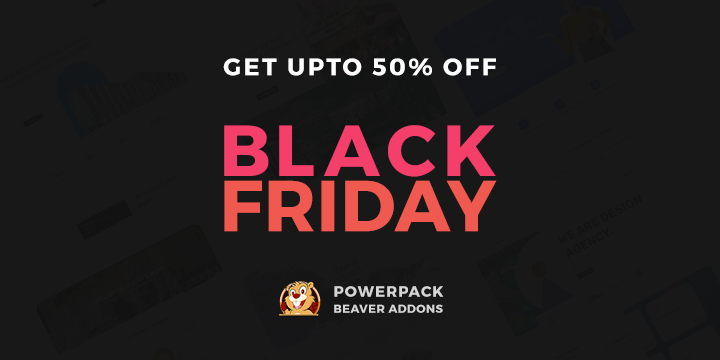 Build websites faster and efficiently with 70+ unique, creative, solution-oriented modules and 350+ templates of PowerPack. Design your eCommerce store with Beaver Builder using WooPack modules especially built for WooCommerce.
25. WpForms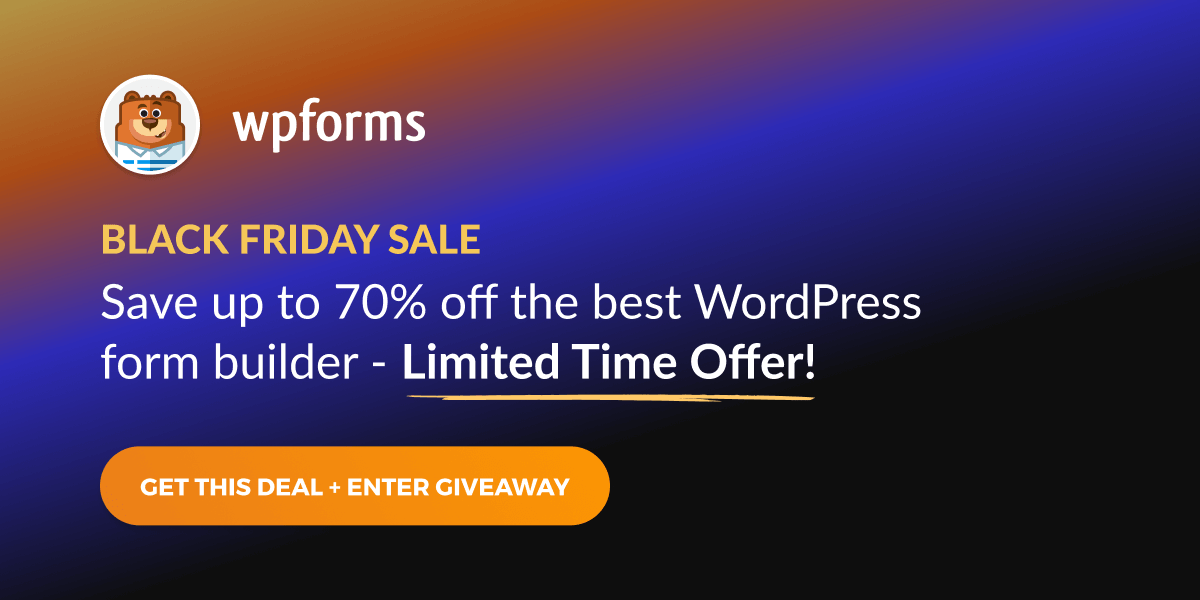 The best WordPress contact form — trusted by more than 5 million website owners! Save up to 70% OFF
26. Optinmonster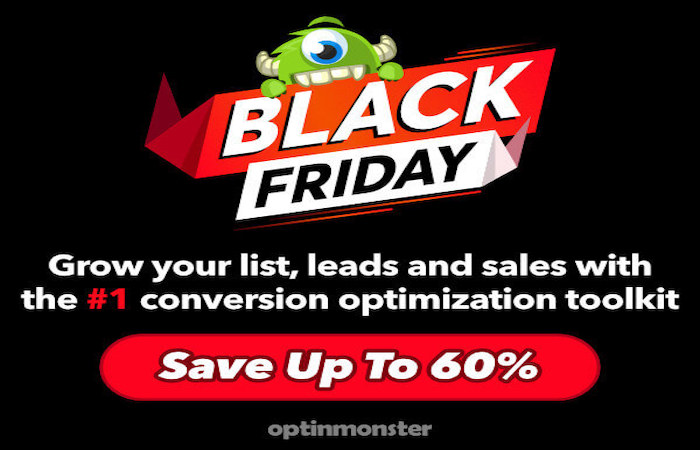 Instantly grow your email list, get more leads, and increase sales! Choose the #1 most powerful optimization toolkit in the world.
Offer: upto 60%
Validity: till 6th December
27. NitroPack
NitroPack is the all-in-one site speed optimization service. It ensures quick load times, improved Core Web Vitals, and a better page experience on 155,000+ websites.
Offer: 35% off on all paid annual plans
Duration: Nov 21, 2022 – Nov 28, 2022
Coupon code: Not needed
28. Wployalty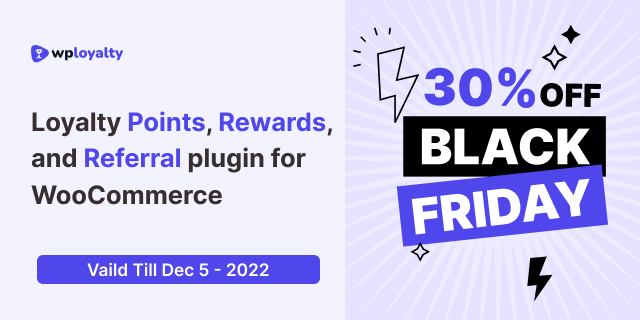 WPLoyalty allows you to surprise your customers with more rewards. Get our plugin 30% OFF this BlackFriday.
Offer: Upto 30%
Validity: Till 5th December, 2022
29. ProjectHuddle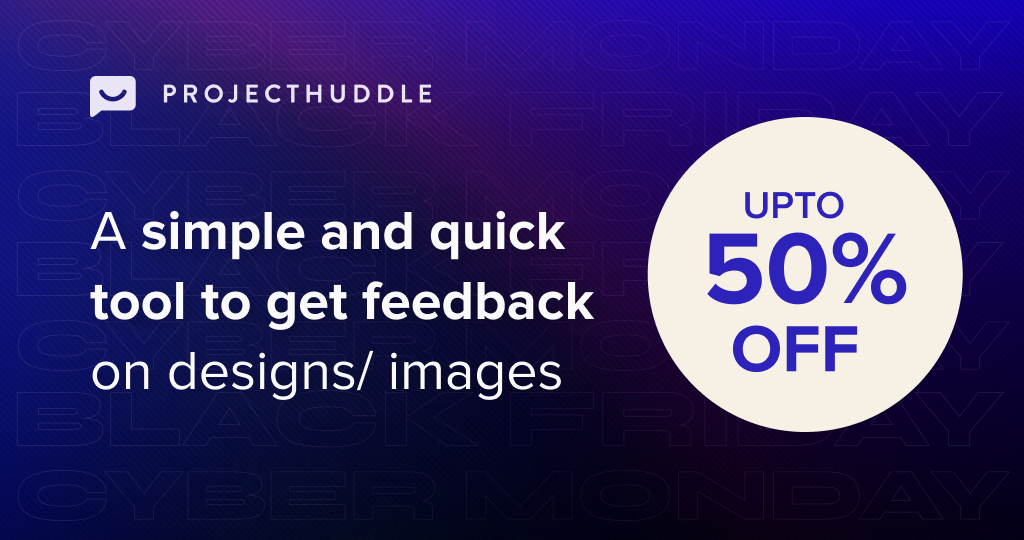 If you're looking for a tool that effortlessly manages website and design feedback, ProjectHuddle is it! It's an incredibly useful tool that simplifies client feedback by providing a sticky note-like system anywhere on top of your site designs and image mockups.
Clients can show and tell what they like and don't directly on the page, making the entire process faster and easier. ProjectHuddle works on any website and can be managed from a powerful central dashboard.
Discount: Up to 50% off
Coupon Code: Auto-applied
Validity: 22 Nov to 2 Dec 2022
30. WP Portfolio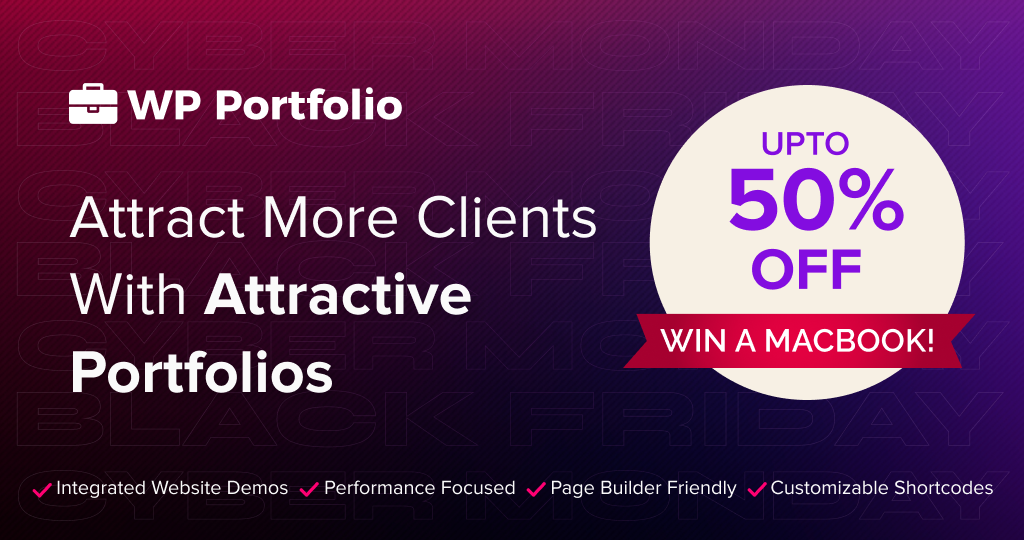 WP Portfolio is the most advanced WordPress portfolio plugin we have ever created. It lets you create amazing portfolios effortlessly. Showcase all your work in the form of images and videos with a professional-looking portfolio that doesn't slow down pages.
WP Portfolio also has advanced features like real-time previews, item search fields, lazy loading pages, sortable categories, infinite scroll and so much more!
Discount: Up to 50% off
Coupon Code: Auto-applied
Validity: 22 Nov to 2 Dec 2022
31. Presto Player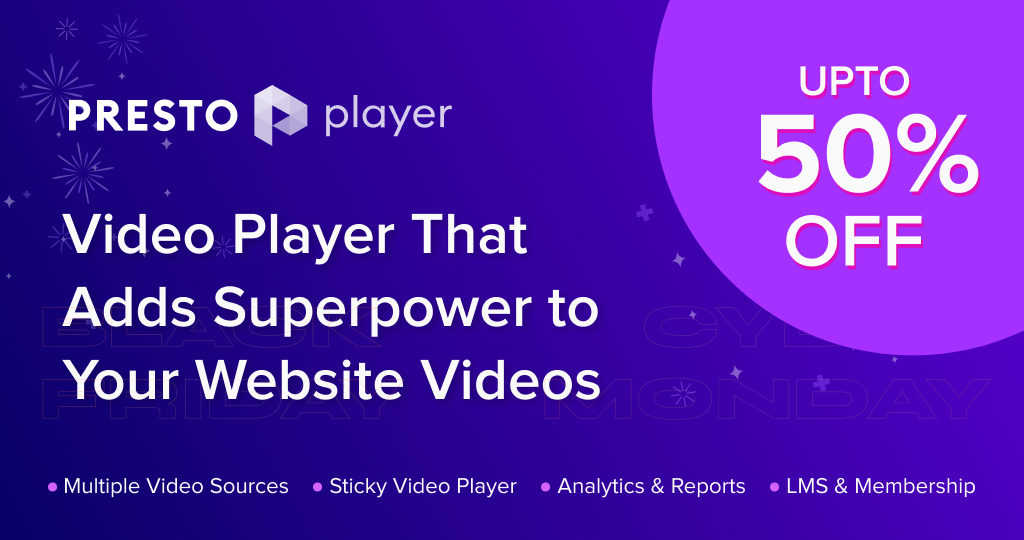 Presto Player is a feature-rich video player built for WordPress websites that offers all the industry-standard features. Engage your website visitors with video, add a call to action, include an overlay image, track performance and more with Presto Player.
You can play videos that are either hosted on your site or from popular video hosting platforms, including YouTube and BunnyNet.
Discount: Up to 50% off
Coupon Code: Auto-applied
Validity: 22 Nov to 2 Dec 2022
32. BetterLinks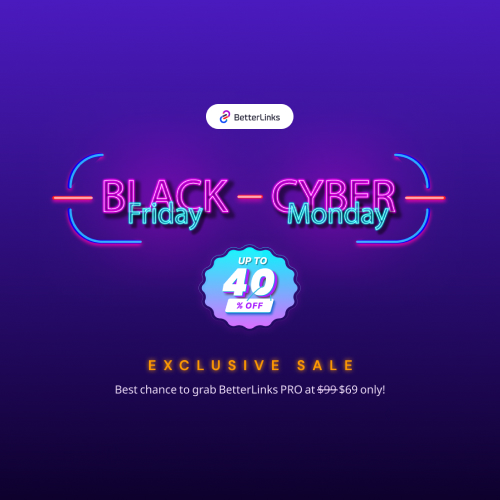 BetterLinks – The easiest link management solution for WordPress. It comes with advanced link redirection and shortening features, multiple types of Dynamic Redirections, A/B Split testing, Link Schedulers, and more to help you effortlessly manage and track all your marketing URLs.
Offer: UP TO 40% OFF
Coupon Code: Auto-applied
Validity: 22 Nov to 2 Dec 2022
33. TemplateMonster
TemplateMonster is a marketplace that has everything for website building and business promotion. You cannot miss the biggest sale of the year so you will have a chance to get a lot of discounted items. Make sure to visit the marketplace on November 21-30 to grab up to 50% discounts. In addition to this, you will be ready to purchase MonsterONE with a brilliant discount. It will cost you only $449 for a lifetime plan and $149 for a yearly subscription.
Offer: up to 50% off
Coupon Code: autofill
Dates Valid: November 21, 2022 – November 30, 2022
34. Academy LMS Pro
Academy LMS Pro is a cutting-edge LMS plugin for WordPress that comes with lightning-fast capabilities. With the help of this incredible plugin, any WordPress website can be converted into an eLearning platform. You can build an endless number of courses and quizzes, gain extensive analytics, and offer premium courses. Additionally, you can include multiple instructors in your chosen courses while splitting the revenue among the admins and instructors. Academy LMS Pro is your best option, whether you are an eLearning enthusiast or an entrepreneur looking to launch a successful eLearning business.
Coupon: ALMSBFCM50
Discount: 50% off
35. HelpCrunch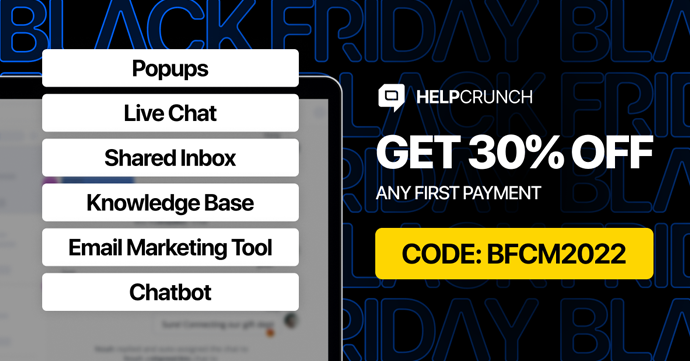 HelpCrunch is a multi-functional platform that combines live chat, chatbot, knowledge base, and shared inbox tools for all communications with your customers, no matter the channel. This Black Friday season, you can get the entire arsenal of HelpCrunch tools at a 30% discount on your first payment. The deal sums up with annual discounts, so you can save up to 50% in total by signing up for a whole year. Use the promo code BFCM2022 before November 30 to get a powerful customer communication platform at the most affordable price.
Offer: Upto 50%
Vadility : 14 November -30 November
36. WP Ultimo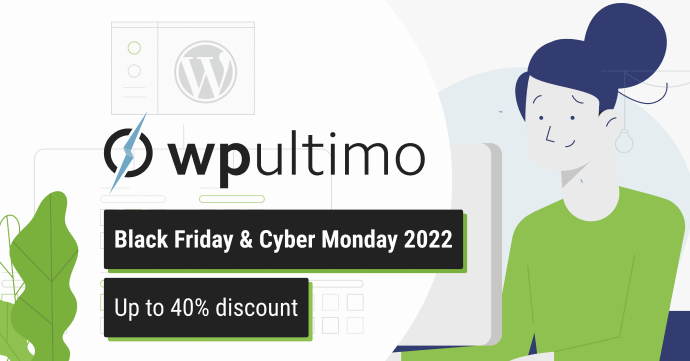 WP Ultimo is the all-in-one tool you need to easily create a profitable Website as a Service platform! It offers a simple way to get all your settings in place in just a couple of minutes. Just follow the steps of our Setup Wizard and configure the options you'll need with just a few clicks. Time to add WP Ultimo to your toolbox! Grab our deal with up to 40% OFF on all license tiers – including our Lifetime offering!
Offer: Upto 40%
Vadility : 21 November – 09 December
37. Cloudways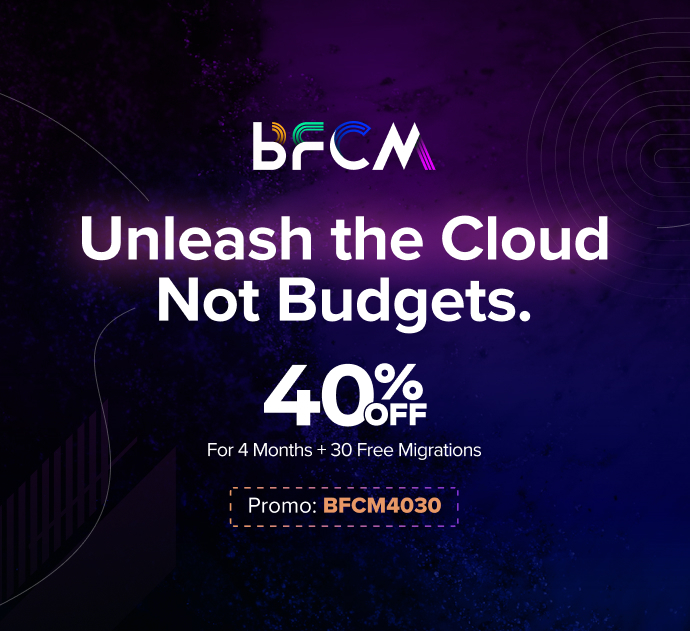 Cloudways is a managed cloud-hosting platform known for its lightning-fast speeds, with a choice between DigitalOcean, Linode, Vultr, Google Cloud Platform, and AWS as your preferred provider. Cloudways offers an amazing discount this Black Friday to begin your digital journey. Use the coupon code BFCM4030 and get started with a FLAT 40% DISCOUNT with up to 30 free migrations for four months straight!
Offer: Upto 40%
Vadility : 14 November – 01 December
Coupon Code: BFCM4030
38. FunnelKit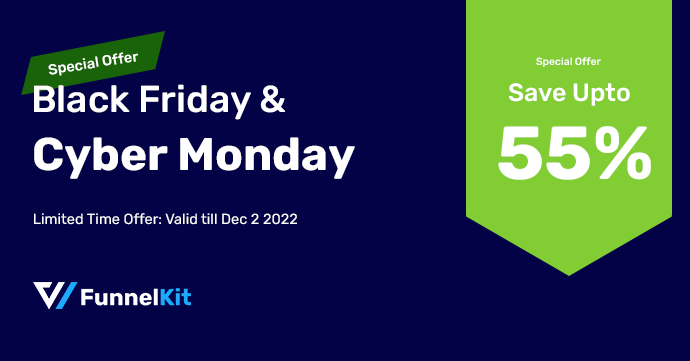 Save up to 55% this Black Friday! Boost conversions with optimized sales funnels, and automate your email and SMS marketing.
39. Simple Social Button
Simple Social Button lets you add your own style to social media integration by creating customizable social media buttons, including Facebook, Twitter, and Pinterest, to vibe with your site. Since it is a WordPress Social Plugin, it helps you take your Website/Blog to the next level by bringing ease for your readers to share on any social media platform.
Offer: 40%
Coupon Code: BFCM40
Validity: 15 Novemver to 01 December
Let's have a Glance at the Best WordPress Black Friday and Cyber Monday Deals 2022
| Product Name | Product Category | Friday and Cyber Monday Deals(%) | Deal Validity |
| --- | --- | --- | --- |
| GetGenie | WordPress AI SEO & Content Assistant | Up to 50% | 15th November to 10th December |
| ElementsKit | Elementor Addon | Up to 50% | 15th November to 10th December |
| ShopEngine | WooCommerce Addon | Up to 50% | 15th November to 10th December |
| MetForm | Elementor Form Builder | Up to 50% | 15th November to 10th December |
| Wp Social | WordPress Social Media Plugin | Up to 50% | 15th November to 10th December |
| Eventin | WordPress Event Management Plugin | Up to 50% | 8th November – 30 November |
| WPCafe | WordPress Restaurant Management Plugin | Up to 50% | 8th November – 30 November |
Frequently Asked Questions
Is Cyber Monday the same as Black Friday?
No, cyber Monday is the next Monday after black Friday. While both fall in the holiday shopping season Cyber Monday deals only apply to online shops whereas Black Friday deals can be seen in stores as well.
Why do they call it black Friday?
Businesses have historically seen loss until the day after Thanksgiving when they see profit by offering sales on products. Referring to this content of facing loss in business, the Friday after Thanksgiving is called Black Friday.
Final Words
Black Friday and Cyber Monday are great times to seal the best WordPress plugin at the cheapest price possible. We have tried to prepare a whole list where you will find WordPress products of various uses.
Do purchase the one you need or have been eyeing for a long time to buy at a cheaper price. If you have any questions or confusion regarding any product or WordPress Black Friday deals, do let us know.